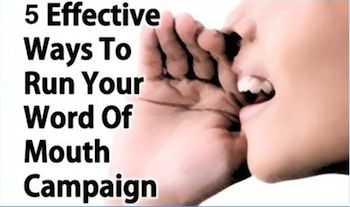 Social media has brought back the word of mouth marketing game in a big way.
As businesses, we spend a lot of our time and energy building up our social media presence and strategy. Typically, small businesses spend from $3,000 to $10,000 just to kick-start their Facebook page, which includes getting some fans in and hiring someone to manage it. At the same time, they're also spending time and effort creating content, posting it, and engaging with their fans.
Businesses need to take advantage of these relationships and convert them into referrals and leads, hence building up your email or phone database and converting them into customers at the end point.
Word Of Mouth campaigns such as contests, sweepstakes and quizzes are extremely powerful tools for boosting your database due to the high amount of sign ups. 81% of consumers admitted that their friends' social media posts influence them during their purchases. 92% of consumers trust the recommendations from friends and family more than any other form of advertising.
Word Of Mouth campaigns can greatly impact your customers' decisions. Here are 5 effective ways to run them!
1. Promote on multiple channels.
If you run a campaign on Facebook, your fans will see it, right? Not necessarily, due to Facebook's declining rate of organic reach. If your page is getting a mere 4% organic reach rate, only 4 out of every 100 of your fans will see your campaign. So, you'll want to broadcast your campaign on all available channels.
Make sure to broadcast your campaign on Twitter, your company blog or website, email everyone in your database and even look to offline channels such as posters.
Make sure to include a click-through link on all digital channels for the ease of your participants.
Need an example? A poster that advertises a Facebook Word Of Mouth campaign will be able to attract consumers who may not be as socially active with brands. Furthermore, your audiences may be able to spread the news to parties outside of your brand's social media circle, potentially unearthing new groups of followers.
2. Give away meaningful rewards
Electronics such as iPads or tablets have been popular prize choices for businesses, but prizes such as these will not bring you quality participants. Gadget hunters who would never be your potential buyers only join these contests for the sake of winning a laptop or tablet, which only builds the brands of the prizes. It's better to give out something related to your brand.
Sometimes, you may not be able to figure out what would make a meaningful prize. Here is where the advantage of social media comes in; you can ask your fans what their ideal prize would be!
Choosing a prize relative to your brand can bring more benefits than you think. For example, Xiaomi is a Chinese company that releases popular smartphones. The phones are sold out within seconds every time a sale opens online. Now, you may think that the ideal prize would be the coveted smartphone but there is a better reward to give out. And no, the answer is not two smartphones.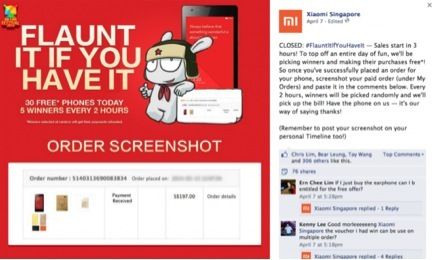 The smartphone is extremely popular, and the audience is already willing to buy the product. Instead, offer your audience priority when purchasing the phone! By understanding your market's wants, you will be able to better attract participants, have happier winners, and save costs.
3. Campaigns should be easy to digest.
Word-of-Mouth campaigns should be effortless so that everyone can enter. If the process is too complicated, conversions will decrease.
Nowadays, creating a slightly more complex game costs at least $15,000. If the game is too complex for the audience, all your money, effort and time will be wasted. Additionally, when the game does not give you the conversions you want, it makes no sense for a business to build something so complicated.
Many of the current campaigns only require participants to join the contest by just liking and sharing their post. The reason? Simple contests don't require much time or effort of the participants, making it more desirable to enter. If you want to conduct a contest, make sure the mechanics and questions are simple. Even better, questions can promote your business. For example, asking where the newest outlet is can help promote your new location and it's simple enough for participants to answer quickly.
4. Create buzz and excitement prior to the campaign.
Announcing your contest straight away will get you a certain number of participants. However, creating a few teaser posts before the actual contest will get you even more.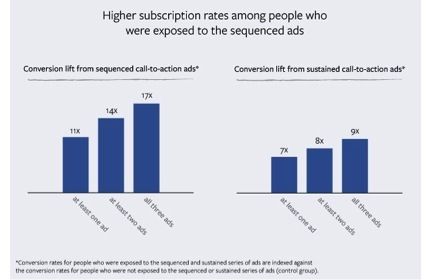 In fact, it's statistically proven that sequential posts generate higher conversion rates compared to single posts.
People do not like to miss out on great opportunities. When your fans are excited, they will create the buzz. When people are exposed to the buzz, they will want to join in the fun as well!
5. Go mobile.
Where is your phone right now? I'm guessing it's no more than 5 feet from you. Next time you're with your friends or family, or out in public, take a second to look around and, I assure you somebody will check a smartphone every minute. 89% of smartphone users use their phone throughout the day and many of those active on social media rely on their mobile devices to access their accounts.
It's essential that you make your campaign mobile friendly. If you are holding a photo contest, make sure that the participants can upload their photos directly through their smartphone. Any small inconvenience can be enough to push the participants away.
Participants will rely on mobile devices to access accounts for convenience sake. Therefore, if your Word Of Mouth campaign is not optimised for mobile usage, you are only hurting your conversion rates.
Successful Word-of-Mouth campaigns do not happen by accident.
If a Word-of-Mouth campaign is run efficiently, the rewards will be huge in both short and long term. Word-of-Mouth campaigns encourage activity from the consumers through utilising social media as a way to build trust and bridge your business to your consumers. The campaigns can be run at a low cost, and with little on-going effort, as your customers will help spread your brand for you.
Connected consumers dislike all kinds of spam and pop ups. Running a normal print advertisement will be under utilising the modern technology. A well-crafted Word-of-Mouth campaign will be able to entice your target market, build up your brand, and create profitable relationships with your customers.