This post is part of a weekly series by Ravi Shukle auditing the best Facebook Pages performance to give you real life best practices that will help you improve your Facebook content strategy.
This week we're analyzing My Loire Valley, a 24,000+ fan page dedicated to the Loire Valley region of France that achieves a 370.5% engagement rate.
And, they accomplish this without spending a single Euro! Let's take a look at how:
1) Share user generated content from their fans
My Loire Valley understands the reason so many visitors return to the region is because they enjoy the beauty and the sights. Taking this into consideration, they have decided to share this passion and enjoyment with the rest of their Facebook community by showcasing pictures other visitors have taken, such as the one below:
Sharing content from your fans can be a great way engage your community and encourage others to share ~ Click To Tweet
Other fans are more than happy to share the experience with others, leading to this post receiving over 100 shares!
2) Ask for fan input when sharing updates
My Loire Valley has also added questions to their updates, which has encouraged more fans to comment and engage with others who have also visited the area.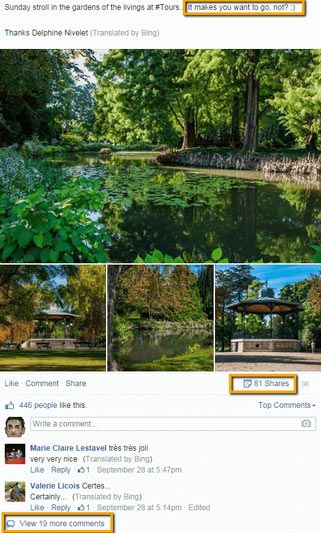 The easiest way to get feedback on Facebook is to ask your fans a direct question ~ Click To Tweet
Asking fans a direct question about the area has proven to be a great way to inspire others to share their experiences — not only with the business, but also with each other. We can see this live in the post above, which has received over 20 comments.
3) Share updates based on real time events in the region
To help encourage new and repeat visitors to the region, My Loire Valley often shares updates based on real time events happening during the week or month, encouraging their fans to attend.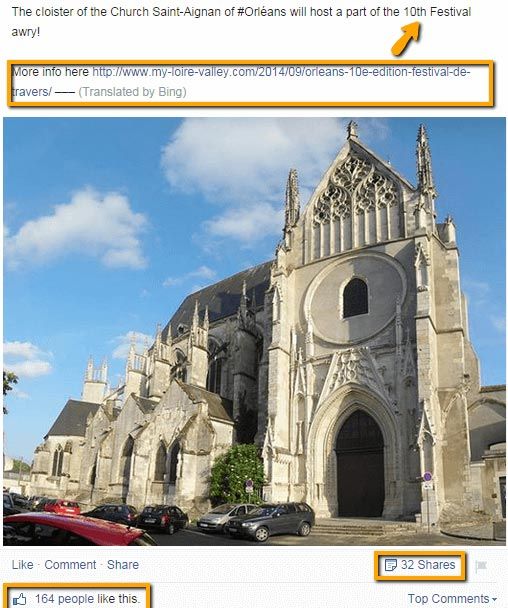 To help attract more customers, share content based on real time events & news that relate to your business ~ Click To Tweet
This not only gives new visitors a reason to visit, but also encourages repeat visitors to come back. Including a link to your website in the update offers a great way to drive traffic back to your site should any visitors want to find out more.
4) Capture the beauty of the region through key attractions and sights
To help keep fans consistently engaged with the region, My Loire Valley picks out the top spots to visit and showcases them on their Facebook page.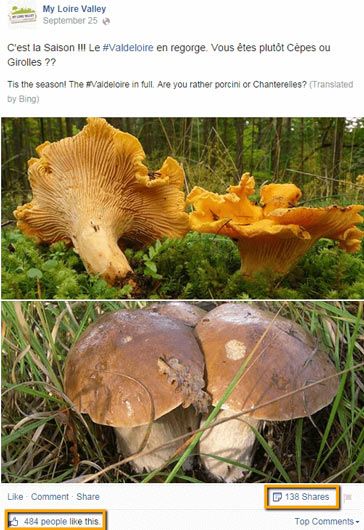 A great way to showcase your business or region is to show your fans what they are missing out on ~ Click To Tweet
This gives both new and existing visitors an insight into the latest sights and foods the region has to offer, and is also a great way for fans to get feedback from those that have already enjoyed the experience. The post above, for example, showcases these delicious natural mushrooms from the area and has received 138 shares!
5) Enable fans to check in and leave reviews of their experience
Allowing their Facebook fans to check in has helped My Loire Valley to increase their word of mouth exposure. Reviews and check ins are not just posted to the fan page, but are posted publicly on the user's personal timeline as well. This also allows others to comment with those who have shared a similar experience.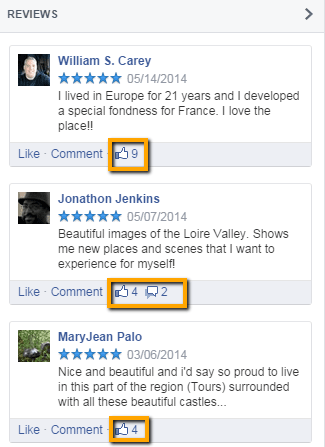 Key Takeaways

Here are the key benefits of allowing your customers to check into your business~ Click To Tweet
• Allows fans to share reviews of their visit
• Updates the information in real time
• Posts information on their personal timelines for all their friends to see
• A great opportunity to create special offers based on those who visit
• Allows your business to reward customer loyalty for those who visit often
How do they compare against the "big guys?"
When auditing a Facebook page's performance, we always compare it head to head against the big brands competing in their space. In this case, the travel industry: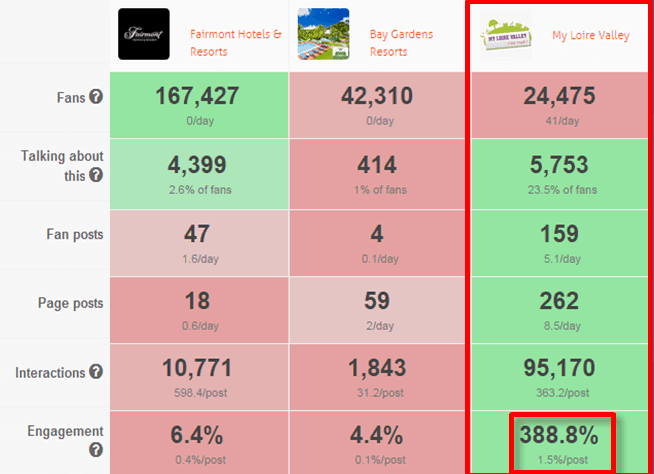 The interesting takeaways from this comparison are the following:
o
Loire Valley, although not the largest page, has 60 times monthly engagement rate compared to its other pages in the same niche an amazing (388.8%!)

o

On a per post basis, it is generating 10 times the engagement of its competitors such as Bay Gardens resort and Fairmount hotels & resorts (0.1% of fans vs 0.4%)

o

Loire Valley achieves the highest engagement rate amongst their competitors by posting on average 8.5 posts per day versus 0.6 or 2.0 times a day for Fairmont Hotels and Bay Gardens, respectively
This is impressive as it shows their page can still achieve great results while increasing their post frequency. Focusing on quality and consistency on all their posts.
What could they do to improve?
Loire Valley is doing a great job posting, on average, 8.5 times a day and engaging their fans through great visuals and stories from the town — however, here are a few tweaks they could make to help give them another edge.
o
Launch Facebook competitions to help raise awareness of the Valley.

o

Create offers for those visiting the area

o

Reward loyal visitors to the area

o

Showcase different attractions and testimonials through video
Key takeaways for you
Now that we've gone through & broken down the key ways Loire Valley have increased their organic reach, here are a few key actions you can take today to help you achieve the same for your business:
o
Share user generated content from your fans – showcase their interactions with the business and the local area (e.g., testimonials and pictures from their recent visits)

o

Ask for fans for feedback when sharing updates about key attractions or events in your business – these can be in the form of questions asking fans what they think about a particular product, service, event or attraction.

o

Share updates based on real time events – These can be updates happening in your local town, city or even within your business. The key here is to ensure these events are in real time and you let your fans know exactly when the event is to take place.

o

Enable fans to check in – This allows your business to spread the word as check-ins can be viewed both on your businesses fanpage and the fans personal timeline by all their friends.
Do you leave reviews when visiting a new attraction or event?