Lots of amazing Facebook app campaigns in this review! Easter is gone, Mother's day is coming up and some brands have definitely used these opportunities to create attractive campaigns!
Remember! If you want to communicate on your campaign performance, feel free to send us your results and maybe be a part of our next Apps review!
Photo contest
Industry: Jewelry
Size of FanPage: 1,500 Fans
Campaign duration: 2 weeks
Prizes offered: $300 gift card and a dozen roses
Why we picked this campaign : It's the ultimate Mother's day photo contest! Who can resist a mom and child selfie? Children will love to honor their mothers with a cool selfie and a chance to win a perfect mother's day gift. The turnout is amazing for this page of a local Michigan Jewelry store. They gained 320 new fans during this campaign but mostly they really touch the the heart of their core audience and generated true engagement.
Quiz
Industry: Retail, home equipment
Size of FanPage: 53K Fans
Campaign duration: 6 weeks
Prizes offered: 1 000€
Why we picked this campaign : It's Easter and this Facebook Quiz application is smart! Basically, they send their fans on their web page in order to find the hidden eggs. An egg hunt on a website, how fun, and how likely are we to purchase something while on it!! Their visual is playful and attractive. Well done. Big participation to this quiz with 475 shares and 229 invites. The page gained 2.7K new fans.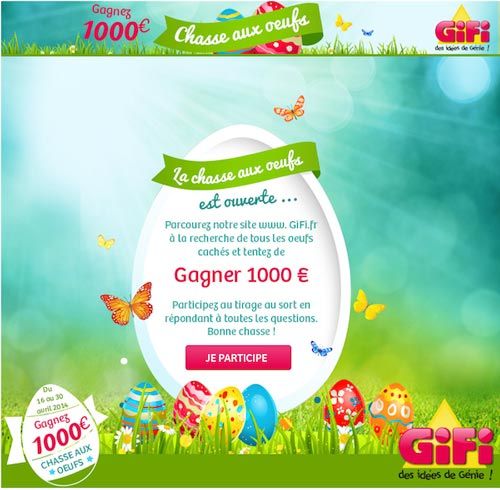 Sweepstakes
Type of app: One draw, 4 winners.
Industry: Spa
Size of FanPage: 22K Fans
Campaign duration: 6 weeks
Prizes offered: 4 different Prizes comprising Spa treatment
Why we picked this campaign : because this company used the Mother's day gift opportunity to advertise the re-opening of one of their facilities, it is smart. We like campaigns with a double purpose. The first prize is a duo treatment, one can go with their mother …or not. The page gained 525 during the campaign and it is not over. Cool Sweepstakes!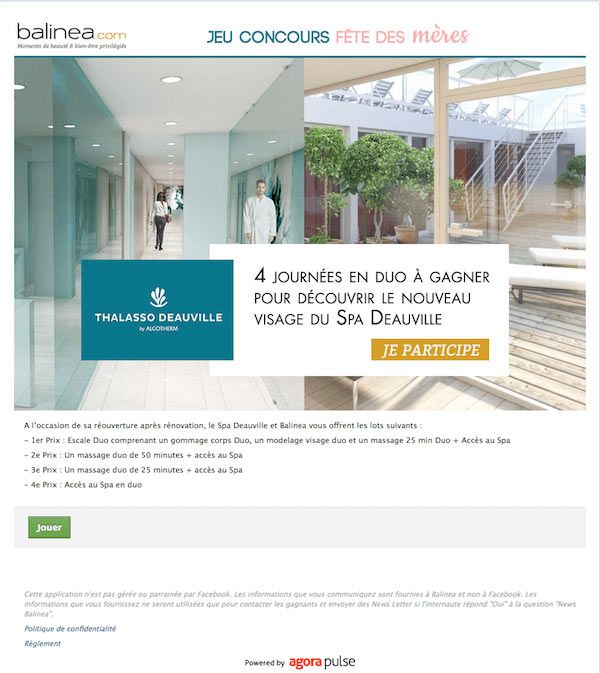 Instant Win
Type of app: 40 winners
Industry: Pet industry
Size of Fan page: 130K fans
Campaign duration: 3 weeks
Prizes offered: Dog or cat surprise box with products for pets
Why we picked this campaign: Great design, nice industry and more than that, a very successful Instant win Facebook campaign ! More than 100 friends invites sent, a lot of new fans recruited AND qualified thanks to the qualification form. It's really awesome, for a Pet brand, to know if your fans own a cat, a dog, … That's CRM, guys! You should think about it if you haven't yet. By the way, I have a bunny at home, I'm waiting for a contest with bunnies now! 😀