Our friend and contributor Marcus Ho defines Facebook app campaigns as "word of mouth contests". In his recent article 5 effective ways to run your word-of-mouth campaign, he stresses out the value of these campaigns as a booster for your company or organization's data-base due to their high amount of sign ups.
81% of consumers admitted that their friends' social media posts influence them during their purchases. 92% of consumers trust the recommendations from friends and family more than any other form of advertising.
Need Facebook contest ideas? Here are some campaigns that have brought back word of mouth marketing through Social media in a big way. We'll use Marcus' guidelines (and quotes) to see who's following through on his recommendations.
1) Fan Vote
This houseware company's Page has nearly 25,000 fans. They chose a Fan vote app to engage their fans and offer them a chance to win some fabric. The campaign lasted 2 weeks.
Why we chose this campaign:
This retail store in Greece knows how to create a sense of community and their recent Facebook campaign is a perfect example of how to use a Fan Vote contest to engage fans and their friends through word of mouth.
The principle is simple: choose your favorite children's bedding set for a chance to win it. There are 6 possible winners instead of just 1, this not only increases the chances of winning, it entices fans to share or invite their friends.
The more people vote for your choice, the higher your chances to win = one more reason to spread the word!
90% of the participants were women with 2 common interests: children and home decor. Perfect demographic for word of mouth. Well done!

2) Coupon
This mall in Santo Domingo organized a walk on World Heart day and used a coupon app to offer their fans a free participation to the walk. Their page has nearly 190,000 fans and the campaign lasted 3 weeks.


Why we chose thy campaign:
Because it was shared 98 times and got 135 invites which means a really big chunk of the participants spread the word. Using a coupon was great way to promote the "walk". No one wants to walk alone so fans shared the news and increased the viral chances of the campaign. The result?Great brand exposure through a good cause.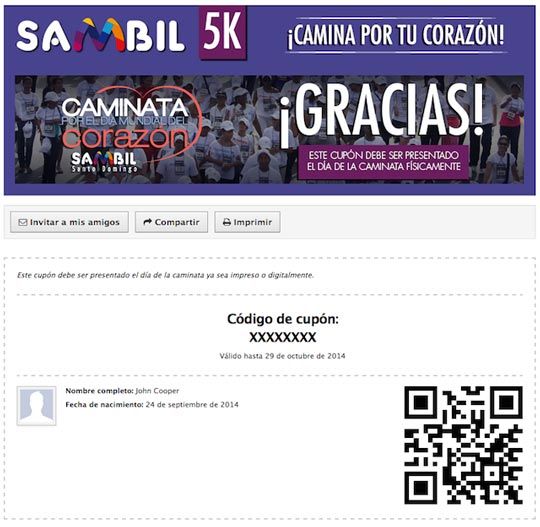 It's been proven again and again: a strong common interest builds a stronger bond between fans and a bigger propension to spread the word.
When a fan shares a coupon, he not only confirms the deal is great, but the brand is too. It's customers and fans that build a brand's credibility and reputation since consumers trust recommendations from friends and family more than branded advertising.
3) Photo Contest
This Page belongs to a region of France with over 31,000 fans. Their Photo Contest ran for 4 months and offered a chance to win 2 nights in an Inn for 4 or Deluxe Photo prints.
Why we chose this campaign:
Because it is mobile friendly! Where there are selfies, there are cell phones, and most of the time, participation is a spur the moment thing. Nearly 20% of the participants accessed the contest from a mobile device. Also, because we love to travel and we thought this photo contest was a good example on how to promote a region by showing its fans on site.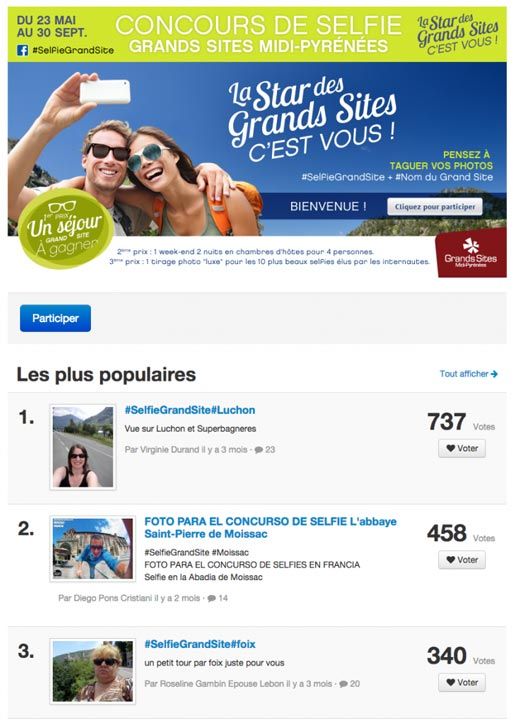 It's essential that you make your campaign mobile friendly. If you are holding a photo contest, make sure that the participants can upload their photos directly through their smartphone. Any small inconvenience can be enough to push the participants away.
Participants will rely on mobile devices to access accounts for convenience sake. Therefore, if your Word Of Mouth campaign is not optimised for mobile usage, you are only hurting your conversion rates.
4) Quiz
This green coaching company focuses on better gardening and offers their fans a Quiz contest through which they can win compost bins. The page has 16,000 fans and the campaign lasted one month.
Why we picked this campaign:
This quiz is made of super simple questions exclusively centered on the brand or the Page. And, also because this Page is all about growing your own organic fruits and vegetables. 😀 Their community is very engaged and its seems the word of mouth worked really well: it was shared 176 times, 106 invites were sent and the Page got 506 new fans.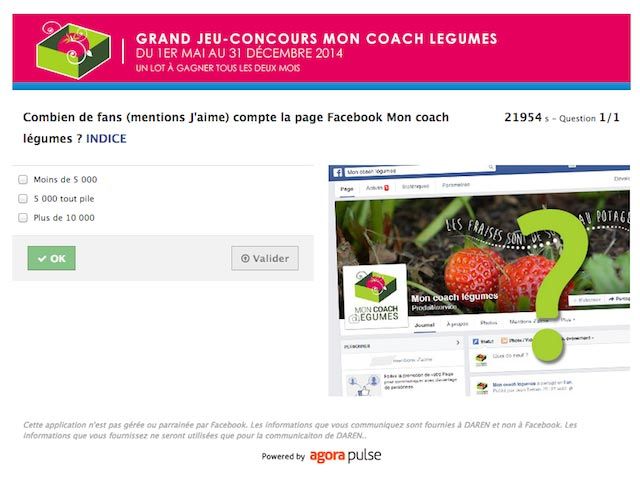 If you want to conduct a contest, make sure the mechanics and questions are simple. Even better, questions can promote your business. For example, asking where the newest outlet is can help promote your new location and it's simple enough for participants to answer quickly.
Word-of-Mouth campaigns should be effortless so that everyone can enter. If the process is too complicated, conversions will decrease.
What do you think of our examples? Share your comments with us and tell us more about your latest campaigns with Agorapulse.
Remember! If you want to communicate on your campaign's performance, feel free to send us your results and you may be a part of our next Apps review!