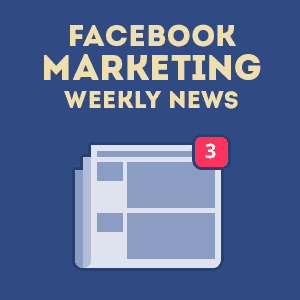 Last week we introduced five of our top ten favourite Facebook Marketing blogs of 2013. Our choices created quite a stir! In no particular order, here are the remaining blogs that we chose for our top ten; we hope that you enjoy them too.
Why not let us know what you think of this week's Pulse? "Like" us on Facebook and leave your comments
#5 Six Essential Metrics Facebook Marketers Need to Know
Author: Emeric Ernoult for ConvinceAndConvert.com
Why read this article?
Measuring the success of our Facebook campaigns and benchmarking our Pages against the competition are important components of any successful Facebook marketing strategy, but given the sheer volume of statistics and metrics available it can be difficult to know where to begin. This article is a great place to start; not only does Emeric identify the key stats; he also shows us where to find them.
What's the PULSE on This?
Fan reach and organic reach are important metrics, particularly in light of the changes signalled by Facebook.
Measuring engagement and people creating stories as a result of your content (storytellers) is important. What makes "storytellers" different to the more general engagement metric is that engagement in this case potentially generated a publication by that user showing his engagement to his friends
Negative feedback is really important to track because it tells us the type of content that our fans don't like. Negative feedback is an important weighting factor in the EdgeRank algorithm.
#4 How to Use Insights to Drive Better Engagement
Author: Lisa Kalner Williams, SierraTierra.com
Why read this article?
When it comes to determining what to Post on a Page, the best Facebook marketers take the time to ask the all-important questions: What – Where – When – How and Why?
This article has some great tips and some real-life examples of how to use Facebook Insights to answer these questions and drive better engagement for your Page.
What's the PULSE on This?
Focus on the peak times that your fans are online so that your content will reach them in their newsfeed

Assess where your fans are located – is there a time difference? Make sure your content is scheduled to support that insight
Understand how your fans came to "like" your Page and develop your strategy to attract more fans based on that knowledge
Examine the engagement stat of each post – you need to understand what posts your fans engage with, and what type of post they don't.

#3 What is the Viral Potential of a Sweepstakes Contest?

Author: Emeric Ernoult for ConvinceAndConvert.com

Why read this article?

If you are thinking of using a sweepstakes to increase your fan base and build your database is it important to understand the viral potential of such a campaign. Most sweepstakes apps rely on participants to spread the word by using the "share" and "invite your friends" options. Brands hope that virality will increase fan recruitment while decreasing advertising costs.

As users have become much more selective about the content they choose to share and Facebook has restricted visibility of these shares in users' newsfeeds, does this strategy still work?

What's the PULSE on This?

88% of participants never click on the share button, this is based on data collected in June 2013 from hundreds of Facebook sweepstakes applications totalling 108,800 monthly participants
Based on the same data 71,400 invites were sent and of these only 0.23% were accepted – resulting in 165 new participants
<
It is important to reward users for spreading the word
Give users a variety of ways to invite participants, for example Twitter, email and Facebook
Use frictionless sharing – it results in 7-8 times more referrals than the traditional "share" feature

#2 How Much to Spend on Promoting your Facebook Page

Author: Jon Loomer, Jon Loomer Digital

Why read this article?
This is a million dollar question – though not, thankfully, the answer! Find out the type of advertising you should be focussing on based on your budget and the size of your Page.

What's the PULSE on This?

Use ads to get new relevant likes if your budget is less than $100 per month.
Use ads if you want to promote a blog post and drive traffic to your website.
Make non-fan reach a very small part of your ad budget.

#1 7 Steps to a Successful Facebook Photo Contest

Author: Emeric Ernoult, for JeffBullas.com

Why read this article?

All Facebook marketers know that when it comes to virality nothing beats photos. Facebook photo contests are among the most viral and engaging promotions that you can run. Fans will actively promote their entries to their friends, consequently promoting your campaign and your brand for you. Here is the why and how you should run photo contests to promote your Page.

What's the PULSE on This?

Make sure that the photo contest matches your goals and fits with your audience. If you want to recruit fans and opt-in emails on a mass scale, a simple sweepstakes will be a better choice than a photo contest.
Make sure that you choose a suitable prize and that you protect yourself from cheaters and fraud.
Most fans access Facebook on a mobile device, so make sure that your competition is compatible with mobile.
Triple check your calls to action, and then promote your contest.

We hope you liked our roundup of the top 10 Facebook marketing blogs of 2013.

Did we leave anything out? Why not let us know what you think of this week's roundup? "Like" us on Facebook and leave your comments and if you would like to know more about your page reach, check out our cool [free] tool.