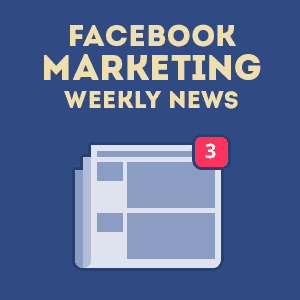 As summer begins and the World Cup kicks off, it is worth considering how to reach fans now that they are out and about more. Lots of photos will be taken and shared at this time of year – find out how to leverage User Generated Content on your page. Learn how to use conversion tracking pixels to measure ROI from your Facebook ad campaign and also discover the traits of a successful Facebook community manager.  It's all here in this week's Pulse – enjoy!
Why not let us know what you think of this week's Pulse? "Like" us on Facebook and leave your comments
 #1 How to Use Conversion Pixels to Measure ROI from Facebook Advertising
Author: Andrea Vahl, AndreaVahl.com
Why read this article?
The correct use of a conversion pixel will allow you to track the ROI from your Facebook advertising. The calls to action on your website encourage a desired outcome right? That's probably something like a newsletter sign up or an enquiry form filled out. Find out how to track the success of your Facebook ads in getting visitors to your website and on to complete these desired actions.
What's the PULSE on This?
o
You'll need control of the webpage that the conversion pixel is to be inserted on. 3rd party sites won't give you the access you need to implement this tracking.
o
The conversion pixel needs to be inserted onto the page

after

the desired action has been completed. This is usually a 'thank-you' or 'transaction-successful' page.
o
To create the tracking pixel go to Ads Manager and select conversion tracking from the left side bar. Facebook will then generate the code for the tracking pixel for you based on the parameters you select
o
Ideally place the pixel code in the <head> section of the website as it loads fastest, but it should work when inserted anywhere in the page code.
#2 How Nikon Attracts New Fans with User Generated Content
Author: Ravi Shukle for AgoraPulse
Why read this article?
Photos are easily the most shared type of content on Facebook. People love to share their photos with family and friends, but is it possible to encourage them to share photos with a brand?  The answer is 'yes'. In this post we find out how Nikon leverage user generated content to attract fans, engage with their audience and generate content for their page. The good news is – you can do all this too…..
What's the PULSE on This?
o
Make sure user generated content is easy to share and encourage fans to share great content.
o
Take advantage of special events to encourage the submission of photos based on that theme. 4th of July fireworks, for example.
o
It is important to reward fans for their participation, this can be through recognition and/or a reward based system. A leader board is a great way to do this. Award points for participation and see who your top fans are. You could also feature the best fan images on your Facebook cover page
o
Use Facebook contests to encourage fans to submit great photos to enter and win. Find out more about Facebook photo contests
o
Collate user generated content and use it to create visuals to share across your social media channels
#3 Reaching Your Audience This Summer – Use Mobile!
Author: David Cohen, All Facebook
Why read this article?
As we move into summer people spend less time at their desks and more time 'out and about'. So how do marketers reach their audience when they are out enjoying the summer sun? The answer is simple – on their mobiles. No matter where your audience is their smart phone is unlikely to be too far away. Facebook has some great tips on how to take advantage of that fact.
What's the PULSE on This?
o
Make sure your content strategy is optimised for mobile at this time of year. Use mobile friendly URL's and images.
o
Use Audience Insights to target your ideal customers with seasonal promotions. 17% of fans share information about deals and offers.
o
Use creative that taps into the outdoor lifestyle at this time of year such as summer BBQ's and family camping trips
o
Don't forget to leverage major world events like the soccer World Cup with clever creative.
o
Use the "currently traveling" targeting category to help tourists that come to your area by suggesting great places to eat and sleep and things to do.
#4 The Stories your Business Should be Telling on Facebook
Author: Aaron Lee, for Post Planner
Why read this article?
If you want to get your fans to relate to you, that means showing them the person behind your business. What better way to let your fans get to know you than by sharing some of your stories with them? Here are some great stories you can share on your Facebook page.
What's the PULSE on This?
o
Tell your own story on Facebook. Share your personality by telling people what your passions & interests are.
o
The story of your company is important if you are to connect with people. What inspired you to start your business?
o
What stories can you tell about your customers? Think about how you helped clients, generate testimonials and fan stories.
o
Share your vision with fans. Tell them what you want to change and how you are going to help them to make changes. What is special about your company and how will that inspire your fans?
#5 Community Managers: How to Build a Lasting Relationship with Fans.
Author: Danny Iny, Social Media Examiner
Why read this article?
What traits does a community manager need to have so that their audience feels like they are genuinely interested in them and not just doing their job? Danny has identified four key traits and provides guidance on how to convey them on your Facebook page to build a lasting relationship with your fans.
What's the PULSE on This?
o
Vulnerability: People love to help. Ask for help and ideas and never be afraid to admit when you are wrong. You still need to be professional though, so when asking for help pose clear questions looking for a specific response. Yes or No, A or B.
o
Generosity: Share your knowledge and expertise with the sole aim of being helpful and no expectation of any return. Don't forget to share great content from other sources too.
o
Sociable: Be genuinely social and interact with your fans on a consistent basis. Respond to comments and mentions and thank fans for joining the conversation.
o
Personality: Show your personality in your updates where possible. This can be tricky on a really corporate brand page but opportunities will arise so take full advantage of them.