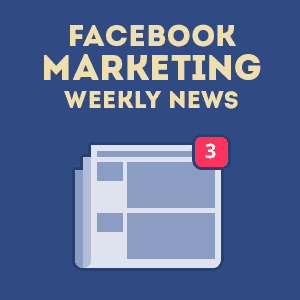 So the big news in the world of Facebook marketing this week is the roll out of the new page layout to all pages. In light of the change we thought it would be timely to share some examples of super cool Facebook contests and an infographic detailing Facebook ad specifications to help you promote your new look page.
Did you know that there are over 30 million small business pages on Facebook? That's a lot of page owners dealing with the new layout, don't forget to share the Pulse with any page owners you know, we're sure it will help them navigate the new design.
Why not let us know what you think of this week's Pulse? "Like" us on Facebook and leave your comments
#1 New Page Layout: 18 Things You Need to Know
Author: Emeric Ernoult AgoraPulse
Why read this article?
The new Facebook page layout is going to be released to all pages today (June 6). Agorapulse has installed the new layout on a number of pages and prepared a comprehensive breakdown of all the changes and opportunities you should be aware of. Take a look….
What's the PULSE on This?
o
Cover image dimensions remain 315 x 850px, but you do need to make sure that any text that appears on your banner image is raised higher. The new design automatically includes your page name and category
o
Apps are still visible on your page, however they are slightly hidden. Make sure you choose your top 3 so that they stand out when people come to your timeline
o
Content gets more space on the new timeline design. Posts now have 511px compared to 403px on the old layout
o
Use Milestones, they are a great way to get some interaction on your page and tell fans about your key achievements. This feature does not stand out as much as it did on the old design
o
Sections are now broken down into blocks. You can re-organise these blocks to highlight your most important information, like recommendations and posts to your page
o
Posts mentioning your page are a little harder to find. To find out what people are saying about your page you can access mentions via the posts to page block
o
The new review feature is awesome. You can select this block and all of your reviews are expanded in one easy to read block
o
Want to find your most important notifications? Check the new feature on the right hand side of your timeline cover image
#2 6 Ways to Use Selfies for Facebook Marketing
Author: Aaron Lee, Post Planner
Why read this article?
Selfies are BIG at the moment – particularly now that celebrities and certain high profile politicians 😉 have embraced them. Find out how you can use selflies for your Facebook marketing.
What's the PULSE on This?
o
Selfies help you to show fans the person behind your business. People are more likely to connect with other people than they are to connect with a logo or brand. Take a selfie every day and bring your fans on a journey.
o
Selfies are a great way to crowdsource information. If you are looking for product feedback and opinions, share your images and get opinions that matter to your fans
o
Sharing selfies from Instagram is a great way to connect your Facebook fans with your Instagram account. Check out Aaron's post and see how Gary Veynerchuck did this
o
Show your passion! If you really are passionate about what you do on a daily basis – share it using selfies
#3 30 Million Small Business Pages on Facebook
Author: Justin Lafferty, Inside Facebook
Why read this article?
Facebook recently announced that there are 30 million active small business pages on the platform. 19 million of these small business page owners manage their page via mobile. Facebook has been aggressively trying to get small businesses to not only set up a page, but to advertise as well. They seem to be succeeding so far …
What's the PULSE on This?
o
Small businesses that want to get the best from Facebook need to optimize their posts and apps for mobile
o
Are small business owners in your target market? They are on Facebook as users, so it makes sense to have a page to target them.
o
It is becoming a natural progression for more and more small businesses to join Facebook. If you are not using Facebook, you can be sure your competition is.
o
Facebook ads are affordable and more targeted than ever. The best thing about them is they are manageable and you can stop and start at any time.
#4 Facebook Contest Ideas – 4 Must See Campaigns
Author: Sébastien Gendreau, AgoraPulse
Why read this article?
Our latest review of great Facebook contests focuses exclusively on campaigns in Spanish. We found four inspirational campaigns to share with you – we hope you like them as much as we did.
What's the PULSE on This?
o
Non-profits have the potential to gain great traction by teaming up with relevant pages that have bigger audiences.
o
Fan vote campaigns are a great way to engage with your fans. Non-profits who trust their fans can use fan vote campaigns to gather data
o
Facebook pages need likes in order to grow. Running a sweepstakes campaign will help you to do just that. As an extra twist you can ask fans to answer a question, this will help you to gather stories that you can create great content with
o
Test your fans knowledge by running a quiz. You will find out about the real fans behind your brand
o
Would you like to know if fans are actual prospects? Run a personality test and find out what makes them tick!
#5 INFOGRAPHIC: A visual guide to Facebook's ad creative specifications
Author: Justin Lafferty, Inside Facebook
Why read this article?
Facebook has numerous ad options. It can be hard to keep track of how big an image should be and how much text you can include. Ampush has put together this infographic detailing the specifications of Facebook ad types.
>>Read the full article
Did we leave anything out? Why not let us know what you think of this week's roundup? "Like" us on Facebook and leave your comments and if you would like to know more about your page reach, check out our cool [free] tool