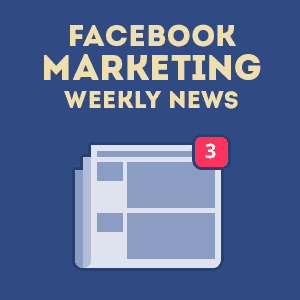 Did you know that Facebook has released a new API for developers? Find out how this will affect Facebook marketing. Jon Loomer walks us through the awesome new options now available for ad targeting based on precise demographic classifications.
Are you confused about when to boost a post and when to go with the promoted post option? Get the low down from Andrea Vahl. You can also get the definitive answer on how post frequency affects reach.
Why not let us know what you think of this week's Pulse? "Like" us on Facebook and leave your comments
#1 Target Facebook Ads using Awesome Demographics
Author: Jon Loomer, Jon Loomer Digital
Why read this article?
Advertisers have understood the power of demographic information for decades. There's a reason that we collect and value this data about our customers! The introduction of Core Audiences has brought Facebook ad targeting to a whole new level. You can now select a complex set of demographics to target potential customers. Check it out.
What's the PULSE on This?
o
Successful Facebook advertisers understand the importance of being able to zero in on a target audience that will respond to their creative.
o
Facebook Core Audiences means advertisers can now target users based on specific relationship status options, from single to divorced and everything in between.
o
Do you want to target people based on their income or net worth? Facebook has you covered!
o
Targeting based on education allows advertisers so specify the type of degree, field of study, school attended and year of graduation. You can even target based on office type.
o
I highly recommend you check out Jon's post to see the variety of audiences now available.
o
If you are wondering where all this data comes from, it's a combination of Facebook user information and data mining companies that have access to information from significant purchases and online surveys
o
Jon recommends you target in this order

o

Subscribers who are not fans

o

Website visitors who are not yet fans

o

o

o

o
#2 7 Takeaways for Marketers from the F8 Conference
Author: Thomas Jestin for Inside Facebook
Why read this article?
The F8 is a conference organised by Facebook for developers. The last one was 3 years ago. Some major developments were announced, including several that will have an impact on Facebook marketers and advertisers. With many of the changes, Facebook is essentially trying to alleviate users' fears about sharing personal information.
What's the PULSE on This?
o
Publishers struggle to get users to give personal information. Facebook is testing anonymous access to attract more users who may have security concerns. This will make it easier to entice more users to create accounts when interest has peaked
o
The new Facebook audience network will allow developers to advertise outside of Facebook. This will give Google a run for its money and give advertisers better targeting capabilities
o
App developers will have to give users more flexible options about the information they want to give. For example a user can now give a first name only and does not have to provide an email address, which will lead to increased trust from users
o
Facebook are going to protect users' friends by limiting access to a friend's information. They will provide access to an invitable friends list, based on friends who usually accept invitations to install apps.  There is little that advertisers will get out of this.
o
Going forward apps must support API 2.0. Facebook are trying to alleviate users' fears around security, which will make for better & longer usage of Facebook. This will benefit brands who take advantage of API 2.0
#3 Does Posting Infrequently Affect Reach? Find Out…
Author: Emeric Ernoult AgoraPulse
Why read this article?
Last month Emeric published an article that showed amazing organic reach and engagement on a passion page (MV Agusta motorbikes) that he hadn't posted on for 6 months.  The results showed that despite the infrequency of posting he still achieved significant organic reach. Some people questioned the results because the post was an emotional one for the fans. Challenge accepted….did the results stack when he repeated the experiment?
 What's the PULSE on This?
o
If you have a dormant Facebook page and you are thinking of starting afresh on a new page, think again. Emeric ran an experiment that shows us the impact of posts on a dormant page.
o
In his first test Emeric shared an emotionally charged post. It was put to him that the great reach he achieved may have been a combination of the high engagement due to the emotional content and a 'welcome back' bonus from Facebook
o
A month later a new post was shared. This time the post was neutral in nature. The result? 64% more reach than the previous post
o
The biggest takeaway for us marketers is that it's ok to take a break from your page. Facebook will be waiting for your return and it's unlikely that you will be penalised.
#4 Boosted Posts or Promoted Posts? Which is Better?
Author: Andrea Vahl for Social Media Examiner
Why read this article?
Facebook marketers need an advertising budget to get their great content into fans' newsfeeds. The advertising options available to us can be confusing. When should we go with the straightforward 'boost post' option, and when is it more beneficial to go with promoted posts?
What's the PULSE on This?
o
If you really need to boost a post on Facebook, Andrea recommends that you only promote your own content, content that is helpful to your audience or content that will convert fans into subscribers
o
Focus on your fans, not their friends as they are unlikely to be interested in your ad. You can also target people based on their location and interests if you want to drive traffic to your site.
o
Boosting posts may be helpful if you are in a rush. Andrea recommends that you set-up conversion pixels for ads driving traffic to your website to achieve full optimisation
o
The real downside of boosting posts is that you could be throwing good money after bad by targeting people who are not connected to your page and are unlikely to return.
o
Ads Manager and Power Editor give you much more control over audience, placement, & pricing so it is worth learning how to use it. Also, bidding oCPM has the potential to get you better results as Facebook will show your ad to people who are more likely to act on them.
o
A great tip and one I love to use is Dark Posts. By setting up a series of dark posts in Facebook you can test multiple ads without posting many times to your page.
o
Ads Manager and Power Editor will give you more control over your ads budget
 #5 Quadruple Fan Engagement on a Shoestring Budget
Author: Scott Ayres, Post Planner
 Why read this article?
Most brands want more engagement for their Facebook page. This can be difficult to achieve, particularly if you are constrained by a limited advertising budget. Find out how to quadruple your engagement on a limited budget with this great content map.
 What's the PULSE on This?
o
To maintain consistent engagement you should always be focussed on increasing likes, sharing great content and developing relationships with your fans
o
Use a combination of post types. Scott highlighted that Sandi Krakowski recommends you post 10 times per day.  Her advice is worth listening to; her page generates over 5 million dollars!
o
Here is a breakdown

o
3 Images, quotes, lifestyle, product

o

3 inspiring posts: don't copy what someone else is doing, know what your fans want and what will make them feel good

o

Post 2 x open ended questions. This will help you understand your fans personalities

o

Post 2 x great resources and don't forget to stick to your niche
o
The Postplanner app can help you with everything from status ideas to sourcing viral photos in your niche.
Did we leave anything out? Why not let us know what you think of this week's roundup? "Like" us on Facebook and leave your comments and if you would like to know more about your page reach, check out our cool [free] tool