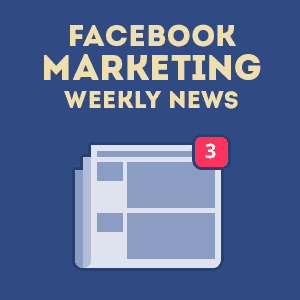 Announcement: Agorapulse launches Facebook Marketing University. Find out more below….
In light of the launch of Facebook Marketing University, we have found some insightful articles to answer key Facebook marketing questions. Find out how to use ad sets correctly, learn how to measure ROI, discover the six elements of a successful Facebook page and the benefit of leveraging current events to drive engagement.
Why not let us know what you think of this week's Pulse? "Like" us on Facebook and leave your comments
#1 Agorapulse Launches Facebook Marketing University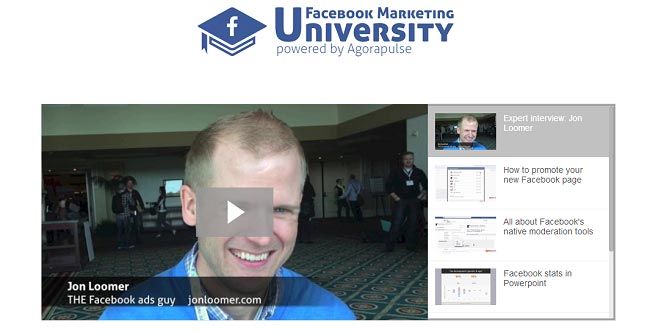 Why you should check it out?
This week Agorapulse launched Facebook Marketing University THE online resource for all aspects of Facebook marketing, for those just starting out to advanced Facebook marketers. The content is broken down into a series of videos for each subject area. We're really excited about it. It's only a beginning, more videos will be added every week – let us know what you think…
>>Visit Facebook Marketing University
#2 The new Facebook page layout is rolling out to everyone, finally!
We wrote about it early March when it was still in beta mode, but today we all started to see a pop-up window announcing the official launch date: it will be June 6!
Here is the pop-up: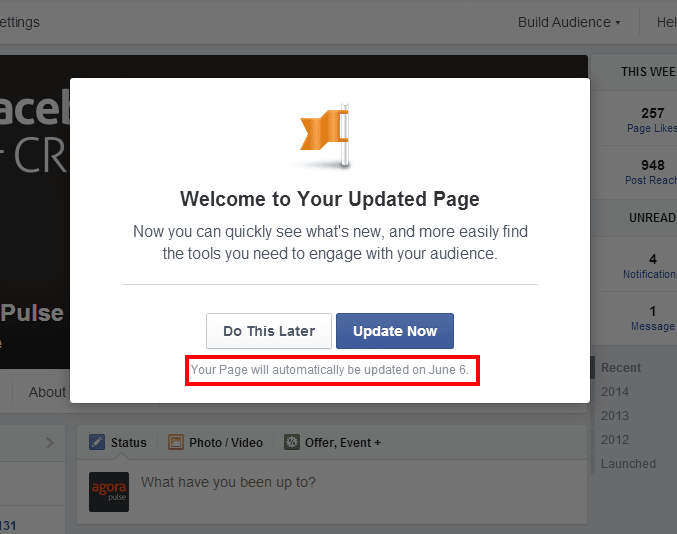 Did you see it too?
Once you click "update now", it will take you to your page with the new layout, but only you will see it. If you are happy with it and want all your fans to see your page with the new layout too, you need to click on "update page for fans":
#3 Facebook Ad Sets – Are you Using Them Correctly?
Author: Jason How, Jason HJH Social
Why read this article?
Questions about Facebook Ad Sets seem to elicit many conflicting responses – very confusing! In this article Jason How sets the record straight. Jason talks us through how you shouldn't use Facebook Ad Sets, what their distinct features are, and how you should use them.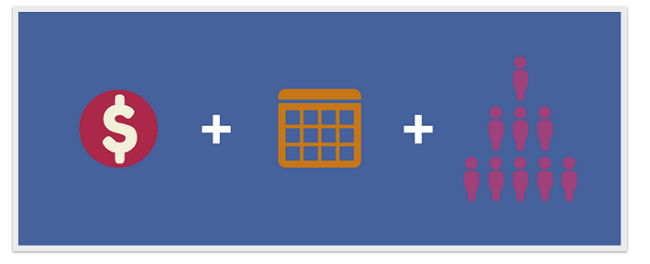 What's the PULSE on This?
o
One common mistake Facebook marketers make is treating Ad Sets as a tool to categorize ads under campaigns. You can take advantage of the new campaign structure to maximize the effectiveness of your ad efforts.
o
Do you want to reach the right audience with the right budget? Jason highly recommends you utilize Ad Sets rather than individual ads, this way your budget will be used to reach your intended audience. Ad Sets are the control room, and from here you can control budget, audience and schedule.
o
Create a number of Ad Sets with different calls to action, visuals, and copy. This is how you are going to get a clear picture of what is working.
o
Ad Sets can be planned in advance. For example you could break down annual campaigns. Jason gives a great example of breaking down a $600 monthly budget between current customers and targeting new audiences to build awareness.
o
If you are new to Facebook don't forget to use custom audiences, website custom audiences and lookalike audiences in your targeting.
#4 The 6 Key Elements of a Successful Facebook Page
Author: Scott Ayres, Social Media Examiner
Why read this article?
We regularly feature Scott's Postplanner articles, this is his first for Social Media Examiner and we have to say it's pretty great! Scott gives specific details as he walks us through 6 elements that make up a successful Facebook page. This is not a strategy piece, so it applies to anyone. Do you have all 6 elements in place?
What's the PULSE on This?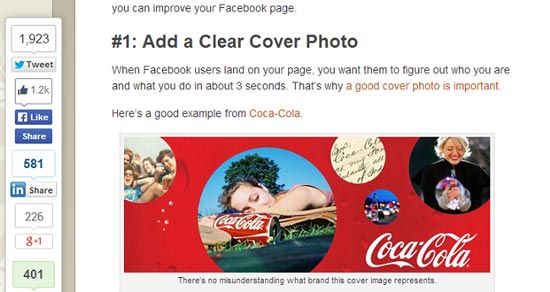 o
Use high quality images on cover photos and only include text that is relevant to your brand. For example, tell fans you have something of value to give them. Use tools like, Canva, PicMonkey & timeline slicer pro
o
Optimize your profile image so it will properly shrink to fit. This is simple advice, but you would be surprised how many brands try to squeeze a big image into a small slot! Remember the original 180 x 180px will be sized to 45 x 45px beside comments.
o
The About section on your page tells me what you do, and gives you the opportunity to get some click-throughs to your website. Don't miss this chance to capture my imagination and meet my needs.
o
We are big fans of Apps at Agorapulse. Use them to grow your fan-base, get more sign-ups and run contests. You can try Agorapulse HERE
o
Stick to a posting schedule and combine a good mixture of text, photo and link updates to keep fans intrigued.
#5 How to Measure Facebook ROI – by Nichole Kelly
Author: Emeric Ernoult AgoraPulse
Why read this article?
In March, the whole Agorapulse team traveled to San Diego on a mission to attend the best sessions at Social Media Marketing World. Why? So we could compile notes of the key takeaways and share them with you!
We've created 20 blog posts from those notes, here's the first one we'd like to share with you.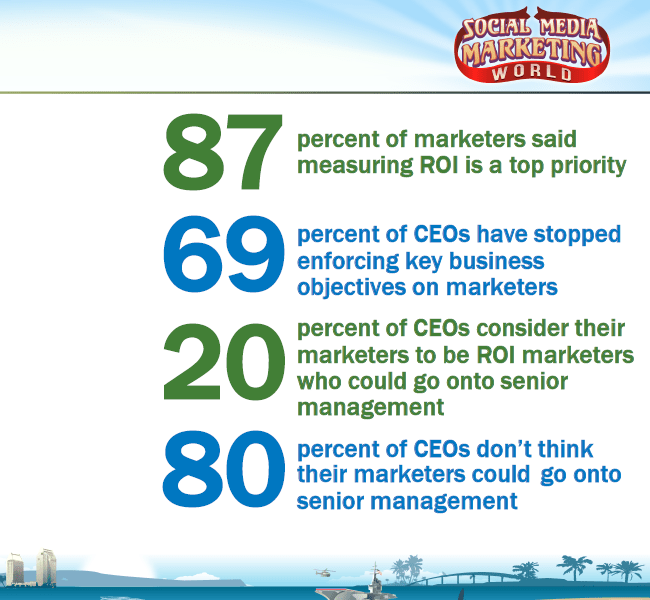 What's the PULSE on This?
o
Nichole states the importance of tying social media marketing activities with a business's bottom line. If you want to prove to your client or boss that Social works – read on. Learn how to measure Social and your career will develop faster than you can imagine!
o
ROI has two meanings; 1) generation of new revenue and 2) reduction of existing costs. How you measure these starts with a full audit of your existing data. Track and measure your efforts before you write off social media. This starts with Google Analytics, marketing automation like Marketo, and CRM software like Salesforce
o
Stop sharing links in social content without tracking parameters. Each link should have its own tracking code for each social channel.
o
It's important to note that leads coming from social are usually further away from the moment of purchase. Your nurturing sequence should be less sales focused and lean more toward being useful and helping your readers
#6 How to Leverage Current Events to Increase Engagement
Author: Aaron Lee, Post Planner
Why read this article?
What's the benefit of posting about current events on your Facebook page? It's all about engagement, that's why you want to tap into the stories your fans are already talking about! Fans are likely to engage with pages that post about topics that interest them and who doesn't love holidays and special events?  Read Arron's article to see how you can leverage special events that your competitors may miss.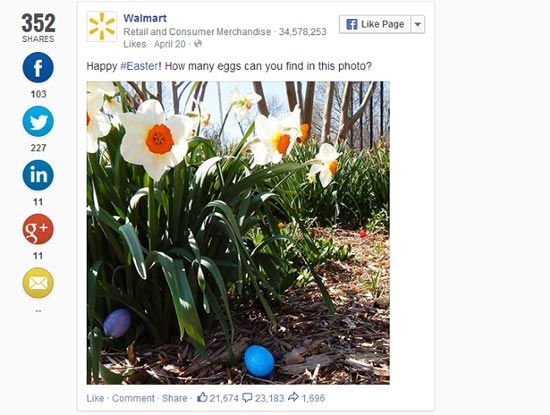 What's the PULSE on This?
o
It's holiday season for most of us. Aaron explains that posting more holiday oriented content will get more engagement. You could post a simple wish, ask questions or share a fun holiday fact. Sharing the human side of your brand will help you to connect with your fans.
o
Share newsworthy events. Prepare Facebook content for all the events that happen in a year, you should do this in advance when developing your content plan. You can leverage everything from the Super Bowl to the Grammy Awards and don't forget about smaller local events either.
o
Find out what your fans are into. If they have special interests keep your content relevant for them. A simple way to do this is to run a graph search like this: Interests of people who like my page or interests of people who like my competitor's page.
#7 Jon Loomer is Running an Online WCA Workshop
Author: Jon Loomer, Jon Loomer Digital
Why read this article?
Jon Loomer is undoubtedly a world leader when it comes to Facebook advertising, we love featuring his articles in our Weekly Pulse. This week when we saw that he is running a live online Website Custom Audiences Workshop we thought you should know.
Did we leave anything out? Why not let us know what you think of this week's roundup? "Like" us on Facebook and leave your comments and if you would like to know more about your page reach, check out our cool [free] tool