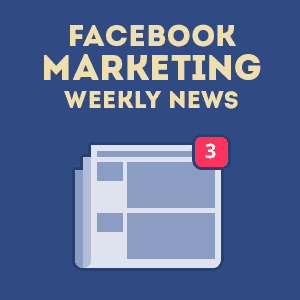 Who has the best niche Facebook Pages? What's the exact difference between post consumers and consumptions metrics? Why should you use Facebook to build your email database? How do you target Facebook users based on their purchases off Facebook? What does the latest Newsfeed algorithm change mean for automatic posts?
Find out the answer to all these questions in this week's Pulse…
Why not let us know what you think of this week's Pulse? "Like" us on Facebook and leave your comments
#1 Post Consumers & Consumption – What's the Difference?
Author: Jason How for AgoraPulse
Why read this article?
What does Post Consumer really mean? Most people think that this metric includes anyone who has liked, commented, or shared your post. They're correct – but that's not all this metric reports. Do you know what else is included? Find out here…
What's the PULSE on This?
o
Jason shows us how to get the most from our insights data by tracking the metrics that really matter.
o
Pay less attention to likes, comments and shares and put more focus on post consumption metrics. These are people who have clicked anywhere in the post on your page. These metrics will show you more useful information. The replies and comments metrics are also included.
o
You will find this data in your post level Facebook Insights Report
o
The biggest and most valid take-away is to move away from measuring Facebook reach as a KPI for your page.
#2 How to use your Fan Page to Double your Email List
Why read this article?
A businesses email list is a valuable asset and in the online world it's one of the few you actually own. You don't want to build your online business on rented real estate, which is why you need to funnel your Facebook audience into your email list. Find out how.
What's the PULSE on This?
o
Did you know that 35% of Facebook fans like pages for their contests? Running an enticing contest on your Facebook page is a good way to build a relevant list of subscribers
o
Create fan-only freebies and offers. People love to get useful information and tools for free. Create an e-book, report, or podcast to inject your list with new subscribers
o
42% of fans like Facebook pages for special offers. It's simple to create a Facebook offer. You can make signing-up to your email list a requirement to claim the offer.
o
Direct your fans to your website where they visit an opt-in page. Use testimonials to validate what it is that you are offering
#3 Target Facebook Users Based on Buying Behaviour
Author: Jon Loomer, Jon Loomer Digital
Why read this article?
Did you know that you could target Facebook users based on purchases they make away from Facebook?  This powerful targeting tool is found in Power Editor within Behavior Targeting. The information comes from Facebook's data partners Epsilon and Datalogix.
What's the PULSE on This?
o
Facebook advertising is becoming more powerful by the day. Jon shows us how it is possible to target users based on purchases they made away from Facebook.
o
For example if you have a B2B page you can target users who have purchased items in the category of:

o
Office & Corporate Gifts

o

Maintenance Repair & Operations

o
o
Are you selling directly to consumers? You may want to target these buyers:

o

o
o
You can take the categories above and break them down further into sub-categories

o

Small & Home Office Products

o

o

o

o

o
o
The possibilities are limitless and more targeted than ever before. Have you tried any of these options yet?
#4 Algorithm Change Punishes Automatically Generated Posts
Author: Justin Lafferty, Inside Facebook
Why read this article?
Facebook constantly updates the Newsfeed algorithm and it has recently announced a major change. Posts automatically generated by 3rd party apps will move down the ranking. This change will only affect automatically generated content, not content that is manually shared through a 3rd party app.
What's the PULSE on This?
o
Review any automatic elements of your posting strategy
o
Manually shared content gets better engagement than automatically shared content
o
Putting some time and effort into curating content your fans care about will get better long term results than filling their newsfeeds with auto-generated posts.
#5 8 Examples of Pages that Find Cool Stuff to Post
Author: Aaron Lee, Post Planner
Why read this article?
It can be difficult to manage a Facebook page when you are operating in a niche market – yet some pages are doing a fantastic job at just that. Aaron highlights 8 Facebook pages that are getting their posting strategy just right.  Take inspiration from them and remember imitation is the highest form of flattery!
What's the PULSE on This?
o
People respond to what they

see

on Facebook. Use stunning photos that appeal to your audience
o
Share content about the day to day happenings in your business
o
Partner with other pages and run contests to leverage each other's audiences
o
Always help your fans and do positive things for your community
o
Use questions to encourage engagement. They are a good way to find out how your fans tick!
o
Keep posts light hearted and easy to digest. You have 3 seconds to make an impression on your fans so don't waste it
Did we leave anything out? Why not let us know what you think of this week's roundup? "Like" us on Facebook and leave your comments and if you would like to know more about your page reach, check out our cool [free] tool