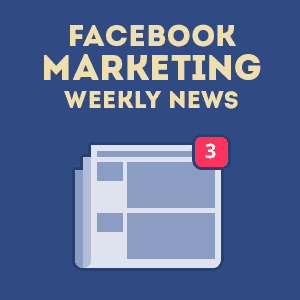 Regular readers of the Weekly Pulse will know that we often feature articles about how to run effective Facebook advertising campaigns. This week find out how the Power Editor tool and the Ads Manager tool compare, and learn about the new Ads Insights that are currently being rolled out.
This week you can also get some great inside tips from Zach at Canva on how to create awesome graphics and Aaron at Post Planner gives us food for thought as he question's some Facebook best practices.
Why not let us know what you think of this week's Pulse? "Like" us on Facebook and leave your comments
#1 How does Ads Manager and Power Editor Compare?
Author: Nicholas Grizzell for AgoraPulse
Now that the self-serve Facebook ads tool includes the ability to create Custom Audiences and conversion tracking pixels, where does that leave Power Editor? The fact is that Power Editor is much more complicated than the ads tool and you can only run it on Chrome. Despite this it remains the platform of choice for professional Facebook advertising. Find out why
What's the PULSE on This?
o
If you want to get the most from your ads budget you really need to use Power Editor. Using Power Editor will give you access to Facebook's newest ad features. This will give you a competitive advantage.

o

We all know that the more targeted your ad is, the better the results. Using partner categories in Power Editor can help you to fine tune that targeting. For example, if you are a luxury brand you can target owners of prestigious sports cars.

o

Do you want better conversions? Use lookalike audiences in Power Editor.

o

Dark posts are only available in Power Editor. They are the perfect solution to creating a post that requires an action, particularly if you are under time pressure.

o

How many of your fans are using mobile? Use Power Editor to target fans where they are hanging out

o

Bulk editing is one of the best features for busy marketers who are running big campaigns. If you have lots of ads running you can make edits quickly and easily in the bulk editor
#2 Secrets to Great Facebook Graphics Revealed
Author: Zach Kitschke, Kim Garst
Why read this article?
More than 60% of social media is now made up of pictures. Successful Facebook marketers are taking advantage of that fact by utilising great graphics to encourage high engagement, lots of comments and shares. So what makes a great graphic, and how can you leverage that to make sure your posts stand out?
What's the PULSE on This?
o
Before you dive into the nitty gritty of creating great graphics for your Facebook page, do a stock take of the images you can use. For example a clothes store should have lots of pictures of their clothing and have the images saved in bulk

o

You need to know your audience before you get creative. Are they young and hip or professional and reserved?

o

Stand out, don't just copy what someone else is doing, it may not work for your business

o

Use grids and frames to make your designs look slick and professional

o

Filters make simple graphics more compelling

o

Mix it up and keep your graphics fresh and different. What logos will you use? Different text, colours and images keep things fresh

o

Be consistent. Like anything on Facebook consistency will help you to build rapport with your fans
#3 5 Facebook Marketing Practices You Should Quit
Author: Aaron Lee, for Post Planner
Why read this article?
We all love to read about "best practices" and how to apply them to our business. They are important, right? Of course they are! However as with everything in life there is no 'one size fits all'. Here are some Facebook marketing best practices that may not fit the bill for your business. Check them out.
What's the PULSE on This?
o
Experiment with some unconventional ideas when you are creating your posts, they may help you to stand out from the crowd. Just because something works on your competitor's page does not mean it will work for your audience.

o

Post at different times to see what works best for YOUR audience.

o

Do you know the best day to post? Try different content on different days. During the week keep your content related to your overall marketing messages and share more personal content at weekends

o

"They" say that posting twice a day is the recommended frequency. There is no right or wrong answer to this one. I know some pages that post every hour and get great engagement.
#4 Facebook Ads Audience Insights Tool Announced
Author: David Cohen, Inside Facebook
Why read this article?
Facebook's new Audience Insights tool will give Facebook advertisers the opportunity to learn more about Facebook audiences and the audiences they target with ads. This will give marketers the ability to refine their strategies based on the reported metrics. The tool will first be rolled out to US users of Ads Manager.
What's the PULSE on This?
o
Would you like more information about Facebook users? Now you can with Facebook's new Audience insights. It provides aggregated anonymous data. Here is a breakdown of what you can access:

o
Demographics : Age, gender, lifestyle, job, household size

o

Page likes: Pages liked by people. For example women's sports, men's clothing

o

Location & Language: Where do people live and what language do they speak?

o

Purchase activity: In store, online, past purchase activity

o

In addition to Custom Audiences, you will now be able to target people on Facebook in general based on their behaviors and past events

o

Audience Insights will let you analyse the trends that your potential new fans are interested in. This all means you will have a bigger pool to pull from
Did we leave anything out? Why not let us know what you think of this week's roundup? "Like" us on Facebook and leave your comments and if you would like to know more about your page reach, check out our cool [free] tool