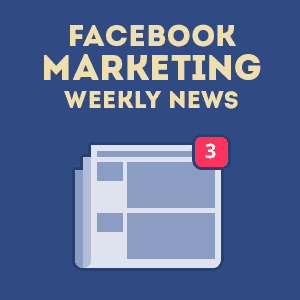 Would you like to become an influencer on Twitter? We found a great article this week on the types of Twitter influencer and how to become one. Facebook advertisers will love the articles on the custom reports you can create and auto-schedule for your clients and business owners will appreciate the insight on how to keep Facebook advertising costs down through accurate targeting. Is Facebook crossing into SnapChat territory? Read about now – it might just vanish.
Why not let us know what you think of this week's Pulse? "Like" us on Facebook and leave your comments
#1 How to Create Facebook Ad Reports for Clients
Author: Jon Loomer, Jon Loomer Digital
Why read this article?
Do you manage Facebook ad campaigns on behalf of your clients? Do you struggle to create effective monthly reports that balance the information your clients want with the information they need? Custom Ad Reports have been available through the Ads Manager for over a year. Here's how to use them.
What's the PULSE on This?
o
You can customize reports in Ads Manger using the Edit Columns feature.
o
Create straightforward reports based on clear objectives
o
It is vital that you have a convention for naming campaigns. This should include the campaign objective and the Page name at a minimum.
o
You can schedule reports to be automatically sent to you and your clients on a monthly basis – very handy!
#2 Sharing on Social Networks- How the Networks Compare
Author: Shea Bennett, Media Bistro
Why read this article?
Ever wonder which social networks have the most content shared?  This report studied the one million most-shared articles from the first six months of 2014. The articles generated more than 2.6 billion shares between them. We're sure the winner won't come as any shock (HINT – It's Facebook) but the winning margin might!
What's the PULSE on This?
o
Facebook came out on top with  81.9% of the social shares
o
Twitter came in second, with 8.6% of shares.
o
Google+ (4.3%), Pinterest (3%) and LinkedIn (2.2%).
#3 Target Niche Users with Facebook Graph Search
Why read this article?
Facebook Graph Search is a powerful tool that allows small business owners to target specific audiences. Do you have a competitor whose fans you would like to target? Using Graph Search in combination with Lookalike and Custom Audiences allows Facebook Page owners to do exactly that. Find out how. 
What's the PULSE on This?
o
Refine Graph Search to find the demographics and interests of your target market
o
Demographics include age range, place of work, schools attended and more.
o
Using Facebook tools like Graph Search effectively means small business owners can target their potential customers without spending a fortune.
#4 How to Become an Influencer on Twitter
Author: Neil Patel,for Social Media Examiner
Why read this article?
This article is based on an in-depth study of Twitter conversations and the role of influencers in those conversations. Learn how to navigate the Twitter sphere, and become an influencer in your niche.
What's the PULSE on This?
o
There are two types of Twitter Influencer – Hubs and Bridges
o
Hubs are the most powerful type of influencer and are at the centre of the conversations in their networks.
o
Hubs create virality by creating original content relevant to their niche that is then retweeted by their followers.
o
Bridge Influencers create virality by sharing relevant content and connecting groups of people.
#5 Facebook Testing Time Limit Functionality for Posts
Author: Quinton O'Reilly, Business Etc.
Why read this article?
Facebook is experimenting with the idea of posts having an expiration date. The feature is being tested with a small number of iOS users in New Zealand and allows users to give their posts a specified lifespan ranging from one hour to seven days.
What's the PULSE on This?
o
This is just a small test but it could be an interesting feature.
o
The success of SnapChat proves that this functionality is popular with users.
o
The marketing opportunities for disappearing posts could be interesting – flash sales, competitions and exclusive time sensitive offers.
Did we leave anything out? Why not let us know what you think of this week's roundup? "Like" us on Facebook and leave your comments and if you would like to know more about your page reach, check out our cool [free] tool