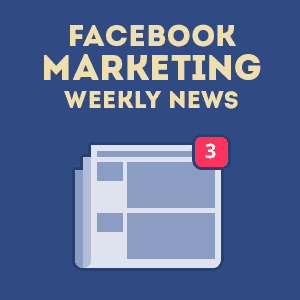 The big news this week is the change to the NewsFeed algorithm and Facebook's announcement that organic reach will likely decline in 2014. Facebook marketers should bear this in mind as they work on their content strategies. Amy Porterfield shares some interesting tips on the type of status updates likely to drive fan engagement in the run up to Christmas and Jon Loomer introduces us to the wonders of FBX or Facebook Exchange.
Why not let us know what you think of this week's Pulse? "Like" us on Facebook and leave your comments
#1 Status Update Ideas to Fire Up Christmas Campaigns
Author: Amy Porterfield, AmyPorterfield.com
Why read this article?
The key to using Facebook for marketing in the run-up to Christmas and the holiday season is motivating fans to share updates about their purchases and their experiences with your brand. Finding the right type of content to generate valuable activity is the key to achieving this goal. At AgoraPulse we call these fans our Brand Ambassadors, in this article Amy Porterfield has some great ideas on how to galvanise them into action at this time of year.
What's the PULSE on This?
o
Status updates are a great way to promote events this holiday season. Make sure you include details of the event and clear calls to action in your post, for example, include a  link to the event page.
o
If your goal is to get newsletter sign-ups, run a weekly giveaway that requires fans to provide their email address and opt-in to your database. This is a simple way to get subscribers and increase engagement.
o
Use posts to share limited- time, or fan-only offers
o
Run timeline contests that drive engagement and tell you more about your fans
o
Posts are a great way to promote your Facebook apps
#2 How to Target Email Recipients with Facebook Ads
Author: Jon Loomer, Jon Loomer Digital
Why read this article?
Custom audiences allow you to target an email list with Facebook ads, whether they are fans or not. Using FXB or Facebook Exchange you can retarget customers who have visited your website with Facebook Ads. Both are very powerful tools, but did you know that you can also retarget email recipients in the same way?  This is a powerful form of advanced Facebook Advertising; find out how it works in this article by Jon Loomer.
What's the PULSE on This?
o
FBX allows advertisers to retarget website visitors on Facebook. Visitors to your site may have abandoned a shopping cart or showed interest in a particular section of your website that is relevant to a new product. Retargeting them on Facebook can assist in increasing conversion rates.
o
FBX targeting is only available via PMD vendors. Read Jon's post to see how you can start today.
o
Custom audiences requires you to keep your list up to date, FBX does not require that action.
o
Jon mentions the Perfect Audience tool that also allows you to retarget key email recipients. If a subscriber opened your mail out of interest but didn't convert you can segment these subscribers and retarget them.
o
You'll need to have a well-developed list before you can run these types of ads
#3 Has a Recent EdgeRank Shift Benefited Publishers?
Author: David Cohen, All Facebook
Why read this article?
EdgeRank is the Facebook algorithm that decides what content appears in a Facebook user's NewsFeed. Has a recent change in the NewsFeed algorithm seen more content from publishers like Huffington Post and Time appear in your NewsFeed? Find out what the major publishers have to say about this story…
What's the PULSE on This?
o
Business Insider reported a 180% increase in Facebook referrals
o
Look at your content posting strategy and make changes like posting evergreen content on topics that are trending.
o
In the same vein, you can put older content into context and re-share
#4 How to Use Facebook for Local Business
Author: Scott Ayres, Post Planner
Why read this article?
Let's face it, a lot of the advice that is published about Facebook Marketing relates to online stores or services. If you have a local store or business, not all the best practice that you read online applies to you. So Scott kindly offers some Facebook marketing advice specifically geared towards local businesses.  Find out what he has to say.
What's the PULSE on This?
o
The first thing a local business needs to get right is engagement. Use posts to ask fans if they are located within a 10 – 20 mile radius of your premises.
o
Fans only see content from Pages they engage with, so remember to focus on that. Once you have established trust with your fans they will let you sell to them.
o
Use powerful images that generate an emotional response from your fans. If you are a local restaurant, share updates of great looking food.
o
Use advertising to build your fan base and attract likes from a 20 – 30 mile radius of your local business.
o
Run contests with relevant prizes and don't forget to put a value on those prizes.
o
For local businesses with small fan bases and limited advertising budgets of between $20 – $50 per month, Scott recommends that you use Facebook's 'boost post' option
o
Include contact details on your posts so that fans can access them in their NewsFeed. Only a very small percentage of fans will go back to your timeline.
o
Run exclusive Fan ONLY offers
#5 Why Organic Reach is Likely to Fall in 2014
Author: David Cohen, All Facebook
Why read this article?
We now know about the recent changes to the NewsFeed algorithm, but how will they impact organic reach? As competition for space in the NewsFeed increases, Facebook has warned Page administrators that they will likely see a decline in organic reach and has urged them to focus on a combination of engaging page posts and advertising. So what does this mean for your business Page?
What's the PULSE on This?
o
Use a combination of engaging posts and Facebook advertising to make sure your content is seen. It is increasingly difficult to reach your fans organically.
o
Focus on high quality content that gets engagement to ensure your organic distribution does not suffer too much.
o
Facebook has warned Page admins that it will become increasingly difficult to reach fans organically in their NewsFeeds. This is because competition is increasing.
o
Stay up-to-date with changes to the NewsFeed algorithm so that you can adjust your content strategy where necessary.
Did we leave anything out? Why not let us know what you think of this week's roundup? "Like" us on Facebook and leave your comments and if you would like to know more about your page reach, check out our cool [free] tool