This is part of a series of blog posts that will be aimed at finding hidden statistical gems that are buried within Facebook Page Insights. The first several parts of this series will focus on the web version of Insights.
Most Facebook Page admins are obsessed with two metrics: 1) Page Likes and 2) Reach of individual posts.
Unfortunately, most stop there. The truth is that there are dozens and dozens of metrics that can help you get a better idea of how your Page is performing as well as help strategically dominate your Facebook marketing.
Today's blog post will focus on how you can track your most viral posts and use that information to your advantage.
What is Virality?
Before we talk about how to find it and make use of this metric, it's important to understand what it means.
According to Facebook, virality is defined as follows:
The percentage of people who have created a story from your Page post out of the total number of unique people who have seen it.
Of course, for this to make sense, you also need to understand the definition of a story.
A "post story" is the piece of content that is created by your Fans and shared with their friends whenever they interact with your content in the following ways:
o
Like, comment on or share your Page post;

o

Answer a Question (native Facebook app) you've asked; or

o

Respond to your event.
Okay, now let's learn how to find it…
How to Find Virality
From your Admin Panel, click the "See All" link in the Insights widget.

Within the first "Overview" tab, scroll down to the list of Page posts at the bottom. The second to last column is Virality.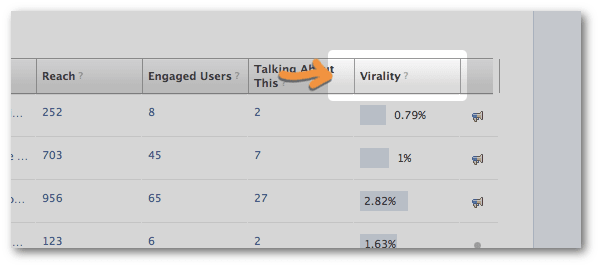 You'll now want to make sure that you are viewing a large enough sample size to matter. I like to analyze at least one month of data at a time.
Scroll down to the bottom and click the Older Posts link.

You'll want to click "Older Posts" as many times as necessary to create an adequate sample size. Feel free to go to town and keep clicking!
Now, go back to the top of this table and click the "Virality" header. This will sort your posts in order of virality. You may need to click twice to view highest virality first.
To start, I like to keep the filter option on "All Post Types." You can adjust that above the table.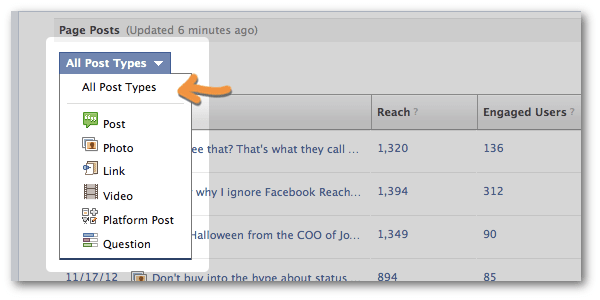 I also like to focus only on content that hasn't been promoted since promoting a post will impact virality (not always positively). That doesn't mean I won't look at promoted content as well, but it should be analyzed separately.
You can't remove promoted content from this view, but you'll know if it's been promoted when there's a gray circle in the final column for that particular piece of content.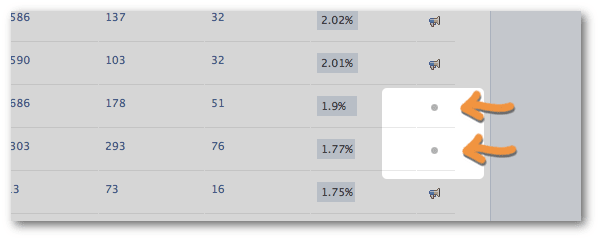 Now that you have this content sorted, start digesting the information. Ask yourself the following questions:
o
Is one type of content consistently the most viral?

o

Is one type of content consistently not viral?

o

What other common characteristics are there of your most viral content?
For me, all of the five most viral pieces of content during the past month have been photo shares. Of those top 10, only the 10th (a photo) was promoted. The other three were link shares.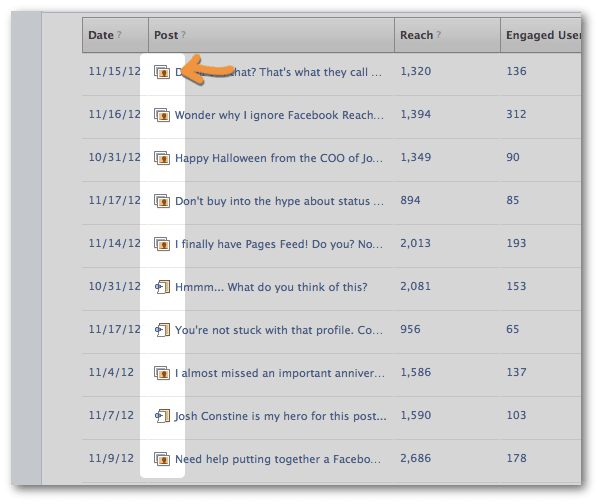 This is interesting since we've been hearing a lot about how Reach is dramatically down for photos and up for status updates. Reach clearly does not lead to virality.
I've actually been experimenting quite a bit with status updates during the past month due to the talk of an increased Reach. But it's not until I get to my 17th post in the list that I get to a status update.
Of course, this shouldn't be an enormous surprise since status updates just aren't something you'd typically share as a user. But this adds to the list of reasons to look beyond Reach when determining success.
When trying to determine trends surrounding what makes a post viral and what doesn't, look at the format of your post. Each of the top two photos that I shared include questions in the first sentence.
To get insight into the details of your post, simply click on the link in the "Post" column. Here is the popover that shows the details of my most viral post during the past month.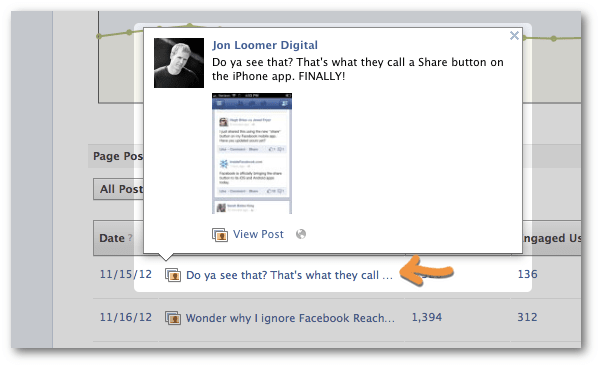 I don't want to get too into the weeds on this, but something interesting to note is that "Engaged" doesn't always mean "Viral." First, here's the definition of "Engaged User:"
The number of people who have clicked on your post.
Note that my two most viral posts are nearly identical in Reach, but the second most viral has nearly three times as many engaged users.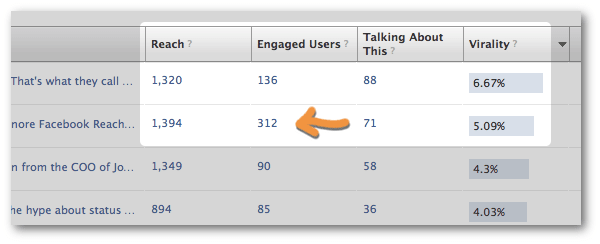 This is the type of thing you should monitor to determine if you can spot any explanations or trends that you can learn from going forward.
How we measure virality on AgoraPulse
Of course, you can also evaluate Virality with AgoraPulse. Click Statistics > Posts and then select Reach from the second drop-down at the top.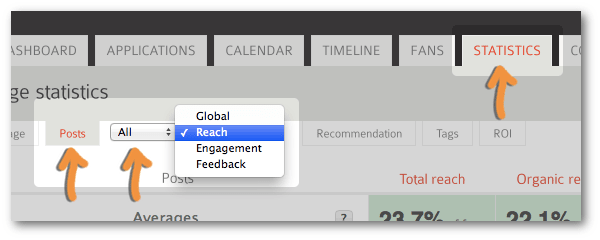 You can now sort by "Viral Reach." This is actually slightly different than Virality. You'll recall that "Virality" is the percentage of people who created a story from your post out of the total number of people who saw it. Viral Reach is slightly different, measuring the percentage of the total people reached via a story generated by Fans and non-Fans.
The results are also slightly different. Here, I find that my Viral Reach is still highest with a photo, but the next four posts in order of Viral Reach all go to status updates.
Making Meaning of the Difference
So, how could this be? What does it mean, and what does it teach us?
The "Virality" found within the web version of Facebook Insights really tells us how likely something is to generate story-creating engagement. "Viral Reach" within AgoraPulse tells us which posts reached the most people as a result of story-creating engagement.
In a perfect world, one would lead to the other. But we've found recently that photos and status updates, at least in the current form of EdgeRank, are not created equal in terms of Reach.
If we combine the two results, I see that one of my photos generated 112 stories that resulted in a Viral Reach of 191 users. On the flip side, one of my status updates resulted in two stories that reached 58 users.
For whatever reason, Facebook is more willing to surface these stories for status updates than for photos. But the photos, I've found, simply generate more engagement — both from Fans and those who stumble upon the post from a friend's story.
In other words, status updates may have the greatest potential to reach the most people, but photos are more likely to generate valuable engagement. That doesn't mean that one is necessarily better than the other, but that both have a purpose.
This article has been written by Jon Loomer. Jon is an awesome Facebook Marketing coach delivering unique and actionable Facebook marketing tips on his blog. Don't miss his Blog and Newsletter : http://www.jonloomer.com/
If you want to learn more about reach, virality, and Insights, read this article.
Interested in what the new Facebook Page Insights will do for you? Read this.