This is part of a series of blog posts that will be aimed at finding hidden statistical gems that are buried within Facebook Page Insights. The first several parts of this series will focus on the web version of Insights.
Last week, I wrote about how to track Virality and Viral Reach of your Facebook content within the web version of Facebook Insights and with AgoraPulse.
Today, I want to focus on how to easily track the performance of your Facebook posts. Once again, I'll be using the web version of Facebook Insights as the main tool for analysis. Down the road, we will also start digging into page and post level exports, which are much more robust.
I want to concentrate on two main metrics: Engagement and Talking About This. The two are often used interchangeably, but they are actually quite different.
Quick reminder: You can access your web version of Facebook Insights by clicking on the "See All" link within the Insights widget in your Admin Panel.

We'll be looking at data within the first tab, called "Overview." As was the case last time, make sure that you are looking at at least a month's worth of data. Scroll down to the very bottom and click "Older Posts" as many times as is necessary to expand your sample size.

Engaged users
When we talk about "Engaged Users," we often mistakenly refer only to comments, likes and shares. That is actually not the definition. An Engaged User, according to Facebook:
The number of unique people who have clicked on your post.
Comments, likes and shares are included in Engaged Users. But such a metric would also include any "lurkers" who click within your post but do not perform an action that generates a story. This could include:
o
Clicking to view comments or likes

o

Clicking a link

o

Clicking a photo

o

Playing a video
Since Page post comments are automatically collapsed, this would be a typical action of a user engaged with your content without generating a new story.
While it's certainly preferred that you get comments, likes and shares, you should not ignore total engagement when determining successful performance. As we discovered last week, generated stories are often not reaching friends anyway (especially when not using status updates), so participation does not guarantee virality.
Click on "Engaged Users" to sort from most to least.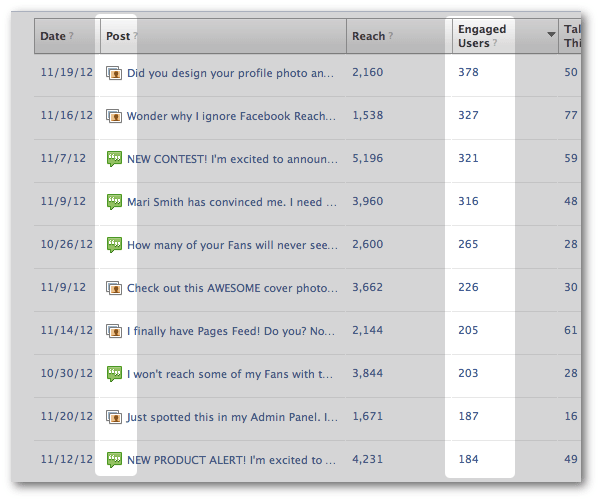 I've found that of the 10 posts that generated the most engaged users, five are photos and five are status updates. That said, the top two are photos and two of the status updates were promoted.
You can easily get a sense of the type of engagement a single post received by clicking on the number in the Engaged Users column.
Here's an example: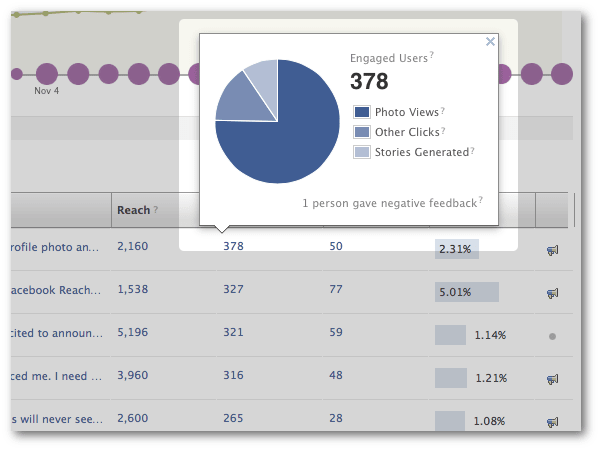 You'll see the following stats:
o
503 Photo Views

o

63 Stories Generated

o

102 Other Clicks

o

1 person gave negative feedback
A few things to note here…
Negative feedback! OH NO!
No big deal. It happens. I tend to get some type of negative feedback on just about everything I write. I don't know why it happens, but it does.
You'll see much more of it on posts that you promote. I had 19 people give me negative feedback for my status update about my AgoraPulse contest. You should be conscious of it, but don't let it paralyze you.
Also, you'll note that these numbers do not add up. That's 668 total engagement activities, but 378 Engaged Users.
It really doesn't make much sense that Facebook does it this way. If I click on the number for Engaged Users, I should see the breakdown of those users. Instead, they show the breakdown of activities.
So clearly, one user can perform multiple activities. That's why the numbers don't add up.
It's also helpful to take a look at what received the fewest Engaged Users. I'd recommend ignoring anything from the past few days since those numbers are not complete. Also ignore anything that utilized any type of targeting.
Those things considered, here is the breakdown of my 10 posts that have received the least amount of engagement during the past month:
o
6 Status Updates (one was promoted)

o

4 Links

o

0 Photos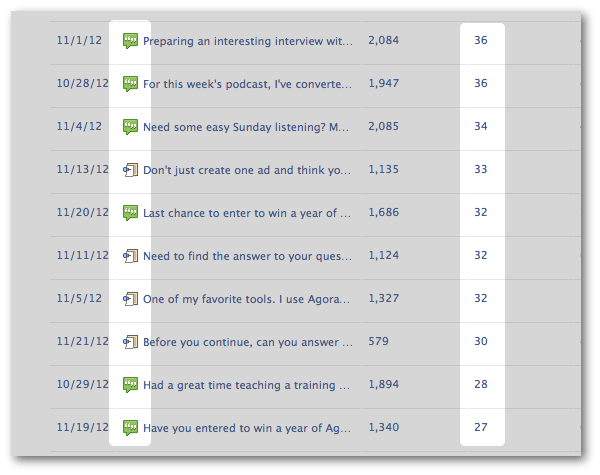 As you can see, photos are nowhere to be found here. The two posts that received the least amount of Engaged Users were both status updates.
I should also point out that all of the four links on this list were shared in the middle of the night (my time). Part of my strategy is resharing evergreen blog posts at times when I can reach people in time zones on the other side of the world.
That audience is smaller than my US audience. So it is a bit telling that status updates posted during peak times are at the bottom with those same links.
In terms of post types, we can see that photos get quite a bit of engagement. It would appear that status updates may do slightly better than links, but part of that can be attributed to time of day when the content is shared.
Of course, you shouldn't just attribute content type. Look closely at the quality of your post as well and find learnings from the language you use in the content that did and didn't do well.
Talking About This
We want users to "talk about" our content. Here is the definition from Facebook for "Talking About This":
The number of people who have created a story from your Page post. Stories are created when someone likes, comments on or shares your post; answers a question you posted; or responds to your Event.
Yeah, that's the good stuff!
So now let's sort by Talking About This and see if we find anything different…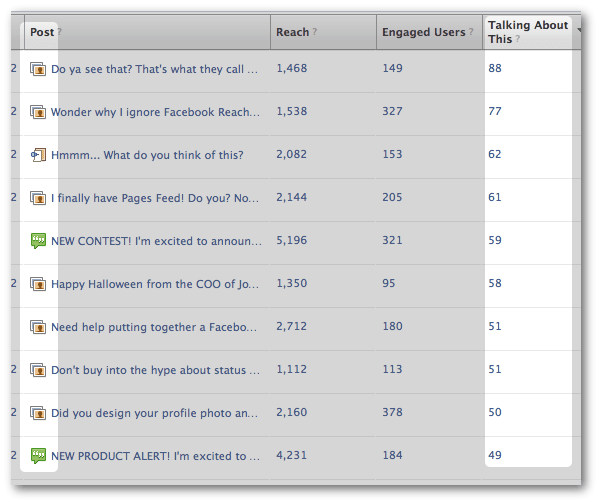 The top two posts for Talking About This are again photos. However, this time the post with most PTAT actually wasn't within the top 10 of most Engaged users. The #2 photo was the same with each metric.
A link actually makes it into the top 10 this time, coming in the third spot. One reason this link made it was that it wasn't one of the posts I was sharing in the middle of the night.
Only two status updates made it this time, but both did so due to the advantage of promotion. Only one photo (#7) was promoted.
The 10 posts that received the least amount of PTAT are broken down like this:
o
4 links (including bottom two)

o

5 status updates

o

1 photo
Once again, three of those links were shared in the middle of the night and were at a built-in disadvantage.
So it again appears that photos are most likely to result in story-generating activities. This isn't a major surprise in particular for status updates, which simply won't be shared as often.
As with Engaged Users, you can click on the numbers within the Talking About This column to get additional details…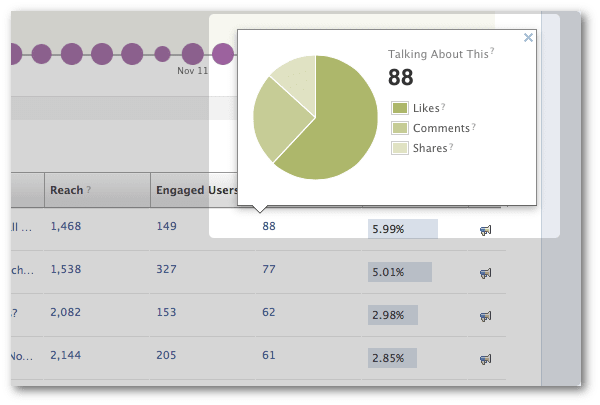 The image above received 70 likes, 28 comments and 15 shares. Once again, those numbers don't add up to the total (88). The total refers to the number of people "Talking About This" while the individual numbers represent the actions performed by those people (some people performed multiple actions).
Engaged Users and Storytellers on AgoraPulse
AgoraPulse offers all of the information described above, but in a much more easily digested format.
Select "Statistics" at the top, filter by "Posts" and select "Engagement" from the second drop down.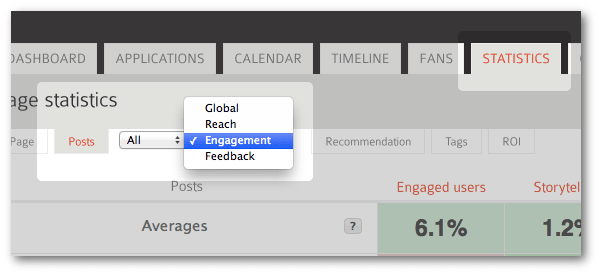 Now you get everything within a single view:
o
Engaged Users

o

Storytellers (People Talking About This)

o

Comments

o

Likes

o

Shares

o

CTR (link clicks)
The one difference is that AgoraPulse displays these results as percentage of users reached instead of totals. This is actually much more useful.
Using AgoraPulse, here are a few more observations that I made:
Engaged Users: All of the top eight are photos. The ninth is a status update.
Storytellers: All of the top seven are photos. The eighth is a link and 10th is a status update.
Comments: All of the top four are photos. Numbers five and eight are status updates.
Likes: All of the top five are photos. The sixth is a link and 10th is a status update.
Shares: Top two and seven of the top 10 are photos. The other three are links.
Link Clicks: Top four and six of top 10 are photos. Other four are links.
I should note that I have experimented many times using links within status updates so such posts were not at a disadvantage.
Making Sense of It
The AgoraPulse results make a conclusion much clearer: Status updates simply do not generate meaningful engagement.
Sure, you will reach more people if you use status updates. But if you want to encourage likes, comments, shares or any other clicks, I've been most successful using photos first and links second.
This is again in stark contrast to everything we are hearing. I highly recommend that instead of following the crowd using status updates to first take a deep dive into your stats to determine whether it's worthwhile.
What are you seeing? Let me know in the comments below!
This article has been written by Jon Loomer. Jon is an awesome Facebook Marketing coach delivering unique and actionable Facebook marketing tips on his blog. Don't miss his Blog and Newsletter: www.jonloomer.com