Create Instagram Carousel posts that get users to stop scrolling through their feed! Check out these tips for a successful Instagram carousel strategy.
Do you create Instagram carousel posts? Are you looking for ways that you can use them more effectively?
What's the Big Deal About Instagram Carousel Posts?
I'm going to show you some creative ways you can use Instagram carousels in your feed.
Engage your audience for longer times
You want to be remembered, so people will buy services or products from you. But the moment when someone scrolls past your post in the feed is so fleeting. Even if they stop to give it a like.
That hard-won moment of attention can extend if you use Instagram carousel posts. Instead of a quick like, your audience can swipe through your images. They're spending more time with you … and that means you'll be more memorable.
Extra impressions in the feed
Plus, you get an extra chance to grab their attention. Once Instagram has shown someone your carousel post, it'll show it to them again. But this time, with the next slide in the sequence showing.
That means extra impressions from the same post, extra opportunities to get noticed, extra space in the feed.
Storytelling
Instagram carousel posts are episodic. When someone scrolls onto the next image, they will get the next installment—whether it's a completed picture, a new product or another tip. It's your chance to keep people interested in what you do and the knowledge you share.
I'll show you some examples of how you can tap into these benefits shortly.
What Are the Challenges of Instagram Carousel?
You still have to grab attention.
There's no benefit in Instagram carousel posts unless you can get your audience's attention in the first place. Any of your carousel images could appear in the feed, so every slide in your carousel is important.
Each one must work on its own.
Because Instagram users are swiping through your images, not just scrolling by, they are immersed in your content—until they move on.
The problem with carousels is that it's hard to stop people scrolling long enough to get them to swipe.
Plus, it's also not always obvious that a post is swipeable. The only indication in the feed is the line of dots below the post.
Instagram does give you a helping hand. Once someone sees the first slide of your carousel in the feed, Instagram will resurface the post later with the second slide displaying.
So even if your viewers scroll past the first time, you get a second chance to engage them with slide two. Every slide in your Instagram Carousel post is as important as the first one.

How to Create Carousel Posts
Are you a newbie in creating Instagram Carousels? If so, I'm going to show you three ways to create them.
Image and video sizing
Although most people think of Instagram images and videos as being square, you can post both horizontal and portrait creative in the feed, both for regular posts and for carousels.
If you're creating a carousel post just make sure that all the images or videos you are including are the same size.
Here's a guide to the sizes:
Landscape: 1,080 x 566 pixels (1.91:1)
Portrait: 1,080 x 1,350 pixels (1:1)
Square: 1,080 x 1,080 pixels (4:5)
Although all three sizes work, square and vertical will take up more space in the feed meaning you're more noticeable and more memorable.
1.Through the Native Platform
Open your Instagram app, and click the plus button to create a post.
Click on the square stacked icon at the bottom right-hand side of the selected photo.
Tap to select up to 10 photos and videos to add to your carousel.
You can filter each slide individually by clicking on it, or you can select a filter for the whole post by clicking an option at the bottom of the screen.
Click next and post to Instagram the same way you post standard posts.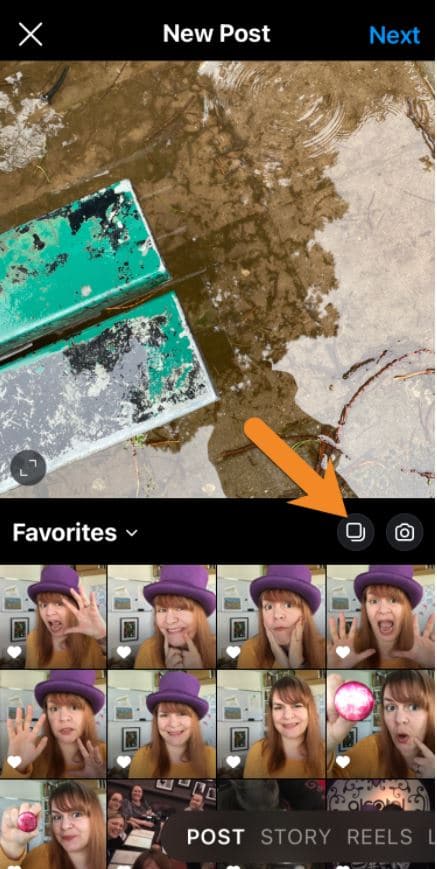 Tap to select up to 10 photos and videos to add to your carousel.
Click next.
Choose a filter to add to all the images and videos in your carousel.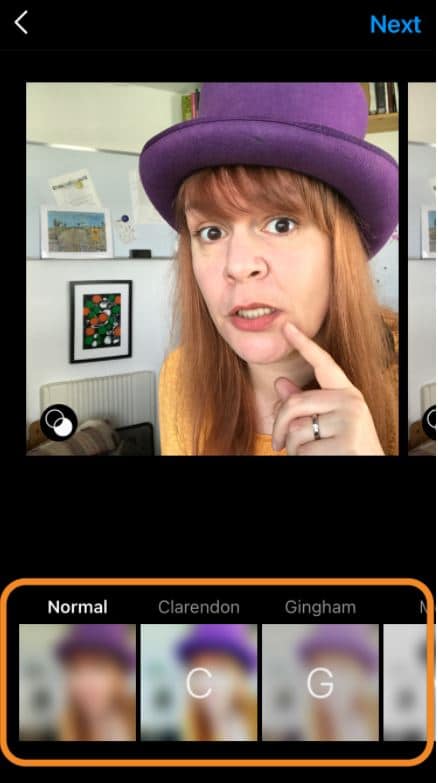 Filter your whole post or choose a filter for each slide in the carousel.
Click next.
Now you can add your caption, hashtags, and location just like you would on an Instagram post.
Under "Advanced," you can add alt text to each individual slide.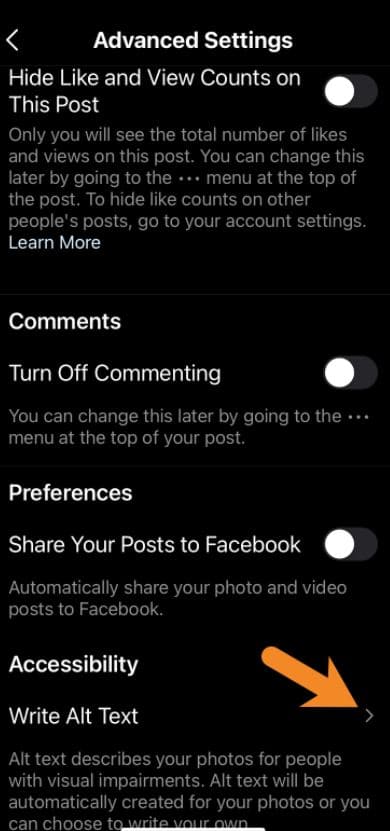 2. Through Creator Studio
If you have a business Instagram account, you can post Instagram Carousel's using Creator Studio.
Click the Instagram icon at the top of the screen to post to Instagram.
Click "Create Post" and select Instagram Feed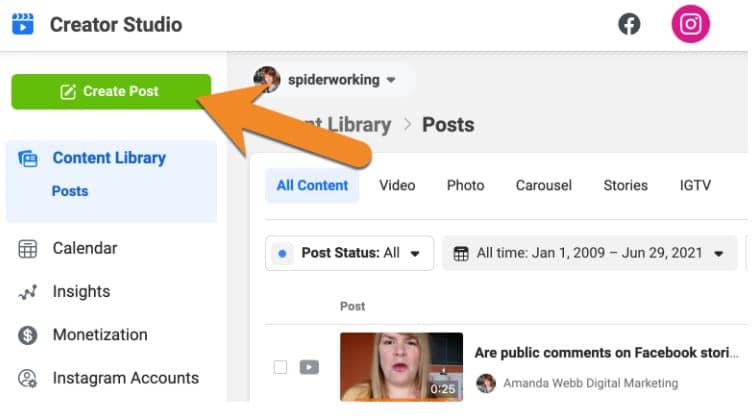 Select the Instagram account you want to post to.

Write your caption, and add hashtags and location as usual.
Click "Add content" and "From file upload" from the drop-down menu.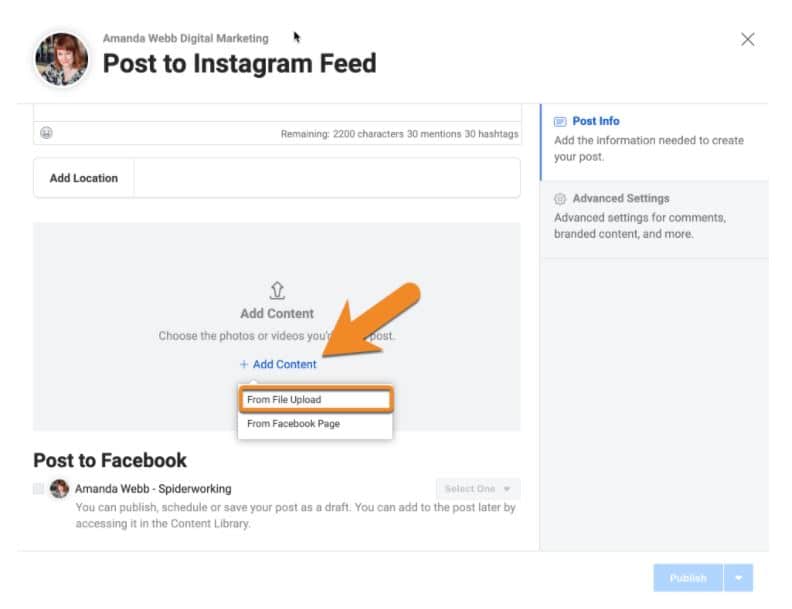 Select up to 10 images or videos you want to use from your computer.
For each image you can change the position in the carousel by changing the number in the box below it.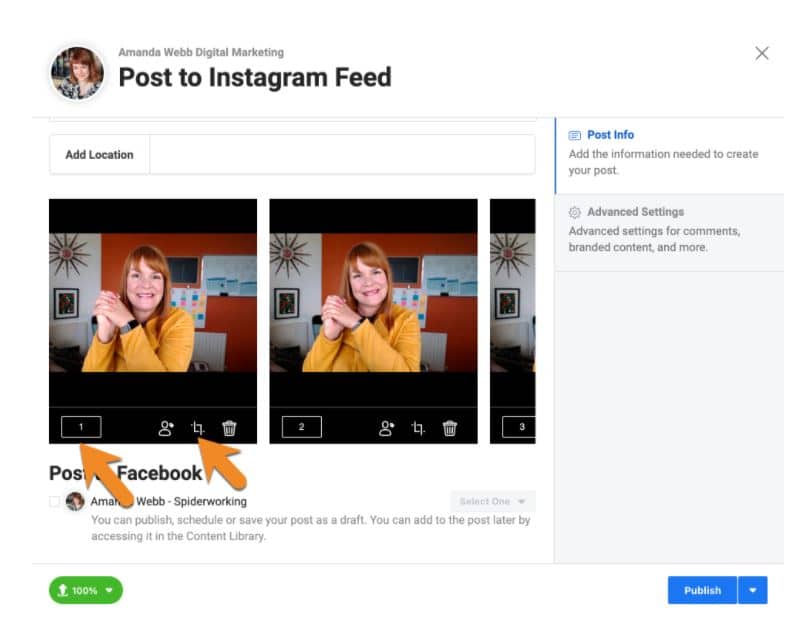 Crop it to square, landscape or vertical.
Under Advanced settings you can add alt text. When you have finished you can choose to publish immediately, schedule or save as a draft.
3. Use Agorapulse
Creator Studio is great for posting and scheduling content to Instagram.
But if you manage a lot of social accounts it can be easier to post to and monitor them all in the same place. It's a huge time saver to use a tool like Agorapulse. And we support image carousels.
From your Agorapulse dashboard, select the Instagram account you want to post your Instagram Carousel Post to.
Click the paper plane icon to create a post.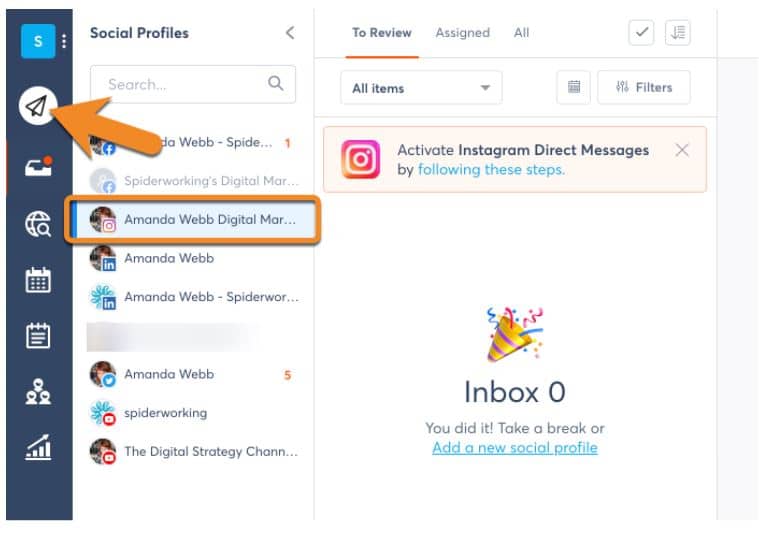 Write your caption and add hashtags as usual.
Click the camera icon to add your images.
Now you can either choose images from your computer or design them in Canva.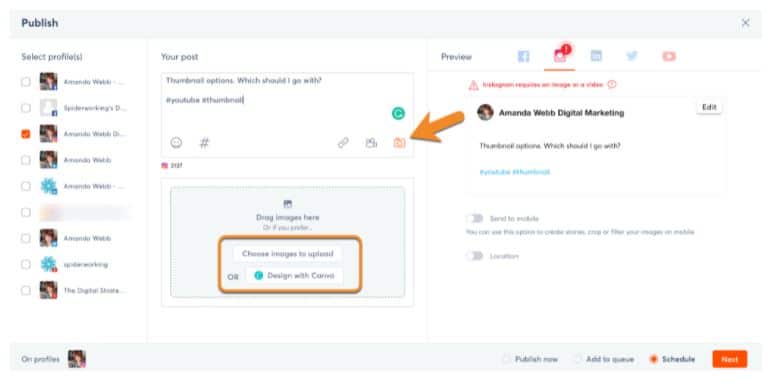 If you click "edit image" underneath each one to crop, resize, flip, or rotate.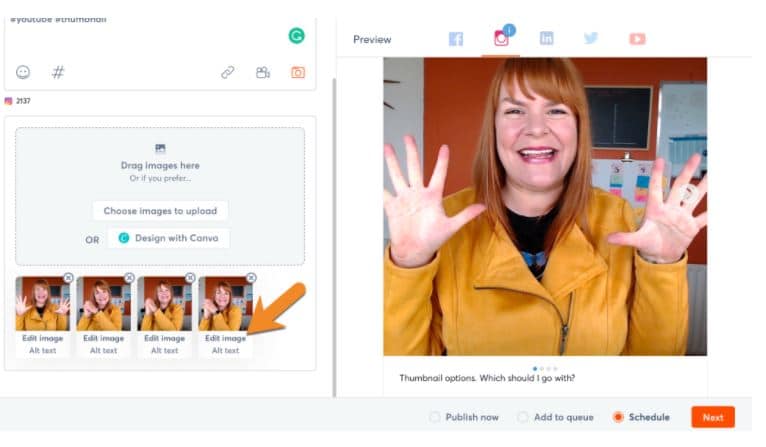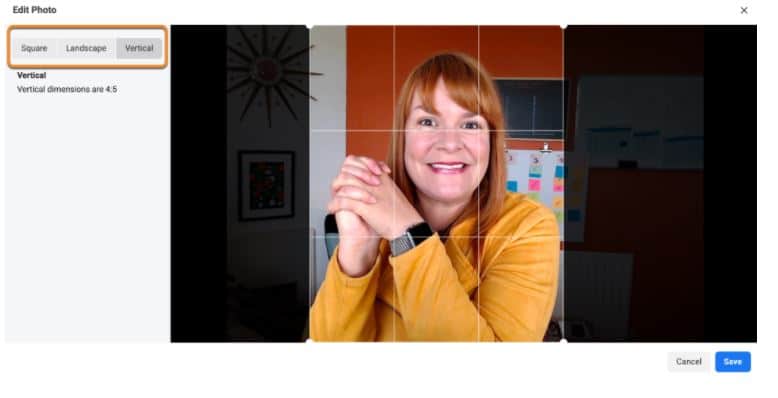 You can also add alt text underneath each one.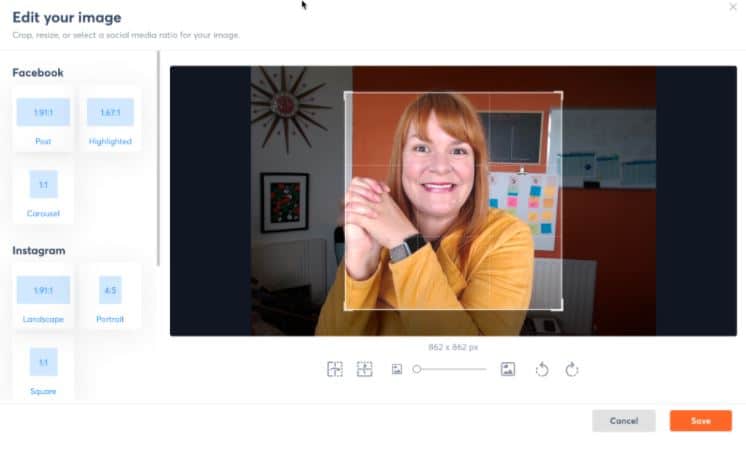 When you have finished editing, click Publish, Add to Queue, or Schedule for later.
What Should You Use Instagram Carousel Posts For?
Showcase your products
Carousels are the perfect place to showcase a group or products or a set of product features in an engaging way.
Consider this: You've just launched a new product line. You're itching to share every new product on Instagram—but if you post them all on the same day you're audience won't see them all.
But if you post a carousel, your audience can browse them all.
Glamping Under The Stars share images that set the scene of the holiday you could have when you book with them.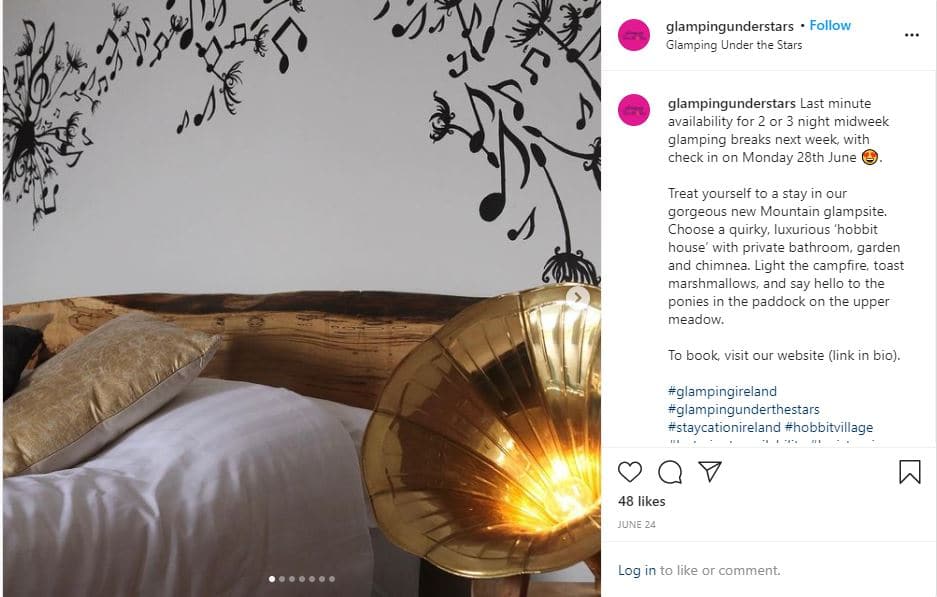 Keep your feed aesthetic
Is your grid a carefully curated thing of beauty? Do you cringe when you have to post something that might destroy your style, even when it's user-generated content that you know will help you promote your business?
Shoe company APL has an exquisitely stylized feed. They've come up with a clever way of keeping their grid looking beautiful and on-brand while sharing user-generated content. It involves carousels.
Each week, they pick an image from one of their customers and award them "Photo of the Week" on Instagram. To showcase this and keep their feed looking beautiful, they hide the user-generated post behind their on-brand photo in a carousel post.
Do themed Carousels
Speaking of user generated content. Passion Planner curate themed UGC into carousels. Like this one from customers sharing their planner with their pets.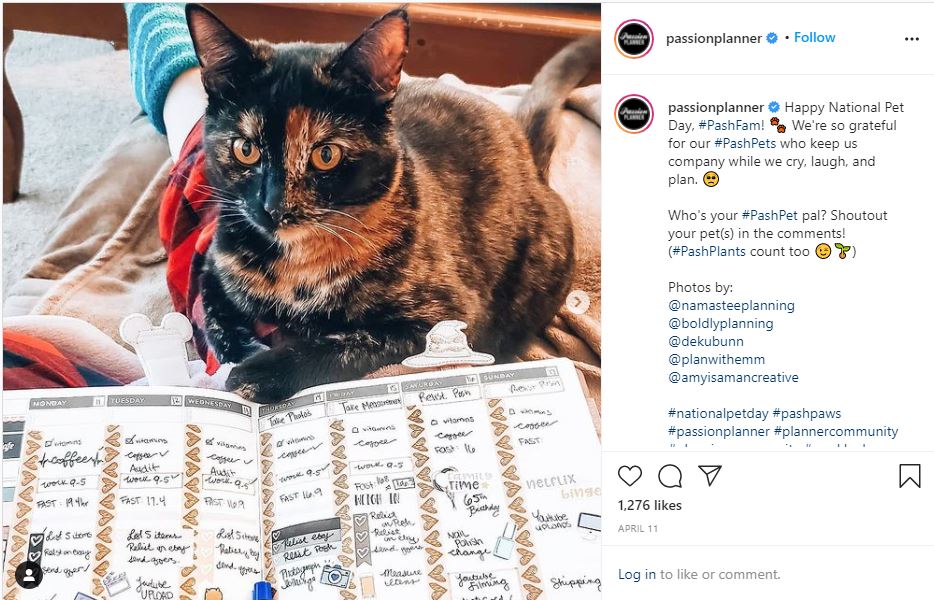 Share a panorama
The nice thing about Instagram carousels is that there is no frame or break between the slides. This makes them a perfect way to share a horizontal or panorama shot.
You could create a shot of a local attraction or just something that is way too wide to get into a single Instagram post.
Or you could create something with a carousel specifically in mind. Like this post from Innocent
Creating panorama shots like this doesn't require hours of cropping or photoshop. You can use an app, such as the following.
This is my favorite iOS app for creating panorama carousel posts. As well as splitting your image into squares for posting on Instagram, it makes the first square a video that nudges people to swipe for more.
Insta Panorama
Swipeable isn't available for Android, but Insta Panorama is a good alternative. It doesn't have the video at the start, but you can create a panorama carousel in seconds.
Conclusion
Carousel posts on Instagram are a great way to engage your audience and get extra impressions in the feed. Hopefully I've given you some inspiration with the examples I've shared, so now it's time to get creating.
Get started on creating Instagram content that rocks! Check out our free trial of Agorapulse to help you schedule, track, and measure all your social media efforts.