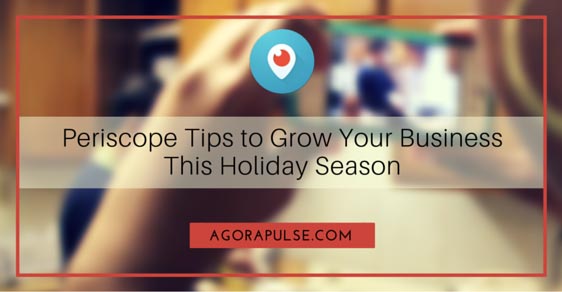 Worried that you have waited too long to think about using Periscope for the holidays?
Don't fear: You still have time to use Periscope to engage, build excitement and really have some business growth this holiday season.
In fact, according to the National Retail Federation, nearly 46% of consumers will do their holiday shopping online this year. One of the best ways to get noticed online this shopping season is to use video to convey your message
The live video streaming app of Periscope is a wonderful place to do just that.
What are we waiting for? Let's get started!
In this blog post, we'll show you 9 ways to use Periscope to create business growth this holiday season.
Related Post: Social Media Marketing 101
1. Find Seasonal Help
Maybe you are hoping for someone to come by your brick and mortar location and see the little sign in the window that you are hiring for the busy holiday season.
Why not step it up a notch and create a Periscope video letting a much larger audience know that you are hiring? Here you can say some of the qualifications that the ideal candidate would have. Be sure to:
include keywords with a hashtag in the Periscope title
have the location setting ON if you are doing the broadcast from the store location
use popular hashtags for your city to increase the visibility of people that will watch your scope that live nearby.
2. Feature "Hot" Gift Ideas with Live Demos
Ever find that you have a product or service that you know would sell like hotcakes if only people were able to see it in action? A Periscope with a live demonstration can do exactly that. By bringing the excitement you have for the product or service straight to live video streaming, you can not only talk about the great product, but you can visually bring it to life. People are 73% more likely to make a purchase of a product or service if they can watch a video beforehand explaining it.
3. Share Positive Customer Feedback
So you have raving fans. Consider taking to Periscope (or any live video streaming you have access to) those testimonials or even a live interview of a satisfied customer. When people are able to see, hear and listen to someone that has already bought your product or services, it has a far greater impact on consumers than anything you possibly could say about the product.
4. Give Behind the Scene Views of Seasonal Events
As the holiday season can be filled with special events, concerts, sales, and fun events, have a Periscope video broadcast that gives a behind the scenes glimpse of the event BEFORE it takes place. Even if it is an event that you are going to broadcast on Periscope, start the scope a few minutes early to give your Periscope audience a behind the scenes glimpse of what is to come. This will not only leave them feeling as if they received special VIP treatment but it can help them feel even more connected to the event, thus increasing their participation or potential sale.
5. Provide Instant Customer Service
So often customers want to be able to connect with brands and ask their burning questions. Have a 'Customer Service Scope' where you open the dialogue to people having the chance to ask their questions. Not only does this give you a chance to engage with your audience in a really transparent way, but it also allows one person's question to be answered and shared with all watching the broadcast. This allows you to educate your audience and give all those viewing more information about your products or services.
6. Offer Special Promotional Deals for Live Viewers
Everyone loves a deal. Show up to your next broadcast with a call to action that has a special promotional offer only to those that watch the scope. This may increase the virality of your scope and it will allow you to have a very great metric for your ROI (return on investment).
This also can be a way for you to lure people to knowing there is an advantage to watching the LIVE broadcast rather than people just tuning in for the replay. Now on this one I thought I'd share with you a little testing I did on this. I actually went and created a Periscope called "Special Discount for Live Viewers! Would it make you watch?" The live feedback I got from nearly 20 people was that it would definitely make them watch if it was someone they already had a like, know and trust factor with.
7. Create Surveys
Periscope is a wonderful place to survey current and prospective customers. If you are considering to have a certain product on special or discount this holiday season, you could have a live survey and engage with your audience asking them about which product they'd love to see on sale, or what makes the top of their holiday shopping list.
For example, if on the broadcast, you could hold up a product, or talk about a service and say, "If you would love to see this service I have on sale during the holidays, type a '3' in the comments." This gives a voice to your listeners and demonstrates to all those watching the broadcast if others have the same feedback.
If you have a more static survey, use Periscope to share that you are conducting the survey and tell people where they can go to complete it. There's even the smart tip of offering a special promo-code that could be given at the end of the completion of a survey that can be used during the rush of holiday shopping that expires before the end of the year.
8. Unite Your Raving Fans
Customers that have the ability to interact with others that love your product or service can often can generate great excitement. By using Periscope during the holidays, customers or 'raving fans' as we like to call them sometimes can build their excitement from others.
Consider asking questions on the broadcast with your raving fans "Which of our services or products are your favorites?" By doing this, followers can receive ideas from what other likeminded people. Odds are if you have a fan that really loves one particular product you have but they see that many also have a different product you sell, they very well might make a purchase just based on knowing the others also have a love of your business.
9. Find New Markets with Your Ideal Client
Periscope and other live video streaming apps can be very powerful tools when you want to expand into new markets. That is no exception during the holiday season too.
Use Periscope to hold Q&A sessions with vendors or complimentary businesses to yours and spotlight their business all the while using their social media hashtags and handles in the title to expose yourself and your special holiday deals to their audiences and market. Nothing really says 'extended reach' more effectively than apps like Periscope that help you communicate with people anytime and anywhere at any time.
Lucy Hall recently had a very successful 1-day event in London. But she recently brought to her audience the question if they would be interested in a global online event which would help her get new clients in new markets. By doing this research ahead of time, she was able to see if a global event is a smart direction to take as the holidays approach.
So often people are in a hurry when they create their content for Periscope that they sometimes skip thse simple steps that can make their Periscopes so much better. If you are new to Periscope, here are some bonus tips to remember.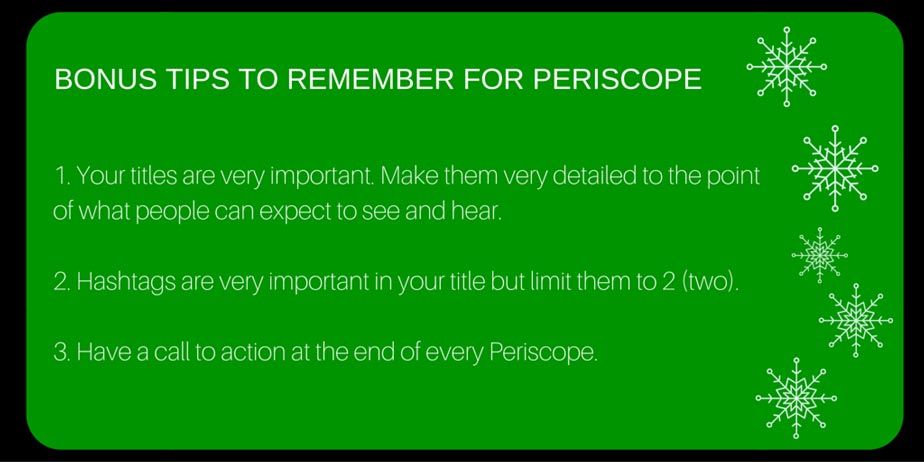 I know that these tips can help you during the holiday season but also they can easily take you into the new year too for business growth.
Of all these Periscope tips, which one do you plan to implement soon? We look forward to seeing your comments below!