You're a lot more like James Bond than you think. You're sophisticated and adventurous. After all, you're working with new media!
Today, digital marketers have higher security clearance to the company's social media accounts than the CEO and a flair for intrigue and adventure.
You also have access to the best tools, like Twitter Search, allowing you to search Twitter like James Bond!
"What did you expect, an exploding pen?" (Q in Skyfall)
What Is the Twitter Search Tool?
If James Bond were a social media strategist, Q definitely would have designed the Aston Martin to be Twitter search-enabled.
Twitter is my favorite platform for getting breaking news, hearing from real people around the world, and following trends or interests. The platform is lightning-fast, and its powerful search features mean you can find exactly what you're looking for.
You might be using the Twitter search box with a specific hashtag or word, but Twitter's search function has much more to offer when you know where to look.
You can find the search tool by clicking Advanced search, located underneath Search filters on the upper right of your results page.
And this is what you'll see: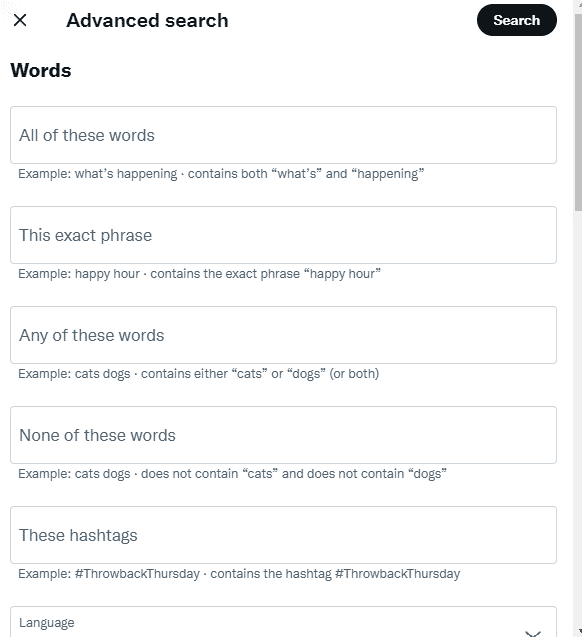 If you like your Twitter sophisticated (shaken, not stirred), take a closer look at the options available in the Advanced Twitter Search and what they can do for you.
Twitter Word Search Features
Let's start by looking at how you can search using different word combinations.
Using advanced search, you can refine your search results by using any combination of the fields below:
Tweets containing all words in any position "Twitter" and "search." If you enter a generic phrase like "James Bond, Shaken, Not Stirred" you will see everything ever written about the movies, characters, and books. You can filter by "Top" for most popular or "Latest" for most recent.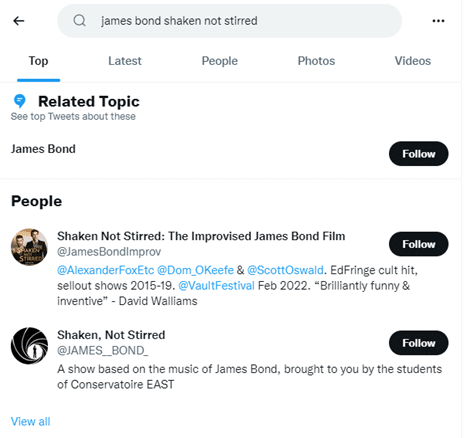 Tweets containing exact phrases. For example, "Shaken, Not Stirred" will pin down the exact phrase each time it has been used. However, that doesn't mean it's necessarily related to James Bond. It's just how Twitter users tweet! If your brand has a tricky spelling, you might want to search misspellings using this functionality.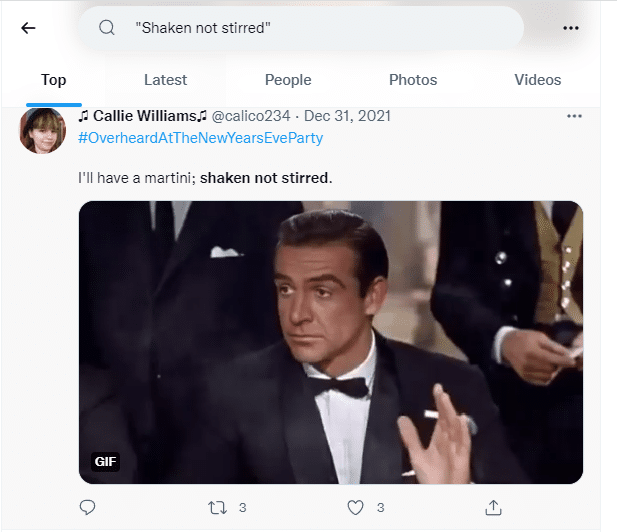 Tweets containing any of the words. "Twitter" or "search")will search for Tweets containing any of the words individually such as "James OR Bond." You can add all the words you want searched in inverted commas and let Twitter do its magic.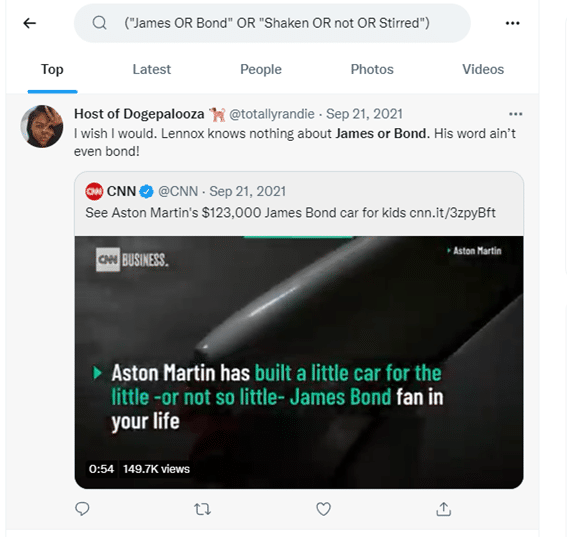 Tweets excluding specific words ("Twitter" but not "search")

This tool is great for eliminating unwanted results from your search. You can use this in conjunction with the things you do want to search for–e.g., James Bond but not Sean Connery. (Sorry, Sean, it's for demonstration purposes only!)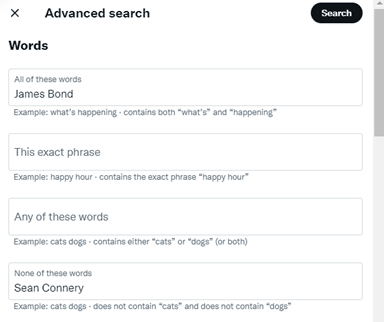 Tweets with a specific hashtag. For example, #ShakenButNotStirred will show you only tweets using this hashtag. This is most useful for following branded hashtags for your campaigns.

Tweets in a specific language is a very useful search filter. If your brand has an international presence or is running a campaign in French, for example, you can monitor it more accurately. Similarly, if you're only operating in English and don't have the capacity to translate tweets, then add English as the filter.
Twitter Search Tip: You can use one, two or all these filters when searching for tweets. Much like targeting, the more you use, the more specific your results will be.
How to Do a Simple Twitter Search With Filters
The advanced Twitter search has some basic filters already pre-checked for you. These include showing all tweets including replies and original plus tweets with links.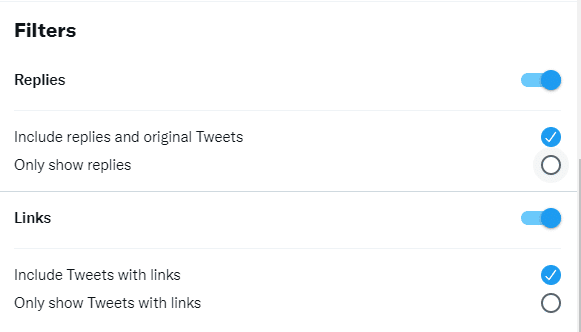 You can adjust these options according to your search preference. If you only want to find original tweets, you can uncheck the Replies completely. "James Bond" without the replies is all the official accounts. This gives you a less cluttered view and is great if you only want official or brand news or information.
Twitter Search Tip: You can also choose to see links or no links. If you're filtering for a brand campaign or monitoring sentiment for a big brand, removing links can eliminate spam and save time.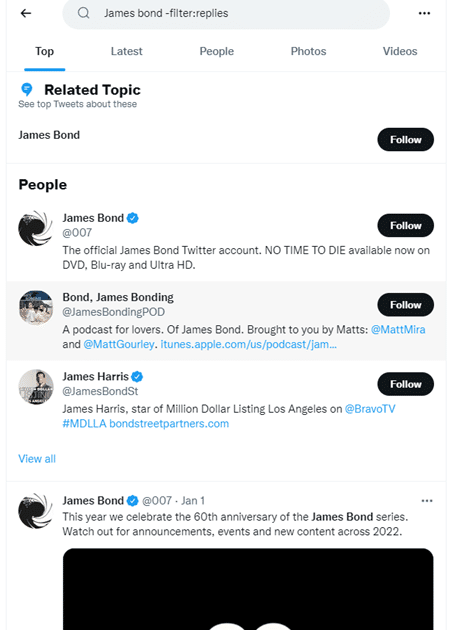 More Filters
Image or Video
Sometimes, what you're searching for is an image or a video. Type your word, phrase, or hashtag into the search box and press return. Once the results appear, click on "photos" or "videos" to filter out text-only tweets.

In the image below are the results for the 1948 Rolls Royce Silver Wraith (for you fans of the James Bond film "Spectre").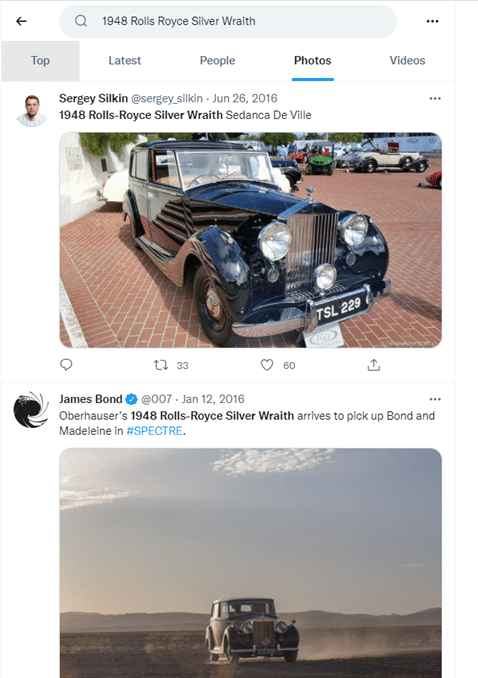 "Top" vs. "Latest"
When you search, the default setting for results will likely show "top" tweets. This means that you will only see the tweets that have the most engagement and the results won't necessarily show the newest posts. Click on "latest" to see the most recent tweets that match your search.
Filter by people
If you're searching for a person or account, click on "People" and Twitter will display accounts that use the word in their username. This will usually give you the official channels.
People you follow
This allows you to check tweets from anyone or just the people you follow. As a brand you're likely to have the "anyone" option turned on. As an individual, you might prefer to view content from your approved following group.
Tweets near you
This is a useful filter if your brand is operating in a specific geographic location. Perhaps you want to see what people in Time Square are saying about Pizza so you can join the conversation with your local pizza place.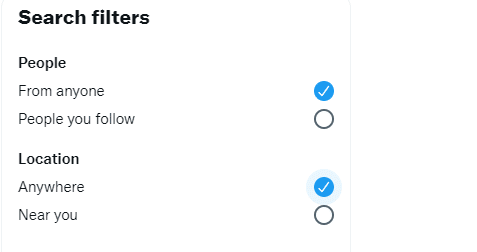 Filter by Accounts, You Secret Agent
James Bond wasn't interested in surveilling every guy in the city. He only wanted to spy on certain ones.
By cutting out the noise, you can get the Twitter search results you really want and zero in on your target!
Check out these cool features under Twitter Advanced Search:
Tweets from a specific account like @007Films (EON PRODUCTIONS LIMITED who are the studios behind James Bond movies). Yes, that's a real Twitter handle, and I'm in awe.
Tweets sent as replies to a specific account/ Tweets that mention a specific account. This is great for monitoring your brand's activity such as campaigns or contests. You might also use this search filter to cut out the noise and monitor real brand complaints or questions.
Twitter Search Tip: Remember, you can use the Agorapulse dashboard to monitor keywords and accounts in Twitter. You can set rules, assign replies and template answers too! If you're running multiple accounts, as we are with Contentworks, you will need a professional, multi-channel dashboard. Otherwise, you will need to log into each Twitter account separately, and that's not very James Bond at all.

Search by Date
There's nothing James Bond about trawling through old irrelevant tweets until you find what you're looking for is there?
Actually, it's annoying. If you run a monthly contest, you only want to see the results from the current month. The recurring contest hashtag may be the same, so filtering on that will bring up every contest you ever ran.
Fortunately, the advanced search features on Twitter allows you to filter on date. Just use the calendar dropdown to select a "from" date, and "to" date. This will eliminate the need to see old tweets.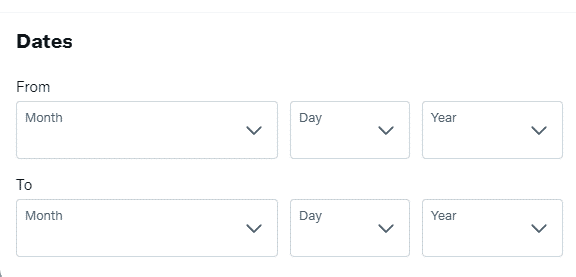 So now you know where to find the tools, here's some of the reasons to use them.
Here's why we use Twitter Search for our agency clients.
Search for conversations. What if there's a huge storm in your area and you run a property repair company. You can utilize search to listen to conversations, assess the impact, and perhaps offer your services for free or at a discount.
Spy on competitors. Bring out the Bond with a little spying! You can utilize search to check on their engagements, keywords, and responses. You can also monitor conversations between customers and your competitors.
Discover news and articles you otherwise wouldn't see by setting accurate filters on Twitter. This helps you cut through popular clutter to read what you want. It will also give you reliable sources of information.
Find influencers in your sector – We do this by searching with parameters such as retweets or favorites.
Save a Twitter advanced query which includes your brand name and common misspellings allows you to be more consistent in your monitoring. You can identify reputation flaws and consumer sentiment pretty fast this way.
Mute notifications. This is such an important setting for social media managers who are exposed to negative news all day long. If a particular topic or keyword triggers, you mute it. If the topic doesn't touch on your sector, muting it can make your daily scroll and monitoring so much nicer. Mute as many keywords as you want!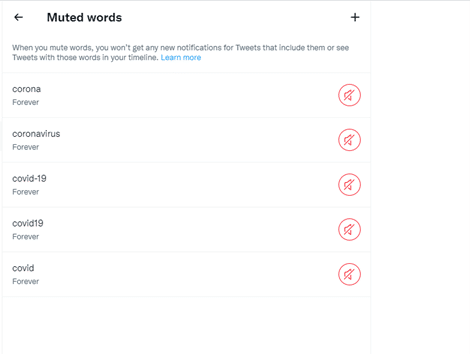 Get started on saving time and energy on your own social media management! Check out our free trial of Agorapulse to help you schedule, track, and measure all your social media efforts.