Making customers front and center is the key to success for a lot of modern businesses from the smaller local favorites like Chocolate Johnny's to the large scale success of Zappos.
But it's hard to manually track thousands of conversations. To build and maintain these relationships many businesses use social CRM tools.
As with any other tool, this sparks lively debate. Do businesses really need it or is it just another monthly subscription with an overinflated sense of worth? It's time to find out.
What is a "social CRM" and what does it do?
When you say these two magic words, most of us start thinking of social CRM tools, instead of the actual process.
A social CRM strategy puts the customer at the forefront.
It's built around the idea that creating and maintaining strong customer relationships, offering relevant content for the stage of awareness they are at, and addressing their pain points is a vital building block for any business that hopes to survive long term.
The truth is, it's hard to effectively have one without the other. If you have a social customer relationship management strategy then you'll also have a process to implement it, right?
Your social CRM tool makes having and tracking these interactions a lot easier.
Related Post: Social Media Management
The value of a social CRM tool
Doing business is about so much more than just selling a product or service. We've got a wide variety of choices on everything from tomato sauce to software service providers. Offering another pretty package with ok functionality won't cut it.
The big differentiator lies in the experiences we provide and the connections we forge between us (the real life humans who run the business) and our customers (the real life humans looking for the best solution for their needs.)
Your social CRM tool makes standing out from the competition and engaging with your customers easier.
It brings all your social media accounts together making them easy to monitor
It lets you create posts and save them for later
It makes curating and scheduling relevant content simple
It provides you with powerful analytics all in one place
Most CRM tools cover these four basic tenants. Others go above and beyond.
The tool that helps you understand your community
Ever wondered what your customers are saying when you are not around?
Do you want to know who your most engaged followers are?
Wish there was an easy way to track (and reward) brand ambassadors?
The Agorapulse social CRM tool is built around making your life simpler and your relationships with your customers stronger.
Automatically dividing users into segments
Segmentation is a great way to keep track of where our customers are in their brand journey.
We use it for our email lists, when setting marketing goals and while we create content for the various stages of awareness.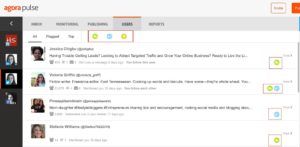 In Agorapulse, your followers are automatically split into three key groups:
The engaged. These are the followers that mention you directly and open the lines of communication.
The ambassador. The followers who share your content and direct people to your website.
The influencer. Someone whose own content is shared frequently by their followers.
This is incredibly useful.
It shows you which of your followers are already interested in your business and may be open to your products and services. It shows you exactly who is sharing your content without having to dig through multiple notifications.
And it helps you identify the influencers in your group and know who to reach out to during your influencer marketing campaigns.
You can use this to offer more engaged followers specific content, tell them about special promotions and engage with them on a deeper level.
Creating your own segments
Sometimes you want to split followers into even smaller groups like people who bought a product or service from you in the last six months or downloaded a specific white paper.
Using Agorapulse's "tagging" system lets you add tags to each of your followers and create smaller segments.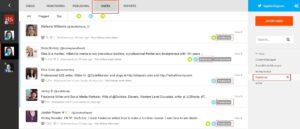 You can use tags to segment people based on stages of awareness, divide them into groups based on which ideal customer avatar they fit or even depending on their interests.
Then you can see who the most engaged followers from each group are and take your interactions to the next level.
Keeping track of your recent interactions
You have some great conversations with your followers.
Sometimes you'll desperately want to refer back to a link someone sent you but can't remember when it happened or what it was about exactly. You just have the feeling that it was pretty important.
Let a tool do your remembering for you.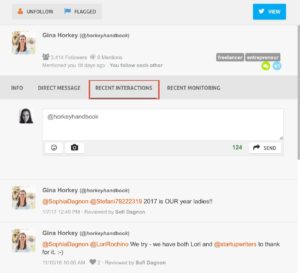 You can just click on the "User tab" inside your Agorapulse dashboard and then search for the person using the search tab on the right hand side.
Once you've found them click on their name and go over to the recent interactions tab. There you can see their name and find the thing you are looking for.
This is great for refreshing your mind on ongoing conversations too!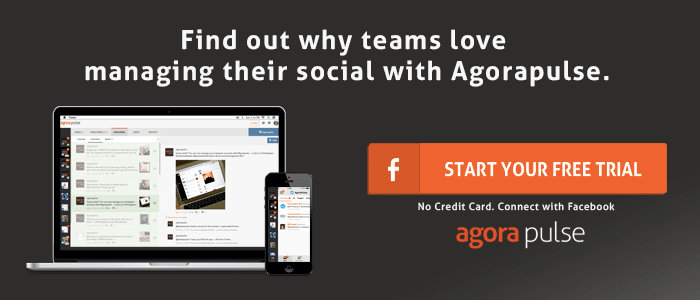 Saving time with your social CRM
All the tools you use to run your business are there for one main reason- to save time.
If building strong relationships on social media is a vital part of your business then using a social CRM to have deeper, better conversations with your followers is worth it.
It will save you from logging into multiple accounts every day and producing many separate analytics report by having it all happen in one place.
Using a social CRM will give you a far more nuanced understanding of how individuals interact with your brand and help you have deeper, more targeted conversations.