If you want to track an engaged audience, identify brand ambassadors, and monitor your brand's DMs, you need a tool that goes beyond native platform features.
So, how can you optimize your customer relationship management (CRM) strategy and cultivate a community around your brand?
Find out how to build an engaged audience with the help of a social media CRM.
Organize top followers automatically
As a social media manager, you're always aiming to publish posts that prompt comments and likes.
After all, organic reactions are key for an engaged audience. But even if you have a small audience (or an incredible memory), identifying and tracking your most engaged followers isn't easy.
Aside from Facebook's "Top Fan" designation, social media platforms don't offer tools for tracking individual followers.
With Agorapulse's social CRM, however, finding your top followers couldn't be easier. Click "Top" in the "Fans & Followers" interface for a list of your most engaged fans.
This list is automatically populated for every platform, so you can find your biggest fans for every social media channel.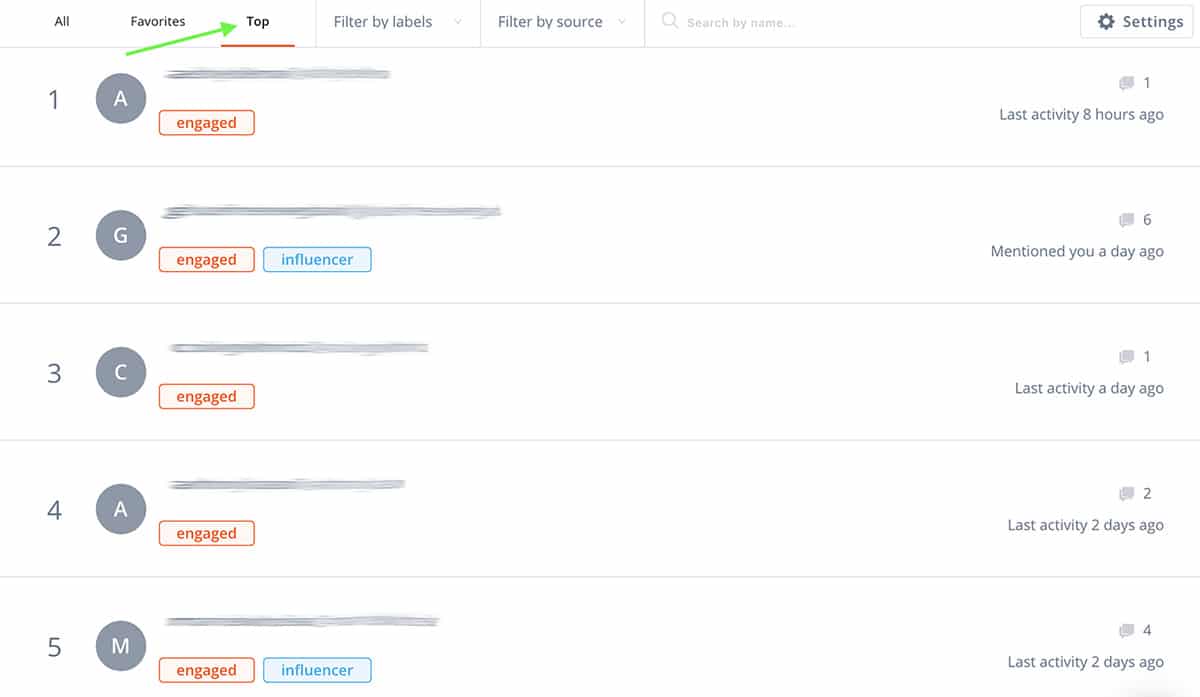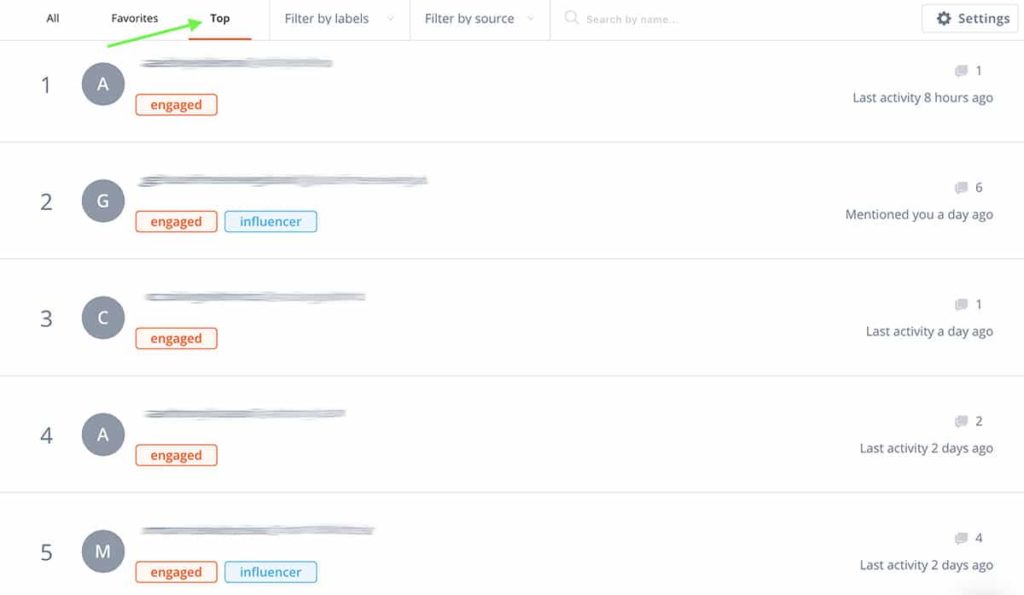 Related post: Social Media Marketing 101
Segment favorite community members
The followers who comment on your posts most often might be the most engaged. Yet your top fans might not offer the most value to your community.
To maintain a running list of your most valued followers, you need an easy way to call out favorites.


With the social media CRM built into Agorapulse, you can easily mark favorite followers.
As you scroll through your top followers, select a favorite and click on the star icon under the user's profile image. Then click "Favorites" in the "Fans & Followers" section for quick access to your preferred audience members on any platform.
Whether you want to gauge reactions to a new campaign or prioritize responses to your best fans, segmentation is the answer.
Label users and conversations
As a busy social media manager, you might not have much time to get to know your audience. Labels let you identify followers quickly, so you can engage with them more effectively.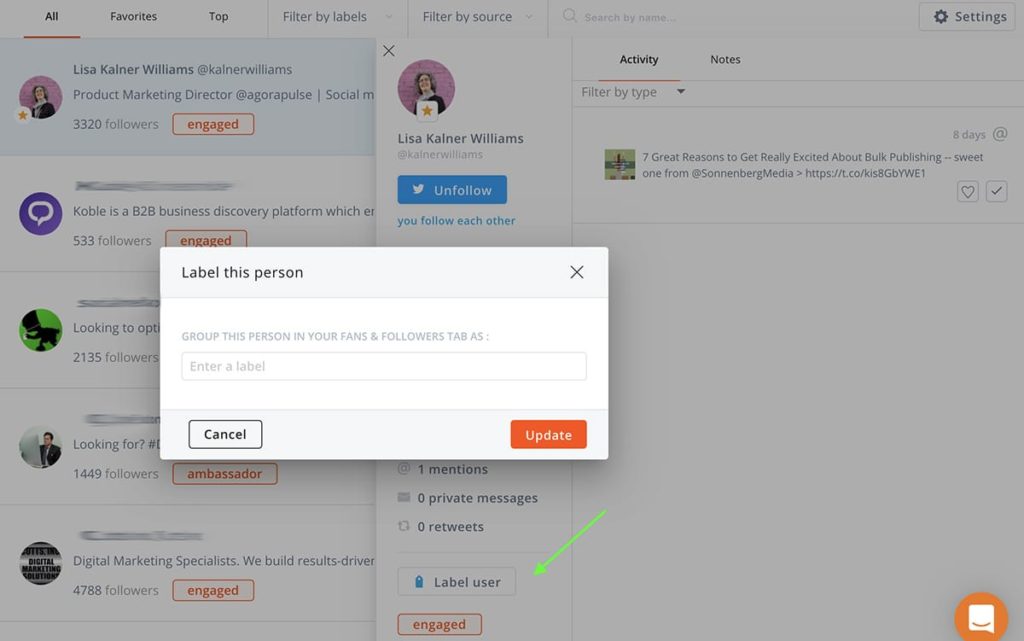 To add labels in Agorapulse, navigate to "Fans & Followers" and select any user. Click "label user" and choose an existing option or enter a new one.
You can easily spot those blue labels in your Agorapulse Inbox or filter for any label you've created.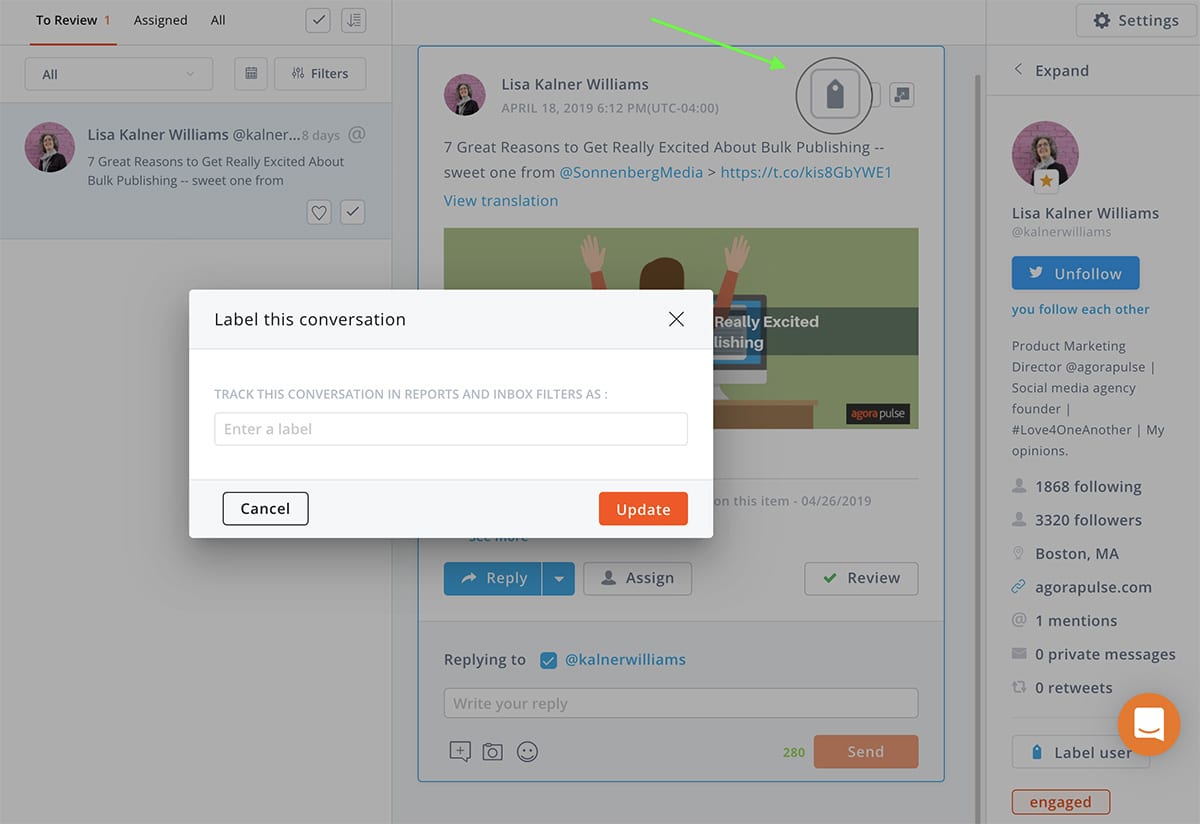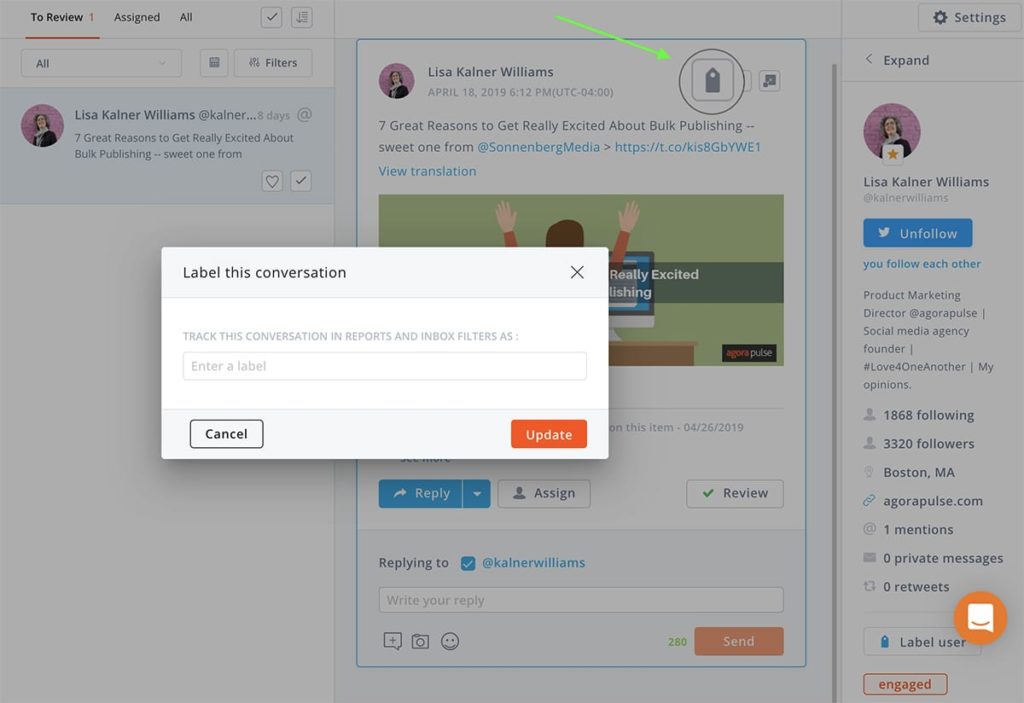 To add a label to a conversation instead, select a comment, and click the label icon.
These labels can act as inbox filters or appear in your social media reports, so they can help you track audience trends and engagement metrics.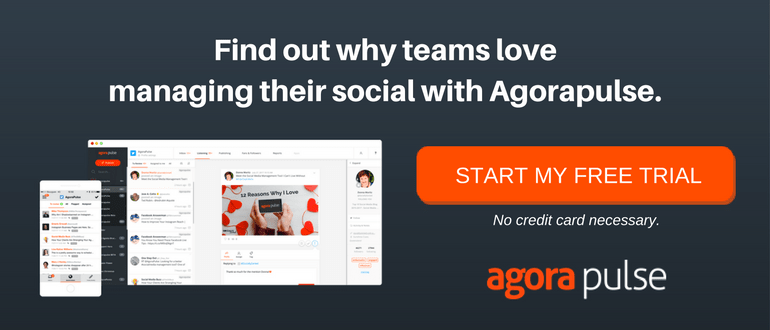 Identify brand ambassadors and influencers
Is influencer marketing is a key component of your company's growth strategy? Then don't forget that the best micro-influencers and brand ambassadors tend to be your most loyal customers. That means they're easy to identify on social media.
When followers mention your company or start conversations with your brand, Agorapulse automatically tags them as ambassadors.
To take this strategy further, label potential influencers and brand partners, so you can check the temperature of their comments and track interactions at a glance.
Track engaged follower activity
As you grow your community, your followers are likely to reach out in a number of ways. From likes and comments to DMs and reviews, tracking all that social media engagement can be tricky.
Whether you're actively seeking influencers for your brand or you want to reward your most loyal customers, you need an easy way to consolidate interactions.
With Agorapulse's social media CRM, you can see activity for every engaged follower on a single screen. Choose an audience member in the "Fans & Followers" section, and view their entire history with your brand.
Or filter their interactions by comments, posts, DMs, or reviews for more fine-tuned listening.
When you use Agorapulse, you don't need to keep an external database for your notes. Instead, you can jot down notes about followers and interactions right in the social CRM.
You'll keep your team on the same page and ensure that everyone has the information they need at their fingertips.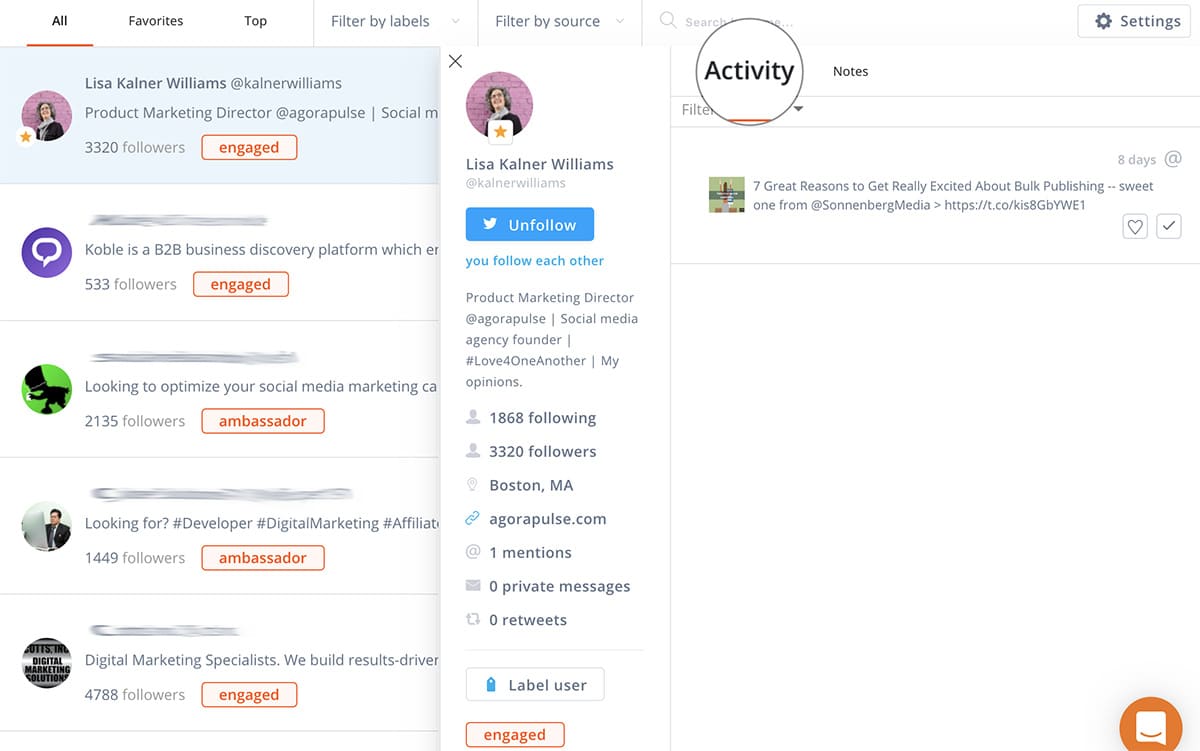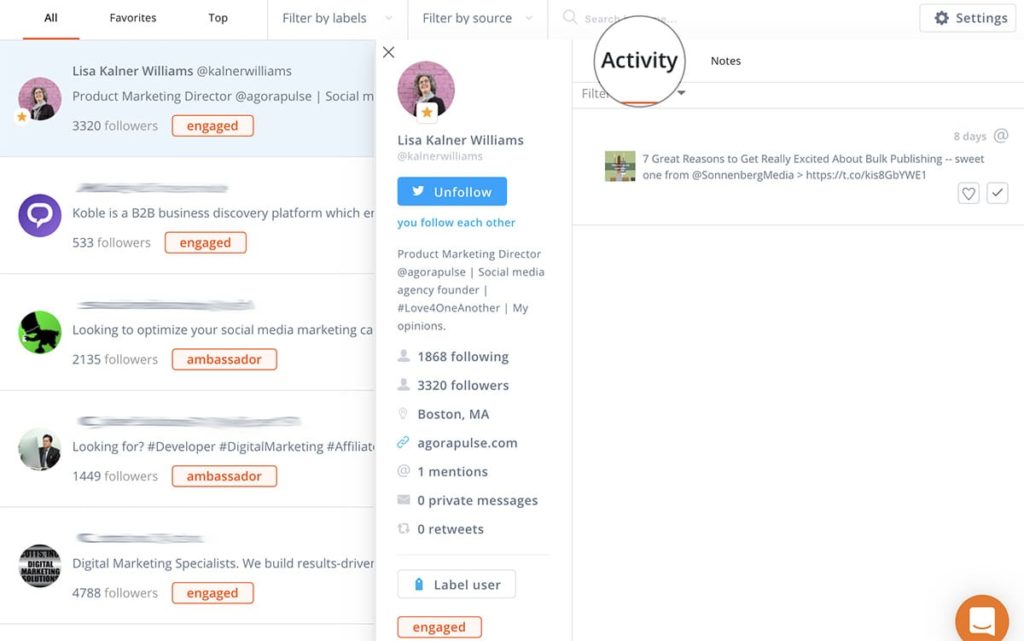 Take social media CRM notes for your team
When you're serious about tracking audience engagement, labeling interactions and assigning inbox items might not be enough.
You'll want to add in-depth details about future follow-ups, potential partnerships, and even strategies for handling unhappy customers.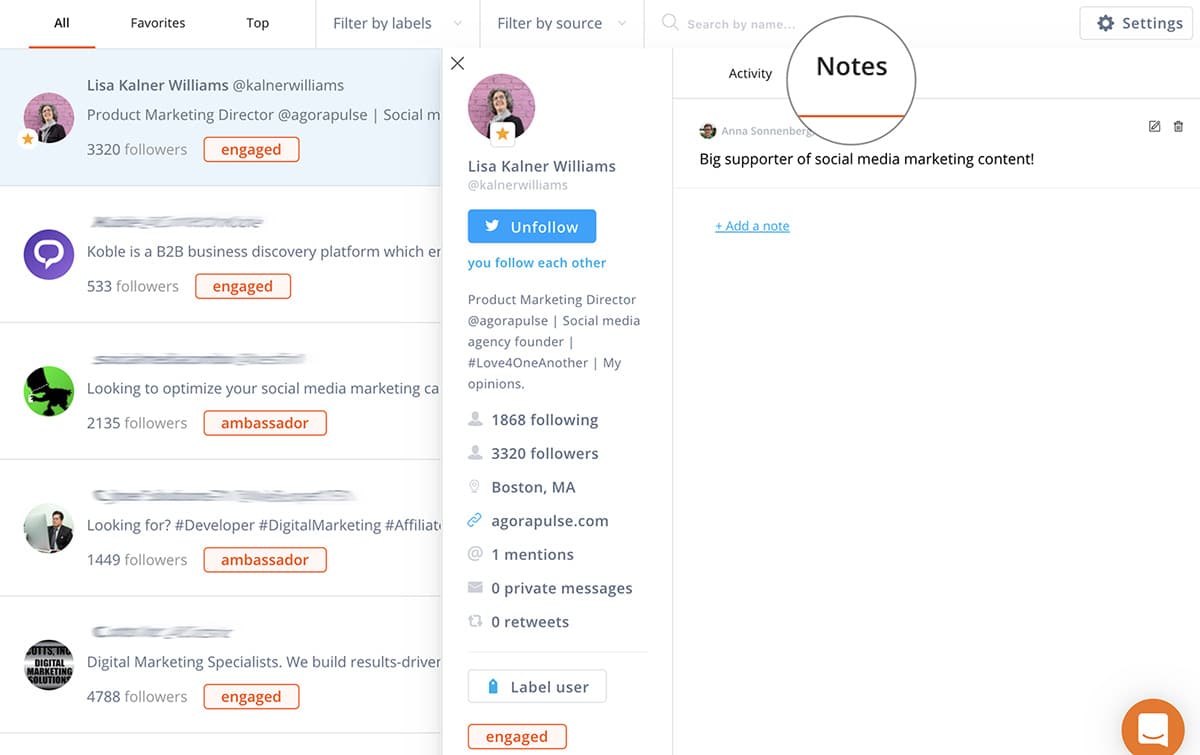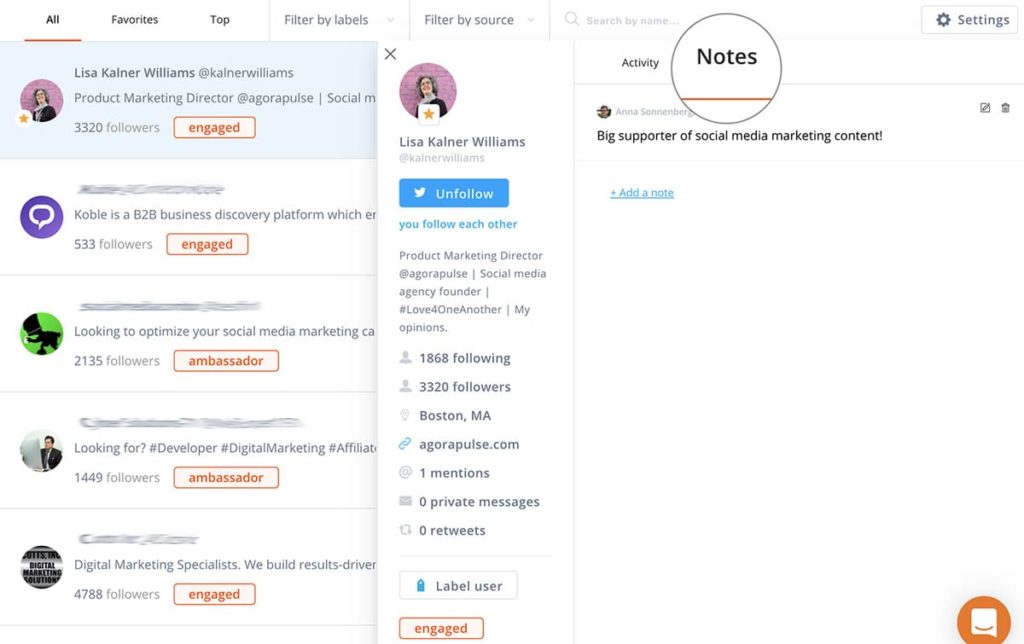 Without a built-in tool, growing your audience and managing engagement can quickly become a full-time job or a task you never have time to accomplish.
Get started with Agorapulse's social media CRM and take a strategic approach to build your audience and cultivate a loyal following.
Sign up now for a FREE demo.
Pin This Post