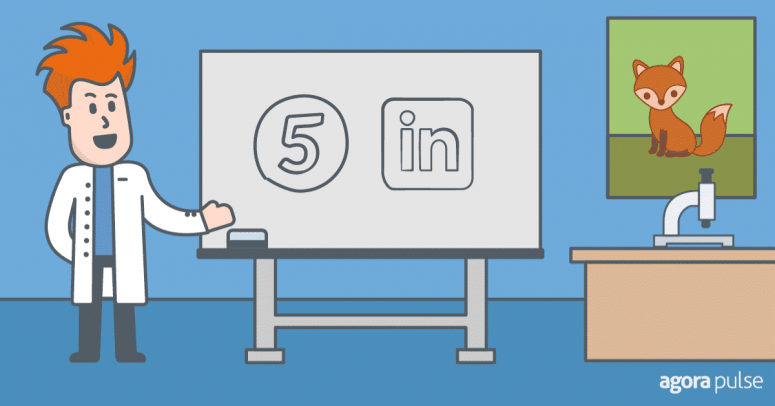 Subscribe to the Social Media Lab Podcast via iTunes | Stitcher | Spotify
Many find it a challenge to deploy a successful LinkedIn marketing strategy.
LinkedIn has been around since 2002 and seen the likes of MySpace and Google+ die a brutal death.
The social network often considered stuffy, boring and just an online resume has been growing by leaps and bounds the last few years, currently with 675 million users.
In addition to amassing a large userbase, LinkedIn also can brag about:
More than 30M companies represented on LinkedIn

More than 20M open jobs on LinkedIn Jobs

90K schools listed

35K skills listed

Professionals signing up to join LinkedIn at a rate of more than two new members per second.
But LinkedIn can be confusing for most users and brands. The things that work on Facebook, Instagram, and Twitter don't always work on LinkedIn.
To fully understand and leverage LinkedIn you need an expert in your corner. So, we invited LinkedIn expert Judi Fox onto the Social Media Lab LIVE show recently to discuss various ways to get ahead of the competition on LinkedIn.
'Judi Fox is dropping FREE LinkedIn knowledge bombs!'
Click To Tweet
We're going to cover these five tactics to help you crush it on LinkedIn:
Best post types on LinkedIn

Should posts be short or long on LinkedIn?

Hashtag strategies for LinkedIn

Best LinkedIn copy to use

Should links be in the comments on LinkedIn?
1. Best Post Types on LinkedIn
The Social Media Lab conducted an experiment to determine which post type on LinkedIn performed the best.
We tested three post types for this experiment :
Text-only updates

Photos

Link posts
Our original thoughts, based on what typically performs best on Facebook, was photo posts would outperform. (Boy, we were wrong!)
By studying posts from three different LinkedIn accounts, we found that text-only updates resulted in over 1,000% more views.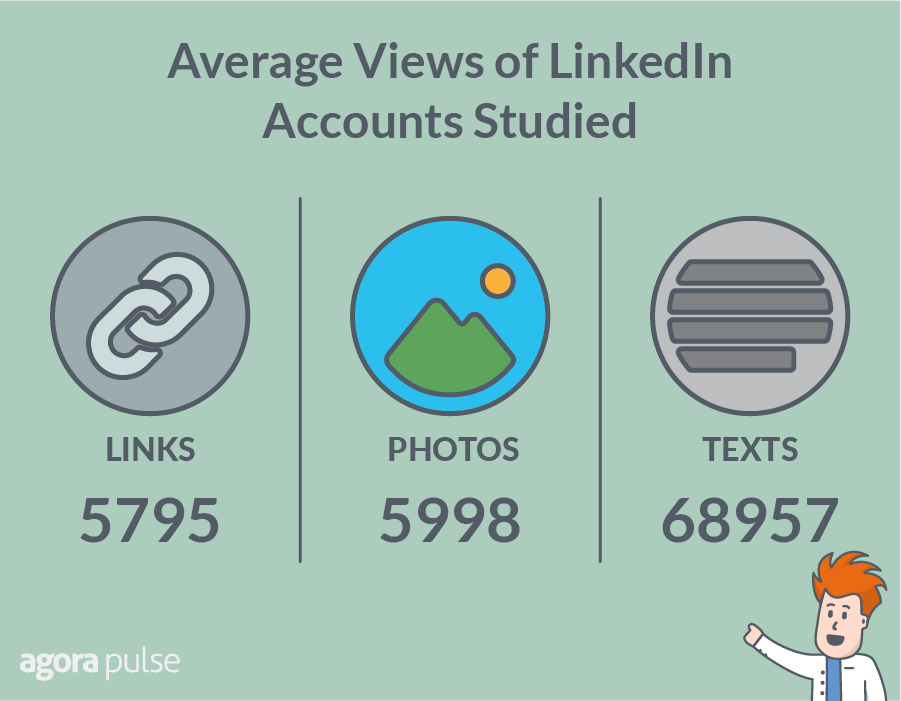 We asked Judi her thoughts on our findings:
Open with a hook.

Add an intriguing line (write enough so the "see more" appears).

Written copy makes the difference on LinkedIn.
2. Should Posts Be Short or Long on LinkedIn?
After finding that text-only updates received over 1,000% more views, the Social Media Lab ran a follow-up experiment testing the length of text updates on LinkedIn.
We compared data from text-only updates under 140 characters vs updates over 140 characters. Here's what we found: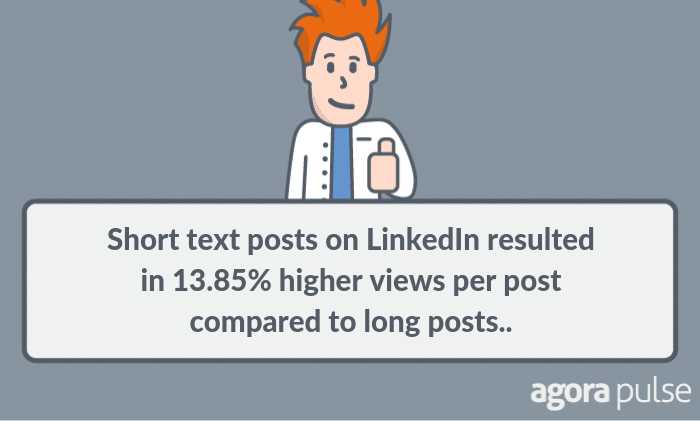 Our data found that shorter text-only updates were better than long ones, and most of these updates were questions. This motivates LinkedIn users to comment, adding their opinions or expertise to the question.
Here's what Judi Fox had to say on the study:
Judi's point about "social capital" on LinkedIn is so crucial to understanding as a marketer.
LinkedIn users have a reputation to keep and are less likely to engage in content that is questionable, controversial, political, etc. A short text-only update lets users decide very quickly whether the post is worth commenting on and putting their reputation on.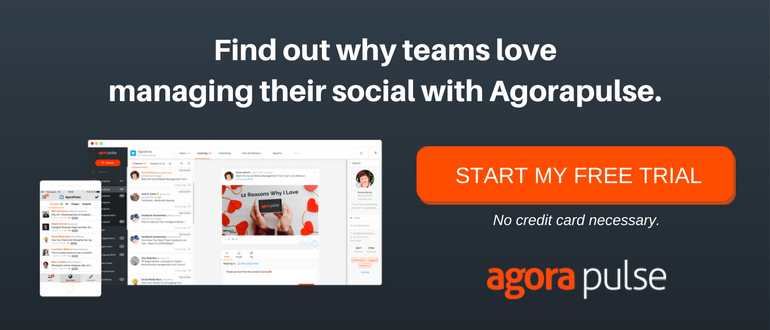 3. Hashtag Strategies for LinkedIn
Hashtags are very common on Twitter and Instagram, but LinkedIn has introduced them to users as well.
But is it worth using hashtags on LinkedIn?
The Social Media Lab ran a test with one hashtag per post to determine whether we saw any difference in reach and engagement.
For 20 days on two LinkedIn accounts (one personal, one business), we alternated one post per day with or without a hashtag in the update.
Here's what we found: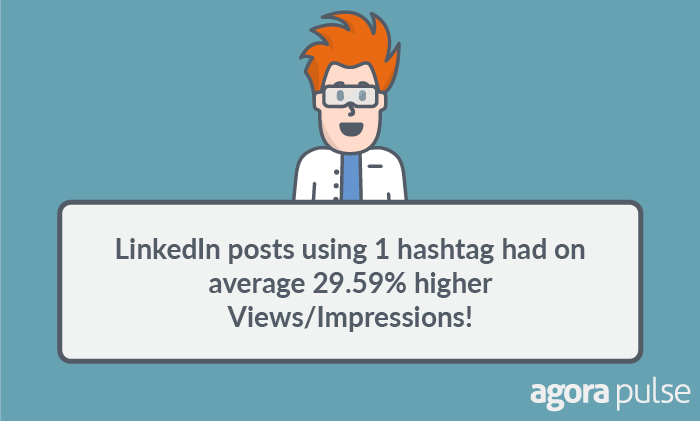 LinkedIn users evidently are following hashtags after all.
That fact didn't surprise Judi Fox at all:
Judi recommends this LinkedIn hashtag strategy:
Create and use one personal branded hashtag (#yourbusiness)
Use 3-4 relevant hashtags on your LinkedIn posts
Follow popular hashtags in your niche and add your expertise to those posts
4. Best Copy To Use on LinkedIn
Judi says the best type of post on LinkedIn is the one where YOU shine the best.
Meaning focus on your strengths, be real, be honest and be authoritative.
If you're good at video, then do a video on LinkedIn. Whether that's live or uploaded.
The key, according to Judi Fox, is posting good copy to hook LinkedIn followers to engage with your comment:
"If you can nail the written word in the copy, you'll pretty much do anything well on Linked. – Judi Fox"
The reminder that LinkedIn was originally created as a platform to read is crucial to your marketing success on LinkedIn.
5. Should Links Be In The Comments on LinkedIn?
In order to trick the algorithm on LinkedIn some users have suggested telling followers the "link is in the comments" leads to higher views and engagement.
The Social Media Lab ran an experiment on this tactic and found that posts on LinkedIn with the link in the comments had 169.29% higher reach: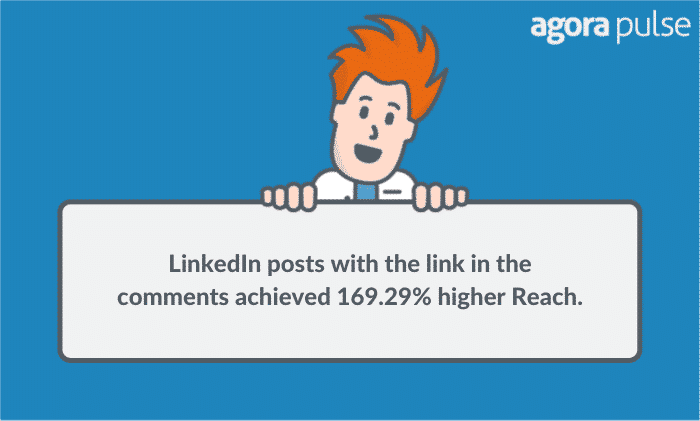 However, much of this increased reach was due to going to LinkedIn to add the link in the comments. Therefore leading us to conclude it's not a great strategy.
Judi Fox recommends posting the text-only portion of your update first, then coming back and adding the link to the original post. This could be a way to trick the algorithm into giving the post more reach because it's initially a text-only update.
Here are her further thoughts on this LinkedIn posting method:
*Bonus LinkedIn Live Video Tip
One bonus tip I wanted you to watch is about LinkedIn live video.
Judi Fox says LinkedIn live video is converting to more direct messages and business than another platform offering live video.
Watch this video, and laugh at Owen's blooper!
*Bonus: Being a Leader on LinkedIn
Judi Fox says that to set yourself apart from others on LinkedIn you need to be known as a leader in your niche.
What does that mean?
It means:
Always providing value by commenting on other's post

Giving away free information exclusively on LinkedIn

Not spamming groups or messages on LinkedIn

Keeping your content and comments on brand and on message
Take a look at what Judi had to say about being a leader on LinkedIn:
Crushing It On LinkedIn
Applying these five tips will give you a leg up over your competition.
LinkedIn, like all other social media platforms, is constantly changing. By following the advice of someone like Judi Fox and following the tests on the Social Media Lab you'll be that much ahead of others.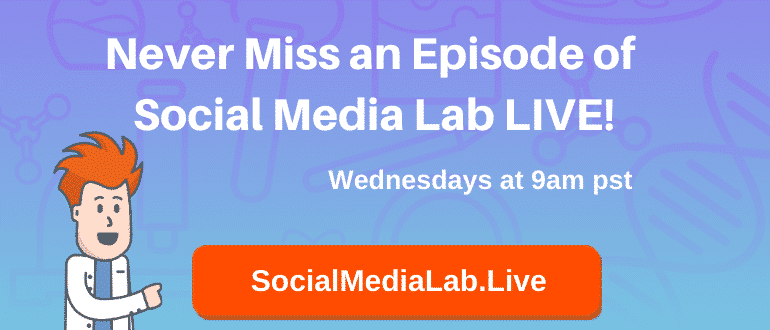 Subscribe to the Social Media Lab Podcast via iTunes | Stitcher | Spotify
Don't miss an experiment!
New experiments and exclusive content straight to your inbox