Agorapulse, a social media management tool used by businesses and agencies across the globe, was recognized today as a member of the Instagram Partner Program. This program acknowledges companies whose technology and expertise drives effective business results on Instagram.
Listed in the "Community Management" category of the Program, Agorapulse will provide the tools to effectively manage Instagram comments and gain crucial audience insights.
Here's how Agorapulse can make Instagram marketing simpler and more effective for you, your agency, or your business.
Monitor all your Instagram conversations from one dashboard
Agorapulse users can easily manage comments from multiple Instagram accounts without logging in and out of each account. All the accounts are available with a click of a button (or a tap of an icon) on your Agorapulse dashboard.
If you happen to manage accounts on other social channels like Facebook and Twitter, you can also access those conversations from our dashboard. We aimed to create a dashboard that values your time and keeps you productive.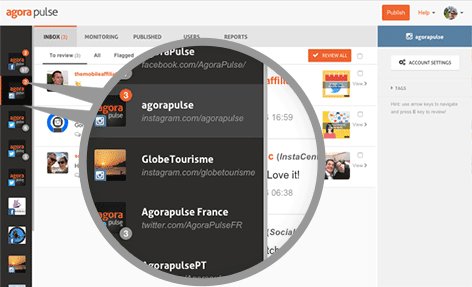 Learn about your ambassadors on Instagram
You might not have an official ambassador program in place, but you have an official one already prepared for you in the Agorapulse "Users" tab. Find out who is using your branded hashtags, who loves to chat with you, and who can't stop liking your awesome posts.
You can also create your own designations for local users, bloggers, previous customers – you name it. Literally.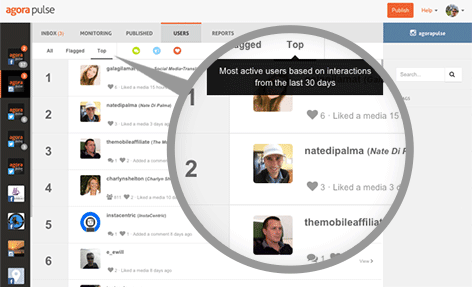 Get the statistics you need for a killer Instagram strategy
Our reports will give data-savvy marketers the important stats they need to determine which of their tactics are working on Instagram and which ones they can leave behind. If you're a business owner, you'll love how our reports get down to brass tacks. If you're an agency, you'll squeal at how our customizable PowerPoint downloads will impress your clients.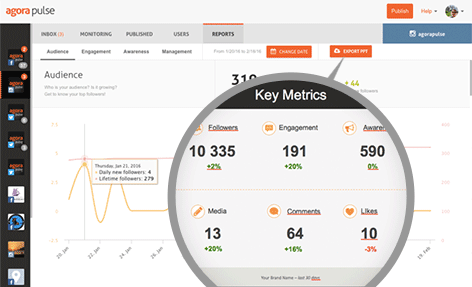 Want an example of a company whose cut their Instagram page management in half since using Agorapulse? Then scroll through this case study of the famous ski resort Val Thorens.
Why not try Agorapulse and test this out for yourself? Start your free trial today!