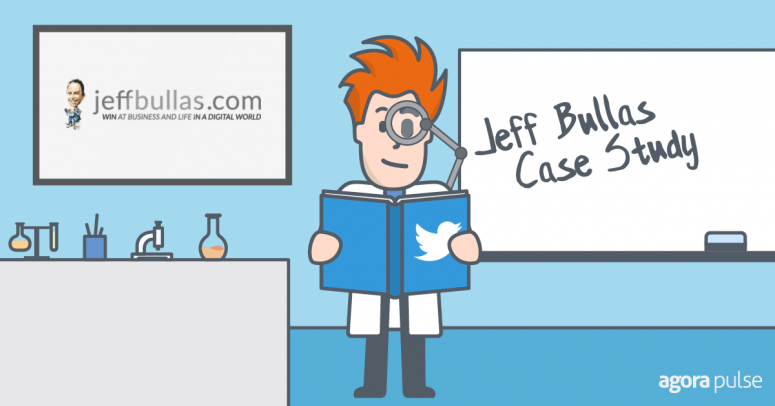 Subscribe to the Social Media Lab Podcast via iTunes | Stitcher | Spotify | Google Play | RSS
Today I want to share a story with the Lab from a social media influencer named Jeff Bullas…
Jeff currently has over 560k followers on Twitter and his account continues to grow daily.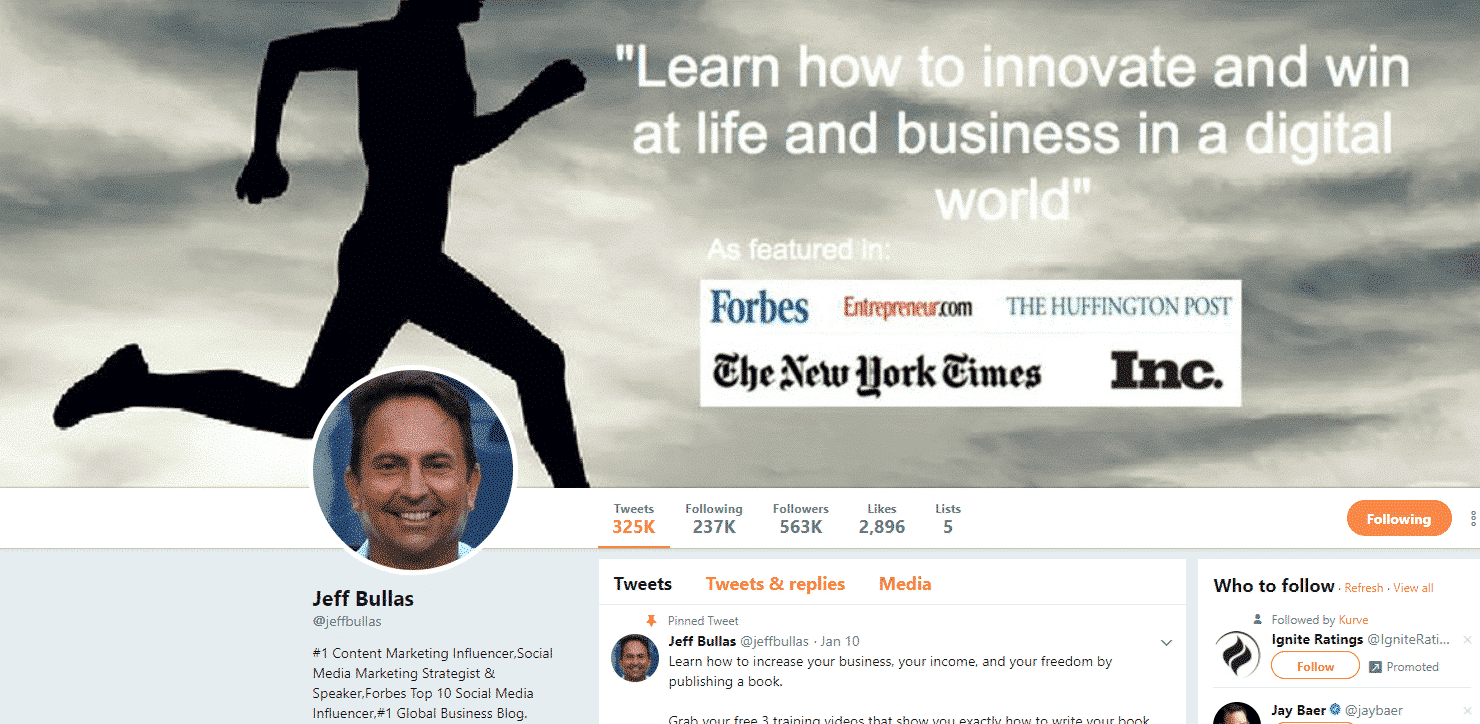 He hasn't reached that milestone overnight.
In fact, it was back in 2009 when Jeff first started writing about how to use Twitter and Facebook to build influence online, before either were the powerhouses they are today.
He is what I would call an "Early Adopter" of social media and the platform's ability to influence others and build a tribe.
Because of his early adopter status, he quickly became a thought leader in the social media space.
Here is a short list of some of his accomplishments to date:
After a conversation with Emeric Ernoult, our CEO at Agorapulse, we have teamed up with Jeff to share his story up until this point, and how he has accomplished influencer status on Twitter by using repeated evergreen content at scale.
I'll start by taking an unbiased, scientific analysis of Jeff's Twitter analytics and wrap things up by showing you exactly how he was able to achieve all of this through mass posting.
As of writing, Jeff has tweeted a mammoth 325,000 times.
Jeff Bullas Twitter Analytics
I'm going to dive into the Twitter Analytics of Jeff Bullas, who some would say is breaking all of the Twitter "rules" and tweets like a mad man.
What he's been able to accomplish on Twitter is quite amazing (and to be honest, shocking). So let's dive in and learn more!
I asked Jeff for 3 months' worth of his Twitter stats so I could take a look at his activity and see if there were patterns and conclusions we could draw from them.
He sent over the analytics for September, October and November of 2017 (he pulled through November 29th).
Here's what I discovered right away: The man tweets every 15 minutes, 24 hours per day, 7 days per week!
Yes, you read that correctly.
That's at least 96 times per day for his planned tweets — not to mention any retweets or tweets he might send out manually on the fly.
Let's take a look at the results of those tweets for each month.

WOWZA — that's a massive amount of Impressions and Engagement!
(November is lower due to stats being sent to us with about 2 days remaining in the month. And with the tweets being less than 30 days they haven't fully gotten all the impressions and engagement September and October had.)
To put this in perspective: Over a three month timeframe, Jeff accomplished the following results with his 11,302 tweets:
27,012,733 Impressions (that's 27 million!)
280,220 Engagements
63,907 Retweets
1,181 Replies
56,657 Likes
49,216 Link Clicks
7,982 Profile Clicks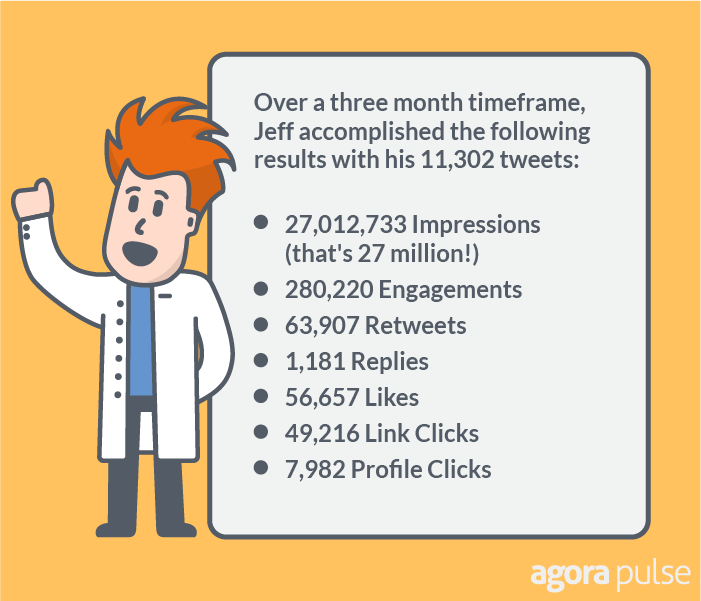 If that doesn't impress you, check your pulse.
With so many tweets and so many followers, it's easy to see why the numbers or so high.
You'll notice he tweets on average 3,767 times per month, which gather a monthly total of over 9 million Impressions, 21k+ Retweets, nearly 19k Likes, and over 16k Link Clicks.
Based on the consistency of each month, I estimate he'll tweet over 45k times in a year and gather over 108 million Impressions.
Very impressive numbers.
How Many Times Does the Same Tweet Get Tweeted by Jeff Bullas?
Some gurus warn to only tweet the same link once per month — and if you do it just that once-a-month, be sure to change up the text.
What does Jeff do?
I took a look at the first 20 tweets in his analytics to get an idea of a few things:
How many times per month does the same exact tweet get sent?
Do the engagement numbers drop the more the same links are tweeted?
What is the average numbers for these tweets?
Looking at the stats, Jeff sends out the same exact tweet roughly 7 times per month! It will all depend on how early in the month it first hits as to whether or not that number increases or not.
Jeff has roughly 565 tweets that he repeats over and over, so there is a pretty good gap in between a repeated tweet. But because he tweets every 15 minutes, they come back around pretty quickly!
Take a look at the stats from the first tweet shown in his Twitter analytics: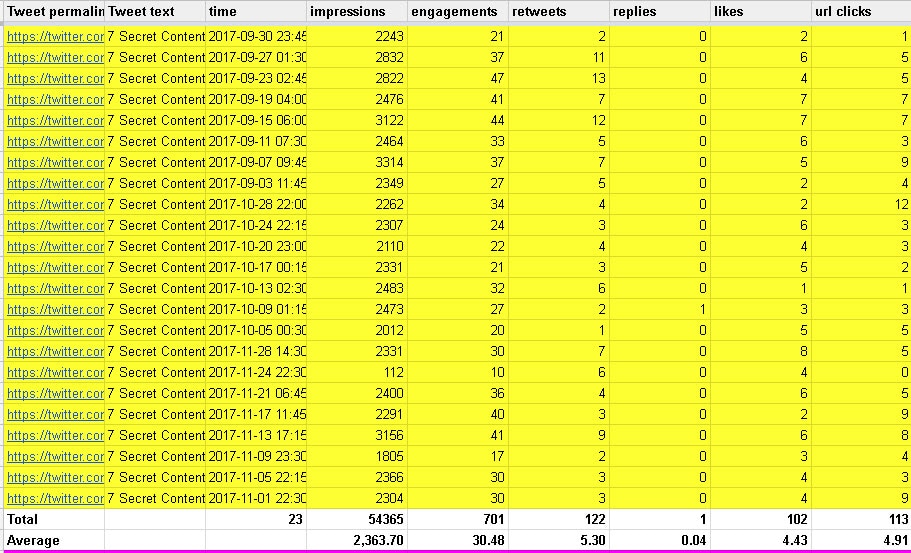 As you can see the engagement numbers for this, one tweet lines up with the averages overall and per month.
But also notice that the engagement levels fluctuate across the 3 months. It doesn't seem to favor one month over the other.
Keep in mind these 3 months is just a snapshot of his activity. He may have been tweeting this same link for a year or 2 before this (!).
What I can conclude from this is that regardless of when he posts this tweet he gets some sort of activity, whether it's retweets, likes or link clicks.
When I averaged out the stats from the first 20 tweets in the Twitter Analytics, here's what I found: Each link was tweeted 24.85 times on average over 3 months and averaged:
2,196 Impressions per tweet
16 Retweets per tweet
12.95 Likes per tweet
4.39 Link clicks per tweet
Yet again, Jeff pushes aside conventional wisdom about retweeting and blazes his own trail.
Is Jeff Bullas' Twitter Madness Working?
Based on the numbers I've seen and shown you, I'd say a resounding YES.
He continues to get engagement on these tweets, even after tweeting then hundreds of times.
One of the most important numbers to me is the Link Clicks on each tweet.
If you look back up at the tweet I shared above, you'll see that this tweet got 113 Link Clicks over the 3 months.
Not a huge number — but that's 113 clicks that Jeff got for free just by simply repeating his tweets.
And if you remember from earlier, over 3 months Jeff Bullas was able to get 49,216 Link Clicks from all of his tweets!
Not bad.
I took a peek at Jeff's Website site and found that for August-October 2017 (that's all the site would show me) his site had 1.677 million visitors.

If each Link Click on Twitter equals 1 visit, that equates to 2.93% of his total traffic coming from his repeating tweets!
And remember he's running this 100% on autopilot — meaning once it's set up, he doesn't touch it again.
Based on the Twitter Analytics from Jeff Bullas' account, he'll rack up a whopping 197k Link Clicks in a 12 month time period.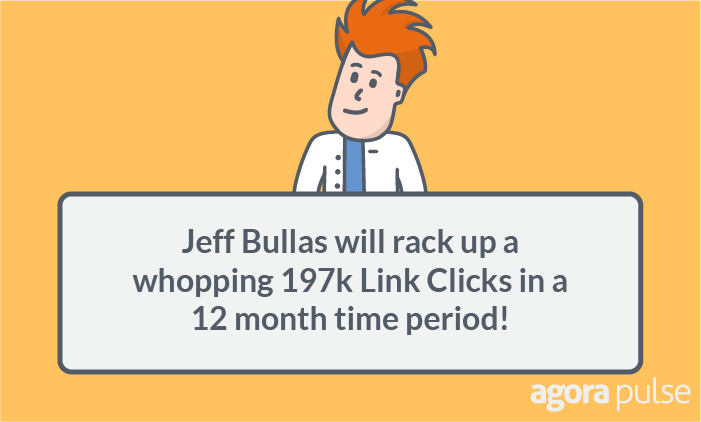 Comparing Jeff Bullas to other Social Media Influencers
Let's compare that number of tweets to other influencers in the social media space:
I could go on, but it's easy to see that Jeff tweets a lot more than these influencers.
I wanted to compare his engagement numbers to these three power influencers to find out if Jeff is getting results by tweeting so much. This is what I found using our Twitter Analytics tool.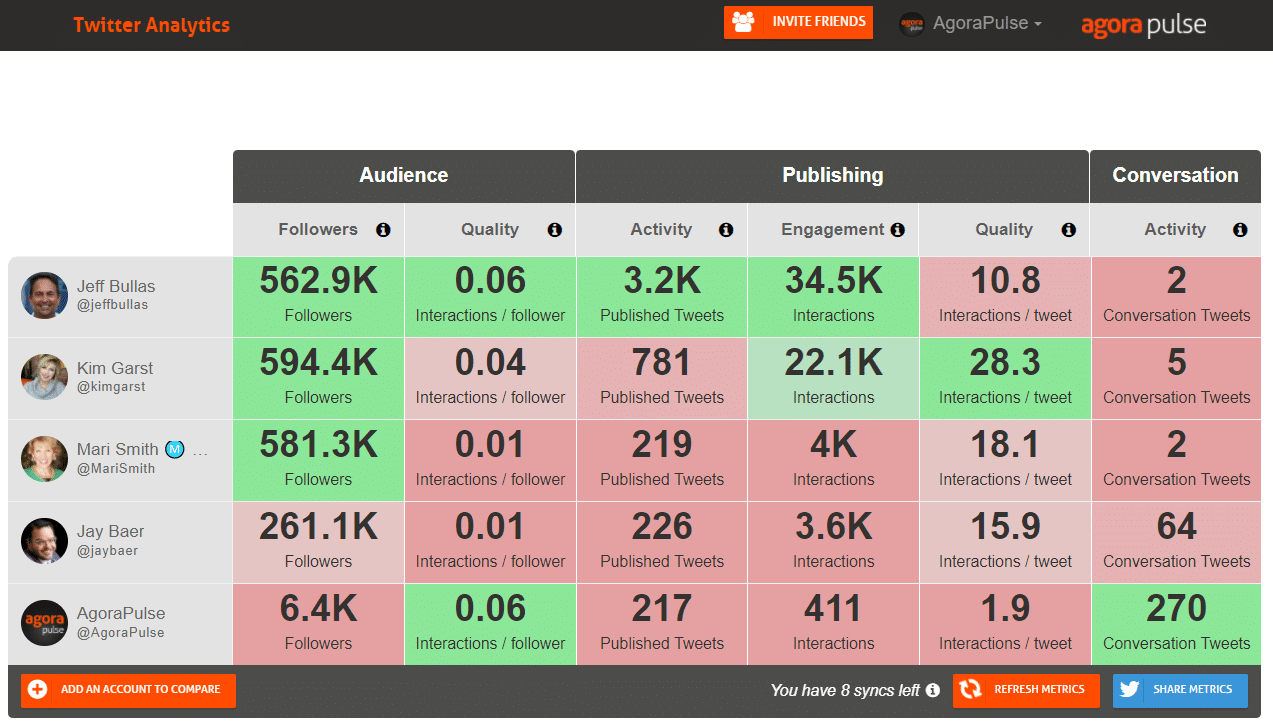 As you can see Jeff wins 3 out of the 5 categories (excluding followers — we already covered that). Kim Garst wins in the Quality category under Publishing as she gets more retweets and likes per post.
It's easy to see that whatever Jeff is doing is working.
How does Jeff Bullas manage to publish 3,600 tweets per month on autopilot?
Trying to manually post your evergreen tweets is impossible — you'd quickly lose track and hate your life if you tried!
So we asked Jeff how he does it, and here's what he said:
"I've used a lot of tools over the years.
I started using SocialOoomph in the beginning. But since Agorapulse now offers the same options as SocialOoomph as well as all the other social management features I need (Inbox, reports, etc.), I switched to Agorapulse last summer.
The user interface is more user friendly and I can do so much more beyond adding tweets to my queue. The reports also help me identify the tweets I should remove from the queue when their performance declines."
Let's have a closer look at how Jeff uses Agorapulse's evergreen content publishing:
Step 1: Create the appropriate queuing categories
Jeff is tweeting 3 types of content:
His blog posts (he has a lot of them)
Ebook promotion
Sponsored / partners content
The first thing he did was to create a queue category for each: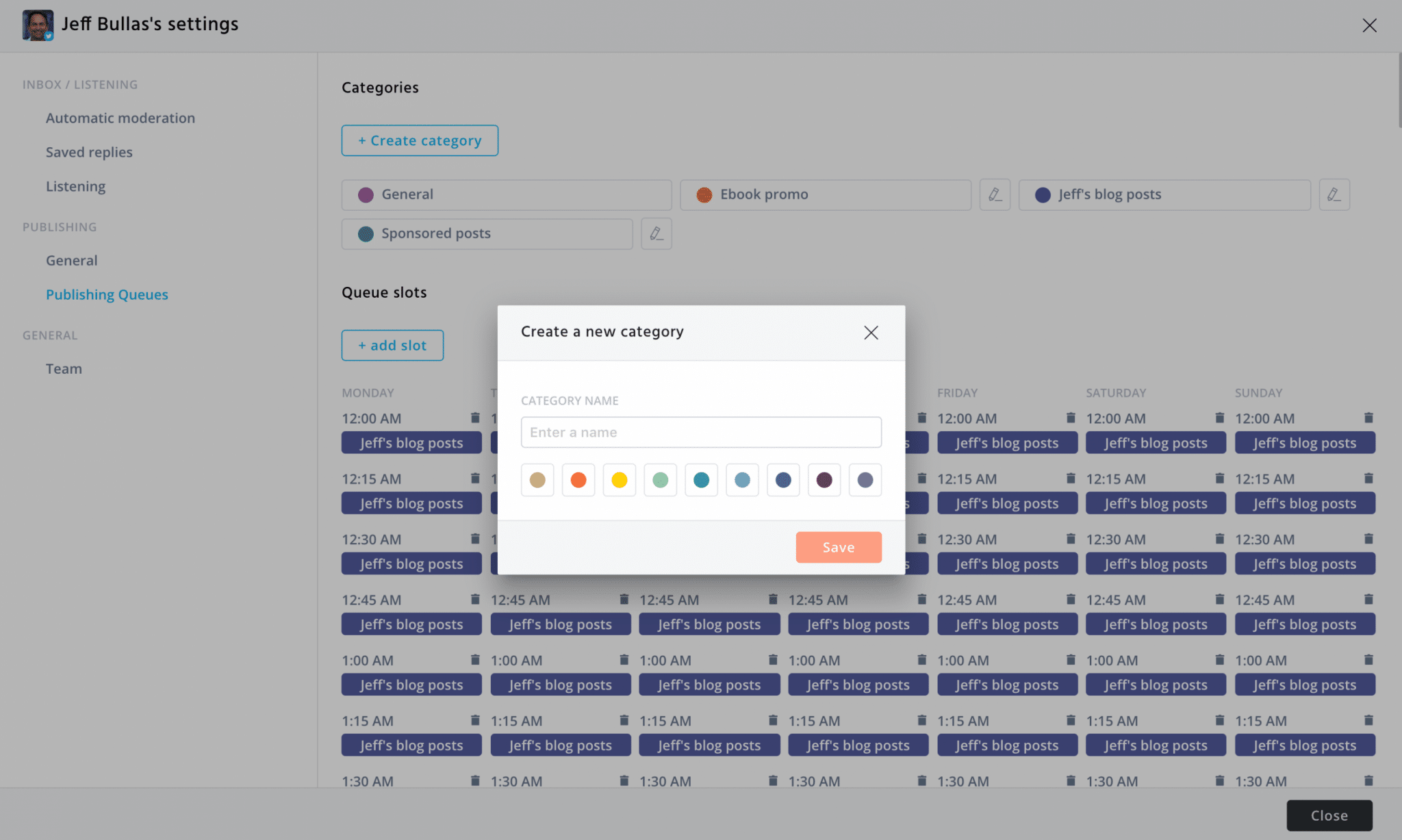 You can create categories and time slots from the settings of each of your social profiles in Agorapulse. Creating a new category is pretty easy and you can associate a color with a category to quickly identify the topic of your queue slot or tweet in your calendar.
Step 2: Create the time slots to be spread through the day
Once you've created the categories that match your type of content, you need to create the time slots to distribute your content. Here's a view of Jeff's time slots (he has more than 90 per day):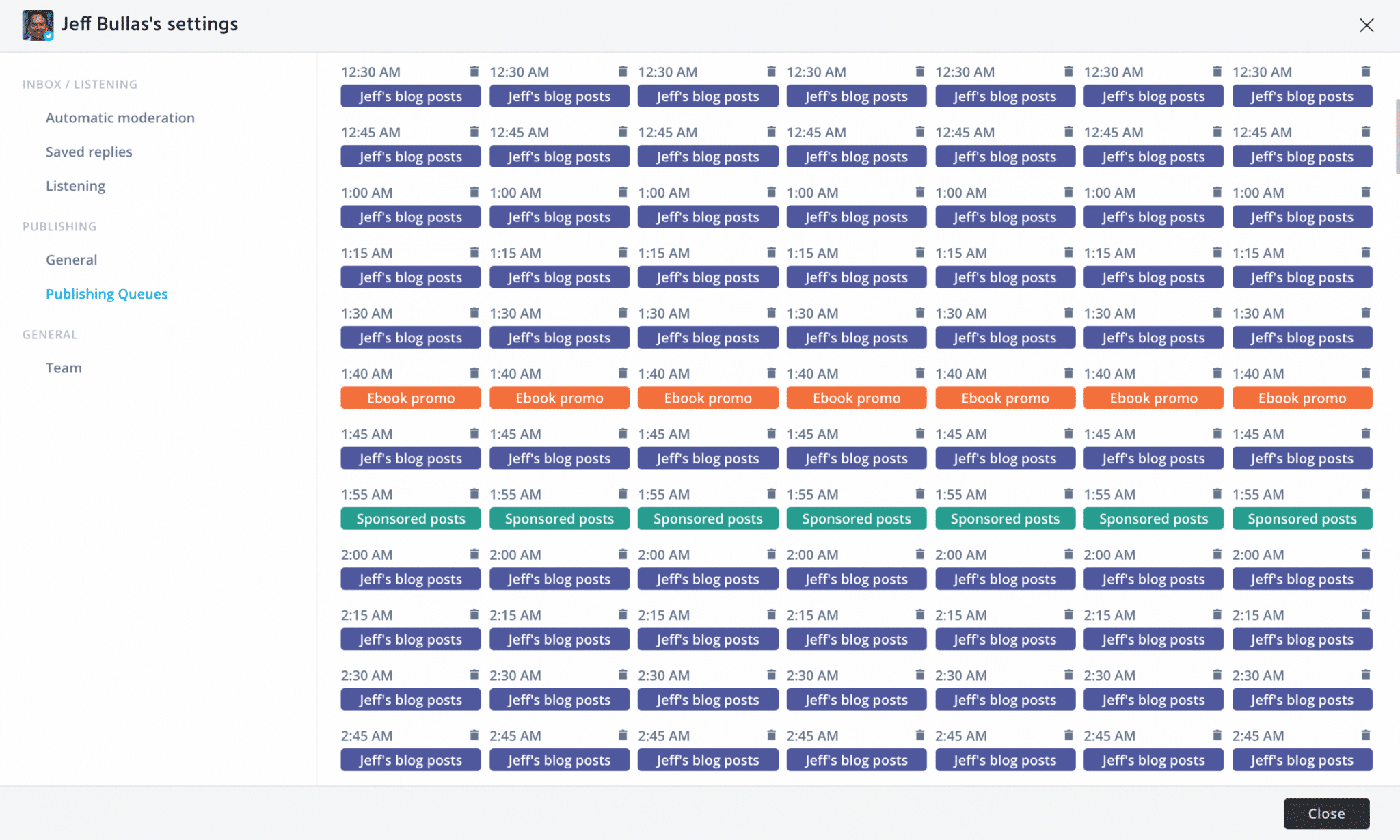 Creating a time slot is pretty straightforward. Simply pick a category, a time, and the days of the week you want that time slot for:

Step 3: Add content in your content queues!
There are three ways to add content to your content queue in Agorapulse.
The first way is to post each piece of content one by one. You can do this by clicking on the publish button inside Agorapulse.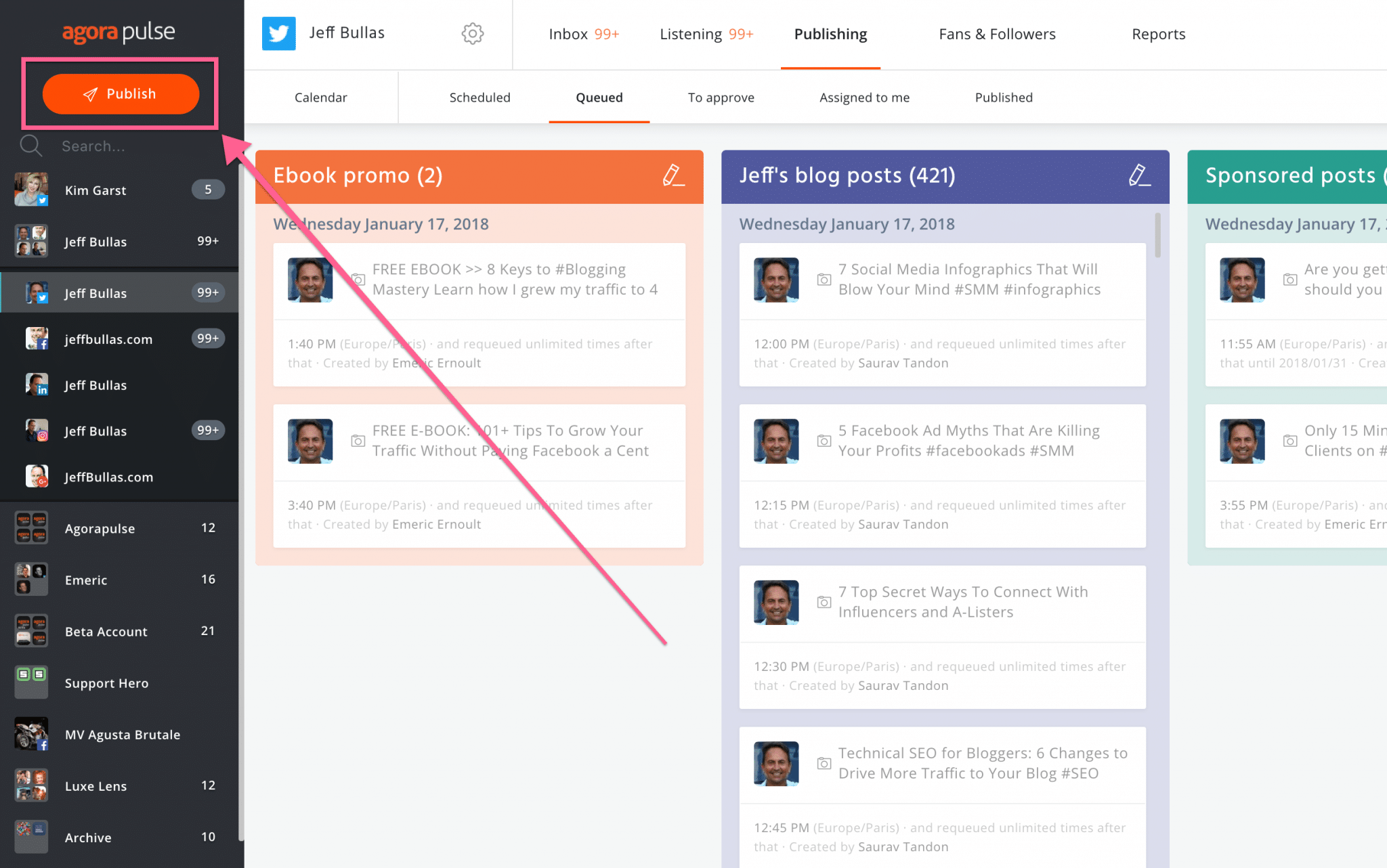 Enter your content. You'll see a nice preview on the right.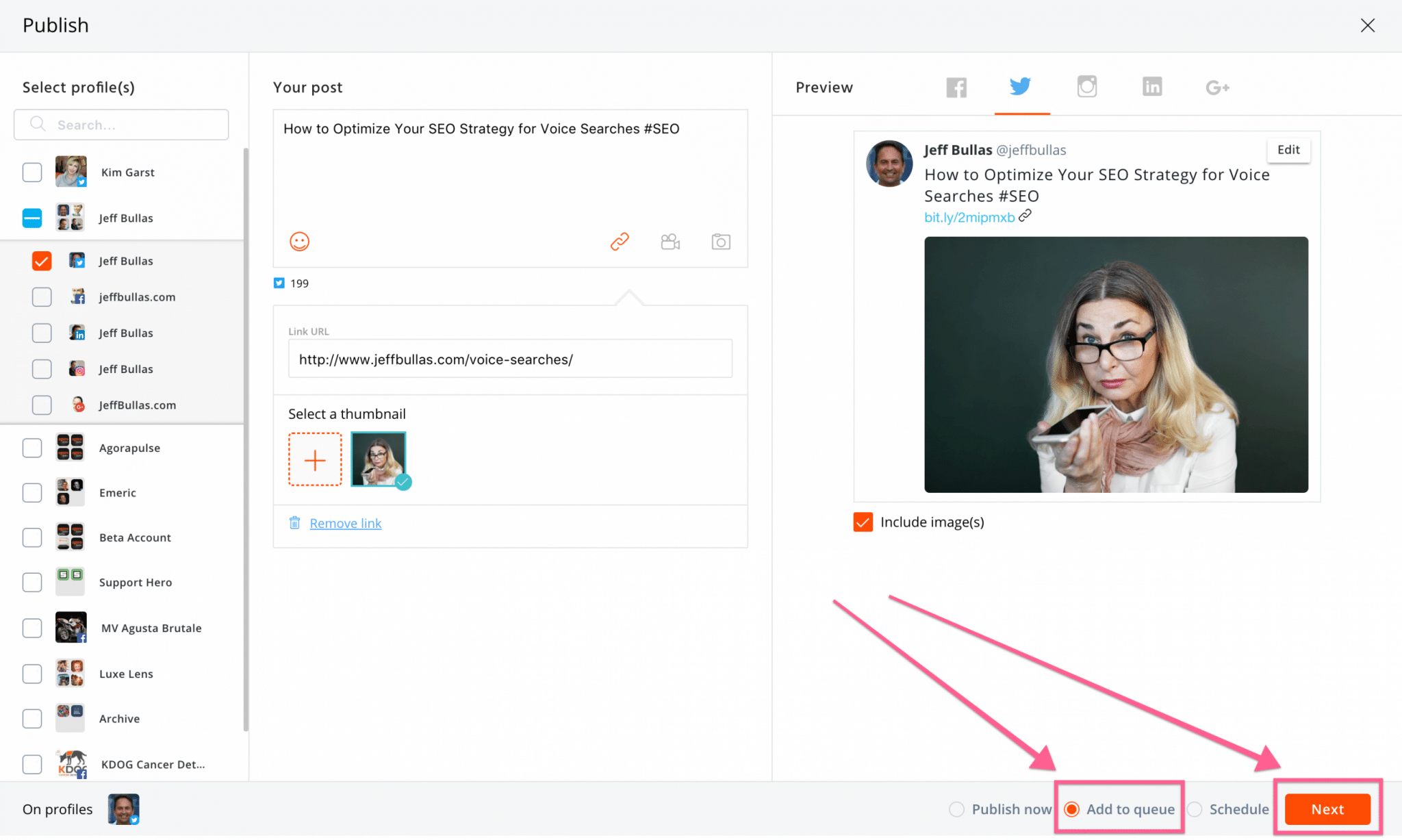 Select "add to queue"and click next. Select if you want your content to be published soon (queue next) or later on (queue last).
Then, choose the appropriate category (Jeff's blog post in our example). If you want to republish it a specific number of times, select this option and enter the number of times. If you choose to requeue it indefinitely, you can add an expiration date which can be handy if your tweet is "dated." A post called "10 ways to be a better marketer in 2018" should expire on December 31st, 2018.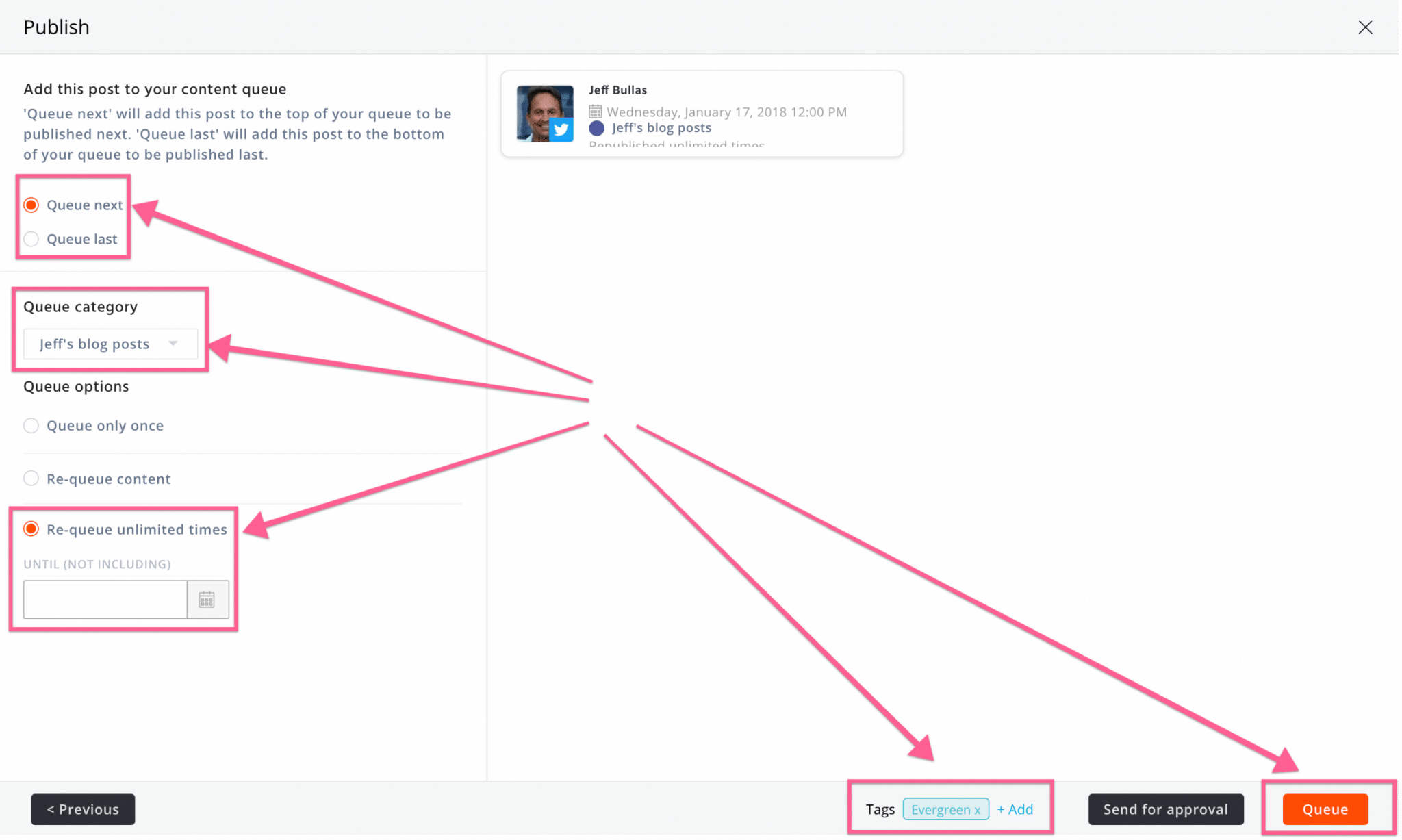 Click "queue" and your done.
The second way to do add content is to use Agorapulse's Chrome extension. You'll have the same experience and options as shown above but you'll be able to do it from any web page and the content will be pre-populated. Convenient when you're curating content.
The third way, and Jeff's favorite, is to use our Bulk CSV Upload feature. That's how Jeff migrated from SocialOomph to Agorapulse in a matter of minutes.
First, get all your content in a csv and upload the file to Agorapulse: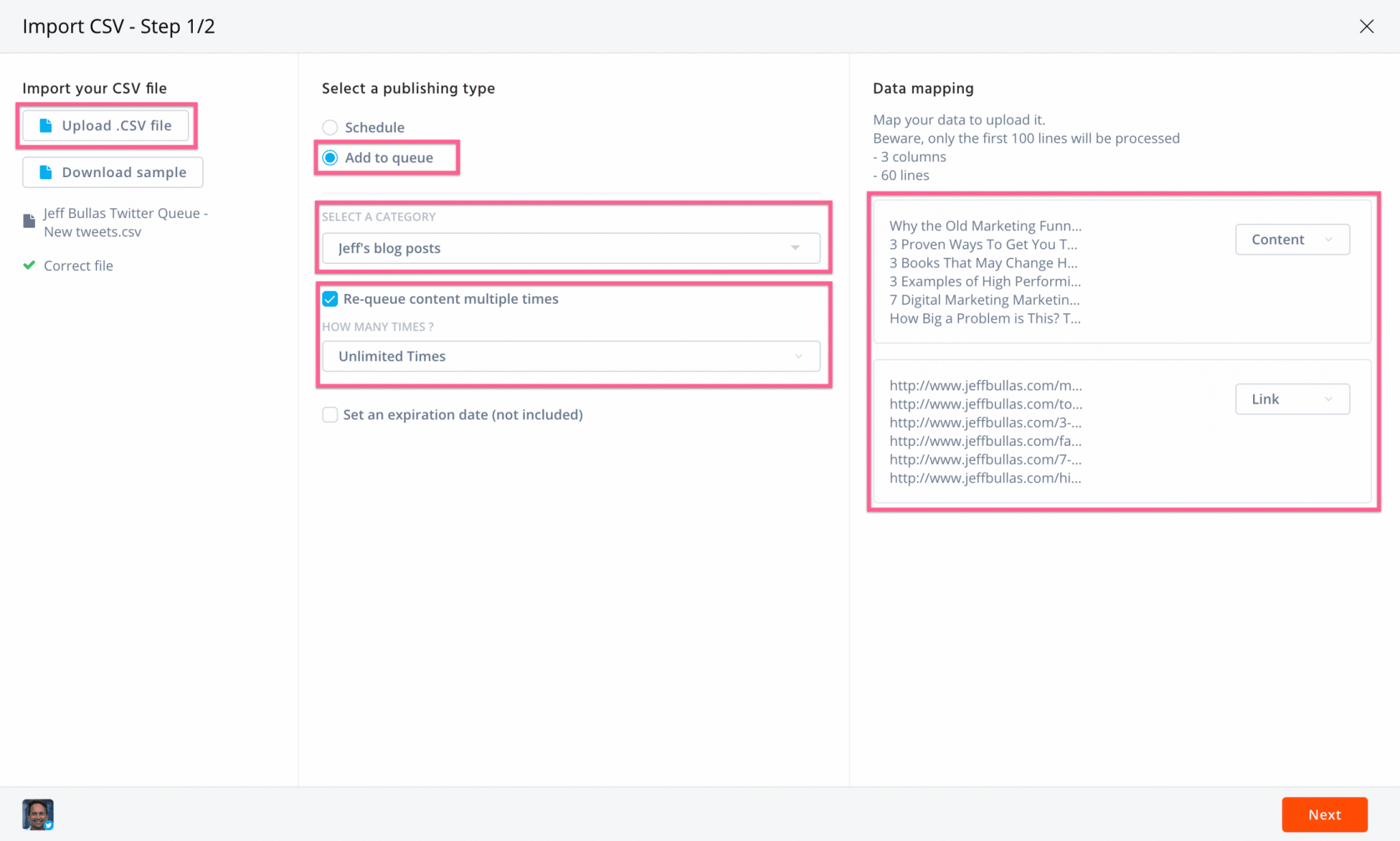 Upload your file in the first section. In the second section, choose "add to queue," pick the relevant category, and select the number of requeue times you want. You'll map the columns in the third section with the required data. Then click "next."
Now you can check how each piece of content will look like with Agorapulse's preview feature. Edit if necessary and add a tag to track topic's performance. Click "queue" and BOOM, you have up to 100 pieces of content added to your content queue in one simple process.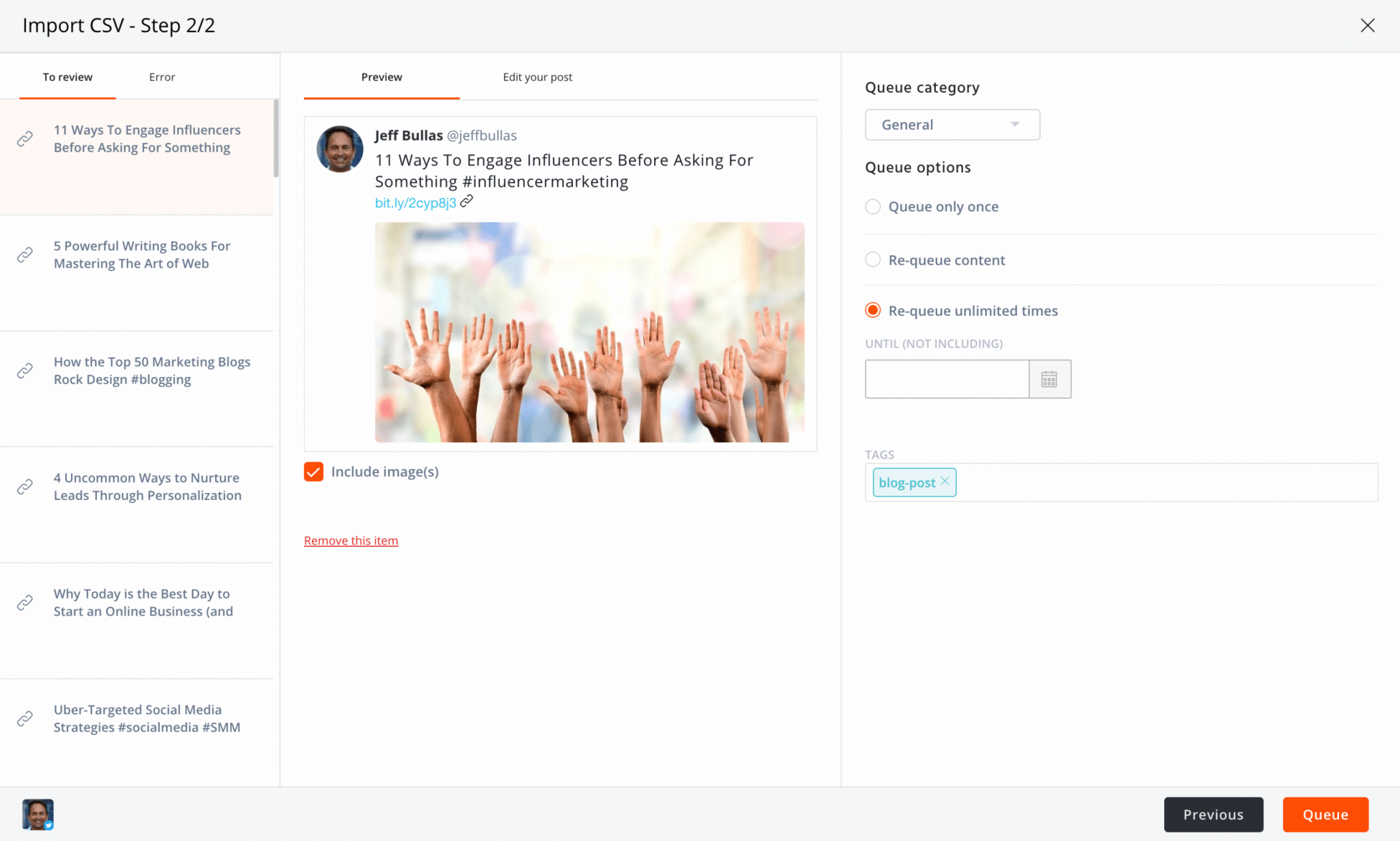 With more than 360 tweets to migrate from SocialOomph to Agorapulse, this was definitely the easiest way to go.
Once that's done, you have a clean queue with all your pieces of content organized by topic. You're now free to edit them, drag and drop them within one category or to another category, and make sure your content is always up to date.
Jeff has used this strategy for his Twitter profile but you can also use it for Facebook, Linkedin, or Google+. Even for Instagram!
We've used these features to completely refresh our own Twitter content at Agorapulse. We recorded a webinar to share how we did it. Watch it here: (wait for the link)
Related Post: What's Wrong with Sending Automated Tweets?
Conclusion about Jeff Bullas and Evergreen Content
I hope from all of these stats and different views of them you can see that evergreen content on Twitter is alive and well.
If you're tweeting a link to your new blog post just once, you're missing out on massive amounts of traffic.
I would highly recommend repeating your evergreen tweets as often as you feel comfortable. Jeff currently has nearly 400 tweets in his arsenal: you may only have 40. Adjust your queue schedule accordingly.
Agorapulse can help put your Twitter posting on autopilot and it works. The data above reveals the massive amounts of Likes, Retweets and Link Clicks received because of it.
I'm convinced that if you apply these tactics to your own Twitter strategy you'll see similar results.
We'll be discussing Jeff's results in an EXCLUSIVE live webinar: REGISTER HERE.
To get a complete visual of what Jeff Bullas has been able to accomplish we've created this handy infographic for you:

Don't miss an experiment!
New experiments and exclusive content straight to your inbox