The word "automated" has a bad name among social media managers on Twitter. It's easy to see why.
Automated encompass a large range of activities including automatic direct messages (auto DMs) such as "Thanks for following me! Be sure to visit my website" and automated response tweets like "Thanks for following me have a great day," automated follow-backs, and even automated chats based on keywords or hashtags.
But what's wrong with sending automated tweets?
It depends on when you use them.
In this article, I'm going to tell you when you should use automation and when you should avoid it.
Twitter Automated for New Followers
Setting an automated tweet when you receive a new follower is not a bad thing for busy social media managers.
I use the tool IFTTT to create that instruction for some of my busier Twitter accounts.
I dislike promotional replies. So, I stick with something generic like "Thanks for following. Have an awesome day."
If your new follower replies back to you, any further interaction is manual.
On my personal account, I prefer to go manual as I love the genuine interaction with other Twitter users like influencer @EdLeake.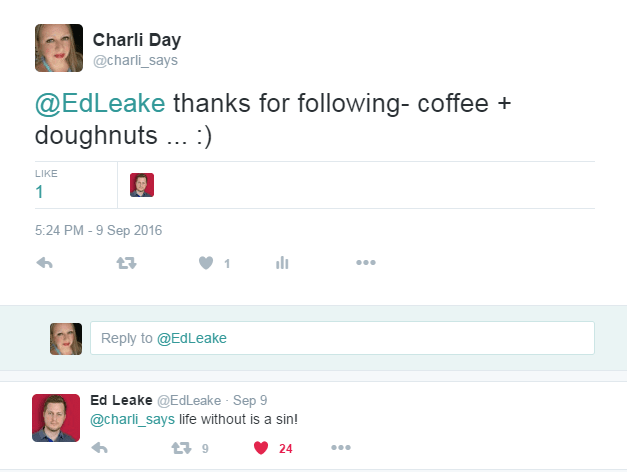 Related Post: Social Media Manager Salary: How Much Should You Be Making?
Even innocent automation can be risky though especially for big brands. (More about that later.)
Should You Use Automation for Direct Messages?
I know many social media managers swear by DMs for increasing web traffic. But they are really annoying and spammy.
It is obvious that they are automated. Which means that no thought went into sending the message.
Examples of DMs on Twitter
Three common types of DM used commonly on the Twittersphere are:
"Thanks for following check out my website."
"Follow me … everywhere."
"Buy my product on this link."
Any user that sees one of these DMs is going to know that they are automated.
At best, users will be ignored or at worst used as a reason for a quick unfollow.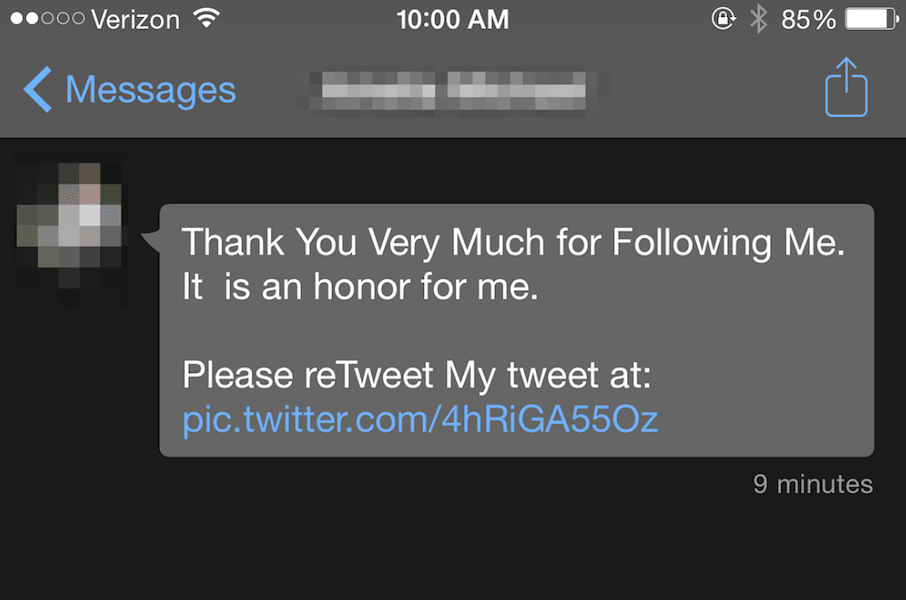 Why Use Automation From an RSS Feed
One of my greatest automated discoveries was Twitterfeed, the service that allows you to set up RSS feeds from your favorite blogs.
Simply configure the RSS to your Twitter account. Whenever you publish a new blog post, it will be tweeted out automatically.
Reasons for this kind of automation
Using an RSS feed is a great way to:
Keep your tweets steady throughout the week
Increase engagement on your blog content
Save valuable minutes needing to tweet each article
You should only automate tweets from a source like your own blog or a large and trusted Website.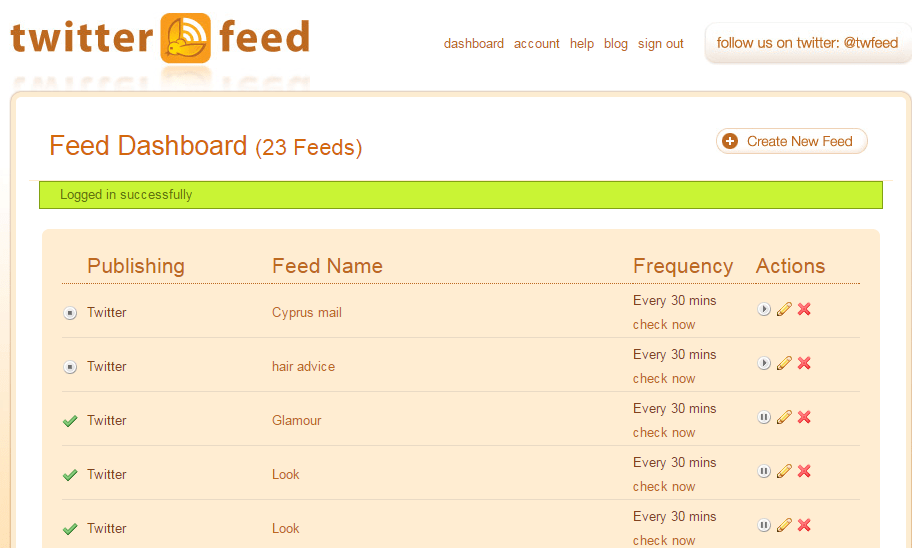 Don't Automate Retweets or Replies
A retweet is basically an endorsement of someone else's tweet.
If you retweet, you are saying you agree, love, or wish to share that message.
Oreo learned why you shouldn't with this tweet in 2015.
Most of Oreo's automated replies were sent to innocuous accounts.
But one wasn't. And it got a lot of bad attention from the Twittersphere.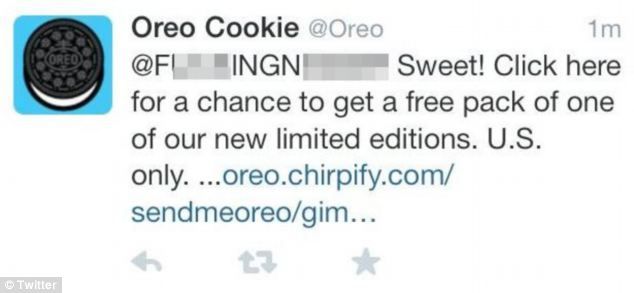 Use Automate Tweets to Cover Vacations
If, like me, you are desperate for a long weekend where you don't touch your social media accounts, scheduling a few well-timed tweets using Agorapulse is definitely the way forward.
Using the Agorapulse calendar you can easily write and plan your tweets ahead of time leaving you free to relax!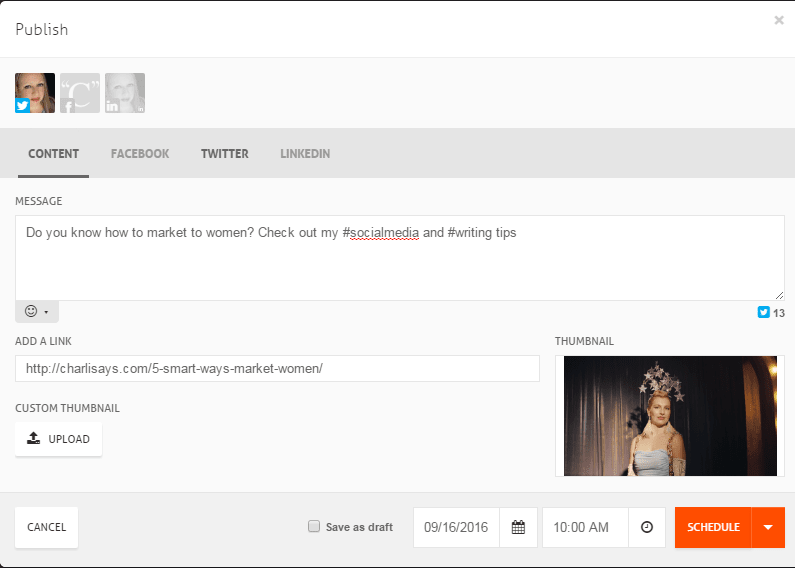 A great tip here is to include hashtags popular to your particular business niche.
You may even rack up a few retweets while you're away.
Many social media managers like Tami Brehse find that scheduling tweets can yield great results, even increasing her Twitter to blog traffic by over 300%! Check out her tips here.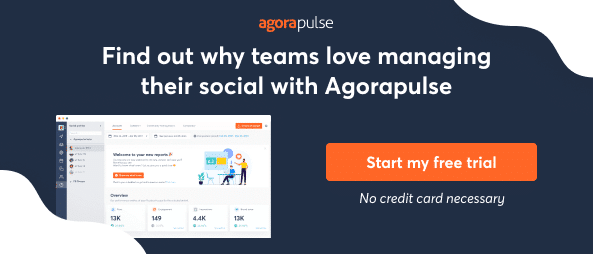 Automated Tweets Gone Wrong
Sometimes, automated tweets can go horribly wrong. (If so, you'll have to refer to your crisis management process. You should definitely have one for any PR crisis.)
1. Coca-Cola
Coca-Cola's #MakeItHappy campaign came unstuck when it was tricked into tweeting out a number of lines from Adolf Hitler's "Mein Kampf."
A Twitter bot, @MeinCoke, was set up to tweet lines from that work then link to them with the #MakeItHappy tag.
Doing so triggered Coca-Cola's own Twitter bot to turn them into cutesy pictures. OOPS!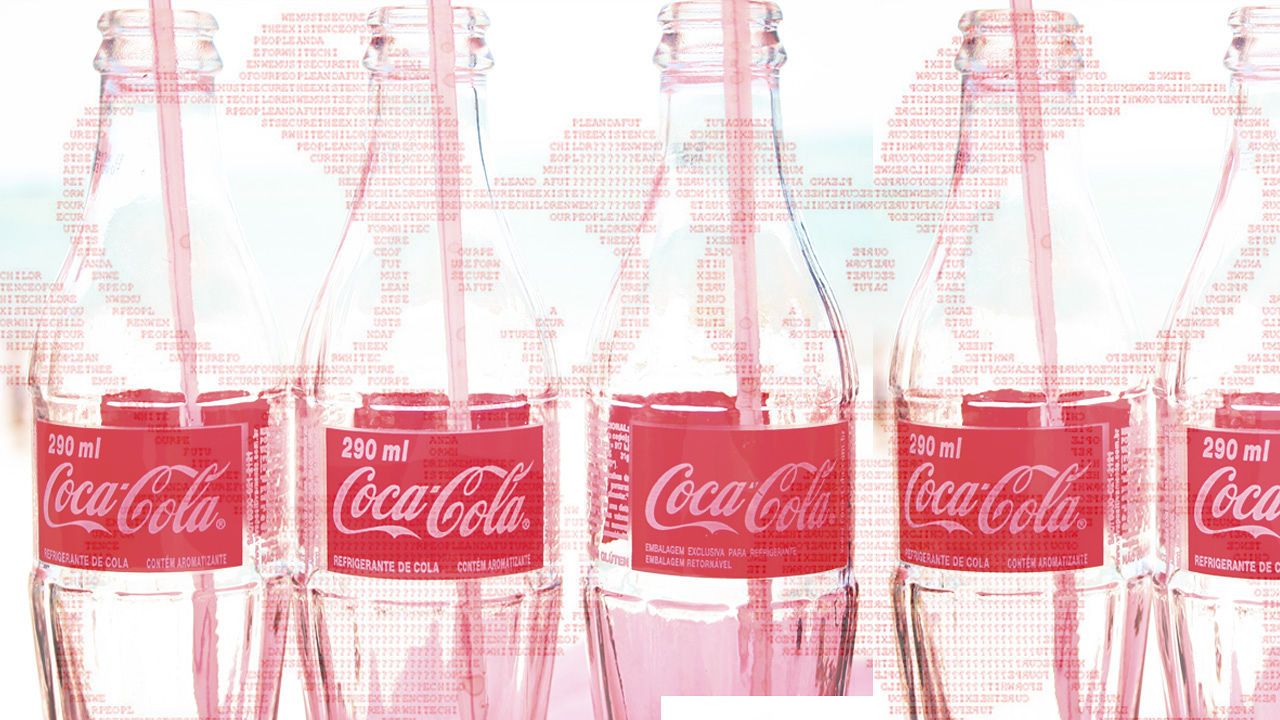 2. New England Patriots
The New England Patriots employed an automatic bot that accidentally tweeted this racial slur from the official team account.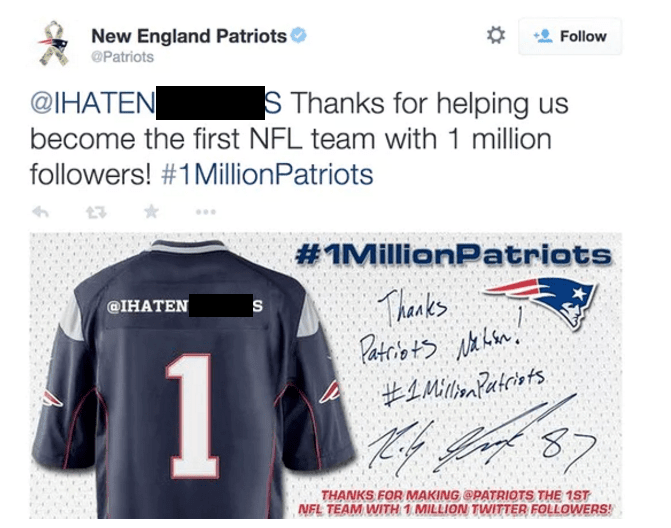 This automated tweet was live for over an hour and got nearly 1,500 retweets before the team apologized.
3. Puma
Puma's #Forever Faster campaign encouraged fans to tweet the #foreverfaster hashtag in August in exchange for their Twitter names being printed on personalized cards signed by Puma brand ambassadors.
However, the automated tweets system was tricked into tweeting a bunch of amusing messages, including one by German soccer player Marco Reus … "Cocaine, couldn't do it without you." Ouch!
I'm sure that the above brands would agree that Twitter automation can be great.
But it should come with a risk disclaimer: "This tweet was the result of a poorly considered agreement between a social media manager and her tools."
In Conclusion
Follow my tips though and you should be in the clear. Let's safely automate!
Take control of your social media. Check out our free trial of Agorapulse to help you schedule, track, and measure all your social media efforts.