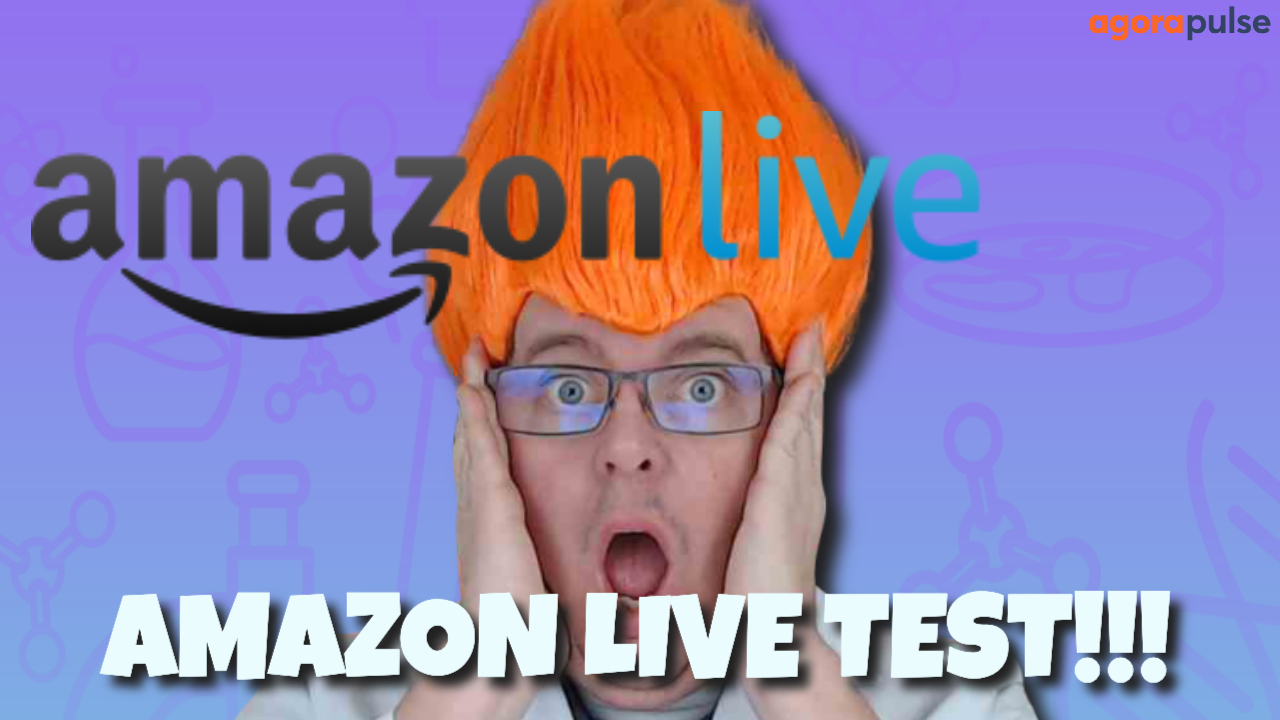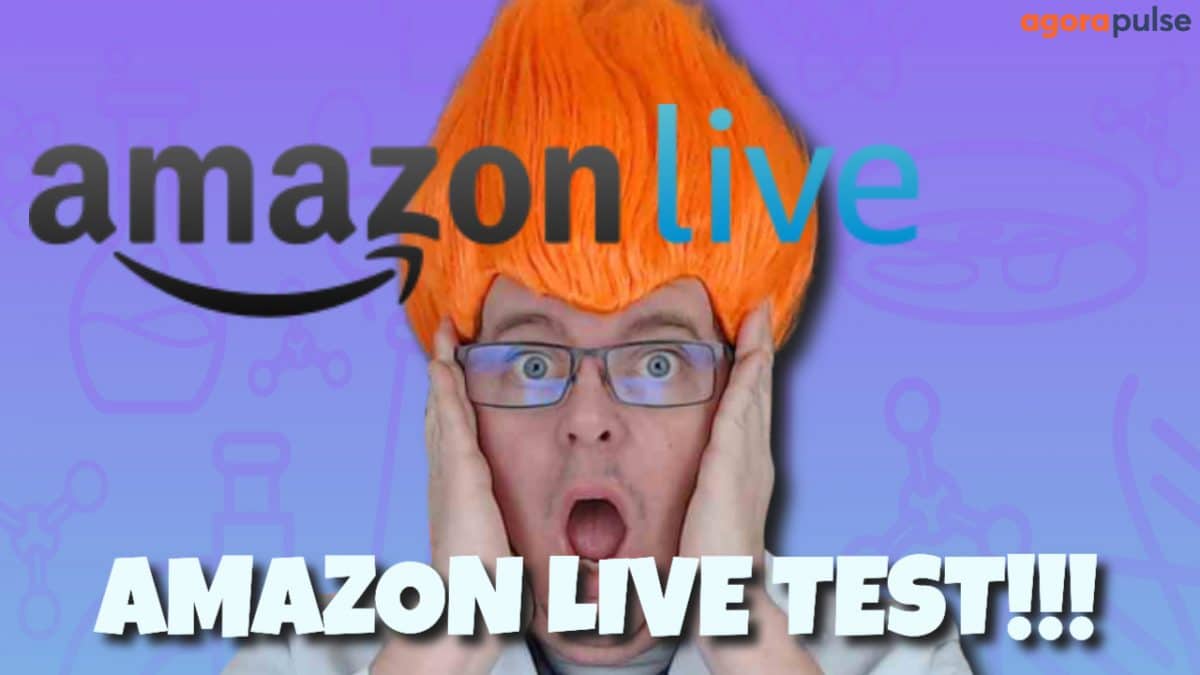 Subscribe to the Social Media Lab Podcast via iTunes | Stitcher | Spotify
Amazon Live has quickly become another live streaming platform for creators to build an audience and make an income, leading the Social Media Lab to wonder what would happen if we started a new account on Amazon Live.
I recently discovered the success that friends in social media marketing, such as Jim Fuhs and Chris Stone, are having on Amazon Live, causing me to create an Amazon Live account and begin testing the platform.
If you haven't heard of Amazon Live yet, and are wondering why you should stream there, here's what a few leaders on Amazon Live say:
"If you're a content creator and are already going live on other platforms, or doing YouTube videos with affiliate links–you are essentially the guy on the corner spinning a sign down the road from one of the biggest malls in the world. When you go live on Amazon, you are right in the middle of the mall where people have come to buy–and they are looking at you as the expert in the item(s) that they are considering."– Chris Stone, DealCasters.Live

"Rather than guess who will tune-in and buy, Amazon Live helps you reach a warm audience from the start!" — Christian Karasiewicz

"If you are already doing reviews and demos of products, why not get in front of people ready to buy. You can instantly monetize and brands will reach out to you if you have quality content. Live shopping is already big in Asia and is just warming up in the United States. This is a chance to get in early on a growing platform." — Jim Fuhs
After one live video and joining an Amazon Live Creator Facebook group, I began to see people I've never heard of in social media marketing or live streaming are having massive success on the platform.
David, for example, made $16k in 3 months recently on Amazon Live: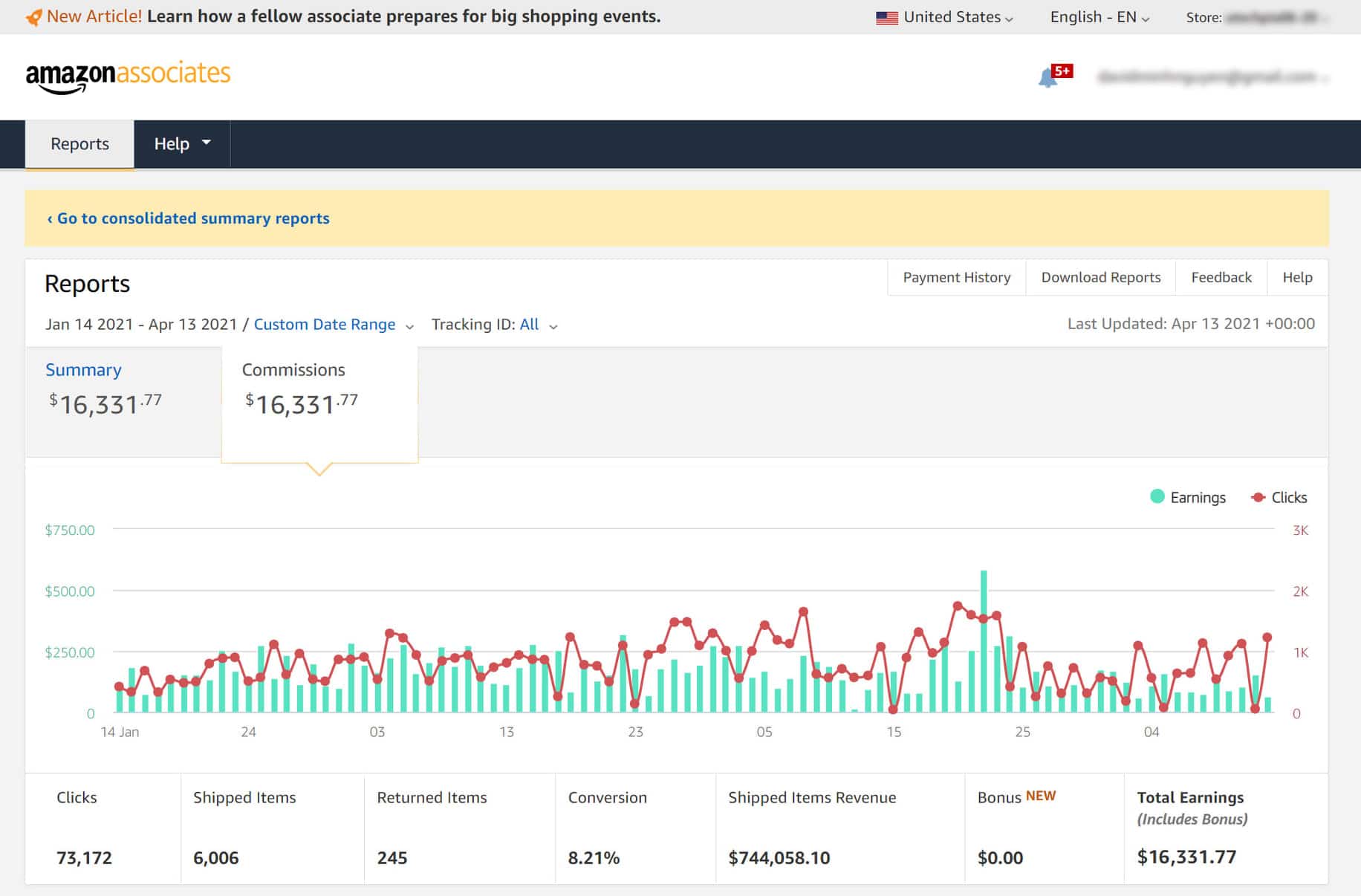 After seeing these results I decided I should conduct an experiment.
What results would I get if I went live on Amazon every weekday for a week with a brand-new account? If you're like me your initial thought is going live on Amazon must be like the Home Shopping Network or some late-night infomercial.
But, I've discovered not every live stream on Amazon Live is about hard selling products. It's a mix of showing off products and those, like Chris and Jim on Dealcasters, interviewing others within their niche.
What is Amazon Live?
Amazon Live is a live streaming platform that features videos of products sold on Amazon. Amazon Influencers can create and host streams on Amazon Live. They can demo the products, answer questions, share promo codes, and earn commissions. Amazon Live can be accessed from both the Amazon mobile app and the Amazon website.
Launched in 2017, the Amazon Influencer Program provides accepted influencers with their own Amazon Storefront. Influencers direct their followers to their storefront's unique URL (created by Amazon), where followers can shop from a selection of products hand-picked by the influencer. Though the specific percentages are dictated by the product type, generally speaking, each qualifying purchase can earn an influencer of up to 10%. At this rate, the AIP provides a straightforward stream of income. Merely for choosing and promoting the products of the influencer's choice. With the entire Amazon site to choose from, an influencer's storefront can be as niche or unique as they are.
What Are Amazon Live Influencers?
Social Media Influencers are HUGE at directing their fans to niche goods, which is a VERY Important role. Amazon has products; social media influencers have followers — It's the PERFECT combination for both parties to come together, everyone wins! Thus the Amazon Influencer Program was born!
To put this in perspective:
Amazon Sales Per Hour is $17 Million +
Each second, Amazon sells $4,722
Each minute, Amazon sells $283,000
And in an hour, Amazon sells more than $17 million!
Would anyone watch my Amazon live streams? Would I get any sales talking about live streaming equipment?
I was incredibly intrigued by Amazon Live so set out to find some answers. No data can be found from anyone running an experiment about the effects of using Amazon Live as a new account, so my hypothesis is hard to come up with.
Hypothesis: Going live daily on a brand-new Amazon Live account with little to no followers does not result in sales.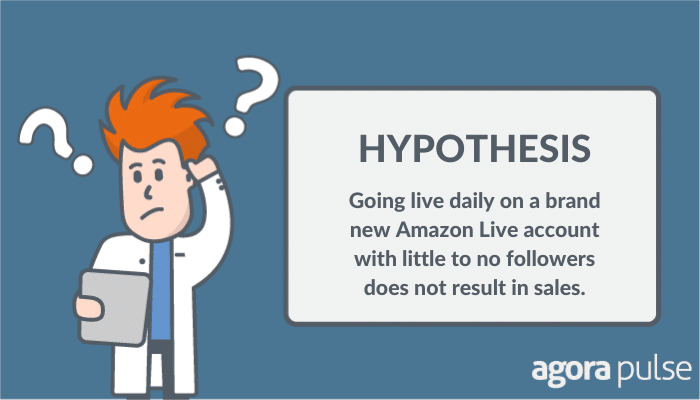 Testing Amazon Live
I created a brand new account on the Amazon Influencer Program using a Twitter account I have called Live Stream Labs.
Starting an Amazon Live Account
Amazon requires you to have some amount of followers on social media to be approved (what that number is no one really knows). I applied originally using the Social Media Lab Twitter account but wasn't approved.
Applying for the Amazon Influencer Program is quick and easy. You can apply using your YouTube, Facebook, Twitter, or Instagram account. Whereas YouTube and Twitter applications can be approved in real-time, Instagram and Facebook applications may take up to five days to be approved
Many confuse simply recommending Amazon products as an affiliate and the Amazon Influencer program. According to Amazon, there is a difference between the Amazon Influencer Program and being an Amazon associate:
"The Amazon Influencer Program is an extension to the existing online Associate's program for social media influencers. With the Influencer Program, you get your own page on Amazon with a URL to showcase the products you recommend to your followers. This gives you an additional way to direct traffic to Amazon, which is especially useful where hyperlinking isn't possible."
Amazon Associates is open for anyone to join. The Amazon Influencer Program does not have guaranteed enrollment, and applicants must meet certain requirements before they will be accepted. Both Amazon Associates and Amazon Influencers make money on completed sales transactions, but how they direct traffic is different. Amazon Associates directs web traffic by posting unique links to products on web pages and platforms. Amazon Influencers highlight products via their storefront and during live streams and earn a commission for any products purchased.
Once created, this is what the storefront looks like on a desktop: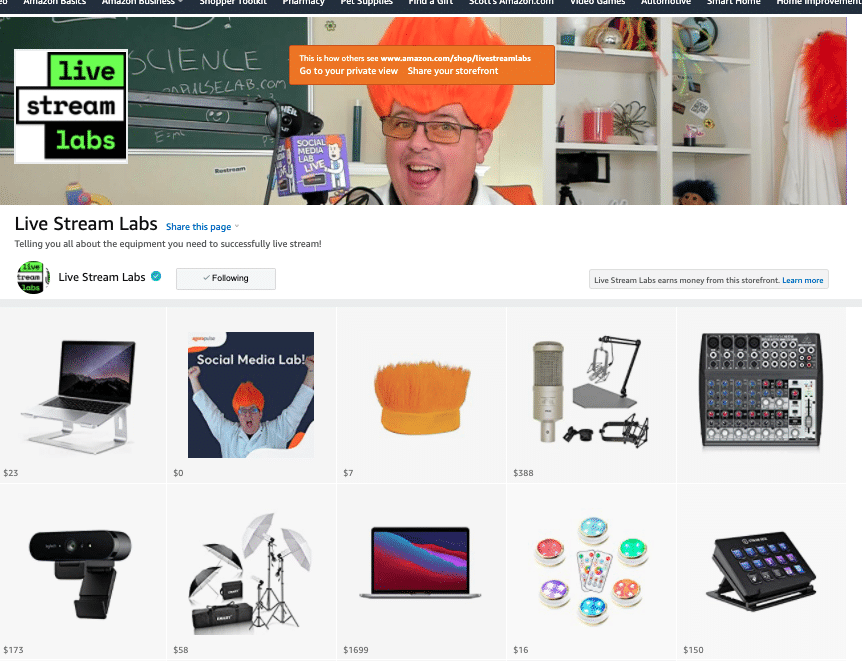 During the live stream, you are able to add, remove and showcase different Amazon products. Doing so lets viewers see these products highlighted as well as having the ability to click on them to purchase
When an Amazon user clicks on products via your storefront you will get credit for any purchases that person makes the next 24 hours, even if it wasn't on the product you highlighted.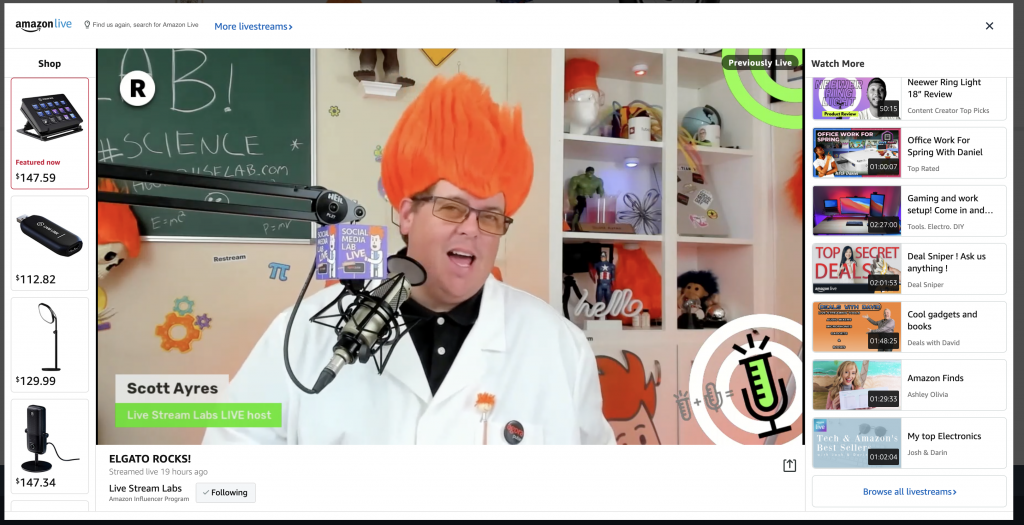 While you must use an iOs device to run the stream on Amazon, you can connect to Amazon using live streaming programs such as Restream, OBS, etc. I won't get into the details of that process in this blog post, but basically, you'll set up an RTMP destination within the streaming software using the stream key info you get from your Amazon Live account. You start the live in the software, then start the stream within the Amazon Live Creator app.
Amazon goes into details on how to setup your stream: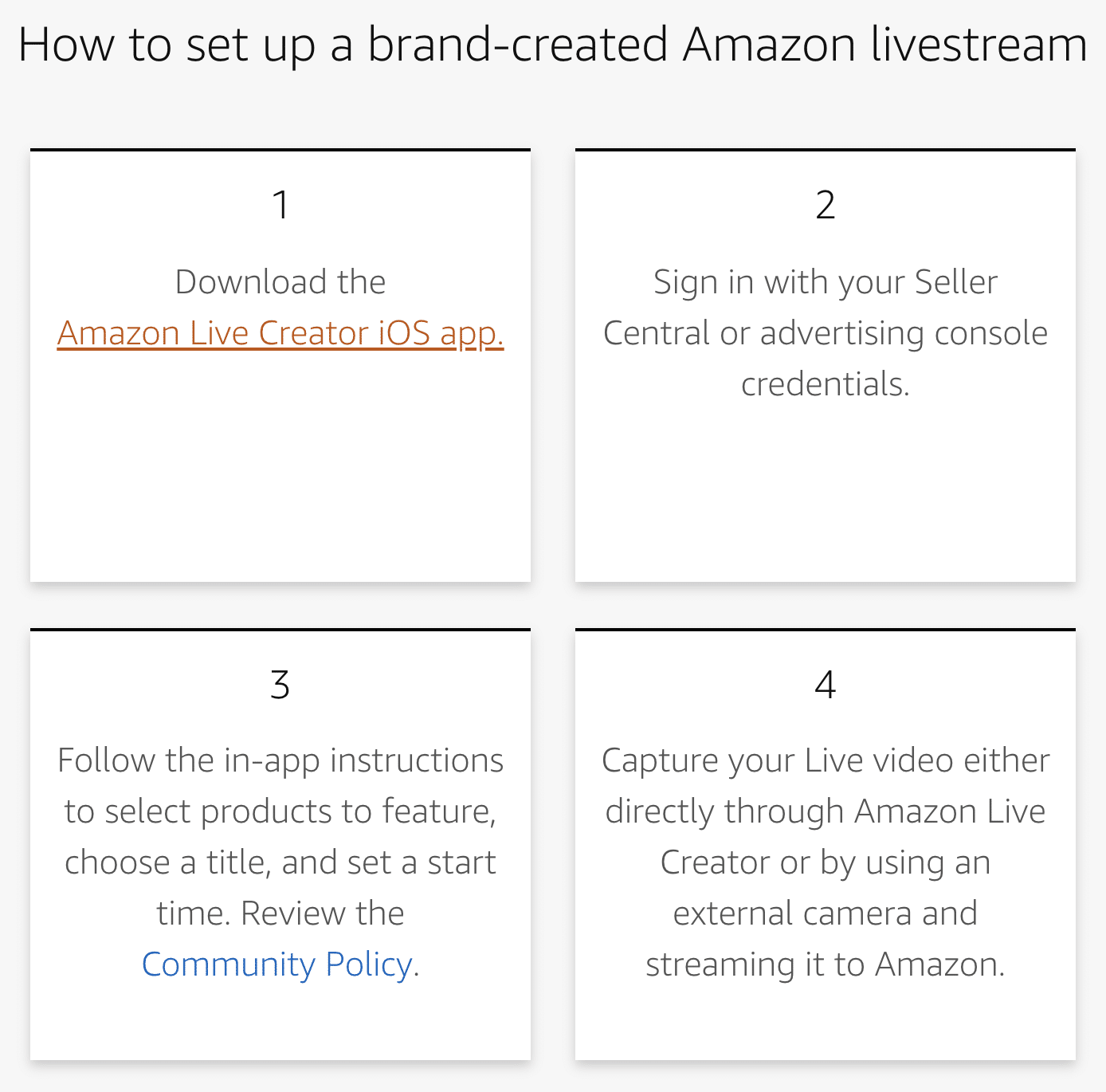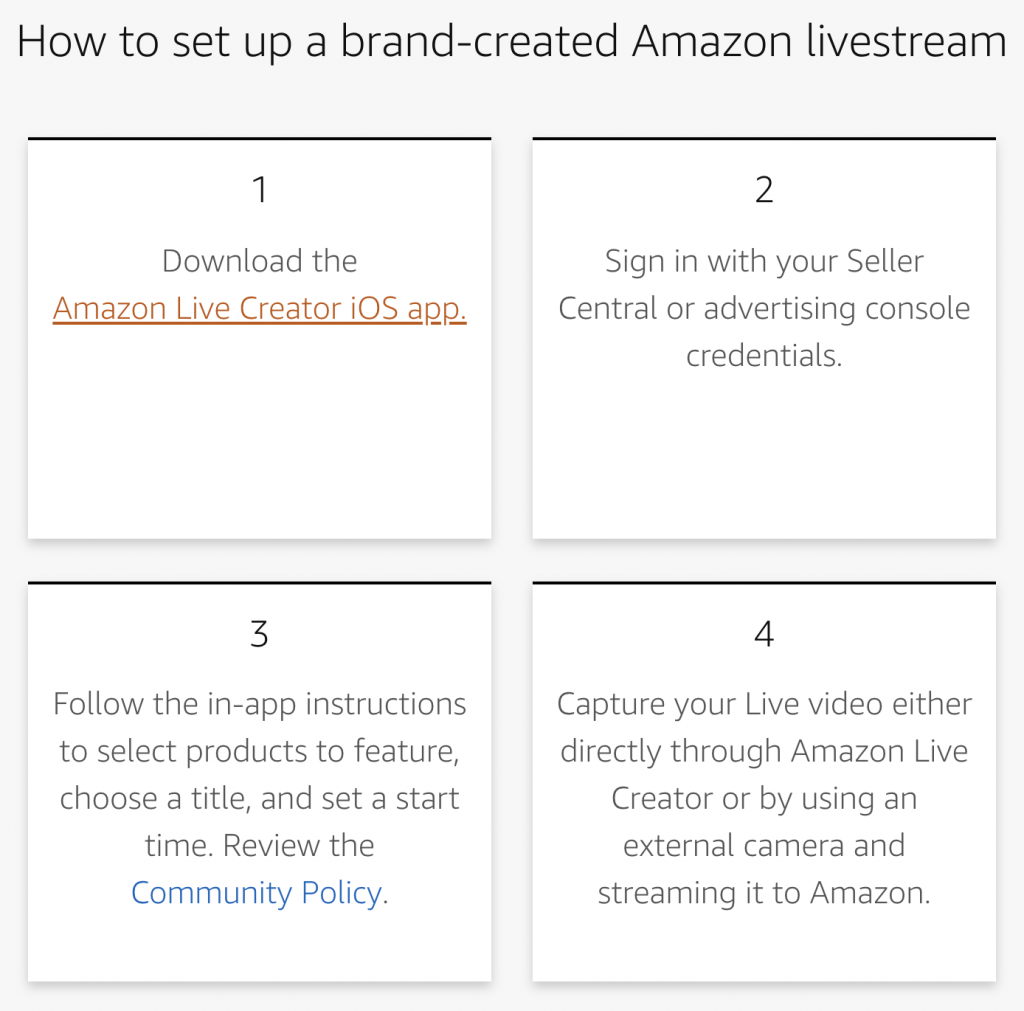 Amazon Live Schedule and Content
I went live every weekday for one week on my Amazon Live account:


I covered different topics during each live video, highlighting products primarily related to audio and video equipment.
I intentionally used the same thumbnail image for each live stream in an attempt to keep the data as pure as possible and not sway the viewers. But honestly speaking Amazon viewers typically don't see the thumbnails like they might on YouTube..
The length of the streams was 41-66 minutes, produced via Restream's studio and sent to the Amazon Creator app as an "external camera,"
Immediately after you end a live stream on Amazon Live, you can see how many views the video had as well as clicks, duration, etc. There is a 24-hour delay before you will see any sales data related to the live video.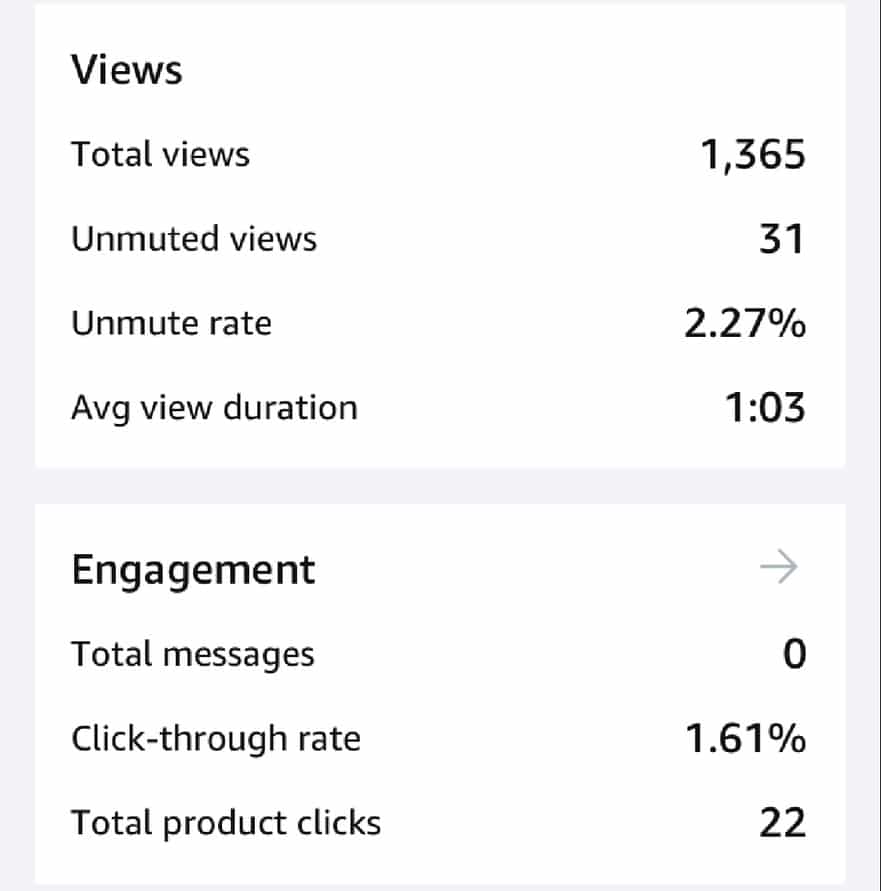 Amazon Live Test Results
Once the 24-hour wait period has ended, the Amazon Creator app will begin to show you sales results related to each individual live video. These insights are updated every 24 hours after that.
Below is an example from one of the videos used during the testing:
Shipped revenue is the gross amount of the sales of the Amazon products purchased by viewers.
As an Amazon Influencer, you receive a commission for every sale, and it's a different percentage per product type. That amount is shown on this screenshot as Earnings.
48 hours after the 5th video aired, my Amazon Live channel created $145.86 in earnings: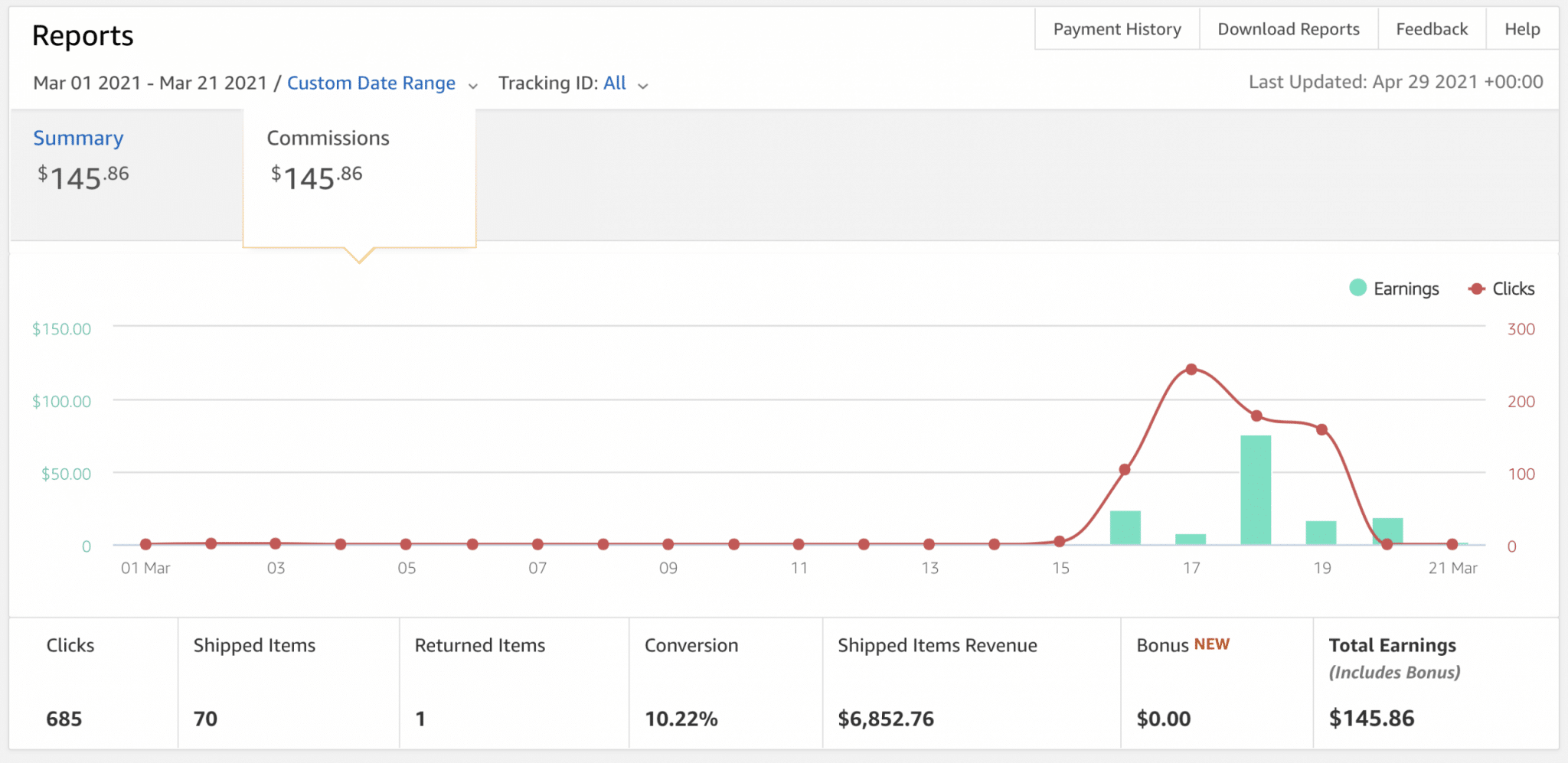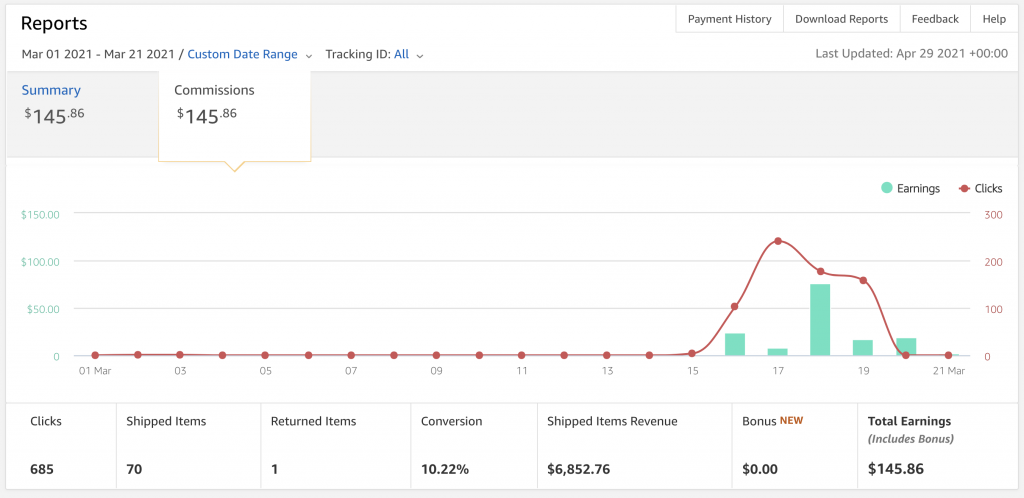 These numbers can continue to increase as others watch your past live streams on your storefront (either by finding them or any sharing of them you decide to do).
Here are the current insights from these five videos:
Total-
Shipped Revenue: $6,921.13
Earnings: $151.60
Views: 9,553
Unmuted Views: 297
Comments: 62
Product Clicks: 207
Average-
Shipped Revenue: $1,384.23
Earnings: $30.32
Views: 1,911
Unmuted Views: 59
Comments: 12
Product Clicks: 41
Unmuted Rate: 12.02%
Watch Duration: 2:31
CTR: 2.95%
The total earnings increased over the 30 days since airing and writing this blog post.
Earnings actually increased to around $175, but returns reduced them. Returns are a common part of selling on Amazon. Associates and influencers should be prepared to see that number fluctuates.
Was Amazon Live a Success?
Based on the earnings received from these five live videos of $151.60 on Amazon Live, I conclude this test was a success.
The videos averaged 51 minutes in length, resulting in an average of $30.32 earned per video (not a bad hourly rate by most standards).
Keep in mind this account only had 1-2 followers when the test began, gaining 20 followers along the way.
Your results could vary depending on your audience, time of day, length of the live stream, any marketing you do for videos and accounts, and what product category you are highlighting.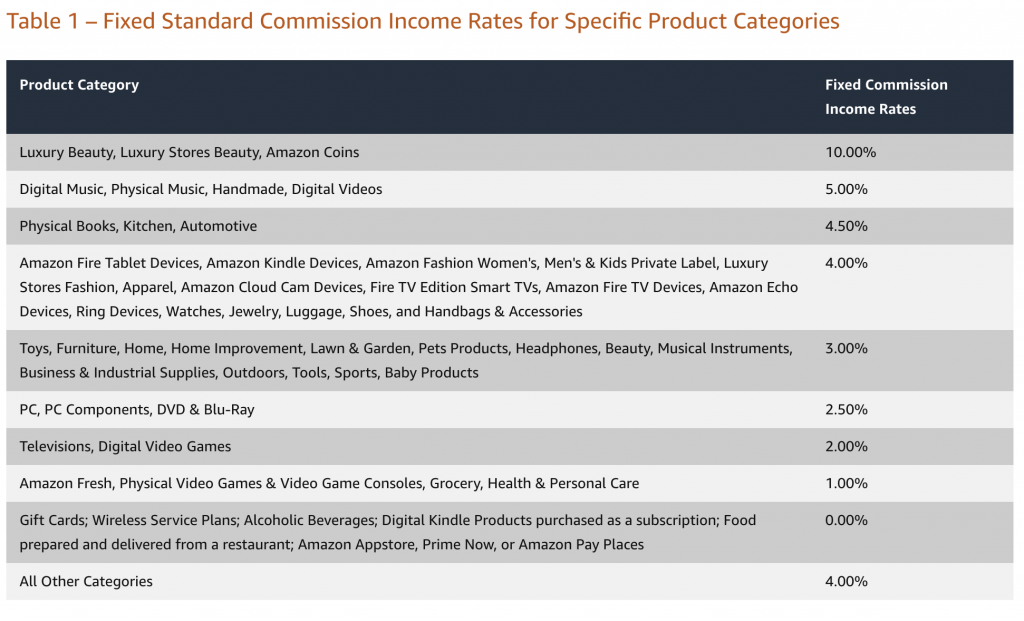 Most of the products I featured were live streaming equipment, so percentages were no greater than 4%, with some under 2%.
That is why you'll find a large number of influencers conducting live videos in the beauty product category as it yields high commissions.
Amazon Live continues to bring on more and more influencers, such as Katy Perry: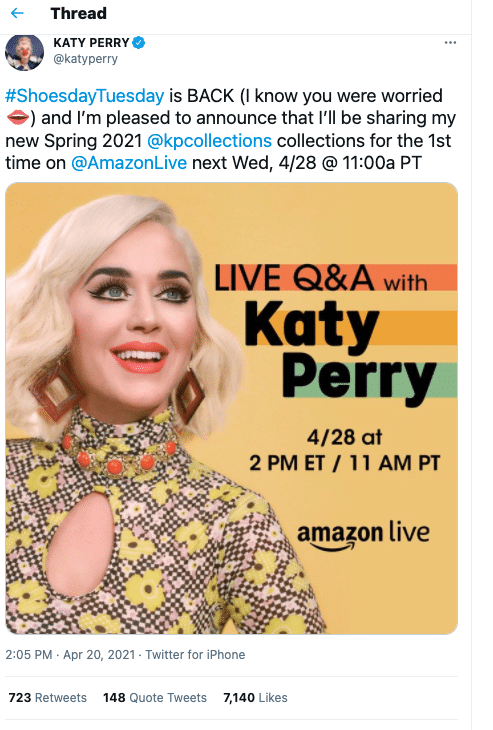 It is, by far, the quickest way for someone unknown to monetize their live streaming efforts.
I have continued my testing of live streaming on Amazon Live since this experiment for an additional 60 days and have created over $500 in earnings.
My recommendation is to set up a storefront, and just go live. Talk about products you are comfortable with, highlighting them as you talk about them, and let the income roll in.
Have you gone live on Amazon Live yet? I'd love to follow you and support you, comment your storefront below.
Don't miss an experiment!
New experiments and exclusive content straight to your inbox