Full Episode Details:
Are Twitter Chats Worth the Effort in 2018?
You may not be familiar with Twitter chats, eventhough they've been around for a very long time.
But don't worry — in today's podcast we'll explain it and you'll become an expert!
Big thanks to Madalyn Sklar for teaming up with us on this experiment — she's a true Twitter Chat master!
Our Hypothesis: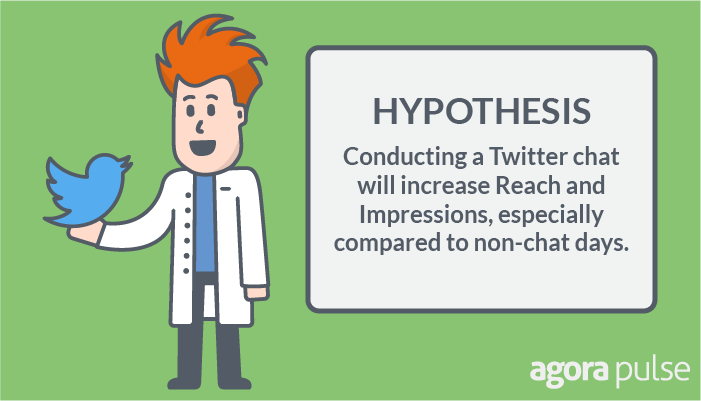 In This Episode:
What are Twitter Chats?
Who is Madalyn Sklar?
Why we tested Twitter Chats
How we'll gather data for the test
Quick look at the data
Our conclusion based on the data
Some tips on starting your own Twitter Chat
Quotes From the Episode:
"Twitter Chats are a great way to get exposure for yourself or your brand.." – Madalyn Sklar
"There are literally 1000s of Twitter chats out there in the Twitterverse!" – Scott Ayres
Resources:

What Is The Social Media Lab?
The Social Media Lab is a project powered by Agorapulse dedicated to spending $15,000 per month to bust the myths, rumors and stories related to social media marketing.
We'll test mainly organic reach, but also will run paid experiments.
The experiments are conducted by myself, Scott Ayres, and Jason How.
We typically publish 1 blog post and podcast per week.
The podcast is co-hosted by Richard Beeson and myself.
Subscribe to the Social Media Lab Podcast via iTunes | Stitcher | Spotify | Google Play | RSS
Don't miss an experiment!
New experiments and exclusive content straight to your inbox