The Facebook Ads Manager has come a long way.
Though still considered the basic ads platform, it's updated all the time. Custom audiences and conversion tracking pixels, once exclusive to Power Editor, have since migrated over to the self-serve tool. And they're not alone.
Facebook often debuts new features on Power Editor before they make them available to all of their users. By then, they're tried and true; you know they'll work for your business.
So, why should you bother with Power Editor at all?
It's more complicated than Ads Manager. It only runs on Chrome. And it's yet another tool you have to learn.
But the distinction between Power Editor and Ads Manager is an important one. Simply put, Power Editor is the professional ads platform.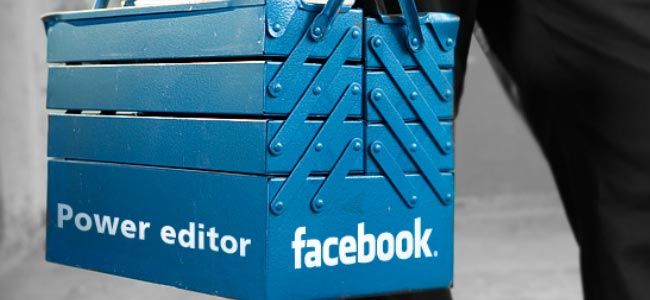 Updated for 2014, here are the differences between Facebook power editor and ads manager that sets Power Editor apart from the self-serve tool.
1. New features
Most updates are posted to Power Editor first, and not all of them make the move over to Ads Manager. As a social marketer, you work in a dynamic and fast-paced industry; you often don't have time to wait. You can take advantage the latest features as soon as they're available by using Power Editor.
2. Partner categories
It's something of an aphorism in marketing that the more targeted an ad is, the more effective it is. And that's what makes partner categories so exciting. Now, you can target based on offline purchasing behavior as well, for a fuller picture of your prospects. As of late last year, you have over 1,000 categories to choose from.
Do you sell luxury goods? Target the categories for sports car owners and elite hotel patrons. Are you in the budget department store industry? Target the 20-something category and unemployed worker category.
3. Lookalike audiences
If you have a good list, why not get another? With lookalike audiences, you can pull a list similar to one you already have, which means they'll be comparably receptive to your marketing. It's two audiences for the price of one.
4. Dark posts
If you don't have time to publish a post and then run it as an ad on Ads Manager, consider Power Editor to cut out the middleman. You can write the post in the Power Editor interface, and then deploy it as an ad – all on the same platform.
5. Device targeting
With Ads Manager, you can elect to run your ads in the right column or the newsfeed. But that may not be enough.
Your website or creative might render poorly on mobile devices, so you'd prefer to only have desktop users see it. Or, your message could relate specifically to a mobile audience, so it'd only make sense when viewed on a mobile device. What's more, that device might have to run on iOS.
Power Editor can take care of you here.
6. Bulk editing
When you have a broad range of ads or ad sets, and you want to modify them, it can take a while. That is, unless you leverage bulk editing. Just check whatever you want to update, and your changes will be applied to all of them – at once.
7. Bulk import
In the same vein as bulk editing, bulk import gives you the ability to set all of your ad settings in an Excel sheet, and then import it. High ad volume doesn't have to be a nightmare.
8. Conversion tracking
If you're not measuring your social marketing investment, you shouldn't be making one. Thankfully, Facebook offers conversion tracking pixels that allow you to see the business objectives your Facebook ads are meeting (or not meeting), but they're a little different on Power Editor.
Whereas the regular Ads Manager only permits you to track a single objective – such as white paper downloads – Power Editor lets you follow your progress on multiple ones. And when you have several calls to action, that difference is very important.
Though Power Editor is usually recommended, it should be noted that not everyone believes you should always use it. Ultimately, you must do what's best for your business, and that decision starts with knowing what sets the two platforms apart.
Facebook updates come often, so a few of these points may change over time, but the general rule will still apply: Power Editor is meant for expansive professional use, while Ads Manager is streamlined and simpler.