Are you now handling social media in-house? Have you just joined a digital agency? You'll need to get up to speed on the fundamentals of social media management fast.
From planning and budgeting to content creation and collaboration, we've got you covered.
Learn the basics of social media management for businesses and agencies in this invaluable guide.
After you read this article, you'll feel better equipped in managing your social.
What Is Social Media Management?
Social media management is the process of:
Depending on the company's goals, this process can include just one or more than a dozen channels, ranging from Facebook to YouTube. No matter how many social channels a business uses, social media management is an integral part of a company's marketing strategy and can generate a measurable return on investment (ROI).
What is a social media manager?
A social media manager is a marketer who creates and schedules content, engages with followers, monitors social media trends, and reports on account performance. To excel in this role, you need social media manager skills like the following.
Communication
As a social media manager, you're responsible for sharing messaging on behalf of a company or public figure and responding to public and private engagement. That means you have to know how to communicate clearly both visually and in writing.
Not sure where to begin? Establishing a brand style guide is often a great place to start. A style guide outlines both visual and written standards for a brand. Every time you publish a post or respond to a comment, you can reference your style guide to ensure that the content has the right tone of voice, messaging, and appearance.
Creativity
No matter what type of social media accounts you run, you constantly have to think of new, engaging ways to share information. A sense of creativity and a willingness to try new tactics are essential for social media managers.
Need to improve your creative approach or find new tactics to try? Identify some brands and creators that you admire or that stand out in your niche. Save their profiles by adding them to your Instagram favorites or creating a Twitter list. Then review them at least once a week to stay on top of new tactics and trends.
Collaboration
Social media managers rarely work alone. Instead, you can expect to work closely on a social media team with members such as design and marketing colleagues—as well as clients and influencers. An understanding of how to collaborate can help you do more with social media.
Improve your collaboration skills right now (even if you're already good). Start by brushing up on best practices for influencer partnerships and team approval processes. Identify how your role fits into the bigger picture so you can work more efficiently with collaborators. You can also document processes to get your team on the same page.
Organization
From content creation to data analysis, social media management has a ton of moving parts. It's important to be organized and create reliable workflows, so you can work efficiently and avoid making unnecessary mistakes.
Want to improve in this area? The right productivity hacks and project management tools can get even the most disorganized social media manager on track. For example, time management apps like Toggl can help you get everything done on time. Tools like Airtable can help you keep projects and content organized.
Social Media 101: Planning
Spontaneity can produce surprising results sometimes, but you need a plan to get the most out of social media. Otherwise, you risk wasting time and energy in your marketing efforts).
You need a goal and a plan to get there. (The goal itself is your social media marketing strategy—the big picture. The objectives are your social media tactics, the tools and means to reach that goal.)
To get started with social media planning, follow these six steps.
1. Complete a social media audit
If your company already uses social media, start by auditing your brand's profiles and performance.
Here's a simple workflow you can follow:
Make a list of all the social accounts your company owns, including the handles, display names, and channels. Are the handles, display names, and branding consistent from channel to channel? If not, consider aligning them on all channels to reduce confusion and make your business easier to find.
Prepare a comprehensive social media report so you can analyze performance for each profile. Review audience growth, account reach, and engagement rates. Are these social media metrics improving over time, or do they spike when you publish certain types of content on social media? Look for patterns and identify top-performing content.
Compare your recent social media results to your brand's past performance, industry benchmarks, or your competitors. Use your insights to do a strengths, weaknesses, opportunities, and threats (SWOT) analysis. Then use this analysis to guide your social media planning.
2. Set SMART goals
Every social media plan should start with at least one goal to work toward. And that goal needs to include objectives that aren't vague nor unreachable nor open-ended.
To set SMART goals, choose objectives that are …
Specific
If your brand is new to the market, your main goal might be something like "make sure more customers know about us." Convert that general statement to a more precise goal, such as "gain [a certain number] of followers" for your social networks or "generate [a certain number] of brand mentions."
Measurable
If you can't quantify your progress, you'll never know whether you've reached your goal. Think about how you can measure progress by tracking engagement, counting followers on your social platforms, or using other metrics. (Just be sure to avoid those pesky vanity metrics, which just make a social media manager feel good but don't actually generate more business.)
Achievable
Sure, you can think big—but setting an impossible goal won't benefit your team or your brand. Instead of aiming to gain 10 million new followers for a small account, choose a realistic goal you can achieve if you execute well.
Relevant
It isn't easy to feel inspired to reach an ambitious goal if the objective doesn't really matter in the long run. Rather than working toward a long list of minor objectives, put your energy and resources into the goals that matter most to your brand's success.
Timely
Every goal needs a deadline. Otherwise, you could work on it forever. Give your social media goals target dates, so you can apply resources and measure progress effectively.
If you need help, be sure to use a SMART goals template.
3. Establish and monitor KPIs
Once you've set SMART social media goals, establishing and tracking the key performance indicators (KPIs) you need to reach is much easier.
For example, if you've set a goal to gain 5,000 new followers during the next quarter, make sure you're steadily growing your audience each month. Check your follower count by logging in to your brand's social media profiles directly, or by using social media tools to monitor account growth for every platform at once.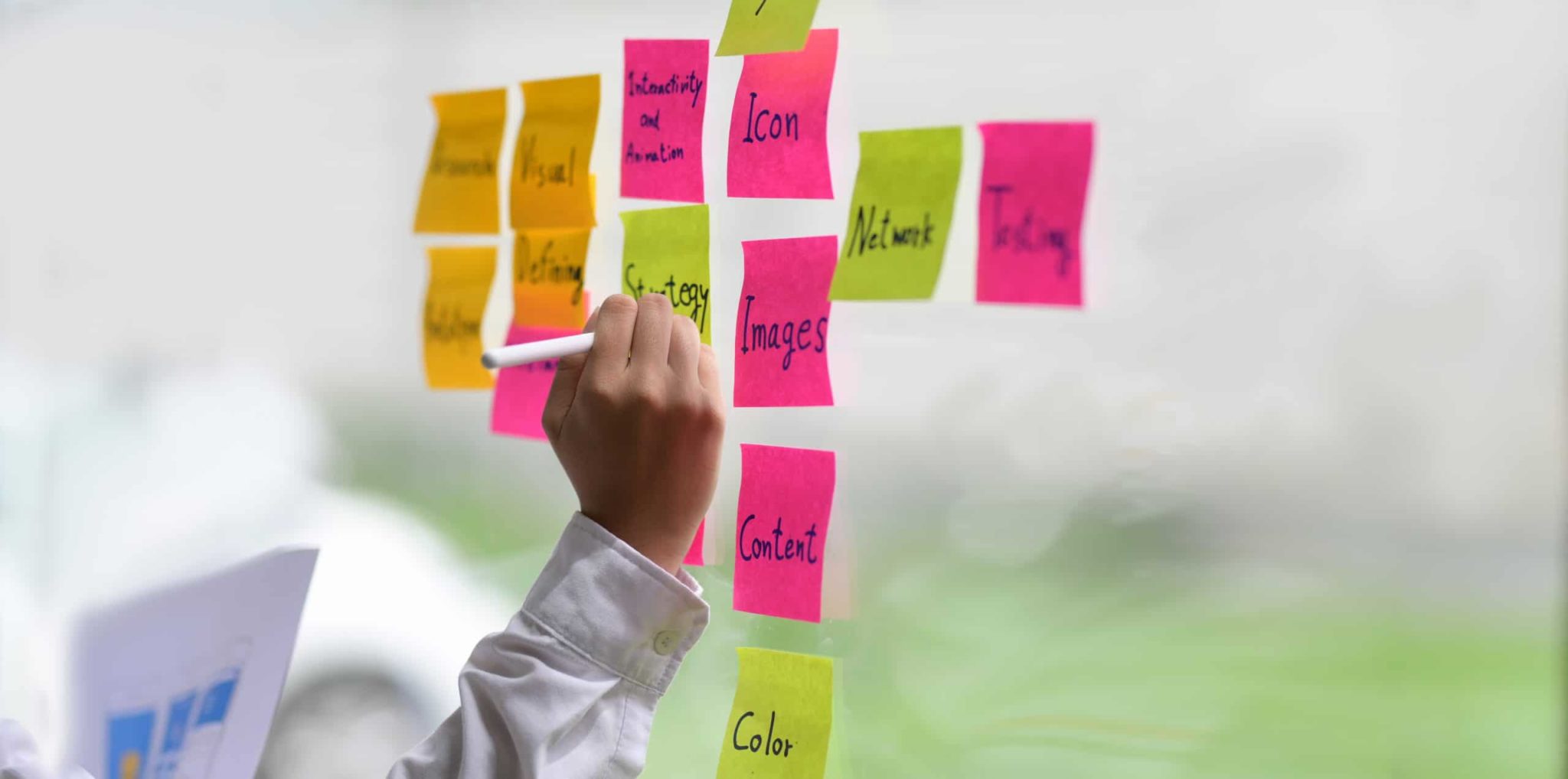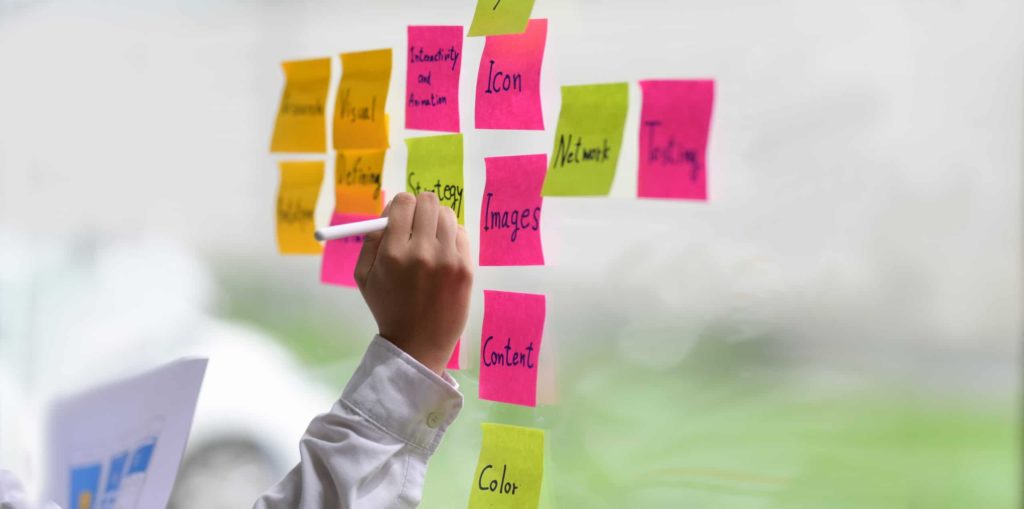 Agorapulse is helpful for tracking social media metrics and goals across channels. Aiming to attract a certain number of social media followers each month?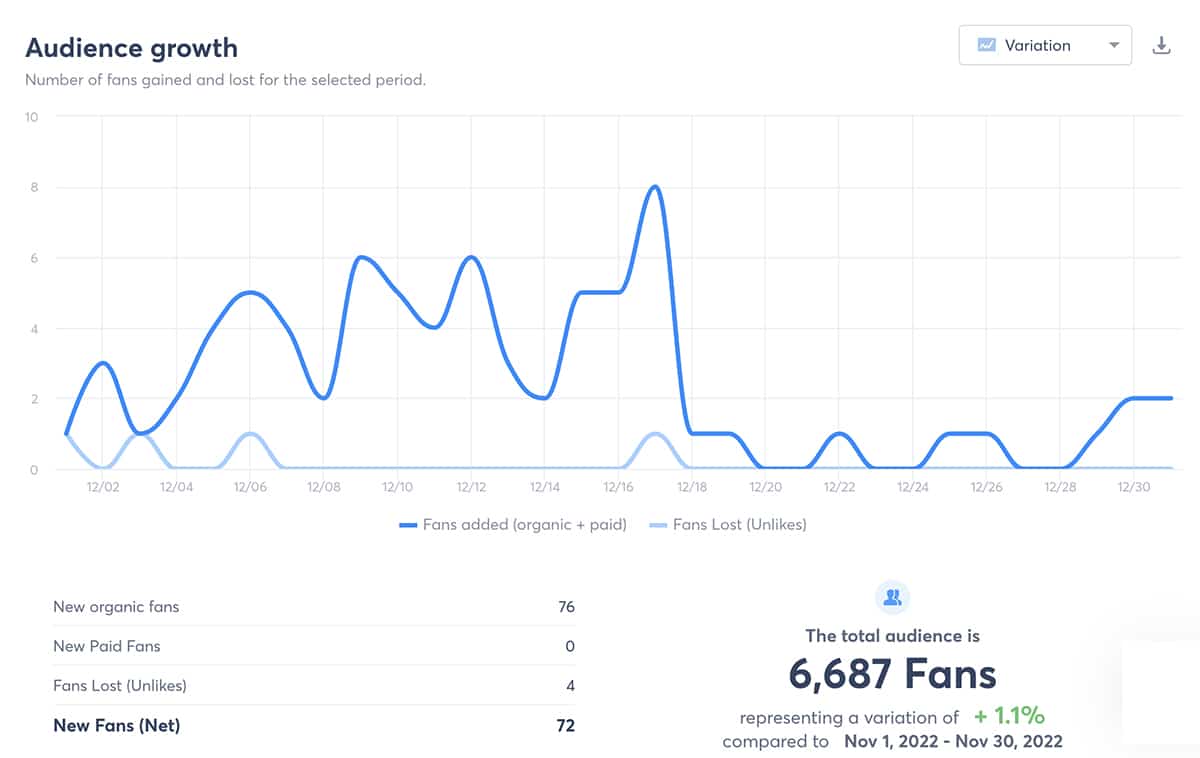 On the reporting dashboard, you can easily monitor how many new followers your page or profile has gained each month. Since you can track daily follower gains and losses, you can attribute audience changes to social media posts, influencer collaborations, and other activities.
As you monitor audience growth, you can better understand what's contributing to follower gains and losses. With these insights, you can make sure you're on track to meet your KPIs—or make adjustments to your strategy as necessary.
4. Perform audience research
Getting to know your brand's audience is essential to market effectively. After all, you want your social media posts to help you be engaging with your audience.
To understand your potential customers better, use these tactics:
Survey your existing customers. To find out what your customers like about your brand or what problems your products solve, ask them directly, whether by email, a poll, a phone call, video conference, or even a one-on-one meeting.
Review your current followers. Check the audience statistics in your brand's social media profiles to learn about followers' age, gender, location, and interests. Look at your different social media accounts and study how your audience interacts with your brand.
Create buyer personas. Compile your audience research into one or more buyer personas that outline your brand's ideal customer. T

hen use these buyer personas to guide the messaging and creatives in your social media content.
5. Choose social media platforms
It's easy to assume that any successful brand has to be on every social media channel, but that idea isn't true.
Before you start creating profiles on every possible platform, find out which channels offer the most value for your brand.
First, review general demographics data to see which platform tends to attract your ideal customer. The Pew Research Center tends to be a great source of data for social media usage in the United States and around the world. For example, if your ideal buyer is 18 to 24 years old, you may want to focus on TikTok or Instagram. For B2B customers and corporate decision makers, LinkedIn may be a better choice.
Next, do some basic competitor research. Find out which platforms your closest competitors have adopted and what channels offer the best results.
To get a general sense of how your competitors use each platform, simply search for their page, review their profile, and scroll through some of their recent posts. To take a peek into their social media metrics, use a competitive research tool.

For example, Agorapulse offers a competitive research tool for Facebook. On your reporting dashboard, you can choose up to three competitors to monitor. Then you can see how your competitors measure up in terms of audience growth, engagement, and other metrics.
Then let your findings inform which social media platforms you adopt for your brand.
6. Develop an editorial calendar
After you research your audience and choose social media platforms, you need to create an editorial calendar. (We have a FREE social media content calendar to download right now.)
Start by mapping out the main campaigns you need to focus on throughout the year, such as new product launches and seasonal specials.
Agorapulse's notes feature is helpful for keeping track of content ideas, even if you aren't ready to create social media posts quite yet. On the publishing calendar, you can create color-coded notes with ideas and links—and automatically share them with your team members.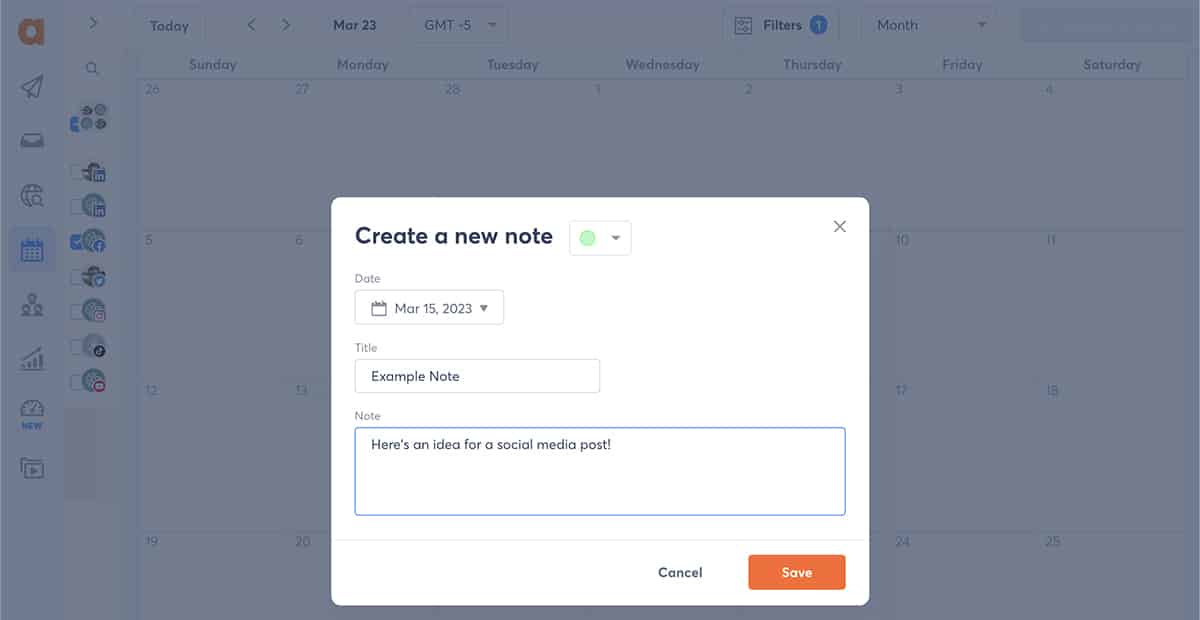 Then pencil in blog posts you want to share and annual events you can tap into. Don't forget to include events and special days specific to your field. For example, accountants or financial services may be more aware of April 15 and tax-related deadlines than brands in other fields. A beauty brand's social media content may highlight wedding and prom seasons, and Fashion Week. PR agencies also have special considerations when they produce content that they need to be aware of.
Also, consider the psychology behind your social media content. Why are people sharing it? What will inspire them to share it?
Assign team members to write copy and handle the creative for each post, and then schedule content to publish at the optimal time for your audience.
With Agorapulse, you can easily take social media content from an idea to a draft to a published post. With this social media dashboard, you can also assign posts to team members for review and approval.
Social Media Budget
Whether you're planning a completely organic approach to social media management or you're considering a few paid campaigns, your team needs a budget.
With a spending plan for your social media management, you'll know how much you can allocate for everything from social media management tools to influencer partnerships.
Use these five steps to create a social media budget for your brand or client:
1. Reference your organization's size social media goals
There's no single social media management budget that's ideal for every business.
To determine the right amount to spend, consider:
Your organization's size. A small business with one service area is likely to spend significantly less than a global enterprise with dozens of regions or business units.
The size of your team. A one-person social media team requires a much smaller budget than a business or agency with multiple social media departments handling marketing strategy, scheduling, design, content production, community management, and analysis.
Your organization's goals. If you're planning to reach your goals gradually through organic growth and personal relationships, a smaller budget should meet your brand's needs. If you're aiming for rapid growth propelled by a series of social media advertising campaigns, you'll need to spend more.
2. Price basic resources
Consider the cost of essential resources first.
Some of the most common must-haves for social media managers include:
Social media management tools
A social media management solution like Agorapulse lets you do everything from organizing creative assets and scheduling content to handling engagement and social listening. With Agorapulse, you can also create and automate custom reports to track progress towards goals.
In many cases, Agorapulse can serve as an all-in-one social media solution that handles some of the tasks below. For example, Agorapulse's social listening tools can help with brand monitoring, and its hashtag tracking tools can measure interactions.
Brand monitoring tools
If you need to monitor your brand across social media, review sites, and the web, you may need an enterprise-level tool. Software helps you track volume and sentiment as well as identify top influencers.
Agorapulse can also help your team monitor sentiment on social media. By creating and applying sentiment labels to inbox items, you can track the sentiment behind every comment and message that lands in your inbox and get a better sense of how your customers feel.
Hashtag research tools
Whether you need to find the right hashtags for your content or track brand and hashtag interactions, a dedicated tool can make your job much easier. Apps let you search for and monitor keyword performance over time.
When you add hashtags to your Instagram and Twitter content, Agorapulse automatically tracks the results. You can see how many times you've used a hashtag and the number of interactions it's generated. Then you can use the data to improve your hashtag strategy.
Photo- and video editing apps
It's much easier to create eye-catching visual content when you have powerful photo- and video-editing apps.
If you use Canva to create graphics or edit photos and videos, you can easily integrate your content into the posts you schedule in Agorapulse. From Agorapulse's publishing calendar or asset library, you can directly import designs or click to create new ones.
Project management systems
To tackle campaigns and keep your team on the same page, project management systems are essential. Apps are ideal for managing complex projects and collaborating with teams.
If you're new to project management tools, it's often best to start with one that lets you add sub-tasks, set due dates, and assign tasks to team members. You may also want one that lets you upload or attach campaign elements so you can keep everything in one place.
Team members
With the right colleagues, you can produce more or better content while taking your company's or client's social media performance to the next level. By contracting or hiring an expert, you may also be able to tackle advanced tasks like producing more insightful reports or running high-performing paid campaigns.
Are you hiring a social media expert for the first time? Have a solid social media marketing contract in place to protect your company and the contractor. Make sure it defines the scope of work, sets appropriate timelines, and details terms and conditions.
Advertising budget
If you want to grow your business faster or achieve goals more quickly, set aside a budget for advertising. You may also need social media advertising software to build and manage paid campaigns—especially if you need to do a lot of testing or if you plan to advertise across marketing channels.
3. Research your social media content needs
From writing copy to arranging photoshoots to producing videos, creating high-quality content requires a budget.
Consider the cost of having a copywriter handle image captions for your social media posts, and calculate how much you'll need to spend to get the photos and videos you want to publish.
Add up in-house and contract prices, so you can decide whether to assign a team member or find a freelancer.
Does your content budget seem too high compared to the rest of your planned expenses? You may not need to publish social media content as often as you think. You can get more value from your content by publishing smarter and knowing the best times to post on social media.
4. Consider outreach campaigns
To meet your social media goals, you'll most likely want to work with influencers, publishers, or other brands.
Partnerships can help you reach new audiences and achieve goals throughout the funnel—from improving brand awareness to increasing sales.
Have a limited budget for partnerships? Some influencers may be open to posting about your brand in exchange for products or services, which may be more affordable for your team. If you go this route, however, note that you'll probably have limited input into how the content looks and how the influencer positions your brand.
5. Calculate the cost of ad campaigns
Finally, add up the cost of any ad campaigns you're planning to run in your social media marketing.
Depending on your social media mix, you might run ads on Facebook, Instagram, LinkedIn, Pinterest, Snapchat, TikTok, Twitter, YouTube, or all of the above. Don't forget to consider the cost of related campaigns on platforms like Reddit, Google, and Bing, too.
Before setting a budget for social media ads, check to see if the platform you plan to use has a minimum daily spend. Then create a mock campaign to get an idea of the results you might achieve. You can use these estimates to budget effectively.

Social Media Content Creation
As you develop and grow your brand's social media accounts, you'll need a constant stream of content to publish.
From targeted campaigns to evergreen posts, effective social media management requires publishing the right type of content at the right time.
To meet your brand's goals, plan to produce the following types of content …
Copy
Posting a single word or writing an entire novel? Almost every social media post needs well-written copy or a caption.
To create copy that resonates with your audience and builds your brand, use a two-pronged approach:
Reflect on your brand's identity. Think about how your brand voice sounds and how you can express your brand through text, tone, and style. Compile a style guide to ensure your team uses a consistent brand voice in every social media post.
Consider your audience's preferences. Scan your customers' reviews and the comments on your social media posts to find out how your audience really speaks. Make note of the tones and words that appear repeatedly, and work your audience's style into your copy as appropriate.
Images
From staged product shots and lifestyle photos to graphics and memes, visual content can say so much about your brand.
To create the right kinds of images for your brand, work with your design team to develop an aesthetic for your brand. The look of your photos and graphics (from color schemes to set styles) should be an extension of your brand.
As an example, the Champion Facebook Page features brightly colored photos and videos of models and influencers wearing the brand's athletic wear. The image above reflects the brand's visual style and concise captions.
As you publish content, monitor the images that generate the strongest responses from your followers. Whenever possible, recreate the visual style that resonates best with your audience (without republishing the same posts or graphics).
Also, be sure that whatever content you produce for social media channels meets the image requirements for it. (You don't want any awkward cropping or strange images on your social channels, after all.)
Long-form Video
For years, long-form video has been a staple of an effective social media content strategy.
Sure, some trends (like Instagram sunsetting IGTV) suggest a shift toward short-form video. But on most social platforms, long-form video is thriving. In fact, YouTube still tallies 1 billion hours of video views every single day.
Consider incorporating a few of the most common video types into your long-form video marketing plan:
Publish professionally produced videos for social media campaigns.
Create behind-the-scenes videos to connect with customers.
Share how-to videos to explain complex products.
Produce short films that showcase your brand.
Short-form video
In the past two years, short-form videos have skyrocketed in popularity. In fact, Instagram has consolidated its video feed around Reels, making short-form video a primary focus.
For many brands, short-form video is the key to success on platforms like TikTok and Instagram. But don't overlook YouTube. On YouTube, Shorts generate 30 billion views each day.
If your company or clients are completely new to producing video for social media, short-form content can be a great place to start. There's a relatively low barrier to entry since the content is short, easy to film, and fun to edit using each social platform's built-in editing tools.
Here are a few tips for getting started with short-form video:
Hook your audience within the first 3 seconds to get them to keep watching.

Experiment with short clips and dynamic movement to keep viewers engaged.

Leverage native tools like

video filters

, captions, text overlays, and stickers.

Create original content (or use native editing tools) for each social platform.

Use trending audio when possible, but note that businesses are limited to music that's licensed for commercial use.
Live streams
While pre-recorded video can boost reach and engagement, live video can help your brand create a more genuine connection with followers. Every major social media channel has live streaming capabilities, making it easy to connect with your audience on virtually any platform.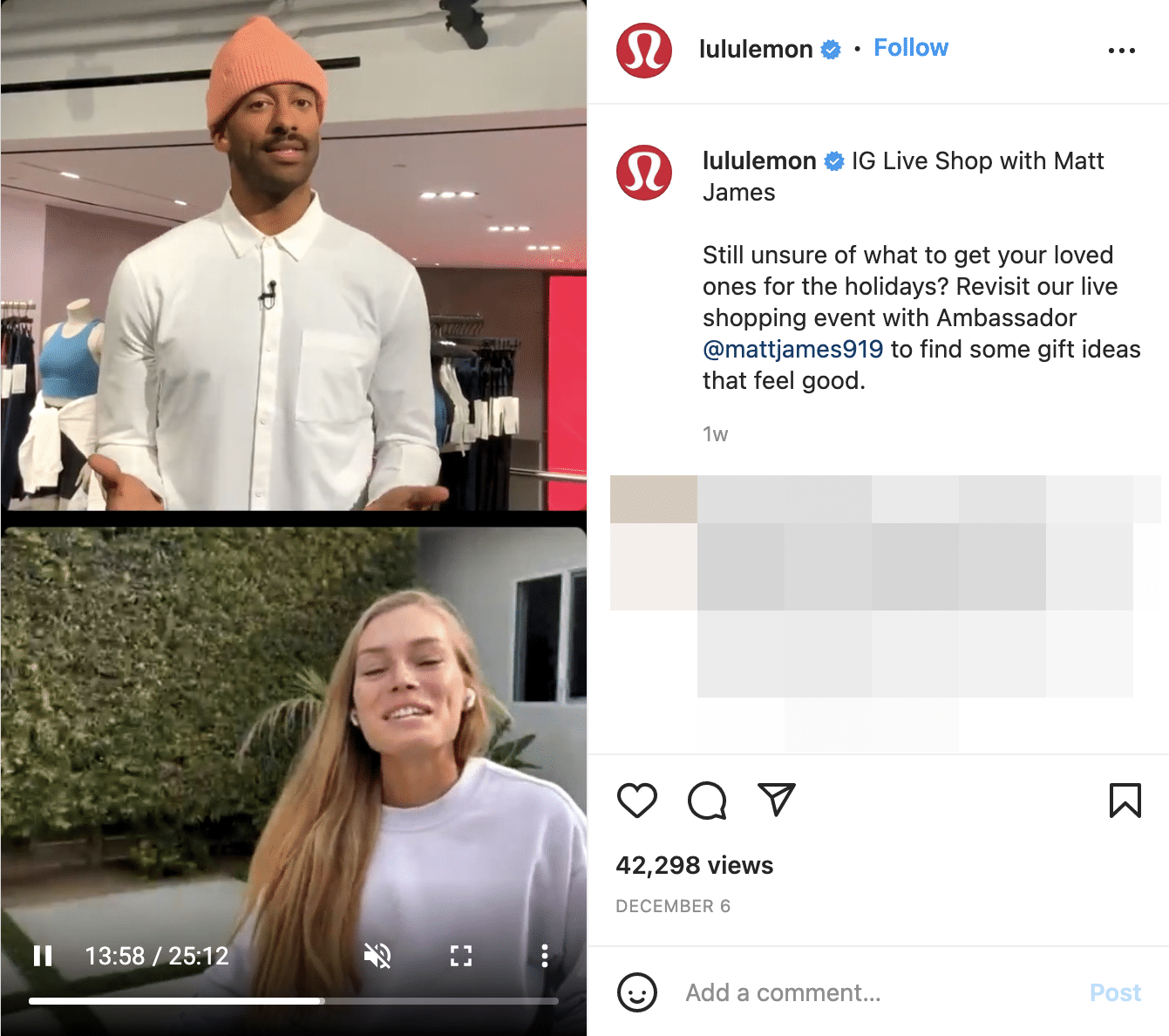 Select channels also offer live shopping events, allowing brands to promote products while offering behind-the-scenes looks or even answering questions from viewers.
As an example above, Lululemon's live shopping event features many of the athletic wear brand's best holiday gifts and also welcomes special guests to the stream.
Stories
Some of your social media content may continue to provide value for days or weeks to come. But when your content disappears after 24 hours, it naturally becomes more exclusive—which may encourage followers to view it before it's gone.
Stories are also ideal for sharing more informal content, which can help your brand and the team behind it appear more authentic. Since you can upload multiple Stories at once or throughout the day, you can stitch together ongoing narratives.
In addition, TokTok, Facebook, and Instagram Stories have interactive elements that other types of content don't. Both types of Stories can include tappable links and interactive stickers so you can tag products, add URLs, ask questions, or create polls.
Need some ideas to make your Stories more engaging? These topics often work well on Stories:
Film behind-the-scenes content that helps viewers get to know your team.

Tease new products and upcoming events to generate interest and buzz.

Ask your audience questions and get their feedback.

Use link stickers to link out to landing pages, ecommerce shops, and blog posts.

Share your brand's Reels and feed posts to Stories to get more views.

Share user-generated content (UGC) and influencer posts using native sharing features.
Although Stories automatically get archived after 24 hours, keep in mind that you can always highlight them permanently. With highlights, you can group themed Stories together so followers can continue to view the content.
Shoppable content
Most social media platforms now offer built-in shopping tools designed for ecommerce companies. Your brand can tag shoppable products, and customers can tap to go to your website or check out right in the social media app.
You can use these tools to create shoppable product-focused content or lifestyle and influencer content shoppable.
Platforms like Facebook and Instagram, which have the most developed ecommerce offerings, allow product tagging in feed posts, Reels, Stories, and live streams. On platforms like Twitter and YouTube, ecommerce tools are more limited and may only appear on your profile.
Links
Do you want social media followers to visit your website? Publishing links on social media is a great way to get customers to connect with your brand outside of Facebook, Twitter, and other platforms.
Posting links can:
Get more people to read your latest blog post.
Invite people to download a checklist, guide, or whitepaper.
Encourage people to shop your ecommerce store.
Increase subscriptions, free trials, or product demos.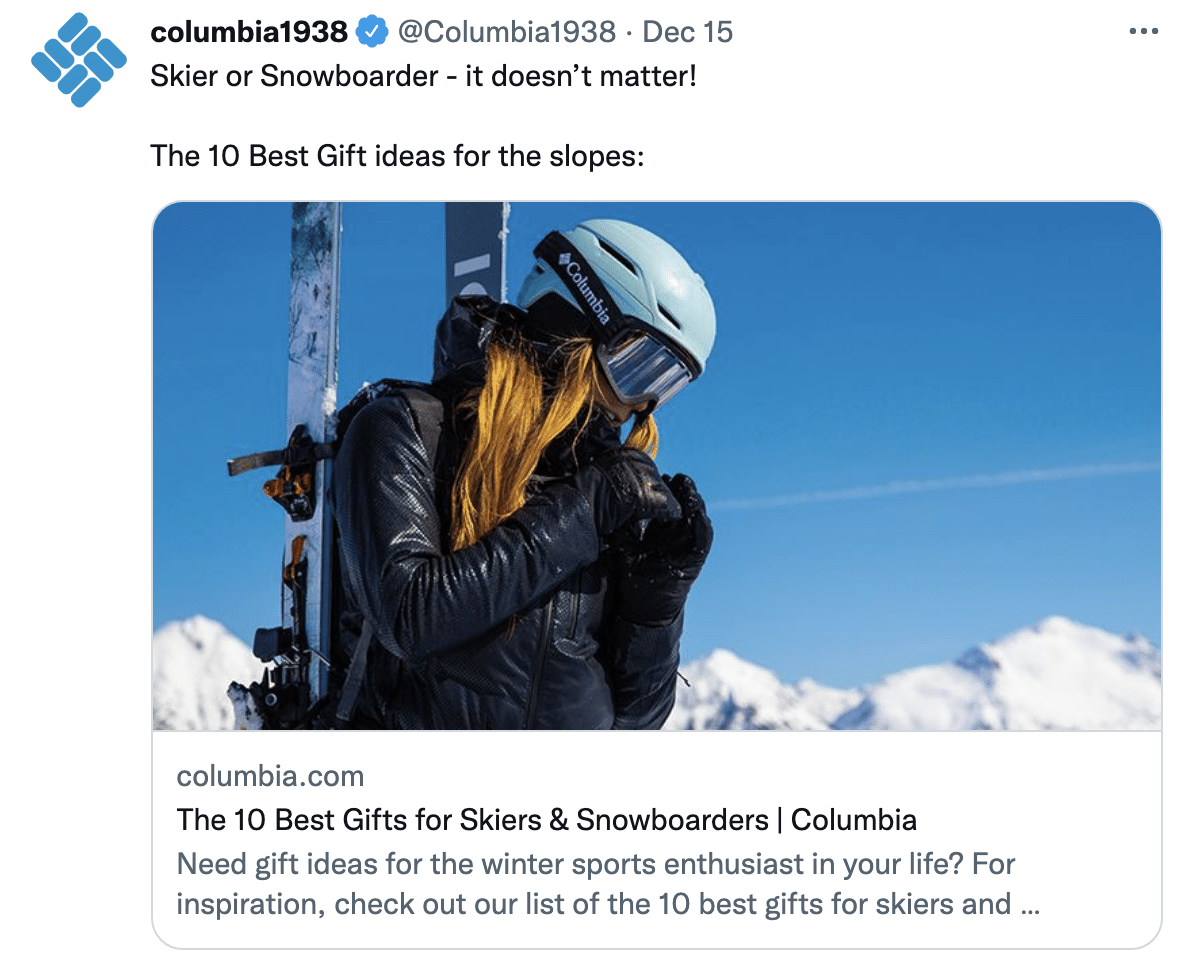 As an example, the Columbia tweet above links followers to a blog post on the outdoor gear brand's website. By linking to an external site, the brand can educate visitors about its products and encourage sales.
Keep in mind that just because nearly every social media platform allows links in posts doesn't mean you should add one every time you publish content. Some social media platforms deprioritize content with external links, as it may lead users away from the platform.
To ensure your content gets the clicks and the engagement you want, check your social media analytics frequently. If you notice that link shares aren't performing as well as other post types, consider placing links in comments or skipping them altogether.
Curated content
Not every post you publish should focus on your brand.
No matter how loyal your audience might be, your followers are likely to tire of a one-sided social media feed. Add some depth to your editorial calendar and make your brand sound like even more of a boss by curating relevant content for your audience.
To curate the right type of content for your followers, source blog posts, videos, infographics, and other media from other brands or thought leaders in your industry.
Select channels like LinkedIn make it easy to curate content for your audience. Open your Company Page and click the Content tab. Then filter by your industry or your audience's job function and seniority. LinkedIn automatically recommends trending articles for your audience—and you can click to share instantly.
When you publish curated content, add your brand's two cents in the caption to keep the conversation going.
User-generated content
Did you know that you don't have to create all the content that your brand publishes?
In many cases, you can ask your audience to contribute, too. Sharing user-generated content can save you money and help you show off your brand in a new light, but this tactic can do much more.
User-generated content can also engage your audience and turn your customers into even bigger fans.
Collect user-generated content by asking your audience to tag your brand when they post about your products. When you share user-generated content, tag the original creator to give full credit.
Then share those posts with your audience, giving full credit to the original creator.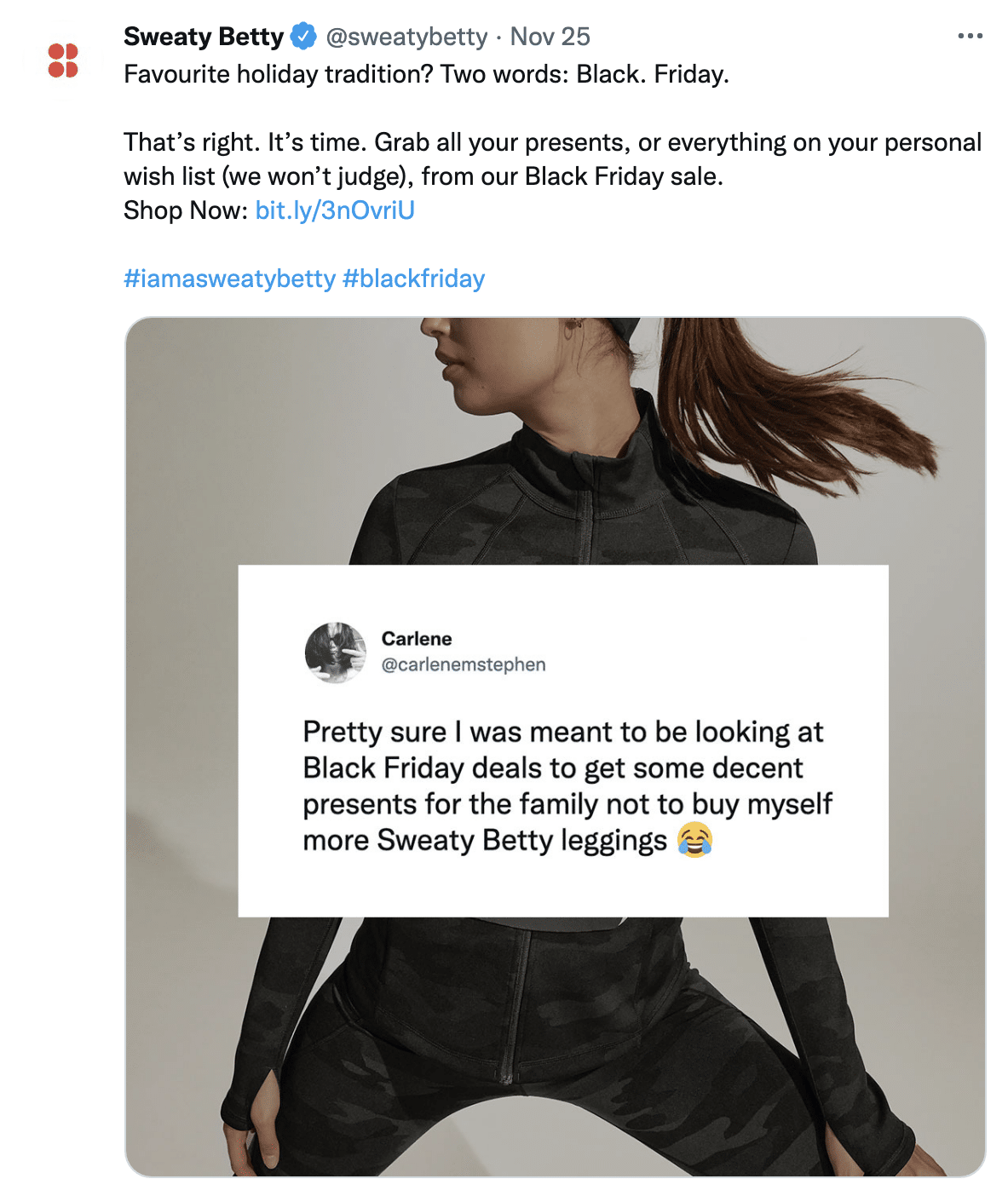 As an example, this Sweaty Betty tweet repurposes UGC to share social proof. The brand's tweet preserves the original content and the creator's handle and adds a call to action encouraging followers to shop the sale.
Social Media Collaboration
Collaborating with other brands, publishers, and influencers can be one of the most effective ways to meet your goals in your social media management.
Not only can social media collaborations provide you with a new way to promote your brand, but they can also deliver great results without the cost of advertising.
Successful social media collaborations can offer benefits like:
Improved brand awareness
Collaborations give you a chance to connect with your partners' social media followers, which can number in the hundreds, thousands, or even millions. It's easy to make a great first impression when your collaborators give you a warm welcome.
Community growth
Don't let your interactions end after that first impression. Instead, use these collaboration opportunities to attract new followers, so you can continue to reach these potential customers again and again.
Increased sales
If you're launching a new product or revealing a time-sensitive promotion, collaborating with an influencer or a publisher can boost your sales. Use your increased reach to drive more interest and increased sales within your target market.
Also, social media collaborations don't have to follow a predetermined template. Some of the most effective methods include:
Influencer partnerships

Seek out social media influencers who have audiences that overlap with yours, and build relationships with the person behind the brand.
Then reach out to send them products for review or work together to create unique content.
Paid promotions
To get the word out about your brand, work with publishers in your niche. Creating sponsored posts for social media can be a smart way to increase your brand's exposure and grow your following.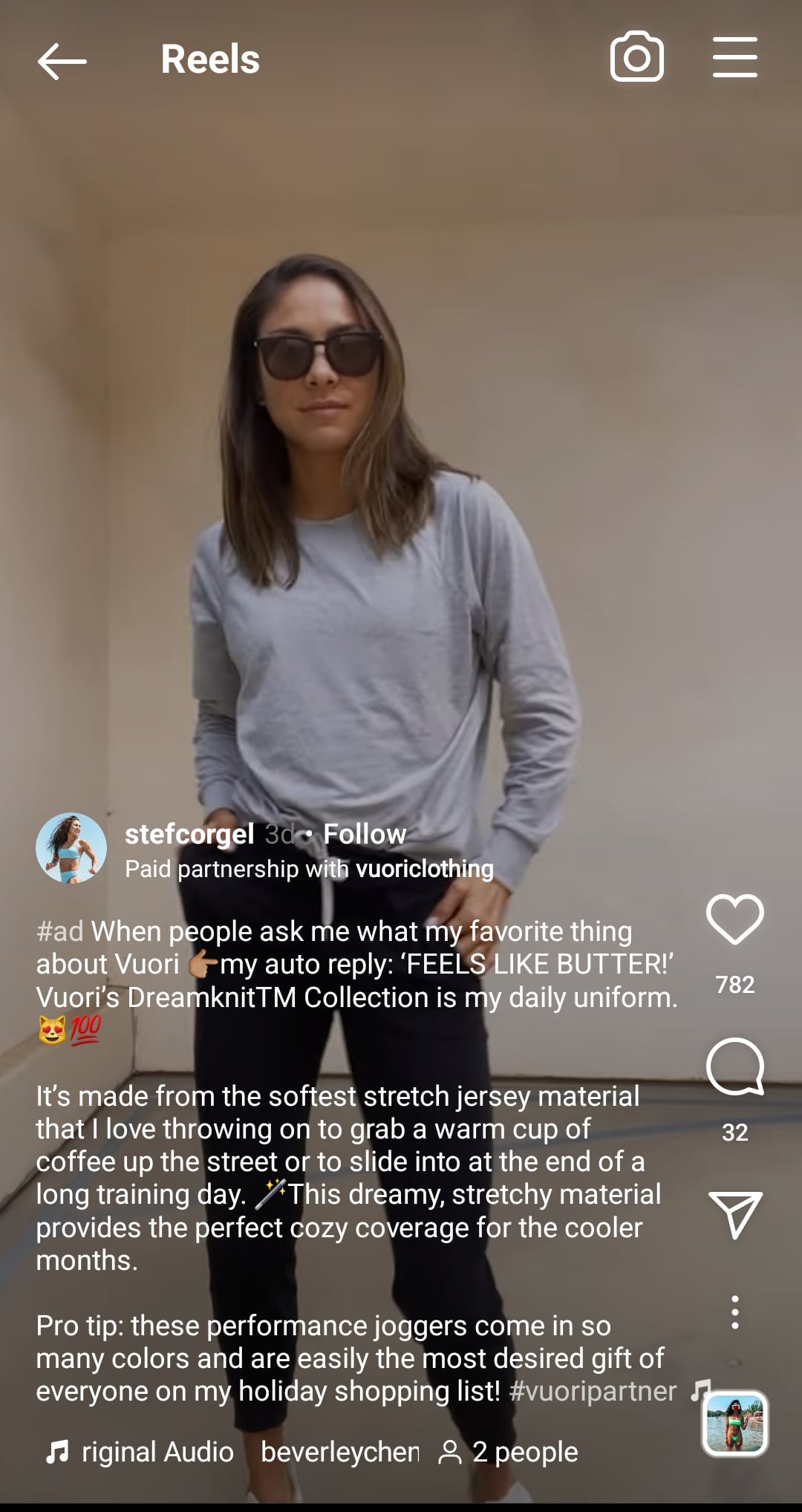 As an example, the Reel above includes a paid partnership between Stef Corgel and Vuori. The short-form video highlights several items from the creator's favorite clothing collection and uses Instagram's paid partnership label to disclose the relationship.
Co-branded giveaways

If your brand shares values or audience demographics with another brand in a related space, partner together for a giveaway. When both of you promote the giveaway to your audiences, you can gain new followers and boost brand awareness.
Social Media Engagement and Listening
If the social media content you publish resonates with your target audience, then you can expect them to engage. From likes and comments to shares and mentions to direct messages (DMs) and reposts, managing engagement can take a ton of time.
To respond to engagement and monitor your brand effectively, create a workflow that you and your team can follow.
For example, you might review and respond to comments and DMs hourly or at set times throughout the day.
Here's how you can streamline the process with Agorapulse:
Create saved replies that you can use to respond to common questions or comments.

Assign specialized questions to appropriate team members.

Automate the review or removal of spammy engagement.

Using the built-in social CRM to track engaged followers and influencers.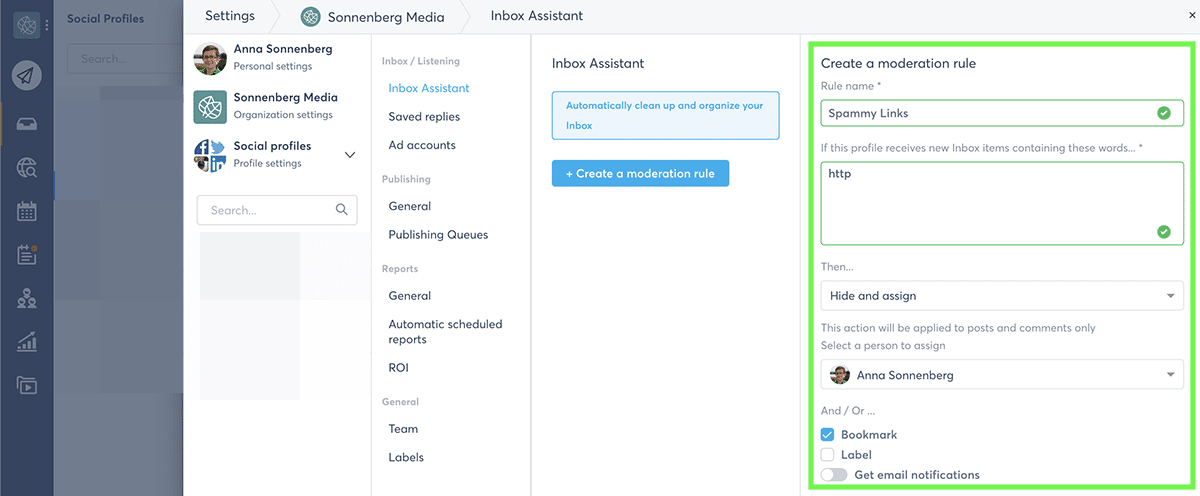 To see what people are saying about your business elsewhere on social media, make sure social listening is part of your regular routine.
With a social listening tool, you can track brand mentions, monitor branded and campaign hashtags, and even keep an eye on competitors.
Agorapulse lets you:
Set up social listening searches for your brand, campaigns, products, industry, and more

Assess customer sentiment and determine whether it's trending upward or downward

Find and join important conversations about your brand

Identify and address crises before they get out of control

Spot and nurture leads, loyal customers, and influencers

Monitor competitor activity and sentiment

Social Media Reporting
Whether you manage accounts for a single business or for multiple clients, social media reporting can be time-consuming. Fortunately, Agorapulse can make the process easier and more effective.

Once you add social media profiles to Agorapulse, the dashboard automatically pulls analytics and generates reports.
Click on any social profile to see metrics like:
Audience growth, reach, and impressions
Engagement, including daily breakdowns for likes, comments, DMs, and shares
Top content based on metrics like reach and engagement
Brand awareness, including mentions and Story replies
Listening searches and hashtag interactions
Publishing and inbox label distribution
Best times to post based on audience interactions
As you review your social media reports, make note of when the most significant upward and downward trends occurred. Review what happened on those days—such as the content you posted or the influencer partnerships you shared. Then use your insights to determine what works best for your audience and do more of it as possible.
In addition to standard reports, Agorapulse also offers custom options that can compile analytics for multiple profiles or for specific campaigns. To create one, click the Create a Report button in the upper left corner of the reporting tab.
Then choose the social profiles and data sections you want to add to the report. Before creating the report, you can opt to send it to yourself, your team members, or your clients every week or month. When saving time is critical, automated reports are key.
Social Media for Agencies
If you work for a digital agency, you can take a few additional steps to make social media even more effective for your team and for your clients.
Use the following tactics to optimize your agency's social media management services:
Maintain an asset library
Whether you manage a few or more than a dozen clients for your social media agency, you most likely struggle sometimes to keep content straight—especially when you work with a team.
An asset library can help—especially one that's already integrated into your social media dashboard.
With an asset library, you can keep content organized in separate client folders and subfolders for campaigns or social profiles. Agorapulse's asset library also lets you add titles, labels, and internal notes so you can quickly find any content you've uploaded.


Since your entire team has access to the asset library, you never have to worry that a colleague won't be able to find the right creatives to post. Instead, your whole team can work together seamlessly.
If you want to create or add content to your asset library quickly, you can use Agorapulse's Canva integration. With one click, you can start designing a new post in Canva or shift an existing post from your Canva folders to your asset library.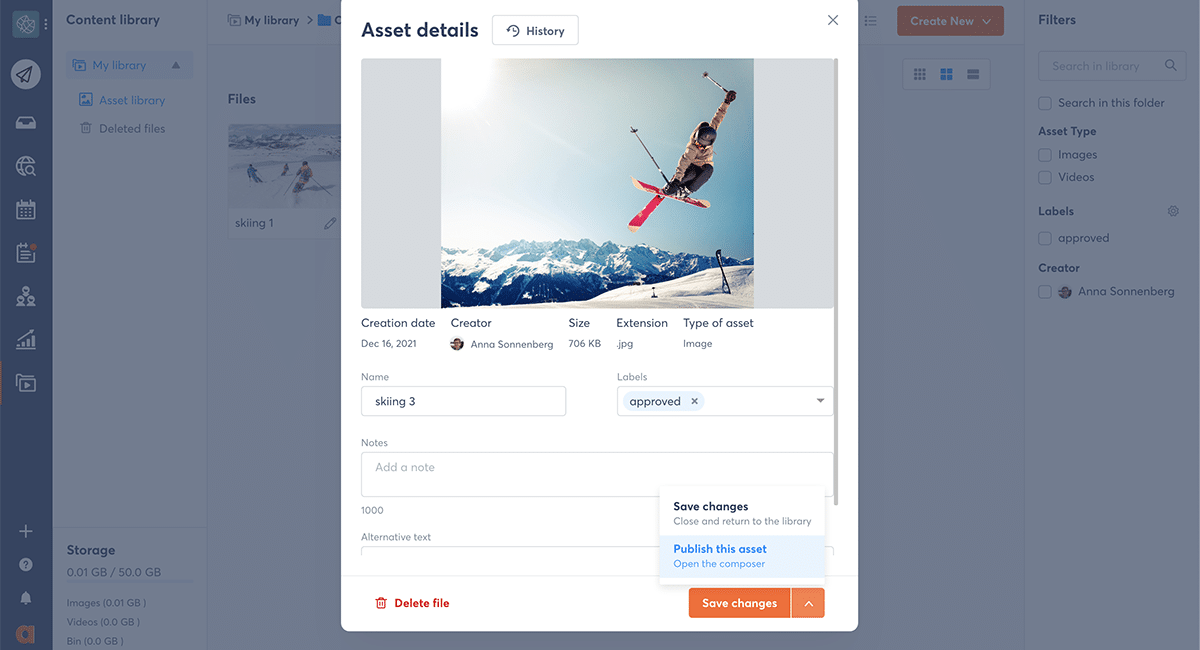 Because Agorapulse's asset library is directly connected to the publisher, you can also add any creative asset to a post with one click.
Are you unsure whether you've already published a photo? The asset history can get you up to speed on how and when your team has edited or used each photo and video.
Master scheduling tools
For agencies, having a full-featured social media scheduling solution like Agorapulse is a must. When you invest in the right scheduling tool, you can keep team members and clients on the same page, so everyone knows what you'll be publishing when.
Tip: Social media management aside, consider using tools that support your productivity with all work tasks and create a weekly schedule template that'll help standardize your weekly workflows.
With Agorapulse, you can also see post previews that look just like they'll appear when they're live, and you can view all the posts for a single channel or for every platform at once.
Agorapulse also has these handy features like the following for agencies:
Bulk publishing abilities so you can save time scheduling posts
Rescheduling capabilities so you can reshare evergreen content regularly
Queue functions so you can easily publish content in open time slots
Hashtag libraries so you can reference campaign or brand hashtags quickly
Create an approval process
Before you create and publish content for clients, you need a social media approval process.
An effective approval process gets clients and colleagues to review and sign off on copy, creatives, and campaigns while it decreases the possibility of publishing incorrect or damaging content.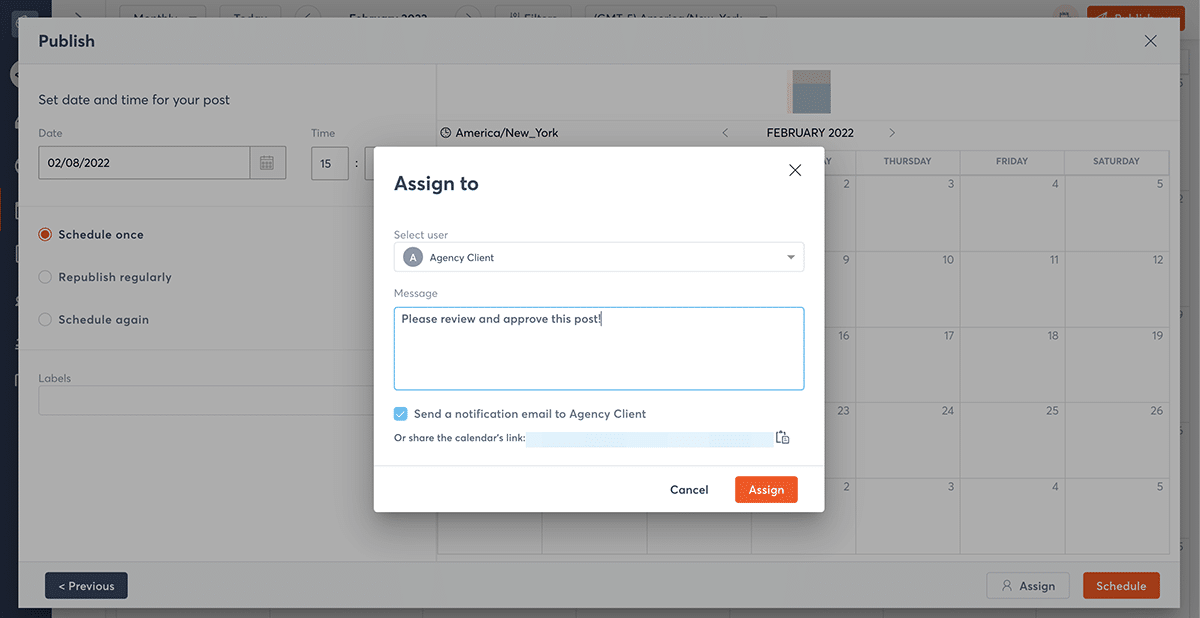 Rather than using email or chat apps to review social media posts one by one, incorporate the approval process into your social media scheduling tool. Just create a draft of the post, and then assign it to your client, chief marketing officer, or other stakeholders. Once the right person approves the post, the scheduling process automatically completes.
Also, consider using Agorapulse's shared calendar to make collaboration with your clients about social media content much easier, more visible, and less of a hassle. With shared calendars, you can share drafts with everyone on your clients' teams, even if they don't have a seat in your Agorapulse plan.
Just create a shared calendar with each client's social profiles, and add the people who need access. Once you invite them, they can view the calendar any time to see published, scheduled, and drafts social media posts.
You can also assign drafts to clients with shared calendar access to make your approval workflow easier.
Set a standard price structure
Do you ask yourself, "How much should I charge for social media management?" every time a new potential client contacts you? To save yourself time and hassle, set a standard pricing structure that makes sense for your agency.
Many agencies offer monthly social media management packages.
Pricing factors may include …
Social channels: How many social media channels do you manage for each client? Consider adding a set monthly cost for each network.
Social media posts: How many posts do you publish each week? Plan to increase the price for additional monthly or weekly posts.
Design and content production: Do you rely on clients to provide creative assets or do you produce them in-house? Factor in the cost of producing original creative assets.
Advertising budget: Does your agency manage paid campaigns in addition to organic social media management? Add in the cost of paid social and ad spend.
In Conclusion
Now that you have the basics of social media management down, it's time to get to work. Hash out your social media goals, map out a content calendar, create branded content, and start building relationships with potential partners to grow your brand effectively.
Get started on saving time and energy on your own social media management! Check out our free trial of Agorapulse to help you schedule, track, and measure all your social media efforts.