Most of your web traffic doesn't convert.
Products aren't bought, forms aren't submitted, and customer service reps aren't called.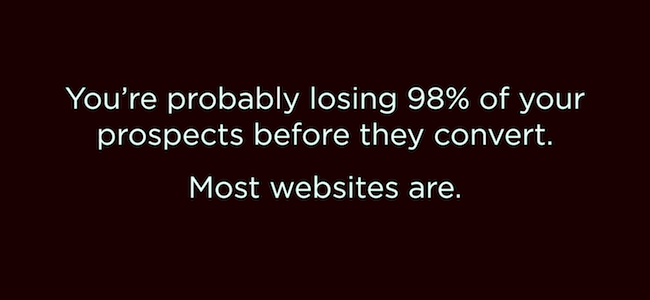 Enter retargeting.
You may have heard of it. You may know its strong industry growth. Your company may even use retargeting already.
But if not, we'll tell you about it. More importantly, we'll go over Facebook ads retargeting – the kind of retargeting that you, the social marketer, should really care about. So to start, let's talk about what retargeting actually is.
How Retargeting Works
If you've ever abandoned your shopping cart online, or visited a specific product page, or otherwise indicated that you're interested in buying what a site has to offer, you've probably been retargeted.
You were served ads. Highly targeted ads. All over the web, you saw the jacket you nearly bought. The same style, the same color, the same brand. It's like they knew you almost checked out with it.
And that's because they did know.
With retargeting, marketers can leverage cookies – data most sites collect – to discover what pages you visited and determine if you left without converting. Some of those pages – usually ones that signal buying intent – will trigger a retargeting campaign that pursues you with ads until you convert or the campaign runs its course.
Unsurprisingly, it works.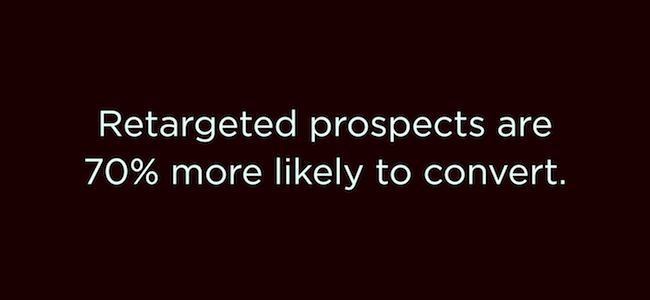 And why are they more likely to convert?
o
You're familiar with the product or service.

o

You're already interested in it.

o

You're reminded of it regularly.

o

You're exposed to more marketing.

o

You're given a fast and easy way to convert.
That's why 20% of marketers now have a dedicated retargeting budget. And Facebook is often a part of it.
At the moment, there are two retargeting platforms on the social network.
The first is Facebook Exchange.
Facebook Exchange (FBX)
Introduced in 2012, Facebook Exchange is Facebook's original retargeting platform.
Like all kinds of retargeting, it's based on site behavior. But this time, the ads aren't displayed on search engines or websites. They're displayed on Facebook as domain ads or Facebook Page post ads. You can place them in the Newsfeed or the right column.
However, you can't run them yourself. Not entirely, at least. You have to go through a third-party demand-side platform (DSP), like AdRoll, Triggit, Perfect Audience, or Chango.
Here's what happens:
o
A user visits your site.

o

The user gets a cookie when browsing a page or taking an action that signals purchase intent.

o

If the user doesn't convert, the DSP places a real-time bid on a retargeting ad.

o

The retargeting ad is your creative to your specifications.

o

The DPS bids in a real-time CPM auction to serve your ad.

o

The user sees your timely, relevant, targeted ad on Facebook.

o

The user (hopefully!) converts.
Website Custom Audiences (WCA)
The second Facebook retargeting platform Website Custom Audiences, arrived in 2013.
In many ways, they're an extension of the earlier Custom Audiences. But, instead of an email list, you upload a list of site visitors you'd like to hit with retargeting ads. A retargeting pixel on your website compiles that list.
From there, you build ads natively on Facebook with Power Editor or Ads Manager and run campaigns as you usually would.
You can target site visitors – or mobile app users, which are also supported – with all the ad types you normally run in all the placements you normally run them.
There's no DSP involved either, so you don't have to pay a third-party vendor; you do the work entirely on your own.
Which Platform is Better?
It depends on who you are, what your objectives happen to be, and the scope of your budget.
But, for the sake of brevity, we can say a few things.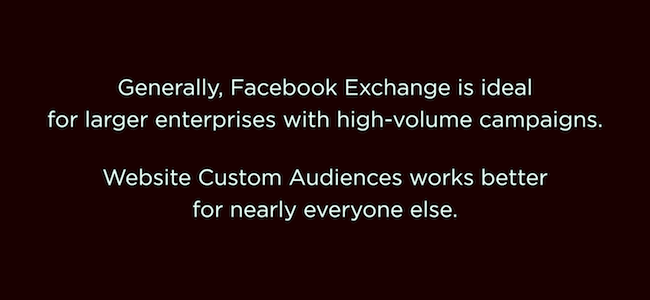 It is, of course, a little more complicated than that.
So, let's review the major advantages and disadvantages of each platform.
Facebook Exchange Pros:
o
You can scale easily – just let the DSP do its work.

o

You get predictive buying, which shows related ads that are likely to convert.

o

You have more granular control when you dynamically adjust ads.
& Cons:
o
You can't use it without paying a DSP.

o

You don't get to use many ad types and placements.

o

You can't target mobile users.
Website Custom Audiences Pros:
o
You can build ads natively in Power Editor or Ads Manager.

o

You get to use every kind of ad in every placement.

o

You can advertise to multiple browsers and devices.
& Cons:
o
You can't target more users without uploading another list.

o

You won't be able to target users if their Facebook info isn't the same as your list info.

o

You don't have as many options for dynamically adjusting ads.
Even though Website Custom Audiences will be more effective – and more cost-effective – for the majority of advertisers, Facebook Exchange still has a place. The two platforms are complementary.
If you're interested in Facebook Exchange, be sure to browse the list of Preferred Marketing Developers.
And if you're more set on Website Customer Audiences, but aren't quite sure if you'd rather use Power Editor or Ads Manager, we can help you make up your mind.
We'll talk more about Facebook retargeting later, including actionable how-to guides. Stay tuned!
For now, let us know what you think of Facebook retargeting. Do you already run campaigns, or are you considering them? Which platform do you prefer?
Leave a comment below with your thoughts!