Editor's note: Google began deprecating its Google+ API on January 28, 2019. You may no longer have access to Google+ either natively or through a third-party tool.
It's 2015 and let's face it, you were hoping this whole Google Plus thing would have made its way into retirement by now, right?
Well, it's still going, getting stronger in fact, and I'm going to help you understand what Google Plus for business is really about as many have missed or misread the headlines.
1. Google+ is Google
I don't just mean it's owned by Google. I mean it's the future of Google. Version 2.0. Why? Because Google Plus isn't just a social destination for posting content, it's a 'social layer' to all of Google. This layer spans all of Google's products and services, including comments on Blogger and YouTube, Google Drive sharing, Gmail (it has circles), Hangouts, Android, Google Chrome, Google Play, Wallet, Google Maps, and so many more.
How does the King of Search's social layer affect you?  Here's an example of how the +1 button from a blog post generates a Google+ post box: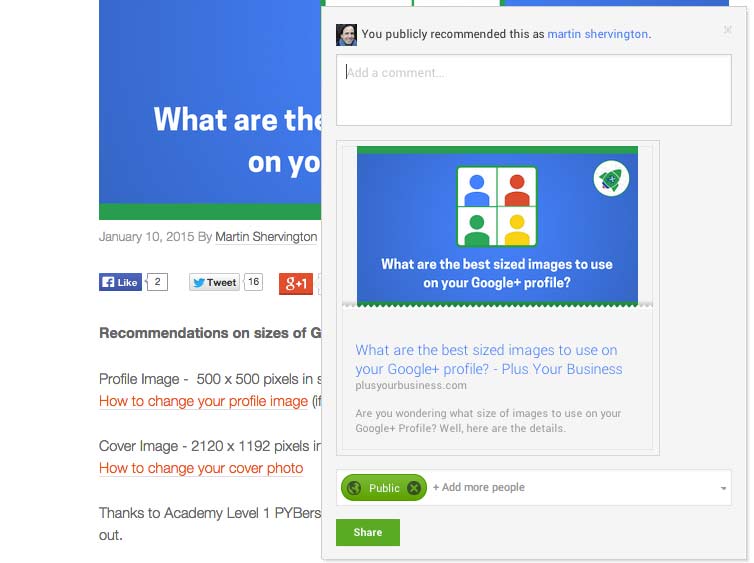 This makes it super easy for your blog content to gain some legs!
And you may well start to see things differently when you see the kind of reach Google's social layer produces…
2.  Google Plus and Search are working hand in hand now
Your searches on Google.com will deliver personalized results as the default. The people you have in your circles and the people you've been engaging with will be influencing those search results, as will the device you're using.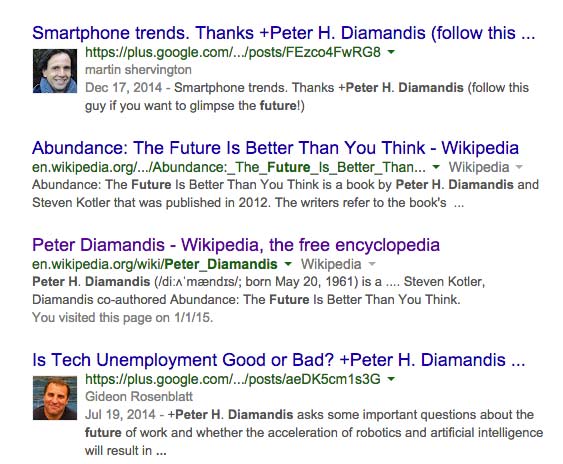 Every Google Plus post title can surface in Search for the people in our circles, so grow your network and build your brand.
This personalization is getting super interesting especially when you take into account the next reason Google+ is so important… 
3.  Google Now
A new experience has happened for some people on mobile. It seems that comments on Google Plus are generating suggestions on Google Now. One person mentioned Dunkin Donuts on a comment thread from a desktop and within minutes the nearest location to them had made its way to their phone as a suggestion.
If you are a brand who values people talking about you, wouldn't you want them to be taken to the next step?
Look to connect with people who have influence on your niche, build relationships and get involved in the conversation.
4. YouTube is the second largest search engine in the world
And, it easily enables people to auto-post their content onto Google Plus, with each new comment being added to the thread.
In other words, YouTube is generating conversations on people's shared videos. When you start considering how social signals (i.e. engagement on content) is a big factor of SEO, you see how building communities of people around your content can amplify it in Search, both for Youtube, Google.com and beyond.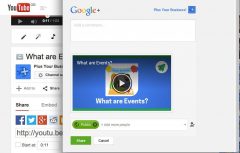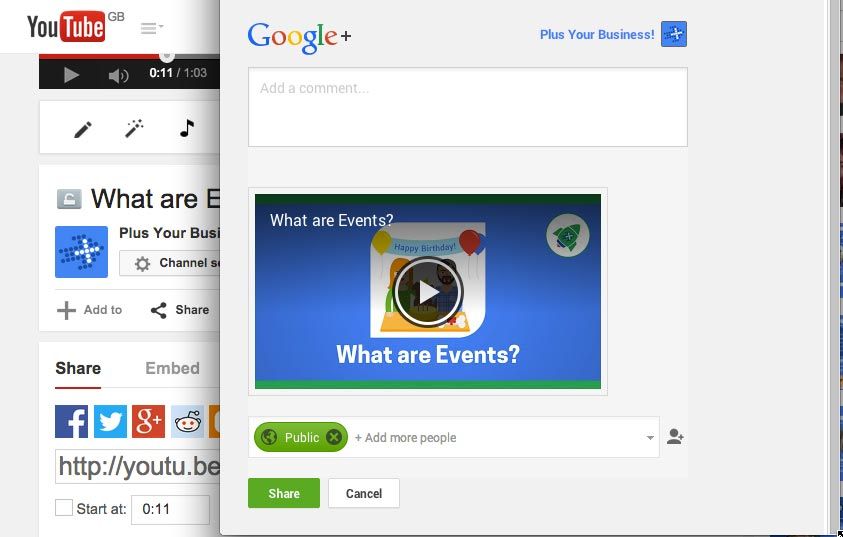 Here's the tip – look at nurturing the engagement (e.g. say 'thank you' when people share) you receive on any content shared on Google Plus or YouTube. You'll begin to strengthen your connections with people who are paying attention.
5.Google Plus for Social SEO
This area, personalized and beyond (e.g. incognito results) is mind blowing. Within a few minutes you can find a Google Plus post surface in Search; within a couple of days you may well see a blog post you shared on Google Plus surface on the first or second page; and after a little while longer, you could find that with sufficient engagement your blog content has made it to a top position in Google Search.
Want to see what this could mean for you and your business? Well, search for either: social seo evidence, or social seo facts. Or check out this article on 'Social SEO Facts and Evidence' to see how I generated over 250,000 visits to one blog post using this method of building community around the content.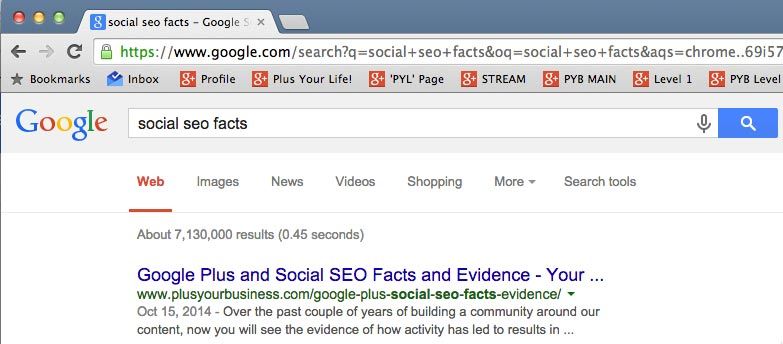 6. There are hundreds of thousands of communities on Google Plus comprised of people waiting to fall in love with your brand
When you begin to build relationships with people, not only are they signaling to Google (through their engagement) that they are paying attention, they are also starting to create authority for you and your brand around your specialist subject areas. The more authoritative your content, the more likely it is to surface for the right people at the right time.

My best tip on this is 'Don't rush!' to create a community on Google+  (but this link gives you the 'how to' when you are ready). Get a feel for Google Plus first. You cannot change the name after 500 members, so you need to get it right.
7. Google Plus enables brands to build trust, which creates a reputation, which develops into overarching authority.
If you search for 'What is Google Plus' (or even What is Google) you'll likely see I rank highly due to the volume of content I've written and the communities signaling that this is a 'good answer' to surface.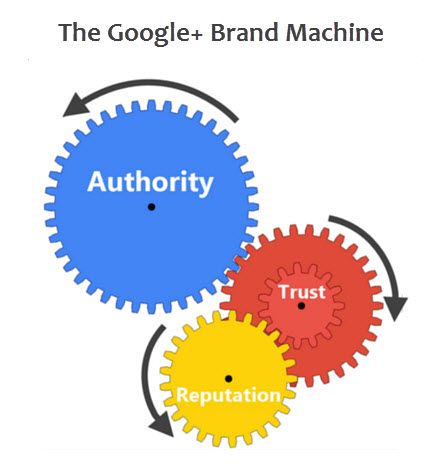 It's my buddy David Amerland (author of Google Semantic Search) who the master in this area, and he sees that openness and transparency are engendered using Google Plus. You too can use this as a way of giving a 'face' to your brand, increasing transparency and gaining trust.
Google Plus is awesome for Social SEO when you know how to use it. 
8. Google Hangouts and Hangouts-on-Air (HOA) amplify trust.
Trust is built and amplified when people can connect a face with a brand. People want to buy from people they know, like and trust. When they can
a) see you on a video call (Hangouts), or
b) watch and participate in a live event (HOAs), they feel connected. When they connect, you are more likely to be 'the one' they would choose when they are ready to make a decision. You can also leverage your HOAs to drive your need for content.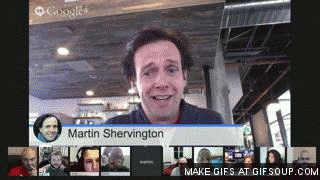 You may also get lucky and be invited to meet Sir Ben Kingsley in a Hangout too!
Perfect for an aspiring stand-up comic.
9.Hangouts-on-Air are saved on your YouTube channel, connected to a Brand Page or to a Profile.
Brand Pages can have up to 50 managers, this enables someone to take an HOA session (e.g. 60 minutes), download and edit it into 5 minute chunks, each with a branded intro and outro, then re-upload them all.
You can also transcribe the text, and use the videos and the text to make a content rich blog post.
Then, you can curate the best quotes or questions that came from the content, and add them in as images. This will not only give you more content to share, it will also make your participants feel special, increasing your long term engagement far beyond the initial event.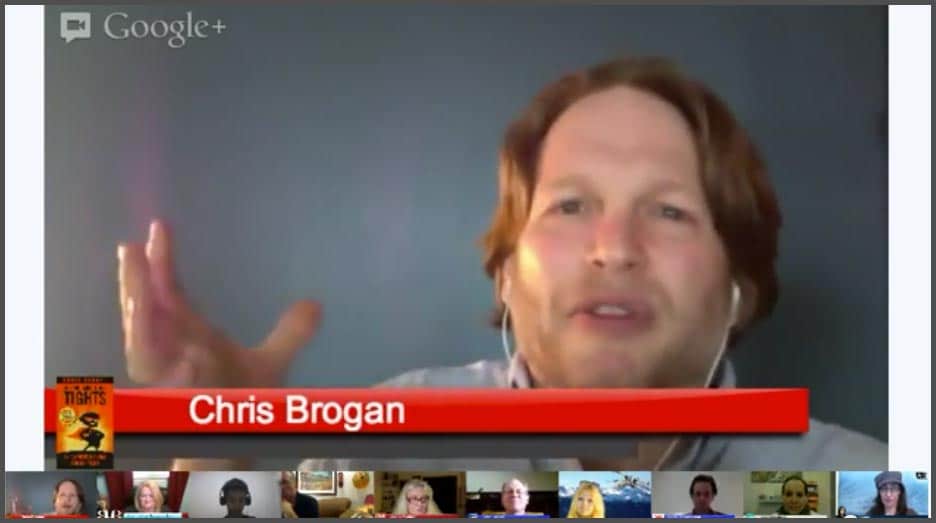 Also consider interviewing key members of staff in your organization, and then creating content from that. A quick win, and they will feel special too.
10. Use circles to create micro-lists – this is a permission marketer's dream!
Here are instructions on How to build niche email lists using Google+
This is a great way to get your content in front of the right people. Then, after they engage, you can then +1, comment and share those people's content and say thank you for them sharing yours. You are now just steps away from creating a real brand evangelist, just by using Google Plus.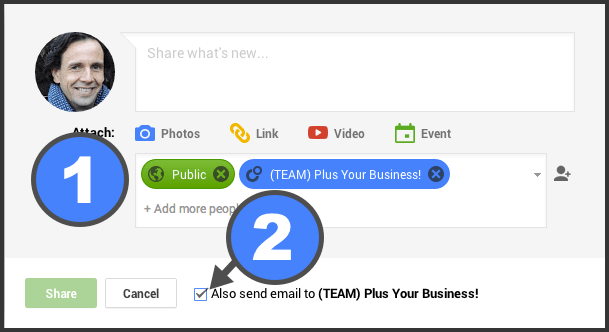 Are you convinced yet about the power of Google Plus for business? Great! This is the first in a series of four articles that will take you through every step you need to take to thrive!
Let's do this thing!
Martin Shervington is Founder and Community Manager at www.plusyourbusiness.com
Contact him here and he will get back to you personally.