LinkedIn native video has been rolling out to users since August 2017. At long last, we can create or upload video directly to the LinkedIn app on our phones and via the desktop website.
In this post, we'll look at LinkedIn native video, how to use it and what to use it for.
Video has always worked well on LinkedIn. YouTube users could share their videos knowing they'd get full-screen attention — a welcome alternative to being relegated to a thumbnail-sized link on Facebook.
With video getting so much attention from other networks it was only a matter of time before LinkedIn jumped in.
The first hint that native video was on the way was in August 2016 when they announced Influencer videos. These were 30-second videos from the people LinkedIn called Influencers.
Sadly these seem to have disappeared from the site.
As video rolled out to us all, LinkedIn started rewarding us with extra reach. Combine the encouragement this reach gave us, the FOMO we experienced before we got our hands on it and LinkedIn native video was bound to be a success.
The nice thing about LinkedIn native video is that it lets us see the faces behind the polished profile pictures on our feeds.
In a time where the 'human' side of business has become so important LinkedIn video is a way to show humans warts and all.
You can't live stream video from LinkedIn yet but you can create a video from within the app and upload it immediately.
This gives videos the live feel. Most videos I'm seeing on LinkedIn are made this way. You can also upload a recording from both the app and the web.
This gives a more polished and professional feel.
Here are the LinkedIn native video facts you need to know before you publish:
Videos can be between 3 seconds and a 10 minutes in length.
You can shoot in vertical or horizontal format.
LinkedIn crops vertical video to a square in the feed. Click and it expands to fill the mobile screen.
Horizontal video displays in full in the feed.
LinkedIn native videos autoplay silently. Like Facebook, people need to click to get sound.
There's no inbuilt captioning yet so you'll need to hard caption your videos if you want to add subtitles. (More on this later).
Related Post: The Finally-Gonna Do It Guide to LinkedIn Publishing
How to create or upload LinkedIn native video from the mobile app
Open your app. Click the video camera icon in the status update box. Select "create" or "upload."
Choose a video from your camera roll or record one.
Add a caption. Remember not everyone will watch with the sound on so use your caption to outline what you say in the video.
It's a good idea to ask a question as part of your video. Include the question in the caption too.
When people answer your post will push out to more LinkedIn users in the feed. It's a great way to expand your message beyond your first connections.
LinkedIn presses you to tag people when you post a video. This can be a good way to get people who are interested in a topic to join the conversation.
Tread lightly with tagging. Getting randomly tagged can rub people up the wrong way and you could lose valuable connections.
How to upload LinkedIn video on desktop
You can upload video from your desktop to LinkedIn but you can't create it there (yet).
Click the video icon in the Status update box and choose the video you want to add.
As with mobile, add a caption and click post.
What can you use LinkedIn native video for?
LinkedIn native video is in its early stages. We're still experimenting. I'm seeing a lot of videos packed with advice from my connections.
Even though it's not live the rawness of video you shoot and load makes interesting viewing. It's these off the cuff, unpolished videos that tend to grab my attention.
Showcase your culture
In this video, Bernard Powell talks us through their company culture. Their shift in focus from "Our people" to "Good People" and it ends with a walk through his office.
His passion shines through and it's a great ad for his company's ethics.
Off the cuff interviews
Because of its instant nature, LinkedIn is a good place to share short interviews.
Here's a short clip by Allen Gannett shot at Content Marketing World.
Tell people about yourself
LinkedIn might be a professional network but that doesn't mean we're not interested in the people in our network.
The more people get to know you, the more they will trust you, the more likely they are to buy from you.
Showcasing something surprising about yourself will make you memorable and easier to connect to.
That's exactly what Alan Bernard Evans does with his amazing piano playing.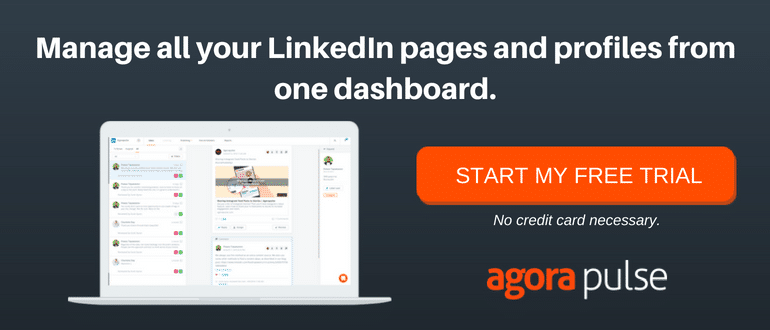 Subtitling … somehow
The lack of subtitling options for LinkedIn video is frustrating. There's no auto-captioning like on Facebook and YouTube and there's no option to upload a file.
If you want to caption your videos you'll need to use text overlay on your video.
iPhone users can record video using the Apple Clips app. It subtitles live as you speak and the captions are baked into the video.
Professional editing tools like Camtasia also allow you to hardcode captions onto your video.
For those who are on a budget and fancy being a bit more creative, try what Amy Blaschka has done in this video.
The big question
Does native video get more reach and engagement on LinkedIn than shared video? Maybe that's a question for the Agorapulse Social Media Lab.
Have you used LinkedIn native video? Have you seen positive results? We'd love to see your work so leave a comment below.