Are you getting everything you can from LinkedIn? These tips can help you brush up on LinkedIn 101 basics and also dig deeper into this social media platform.
Often overlooked, LinkedIn is a powerful tool for professionals, business owners, and social media managers alike. Though some people see it only as a tool for job hunting, LinkedIn is the platform of choice for anyone who wants to get business done.
You should maximize your LinkedIn strategy if you are a …
B2B business
B2C business who needs:

Relationships with suppliers
Great talent to hire
To stay informed about your industry

A small-business owner who benefits from referrals
As you can see, using LinkedIn strategically is about so much more than finding a job. In some cases, using LinkedIn may fall more directly under human resources, supply chain, or elsewhere in your organization than marketing.
But LinkedIn still should be considered as a part of a social media manager's overall marketing mix. (Here's why you should include LinkedIn.)
How you and your employees present yourselves on LinkedIn directly impacts the perception of your business. LinkedIn profiles often show up in Google search results, for example.
1. LinkedIn Profile vs. Company Pages
Like most of the other major social media platforms (not including Twitter), LinkedIn has both personal profiles and business pages. LinkedIn refers to personal profiles as "member profiles" and business accounts as "Pages."
Pages are meant to be a focal point for a business as a whole. They can have multiple people who manage a single account with their own individual access and permissions. Pages give you the ability to run ads.
A member profile, on the other hand, is meant to highlight a specific individual and that person's experience, skills, and connections.
Both types of profiles are available for free on LinkedIn, though you can upgrade to a paid option if you think it can help you reach your goals faster.
Best practice: Make sure you are maxing out all the opportunities available to you on the free platform first! (And remember to use proper LinkedIn etiquette.)
Why do you need a LinkedIn profile? 
The member profile is the basic first step that allows you access to the rest of LinkedIn. It is an essential part of building credibility and connecting with other people on LinkedIn. (Even if you decide that you do want to create a business page, take the time to completely create your own personal profile first.)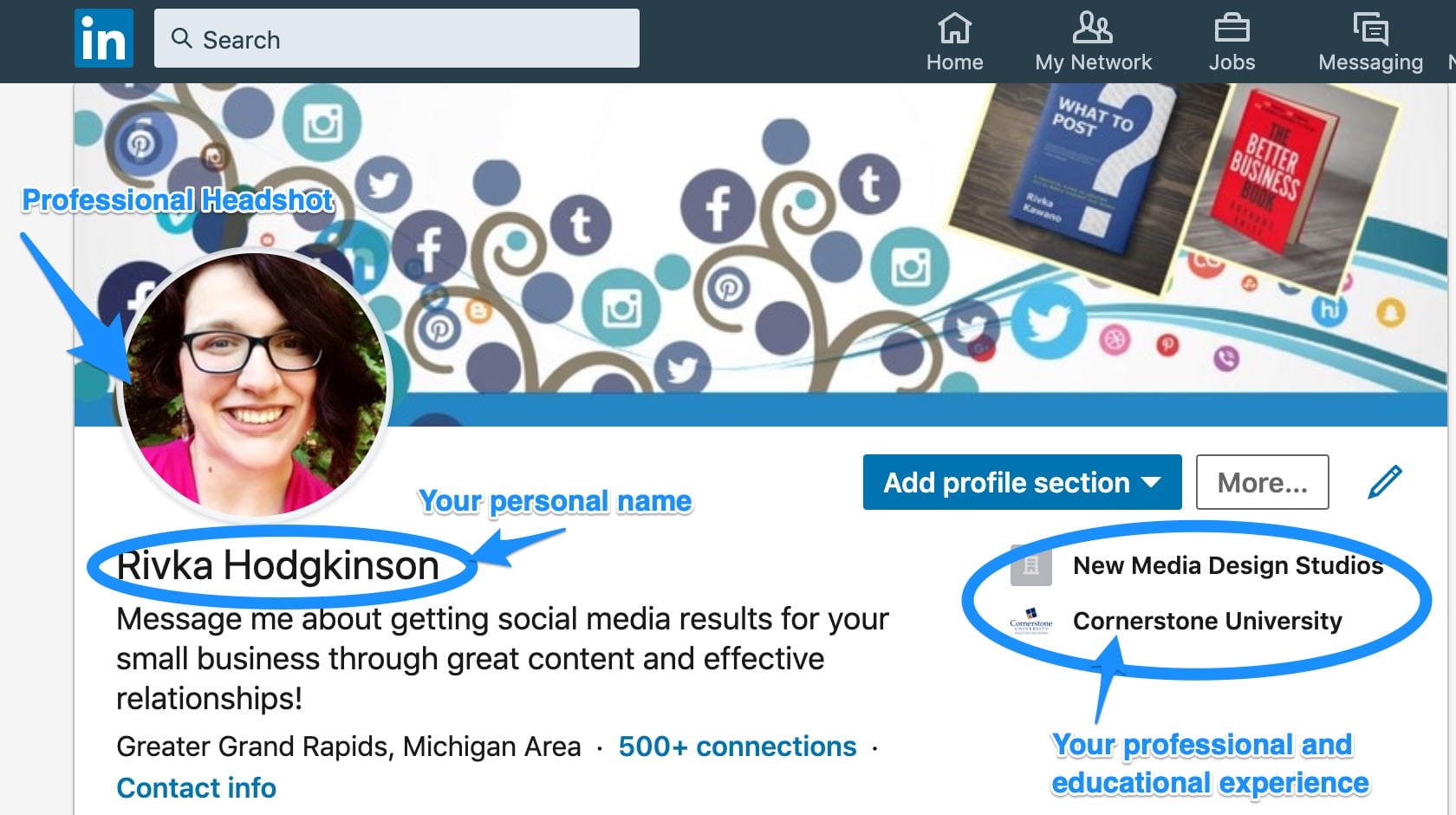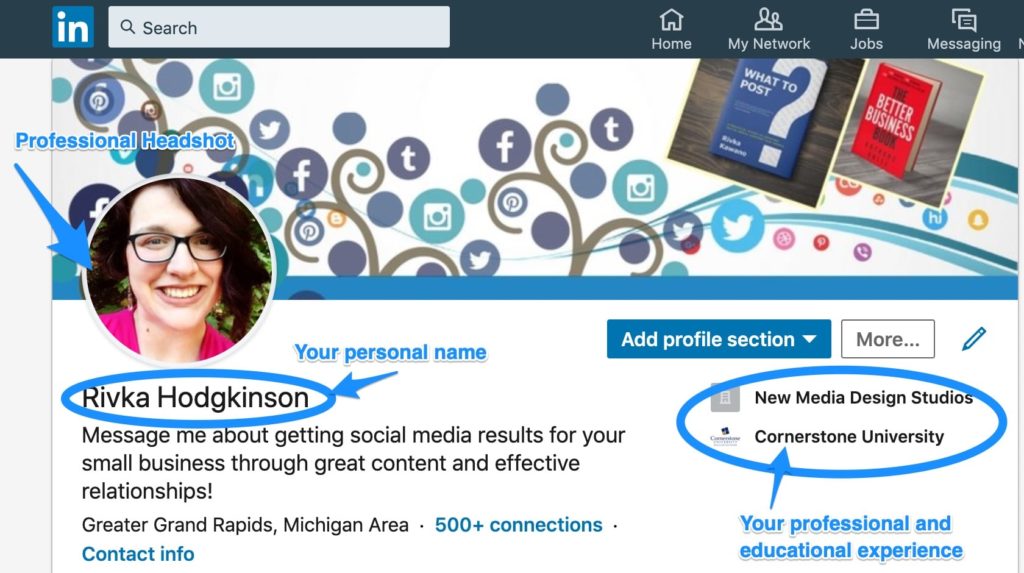 When should you also have a company page?
Because LinkedIn is for professionals already, do you still need a company page?
Maybe.
You should set up a company page when:
You want more than one person at your business or agency to post content and manage the page.
Paid advertising is an important part of your marketing strategy on LinkedIn.
You want to show off your employees and help them connect with each other and prospects.
Talent development in your organization is critical, and you want to give your HR department another tool to use for recruitment.
You have time to manage both a LinkedIn personal profile and business page well and want to establish additional credibility for your small business.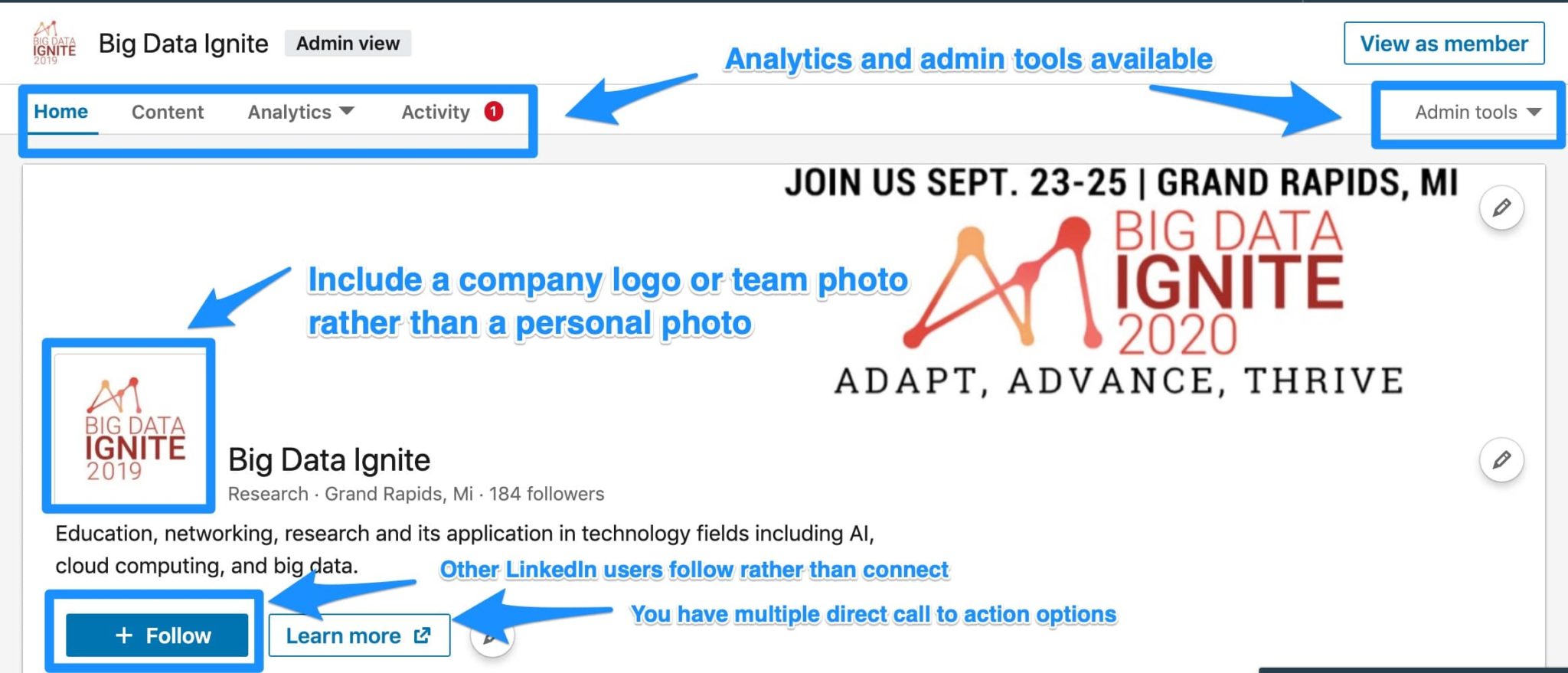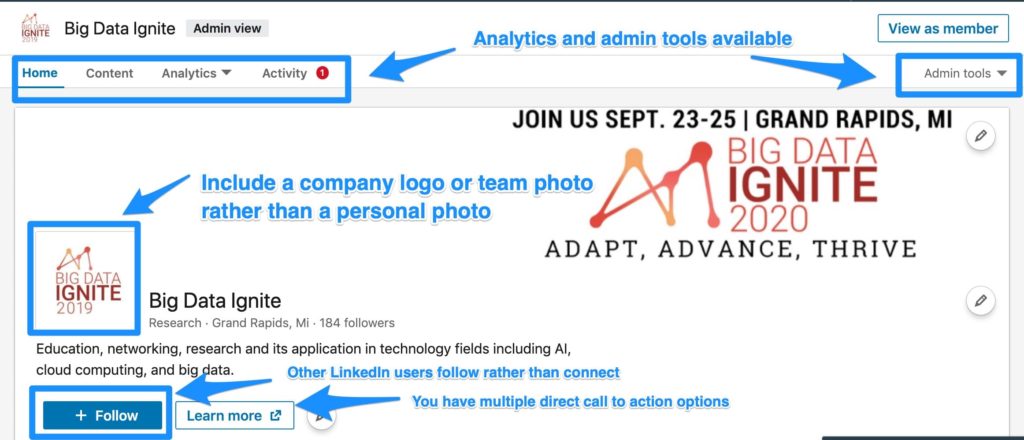 For both a profile and a business page, you will want to schedule time in your schedule for:
Content creation
Responding to comments and messages
Lead building
And you will want to do a regular audit of your profiles to make sure everything is complete and up to date.
The only thing worse than giving no information about your business on social media is giving incorrect information.
2. LinkedIn 101: How to Create a Stellar LinkedIn Profile
Ready to get started?
The first step is to complete your personal member profile on LinkedIn.
Creating a successful profile will help you:
Build credibility with connections and prospects
Attract the connections most important to you
Establish trust
Make it easier for potential connections to reach out to you
LinkedIn 101: Profile picture
Having both a profile image and banner image will make you instantly more likely to attract attention on LinkedIn.
In fact, research shows that just having a profile picture makes your profile 14X more likely to be viewed.
What makes a good profile picture?
LinkedIn is all about being professional. You don't need to be wearing a suit and tie necessarily, but you should be dressed in your profile picture in the same way that you would dress to meet a client.
Your personal photo absolutely needs to be professional, not a logo, animal, words, or other random picture. LinkedIn will remove the photo if they find it does not meet their guidelines. If they remove your profile image three times, you won't be able to upload one again, so make sure to follow the rules!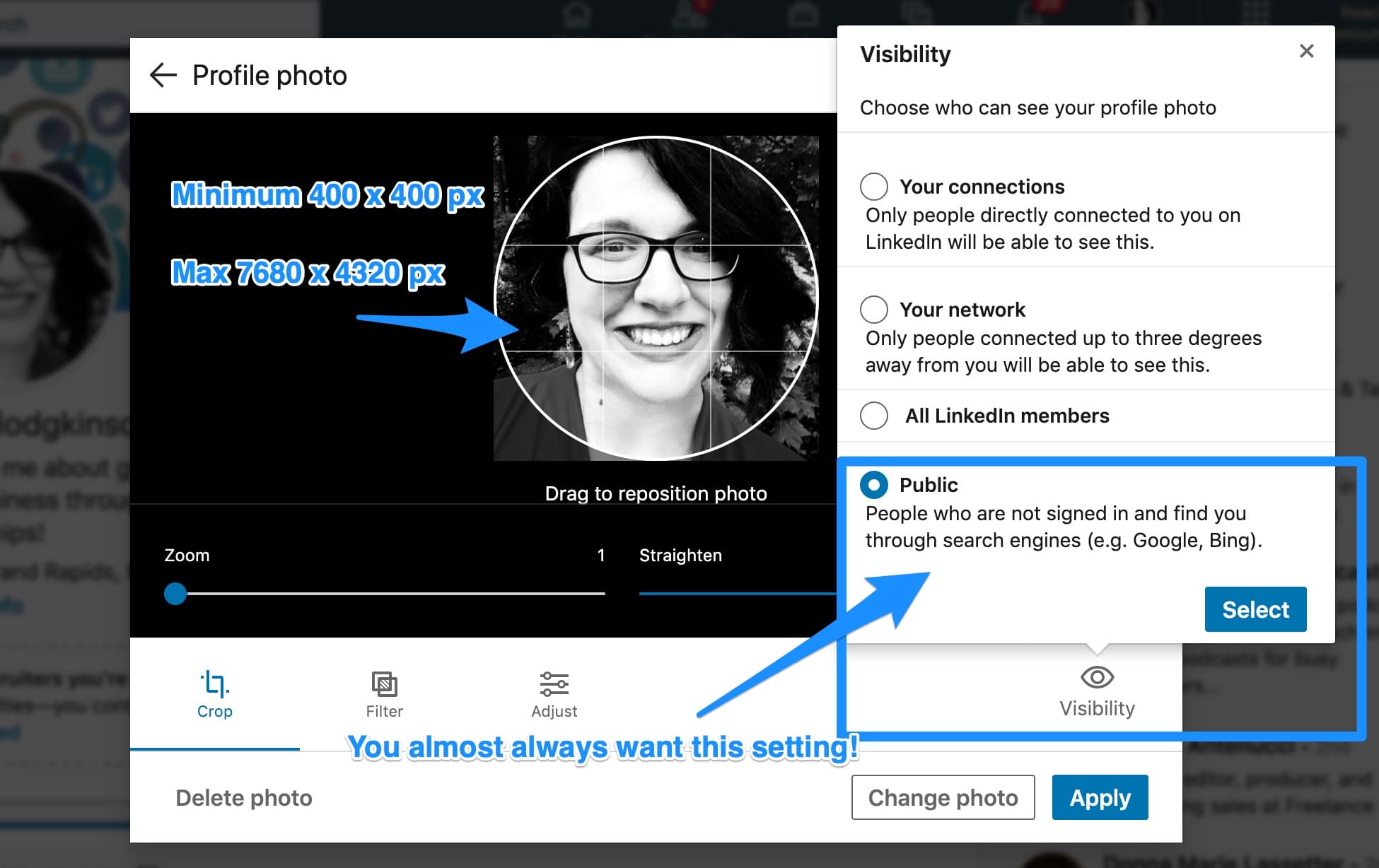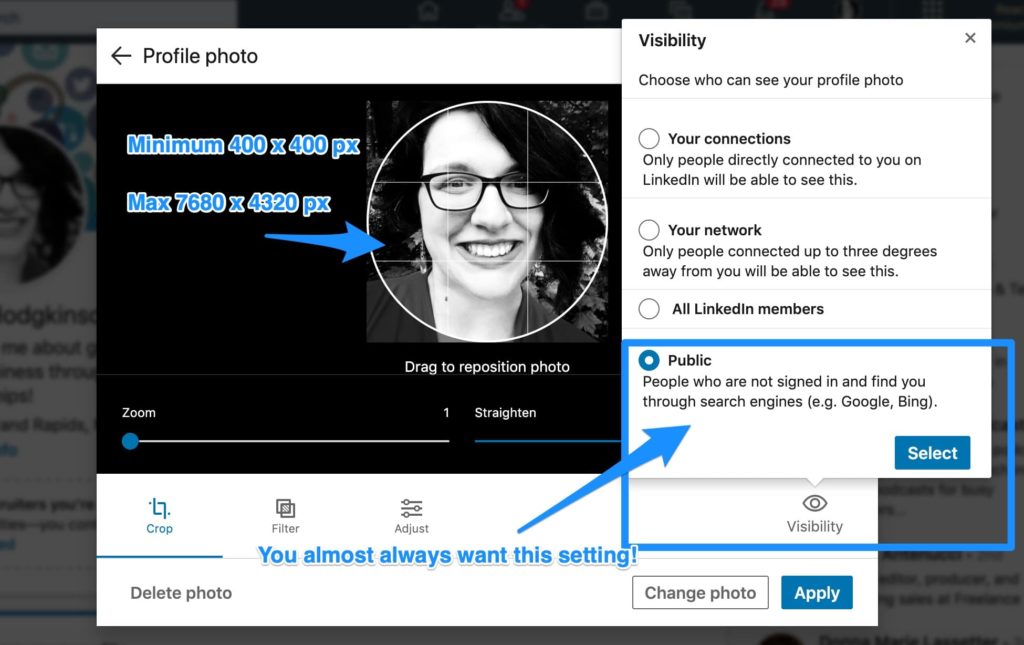 You also want to make sure your picture is high quality. Resolution is important … You don't want a blurry photo!
The minimum pixel size is 400 x 400, but you can go up to 7,680 wide and 4320 high in pixels. Ideally, you want it to be square, so you don't have to crop too much.
Also:
Smile! People feel more connected to people who are smiling.
Be recognizable. If someone met you at a conference or meeting, would they recognize you?
Avoid shots from really far back or selfies. Find the balance between close but not too close.
Set your profile picture to "public" unless you have a compelling reason not to. (Especially if you have a common name!)
LinkedIn: Banner background image
One of the challenges of picking a great background image is that the background looks different depending on where it shows up on the platform.
When you show up in a LinkedIn search, your profile banner is smaller and appears centered behind your picture like it does on the side-bar of your feed.
If someone comes to your profile directly, the banner is larger and with your profile picture at the left of the image.


Because of that fact, along with differences between how it will show up on mobile and other various devices, you'll want to avoid text on your banner image.
Remember:
Be consistent! You want people to be able to recognize your brand regardless of where they find you on the web, including your website and other social media profiles
Be professional. Choose something that enhances your public image and gives people an idea of what you do
Use a quality image. The recommended image size is 1,536 x 768px. However, the image will show up as 1,400 x 425px.
Both your banner image and your profile picture should change when appropriate. Consider getting new headshots about once a year.
LinkedIn 101: Your professional summary  
What makes a good summary in your LinkedIn profile (in the "About" section of your profile)?
The best answer depends on your purpose for your profile overall.
For example, if you are looking for a job then your key qualifications are important. But if you are a small-business owner, you may want to share a little about your products or services.
Whatever the purpose of your LinkedIn marketing, you need to be clear about:
Who should reach out to you
Why you are the right person
How they can best reach you
Remember that this is social media, not a standard resume. Go ahead and use first-person narrative style when you write.
A summary is extra-important if you are in the process of transition from one thing to another.
For example, if you were recently laid off, you are transitioning to a new career or starting your own business. Your summary is the place where you can explain this and connect what you are doing now to the rest of your LinkedIn profile.
If you are feeling stuck in writing your summary, look at some examples to see what feels like a good fit for you.
Many people will only read your summary and not delve into the rest of your profile, so take your time to write it well! Read, and reread. Run it through a spell and grammar checker, such as Grammarly.
Ask a professional associate you trust to read it as well.
Does it communicate what you want it to? Does it send the right messages? Will your ideal client or partner instantly know that they need to reach out to you?
LinkedIn: Your jobs, volunteer experiences, and other profile sections
What other things should you include (or not include) in your profile? How can you make the most of each one?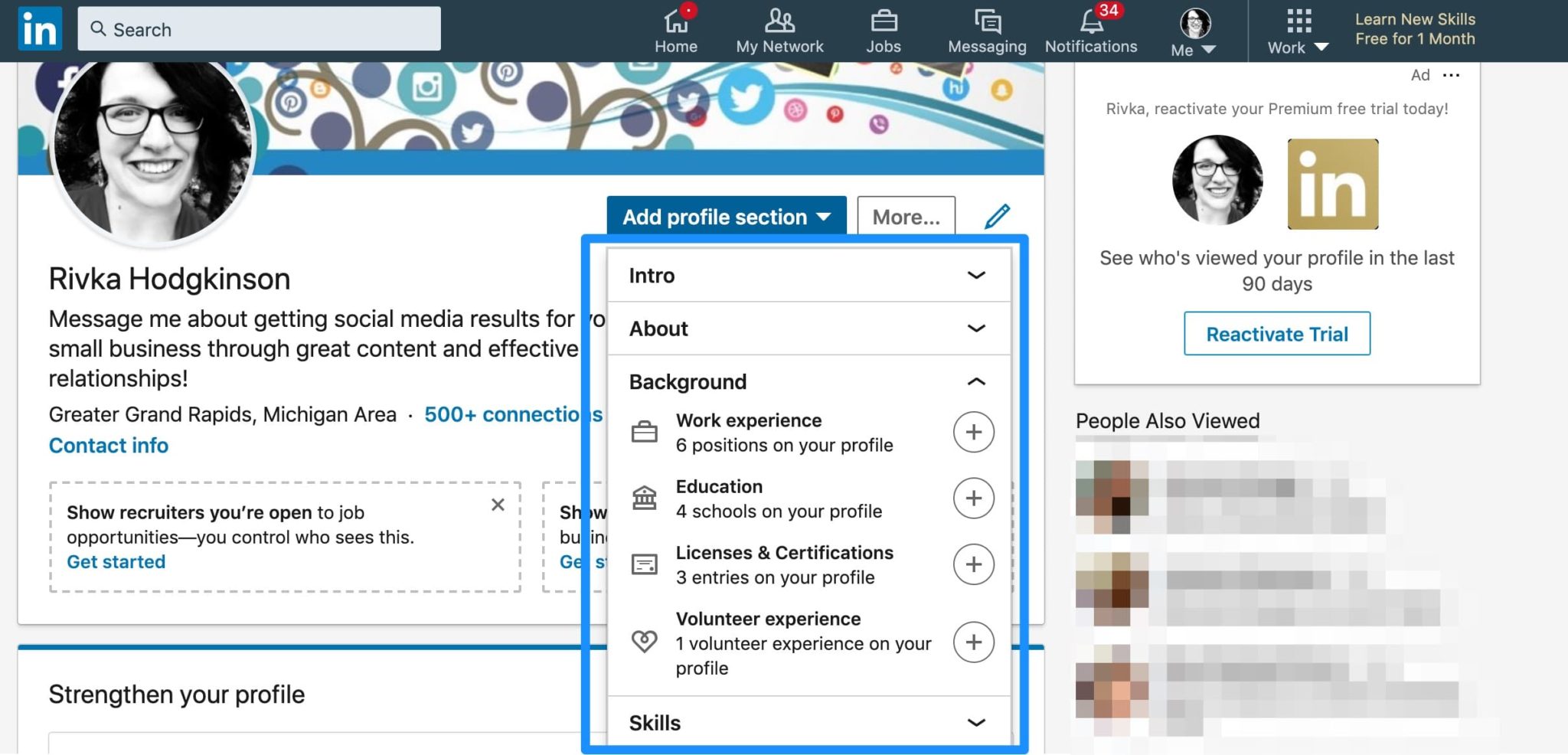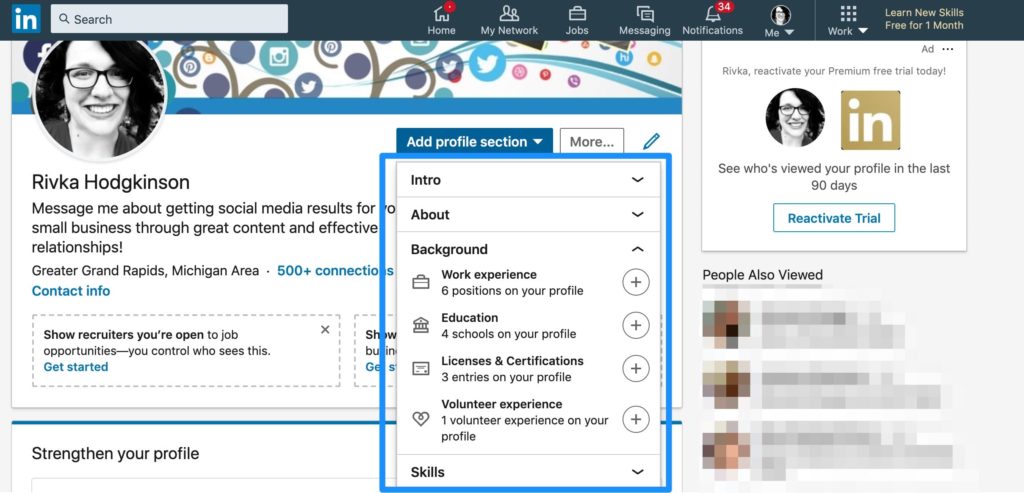 LinkedIn gives you several options for highlighting your skills and accomplishments. The more completely you can fill this out, the easier it will be for people to find and connect with you on the platform. (Not everything may apply to you.)
Let's look at how to maximize each section individually.
Introduction
The "Intro" section is a new feature on LinkedIn that allows you to either show your services if you are a business provider or give information to recruiters if you are a job seeker.
If looking for a job, you can choose to only show your information to recruiters, so your privacy is protected. You can add up to five job titles you are seeking, and up to five locations you are willing to work.
You can also say if you are looking for full-time, part-time, or remote work, among other options.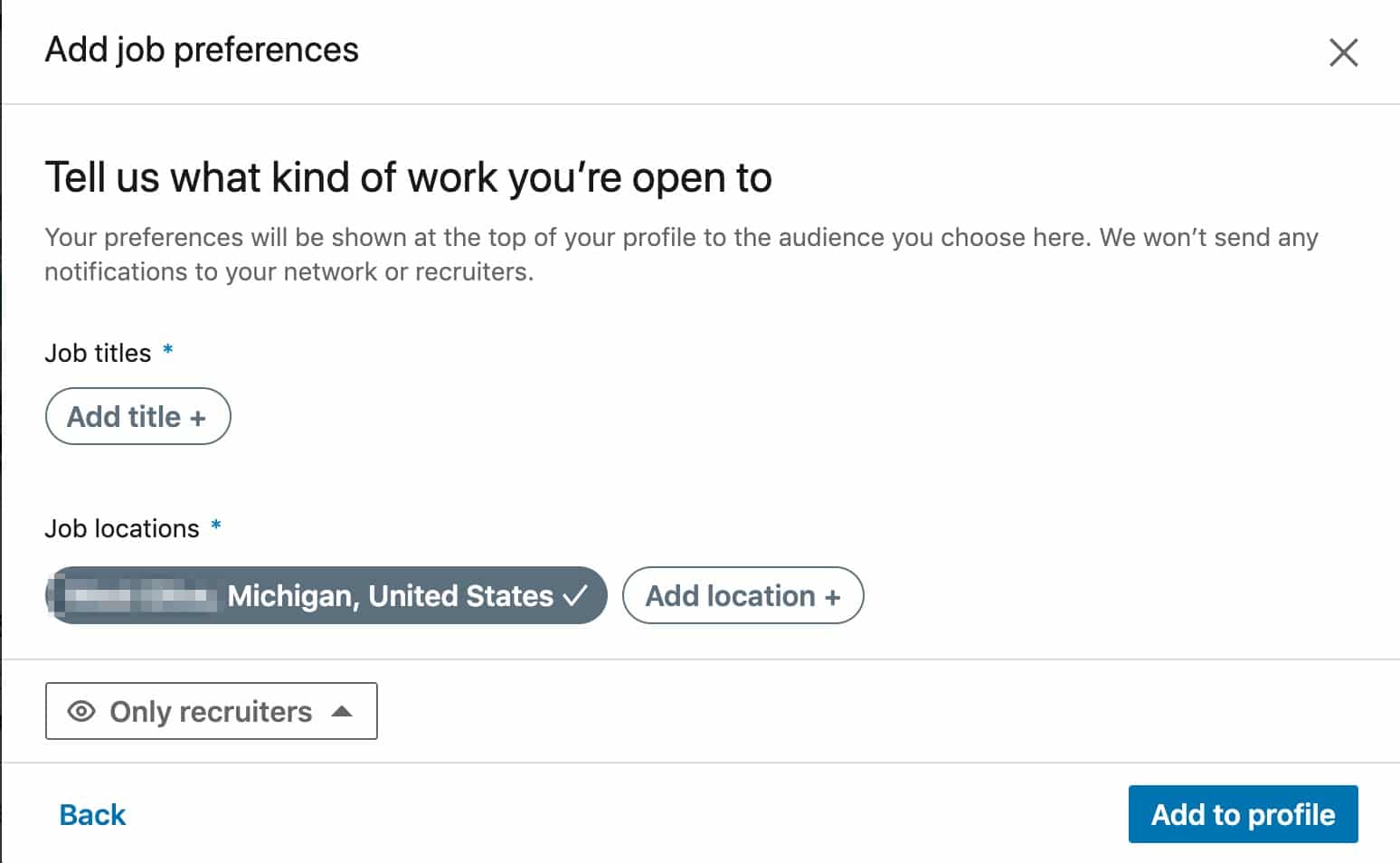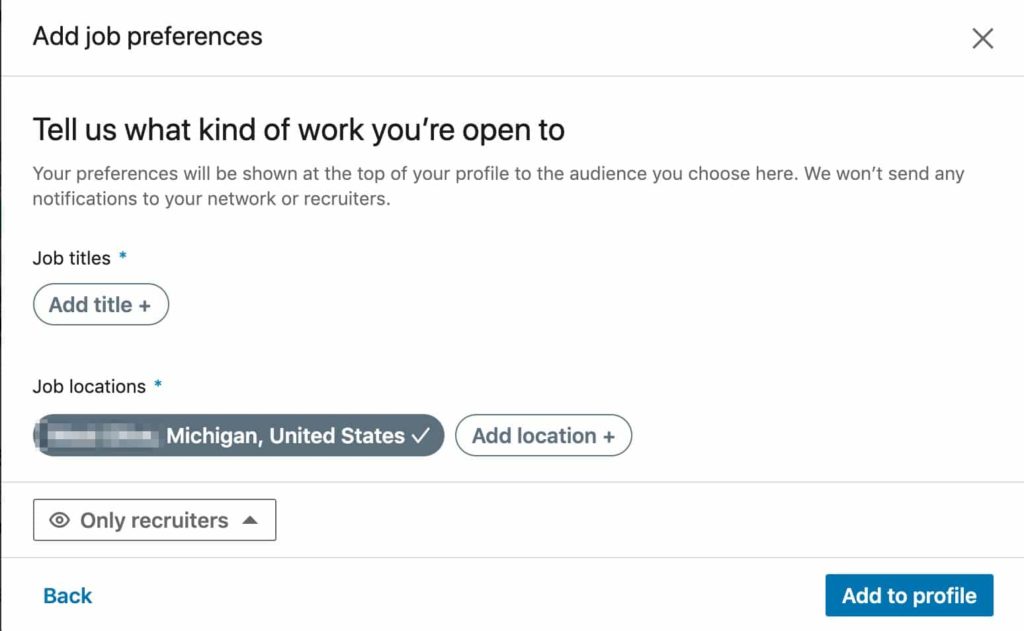 If you are a business owner, you can instead list the specific services that you offer to clients.
You are able to select up to 10 different skills from a predefined list, as well as whether you can work remotely, and whether you are open to messages from people you are not connected to.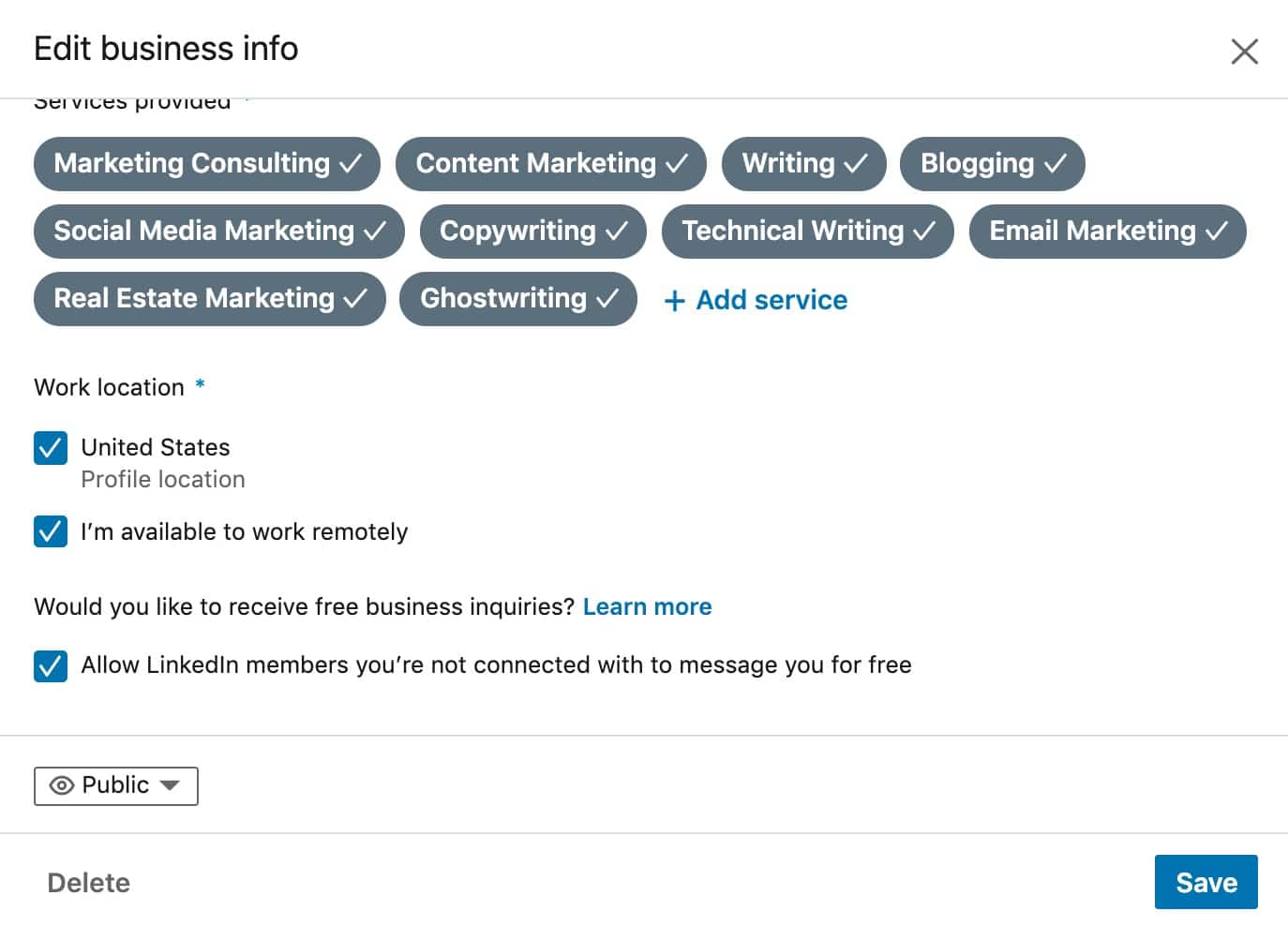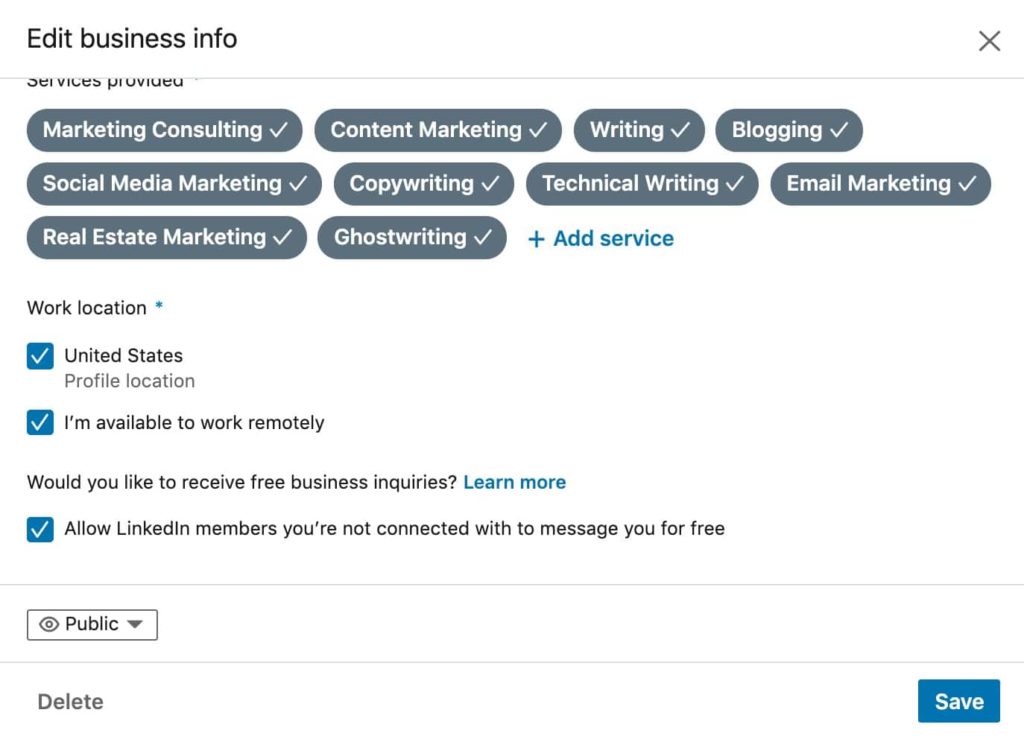 Setting up these sections are helpful to people viewing your profile as well as making sure that you are searchable on LinkedIn.
LinkedIn 101: Background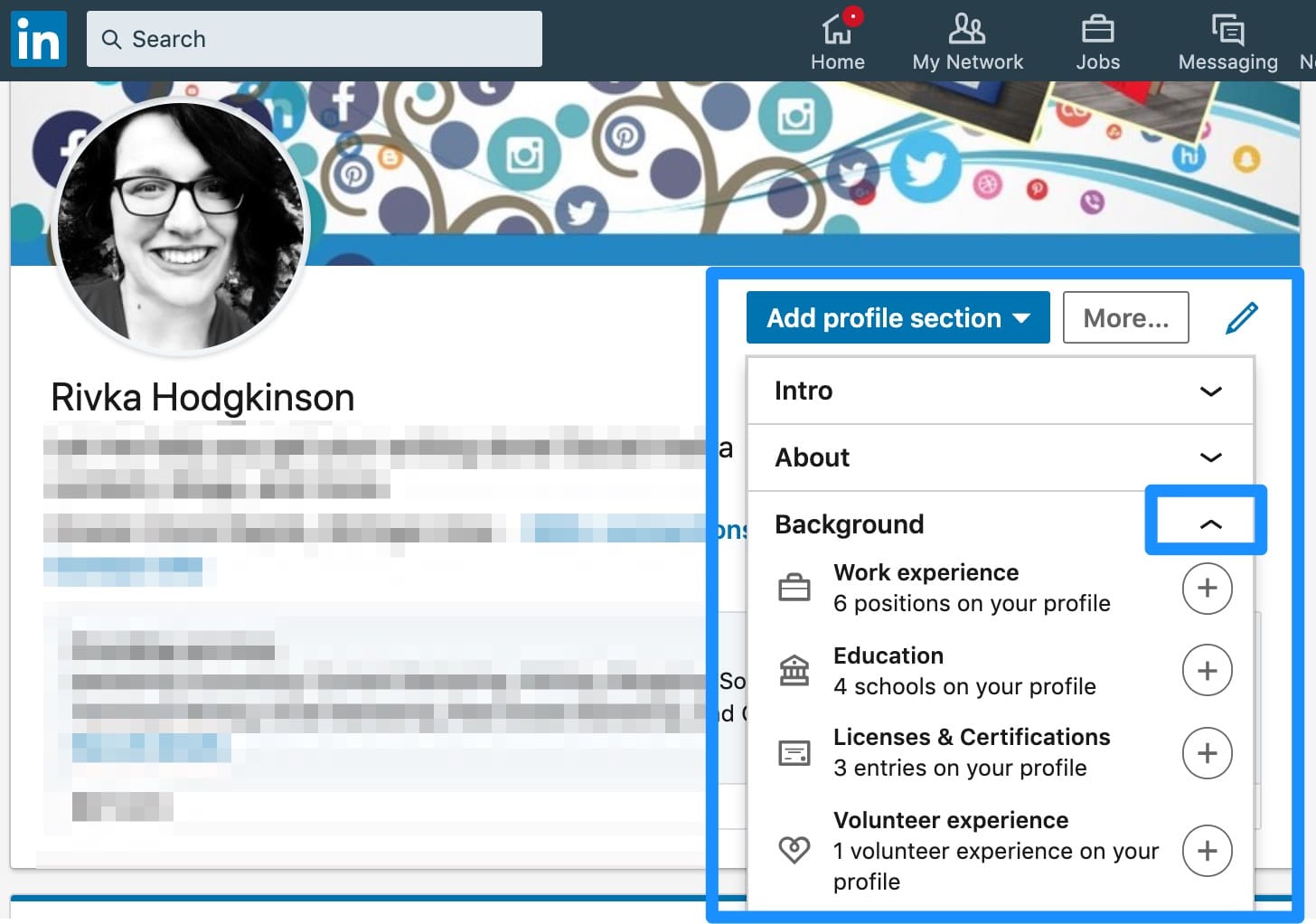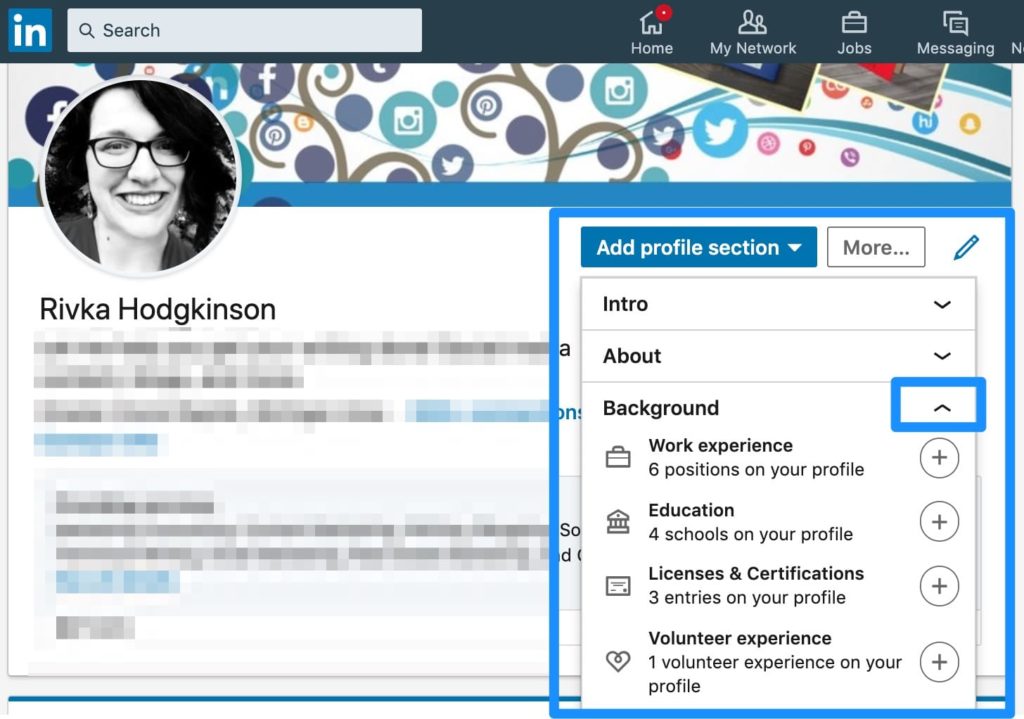 The background section of your profile allows you to add:
Work experience
Education
Licenses and certifications
Volunteer experience
Like on a resume, you may not always want to list every single experience. If it was exceptionally long ago, not relevant to what you are doing now, or indicates a protected category (such as religion, national origin, age, or disability) that you wish to keep private, you should feel free to leave it off.
Use relevant keywords in your description that your ideal contact would use in a search.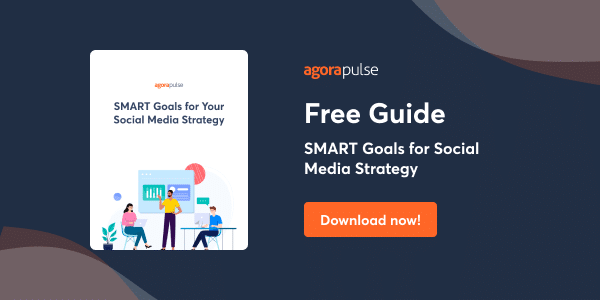 LinkedIn 101: Skills
What are you best at? What are the core reasons that clients or businesses should hire you for their job or project?
The skills section is where you can show these off. You can select up to 50 skills from a predetermined list.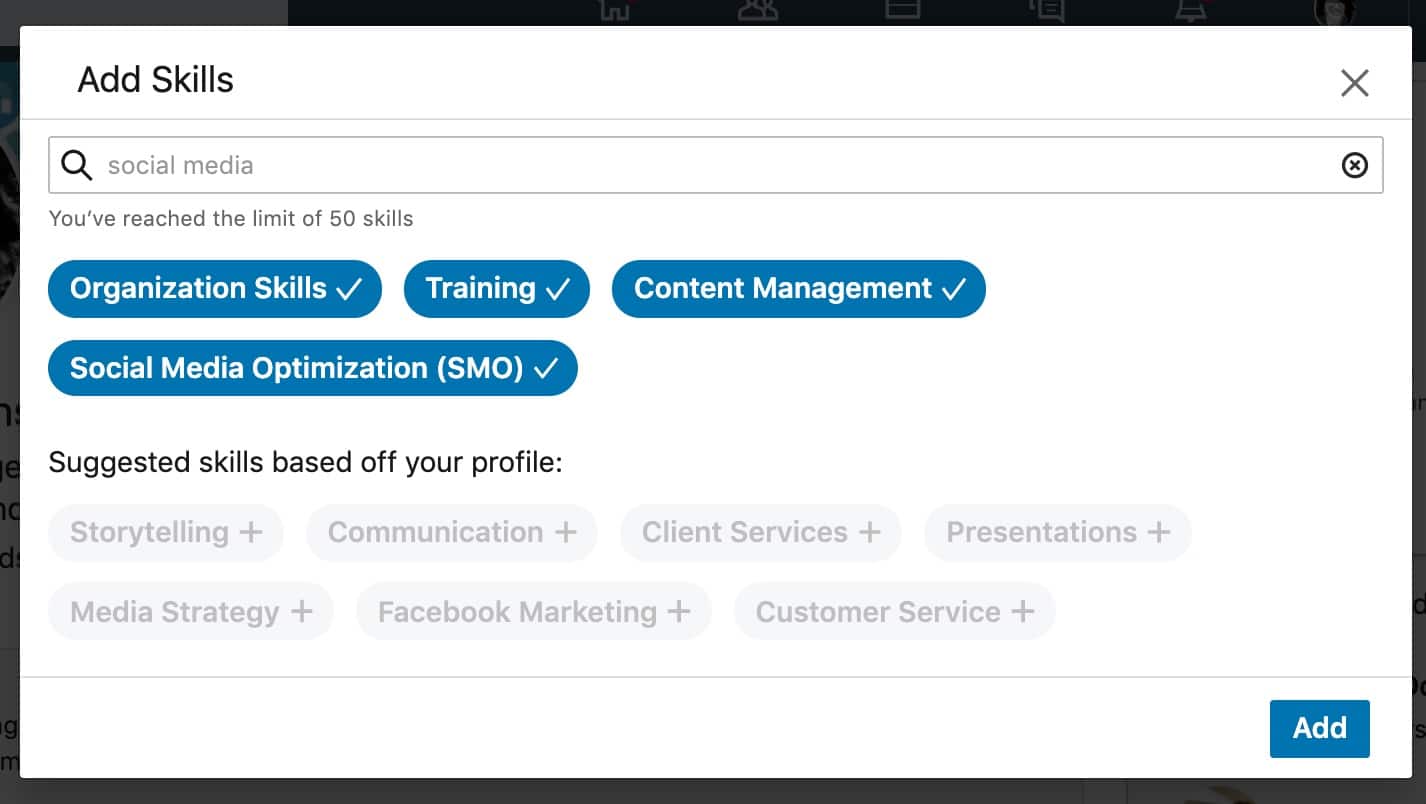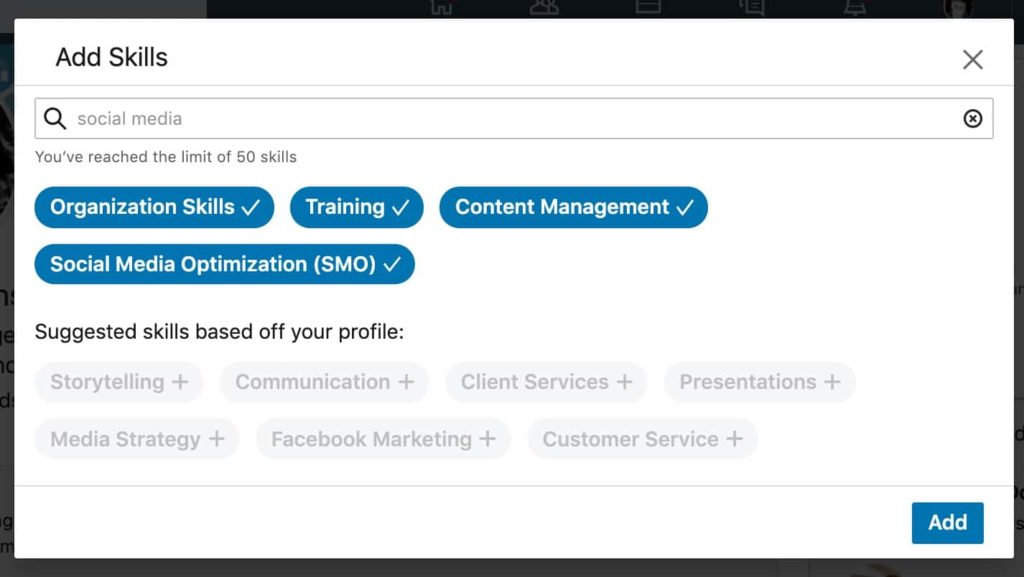 Once you have added skills, they will show up lower down on the "Skills and Endorsements" section of your profile.
LinkedIn is all about giving you ways to build credibility. This is no exception. Doing this will show people in your network your skills and ask them to endorse that you are actually good at that skill. LinkedIn will then show off the people who have endorsed you for that skill, and if they are also skilled in that area. (Do they know what they are talking about?)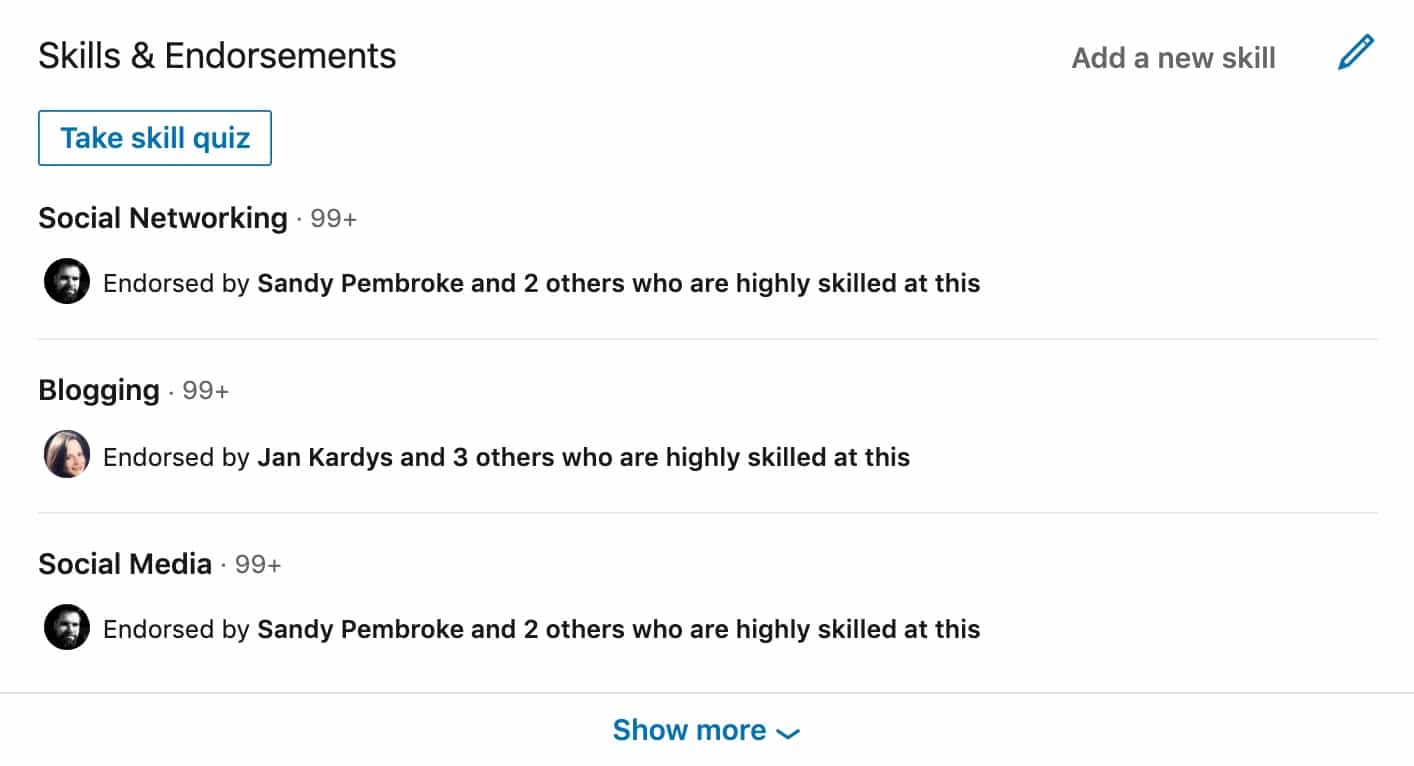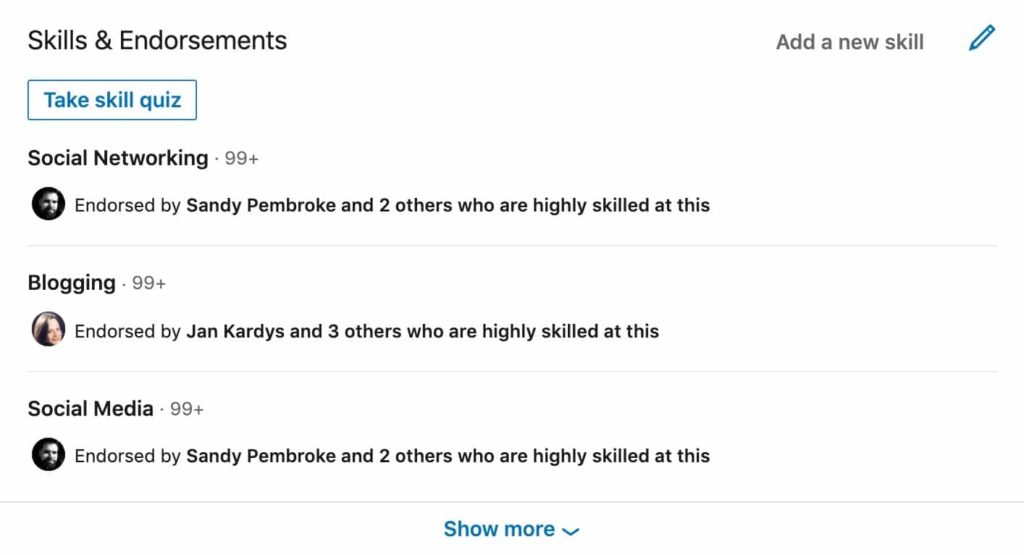 For some limited technical skills, such as Adobe products, CAD, AWS, and Google Cloud Services, and a few others, you can also take a short quiz. The skill quiz is about 15 minutes long. You can choose to show the results on your profile (or not) once you see your score.
LinkedIn 101: Accomplishments
You may also want to add some accomplishments to your profile. The items on this list will not be applicable to everyone. Only fill them out if they are relevant to you.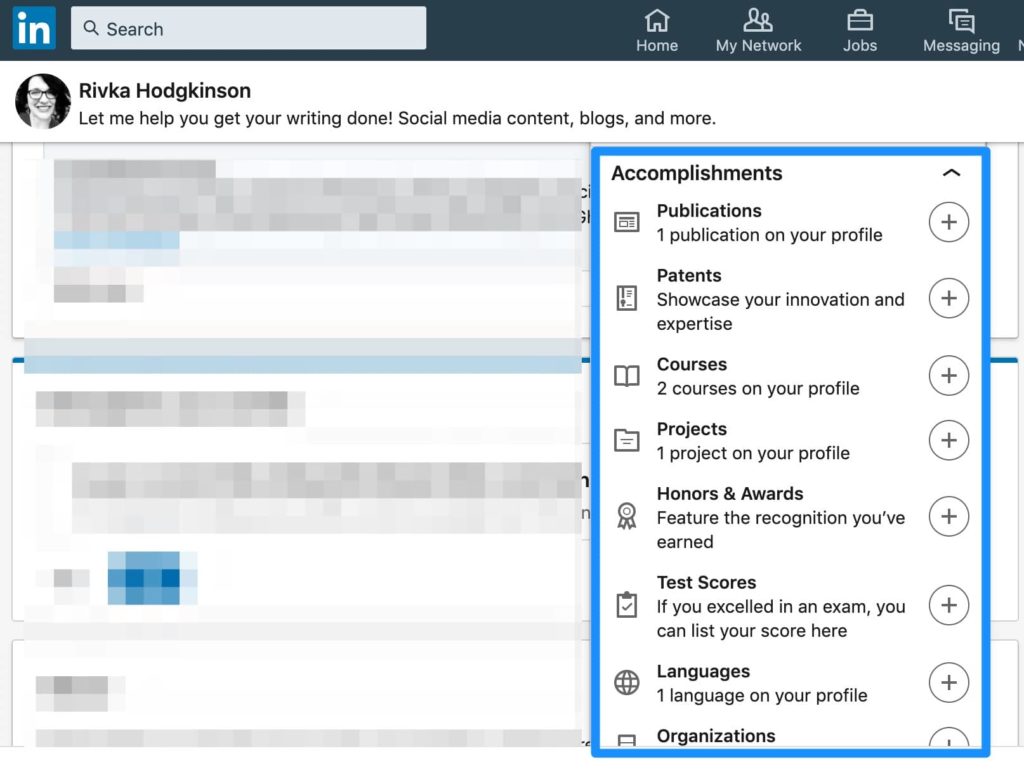 If you want to strengthen your credibility as a candidate, this section might also give you some good ideas of things to invest time in learning or doing in the future, too!
How to get recommendations on LinkedIn
The final section of your profile is getting recommendations.
Unlike the endorsements, which are primarily requested by LinkedIn, and the skills and information that you add yourself, recommendations are powerful testimonials by those you have worked with.
Many people are busy and might not think of writing a recommendation unless you ask directly. You can ask them in person if you see them regularly, but even if you do, following up with a request from within LinkedIn will make it easier for them.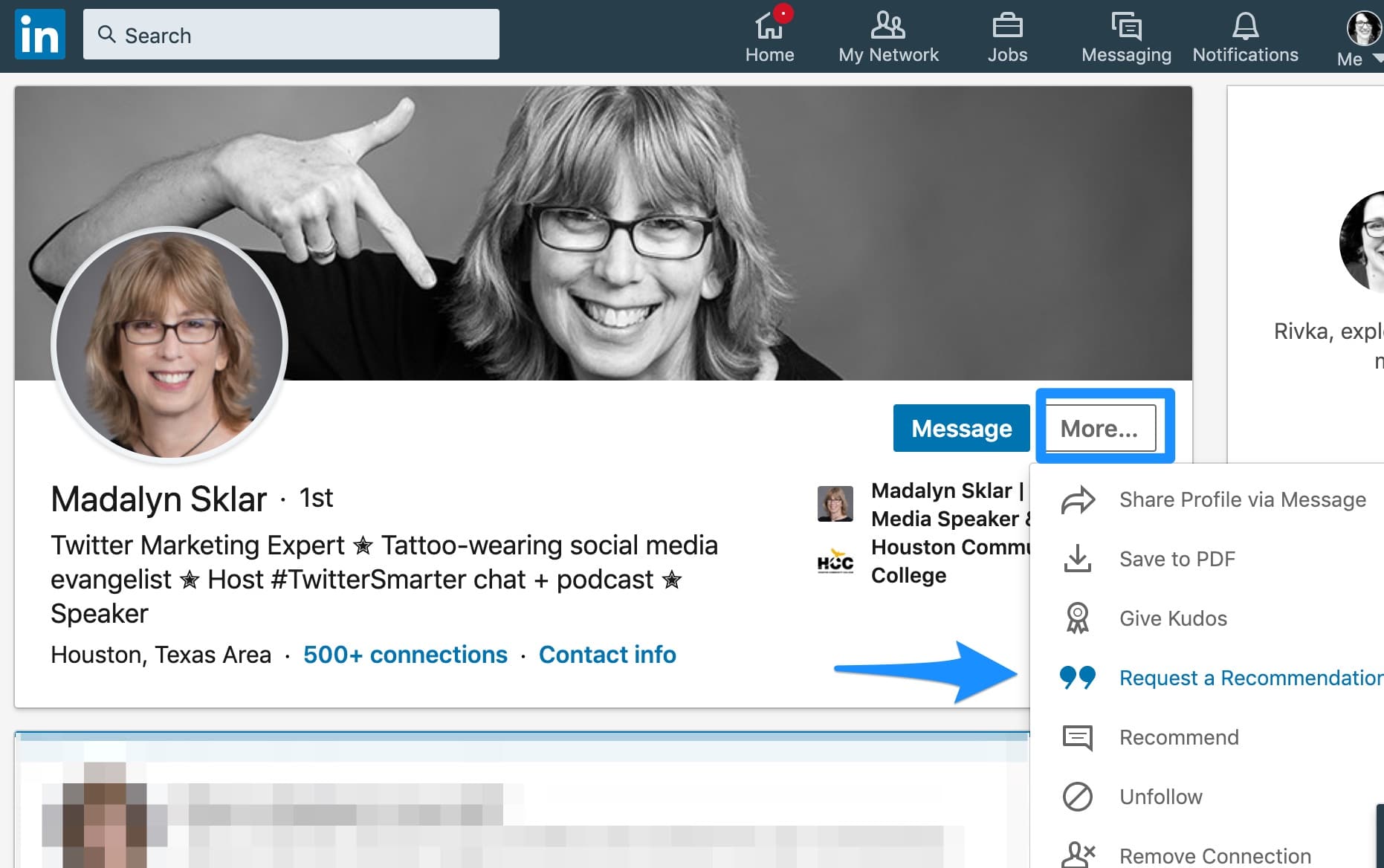 You will need to select your role and relationship with the person you are requesting the recommendation from. Then write a note asking the person for a recommendation.
Be polite, explain why you want a review from them, and thank the person for the invested time.
Do something kind for others is always a good thing. Think about the people that you have most enjoyed working with, and write a recommendation for them as well!
These recommendations are more powerful even than a testimonial on your website. These are verified to have come directly from the person making the recommendation without any edits from you.
3. How to Build a Company Page on LinkedIn
If you determine that a company page is right for you, make sure you go through this step by step process to fill it out completely. Just like your personal profile, your company page needs to be branded and complete.
Follow LinkedIn's best practices guide to make sure you get the best position in LinkedIn search results.
Once you have your page set up you can start creating content for your page.
4. Develop a LinkedIn Content Strategy That Works 
Creating regular content is a key component of being successful on any social media platform. LinkedIn is no exception.
LinkedIn also has some unique content opportunities for your accounts that are not available on other social media platforms.
So, are you ready to dive into publishing on LinkedIn?
What, when, and how long?
Is it true that longer posts do better on LinkedIn? How do you know how frequently to post, and what types of content will work best for LinkedIn? Does it matter what time of day you post on LinkedIn? 
Unlike other social media platforms, you may want to take time to write longer text-only posts. Use a variety of posts to see what works best for your audience, but some research shows that text-only posts can perform significantly better.
You can also do fun things on LinkedIn like "give kudos" that will help build community on the platform.
Do you need a step-by-step guide showing you all the places you can create content on LinkedIn? See this guide to get help on each part of LinkedIn.
Consistency is crucial.
Set a goal for yourself or your team—and make sure to stick to it (whether this is once a day or twice a week). You can also benefit from using LinkedIn Video and Publishing to create content that will be viewed by more people over a longer period of time.
When you are thinking about what time to post, consider when most people work. They are more likely to check LinkedIn during work hours rather than free time.
The worst times to post on LinkedIn will be during the sleeping hours of your target market's timezone.
Experiment and see what day and time work best to extend the reach of your LinkedIn posts and articles.
LinkedIn video
LinkedIn video is continuing to evolve. For some businesses, you may be able to qualify for the LinkedIn Live Video BETA program. For everyone else, you can choose to share links to your videos on other platforms or upload video natively to LinkedIn.
Some keys to being successful on LinkedIn video include:
Create professional videos with business in mind
Provide helpful useful content rather than a sales pitch
Create videos regularly
Make the videos as accessible as possible by including subtitles
Promote your videos through multiple channels including in groups, through private messages to select individuals, and in your feed
LinkedIn publishing
Should you take advantage of LinkedIn Publishing? What are the pros and cons? How can you best get views on your published content? 
If you are already creating blogs or long-form content as part of your content marketing strategy, LinkedIn is a perfect place to expand your reach. You can put your entire blog post on LinkedIn Publishing and link it back to the original on your own site.
You can also embed videos on your Publishing posts. One way to easily come up with content for new posts is to start from a video you have already created and expand on it in written form.
Once you create new articles, share them throughout LinkedIn to get more reach and readers.
Should you use hashtags?
Hashtags are a relatively new feature on LinkedIn. They are becoming an ever more important way that content is categorized and searched on LinkedIn. Research shows that you will get more impressions on your content when you use hashtags than without.
When choosing hashtags for your posts, articles, and videos, be sure to:
Make all hashtags relevant to your audience and your content
Only use professional hashtags
Search the hashtags you are considering to see what other types of content is using those hashtags (and if there are other ideas of additional hashtags to use)
Target your hashtags to the few that are the best fit rather than a long string of hashtags
Tip: Use LinkedIn analytics to create social content that resonates with your audience and helps establish greater engagement on LinkedIn.
5. LinkedIn 101: Metrics
To find out whether all the time, energy, and money you've poured into your LinkedIn strategy, you'll have to dig in through LinkedIn metrics.
Using Agorapulse, you can find out about:
LinkedIn audience growth metrics
LinkedIn audience demographic metrics
Impressions metrics
Reached Users metrics
Engagement metrics
Content metrics
Conversion metrics
Recommendations
You can find out more about LinkedIn metrics.
6. LinkedIn 101: Advertising Basics 
Once you have everything else set up, you can further optimize your results through LinkedIn ads.
Determining your goals for your advertising will impact what type of ad you choose, and the budget that you set for your advertising. For example, if your primary goal is to build new leads then you may want to use Lead Ads.
If you more broadly want to find new B2B prospects through your content marketing, then you may want to use sponsored content.

LinkedIn has a wide variety of ad types to choose from. Take some time to review your goals with your team, client, or supervisor to choose which ones are best for you.
In Conclusion
Are you getting more excited about all the possibilities of LinkedIn? What are your next steps on this platform?
Build a company page.
Start creating content.
Try LinkedIn Video.
Write LinkedIn Publishing articles.
Use advertising to promote your business.
Take control of your social media! Check out our free trial of Agorapulse to help you schedule, track, and measure all your social media efforts.