With more than 930 million members across the globe, LinkedIn is the social media channel for professional networking and B2B marketing. But LinkedIn often gets downplayed in favor of newer, shinier social media networks. The reality is that LinkedIn has tons of powerful tools for creators and companies alike.
Ready to find out why LinkedIn is the ideal place to build your professional profile and market your business?
Here's your complete LinkedIn 101 guide.
LinkedIn 101: Member Profiles
A LinkedIn profile is your ticket to establishing your own professional presence.
With a LinkedIn profile, you can:
Create a digital resume that includes your work experience, certifications, and recommendations
Market your social media management services by connecting with colleagues and using marketplace tools
Establish yourself as a thought leader by sharing expert advice, participating in groups, and hosting events
Although LinkedIn profiles are meant for personal rather than business use, you need one if you plan to market your clients or company.
To create or manage a LinkedIn company page, you must have a LinkedIn profile.
LinkedIn profile photo and banner image
Since your LinkedIn profile is a tool for professional networking, choose a profile photo that reflects you in a professional environment. Headshots with minimally distracting backgrounds tend to work best.
Agorapulse co-founder Emeric Ernoult sets a great example: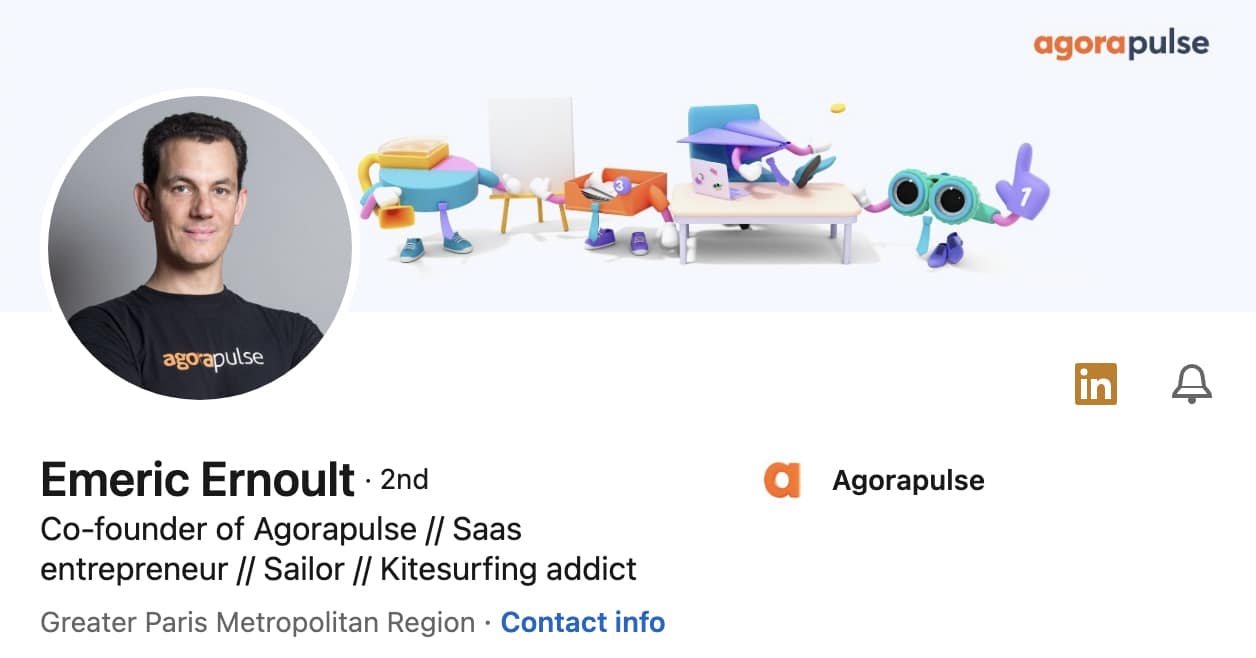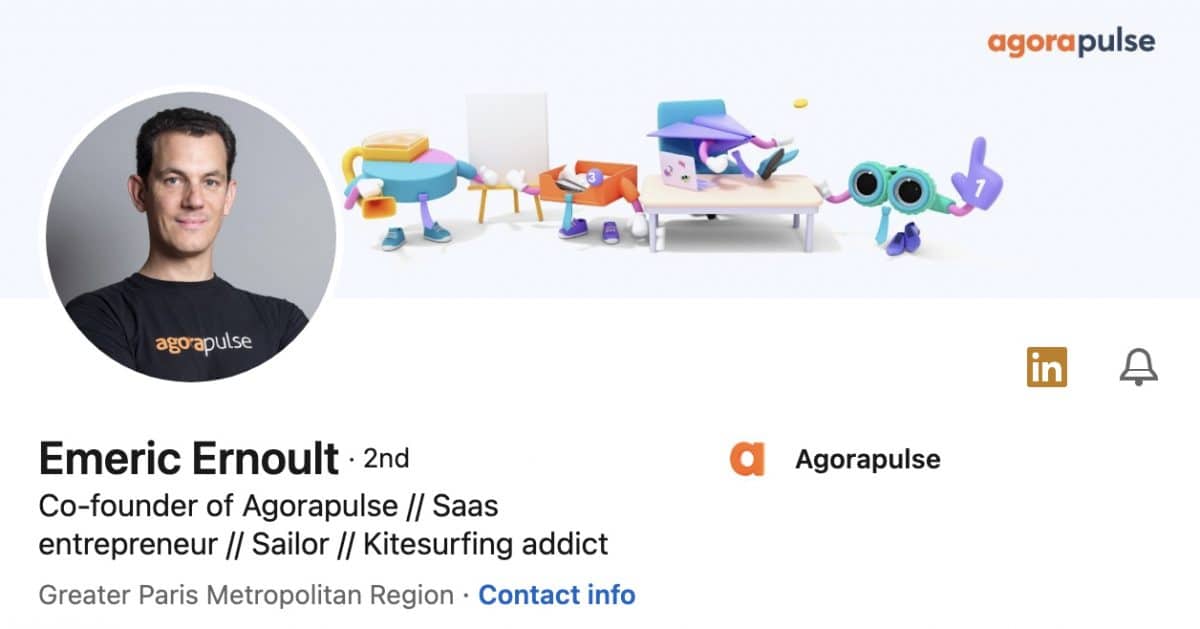 Keep in mind that LinkedIn profile photos should measure 400 x 400 pixels. If yours needs cropping or touching up prior to uploading, use the LinkedIn mobile app to access built-in editing features. You can crop, filter, and adjust your profile photo to perfection.
Next, choose a banner image (1584 x 396 pixels) that reflects your professional career. If you own a business or work for a company you love, it's a great idea to capture that in this space.
LinkedIn headline
Having a compelling headline is important because this line of text appears directly under your name and profile photo everywhere on LinkedIn. Every time you publish a post, comment on a client's live video, or contribute to a group, your headline appears.
With a limit of 220 characters, LinkedIn headlines have to be short and sweet. You can use this space to list your job title or highlight the value your professional expertise provides—as concisely as possible.
Agorapulse CMO Darryl Praill sets a great example: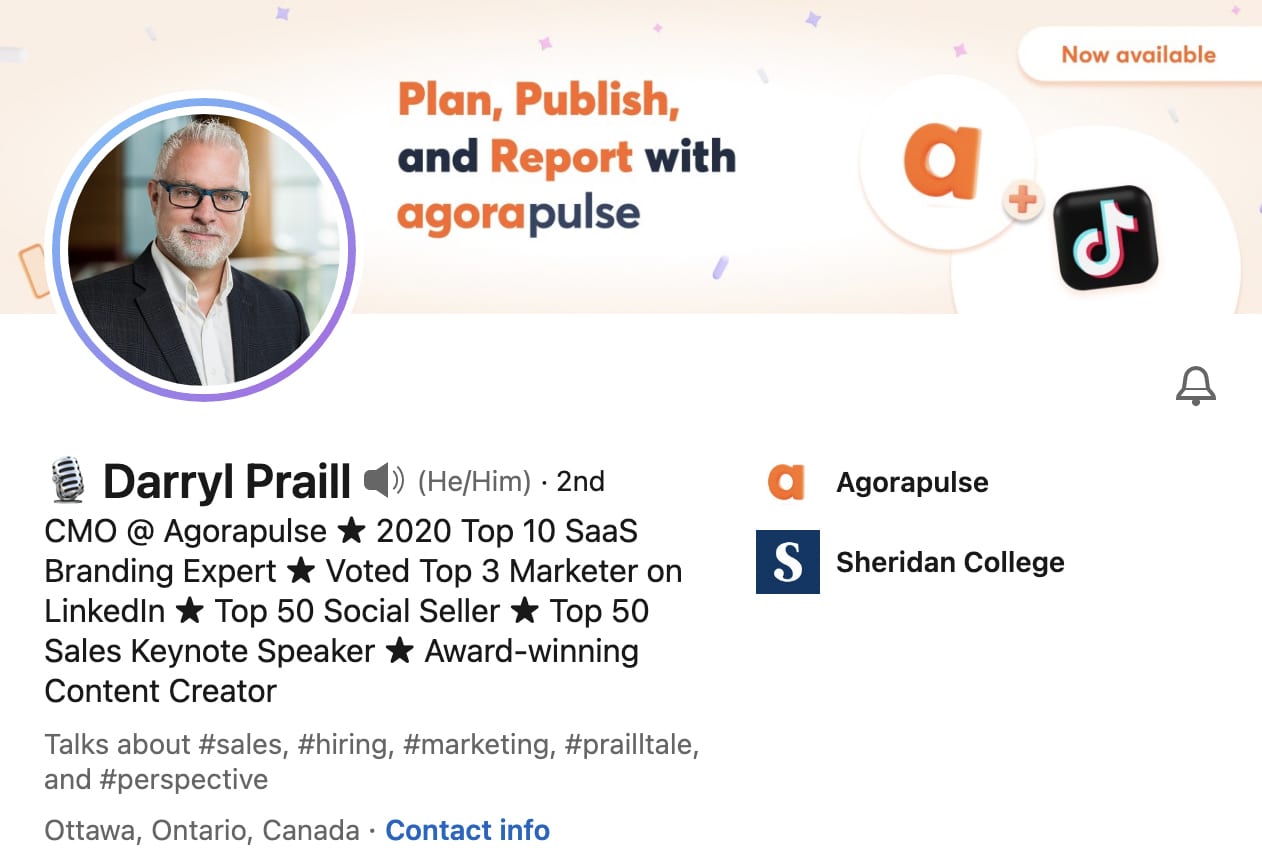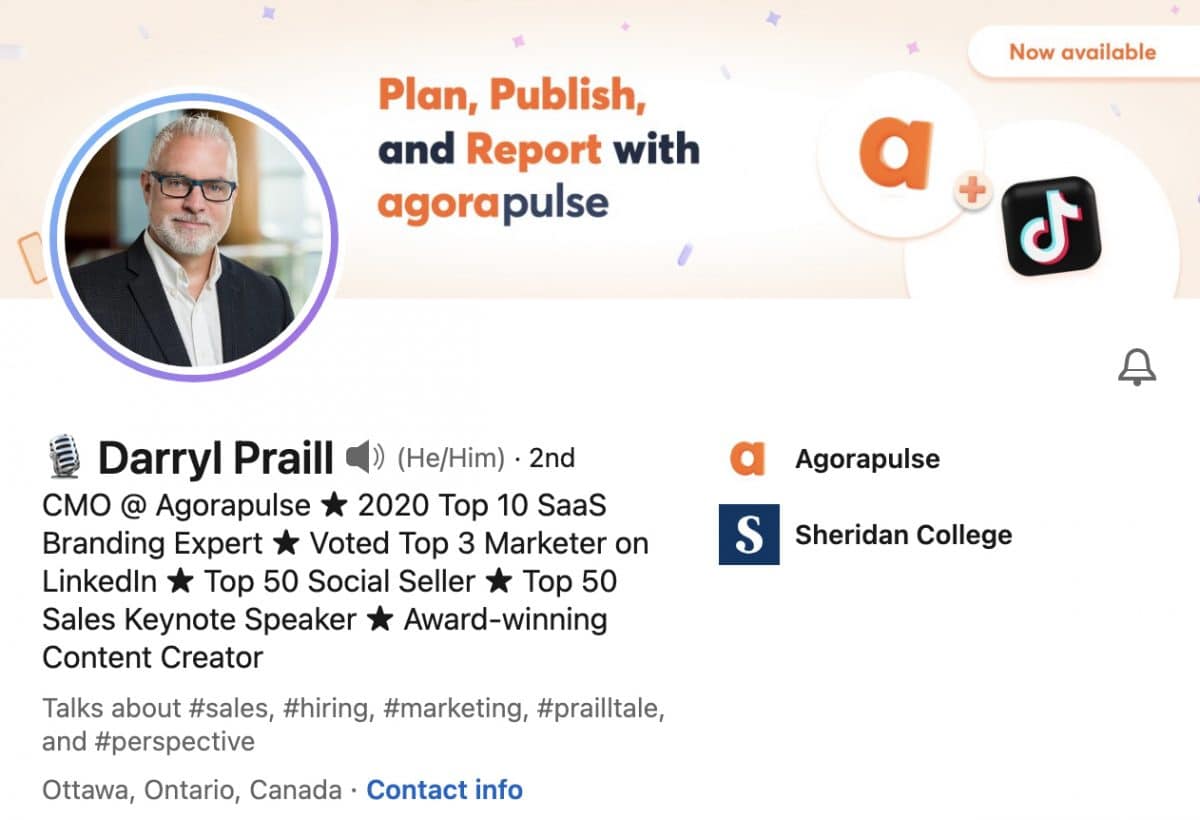 Have more to say than you could possibly fit into 220 characters? LinkedIn profiles also have an about section that supports up to 2,600 characters. In addition, you can detail all of your professional experience, certifications, and education in designated sections.
LinkedIn creator mode
LinkedIn regularly rolls out tools that help you do more with your personal profile. But in most cases, you can only access these tools if you switch on LinkedIn's creator mode.
To turn on this mode, open your profile and look for the Resources panel. If it doesn't show a green On button, switch it on.


Then take some time to explore the available tools. With creator mode, you can allow LinkedIn members to follow you rather than requesting personal connections—which can help you build an audience quickly.

Creator mode also lets you add up to five topics that appear on your profile and tell members about your areas of expertise. In addition, creator mode gives you access to LinkedIn tools like newsletters and audio events.
LinkedIn 101: Company Pages
With a LinkedIn company page, you can promote your business, attract new customers, and use the platform's advertising tools.
A company page gives you access to:
Publishing tools that let you create posts, articles, and events for your business
Lead forms that you can use to find new prospects and clients
Employee advocacy tools that you can use to share messages widely
Company logo and header image
Your company page logo should give customers and prospects an easy way to identify your business or clients on LinkedIn. Use an image file that measures 400 x 400 pixels and that looks great displayed as a square (i.e., not in the circle format that most platforms use).
You've got a few options for your organization's header image (1,128 x 191 pixels). On the one hand, you can choose something evergreen that perfectly captures your business and that doesn't need to be updated frequently (or ever).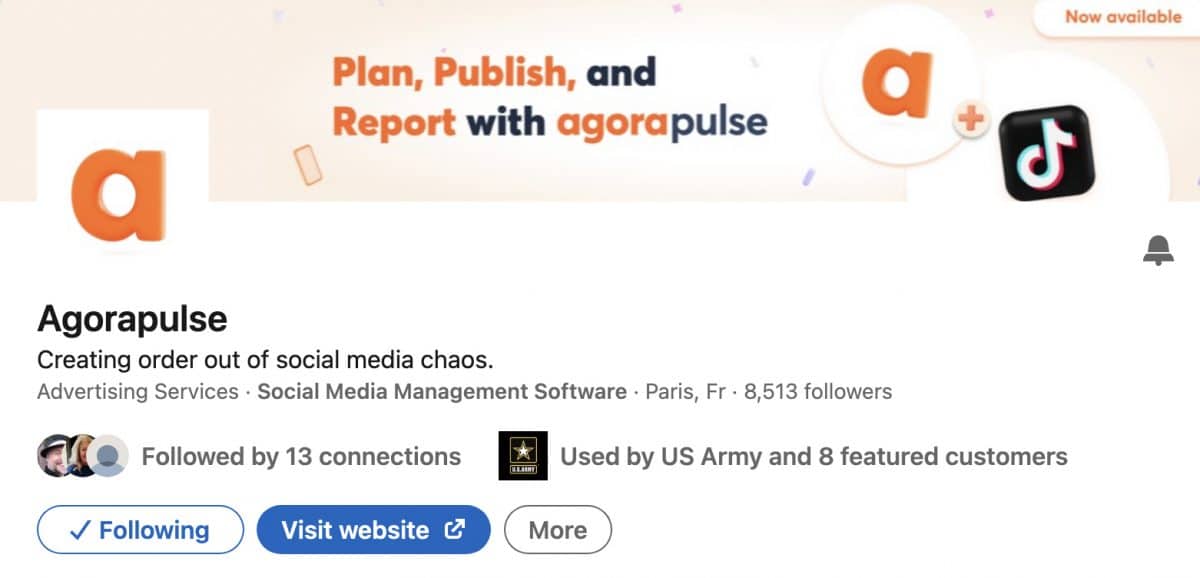 On the other hand, you can choose a banner image that reflects your organization's current initiatives—such as your newest product, an upcoming event, or major company news. As you can see, Agorapulse uses the latter option to highlight new updates like the tool's TikTok integration.
Company headline and custom button
Similar to LinkedIn profiles, company pages have space for a brief headline that tells customers what the business is all about. This space is the perfect spot for your company tagline or another concise statement that summarizes the business.
Next, add an external link to your header. For example, you can add a link to your company's homepage, contact form, or lead generation offer. Switch on the custom button option for your company page to add a call-to-action to the header.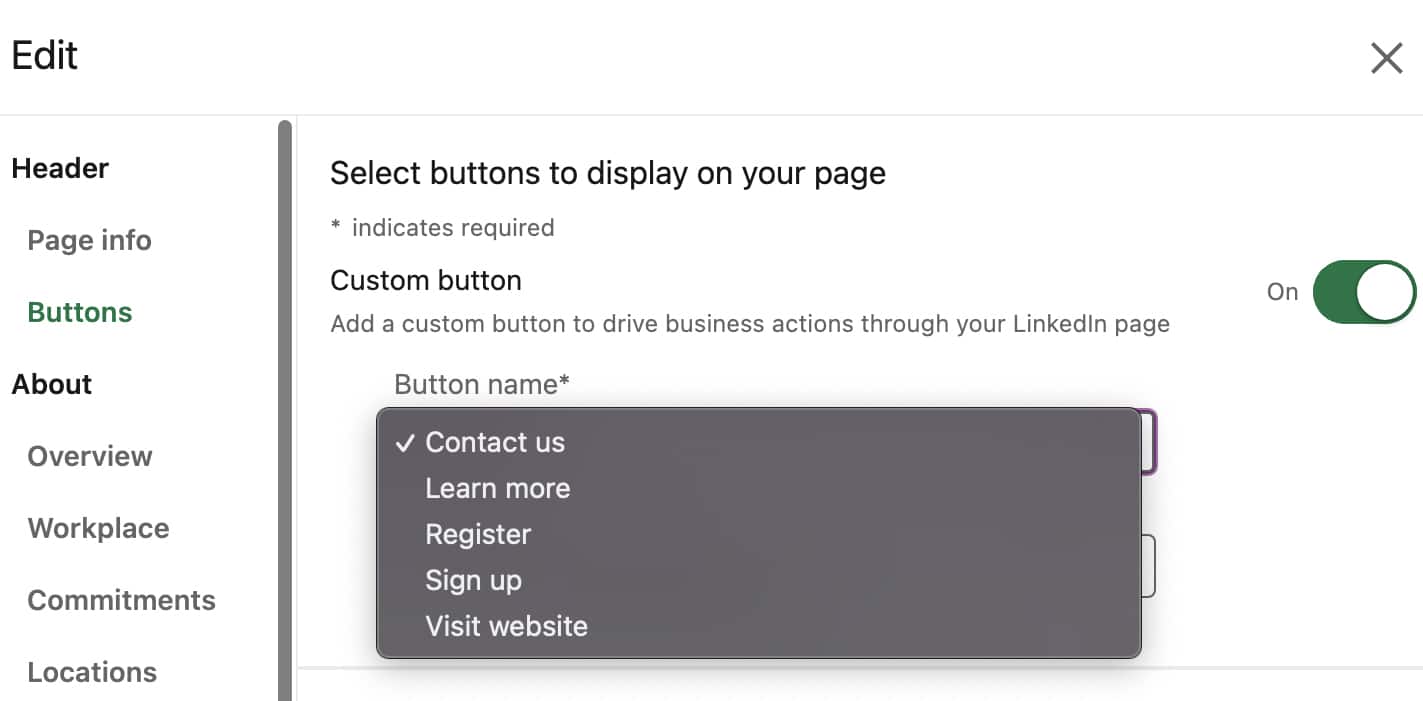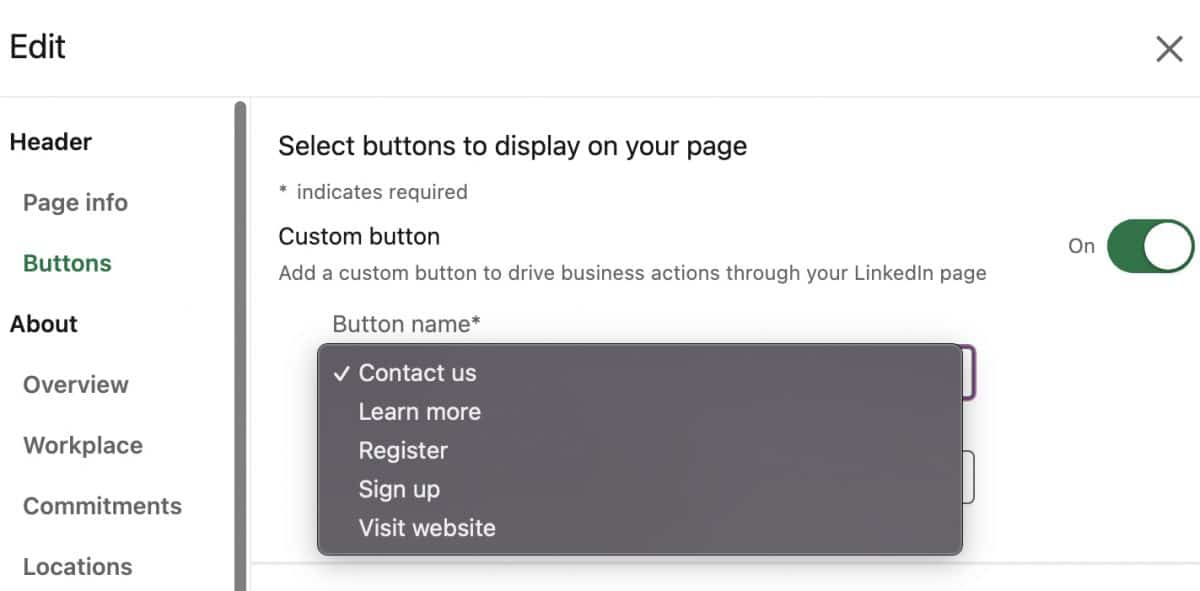 Depending on your industry and offerings, your company page may get access to additional tools. For example, software as a service (SaaS) companies can highlight products and spotlight featured customers on their company pages.
LinkedIn Business Manager
Whether you work with multiple clients or you manage contractors for your company, LinkedIn Business Manager can help you access all the company pages you need to manage.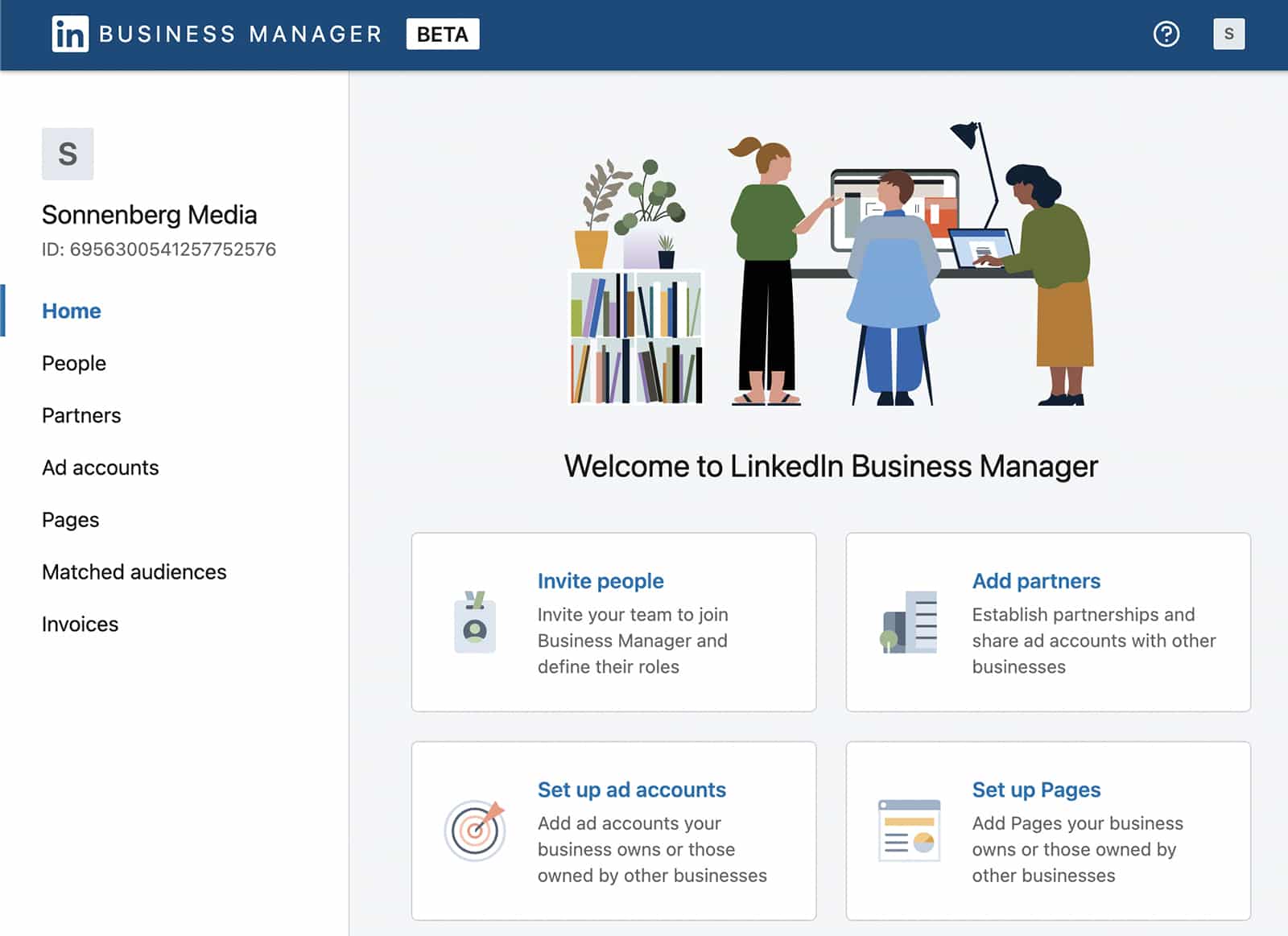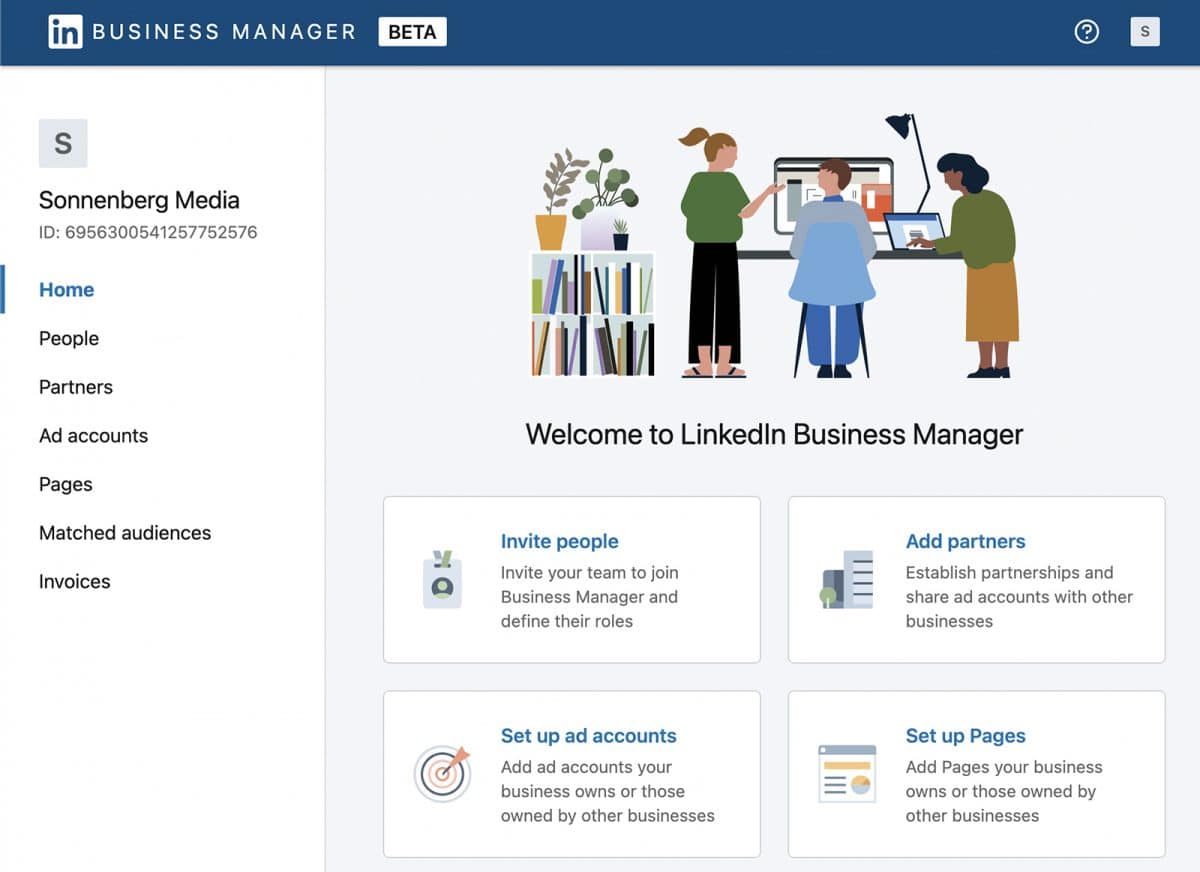 For example, you can use Business Manager to invite team members to manage your LinkedIn page and set their access levels. You can also request access to a client's company page through Business Manager.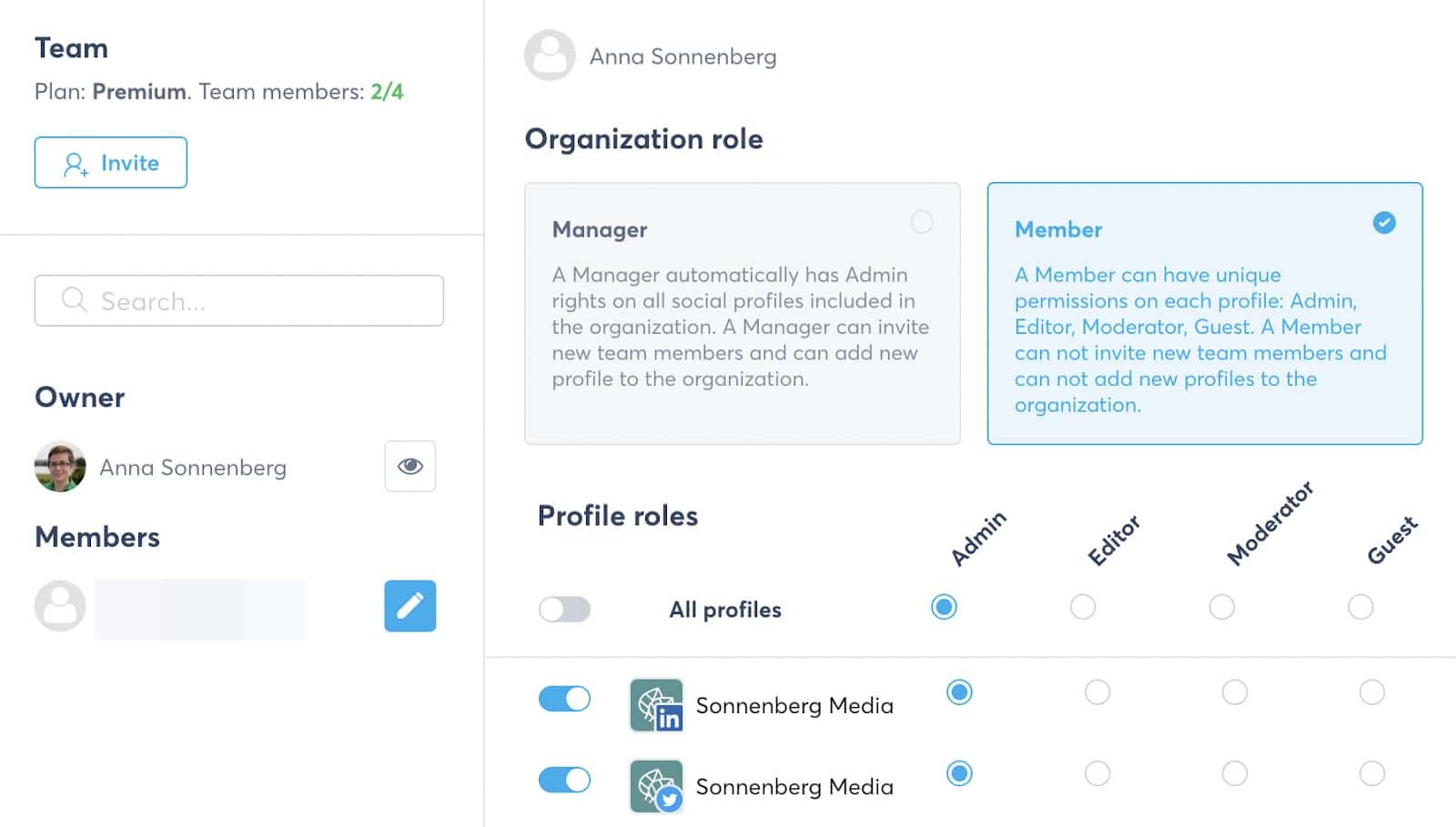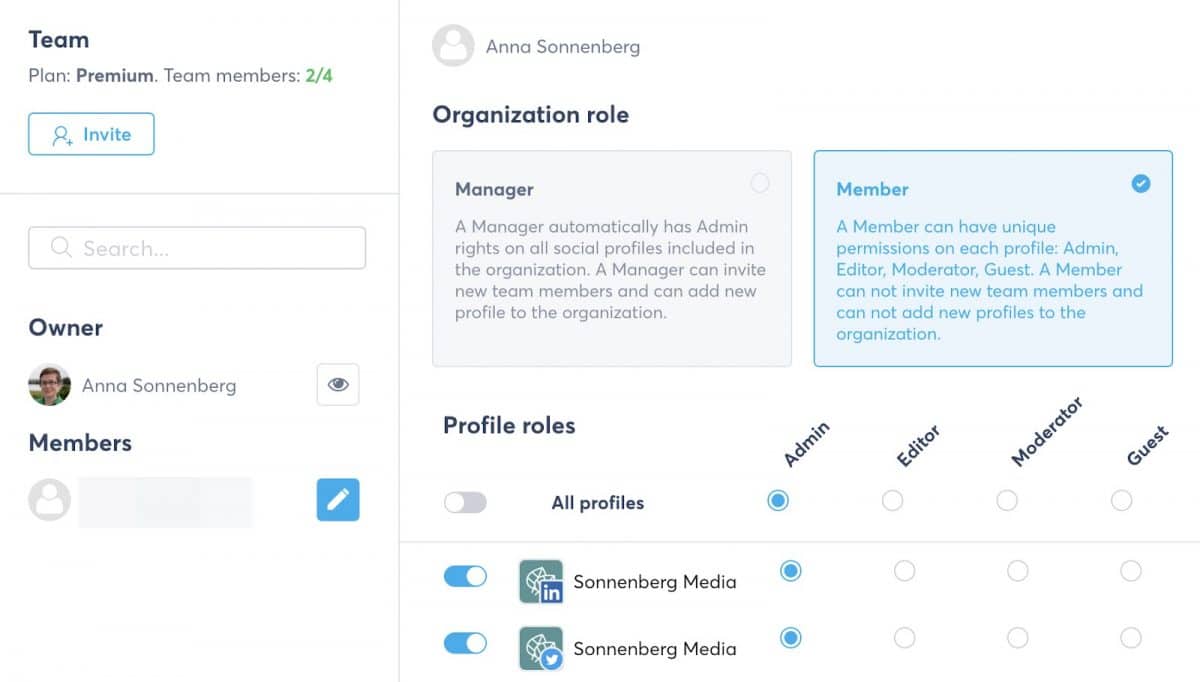 Have your clients or team members not switched over to Business Manager yet? You can always add LinkedIn company pages to your Agorapulse account and set permission levels directly in the dashboard.
Showcase page
In many cases, a company page is all you need for organic business marketing on LinkedIn. But if your company or clients have multiple brands or business units, you may want to use LinkedIn's showcase page option.
Showcase pages are structured like company pages, and they have the same publishing and analytics capabilities. But showcase pages are linked to your company page, essentially allowing you to spotlight unique initiatives.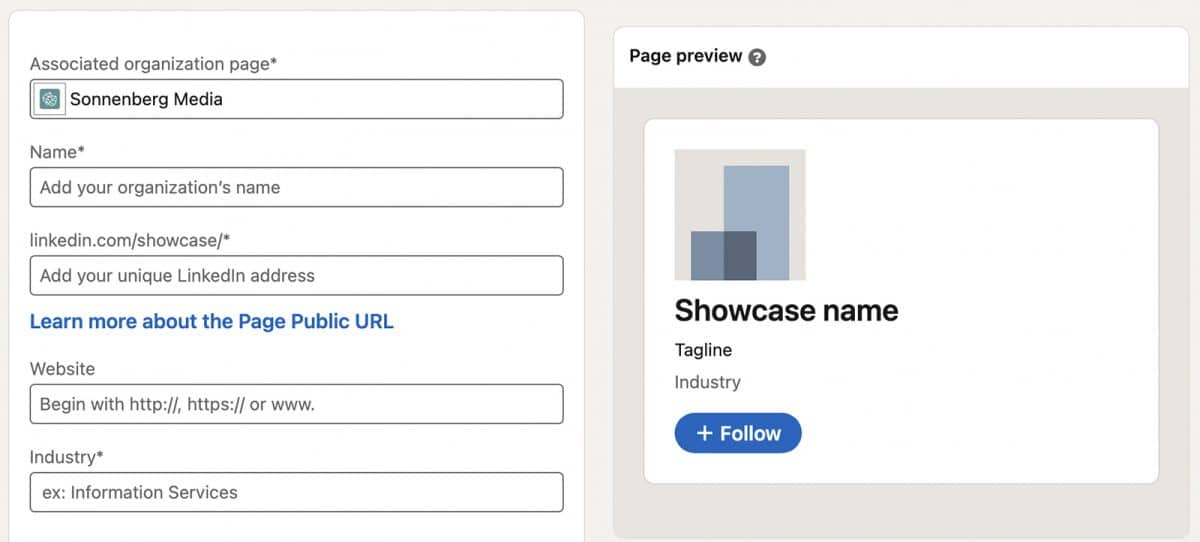 To create a showcase page, you first need a company page. Then open the admin tools menu for your company page and select the Create a showcase page option.
Sign up for a FREE demo right now!
LinkedIn 101: Content Plan
Once you've set up a member profile and a company page, you're ready to implement your content plan. Not sure what to post on LinkedIn?
Here's a look at the content formats and tools that LinkedIn supports.
You can post all from a company page or member profile, and you can publish most via Agorapulse.
Text posts
Some of the most compelling and most successful posts on LinkedIn include text only—with no links or creatives in sight. Text posts are ideal for thought leadership, and they can also work well for sharing step-by-step guides to your target market's biggest problems.
Text posts can include up to 3,000 characters. But if you opt for long-form content, make sure to add line breaks or emojis to boost readability. Adding hashtags can also help with providing context. LinkedIn recommends adding no more than three hashtags per post.
Image posts
Want to illustrate your point? You can add up to nine photos or graphics to a LinkedIn post. Image posts are ideal for sharing behind-the-scenes content, covering events, and bringing a human element to your page or profile.
They're also great for creating mini photo albums, just like in the Agorapulse post above. Note that LinkedIn may automatically publish some photo posts as grids and others as carousels.
Video posts
Although LinkedIn may not be the short-form video hotspot that other social media platforms have become, it's still a smart place to test out video content. LinkedIn supports a wide range of video aspect ratios—from 16:9 to 9:16—giving brands a lot of space for experimentation.
What kinds of video content should you post on LinkedIn? Think team introductions, case studies, customer stories, and thought leadership. No matter what format you choose, aim to add captions to improve accessibility.
Post templates and stickers
If you want to create mobile-first content for your audience, short-form video is a great option. But LinkedIn also offers a new content format that you can only create and publish through the platform's mobile app.
LinkedIn post templates essentially let you add text to your choice of colorful or patterned backgrounds. Then they display as images in the post. Because the character count is on the small side, post templates are best for bold statements or intriguing questions that you want to highlight in the feed.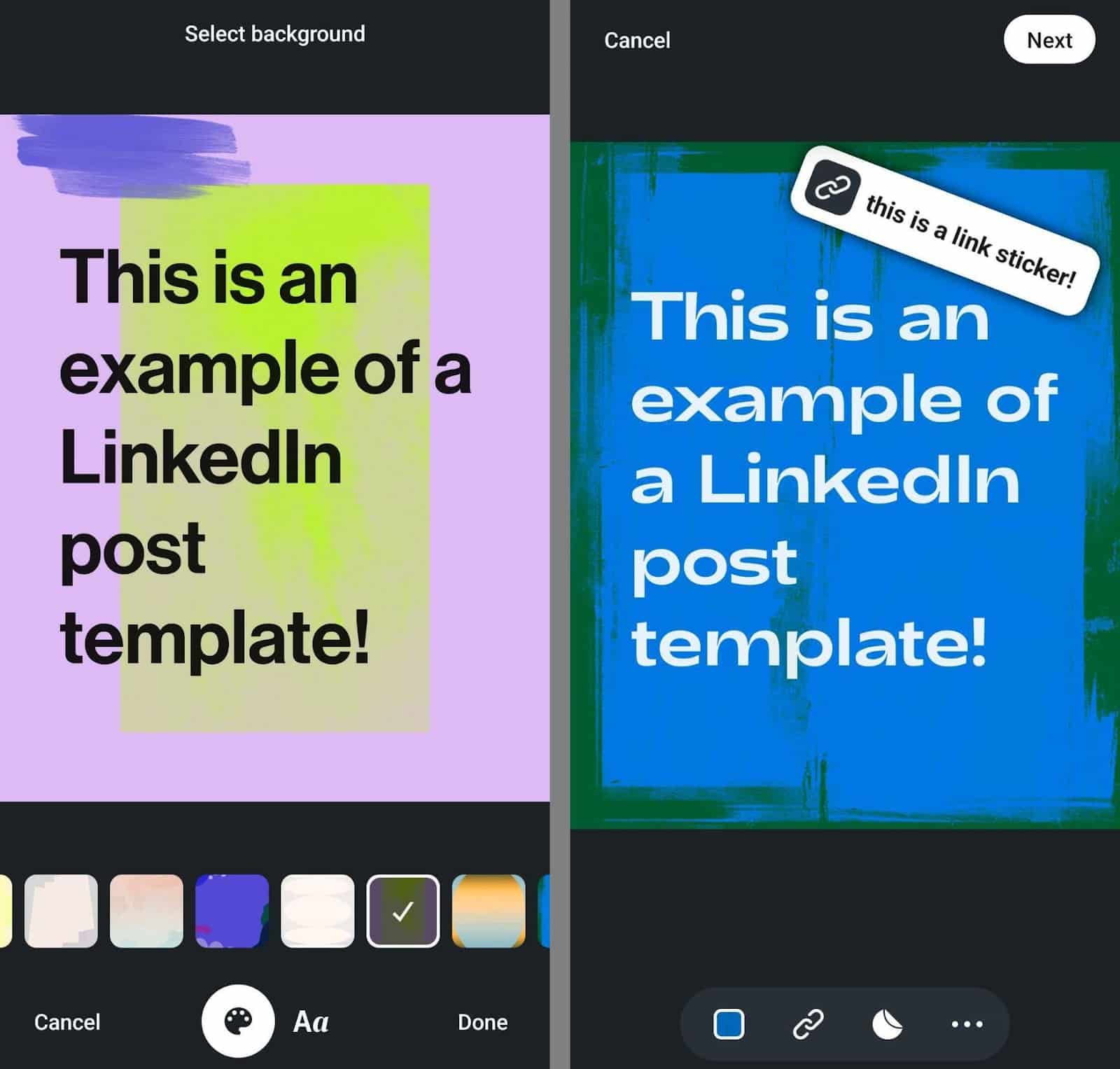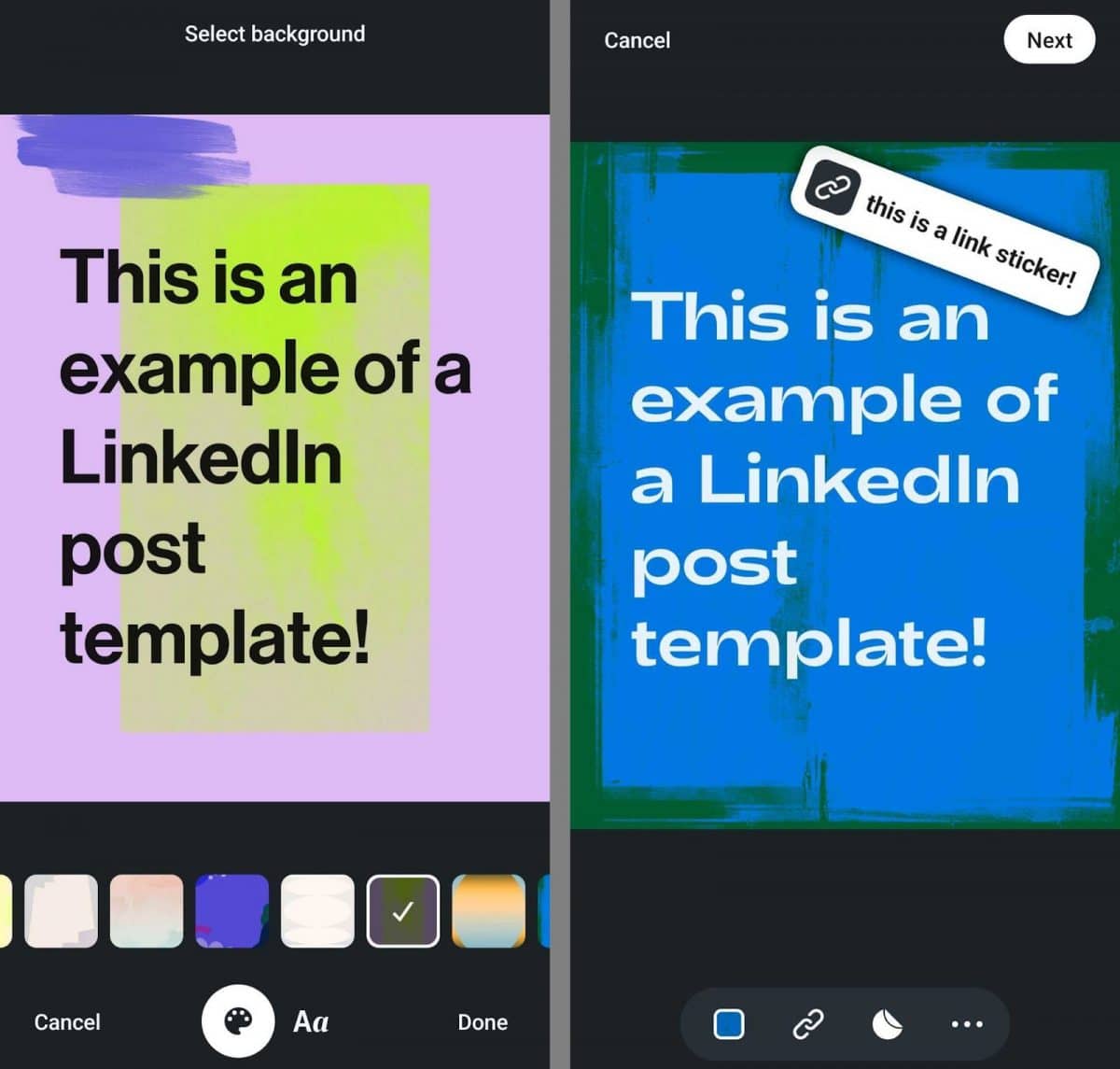 Want to add extra information or a call-to-action (CTA) to your post? Add a link sticker to your post template. It gives mobile users an easy way to tap for more information, and it also works for desktop users.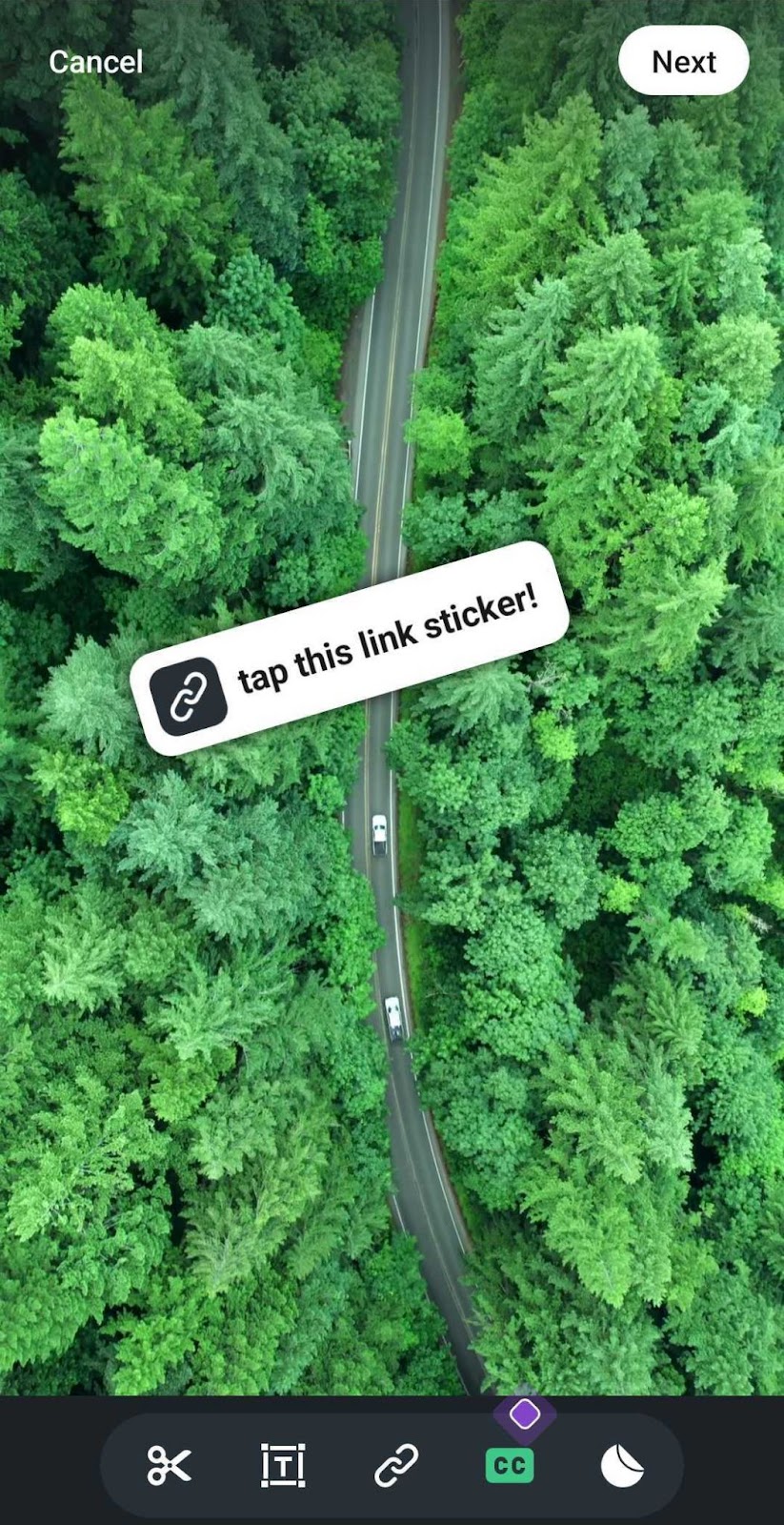 LinkedIn's link stickers also work with images and videos, as long as you upload them via the mobile app. With link stickers, images and videos have much more potential for driving traffic to your website.
Link shares
Have an important resource to share? Link stickers certainly aren't your only option. You can add URLs directly into LinkedIn captions. Since LinkedIn doesn't deprioritize content with links the way some other social media platforms do, you can easily share external resources with your audience.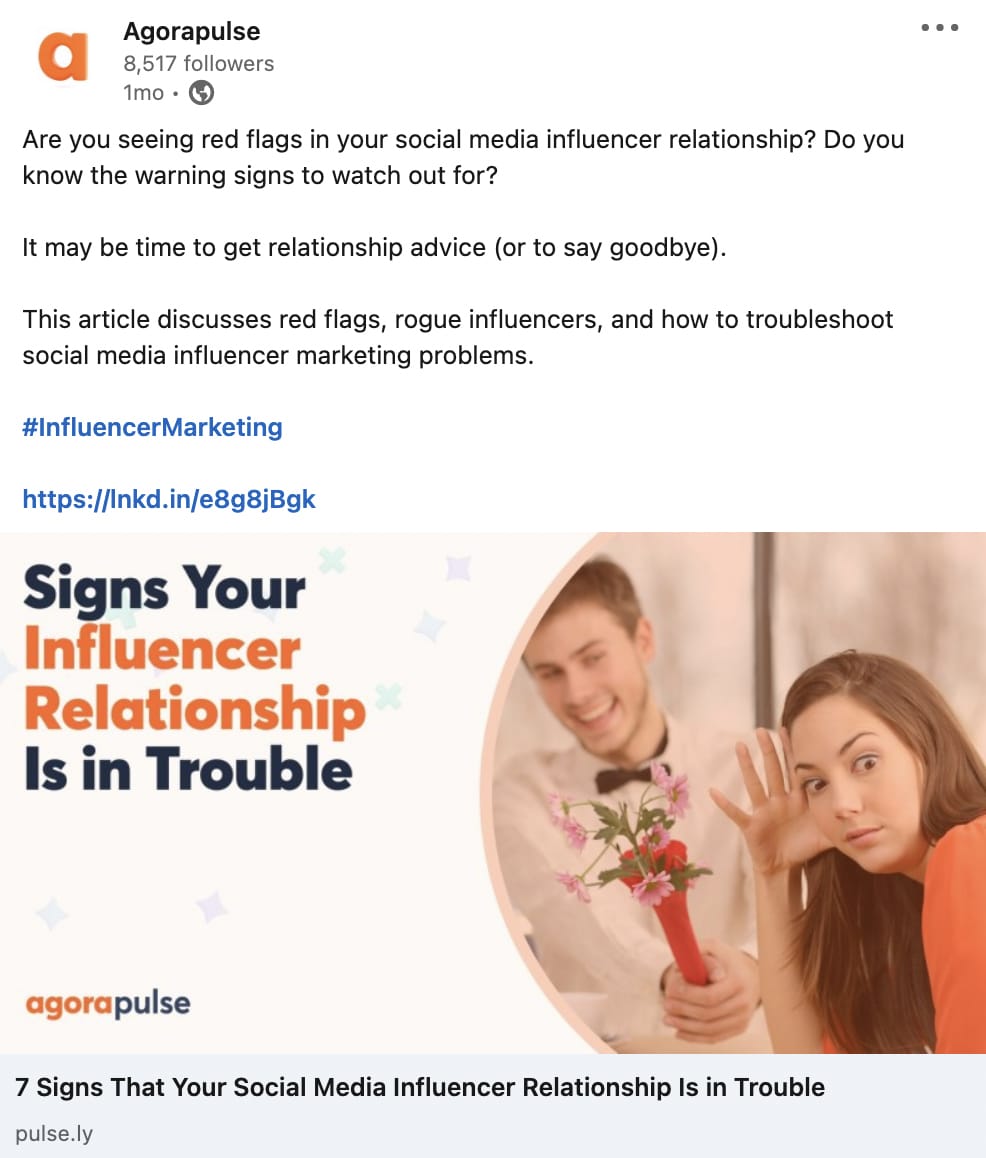 For example, you can link to relevant blog posts, upcoming events, exclusive resources, or product and service pages. LinkedIn automatically generates website cards based on the content of the link—so you don't have to worry about adding creatives.
Documents and carousels
Want to break down a complex topic and make it more relatable for your audience? LinkedIn documents and carousels feature multiple slides that members can scroll through, making them great for educational content.
Although they're pretty similar, there are a few key differences between the two. Documents can include up to 300 pages of text and graphics, and they're downloadable. Carousels support up to 20 mixed media slides, including photo and video.
Articles and newsletters
Can't fit everything you have to say in a single LinkedIn post? With LinkedIn articles, you can essentially write and publish blog posts directly to the platform. In fact, you can republish—or syndicate—your existing blog posts to LinkedIn articles.
LinkedIn articles support over 100,000 characters, and they allow mentions, hashtags, media, and external links. Once you publish a LinkedIn article, you, your team, or your clients can share it from a company page or member profile to expand the article's reach.
LinkedIn members and company pages can also publish a series of articles via LinkedIn newsletters. You can invite connections and followers to subscribe to your newsletter, which can be great for growing your audience and distributing content more widely.
Polls
Want to do some informal market research or find out how your audience feels about a hot topic? With LinkedIn polls, you can ask questions and give members up to four answers to choose from. Members always have an option to write a custom reply in the comments.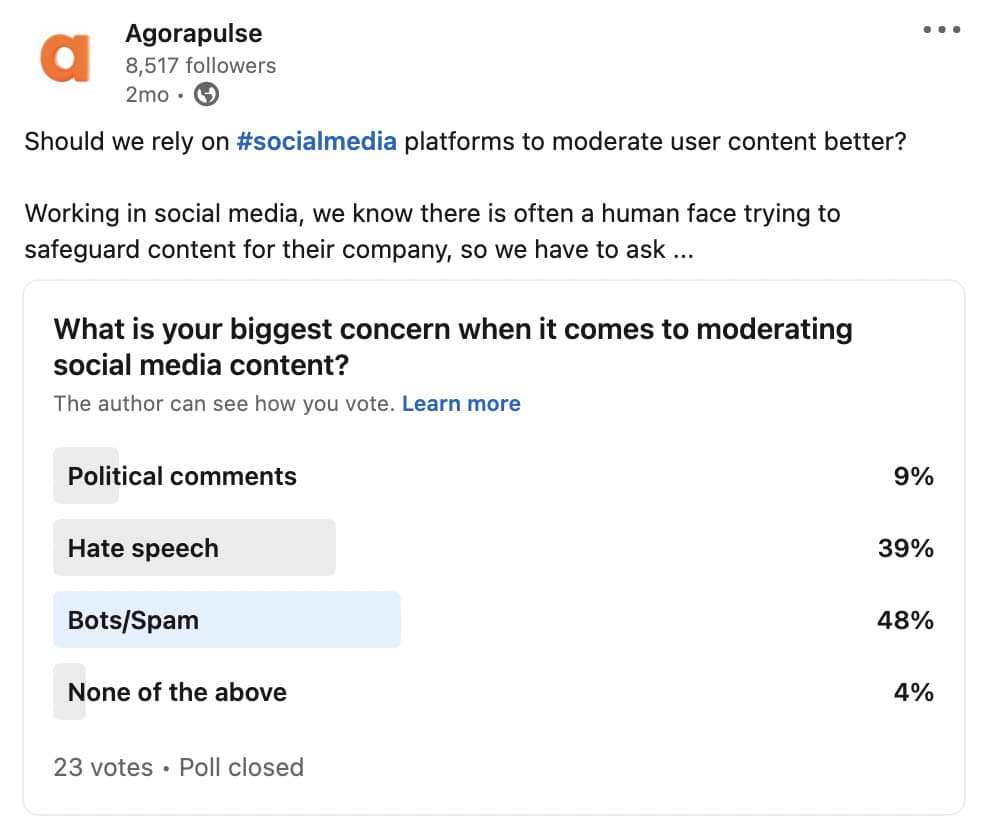 When the poll ends, you can review the results to better understand your audience. If you ask your audience questions about content topics or areas they'd like you to cover, you can use their responses to guide your content plan.
LinkedIn Live
From webinars and masterclasses to conferences and panel discussions, LinkedIn Live lets you connect with your audience in real time. LinkedIn Live events can also be helpful for nurturing leads, since they let you download a list of attendees after the event.
If you'd rather skip the camera and focus on the conversation, LinkedIn also offers audio events. These events are great for hosting talks with your audience, sharing thought leadership, and engaging followers—especially since you can invite them to speak too.
LinkedIn 101: Analytics
LinkedIn offers analytics for company pages and personal profiles so you can identify exactly what's driving results for you, your business, and your clients.
Profile analytics
Want to see a general overview of your LinkedIn metrics? If you've turned on LinkedIn's creator mode, you can see combined analytics for all your posts. You can view content performance over various time periods and compare it to previous periods to see if you're successfully improving your approach and reaching a wider audience.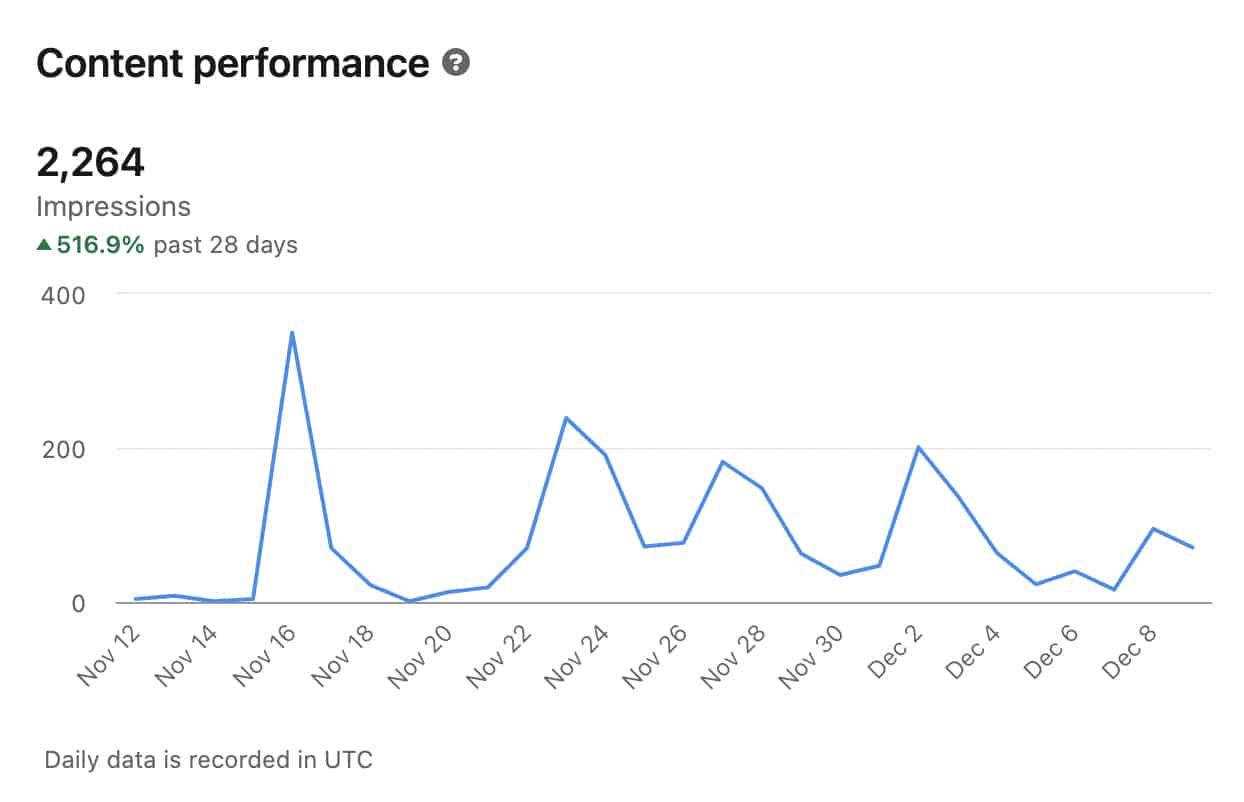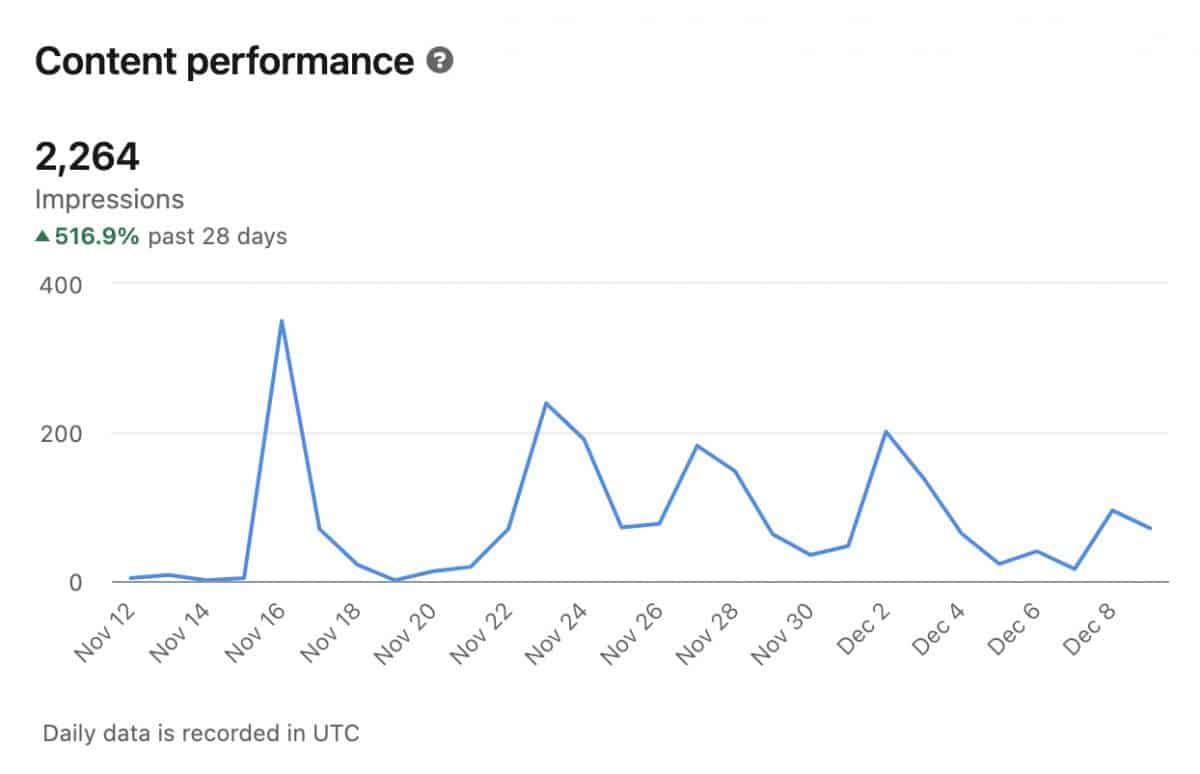 If you use creator mode, LinkedIn also highlights your top-performing posts so you can easily see what's generating results. In addition, you can click to view deeper insights for any post from your personal profile—including an engagement breakdown.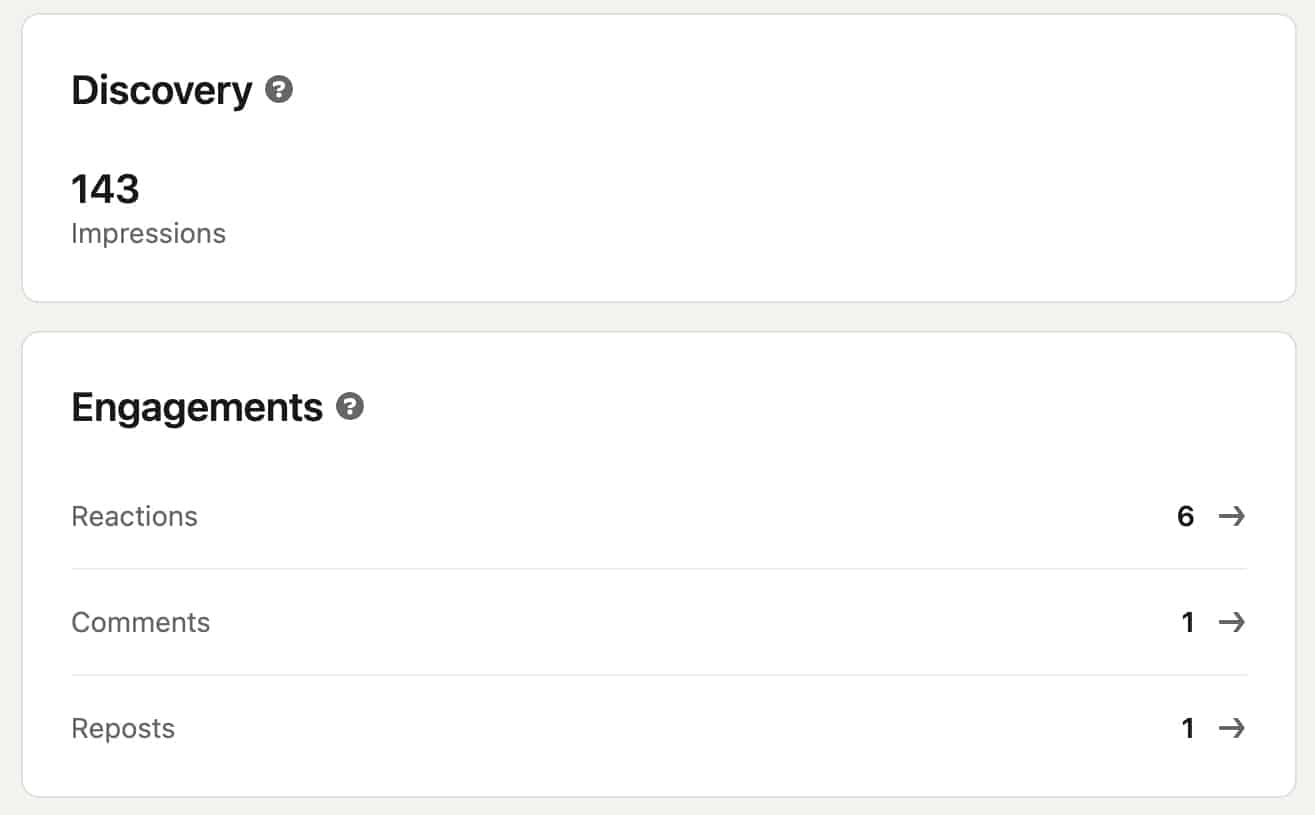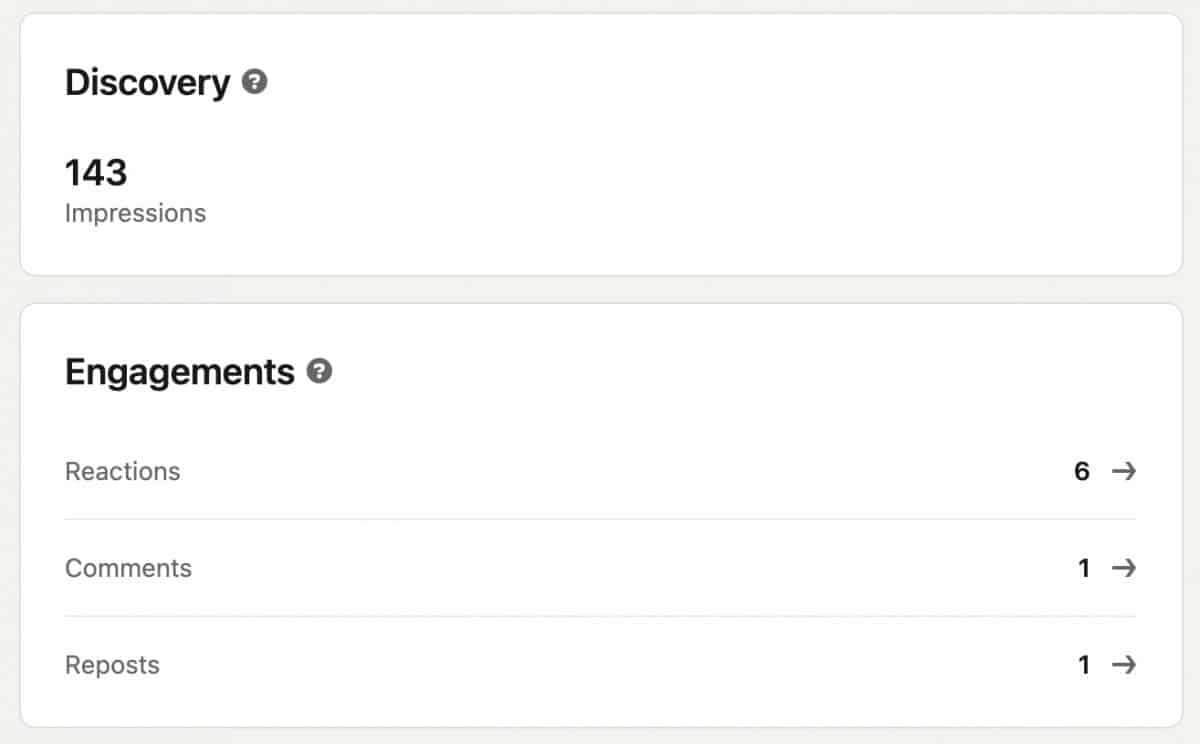 Curious who's viewing your posts? LinkedIn reveals the top demographics your post reached. With this data, you can make sure your content is truly reaching the right people.
LinkedIn company page analytics
LinkedIn company page analytics show similar data at the post level. In addition to discovery metrics (i.e., impressions), you can see an engagement breakdown for each company page post.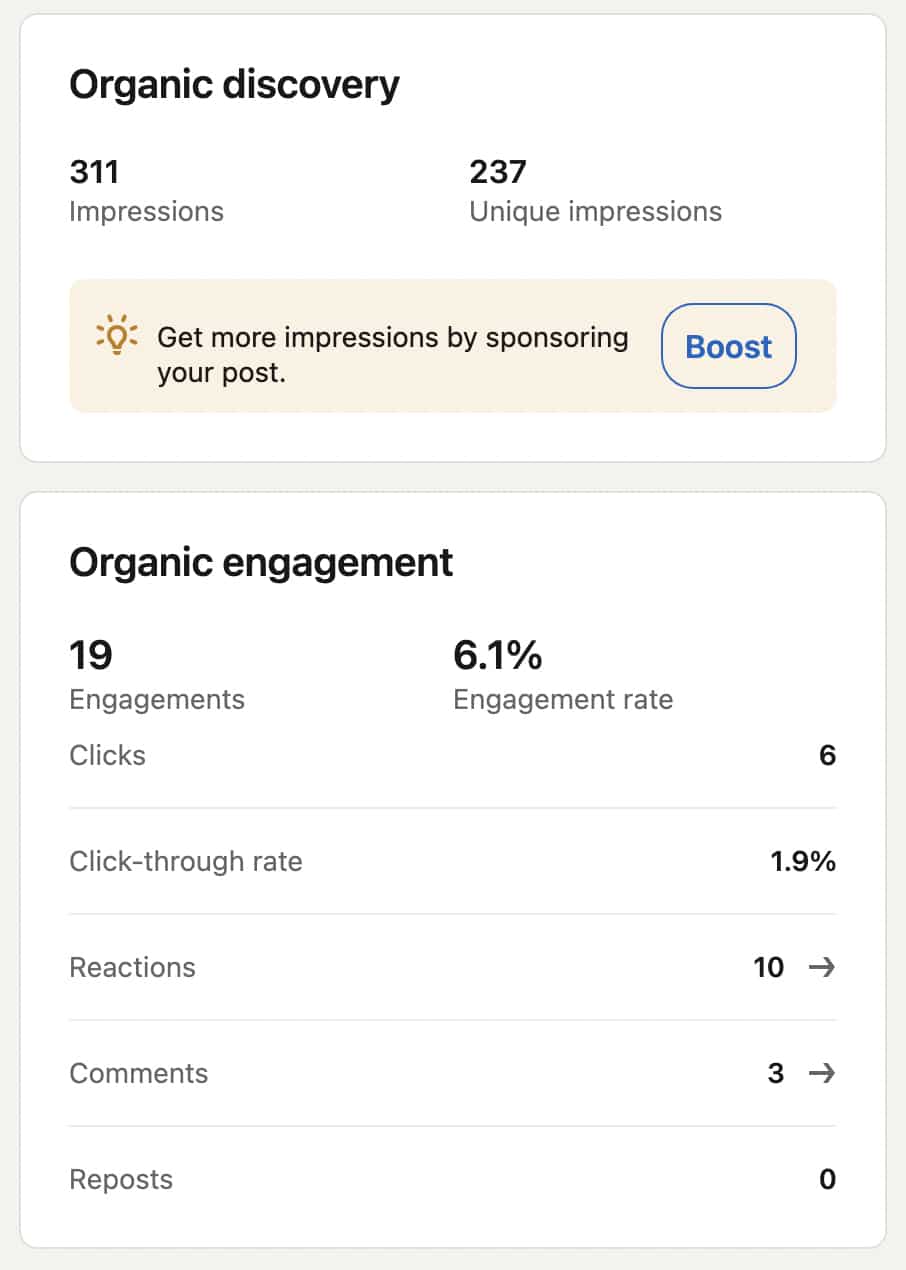 You can also click any engagement metric (i.e., reactions) to see an overview of the types of LinkedIn members who interacted with your content. For example, you can see the top industry, job title, and location for each metric.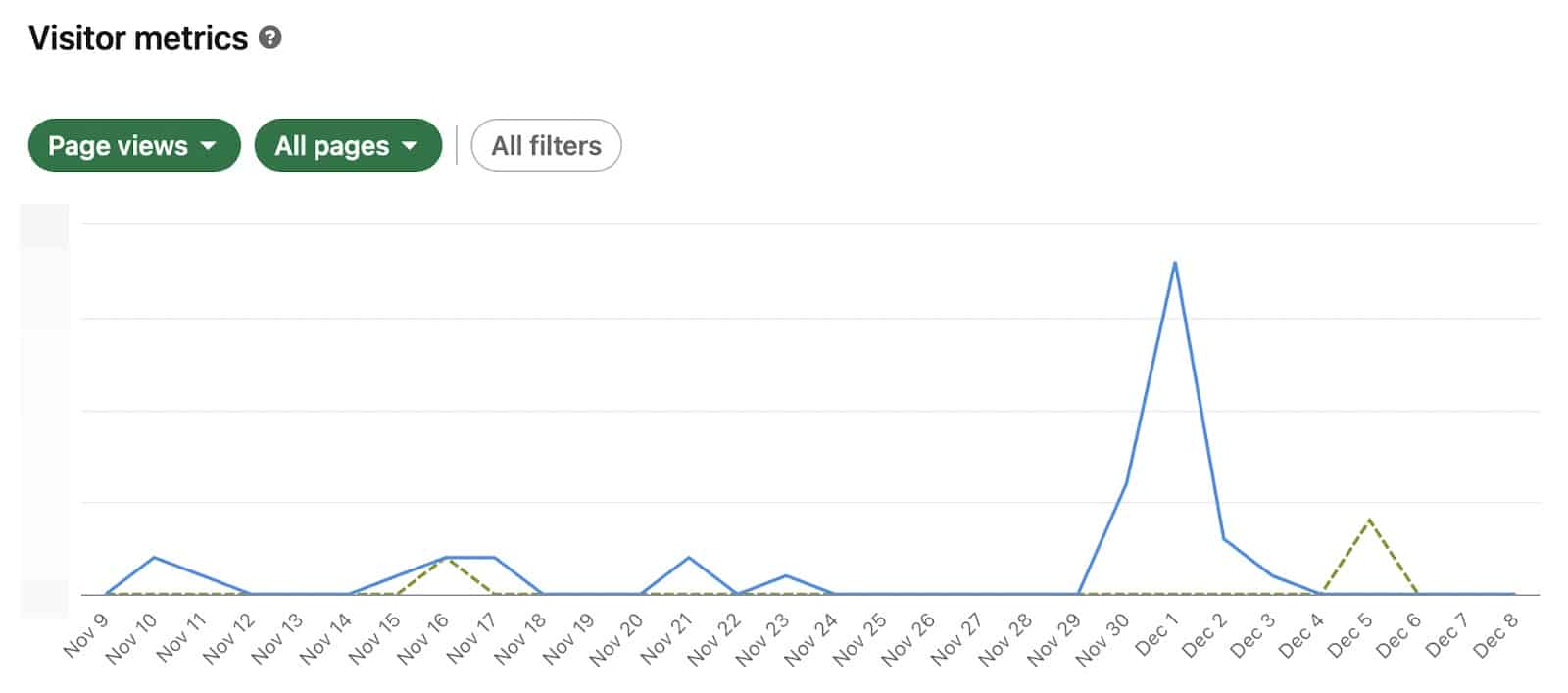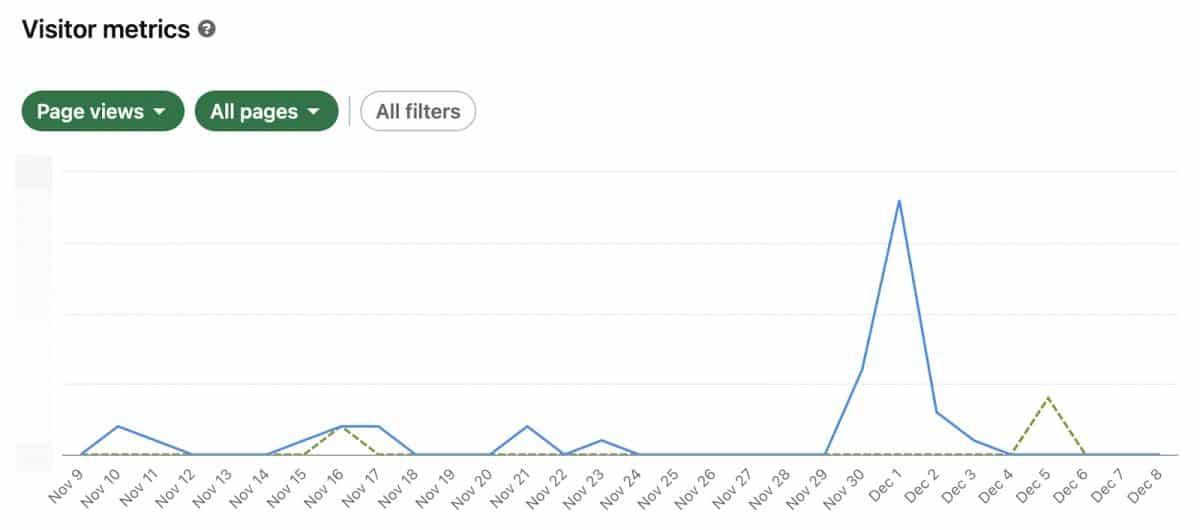 In addition, LinkedIn company pages have analytics for visitors and followers. With this data, you can track page growth, page visits, and demographics—including industry, job function, seniority, and more.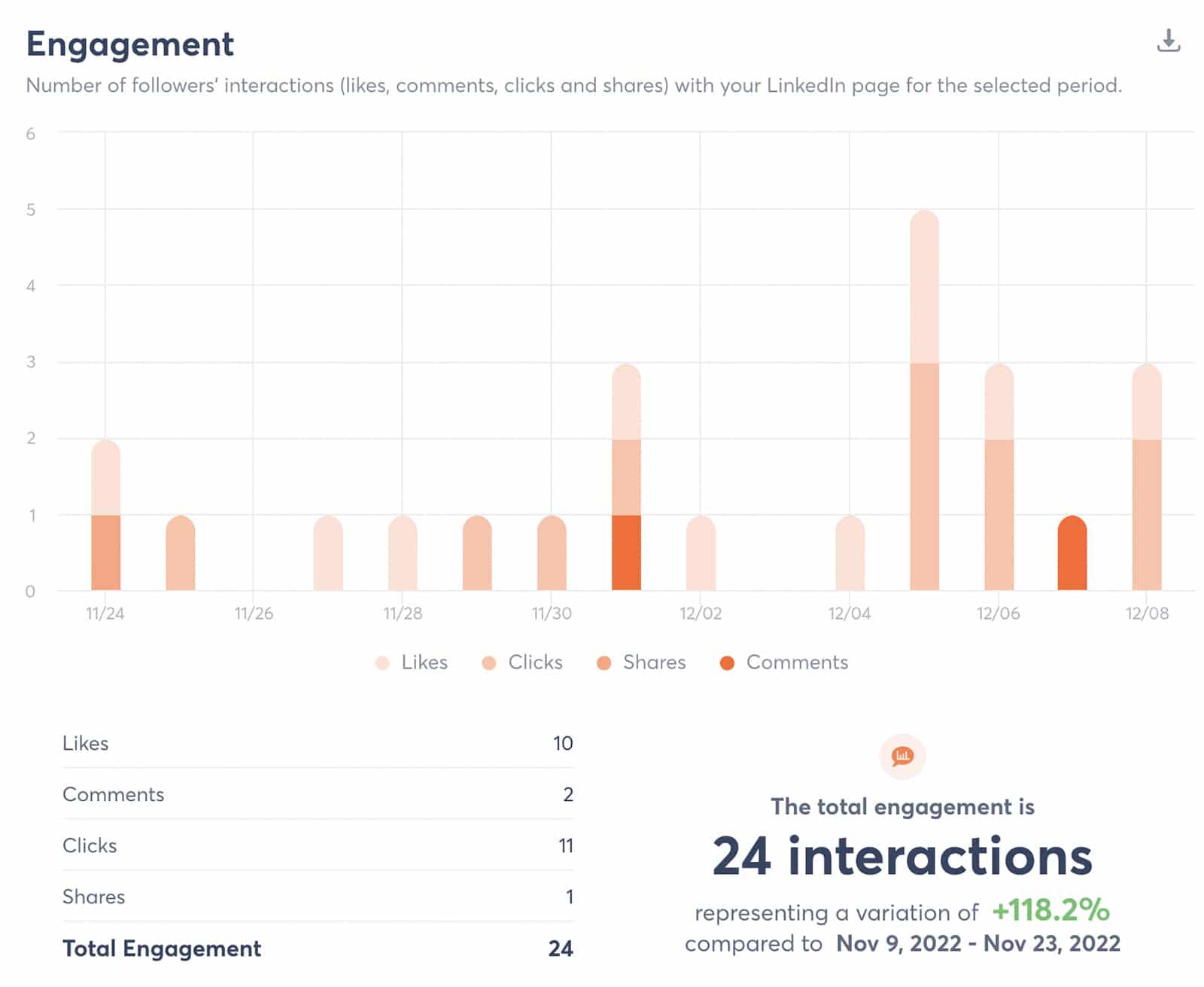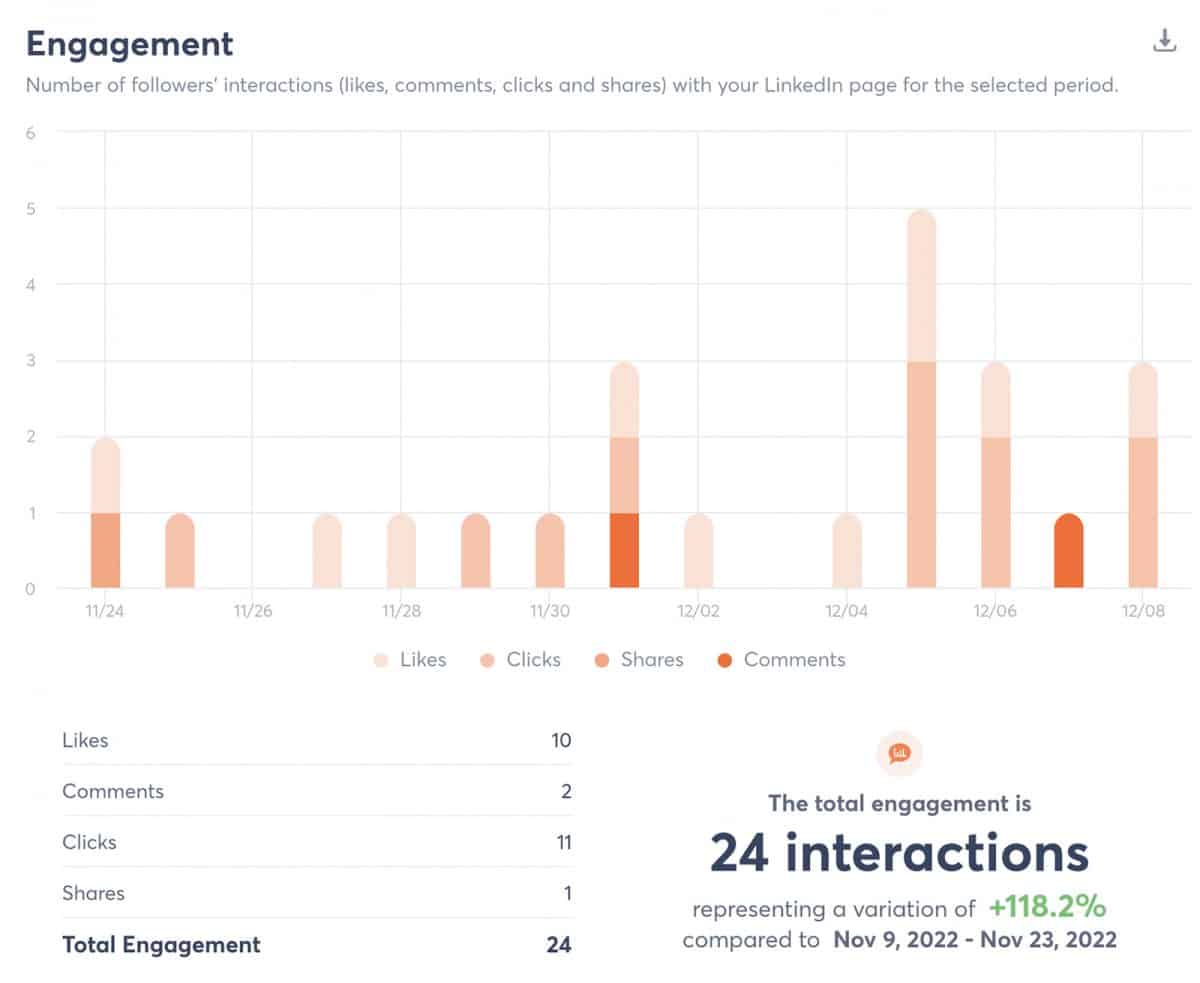 Looking for LinkedIn analytics that are easy to understand, download, and share? Agorapulse offers reporting for LinkedIn company pages. With these insights, you can track everything from impressions and engagement to user demographics and activity timing. Agorapulse also lets you label content so you can build more nuanced LinkedIn reports.
LinkedIn 101: Advertising
LinkedIn has plenty of organic tools to help you fill your sales funnel, even if you don't have an advertising budget. But when you want to build more awareness, generate more leads, or close more deals faster, LinkedIn ads can help.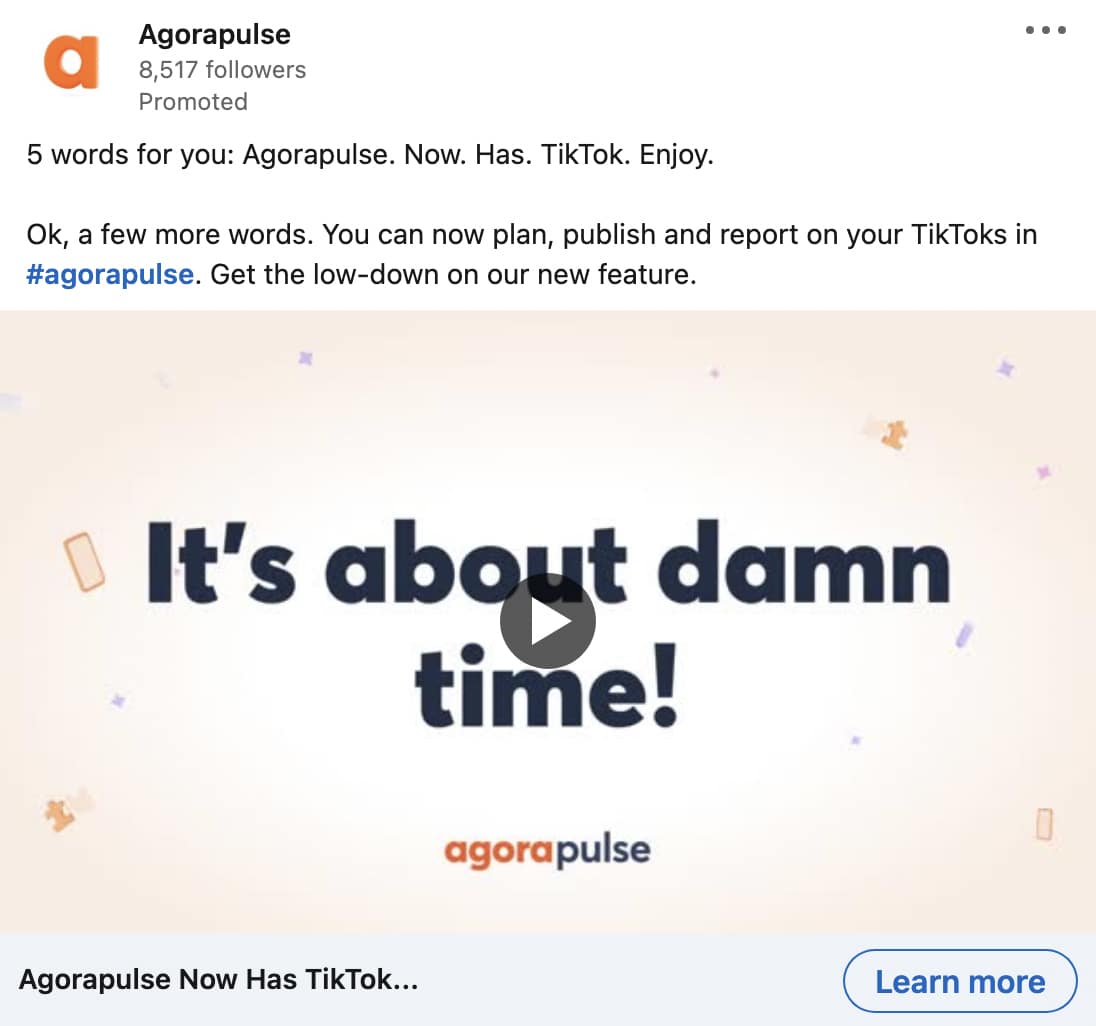 Using LinkedIn Campaign Manager, you can create campaigns that target each stage of the funnel—including awareness, consideration, and conversion. You can use formats ranging from basic image and video ads to interactive carousel ads to event and message ads. LinkedIn also offers native lead generation forms to connect you with ideal prospects.
Whether you want to reach brand new audiences or remarket to current prospects, Campaign Manager has powerful targeting options. You can reach LinkedIn users based on a range of professional attributes, upload customer lists, or reconnect with engaged prospects to reach your marketing goals.
Wrapping Up Your LinkedIn 101 Guide
From building a presence to creating organic content to developing ad campaigns, LinkedIn has the tools you need to market yourself and your business. Use this LinkedIn 101 guide to get started and use Agorapulse to publish content, engage with followers, and analyze your progress.
Sign up for a FREE demo and see what you can do on LinkedIn with Agorapulse.