[[updated June 16, 2017]]
When it comes to deciding where to advertise online, the first platforms you'll probably think of are Facebook and Google.
The data speaks for itself. eMarketer expects 78% of total US search ad revenues to go to Google and 73% of total US digital display ad revenues to go to Facebook this year.
Although these figures vary for different countries, the trends are similar for the majority of us, given that 1 in 4 people on the planet uses Facebook or Google (or both).
But does this domination mean that you should put your entire advertising budget into these platforms? Not necessarily.
At Agorapulse, we have a different strategy. As a nimble startup, we always look out for better ways to invest our advertising budget.
The fact that majority of advertisers pump all their money into just Facebook and Google does not give us a compelling reason to do the same. On the contrary, we believe the growing competition will eat away the excess returns from ad spend.
During our search for new advertising opportunities, we came across Quora advertising (just launched in Jun 2017!)
If you aren't familiar with Quora, it is one of the largest online Questions & Answers (Q&A) platform. Every day, interesting questions such as "Why do people quit their jobs at dream companies like Facebook or Google" get answered. These answers also tend to be of a higher quality than other sites like Reddit.
For example, when someone asked "What is it like to meet somebody you actually fought against in a war?", you got answers from actual war veterans, like:


Plus, Quora shows strong user trends. Today, it has more than 100 million monthly unique visitors, with 50% from US. These factors combined got us excited about advertising on Quora!
Today, I will show you the ins and outs of Quora Advertising, including a tour of the platform and how you can apply to become an advertiser.
Related Post: Social Media Management 
---
Getting Started with Quora Ads
At this point, you may be thinking, "Oh dear, does this mean we have to learn how to advertise on ANOTHER platform from scratch?!"
Don't worry. If you have experience with Facebook Ads Manager or Google AdWords, managing your ads on Quora will be a breeze. In fact, Quora's dashboard inherits many Facebook's and Google's features, so it will be relatively easy to find your way around and do what you want.
The Quora Ads Manager
When you first log into Quora's advertising platform, the first thing you will see is the Ads Manager.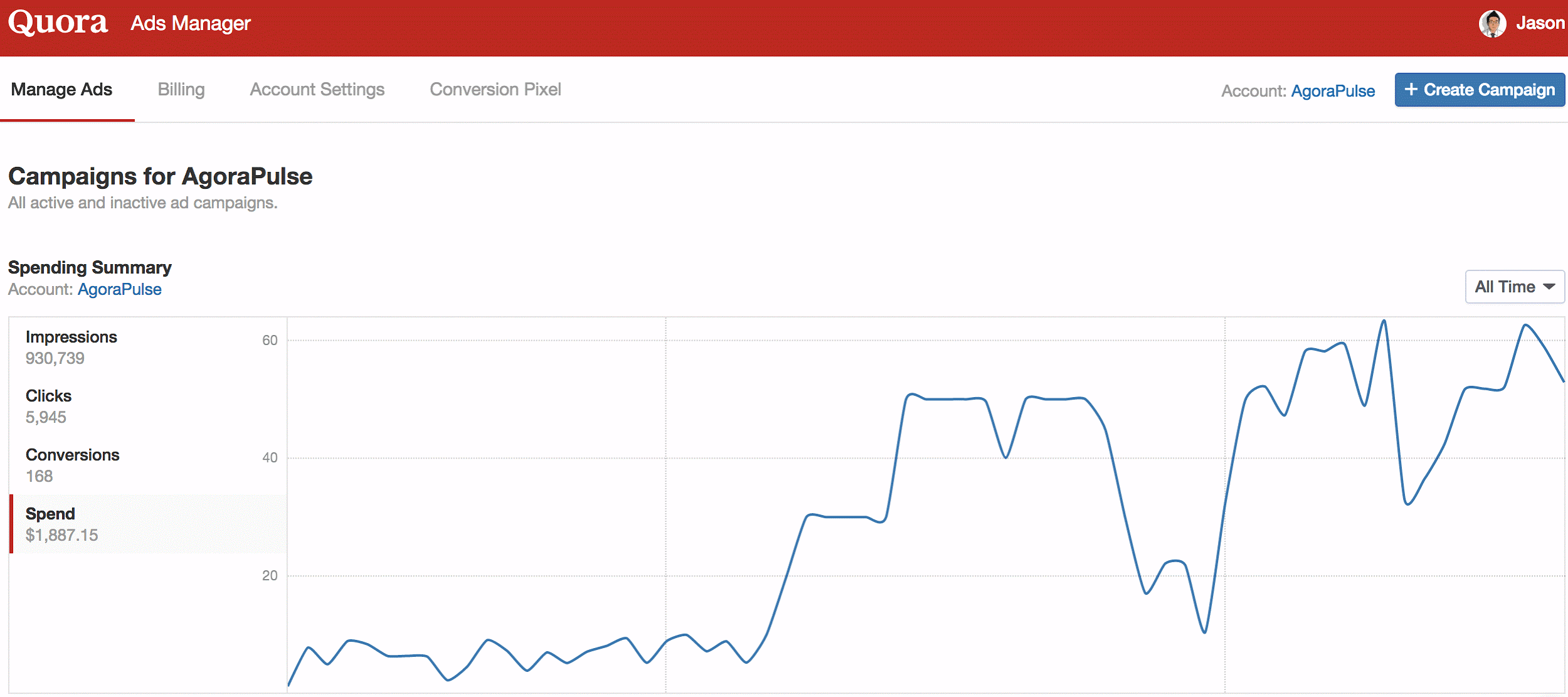 Note that this view is under the "Manage Ads" tab. Under this tab, there are two sections: tab. Under this tab, there are two sections: Spending Summary and All Campaigns. We'll investigate both of these sections.
Section 1. Spending Summary
Under the spending summary, you will see an interactive graph. This graph shows how much you spend over time:

By clicking on any of the four labels on the left, you can see a different graph. For example, this view shows his our conversions over time.

By placing these graphs side by side, you can easily analyze the relationship between ad spend and conversions.
We find this more useful than Facebook's account dashboard, which only shows you how much you spend over time.
Section 2. All Campaigns
Next, let's take a look at the campaign dashboard.
Like Facebook and Google, Quora's dashboard shows a summary of your campaigns.
At present, these metrics are available:
Delivery

Impressions

Clicks

Cost per Click

Conversions

Conversion % (We like this one — and it's not available on Facebook)

Spend

Remaining Budget
Campaign Structure
Before we show you the insides of a campaign, let's first talk about how Quora campaigns are organized.
Every Quora campaign has three layers:
Campaign

Ad set

Ad
If you find this campaign structure familiar, that's because Facebook uses the same campaign structure.
Let's look inside each campaign to get a feel of its structure.
Inside a Quora Ad Campaign: Ad Sets
When you click on a particular campaign, you'll see a familiar-looking dashboard.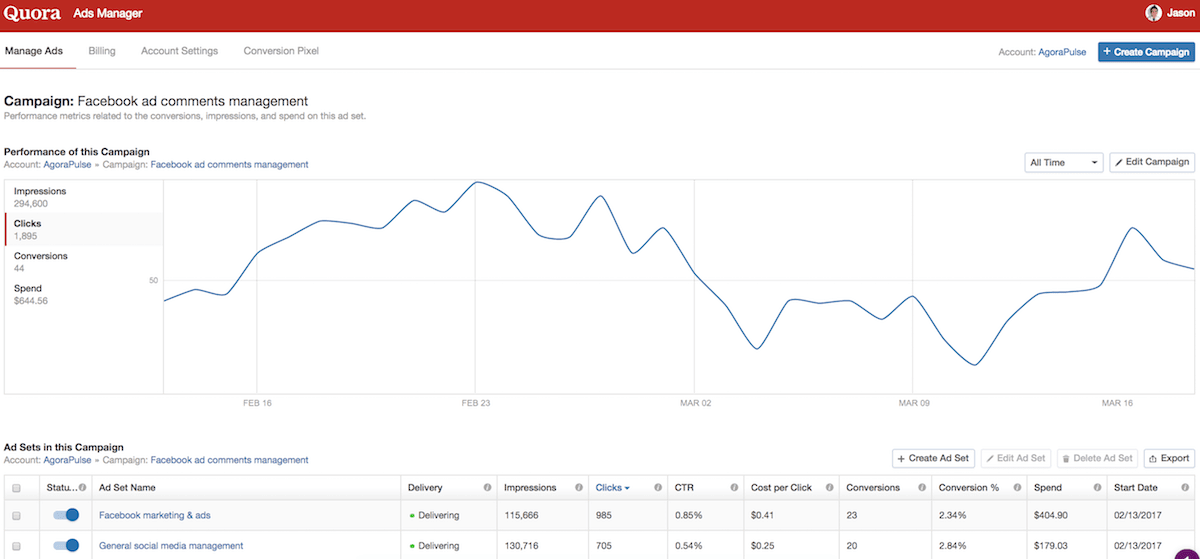 What's special here is that you'll also see the ad sets that compose that campaign.
Using the same graph we saw above, the campaign summary shows you the results of the specific campaign you have chosen. This keeps the overall experience consistent and you are able to analyze the data at all the levels – whole account, campaign, ad set, or ad.
The dashboard gives you the ability to analyze data from a particular time period.
We use the "timeframed" data in a few ways. When we monitor our Quora ads, we look at the last 7 days to see if the results are getting better or worse. If we don't have enough data to make that call, we stretch the time frame to 14 or 30 days. (After 30 days, the data is rather obsolete.)
We also like to compare different time periods. For example, we look at month-to-month performance. Since we keep a record of the changes we make on Basecamp, we can easily look back to see which changes contributed to the difference in the comparison.
Ready to dive deeper?
Inside a Quora Ad Set: Ads
As expected, this inside an ad set looks quite familiar. The four KPIs on the side, the ability to select a time frame — it's all there.
If you want to prefer to analyze the data in a spreadsheet, just click on the export button and the .csv file will download automatically (note that you can only find the button at the ad set or ad level).
To edit your ad or see how it looks like, you can hover your cursor over the ad name and click on the pen symbol.
When you do, you will see this. On the left, you will see all the fields in the ad. On the right, you'll see a live preview of your edits.
If you select the first option, "Update or Import," you'll be able to effortlessly duplicate an existing ad. When you import an existing ad, the fields will automatically be updated, as you can see in the following example.
Now that you have seen everything under the Manage Ads tab, let's take a quick look at the Conversion Pixel tab.
Conversion Pixel for Quora Ads
This is the second most important tab for advertisers – your conversion pixel.
A conversion pixel allows you to track Website conversions happening as a result of your Quora ad.
Under this tab, you'll find a code snippet for the pixel, which you can add to your confirmation page or the page where you are tracking conversions.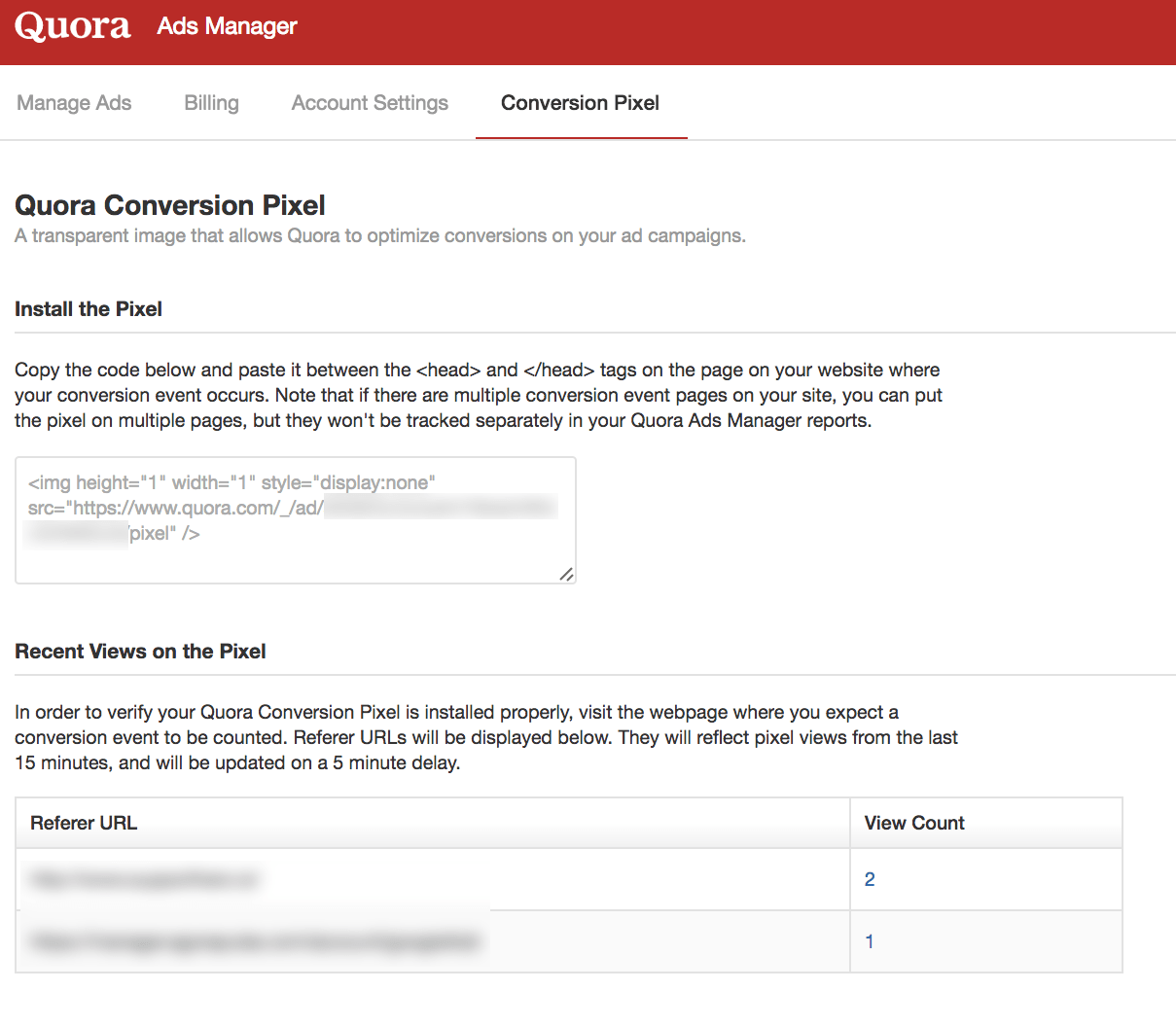 Note: Quora only offers one conversion pixel per account for now. This means that you can only track one type of action on your page. So if you want to say, track both free trials and paid subscriptions, you'll have to pick one or the other.  (We opted for free trials in our campaigns.)

---
How To Set Up Your First Quora Ad Campaign
Now that you have seen the ins and outs of the Quora advertising platform, let's go through the campaign creation process! Creating a campaign on Quora is super easy.
The Quora Ads Manager has a blue button on the top right corner that says, "+ Create Campaign." Click on it to get started.

Step #1: Create your campaign
Managed to find the button? Great! You should now see a page with several fields like "Name Your Campaign" and "Set a Budget." Start by giving your campaign a name.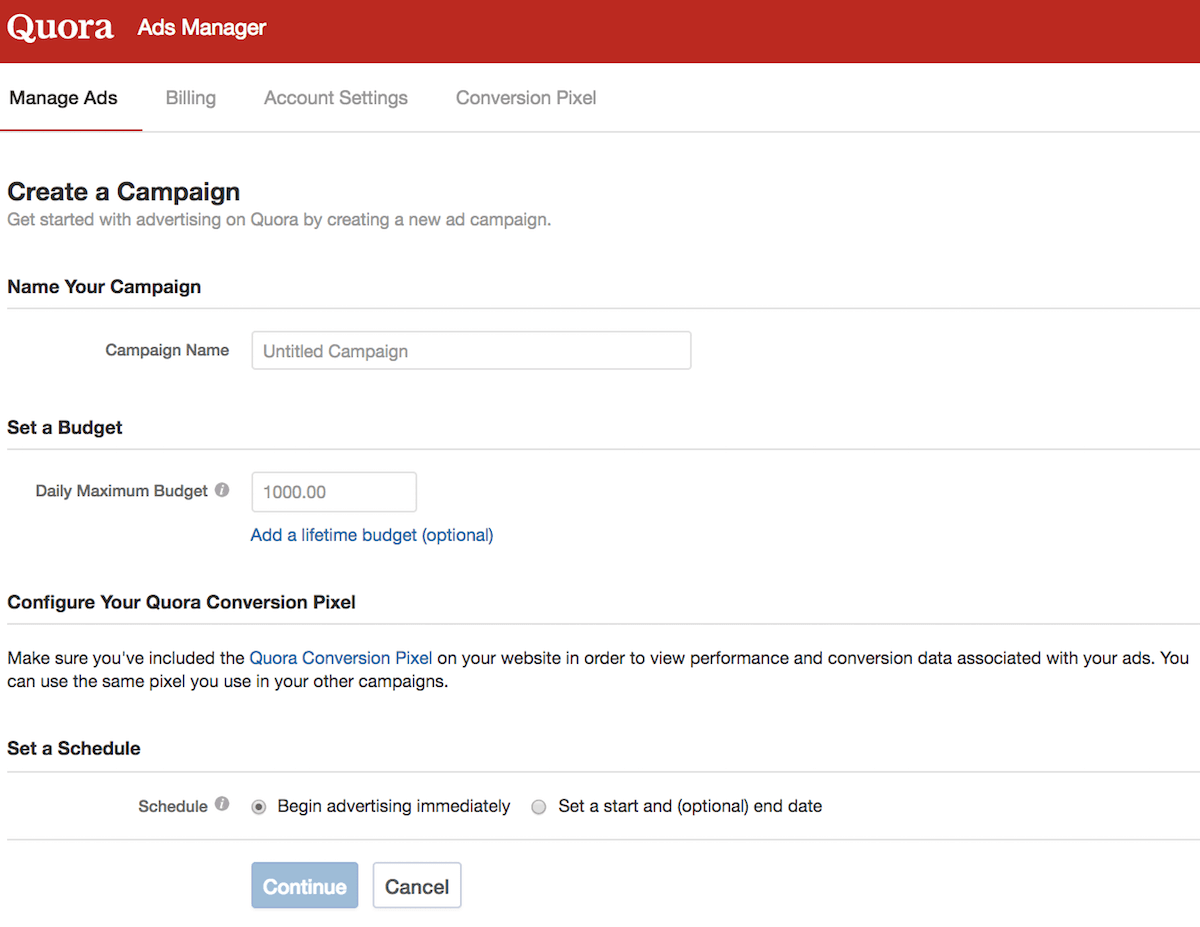 Here's an example of what you might use:
[Who are we advertising for] – [What is the objective] – [What is the content/landing page?]
Next, set a daily maximum budget. This is the maximum amount that you want to spend in your entire campaign every day. This is where Quora is a little different from Facebook and Google, as you decide how much to spend on each campaign instead of the ad set.
Next, Quora reminds you to check that your conversion pixel is working. Click on the blue text that says "Quora Conversion Pixel."

From there, you will be directed to the Conversion Pixel tab.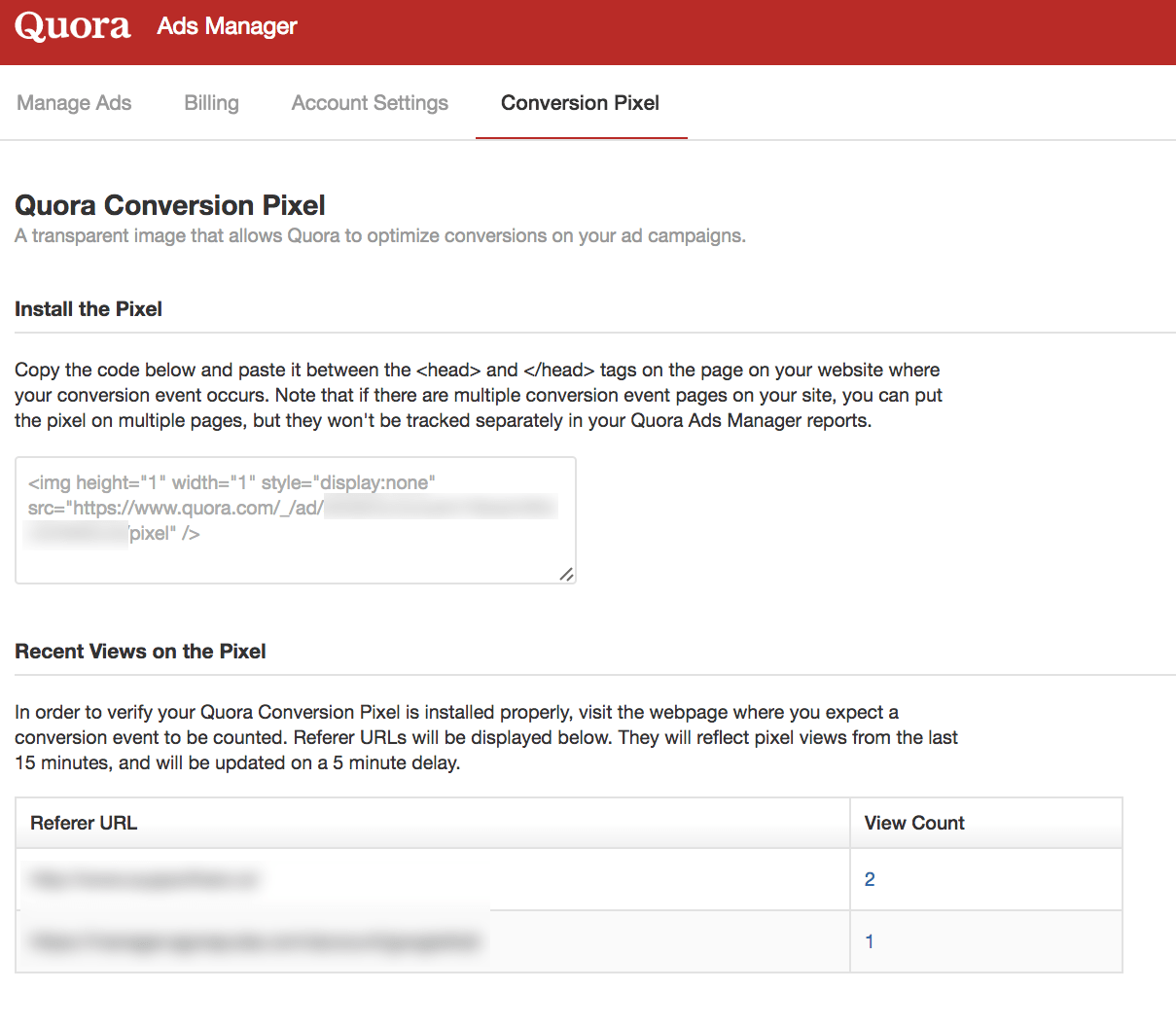 At the bottom of the page, you will see "Recent Views on the Pixel". This shows you whether your pixel is active. If you want to test your pixel, visit your confirmation page. If your view does not increase the view count on this tab, it may tell you that your pixel was installed incorrectly. If you are not sure, seek technical support from your web developer or ask for help.
Finally, decide when you want the campaign to run (either immediately or at a later date). Once you are done, click on the blue "Continue" button to set up your ad sets.

Step #2: Create your ad set
Now that you have set up your campaign, it's time to create your ad sets! This is what you will first see here.
Again, give your ad set a name. Here's our suggested naming convention if you don't already have one:
[Who you are targeting] – [What test you are conducting]
Now it's time to target. Let's take a look at the available targeting settings:
Topics

Locations (optional)

Platforms (desktop vs mobile – select at least one)

Exclude locations and questions (optional)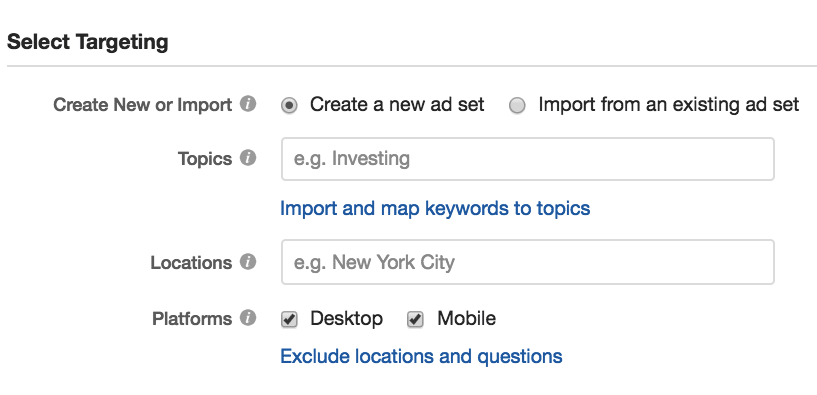 If you already know the topics you would like to target, just type it inside the field. If you need ideas, you can click on "Import and map keywords to topics" and type the topic on the popup.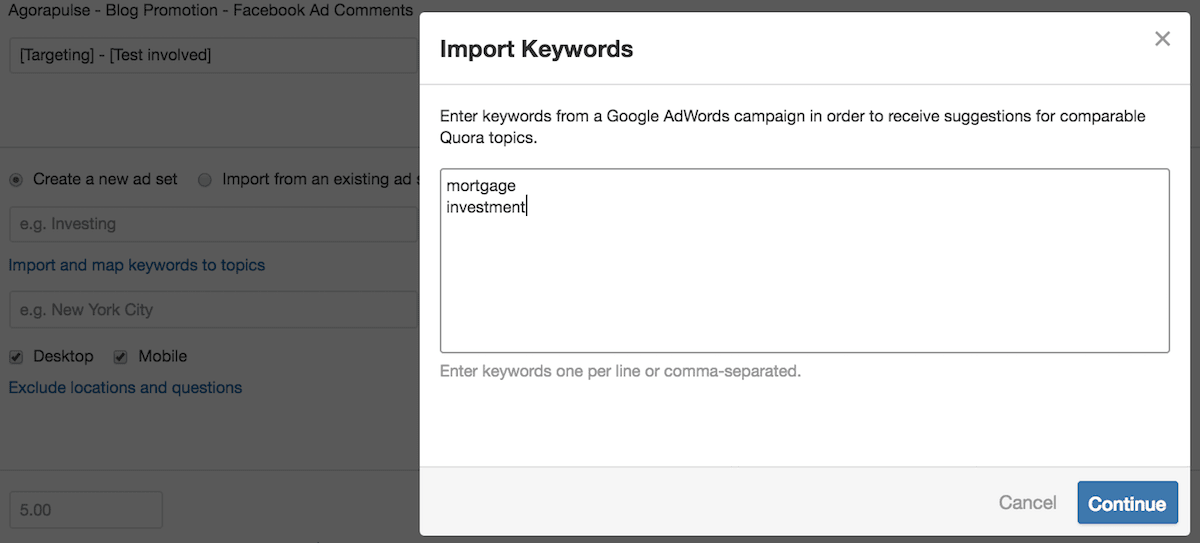 Then click on the blue button "Continue" and Quora will feed you with a list of topic ideas.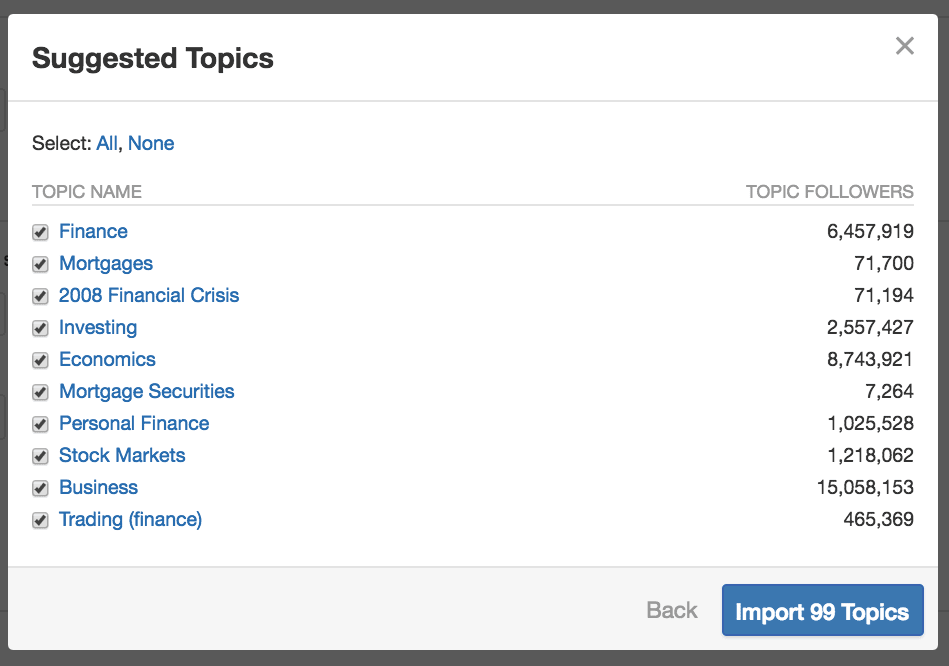 Once you are done, click on the blue button "Import #99 (or whatever number you get) topics" to continue.
The next two selections, seen in the example below, are straightforward:
Choose the locations you want to target (you can get as specific as typing in your zip code!)

Uncheck any of the two platforms that you don't want your Quora ads to appear on.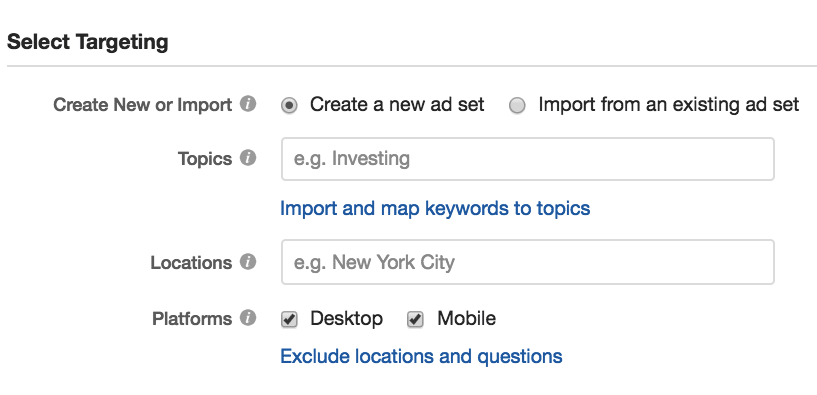 If you want to exclude locations and questions, click on the blue text above and two more fields will appear.

To exclude specific locations or questions, simply type them into the fields above. 
If you already have an existing ad set and would like to use the same targeting, you can simply import it.

You can also choose which settings to import:
Topics

Locations

Mobile OS

Excluded locations

Excluded questions
Once you've finalized your targeting, set a Cost per Click (CPC) bid (similar to Google AdWords). If you don't know how much to bid for each click, Quora gives you a suggestion to take or leave.
Or you can start conservatively from $1 CPC. (That's like what we do.) Once you are done, click on "Continue" to set up your ads.
Step #3: Create your ad(s)
Creating your ad is even easier than setting up the ad set.
All the required fields are lined up neatly on one page. You'll have to fill up the following fields::
Ad name

Business name

Headline

Description

Landing page URL

Display URL

Call to Action
Like the ad set, you can also import existing Quora ads, so you don't have to create an old ad from scratch.
To do so, just click on the radio button beside "Import from an existing ad" and choose the ad you want to import. All the fields will automatically be filled.
---
What We Like And Dislike About Quora's Advertising Platform
As with any advertising platform, there are bound to be things that we like and don't like.
First, let's take a look at the 3 things we found to be very likeable about Quora's platform.
Pros
1. High quality traffic
Quora is one of the five sites with daily updates that I subscribe to. The updates I get are usually relevant and interesting to me. I often click on the daily emails to see the top questions and answers posted onto the platform. They range from anything about history and philosophy to personal experiences and observations.
But what is amazing about these posts is that the answers are often well elaborated, packed with examples or anecdotes.
Unlike some forums, you don't get petty banter or see people calling another names. Discussions are usually lively, positive, and you get a variety of opinions on the same topic.
All these translate into a healthy community. Over time, people start to rely on the platform as their go-to resource for certain problems and questions. And when we target users based on specific topics, you can be assured that we are reaching people who are genuinely interested in the chosen topics.
2. Only a "few" metrics
I like that Quora offers only select metrics, unlike Facebook that gives you metrics about everything. This way, agencies and consultants have no excuse if they can't nail these handful of metrics. 
Once, at a Facebook Marketing Partner (not Agorapulse), we generated poor returns on our client's ad spend. But instead of being honest with the client, the CTO elected to mask the results with "great" engagement. We ended up adding engagement metrics like reactions, comments, and shares to the deck and emphasizing those metrics over the dollar return. It's unethical, unacceptable, and part of the reason why I left the company shortly thereafter.
On the other hand, with fewer metrics, we are forced to present the real results – the return on advertising spend (ROAS).
3. Resemblance to Facebook's and Google AdWords' platform
If you're a digital marketer, you would know of at least five different platforms. Out of those five, you probably only know how to use one or two effectively.
Learning to use a new platform is a tall order, because you have to understand different terminologies, usage patterns, platform workflow, and more. So it helps that Quora did not design an entirely new platform, but instead replicate some of Facebook's and AdWords' platform features – the dashboard, campaign structure, and metrics.
Overall, it took us less than a week to put together our first creative, start our first campaign, and get results on the platform. The resemblance to Facebook's and AdWords' platform helped a lot in this regard.
Cons
1. Only one conversion pixel
Earlier, we mentioned how having only one conversion pixel places a limit on what we can track.
Let's say that you have two kinds of conversions on your website:
Phased conversions (e.g. free trial > paid subscription > cross-sell)

Alternative conversions (e.g. free trial VS free tool VS blog subscription)
With just one conversion pixel, you can only track either one of all the possible actions that people can take on your website. You cannot easily track the people signing for your free tool, email newsletter, or upgrading to a paid subscription. To do that, you would have to use a third-party tool like Google Analytics to track those conversions.
2. Topic insights and laser-targeting features
Quora is similar to AdWords in that it is able to target users based on their search intent. So someone who types in "Facebook ads" into Quora is likely to be someone who has questions or problems that he or she wants to solve. Our advertisement may then be highly relevant to these people.
However, there is no way of knowing right now the exact questions where our Quora ads show up. The only thing we have is the general topic, like "social media management" or "Facebook ads." If we could get further insights and target users based on specific questions or phrases, we may be better able to tailor our ads to those users.
3. Minor unintuitive features
Although Quora's platform is generally user-friendly, we found minor quirks that made the overall experience less pleasant. For example, we had a hard time trying to find a preview of our ad after launching it. To see an ad preview on Facebook, we would normally click on the name of the ad.
But when we did so on Quora, it led us back to the page.
Instead, to see a preview of the ad, you have to click on the small pen symbol beside the ad's name. A bit hidden there.
Having said that, we are very happy with our overall experience with Quora's ad platform. We also believe that the Quora team will continue to improve the platform and solve these problems in the future.
---
How To Apply To Become An Advertiser On Quora
Good news! Since we wrote this post in April, Quora has launched its ads platform to the public in June 2017!
Just sign up here: https://www.quora.com/business.
In an upcoming post, I'll share all my Quora experiences — from the ads we ran to the results. Stay tuned!