This article was originally published as a guest post on socialmediaexaminer.com
Are you running contests and promotion on your Facebook Page? If so, you've probably noticed that Facebook has recently made a major change to its promotion guidelines.
Before August 27, the only authorized way to run contests and sweepstakes on your Facebook Page was to use third party applications. This requirement has been removed and you can now run a promotion directly on your page.
If running a contest or sweepstakes on your timeline may sound like a good idea, there are several factors to consider before going that path.
#1 What you can do and can't do under the new rules
This part is pretty straightforward in the new rules and the accompanying guidelines. You can:
o
Collect entries by having users post on the Page or comment/like a Page post
o
Collect entries by having users message the Page
o
Collect entries by having users comment/like a Page post
o
Utilize likes as a voting mechanism
In other words, you can ask users to post photos on the page (or in comments to a post) and select the ones that has the most likes; ask users to message the page or post on the page or comment/like on a post and randomly pick a winner; or you can ask user to answer a question and pick the first right answer.
But you can't:
Ask users to tag themselves in a photo they are not pictured in, ask user to share a post or ask users to post something on their timelines or their friends' timeline.
#2 Facebook has loosened its rules, but there are still rules!
If the latest version of Facebook terms are much more flexible, they still require you to follow certain rules. Don't be fooled by the apparent simplicity of this new option, Facebook still wants you to follow the rules.
As stated in the Facebook terms:
1. If you use Facebook to communicate or administer a promotion (ex: a contest or sweepstakes), you are responsible for the lawful operation of that promotion, including:
a. The official rules;
b. Offer terms and eligibility requirements (ex: age and residency restrictions); and
c. Compliance with applicable rules and regulations governing the promotion and all prizes offered (ex: registration and obtaining necessary regulatory approvals)
In plain English, that means that you still need to comply with your local regulations. For example, in France, your contest rules must be registered with a notary public, in Italy, your contest entries must be collected on a server located in Italy and in Brazil, you can only run sweepstakes in very limited cases. These laws still apply and not respecting them can cause you a lot of trouble.
Also, you will still need to draft rules for your contest or sweepstakes and let your participants know about them. Your rules will state what prizes you are giving away, how winners will be elected, how they will be contacted, who can enter, etc. And you need to link to them somewhere in the post so you can prove that participants had a chance to read them.
Don't forget to add a link to your rules within your post, for example, you could host them as a pdf in your public dropbox folder, or as a tab on your page.
Facebook further requires that you include the following:
a. A complete release of Facebook by each entrant or participant.
b. Acknowledgement that the promotion is in no way sponsored, endorsed or administered by, or associated with, Facebook.
That means that you need to add the sentence in point b) within your post (which very few people do) and further state that participants, by entering the sweepstakes or contest, fully release Facebook from any liability.
You can't get rid of the legalese, unfortunately. See the example below from Sixt rent a car:
#3 Beware of cheaters and scammer
Since businesses started to offer attractive prizes through sweepstakes and contests, some participants have tried to trick the system. Whether by creating fake Facebook profiles to enter multiple times or to participate in vote exchange schemes to increase their ranking. Making sure your contest attracts genuine participants should be a concern.
If you run a sweepstakes on your page, it will be very hard to verify if your winners are legit. If you run a vote contest (like the "comments or photo with the most likes" type of contest), it will be very hard to know if the users with the most likes did not employ tricks to get more votes from a "vote exchange" scheme or votes from fake Facebook accounts. And if you are using a quiz type contest, as users can edit their comments, it will be impossible to know if a "right" answer in the comments was correct when it was first entered or if the user edited the answer after seeing other participants' answers.
If you want to avoid cheating on your timeline contest, you will have to pay a lot of attention to your participants' profiles and keep track of their answers from day 1.
#4 Take the size of your audience into account
The smaller the audience, the easier it will be to manage a timeline promotion. But the opposite is true too, the larger the audience, the more complicated and time consuming it will be.
This does not mean that having a large audience will always make a timeline promotion a bad idea. If it can be a good option most of the time for small pages, this will not be true for bigger pages. A big audience will amplify the issues that a Timeline contest may raise (like cheating, drafting bulletproof rules and picking winners). So the bigger it is, the more cautious you should be. If you have 1,000 fans and 100 participants, unclear rules (or no rules at all) and ending up picking a winner who is not a legitimate participant will probably go uncovered and not generate any serious concerns.
This happening with a page having 100,000 fans and 10,000 participants may very well be a totally different story. Be prepared to face disgruntled users by the hundreds and feel that you'd better had posted a nice photo instead of a contest…
#5 Think about how you are going to select winners
As Facebook pages have not been built to run competitions among the fans, there is no tool to help you select the winners. Whether you want to randomly pick a winner among participants or scroll through comments to identify the first "right" answer or the suggestion you like the most, you'll probably have to invest some time into it.
If you have a small audience, that shouldn't be too big of an issue. But if you have a larger audience, or have used advertising to promote your post extensively and have gathered a significant number of entries, you may still need some kind of application to help you pick a winner without spending too much time scrolling through hundreds or thousands of entries.
#6 The value of your prizes will matter
So we've gone through the impact of the size of your audience to help you choose if you want to go with a Timeline Competition. But the value of your prizes is probably more important. You probably already know that picking the right prize is one of the keys to attract genuine participants. But when running a contest on your timeline, the value of your prizes is also a key element to take into consideration.
Whether your page is big or small, the more valuable your prizes are, the more problems you may run into. As with the size of the page, the value of the prizes will amplify the potential troubles you may encounter. For example, if you are offering a $1,500 vacation to the Caribbean, your participants will watch very closely at how you'll be picking the winner, and they will definitely scrutinize that winner to make sure it was a "fair" selection. If the way you made your decision is not clear (or fair as far as the other participants are concerned), you will probably face a virtual "riot" on your page.
On the other hand, if you are giving away two movie tickets valued at $10 each (or even a bunch of them), your participants won't care much about how the winners are selected and if they deserve to win. Nor will they be motivated to sue you in court if your rules are not bulletproof!
These are two extreme examples, but the point is, a timeline contest can be a great choice to offer prizes with low value, even to a big audience. However, if your prizes are of high value, think twice before taking that path.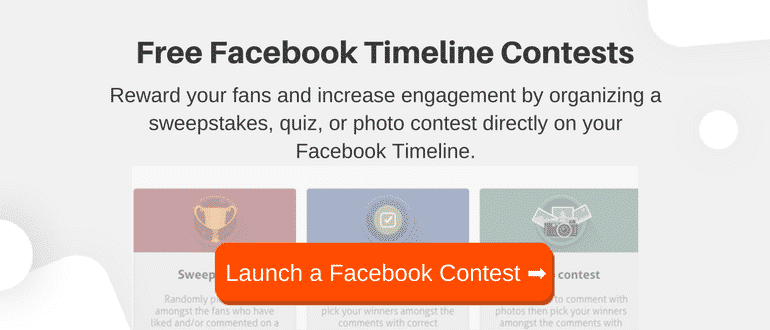 #7 Do you need to gain more fans or collect email addresses?
This is the biggest downside of Timeline promotions: they can't help you grow your fan base or collect any information about your participants.
Concerning the recruitment of new fans, it is not that Facebook prohibits asking your participants to like your page to enter, you can still do that and many do. However, as you can't technically require them to like your page in order to enter, chances are that very few non fans will go ahead and like your page on their own if they are not forced to do so.
Concerning the collection of data, including emails, the only way to collect them remains the use of some kind of third party application. As many page owners are using contest and promotions to also increase their mailing list, this will be a big no-go for them.
On the other hand, if you are not looking to grow your fan base and just want to entertain your existing, and you don't value collecting their emails that much, you can definitely consider this option.
Your turn! Have you considered running a promotion on your timeline yet? What will influence your choice to go directly on the timeline as opposed to using an application?