Recently, a Nielsen study conducted in conjunction with Facebook showed that even a 3-second video view resulted in a lift in ad recall, brand awareness, and purchase consideration.
If you haven't created videos on Facebook, you haven't completely missed out—yet.
Facebook videos are an effective way to communicate with your audience. They are the quickest and easiest way to build an audience for your Facebook ads and when people see you on screen, they make a stronger connection with you and your business.
Look at your Facebook insights. If you have been using video, in most cases, it will out-perform your other organic posts. And you are not alone. A 2017 study by Locowise shows that video content still excels.
But video content is hard to create right? You have to shoot, edit, add captions? It might be easier than you think.
In this post I will show you:
What works well for videos on Facebook?
How to create videos for Facebook.
Tips for uploading your Facebook video.
Measuring the success of your Facebook video.
What works well for videos on Facebook?
Facebook video auto-plays silently in the news feed. As users scroll, they will see snippets of videos. Some will stop and watch the video auto-play in full, fewer will click play to see the video full screen with audio.
Bearing this in mind we need to create videos that are:
1. Silent or captioned
Because videos auto-play silently in the feed, we have to communicate without words or sound. Your video doesn't have to be silent; it just needs to make sense without audio.
Annotations
Illustrate tutorials with annotations so they make sense with the sound off. For screen recordings, use arrows or highlights. See this example from Love Nikki-Dress UP Queen.
Captions
Captions guide your silent viewers through your video without having them having to switch the sound on. In this video from Spoon University, they share key information including ingredients using captions.
We'll talk about adding subtitles to your video later on in this post.
2. Eye-catching
If you want to stop viewers scrolling past, you need to make your video eye-catching. Stay away from a simple talking head. Try using bold colors, movement, multiple shots,and text overlay to grab and keep your audience's attention.
Here's a video I produced for a crowd funding campaign. We tried to include lots of visual elements to keep viewers watching.
If editing terrifies you, there are other ways you can introduce movement. Consider a walking, talking shot. All you need is a selfie stick or a good friend who will hold the camera or phone as you walk.
This video from Lewis Howes is erratic, but it keeps you visually interested.
If you want to become a better human being, you must always do things to get you out of your comfort zone.

Posted by Lewis Howes on Thursday, April 19, 2018
If you can edit, do edit. It's a skill well worth learning. Keep your shots short and snappy, aim to keep one shot on the screen for no longer than 10 seconds (you can get away with longer if you use the walk and talk technique).
Cutting between different angles and shot sizes will keep your audience interested and watching. Map out a sequence of short shots that will progress your story forward.
3. Short and sweet
When we watch a video, it consumes us completely, we have to give it our full concentration. When a viewer watches our video they are investing time in it. We need to be sensitive to that.
Unlike YouTube, Facebook doesn't show you how long a video is before you click to play. It's only after clicking we can see the duration of the video.
That's when our audience will decide if they will continue watching. A study from Animoto shows that 43% of people decide within the first 10 seconds if they will continue watching. That means you only have 10 seconds to grab their attention and keep them watching.
Always start your video with a hook that tells people the value of watching. And get that within the first 10 seconds.
4. Useful
Anytime you create content for Facebook, video or otherwise ask yourself whether it is educational, informative or entertaining.
If the answer is no to all three, then don't post it. That rule applies to video more than any other content. Viewers won't keep watching unless they can see the value of doing so.
Make a long list of videos you should make. They can be tips, stories or case studies.
Avoid creating a video for the sake of it, instead sit down and write a list of videos you can make. Tips work well, people love consuming knowledge they can pass on in short snippets. Stories work well too, can you share a customer story? AirBnB has been phenomenal at these.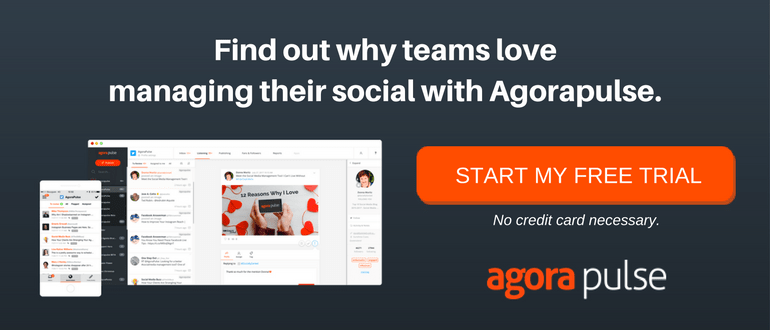 How to Create Video For Facebook
We all carry an amazing video camera and editing device in our pockets. The smartphone makes video creation accessible to all.
So let's grab ours and look at some apps we can use to create video.
InShot
InShot makes editing from a smartphone easy. You can upload your video clips, trim them, filter them, add text and change the speed of each element or the whole video.
It's simple interface makes it one of the easiest to use editing tools out there. You can also add fun features like; mirror image, split screen and stickers.
Here's a tutorial I edited using InShot:
InShot is available for iOS and Android. It is free to use but you'll need to pay to remove the watermark and for sticker and filter packs.
Lomics
If you aren't ready to get in front of a moving camera, Lomics is a fun app that will turn your photos into a comic strip style video. Upload your videos, choose your style and caption them.
Here's an example from The Reluctant Speakers Club (Disclosure, I work with Eamonn on video workshops)
Hyperlapse
Hyperlapse is a standalone app owned by Instagram. It shoots speeded up video and deals well will the jerky, erratic motion of handheld video. There is something freaky about watching a hyperlapse video and that makes it eye-catching.
This customer video from Mahabis showcases a great feature of their product.
You can also use Hyperlapse to show people how to find your business. Walk the route whilst recording a Hyperlapse and show people to your front door.
Take it one step further and you can give people a short virtual tour of your offices and staff. Look at this one from the Whitehouse.
Want to walk around the White House? Take a 15-second tour right now! #Hyperlapse

Posted by The Obama White House on Wednesday, August 27, 2014
Hyperlapse is an iOS only app, Android users can download the similar Microsoft Hyperlapse or use the speed control in InShot to create a similar effect.
Vidlab
Not all videos have to start with moving pictures. One feature of Vidlab is the slideshow video. This brings a series of photographs together to tell a story. You can use this for storytelling or, to illustrate a process. Take a series of photographs for each stage in the process and use Vidlab to edit them together.
You can also add a voiceover, text and video effects.
Vidlab is iOS only at the moment.
Desktop tools
Moving away from your smartphone, here are two tools for creating video on the web.
Vyond
Animated videos can have a strong impact on the viewer. Vyond is a web-based tool that helps you create animated videos including graphic elements and text captions.
Here's an example of Vyond in action from MEP Brian Hayes
Animatron Wave
This is a web-based editing tool that comes with a library of templates and video clips that you can use as part of your video. It also allows you to create video in multiple formats at the same time.
Tips for uploading your Facebook video
Although you can upload videos from mobile and desktop I recommend doing it from desktop. You have more options and it's easier to complete all the required information.
Once you have uploaded your video, you can add information.
1. Give it a name
Facebook videos appear in both Facebook and Google search so include a keyword in your video title so you're easy to find.
2. Description
This appears above the video when it's shared on Facebook. Make this enticing, tell people what the video is about and what they will learn from it. Much like you did in the first 10 seconds of your video.
3. Thumbnail
Choose a thumbnail from the selection Facebook offers you or upload a customised thumbnail.
Custom thumbnails always work better. I use Canva to create a thumbnail with a text overlay for my videos.
4. Subtitles
There are two benefits to including a subtitle file with your video.
You will make your video accessible for the hard of hearing.
You will attract and keep most Facebook video viewers who watch videos with the sound off.
Facebook will auto-generate captions for you. However, these are often inaccurate. Click on the pencil icon next to the captions to edit them.
5. Ninja tip – Call to action button
If you add a link back to your website as a call to action button on your website it will load under the video when people watch it. It's a quick way to get people onto your site.
But… call to action buttons are only available when you boost your video post. The good news is that you only need to boost your video for one day for $1 to get the button.
When you boost your post select 'Post Button' to add a link and call to action button to your video.
Measuring success
There are two ways to view your video insights.
1. From the video
Click on the number of people reached to see statistics on that specific video.
You'll see:
Minutes viewed
Video views
10-second video views
Video average watch time
Audience and retention
Audience and engagement
Click any of these to get more detailed information.
2. From Facebook Insights
From Insights click the video tab to see the most viewed videos in the selected period