Visual content marketing has taken the internet by storm with new sites like Meerkat and Periscope.
While I haven't yet gotten the itch to live stream my every waking moment, I have been using Pinterest and Instagram a lot to help me plan for my upcoming nuptials.
In my quest to plan the perfect rustic chic barn wedding, I've found brands who are absolutely killing it with visual content marketing.
Don't fret: Not all of the brands we're showcasing today are wedding related. But they are smaller, accessible brands that are easy to align with.
Nearly any company looking to step up their game with visuals and content marketing can look to these five Instagram accounts for inspiration.
5 Instagram Accounts Rock'n Their Visual Content Marketing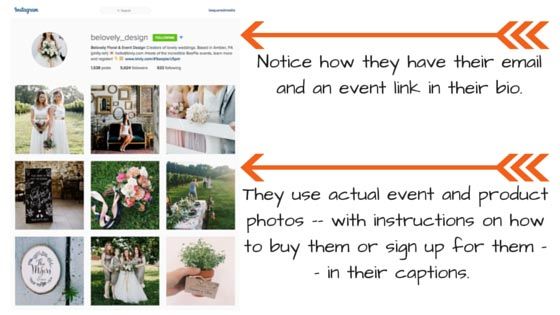 This floral and event design company captured my eye with many rustic images. Beyond bridal needs, Belovely Design is really smart with the way they're using visual marketing to attract their fans.
They know that visual content marketing is about more than just a pretty pic, and use the following tactics to enhance their photos:
They post 2-3 times a day.
They mix their shots up with florals, settings from events, and brides and/or models who epitomize their rustic chic feel.
They often tag influencers, like Anthropologie, when posting their event scenes.
When hosting an event, Belovely will make several posts but mix up the visual content by using real photos, accessory photos, or making memes (see below).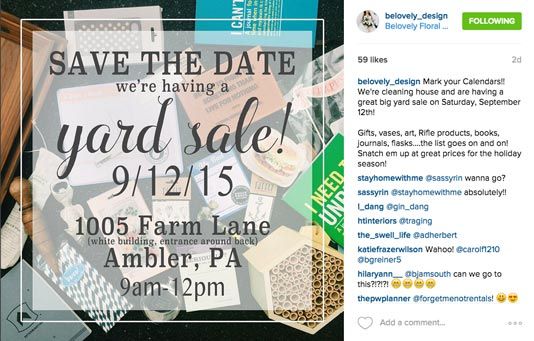 By using a mix of highly visual content, partnering with and tagging influencers, and keeping their audience engaged with plenty of content, this little floral design company in Ambler, Pennsylvania has amassed nearly 6,000 Instagram fans.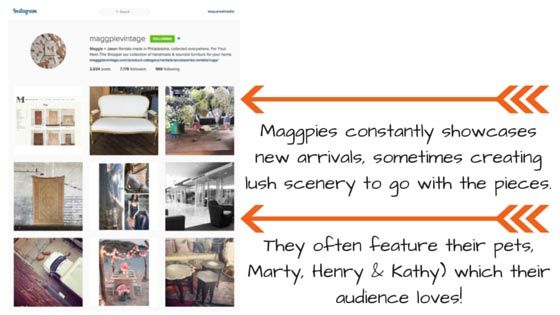 Maggpie Vintage Rentals is another brand I stumbled upon with my wedding research. Also based in Philadelphia, its vintage furniture can be rented for weddings or events.
What Maggpie truly seem to understand about visual content marketing is that we, consumers, don't just want to see a photo of a couch in a bare room. To imagine ourselves buying or renting pieces, it really helps to see them in a fully-decorated vignette.
What to copy from the Maggpie strategy:
Don't just focus on one person or product. Tell a story with your shot.
Research and use relevant hashtags to your post and story.
We know people connect with people and animals. Usee that to your advantage when you can.
Use custom hashtags with your picture — like Maggpie does in the image below.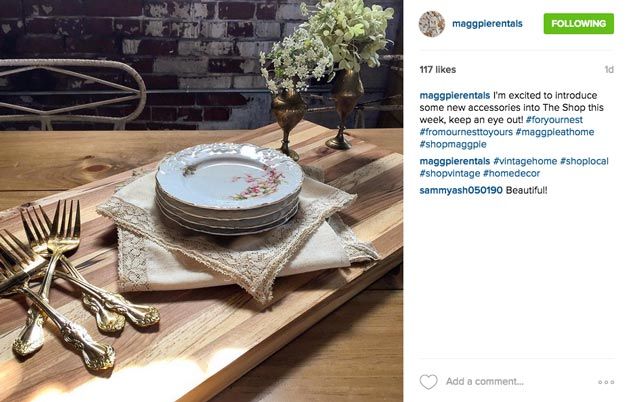 The best lesson learned from Maggpie is to use storytelling in a visual way to connect your community with what you're selling.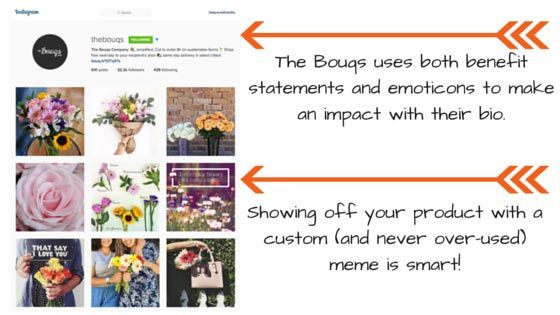 The last of the wedding-themed Instagram accounts! Although The Bouqs creates cut-to-order bouquets from sustainable farms, so anyone can use their services.
Like our previous two examples, The Bouqs uses Instagram not only to take pictures of thousands of different flower arrangements: It also uses the pictures to tell a story.
Emulate this fresh and fun brand by:
Cleverly using emoticons to convey a feeling
Using pictures as contest announcements
Referring to national holidays — they used National Lipstick Day and National Best Friends Day to create some original and fun posts
Creating memes made with your product or team photos
One note on memes: Instagram is NOT a place for sharing memes over and over again — especially when they're comprised of stock photos and/or quotes that aren't your own or relevant to your brand.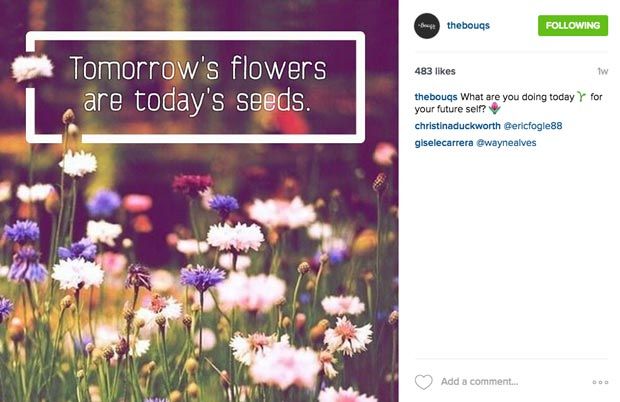 Take a page from The Bouqs and use your own original photos with a quote. Or take it even one step further and use an original photo AND a quote!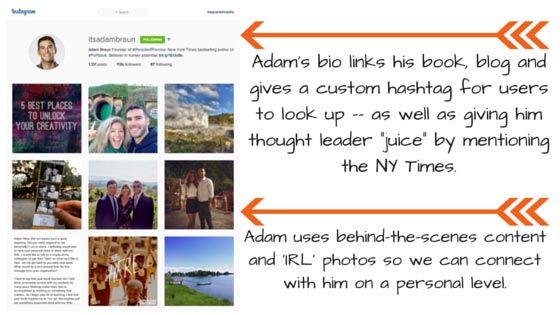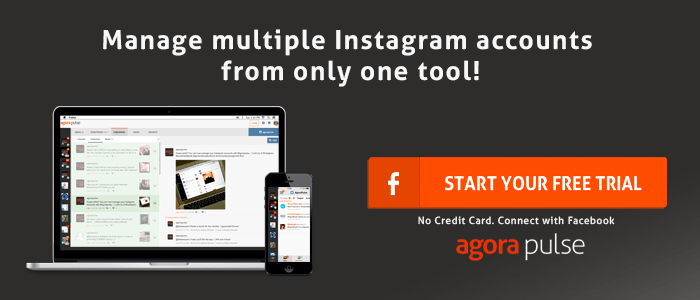 Businessman and philanthropist Adam Braun's account is such a HUGE lesson for people using Instagram.
Why?
We often hear people express concern on whether or not to use Instagram as a business or as "you" (the person behind the brand). Adam and I share similar beliefs in using Instagram to show the human side of you brand … to sort of pull the curtain back and let people get to know the wizard.
I share a similar strategy with the B Squared Media Instagram account.
If you're a solopreneur or the driving force behind your company, consider following Adam's approach by:
Posting behind-the-scenes photos of your home, spouse, family, travels, etc.
Peppering your posts with business-focused pictures
Sharing memes sparingly (and making sure you tie them to your story or brand)
Linking to blog posts or other content once in a while to drive traffic (as seen below)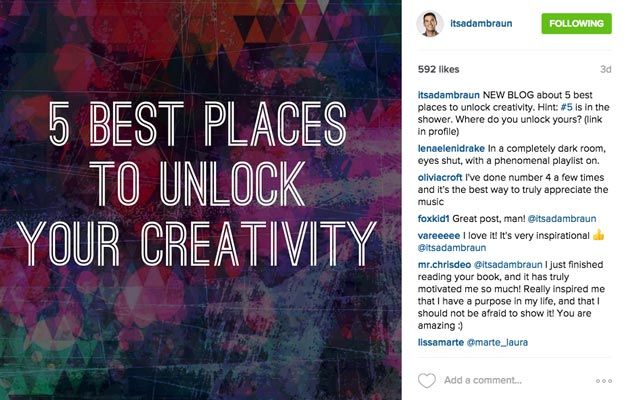 Adam proves that human brands are the most successful brands and that Instagram doesn't have to be all about the biz.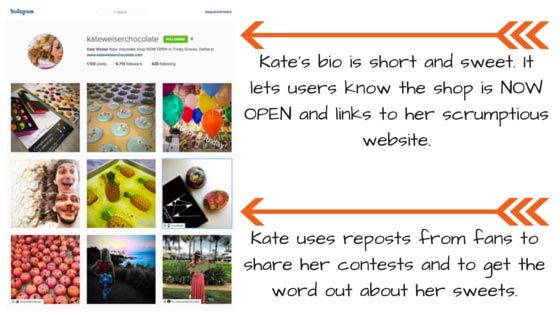 I just had to give a shout out to this unique chocolate shop located in my old stomp'n grounds of Dallas, Texas.
The fact that Kate makes chocolates with such rare flavor combinations and an explosion of color is probably one of the reasons she does so well with her visual content marketing.
However, there are other super successful tactics Kate uses that you can too. For example, she:
Uses Instagram to run contests that spread the word about her new flavors, events and brand
Shares photos of herself and her team to humanize the brand
Creates videos to show "how it's made"
Reposts or regrams pictures from customers and influencers [you can use the tool Regram to do this!], as seen in the photo below

How To Rock Your Visual Content Marketing
If you take each of the examples above, you'll see a common thread when it comes to visual storytelling and content marketing with success,
Use UGC, or user-generated content, to give a peer-to-peer recommendation and review of your brand.
Don't forget behind-the-scenes content — like photos of you, your team, your customers, or even your pets — to humanize your brand.
Keep memes to a minimum. When you do share them, make sure they're original and unique to you.
Give super storytelling by using people, vignettes, and other interesting scenes that set the stage and are multi-dimensional.
Showcase videos where you can.
Tie content back to your business goals, like driving traffic, running contests, soliciting comments and engagement, etc.
[Tweet "Use these 6 tips to totally rock your visual content marketing."]
Are you rock'n visual content marketing on Instagram? Know someone who is? Be a dear and share their IG link with us in the comments section below!