Até Junho 2012, todos administratores das páginas de Facebook eram iguais. Todos tinham acesso completo a uma página e às funcionalidades de gestão da página, crier posts, moderar a página, criar anúncios, analisar métricas, etc. Estaria tudo bem se fosse proprietário da página, mas o que acontecia se quisesse partilhar o trabalho com os seus colegas, um estagiário, ou com a sua agência ? Era uma dor de cabeça!
Contudo desde Junho, o Facebook adicionou 5 novos papéis sue tornam a sua vida MUITO mais fácil. Neste artigo vamos tratar o tema dos cargos administrativos e esclarecer o sue estes podem fazer por si e também o que não podem ( e precisará sempre de uma aplicativo externo Facebook Page management application).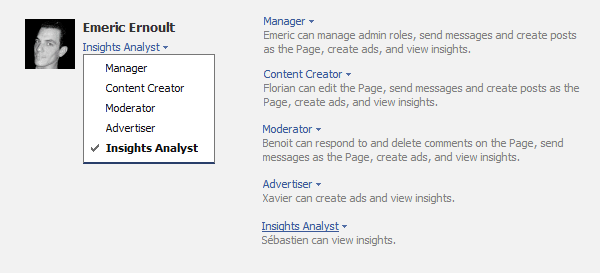 Revisão rápida da funcionalidade cargos administrativos
Vamos começar com o papel de gerente. O antigo "Administador" é agora o gerente ou pode pensar nele como o "Administrador master" com todos os direitos tal como anteriormente.
Criadores de conteúdo têm os memos direitos has com 2 grandees exceções- Primeiro, não podem nomear ou eliminar outros gerentes. Segundo não podem eliminar a página (Whew!).
Moderadores podem responder aos posts dos fãs, comentários e mensagens Moderators o que é perfeito para quem lisa apenas com conteúdos, moderação e apoio. Contudo não têm acesso ao painel de admistração completo.
O Anunciante é o papel perfeito para a agência que cria as campanhas de Publicidade no Facebook e APENAS podem criar anúncios e aceder às informações da página.
O analista de informações apenas têm acesso às informações.
Claro sue não seríamos AgoraPulse se não acrescentassemos algo mais.
Pode confiar na opção default do Facebook para os cargos Administrativos se necessita de maior flexibilidade ?
Temos de admitir que esta nova funcionalidade é otima. Como uma agência tivemos sempre dificuladade em sermos nomeados Administradores das página dos nossos Clientes quando era necessário para criar anúncios, relatórios de informações, etc. E até percebemos a dificuldade. Agora é mais fácil fazermos o nosso trabalho sem que os Clientes fiquem stressados com uma longa lista de adminostradores sobre o quais não têm contrôlo.
Igualmente as empresas querem ter uma palavra final sobre o sue é publicado na página. é um cenário muito habitual quando grandees marcas trabalham com várias agências ao mesmo tempo. Infelizmente uma aprovação de um super administrator ainda não é permitida pelos papéis do Facebook. Talzez isto vá mudar num futuro próximo.
Até lá a melhor opção paraUntil then, the best option for your Facebook Page Admin roles management is to use a 3rd Party application. Within Agorapulse, we are offering two ways of handling admin roles. The first possibility is simply to synchronize with the roles you have assigned to your admins directly on Facebook. If you choose to keep that default option, your admins will have the same rights on your Agorapulse Page Manager as they have on Facebook.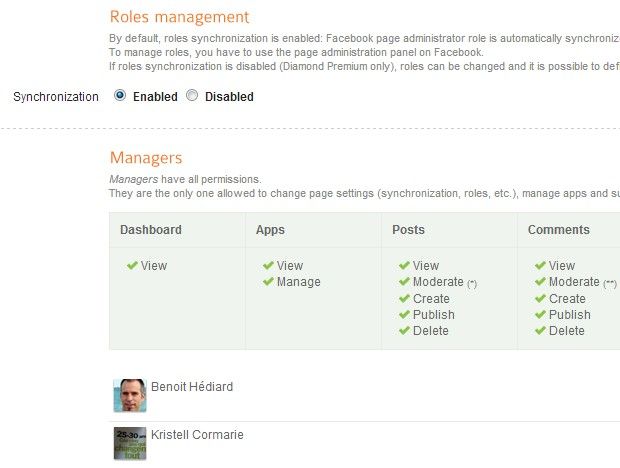 However, the 5 "packaged" roles that are available on Facebook will not offer enough flexibility if you want to give very granular access and right management to your team members.
Let's say, for example, that you want one admin to assign posts and comments but not to edit or delete them? Or that you want that same admin to propose a response to a comment but want to be able to review and approve it before it goes live on your Timeline? Facebook's default roles will not give you that flexibility, but Agorapulse will!
This is the only way to create a publication (or moderation) workflow among an existing team as you can manage each member's role and rights action by action and feature by feature :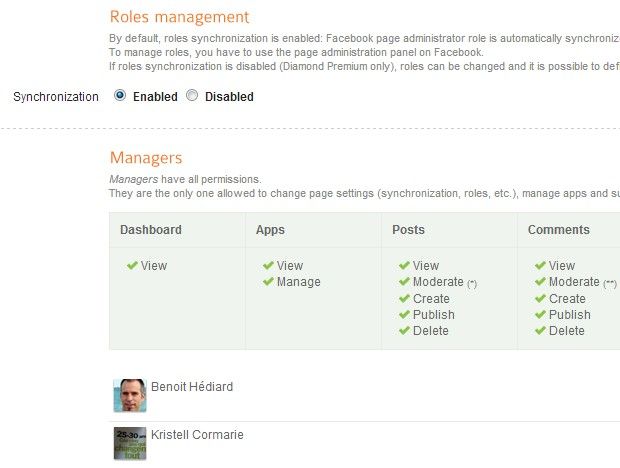 This kind of granular role / right management feature is probably only useful for bigger Facebook pages and large moderation team, but it can also be used by agencies to co-create content with their client and make sure that everyone gets involved in the approval process.
In your situation, is the default Facebook role management enough or do you need more?