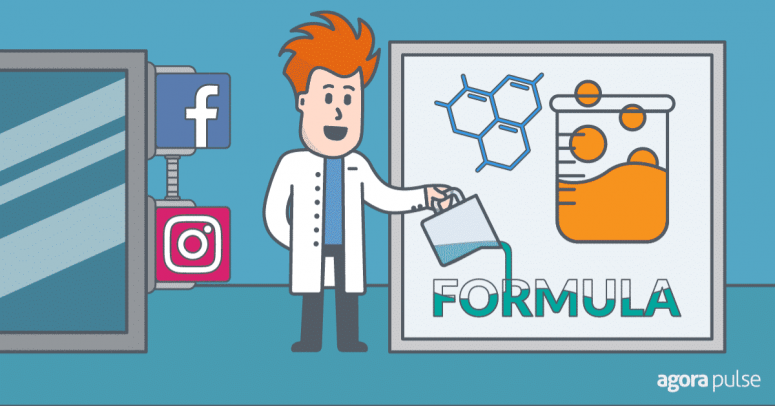 Subscribe to the Social Media Lab Podcast via iTunes | Stitcher | Spotify
Will Overlaid Text On Facebook and Instagram Image Ads Matter?
Gaining even the slightest advantages in marketing can make or break an ad campaign. A 10% decrease in CPC, for example, could mean the difference between a profitable campaign or going bankrupt!
With those ideas in mind, the Social Media Lab tested whether adding text on the images in our Instagram and Facebook ads helped or hurt performance.
Sketchdeck (a website design firm) tested 3 different ads sets on Facebook with and without text and it was surprised to find their ads without text had 6-7% lower CPC: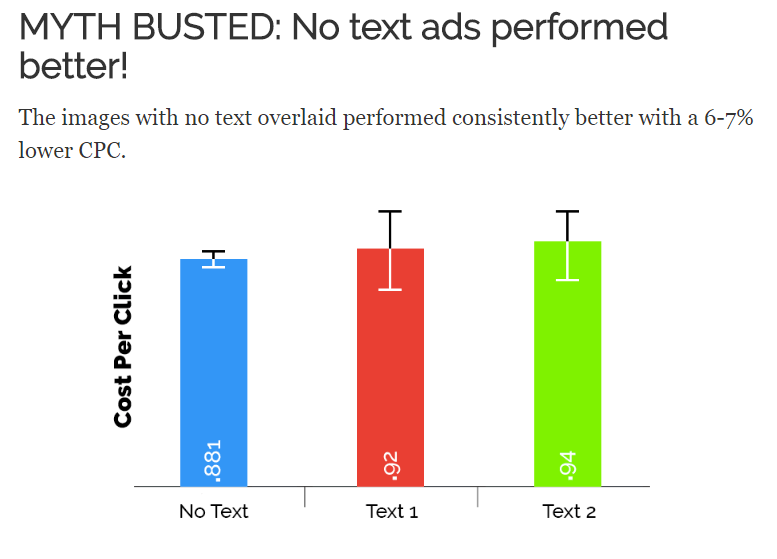 The problem with this data is that Sketchbook considered the results statistically significant at an 80% value, but 95% is the scientific norm according to data scientists, including the Social Media Lab.
Other than this experiment from Sketchbook, I couldn't find any actual testing of text versus no text on images ads on Facebook or Instagram. Every blog post you find on this topic states text on images is better for ads and also why Facebook suggests a lower amount of text.
My hypothesis will reflect the widely assumed advantage of text on images.
Hypothesis: Image ads on Facebook and Instagram with text produces more clicks and lower CPC.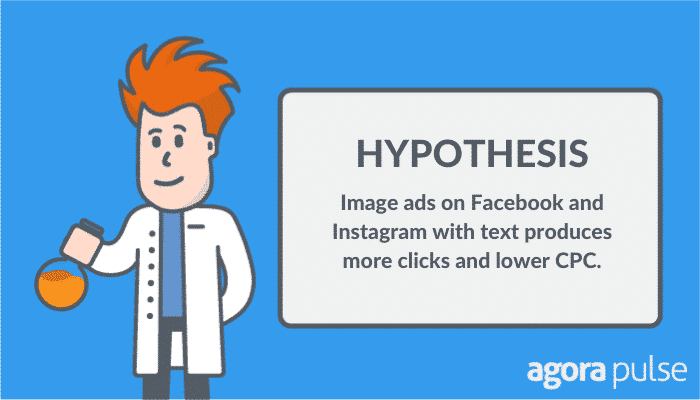 Testing Image Ads With and Without Text
SHARE THIS TEST WITH YOUR FOLLOWERS!
Click To Tweet
We ran two different ads for this test, one only posting to Instagram, one only posting to Facebook.
The topic for each ad was specific for each platform.
Instagram Ads
The Instagram ad was run on the Agorapulse Instagram account and was directing traffic to a training course being offered by Jenn Hermann.
Ads were placed in the feed as well as Stories.
This is the ad with text on the Instagram feed and Stories: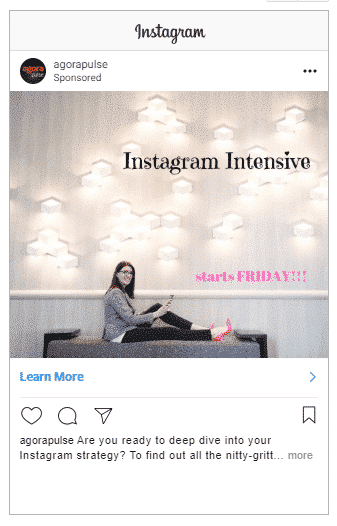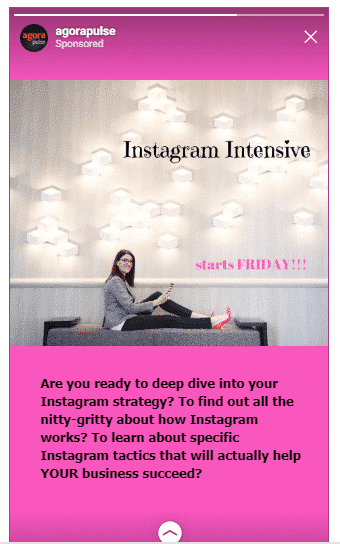 Here is the ad on the Instagram feed and Stories without text: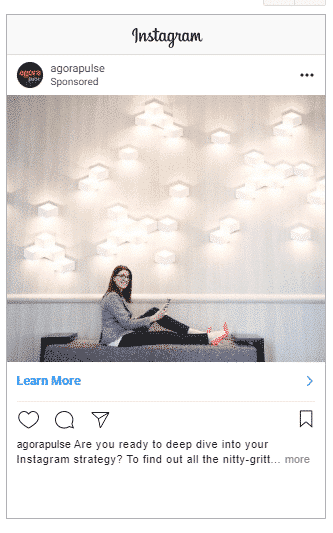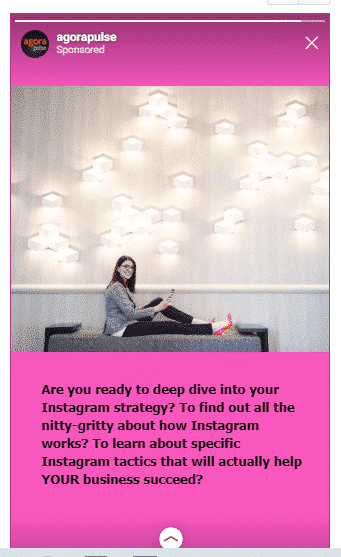 The ads were identical, with the exception (for testing purposes) of a small amount of text added to the image.
Facebook Ads
The Facebook ad ran on the Agorapulse Facebook page directing traffic to a blog post from the Social Media Lab about the decline of Facebook Reach.
Ads were only run in the newsfeed, on desktop, and on mobile.
Here is the Facebook ad on desktop and mobile with text: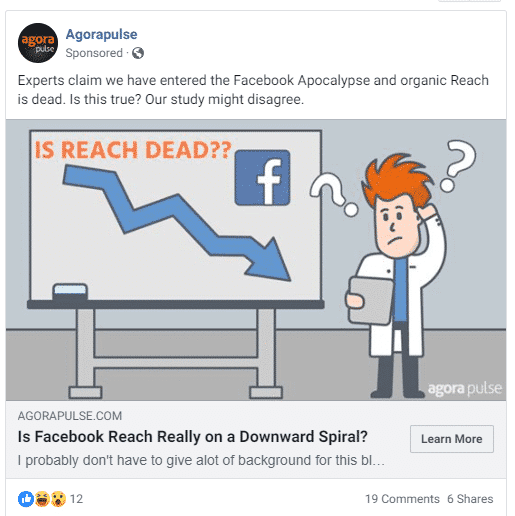 These are the Facebook desktop and mobile ads without text: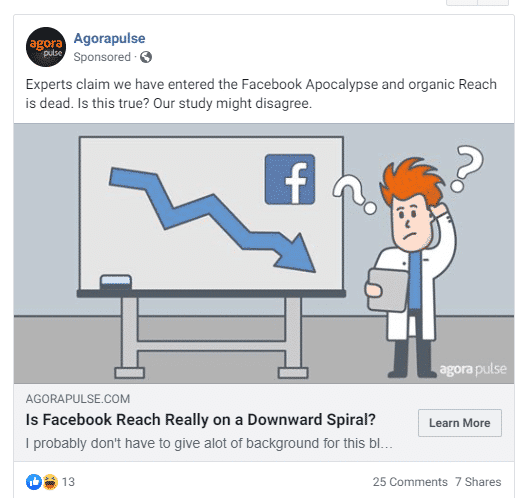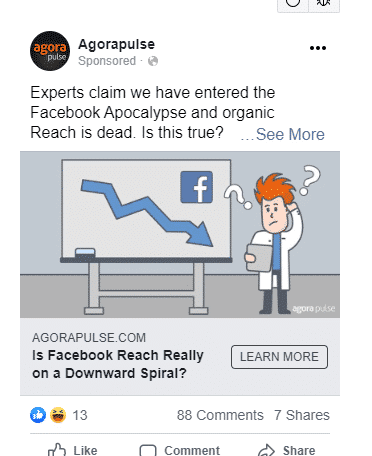 As with the Instagram ads, the only difference in the Facebook ads was that text was added to the image for testing.
A total of $500 was spent on Facebook, split between ads with or without text. Likewise, $500 was spent on Instagram.
The "lowest cost" bid strategy was selected on the ads. The ad will run regardless of how high the CPC goes, but this strategy ensures it constantly runs.
For the Facebook ad, we chose a daily budget to cover the $500 ad spend split between the tests over two weeks.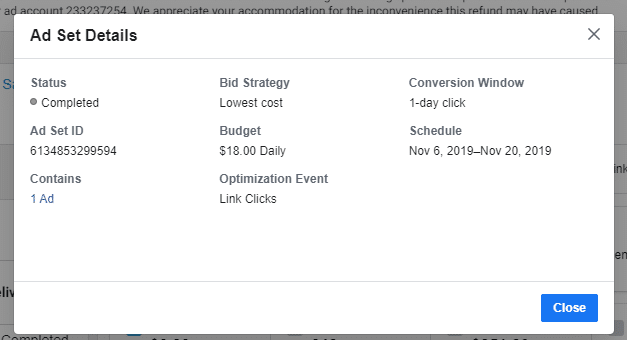 On the Instagram ad, we had a shorter time frame set because the training was launching soon, thus had a lifetime ad budget of $500, split evenly between both ads. (This image shows a $250 lifetime budget because it's only showing one version of the ad.)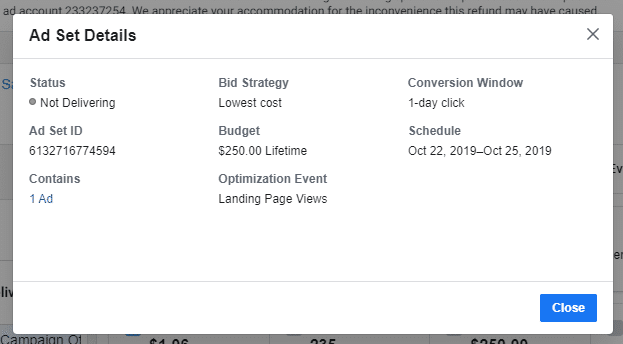 All ads were targeted to English-speaking users only in these countries:
Australia

Canada

United Kingdom

United States
In addition to language and location targeting, we also targeted users that had recently interacted with our accounts, along with a few social media related interests.
Results Testing Text on Images Ads
First, we'll look at the Instagram ad data.
Instagram ad with text on the image:
Clicks: 235

CPC: $1.06

Reach: 32,384
Instagram ad without text on the image:
Clicks: 160

CPC: $1.56

Reach: 48,736
The Instagram ad with text on the image had a 32.05% lower CPC and 46.88% more clicks, even though the Reach was 50.49% higher on the Instagram ad without text on the image.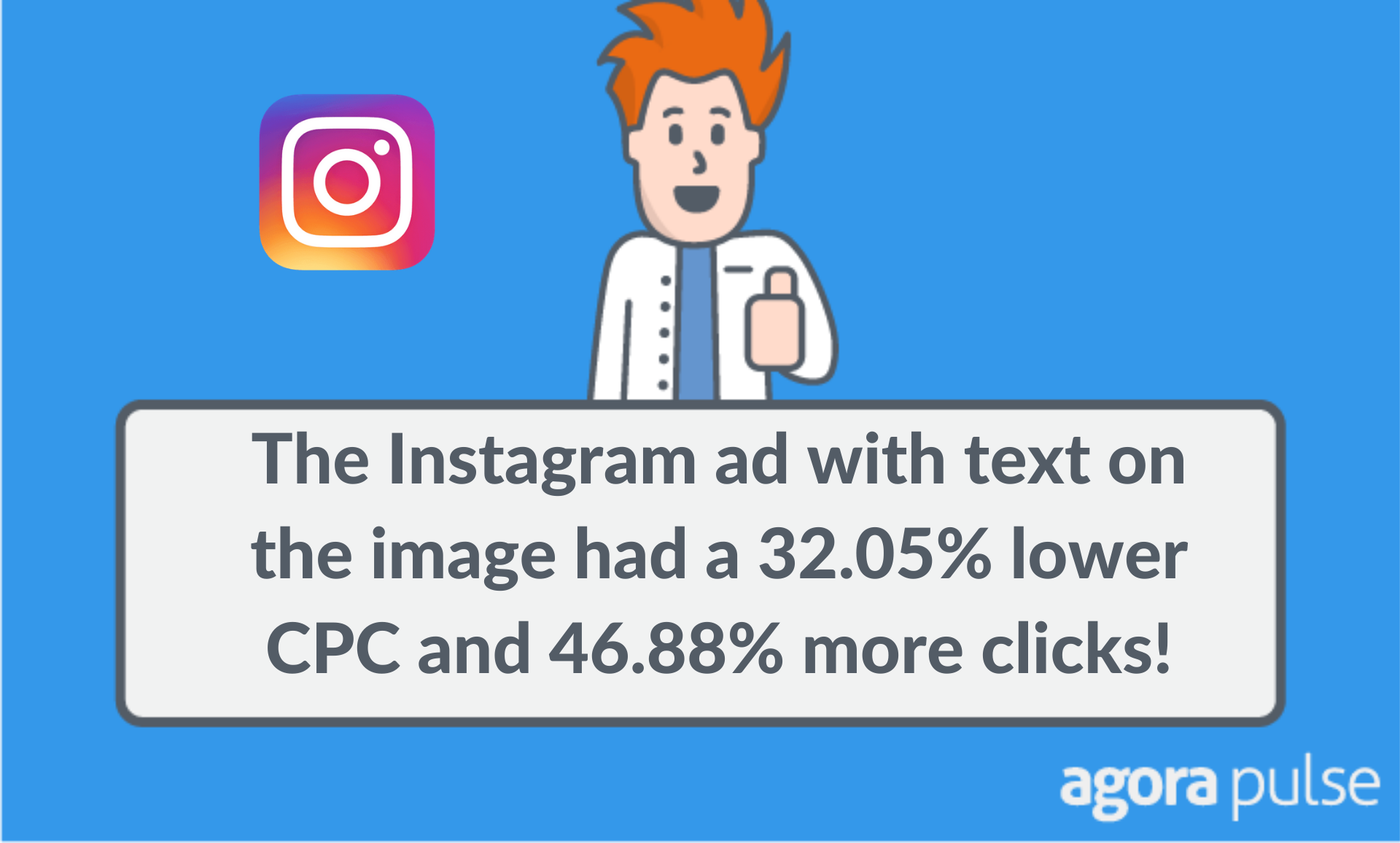 In the screenshot below taken from Facebook Ads Manager "Ad B" is with text, "Ad A" is without text:

What about Facebook ads?
Facebook ads with text on the image:
Clicks: 642

CPC: $0.39

Reach: 21,205
Facebook ads without text on the image:
Clicks: 514

CPC: $0.49

Reach: 19,117
The Facebook ad with text had a 20.41% lower CPC, 19.94% more clicks and 10.92% higher Reach.
As in the Instagram ad screenshot, I failed to drill down and give different ads correct titles, but in the screenshot below "Ad A" is without text, "Ad B" is with text:

I confirmed this in the free AdsReport tool that quickly shows me which ad won my split test: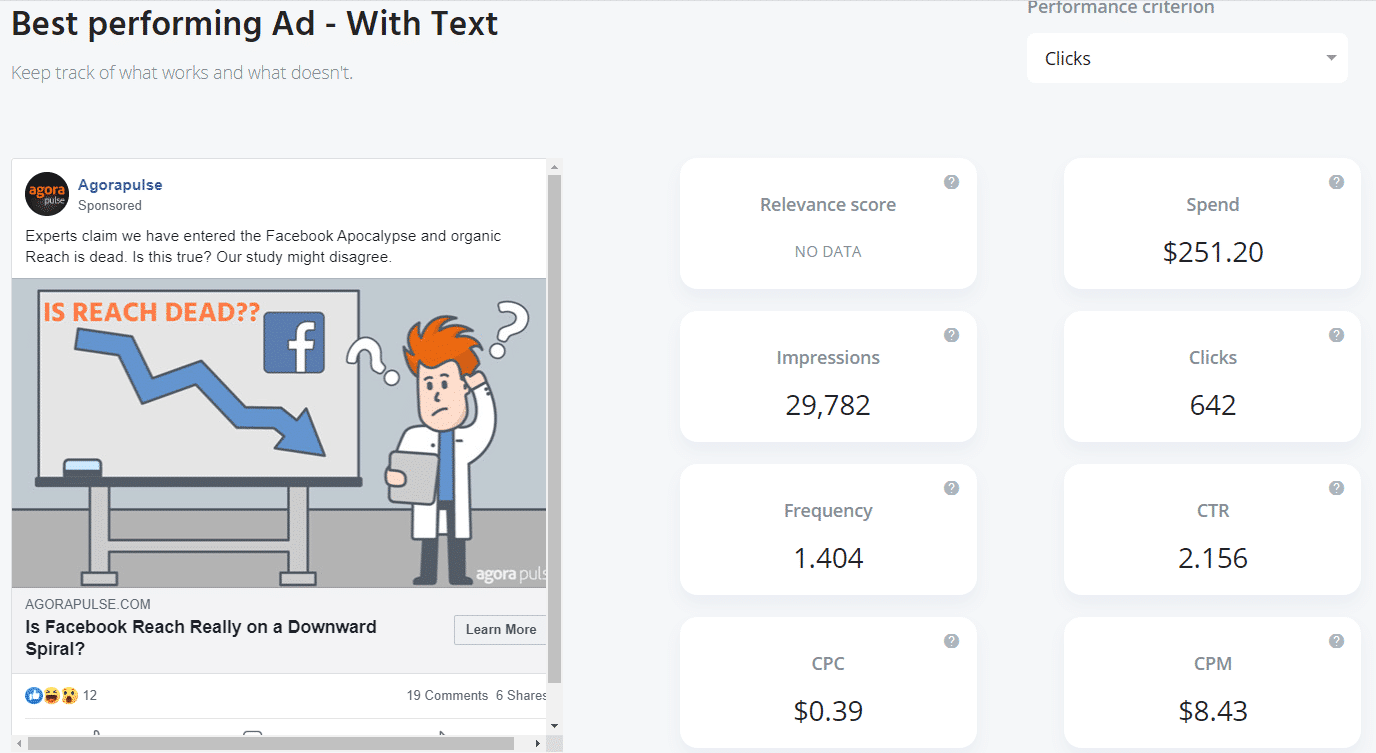 Instagram and Facebook Ads With Text on Images Perform Better!
Our hypothesis was correct in this experiment.
SHARE THE STATS WITH YOUR FOLLOWERS!
Click To Tweet
On both Instagram and Facebook, our ads with text overlaid on the images had more clicks and lower CPC.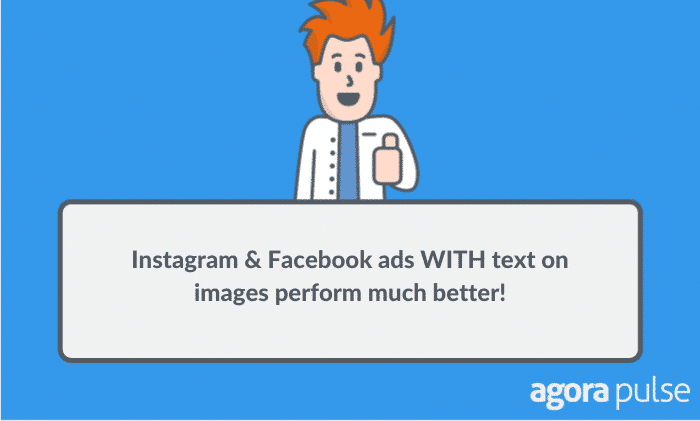 When we look at these numbers in a statistical significance calculator, we find our results overwhelmingly are scientific!
Below you'll see the Instagram ad was 100% certain, the Facebook ad was 98% certain. We want to see these numbers on a scientific test, not 80% as mentioned earlier from Sketchbook.
In both screenshots, the "number of visitors" was Reach, and "conversions" were clicks.


So, you should add text to your images ads on Facebook and Instagram.
Facebook understands that bold text on images grabs our attention, much like a billboard on the freeway.
But Facebook knows that images covered less than 20% in text performed best. Facebook sticks to this rule very closely, and your image ad may get rejected if you go over or simply have very low Reach.
Facebook does provide a quick way to test the amount of text on an image before or during the ad creation process. Just simply upload an image—and Facebook will let you know.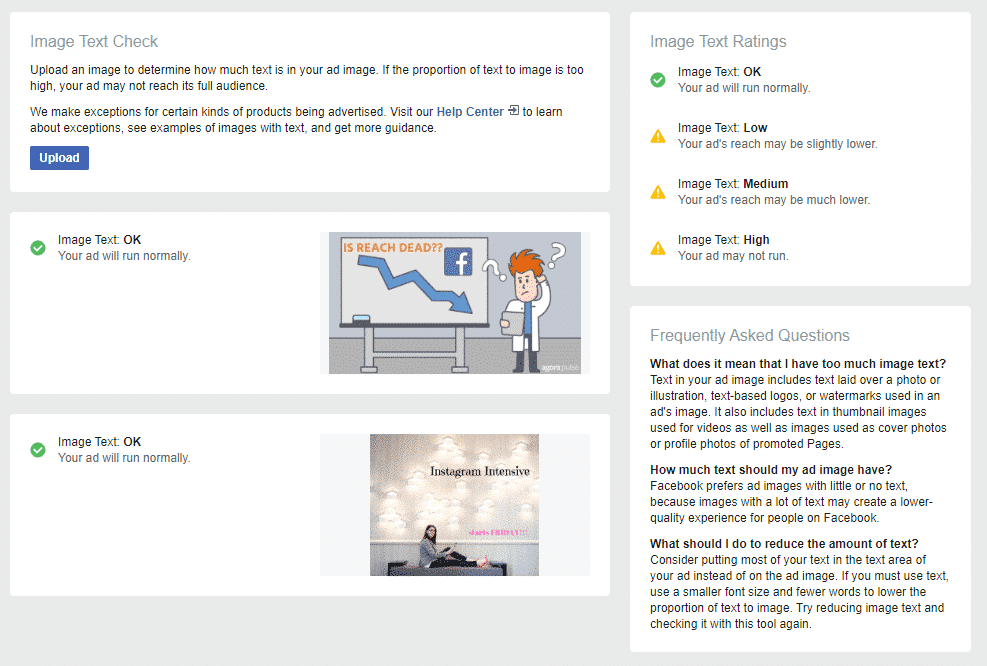 Both of our images came back as "OK," meaning they fell under the 20% rule and we should expect normal ad delivery.
The Social Media Lab recommends (based on our testing) running ads on Instagram and Facebook with a small amount of text on them to obtain more clicks and lower CPC.
If you've tested this and seen different results, we'd love to hear about it! Join our Facebook group and let us know what you have found!
Subscribe to the Social Media Lab Podcast via iTunes | Stitcher | Spotify
Don't miss an experiment!
New experiments and exclusive content straight to your inbox