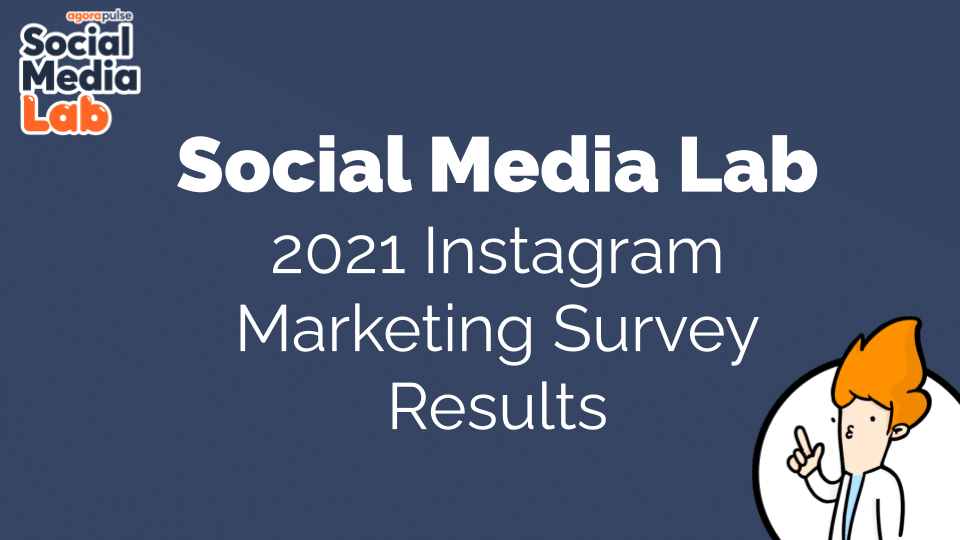 Subscribe to the Social Media Lab Podcast via Apple | Stitcher | Spotify
Social Media Lab Instagram Marketing Survey 2021
Want to learn how other agencies and social media managers are doing Instagram marketing and get inspired?
The Social Media Lab recently surveyed digital marketing agencies and social media managers to see how they use Instagram. We received 335 responses to our "Instagram Marketing Survey 2021."
The following information will give you insight into how the average Instagram user utilizes Instagram daily.
Instagram Marketing Survey 2021 Results
Highlights from the Instagram Marketing Survey:
Instagram marketing was very important or extremely important to 64.77% of survey respondents.

66.27% spend between 1-3 hours on Instagram daily.

90.75% view Instagram Stories.

Instagram Reels are viewed by 68.96% of those surveyed.

94.93% post at least once per week to the Instagram feed.
Question 1: How Many Instagram Followers Do You Have?
We asked this question to gain a perspective of the type of Instagram users were taking the survey: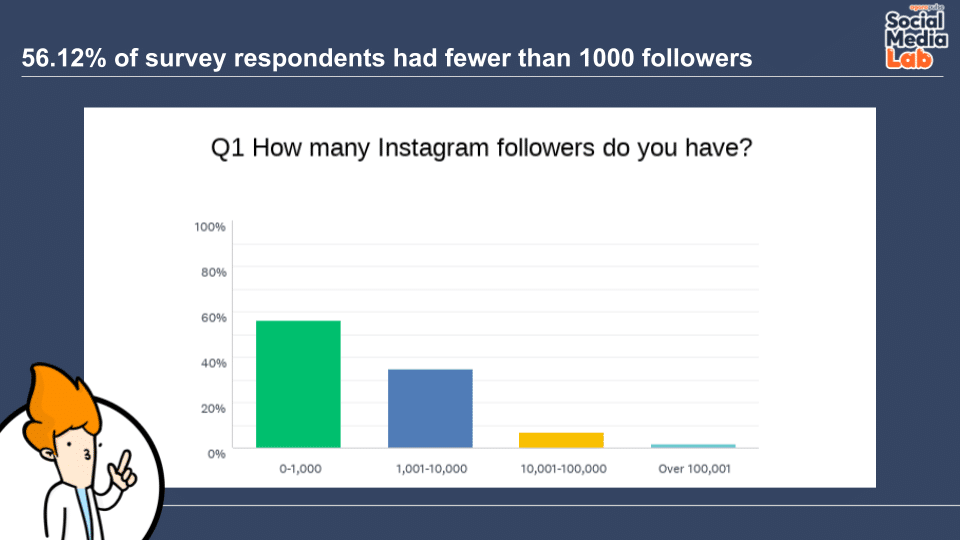 A whopping 91.05% of survey respondents had fewer than 10,000 followers. Of those surveyed 56.12% had fewer than 1,000 followers on Instagram.
Question 2: How Many Instagram Accounts Do You Follow?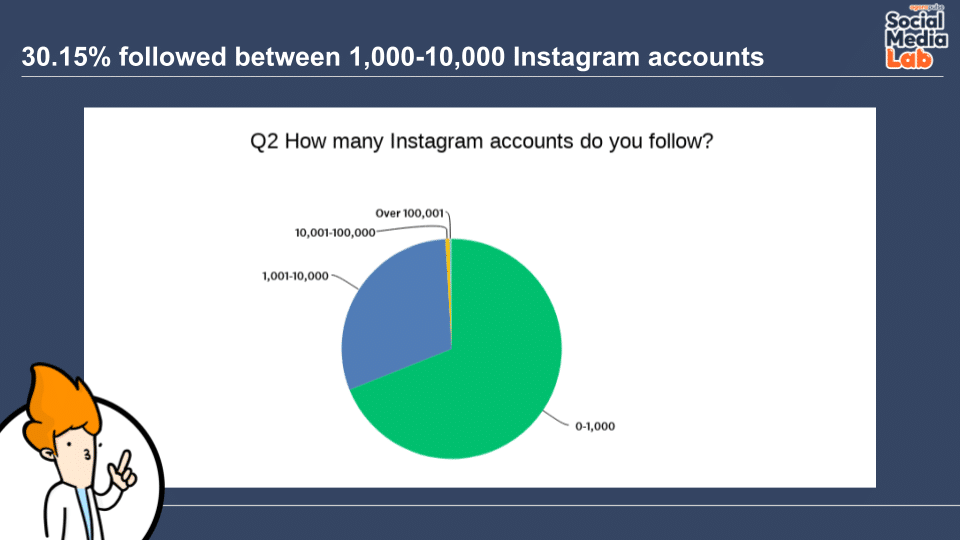 Only 0.60% surveyed followed more than 10,000 accounts, with most (68.96%) following fewer than 1,000 accounts.
The fewer accounts someone is following, the greater chance you have at showing up in their Instagram feed or stories.
Question 3: Which of the Following Best Describes the Principal Industry of Your Organization?
Admittedly, this question has too many options. I will reduce it to fewer than five choices in upcoming surveys.
27.76% surveyed said they worked in "Advertising & Marketing." The second highest response was "Entertainment & Leisure" at 15.22%.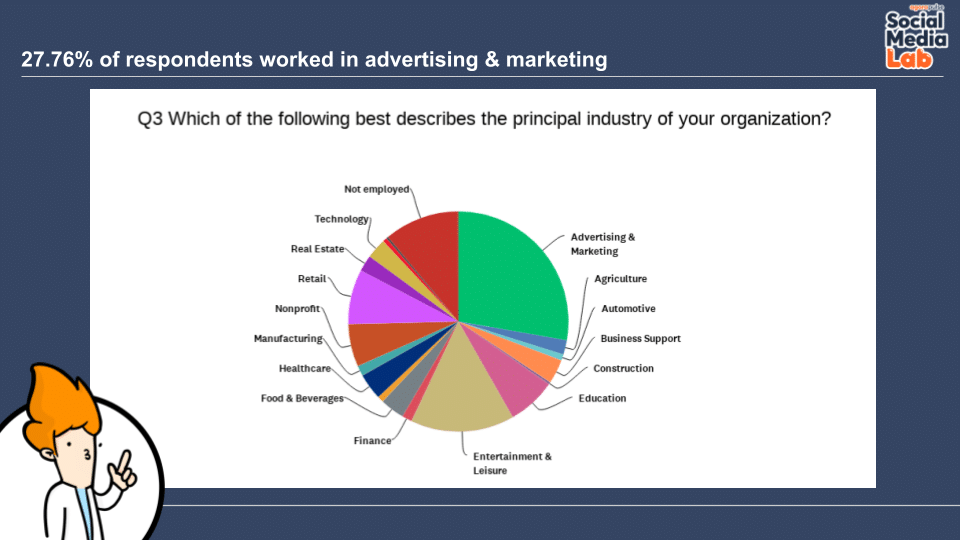 Question 4: How Important Is Instagram for Your (or Your Client's) Marketing?
This question dives into the marketing mindset of those surveyed.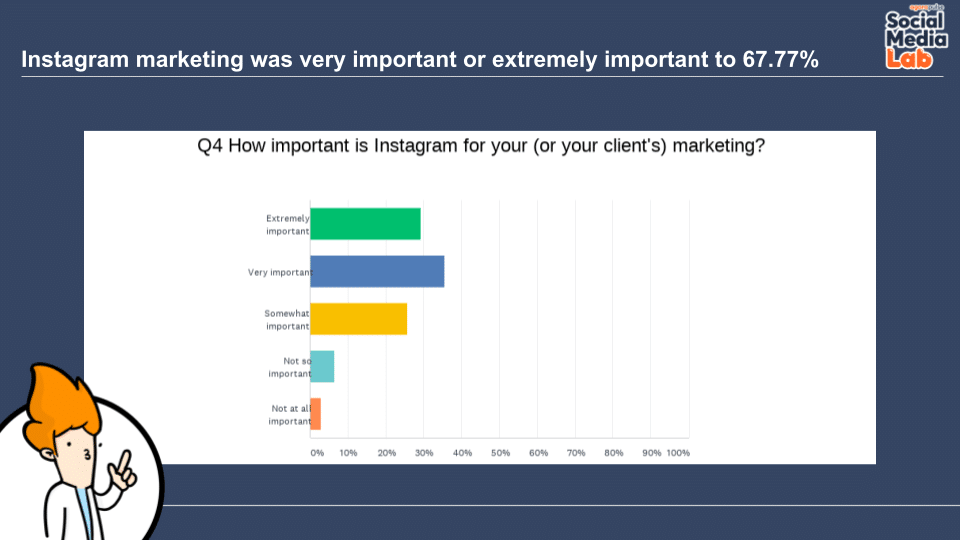 The vast majority say Instagram marketing is at least "Somewhat important":
Extremely important – 29.25%

Very important – 35.52%

Somewhat important – 25.67%

Not so important – 6.57%

Not at all important – 2.99%
Question 5: How Many Instagram Accounts Do You Manage?
We found 48.96% managed 2-5 Instagram accounts.
Nearly half the participants manage more than two accounts lets us know even more the survey was taken mostly by those in the marketing industry.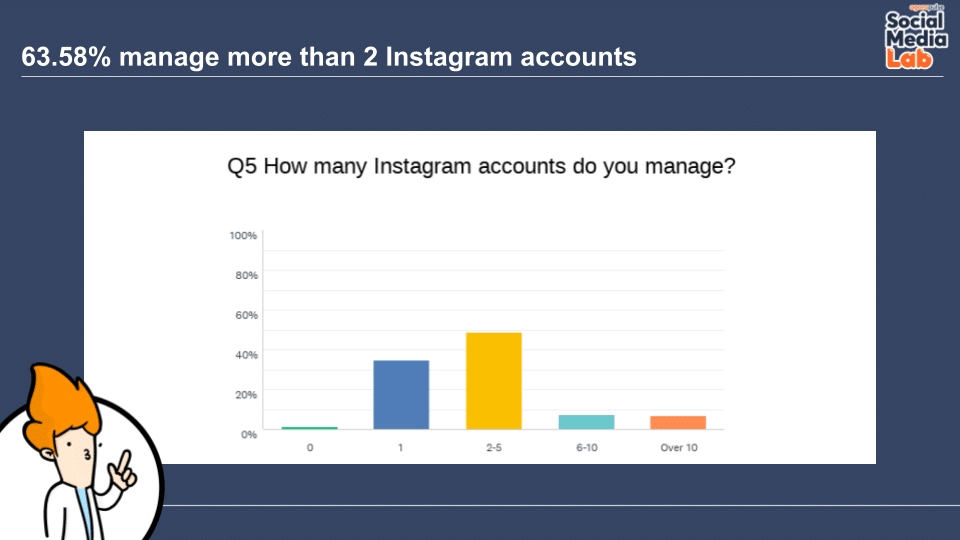 Question 6: What is Your Primary Reason for Using Instagram?
This may be my favorite and most revealing question in the survey.
Finding out why people use a particular platform, and how they use it can steer your marketing.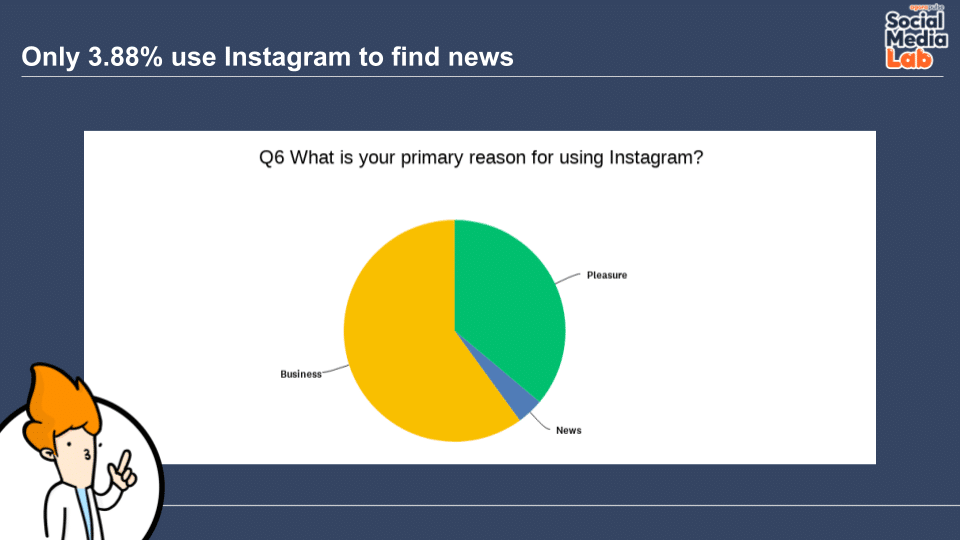 Hardly anyone surveyed (just 3.8%) is using Instagram to find news. A total of 60% use Instagram for business purposes. Some 36.12% use Instagram for pleasure, which is what Instagram was made for.
Leverage data such as this to craft your posts on Instagram. With most surveyed using Instagram for business purposes, your messaging perhaps should lean towards helping followers be better at business.
Question 7: How Many Hours Per Day Do You Spend on Instagram?
Some 66.27% spend 1-3 hours per day on Instagram.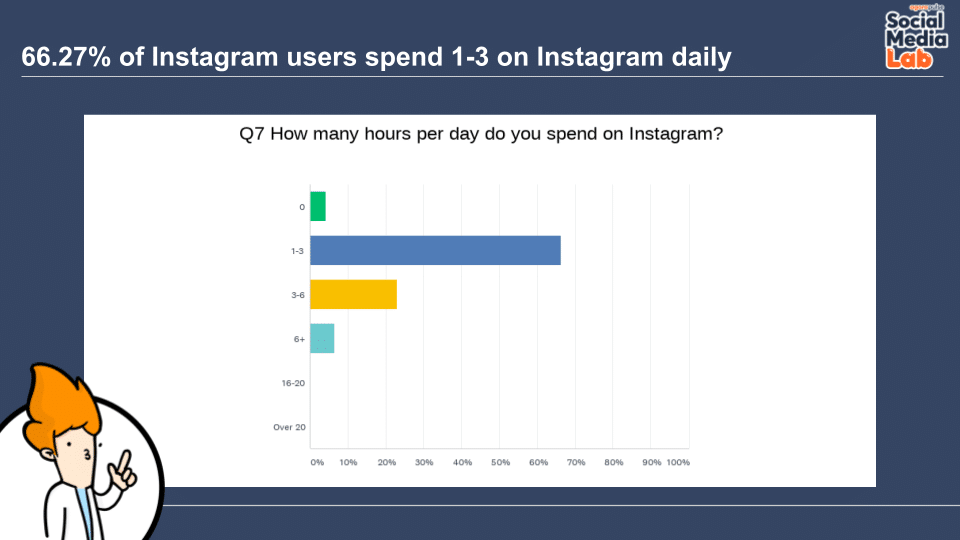 Question 8: Do You View Instagram Stories?
The Social Media Lab has studied Instagram Stories before, and we know their importance for brands. But, are Instagram users viewing Instagram Stories?
According to our survey, a whopping 90.75% are viewing Instagram Stories. (You should probably go post one now.)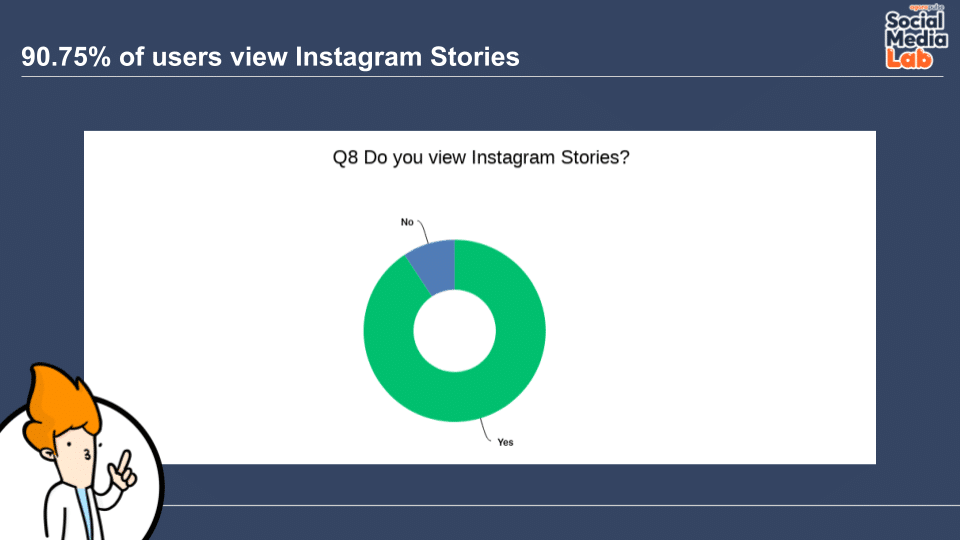 Are you posting Instagram Stories? Here are a few resources you might enjoy related to Instagram Stories:
Question 9: Do You View Instagram Reels?
Instagram Reels is Instagram's answer to TikTok. Instagram Reels are short videos, typically set to music, in your phone's vertical format (like Stories ).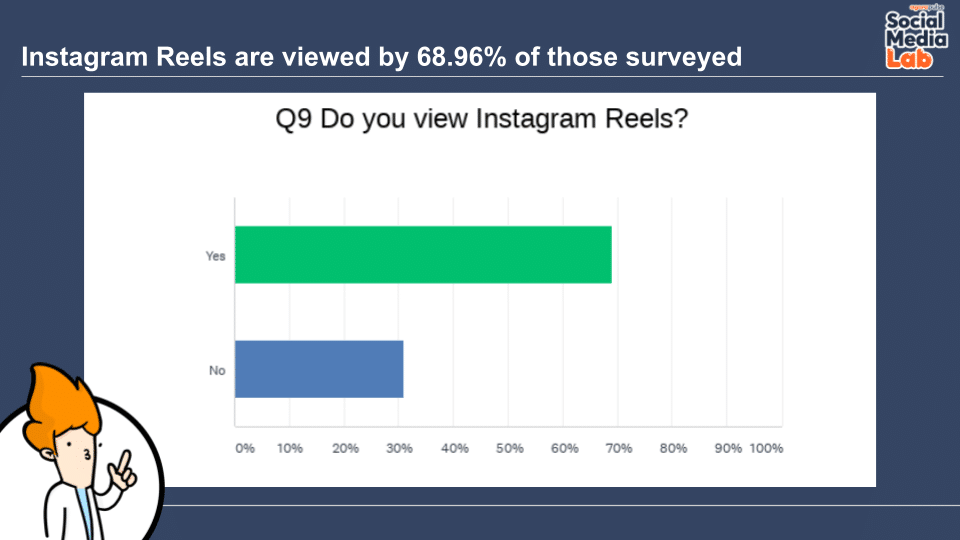 68.96% surveyed are watching Instagram Reels. Your business should find ways to get creative with Instagram Reels.
Question 10: Do You View Videos on IGTV?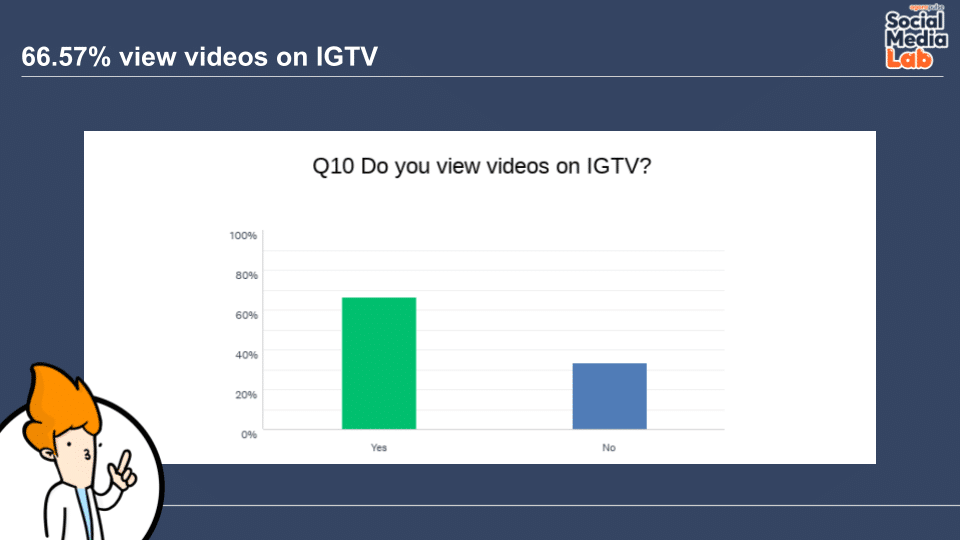 IGTV allows for longer videos to be uploaded with the ability to add links in the description. 66.57% of those we surveyed claimed to view videos on IGTV.
Question 11:How Many Times Per Week Do You Post to the Instagram Feed?
The majority of those surveyed, 61.79%, post an update to the Instagram feed 1-4 times per week.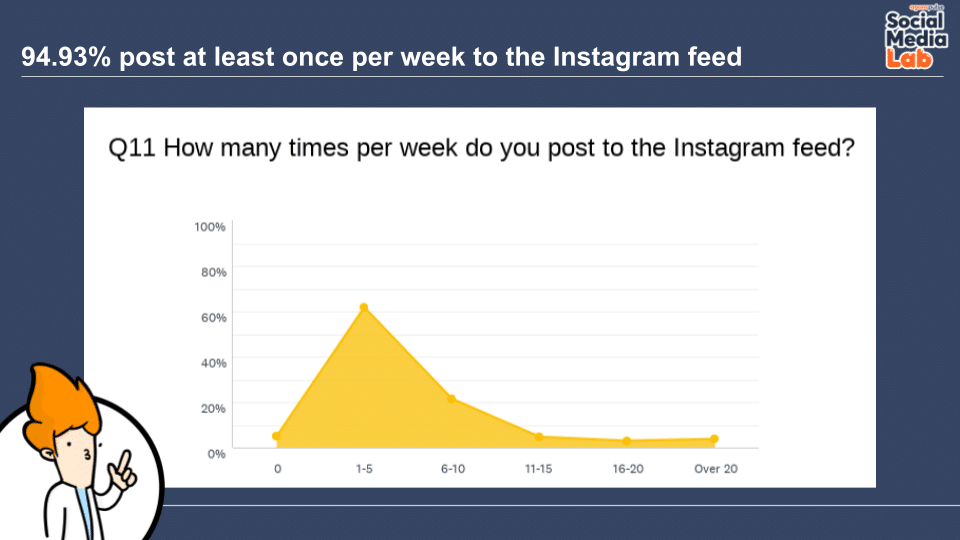 In a previous Social Media Lab experiment, we found that it's OK to mix up your posting frequency, but if you aren't posting, no one will see you on the Instagram feed.
Question 12: How Many Times per Day Do You Post Instagram Stories?
Instagram Stories expire after 24 hours Most users post multiple stories per day.
Our survey shows that 64.48% post 1-5 Instagram Stories per day. We also find that 1.79% are posting over 20 stories per day.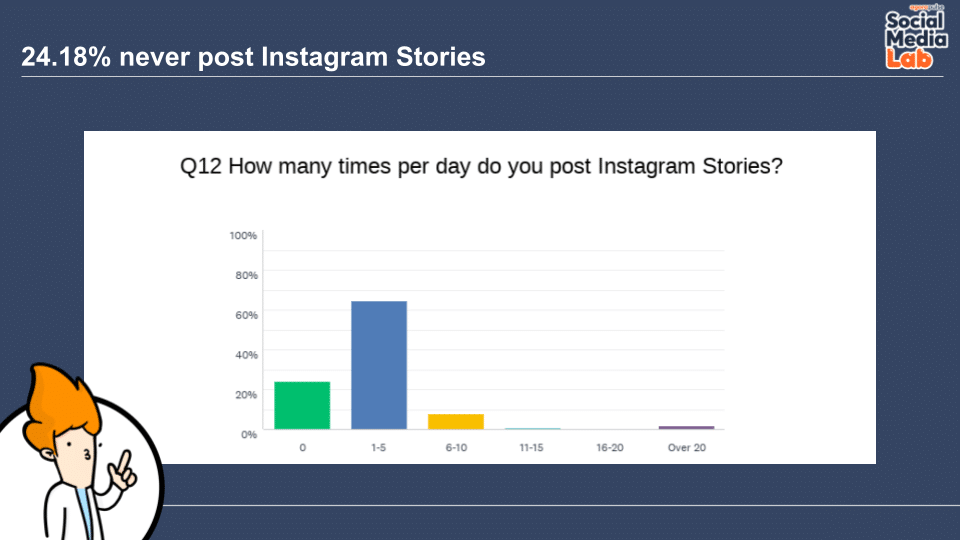 Question 13: How Many Hashtags Do You Use In Your Instagram Posts?
The Social Media Lab loves testing the number of hashtags to use on Instagram posts.
Our experiment showed that 8 hashtags on Instagram posts were the sweet spot.
Here's how many hashtags those we surveyed say they use on Instagram: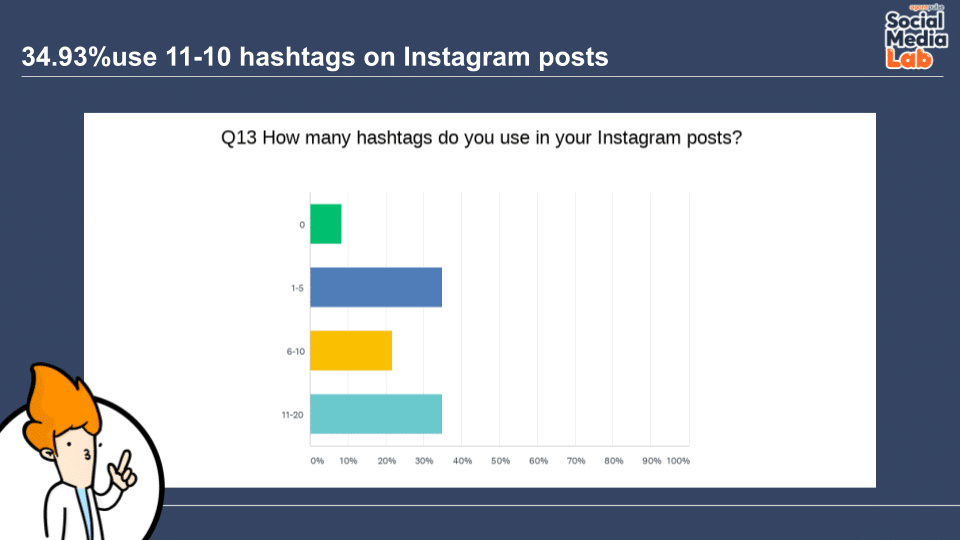 An equal 34.93% use 1-5 hashtags and 11-20 hashtags on Instagram.
Those numbers match up 100%, yet are so different in the number of hashtags used on Instagram.
Question 14: Do You Cross-Post From Instagram to Twitter or Facebook?
Cross-posting is the practice of creating a post on Instagram and giving permission to the app to publish the exact post to other sites, such as Twitter or Facebook.
The Social Media Lab studies have found that cross-posting negatively impacts reach and engagement. So, we don't recommend doing it.
A total of 41.48% of those surveyed adhere to our recommendation of not cross-posting. Some 58.51% are still cross-posting from Instagram.
Question 15: Do You Use a 3rd Party Tool to Schedule Your Posts to Instagram?
Social Media Lab testing results conclusively show that Instagram doesn't punish posts from third-party apps.
Our survey results show that less than 50% are using a third-party tool to schedule Instagram posts: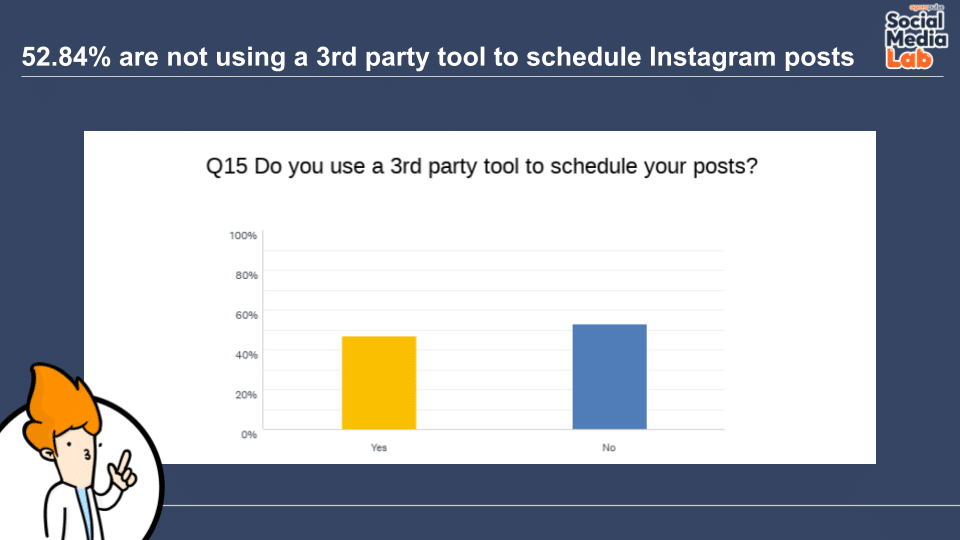 Question 16: How Many Videos Do You Upload to the Instagram Feed Monthly?
Instagram limits the length of videos on the feed to 60 seconds, and they must be a minimum of 3 seconds.
These limits require users to be creative, getting to the point quickly in the video.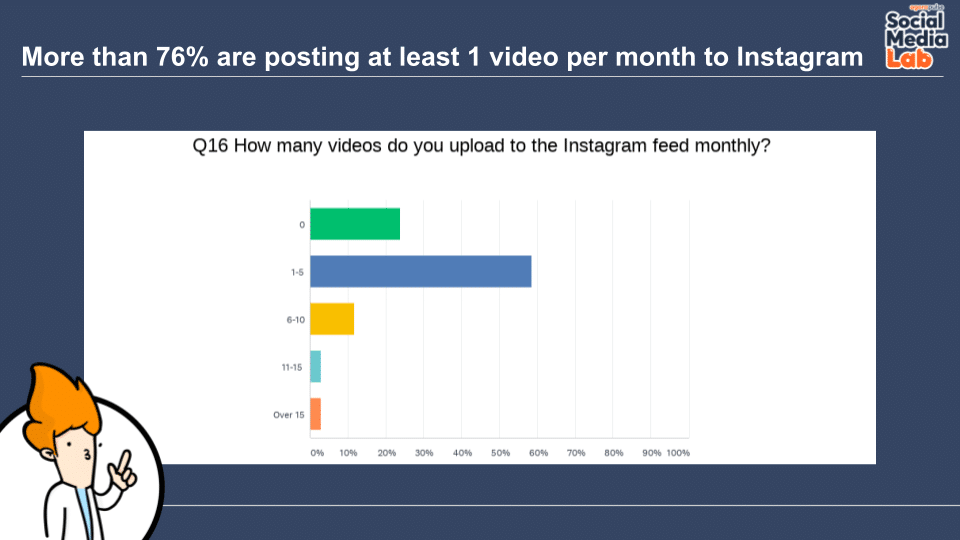 58.51% surveyed post between 1-5 videos to Instagram monthly, and 23.88% never upload videos to Instagram.
Question 17: How Many IGTV Videos Do You Post Monthly?
Videos uploaded to IGTV can be a maximum of 60 minutes long, compared to just 60 seconds long on the Instagram feed.
Once uploaded to IGTV, a preview of the video can also be posted to your Instagram feed and profile. Doing so gives viewers an option to watch the rest on IGTV.
According to our survey, much fewer users are uploading videos to IGTV compared to the Instagram feed: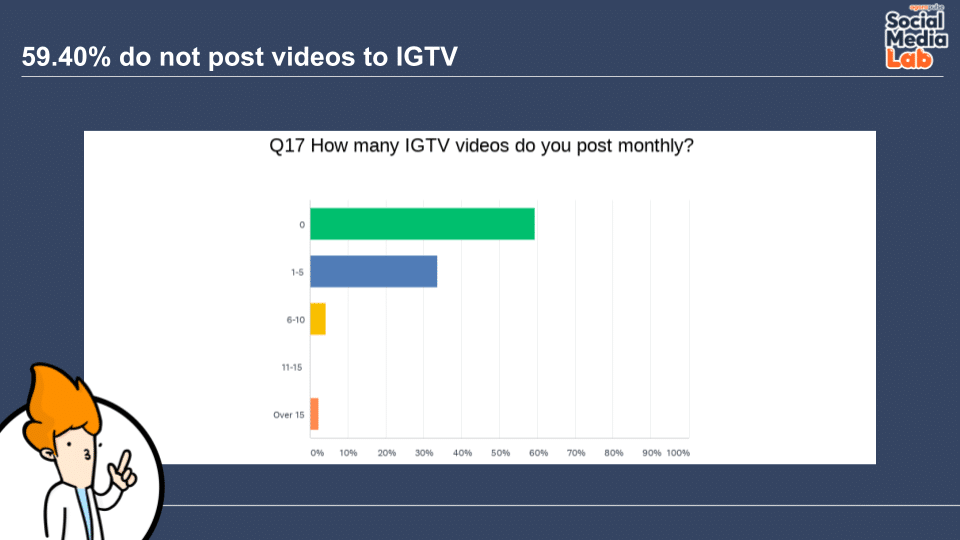 I've kept the charts for questions 16 and 17 formatted the same intentionally to visualize the difference.
59.40% never upload videos to IGTV, 33.73% say they upload 1-5 videos to IGTV per month.
Notice that those posting over 15 videos to the Instagram feed and IGTV are almost the same, 2.99% vs 2.39%.
Question 18: How Many Instagram Reels Do You Post Monthly?
Instagram Reels are relatively new. The feature is Instagram's attempt to compete with TikTok.
Instagram Reels can be a maximum of 60 seconds and are not seen on the Instagram feed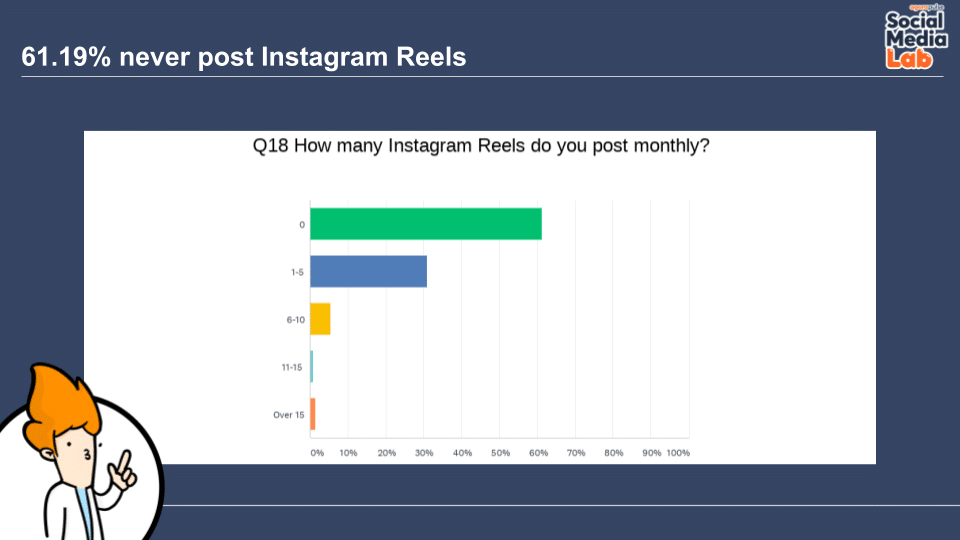 Keeping with the same graph format as questions 16 and 17, we continue to see fewer users uploading videos to Instagram Reels.
A resounding 61.19% are not publishing Instagram Reels at all, with 31.04% publishing 1-5 Instagram Reels monthly.
The number of users uploading over 15 Instagram Reels fell to 1.49%.
Question 19: Do You Live Stream on Instagram?
Instagram launched the ability to live stream in December 2016 but only via their mobile app. Once the live stream ends, your video disappears.
Not being able to conduct live streams via desktop tools and no saving of the live broadcast has been a big hindrance to usage.
Our survey participants reflect this with 78.21% saying they do not live stream on Instagram: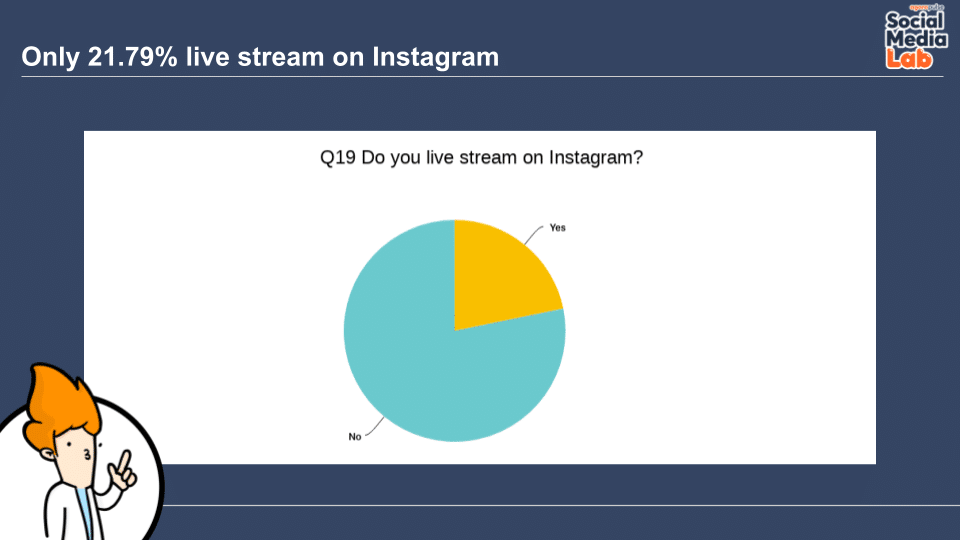 Question 20: Do You Ever Say "Link in Bio" in a Post?
Adding "link in bio" to your Instagram update is common. It requires users to visit your profile and click on the link. Instagram users do this because Instagram doesn't provide any sort of hyperlink option on posts.
Social Media Lab ran a test on the "link in bio" technique and found that using it decreased reach 33.96%.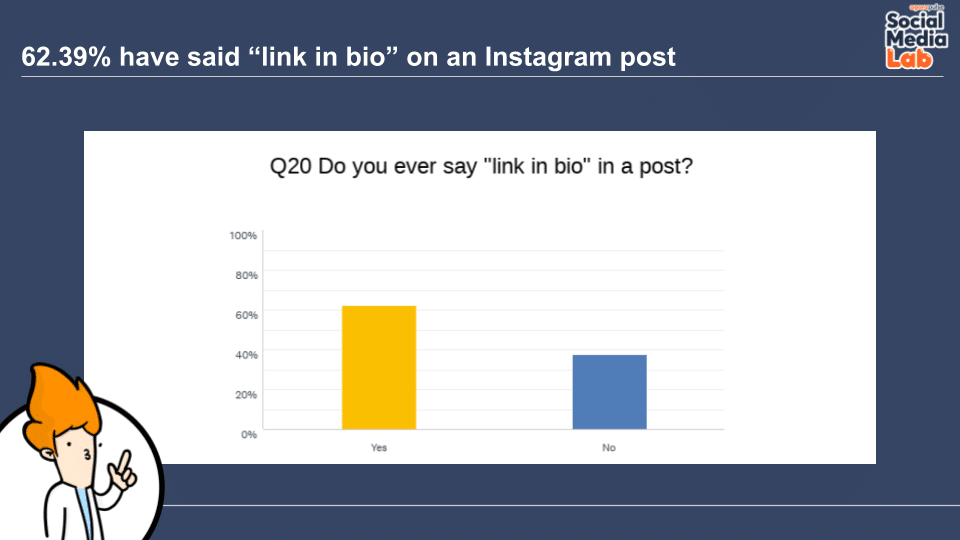 62.39% of survey participants use the "link in bio" technique on Instagram, however.
Question 21: Do You Run Instagram Ads (for Yourself or Clients)?
Instagram ads are run through Facebook's Ads Manager, offering a wide array of options for your ads. Ads on Instagram are the only way to have a hyperlink on the Instagram feed.
44.78% of those surveyed are running Instagram ads for either themself or clients: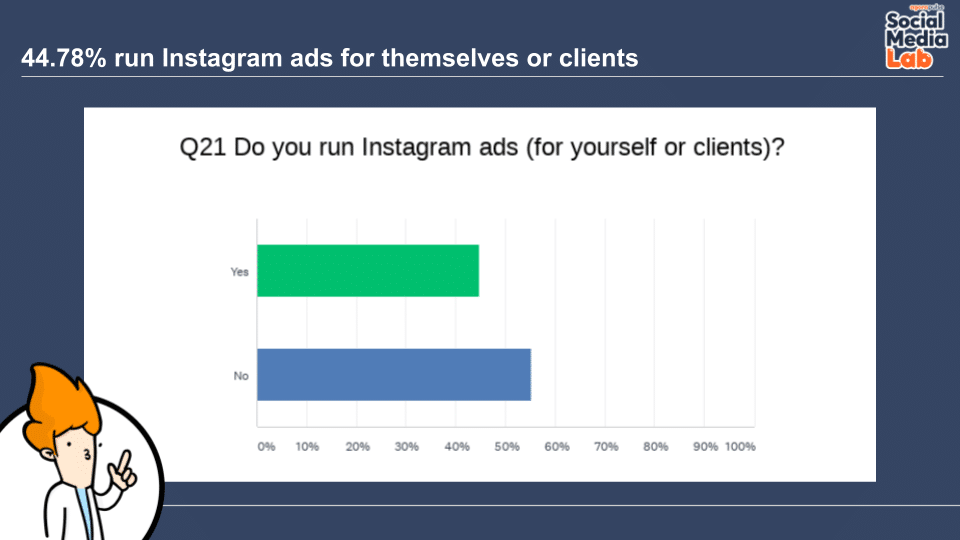 Question 22: If You run Instagram Ads What Is Your Monthly Budget (in USD)?
We know 44.78% said they run Instagram ads for themselves or clients, based on this last question of our survey the primary budget for these ads is between $1-1000: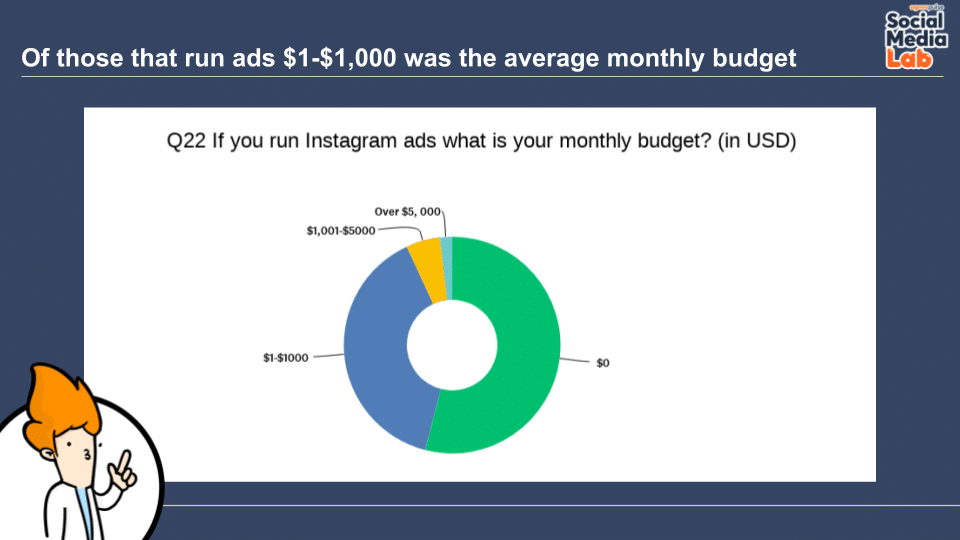 The graph shows 54.03% had a $0 budget, which is an almost identical percentage of those ( 55.22%) that said they didn't run Instagram ads.
So, budget percentages should be re-evaluated to properly reflect those who run ads:
$1-$1,000 – 84.06%
$1,001-$5,000 – 11.04%
Over $5,000 – 3.9%
This recalculation gives us a much more accurate representation of those surveyed that run Instagram ads.
How We Conducted the Instagram Marketing Survey
To get responses to the Instagram Marketing survey we:
Posted the survey a few times in the Social Media Lab group on Facebook
Posted a link to the survey on various social media accounts for the Lab and Agorapulse
Sent an email to those that participated in the Twitter Marketing survey
Emailed the Social Media Lab email list
Ran ads on Instagram offering a giveaway to complete the survey
The survey started collecting responses on February 5, 2021, and it was closed on May 13, 2021. Most of the responses happened in April after we pushed ads to the survey.
The survey resulted in 382 responses. (47 responses were duplicated and had to be removed.)
SurveyMonkey's insights allow us to see that the survey had a 100% completion rate with an average completion time of just under 2 minutes:

Hot Instagram Marketing Tips
Here are a few things you can apply from these results to your Instagram marketing:
Consider live streaming to Instagram.

With so few users going live on Instagram, you'll stand out in the crowd, even if that means you can only conduct them via your phone.

Post more Instagram Stories, Reels, and videos to IGTV.

Most users surveyed are consuming content from these sources. It might as well be your content.

Be more entertaining.

36% are using Instagram for pleasure. Post funny images to the Instagram feed and Instagram Stories to keep followers engaged and entertained.
Don't miss an experiment!
New experiments and exclusive content straight to your inbox