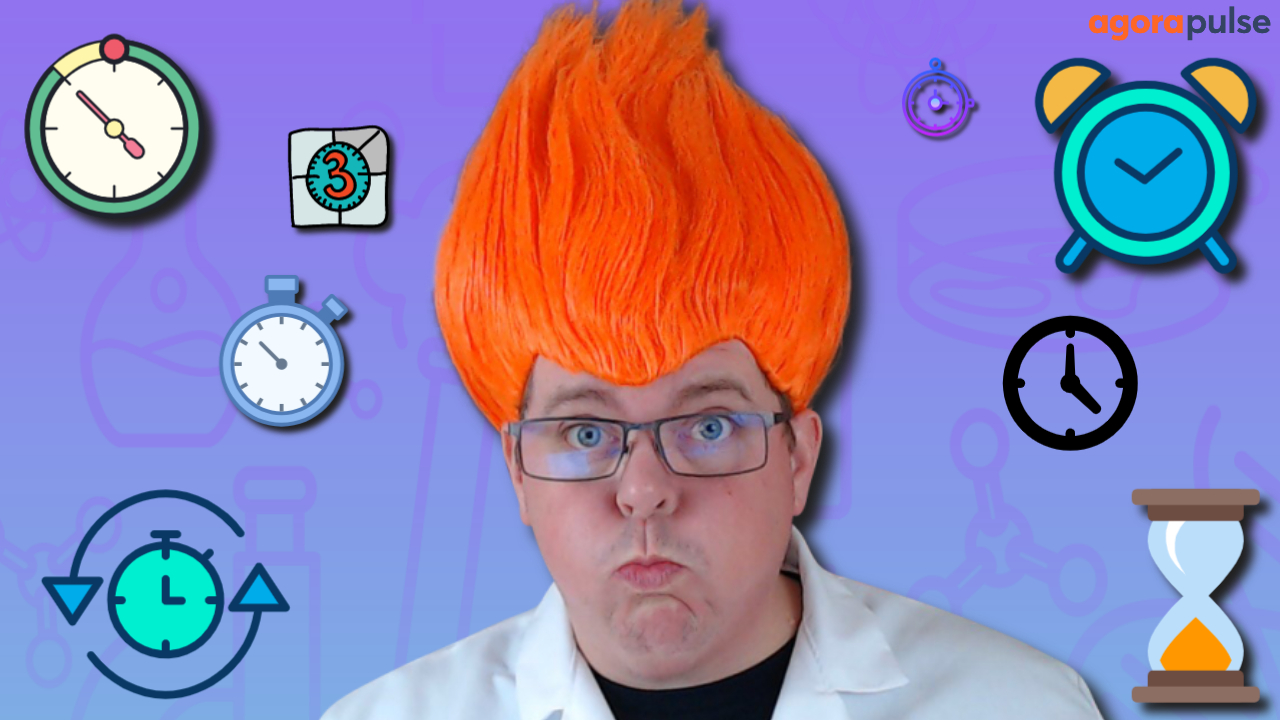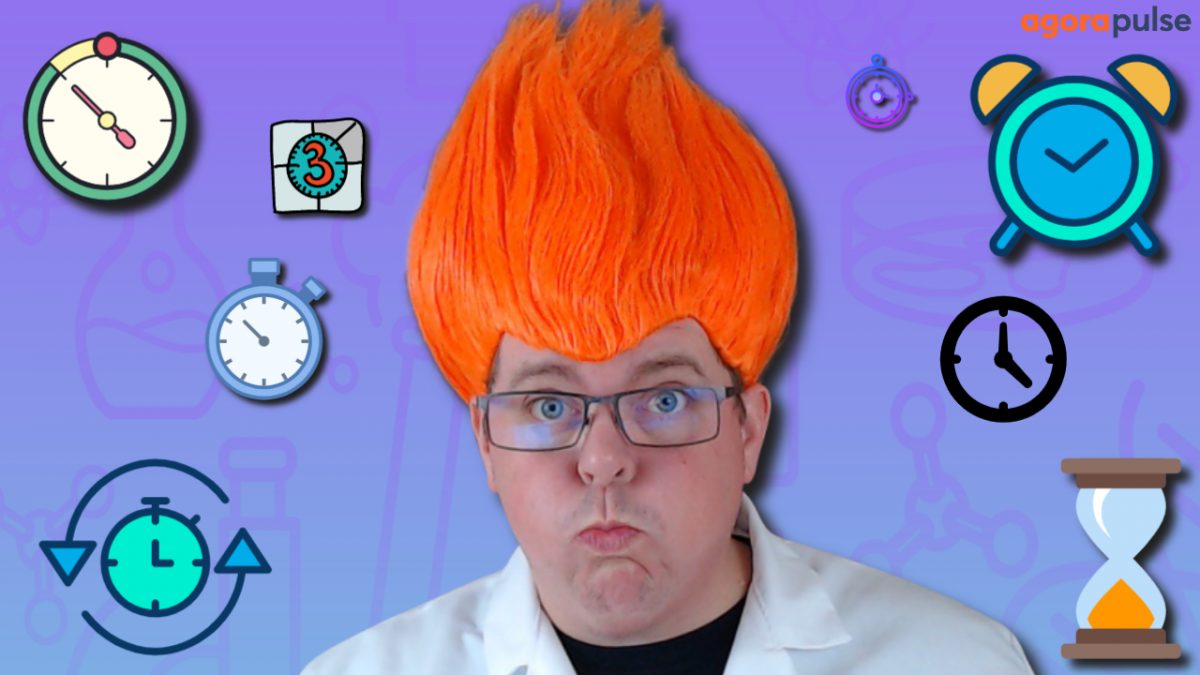 Subscribe to the Social Media Lab Podcast via iTunes | Stitcher | Spotify
Countdown Timer or No Countdown Timer on Facebook Live
Facebook Live streamers across the globe often debate whether a live stream should begin with a countdown timer. The vast majority of the debate is based on opinions, not data.
The debate regarding countdown timers will end today as we dive into data from seven Facebook live shows.
What Are Countdown Timers on Facebook Live Videos?
At the bare minimum, a countdown timer is simply a timer that counts down to zero to let viewers know the show will start. Most countdown timers have music playing as they count down to keep viewers entertained.
These timers are used typically full screen, without the live streamer being seen.
Countdown timers come in many different formats. What type someone uses depends on the streamer's abilities and live streaming setup.
On the Social Media Lab LIVE, I typically use a full-screen timer with music playing with a logo shown and sometimes a banner at the bottom of the screen.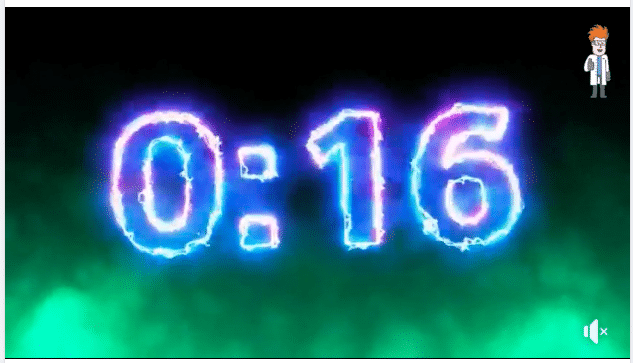 Some Facebook Live streamers, like Luria Petrucci from Live Streaming Pros, prefer to use a countdown timer while being on camera with the timer, typically muted.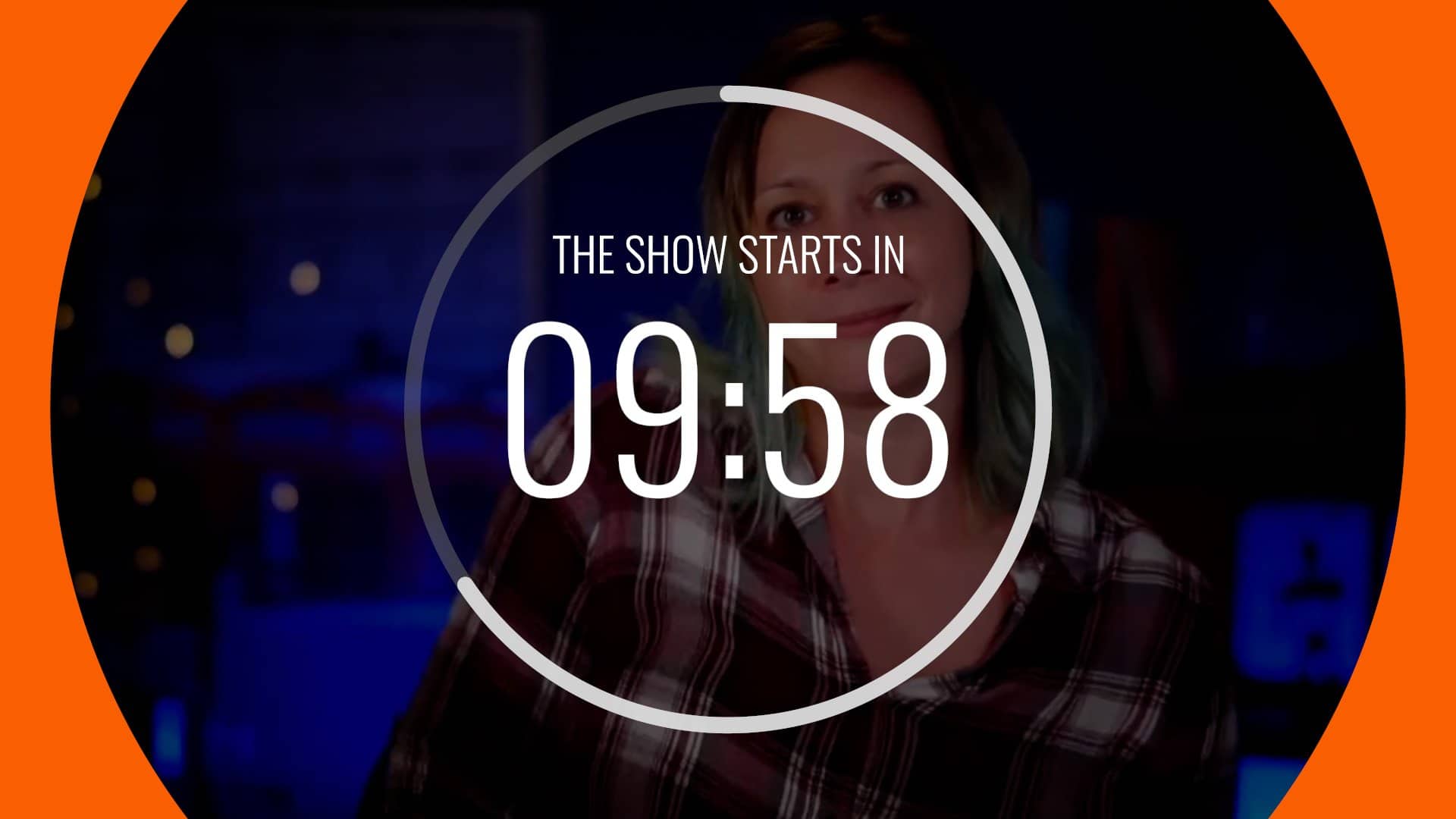 Facebook Live streamers, such as Stephanie Liu, also do a combination of both by talking on camera with the timer shown before the official show gets started: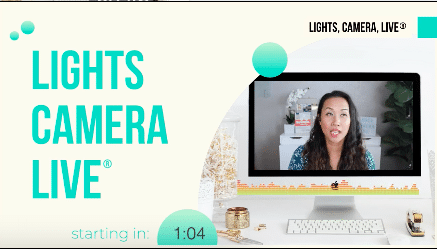 There's no right way or wrong way to display your countdown timer.
What type of countdown timer used will depend on :
Your personal taste and branding

Your ability to create a timer

Whether the streaming platform you prefer provides pre-made countdown timers
Restream, for example, provides seven premade timers to use within its live studio (the first seven in this screenshot):

Why Use a Countdown Timer on Facebook Live?
Facebook live streamers may choose to use a countdown timer on Facebook Live for various reasons:
Countdown timer uses
Creates anticipation for viewers who show up early

Allows viewers who didn't arrive when you started to miss less of your live stream

Gives you time to share your live stream on other social media platforms since you're not on camera

Adds a professional edge to your live stream

As a "pre-show" to increase engagement

Creates habit with your loyal viewers
There are many more reasons Facebook live streamers choose to use a countdown timer.
I've always used a countdown timer. Even if someone chooses to get a reminder about my live show, this person may not see the reminder for a few minutes. Giving viewers time to show up and not miss any content makes the audience's experience better.
"The reason we use a countdown timer on Facebook Live is the peak number of viewers come onto your live show at about 18-20 minutes, so it gives people time to get in and get settled. And [a countdown timer] gives you time to get to that peak [viewership] before closing out your live stream." – Luria Petrucci
Arguments Against Using Countdown Timers on Facebook Live
Many live streamers argue against the use of countdown timers on live videos.
One of the loudest is Owen Video:
"Our videos with countdown timers have seen a major dropoff when viewers, specifically on YouTube, clicked on the video and found the live show hadn't started yet."
Reasons Against Using a Countdown Timer
Replay viewers will not sit through a countdown timer.
It creates distrust with viewers who chose to get a reminder about your live show and have to wait upon arriving.

Viewers arrive then quickly leave due to seeing a timer, dropping your retention rate, which could cause the video to be seen less in the newsfeed by others.
Hypothesis
Based on the input of others in live streaming and the reasons giving earlier regarding countdown timer usage, this is my hypothesis:
Hypothesis: Countdown timers on Facebook live streams are needed to maximize the number of viewers watching your most important content.
Testing Countdown Timers on Facebook Live
To properly test countdown timers on Facebook Live videos, we needed to establish testing criteria.
Determining whether timers were valid and how to judge them was perhaps the hardest part of this experiment for the Social Media Lab.
I looked at different insights from Facebook Live videos that could lead us to a definitive conclusion regarding countdown timers:
Average minutes viewed

Audience retention

Peak live viewer time

3-Second views

1-minute views

Minutes viewed
Measuring the average time that Facebook Live videos reached peak live viewers was the best data point to consider to formulate a proper conclusion.
You'll find "Peak Live Viewers" within the analytics for each live video on Facebook.
Here's a quick video on how I did it for this test:
Agorapulse had three different live shows at the time of the test, so I pulled data from each show independently.
We also pulled data from the Live Stream Labs show on the Restream Facebook page. The data from the other three pages wasn't based on a particular live show on that page but instead based on any live video streamed on that page.
Social Pulse Weekly (on Agorapulse)

Confessions of a Social Media Manager (on Agorapulse)

Live Streaming Pros

Owen Video

Social Media Lab Live (on Agorapulse)

Grace Bible Church

Live Stream Labs (on Restream)
Each of those live videos has a different audience focus and regular viewers.
Most of the live videos used in this study used countdown timers, a distinction was not made in our data.
The goal was to look at when each show achieved peak live viewers and notate that time.
Countdown Timer Data for Facebook Live
Here's what we found after averaging the data from 70 Facebook live videos across seven different Facebook live shows:
Average Peak Live Viewer Time: 18 minutes

Average Length of Live Video: 61 minutes
Here's the average peak live viewer time from each show/page:
Social Pulse Weekly: 25 minutes

Confessions of a Social Media Manager: 18 minutes

Live Streaming Pros: 19 minutes

Owen Video: 13 minutes

Social Media Lab Live: 15 minutes

Grace Bible Church: 24 minutes

Live Stream Labs: 10 minutes
The average peak live viewers occurred at very similar times for all the pages/shows, regardless of the average length of the pages/shows being different.
All those pages/shows had an average length of 61 minutes. Grace Bible Church had the longest average length of 84 minutes.
Live Stream Labs, my show on Restream's channels, had average peak viewers at the 10-minute mark compared to the 15-minute mark on Social Media Lab Live, my show on the Agorapulse page. Both shows have a very similar audience, length of the show, and content, but peak live viewers happen at different times.
Differences such as this from page to page is why the Social Media Lab prefers to conduct tests (especially organic tests) across multiple accounts. Doing so allows us to test the algorithm, not a particular audience.
Conclusion Regarding Countdown Timers on Facebook Live & Some Advice
Based on the data the Social Media Lab gathered from seven Facebook live shows across five Facebook pages, we conclude Facebook countdown timers are justified due to the average peak live viewers occurring at 18 minutes.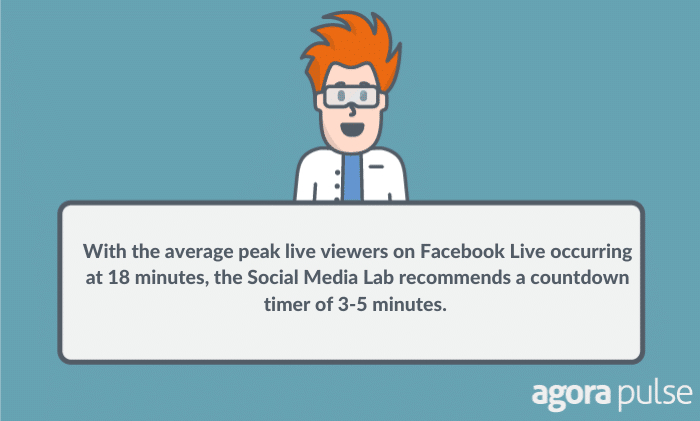 Delaying the focus of your Facebook Live, even a few minutes, is justified by this data. Your live viewers arriving at your Facebook live minutes after starting will appreciate not missing out.
No one likes showing up to a party 18 minutes after it started and the birthday boy has already blown out the candles. It's awkward. And it causes you to wish you hadn't shown up.
The same can be said about arriving late to a Facebook live video.
Countdown Timer Advice
Before you begin adding an 18-minute countdown timer to all of your live streams, I offer a few words of advice:
Keep your countdown timers under 10 minutes. I personally recommend a three-minute countdown timer for Facebook Live streams.

Start your live stream and your timer two-three minutes before the scheduled time. For example, if your show is scheduled to start at 12 PM, go live at 11:58 am with your timer. That creates a situation where a viewer may show up at 12:05 and the timer could be done already or ending and not feel as awkward or boring.

Engage in the comments while the timer is playing.

Consider showing up on camera while the timer is playing or with the timer and chat with those that showed up early, as Stephanie does.

Once the Facebook live is over, trim out the timer, replay viewers shouldn't have to sit through it. Click on your video, select edit, then trim out the timer. Your replay viewers will never know a timer was used and will just see you jumping right into the content.
Here's a quick demo of trimming the timer out of a Facebook Live:
Final Thoughts on Countdown Timers
Based on our findings, the Social Media Lab recommends using a countdown timer on your Facebook Live videos, with confidence.
By using a countdown timer you are leveraging the algorithm and giving the best possible experience to your viewers.
If you'd like to dive deeper into producing Facebook Live streams, here are a few resources:
Don't miss an experiment!
New experiments and exclusive content straight to your inbox