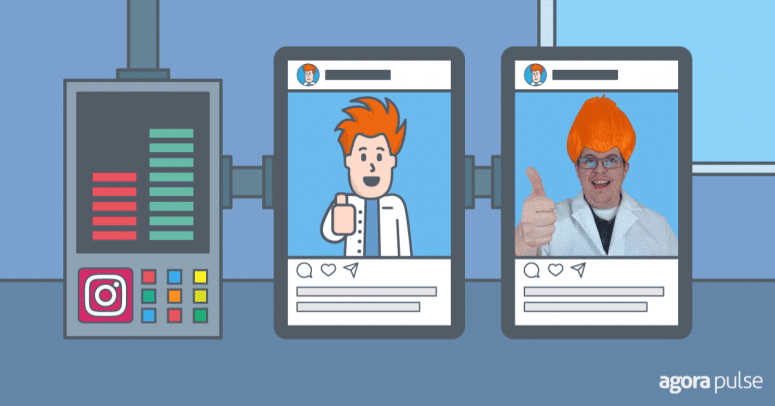 Can This Small Trick Get Lower CPC on Instagram Ads?
Did you know there are over 1 billion people that could potentially see your Instagram Ads?
And 130 million of those users and potential ad tappers are in the United States.
If those numbers aren't enough to convince you to run Instagram ads, this one might:
According to Facebook, 83% of Instagram users surveyed said they discovered new products on Instagram!

Instagram ads can be extremely profitable for a wide array of products, but as a smart marketer you should always be looking for ways to decrease your Instagram ads cost.
In today's Social Media Lab experiment we're going to test Instagram ads with human faces on the images vs images with an animated character on it.
Can one of these get a lower CPC, thus saving us money? Let's find out.
Why Test Human Faces vs Animated Faces on Instagram Ads?
The Social Media Lab was officially launched in August 2017. With that launch, we introduced the world to our fun orange-haired social media scientist.
You see the character on all of our blog post graphics and on our social media accounts.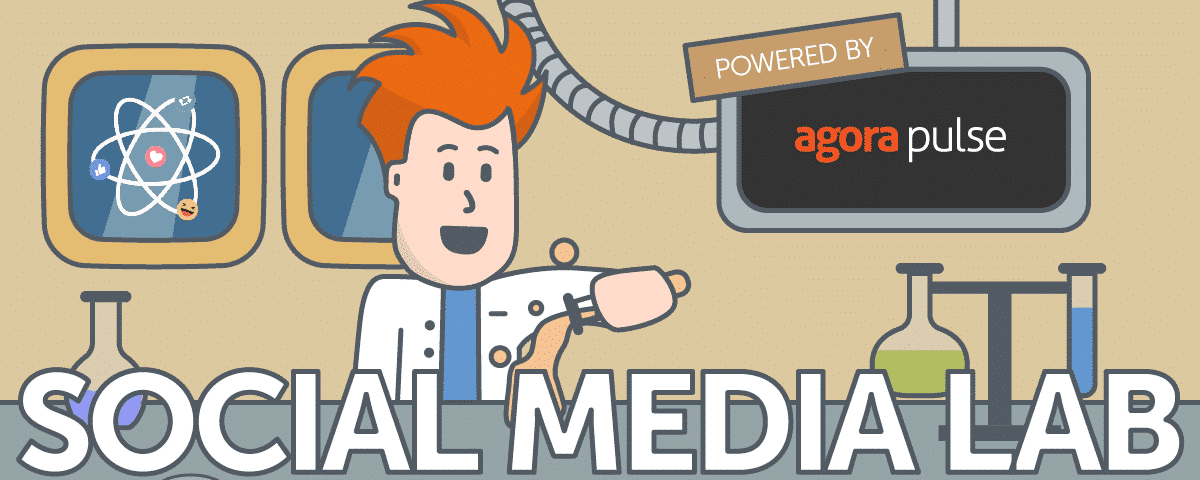 In January 2019, I brought the animated scientist to life by showing up on camera (and then at events) donning the same look.
The response to my dressing up as the scientist has been overwhelming and very popular. (Yes, that isn't my real hair!)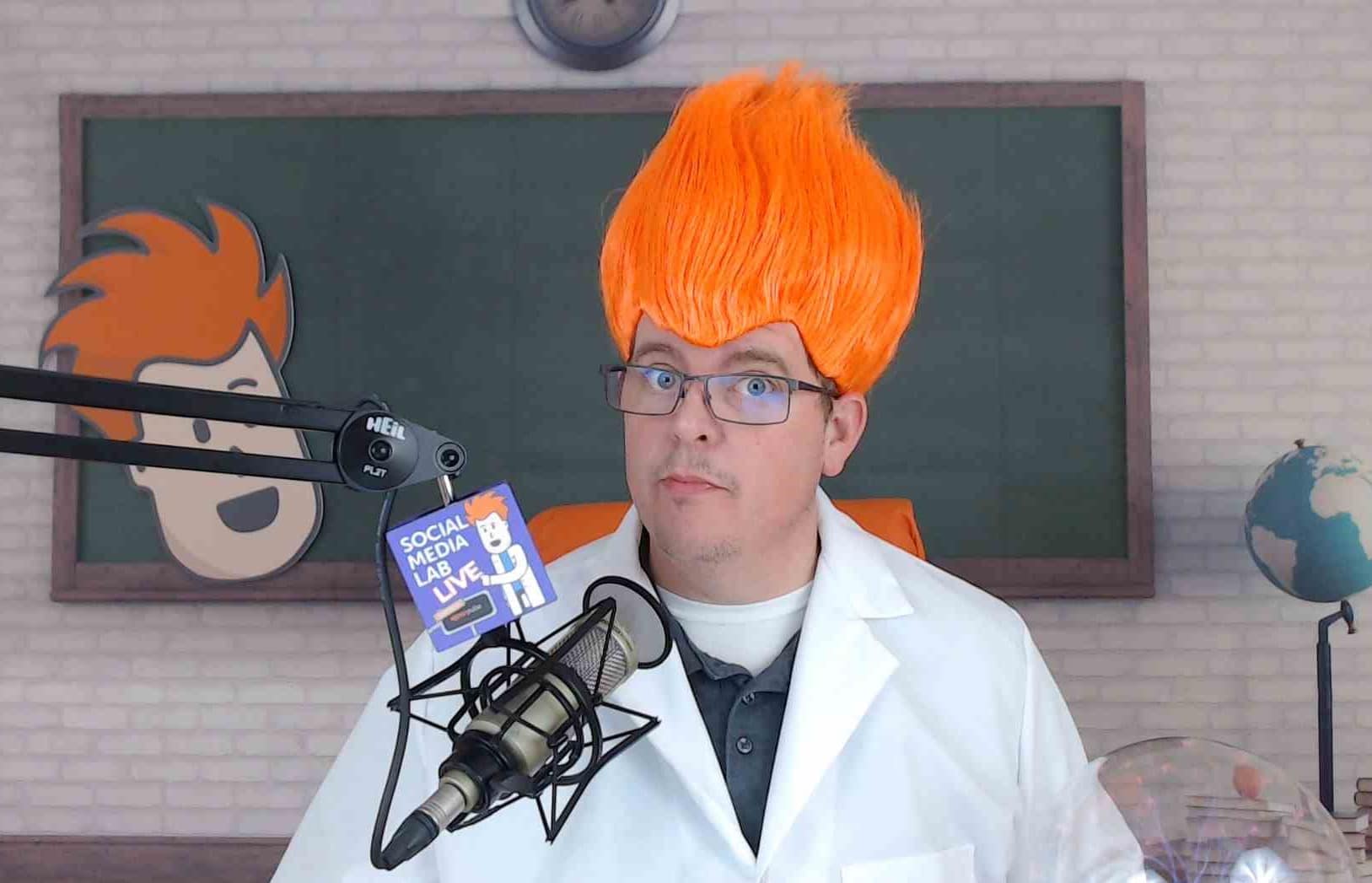 We've exclusively only used images with the animated character for our featured images on the blog as well as on social media, both paid and organic posts.
But I wondered whether that was costing us more money. Could we get a lower cost per click (CPC) if the ad image had my human face instead of the cartoon?
Hypothesis: Human faces on Instagram ads outperform animated characters.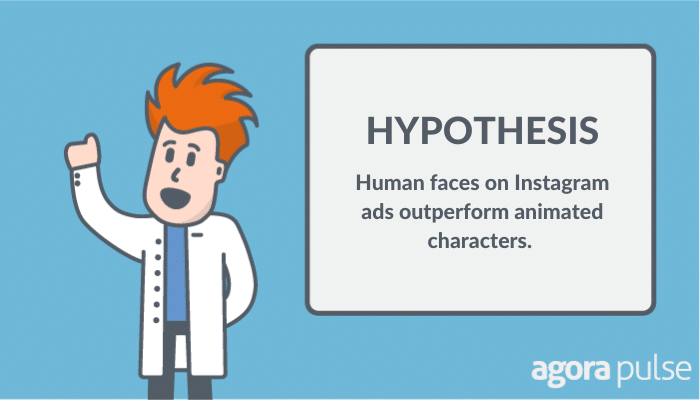 Testing Instagram Ad Images
For this Instagram ad test, we split test the creative for two different Instagram ads. Facebook Ads Manager makes it easy to a/b test in this manner.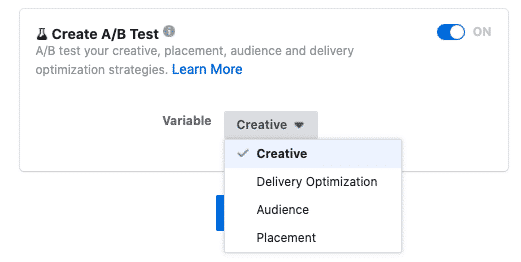 The Ads
The first ad sent traffic to a blog post all about the Instagram algorithm.
Notice the text is the same on both ads, just a different image.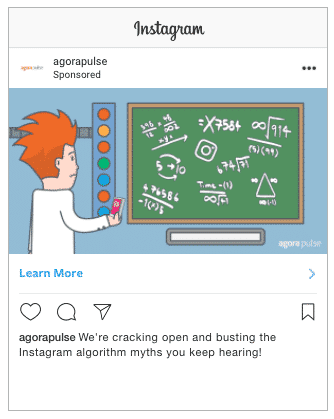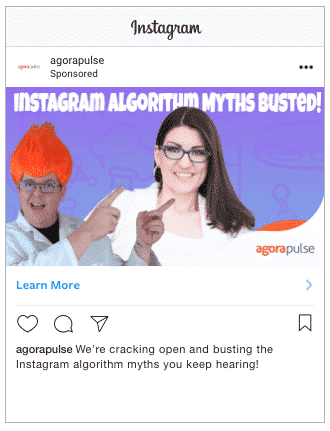 The second ad sent traffic to an experiment comparing Reddit ads to Instagram ads.
As with the first ad the text is identical on both ads, but with different images.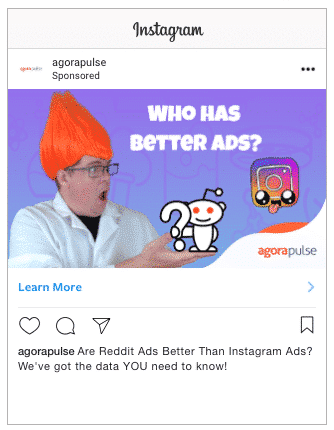 Placement and Targeting:
Both ad sets were shown only on the Instagram feed.
English-speaking Instagram users only were targeted, residing in:
Australia
Canada
United Kingdom
United States
We also targeted users based on the following interests (meaning they follow these pages):
Mari Smith
Joel Comm
Kim Garst
Passive Income with Pat Flynn
Social Media Examiner
Hootsuite
Post Planner
Sprout Social
Buffer
Instagram Ad Budget
The first ad ran in July with a $500 budget evenly split between the two ad creatives.
Likewise, the second ad ran in August had a $500 budget split between the two ad creatives.
Each ad ran for 10 days during the campaign spending $50 per day.
Results Testing Human Faces vs Animated Characters on Instagram Ads
We could look at a plethora of stats to determine which ad set performed best.
To declare a winner, we'll make our conclusion based on :
Total Clicks

Total Reach

Average CPC
CPC is the stat I'm most interested in for this type of test. I want to spend the least amount per person I get to visit the Social Media Lab.
Once we look at those numbers, I'll also mention other stats Instagram provides us.
Instagram ads with human faces:
Total Clicks: 506

Total Reach: 29,086

Average CPC: $1.08
Instagram ads with animated characters:
Total Clicks: 320

Total Reach: 17,534

Average CPC: $1.59
The Instagram ads with human faces outperformed in each category, by a large percentage:
Total Clicks: 58.13% higher

Total Reach: 65.88% higher

Average CPC: 32.08% lower
After looking at the raw numbers and percentage differences, we can see that Instagram ads with human faces greatly outperformed images with animated characters.
We probably shouldn't be too shocked by this, seeing as an organic test on Instagram found pictures of people outperformed created graphics in a prior Social Media Lab test.
But are these results statistically significant? Not when we evaluate based on Total Reach and Total Clicks.
According to Neil Patel's a/b split test calculator, the ad with animated characters actually converted better, although it had much fewer clicks and a much higher CPC.

These results mean neither ad set could be guaranteed to always get more clicks than the other.
So what should you do with this data?
Instagram Ads With Humans Perform Best
Due to a drastically lower CPC, the Social Media Lab concludes that Instagram ads with human faces perform better than images with animated characters.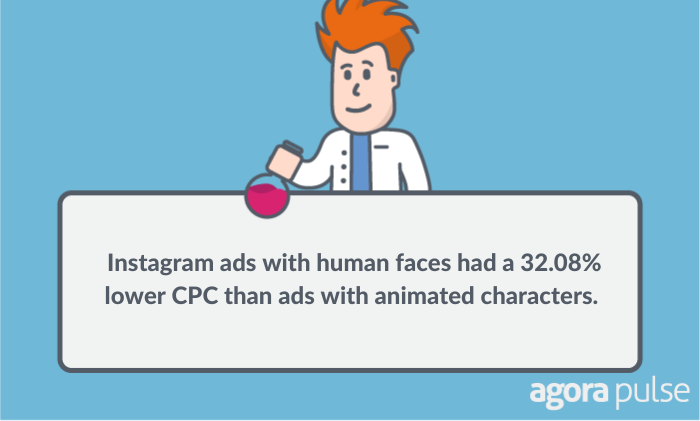 Add to it the increase of over 58% in clicks, we conclude that Instagram users prefer ads with human faces in them.
But, does that mean you should only run Instagram ads with human faces? No.
You'll want to do your own testing to see if you get similar results as we did in our experiment.
Running an a/b split test on the ad creatives within Facebook Ads Manager is super simple as mentioned earlier.
My test was very unique since I am the human version of our animated character, so your results might be different.
Don't miss an experiment!
New experiments and exclusive content straight to your inbox