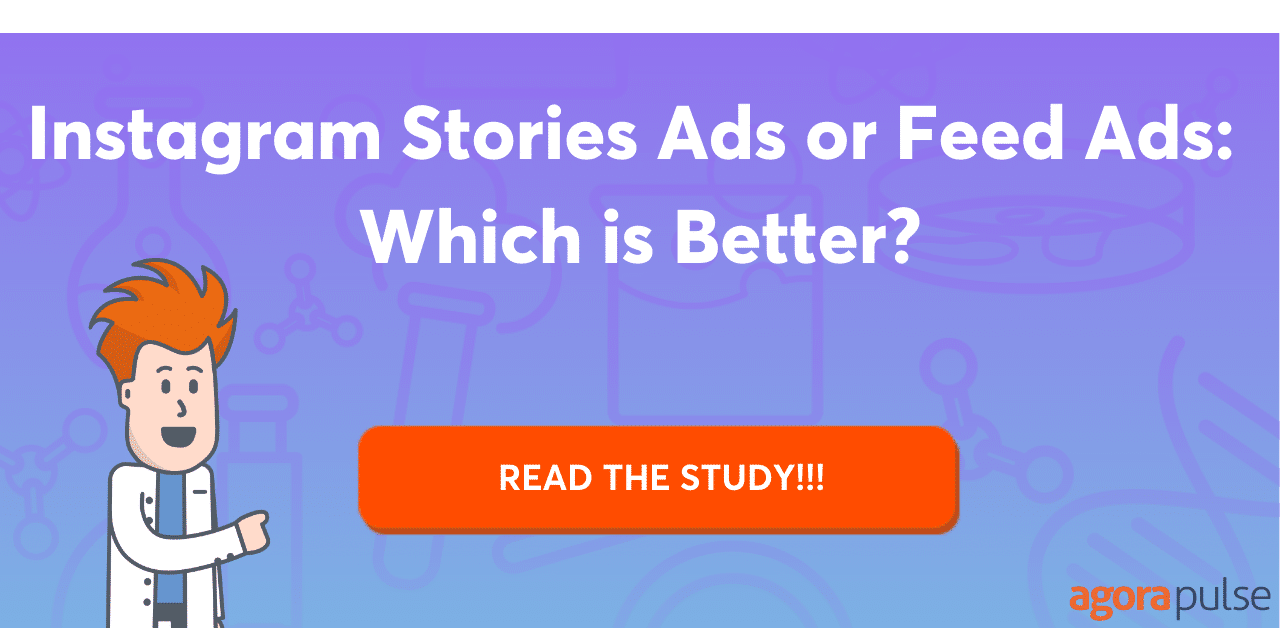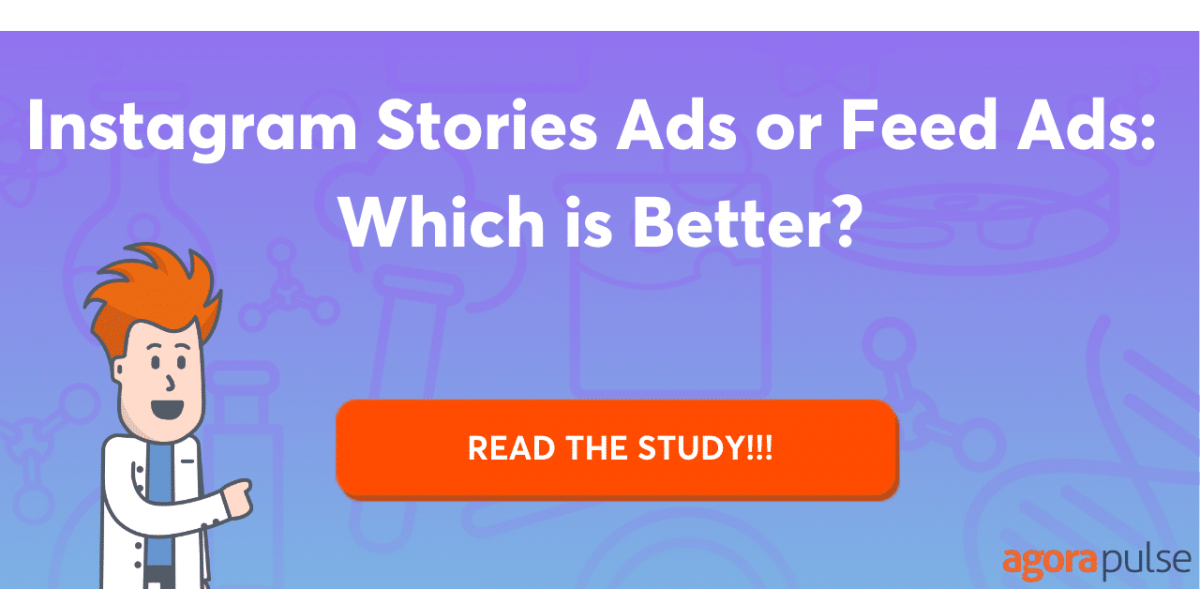 Instagram Stories Ads or Feed Ads: Which is Better?
Curious whether Instagram Stories ads or Instagram feed ads perform better? The Social Media Lab conducted an experiment to find the answer.
In February 2018, the Social Media Lab conducted an experiment to see whether Instagram Story ads or Instagram feed ads perform better.
The study concluded that Instagram Story ads win, hands down:
44% higher reach

78% more clicks

45% lower cost per click (CPC)
In the past three years, Instagram has undergone many changes, adding features such as Reels and IGTV. Plus, Stories are even more popular today than three years ago. So, we felt it was time to test again to see if anything has changed on Instagram ads.
We formed a hypothesis based on our previous study.
Hypothesis: Instagram Story ads produce more clicks and a lower CPC than Instagram feed ads.
How We Tested Instagram Ads
Using the Agorapulse Instagram account, we ran one ad using the same creative, testing the placement of the Instagram feed vs Instagram stories.
The ads were directing traffic to a contest we had running at the end of 2020. The ad ran for 14 days, splitting the budget out evenly per day.
The Ads
The image used in each ad placement was identical, but in the Instagram feed, we could add a description in the "caption" of the post: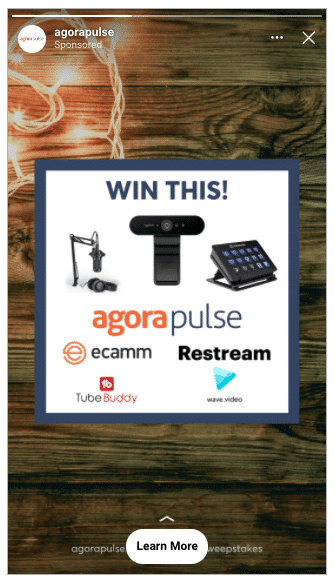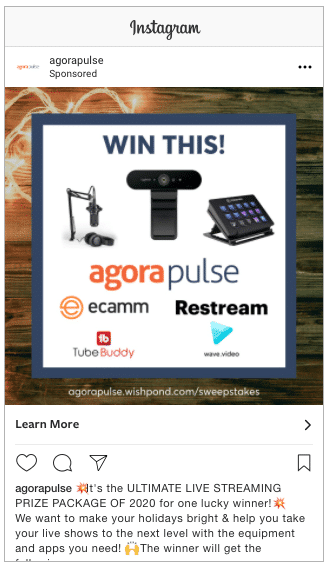 Both ads used "Learn More" as the call-to-action on the ad to go to the contest.
On Instagram stories, users have to "swipe up" to go to the link instead of a simple "tap" as on posts in the Instagram feed.
The ad in the Instagram feed allowed us to post lots of text, along with emojis, which may draw attention to Instagram users seeing the ad in their feed.
Ad Target
A saved audience that includes only English-speaking users in the following countries was used for the ad targeting:
Australia

Canada

United Kingdom

United States
We also targeted Instagram users over 18 years of age, that matched these interests:
Mari Smith

Joel Comm

Hootsuite

Post Planner

Smart Passive Income with Pat Flynn

Kim Garst

Sprout Social

Social Media Examiner

Buffer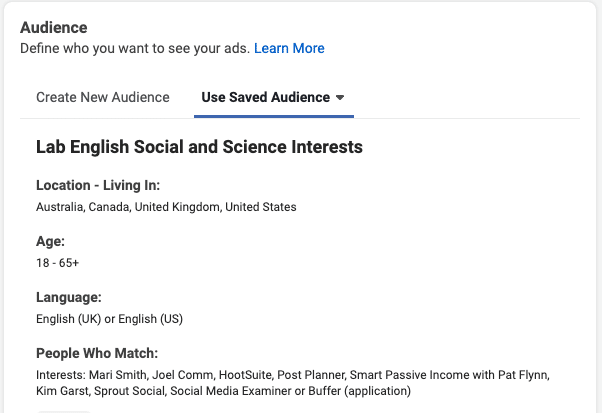 Ad Budget
The Instagram ad budget was set at $1,000, split evenly between both ads.
Instagram will use your ad budget as evenly as possible.
Final ad spend:
Instagram feed ad: $483.72

Instagram story ad: $516.20
$32.48 more was spent on the story ads than the feed ads. It's a small enough difference that it shouldn't sway our results. We will utilize percentage differences in ad performance, to draw our conclusion. I will show you the raw numbers just for clarity.
Instagram Story Ad vs Instagram Feed Ad Results
Let's take a look at the raw numbers from each Instagram ad placement.
Instagram Story Ad:
Reach: 39,362

Impressions: 81,865

Clicks: 482

CPC: $1.07
Instagram Feed Ad:
Reach: 19,136

Impressions: 36,621

Clicks: 493

CPC: $0.98
The data tells us Instagram feed ads had less reach, fewer impressions, but more clicks and a lower CPC.
Focusing on clicks and CPC in a percentage difference, we find:
Clicks were 2.28% higher on Instagram feed ads compared to story ads.

Instagram story ads had a 9.18% higher CPC
To form a properly scientific conclusion, we investigated if the results were considered statistically significant. Doing so lets us know if we were to run this test again we should expect the same results.
Using Neil Patel's statistically significant calculator here is what we find when evaluating the Reach of the Instagram ads and the clicks.
("A" in each of the following screenshots represents the Instagram story ad results, and "B" represents the Instagram feed ad results. "Number of visitors" will represent Reach or Impressions. "Number of overall conversions" will represent clicks on the ad.)

According to the calculator, the conversion of those reached by the Instagram feed ad and subsequently clicking on it is 100% statistically significant.
This means if you or I were to run this test again, we should expect the same results.
When we compare the conversions related to Impressions, we also find the results to be 100% statistically significant.

The Instagram feed ads, in our testing, outperformed the Instagram story ads.
Should You Run Instagram Stories Ads or Instagram Feed Ads?
The Social Media Lab concludes, based on this particular test, that Instagram feed ads using an image outperform Instagram story ads due to more clicks, a higher conversion rate, and lower CPC.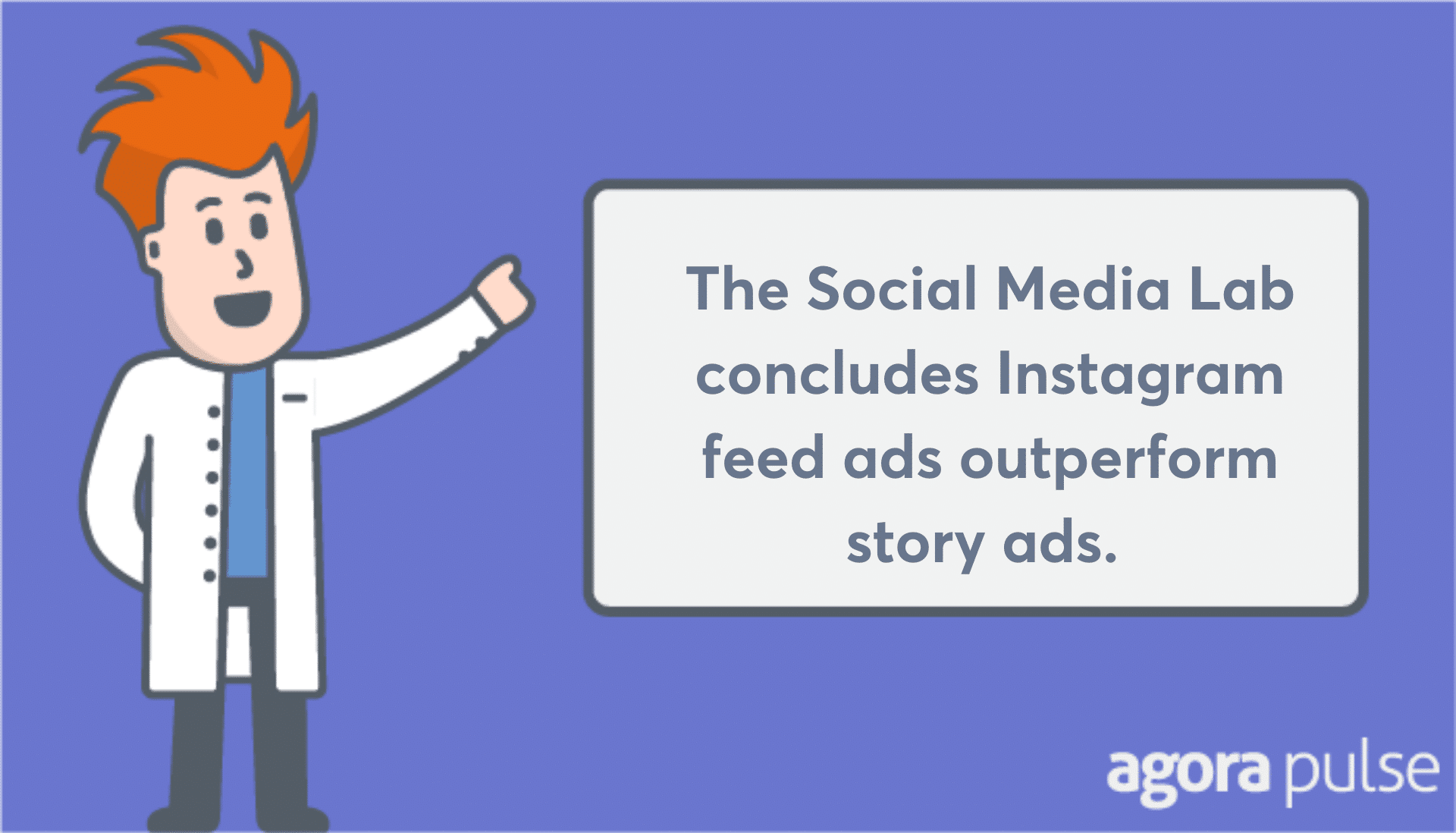 If we were to run future, similar ads directing traffic to a contest, as we did in the test, we should focus on the feed, not stories.
However, this does not mean Instagram story ads aren't profitable or something marketers should avoid.
In our test, we were using the same exact image to split test, but the Instagram feed ad allowed us to add text in the description. This difference could have given the feed a slight advantage.
Instagram stories only last a few seconds, but a post in the feed stays there for as long as the user keeps it on the screen.
Would a video ad in stories vs feed perform the same? We won't know until we test that further.
Our goal was to compare identical ads to one another. So, we didn't add any of the usual animations, stickers, hashtags, etc., to the story ad Instagram users might be accustom to seeing in stories.
Be on the lookout for further Instagram story ad testing in the future!
Don't miss an experiment!
New experiments and exclusive content straight to your inbox