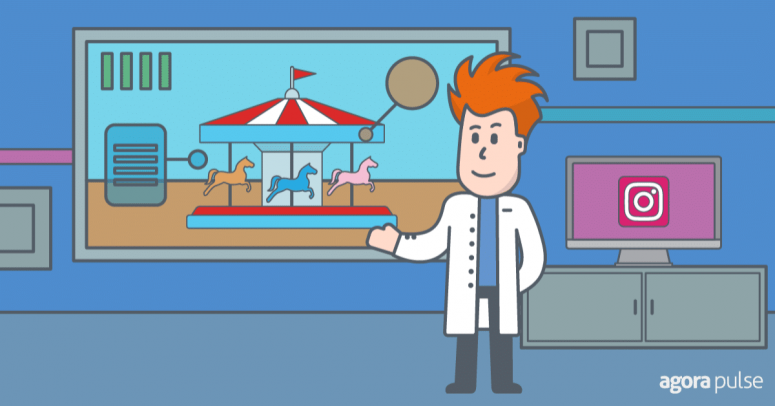 Previously in the Social Media Lab, we conducted two tests on Instagram Carousels. Our goal was to find out whether carousels got more or less reach and engagement.
Both times, our studies found they underperformed.
But…
Until recently it has only been possible to publish Instagram carousels manually using the Instagram mobile app. Changes to Instagram's API, however, have allowed apps, such as Agorapulse, to schedule this content via desktop.
This causes the Social Media Lab to wonder if performance of Instagram carousels has improved due to being easier to post and schedule as part of a business' marketing plan.
Hypothesis: Instagram carousels result in less Reach & Engagement.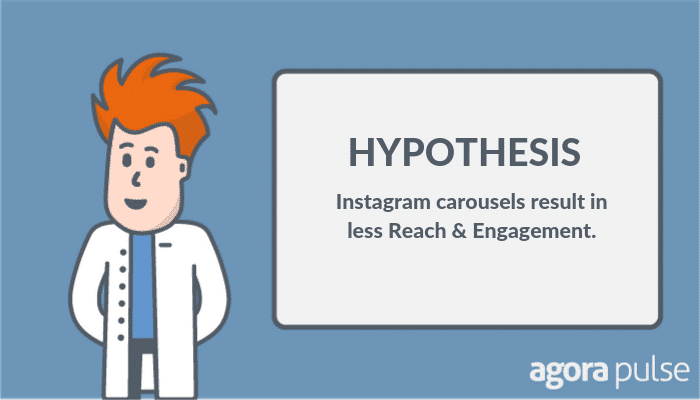 I'm basing my hypothesis on the performance of Instagram carousels in our previous tests.
Instagram carousels allow users to post multiple photos on Instagram, creating a fantastic way to showcase photos from an event, recipe, etc. A simple swipe to the left gives viewers a visual walk-through, all in one post.
Testing Instagram Carousels–
We used 7 Instagram accounts in this experiment on Instagram carousels.
These are accounts across various niches I use for testing.
The Instagram accounts are well established and actively posting content in the following niches:
Fitness (2 different accounts)

Motorcycles

Animals

Paris

Motivational Images

Trucks
All content for this experiment will have the following parameters:
Scheduled using Agorapulse (

Instagram carousels

can be scheduled in the app but require final publishing with a mobile device.)

Relevant to the specific niche of the Instagram account

No hashtags used

No location tags used

No other Instagram users were tagged.

The posts were not used in Ads.

None of the posts were shared to other social platforms.

The posts were not used in Instagram Stories.
We adhered to these guidelines to have a data set that is testing the algorithm and not an audience or added elements. (Adding a hashtag, for instance, would immediately increase the Reach of a post.)
All accounts for this test used the same schedule, as seen below:

We posted something similar to the post below on all the carousel posts to encourage users to swipe left to see more photos:
View this post on Instagram
We won't embed photos from every account, but the following is an example the Instagram carousels we posted.
Here's a single image from the same Paris-related account.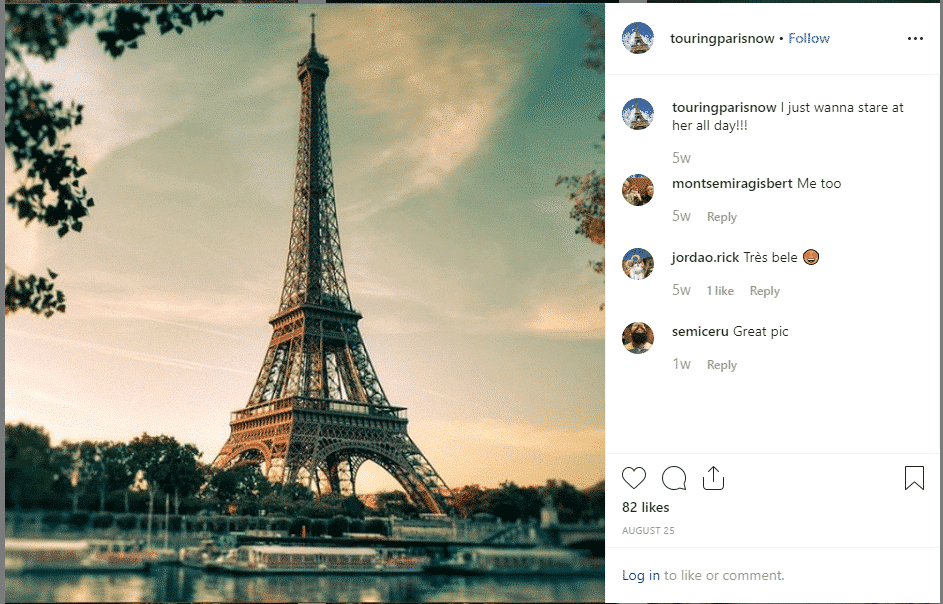 Data on Instagram Carousels in Late 2019
Now, let's dive into the data.
You can see a detailed discussion about the experiment on our Social Media Lab LIVE show:
We're only going to look at the percentage differences between Instagram carousels and single-image posts.
Why?
Because it's easier to consume and the percentage differences are all that matters. The raw number difference only leads to confusion.
Here is what the researchers at the Social Media Lab found:
Likes: 28.72% higher on Instagram Carousels

Comments: 72.09% higher on Instagram Carousels

Reach: 4.43% lower on Instagram Carousels
This data is definitely different from what we saw in our 2017 and 2018 tests.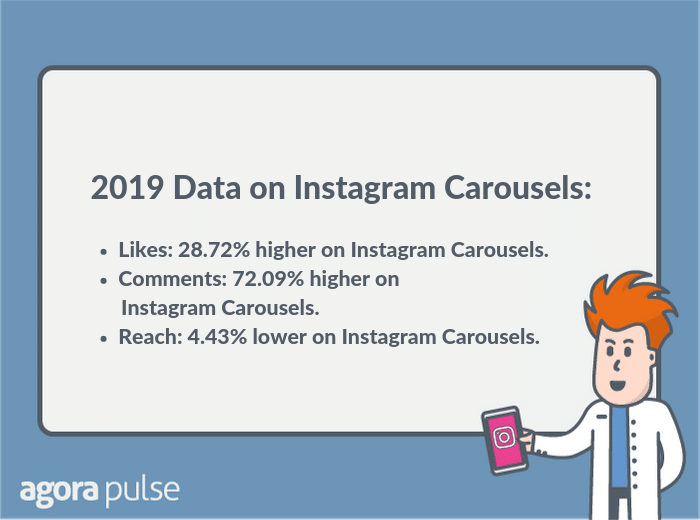 Conclusion on Instagram Carousels
Instagram carousels resulted in more Likes and comments. yet lower Reach.
So…
What is our conclusion?
The difference in Reach is only 4.43%, which isn't much different. But the increase in Likes and Comments is huge.
SHARE THIS DATA!
Click To Tweet
According to our new data, it seems Instagram carousels aren't performing as bad as they had in previous tests.
The Social Media Lab has to conclude, based on 2019 data, that Instagram carousels are performing well and should be a part of your Instagram marketing strategy.
If you need assistance in scheduling Instagram carousels we'd recommend using Agorapulse.
Don't miss an experiment!
New experiments and exclusive content straight to your inbox