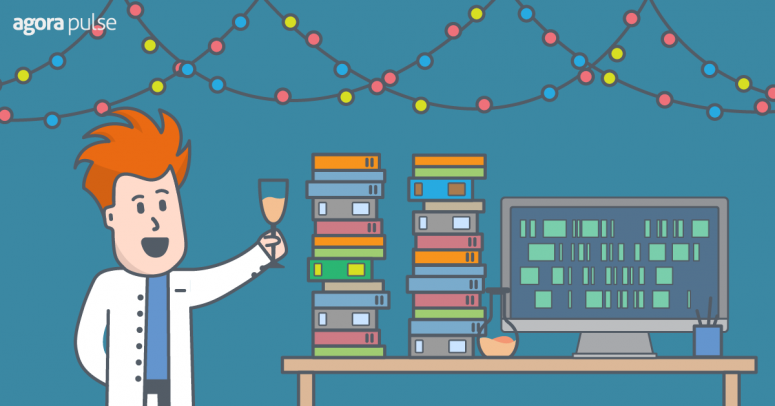 Social Media Lab 2017 in Review
Subscribe to the Social Media Lab Podcast via iTunes | Stitcher | Spotify | Google Play | RSS
2017 has been a crazy year for us at the Social Media Lab to say the least!
It's also been an extremely fast year compared to others for me — primarily due to the launch of the Social Media Lab.
What I want to do in this blog post is take you through our journey as a team at Agorapulse and give you all the ups and downs of launching this blog and podcast.
Things haven't always gone the way we've planned them and since we're all about experiments, I thought it would be fun to share as much detail with you as I could.
Brainstorming about the Social Media Lab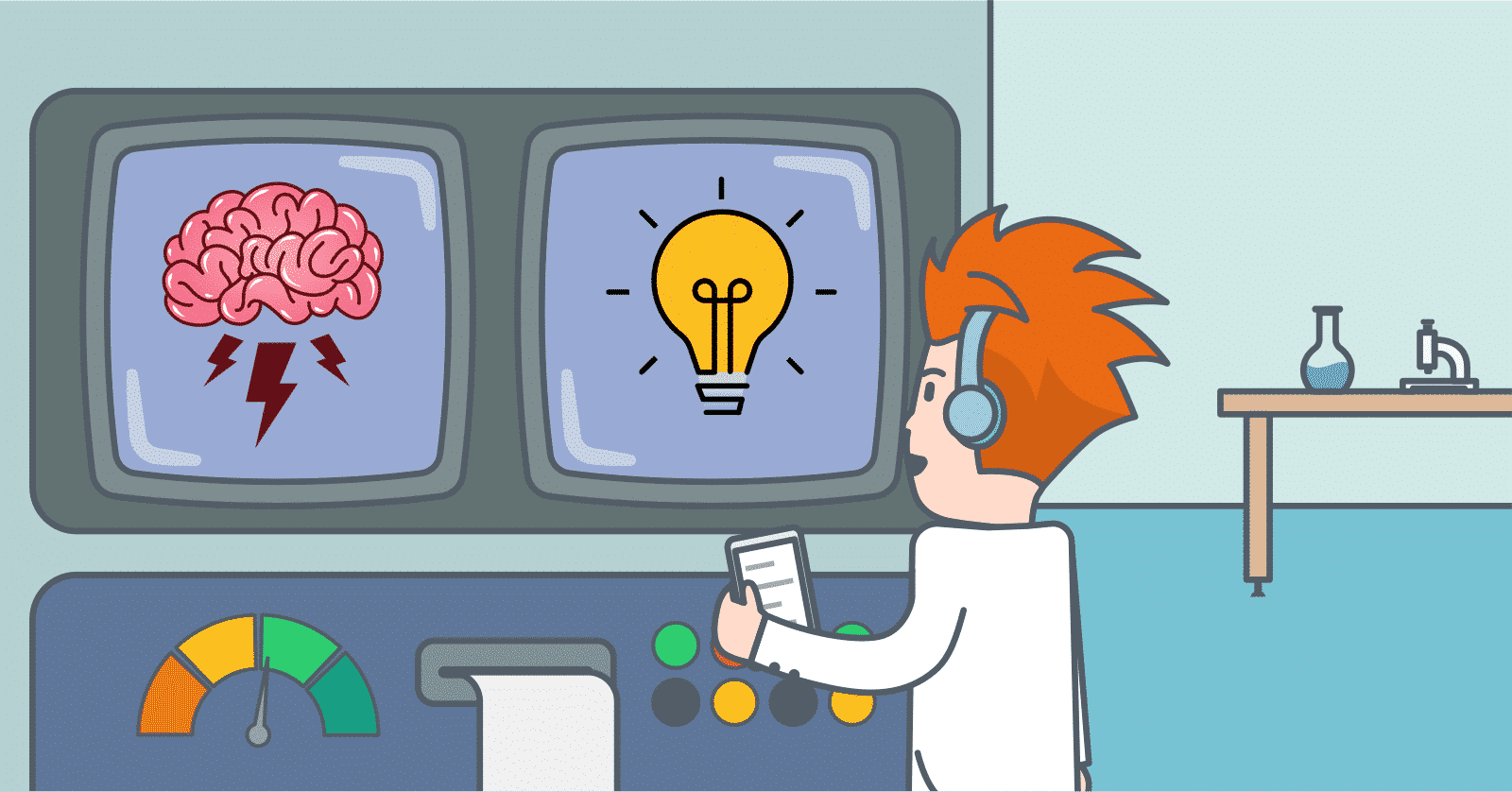 Social Media Lab was an idea our CEO, Emeric Ernoult, had in mid-2016. He loved our current blog, but the content it was producing wasn't "earth shattering" and wasn't the sort of content he'd share with other SAAS CEOs.
The content is great for those doing social media for their businesses, or perhaps for the typical social media manager. But CEOs want to see more.
He wanted to start writing blogs that were more experimental than simply giving tips and tricks.
Like most social media tools, we depend highly on the traffic from our content marketing. With longer form and more detailed content, surely more traffic would come our way.
So he began searching in late 2016 for someone to be the lead writer for this new project he was calling "Social Media Lab."
I entered into a discussion with Emeric on November 30, 2016 about the "Story Teller" position Agorapulse had open.
Over the next month, we talked more and I ran an experiment and wrote about it — along with a few others that had applied for the position.
I officially came on board in mid-January ready to launch the Lab!
My task would be to write about organic social media, while Jason How would write about paid social media.
Social Media Lab Launch Plan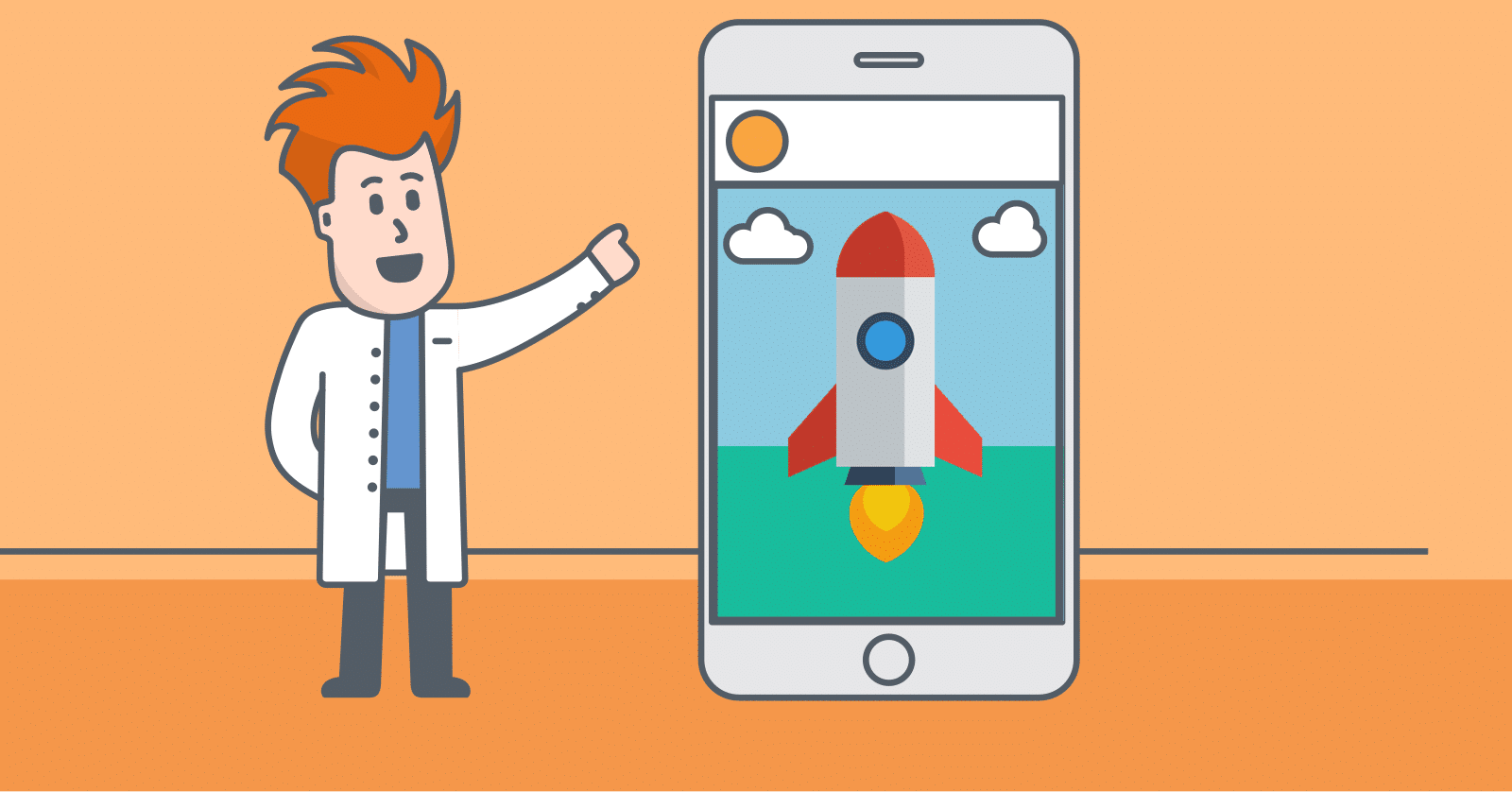 The plan in the beginning was to start running different tests in February and March so we could write about them and have them ready to launch in April.
We quickly realized in March that was not going to happen due to delays in getting the website made.
So launch date was moved to May, then to June, then to July, and finally to August.
While delaying at first was frustrating, in the end it was probably the best thing for us on the Content team as it allowed us time to write and do a lot more planning.
In mid-March we started to nail down a solid launch plan after discovering a blog post by Noah Kagan from Sumo about his successful launch of a podcast.
We dove deep into several posts and launching plans Noah had for podcasts and blogs and merged them together to create our own plan.
His plan is basically built around the concept of getting influencers in your specific niche to offer giveaways that you then use to entice new readers/listeners with.
Our idea was to use these giveaways to get people to leave 5 start reviews on iTunes and then we'd draw for names for the winners.
Along with this, we also wanted to have these influencers get excited about our podcast and blog so that they would email their lists, especially in the posts we mentioned them in.
We went to work asking many of those in the social media niche that we knew if they would get involved — and we got a lot of yeses!
In the end we had about 10-15 really good products to giveaway to our new listeners and readers and were super pumped to give them away.
But…
With our launch getting pushed further and further into 2017 we lost some momentum with this.
When we launched, we mentioned this giveaway on the first 3-4 podcasts and blog posts.
But we didn't get any reviews.
We soon discovered that iTunes being our giveaway entry was a bad idea. People rarely leave reviews these days and reviews can only be seen by other reviews from the same country.
So if you're in the US and someone in France leaves a review you can't see it. So much for the Internet bringing people together.
We ended up only giving away one of the prizes to someone on an email subscribe contest.
Social Media Lab Branding
Sometime in early April, I was tasked with creating a "mascot" for the Social Media Lab.
This character would represent the project and be included on the featured images of the blog posts, images within the posts, social media, etc.
We spent about 6 weeks looking for graphic artists on Fiverr, Guru.com, Elance, Upwork, and a few other graphic illustrator sites.
Our goal was to find someone that could draw the character in different poses each week for the blog.
We wanted him to be a scientist, kinda goofy, modern and edgy.
I got some very interesting submissions!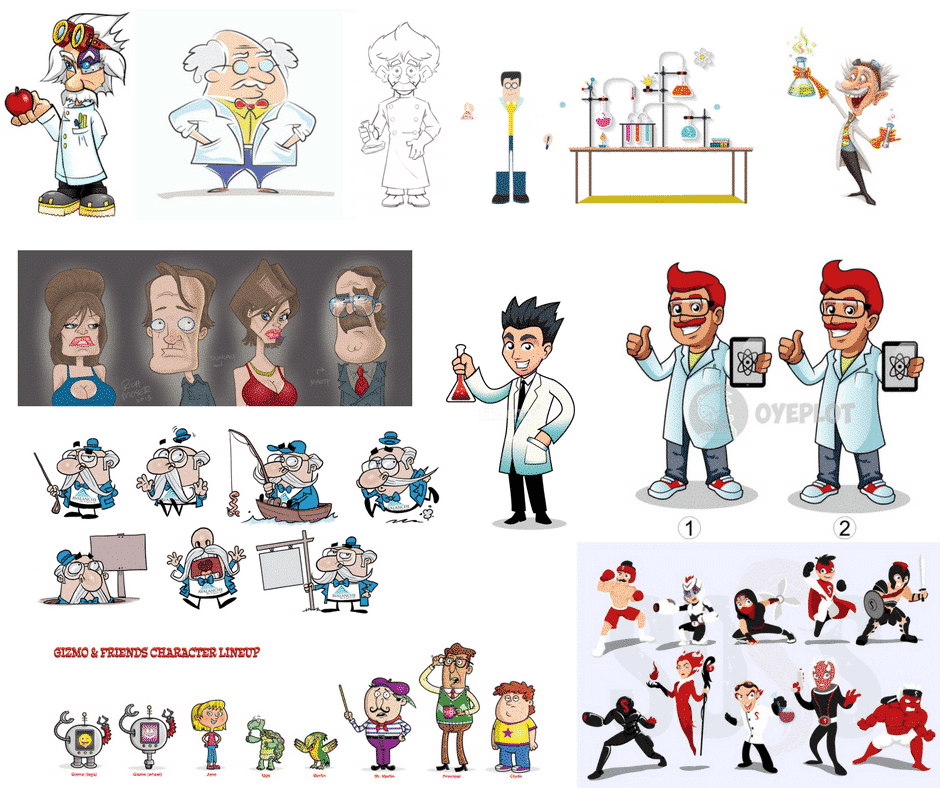 After lots of deliberation within our Marketing team, we decided on the black haired scientist in the middle. But with orange hair — to match our Agorapulse branding.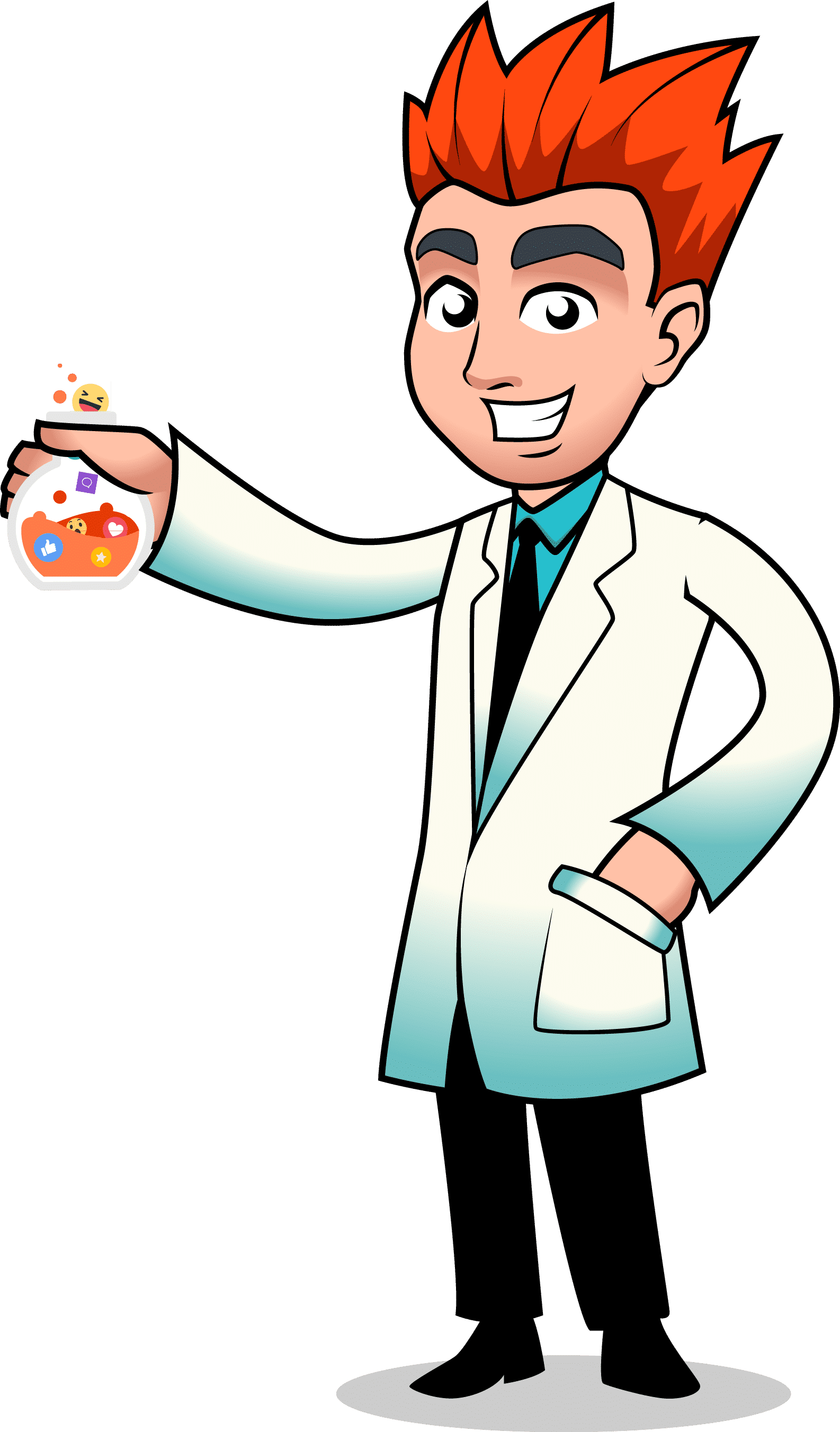 You'll notice he's holding a small beaker with emojis in it that we had someone on our team design: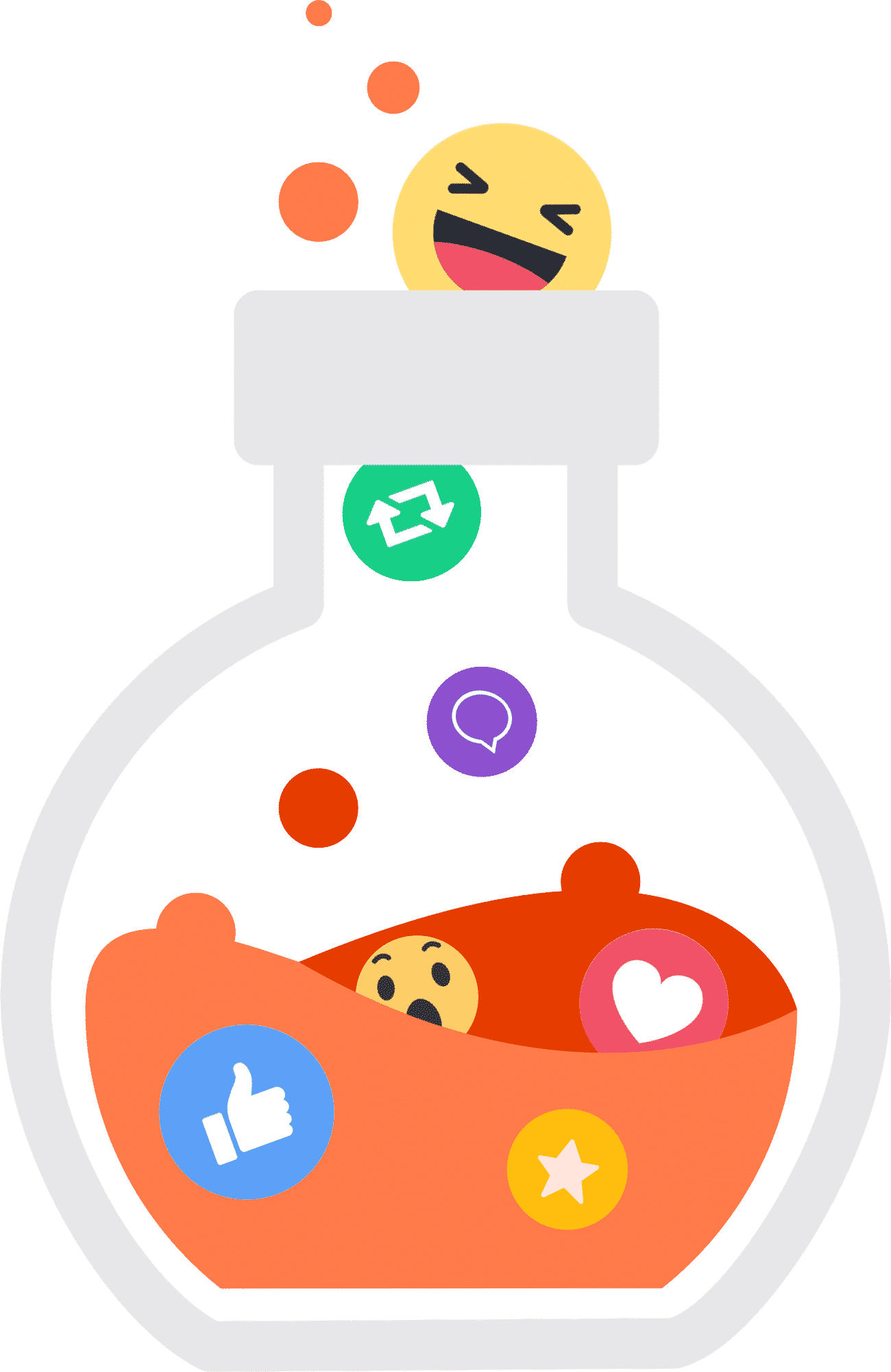 This decision was made in mid-May and I began having the illustrator we hired (via Fiverr) create featured images once per week for each blog post.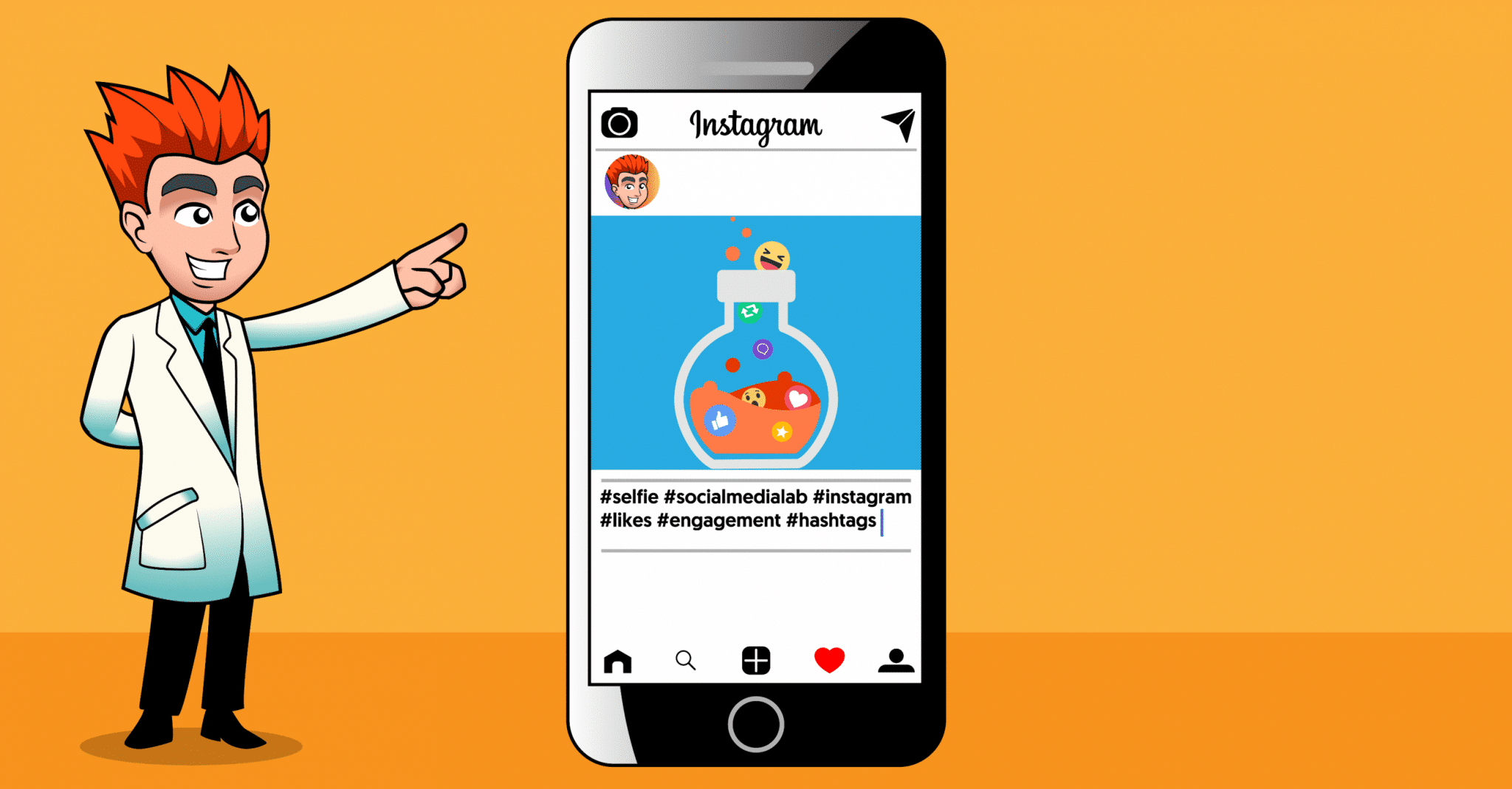 He made about four featured images for us and our in-house designer made graph images and our hypothesis and callout images for us.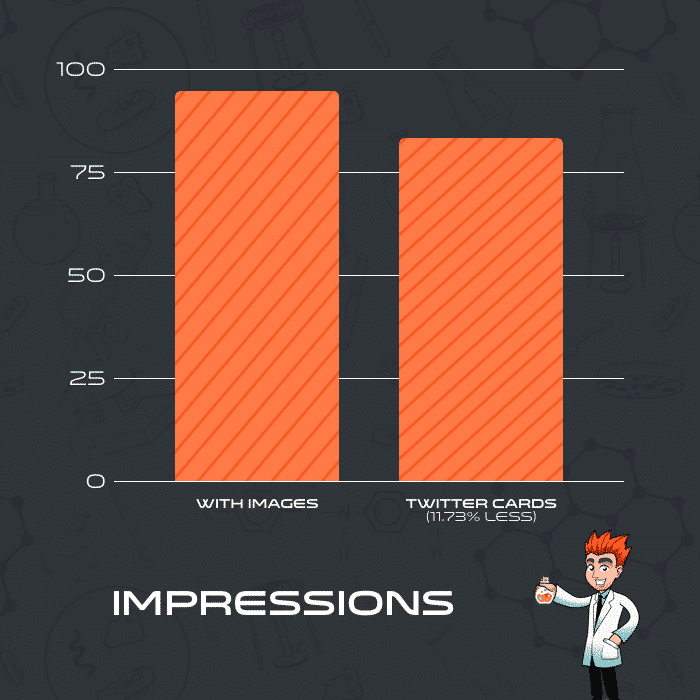 As you can see we were going for a hip, edgy and bit of a "dark" theme with the images.
We were doing these types of images up until early to mid-June.
There was one thing we failed to do as a team however when deciding on this character design — we didn't consult with our Head of Design that does the main website and app!
He'd also be creating and designing the website for the Lab.
To say he hated this scientist character would be an understatement. He despised him!
Our guy was a bit too Japanese anime, and he felt it was dated.
So…
We had to start the process over on creating a character and design — this time letting our Head of Design take the lead.
After at least 4-5 weeks of back and forth, we settled on what is now our character for the Social Media Lab — I refer to the scientist as Pat.

I'll admit at first I didn't like this character and thought it was kinda weak and childish.
But, after we got the site layout launched and started to have our designer we contract with create the featured images, I really began to dig Pat. We're able to do a lot more with the character in our images and we're less restrictive than we would have been with our more edgy character.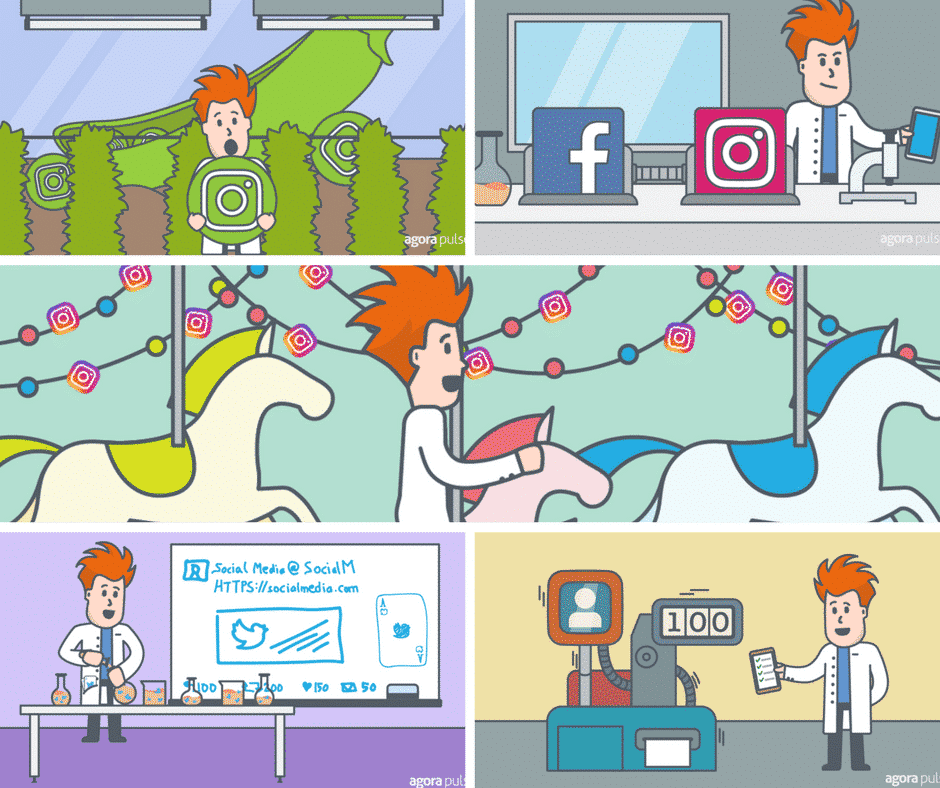 I gladly admitted to our Head of Design that I was wrong!
Our featured images on the blog posts are great now and I love the branding this character gives us in our hypothesis, graph, and callout images inside each post.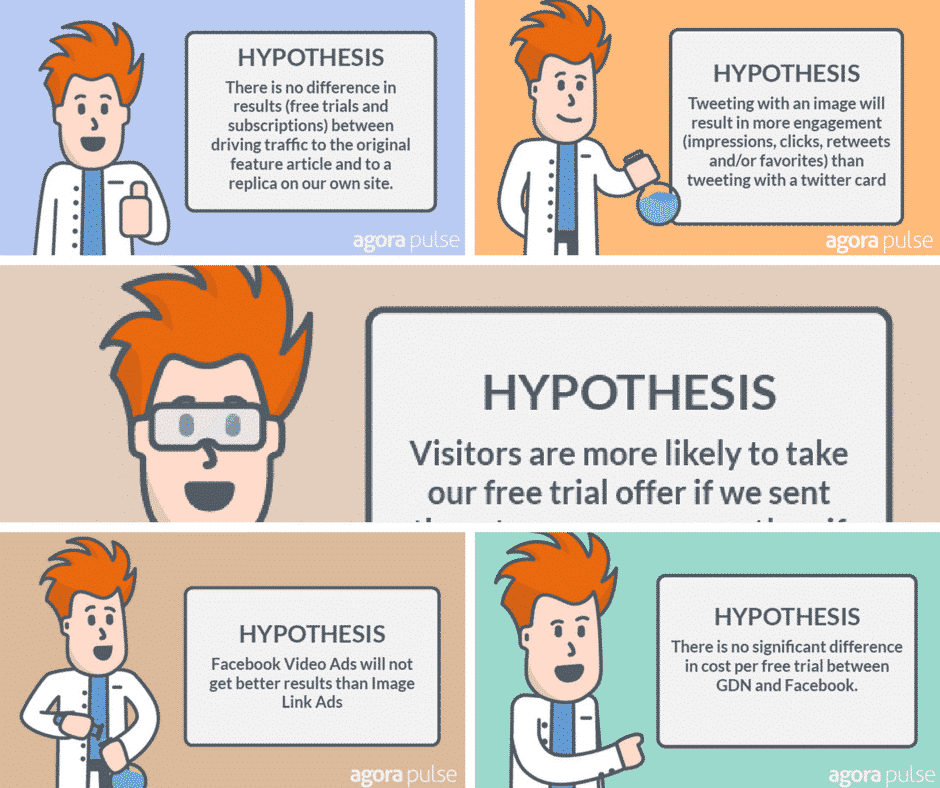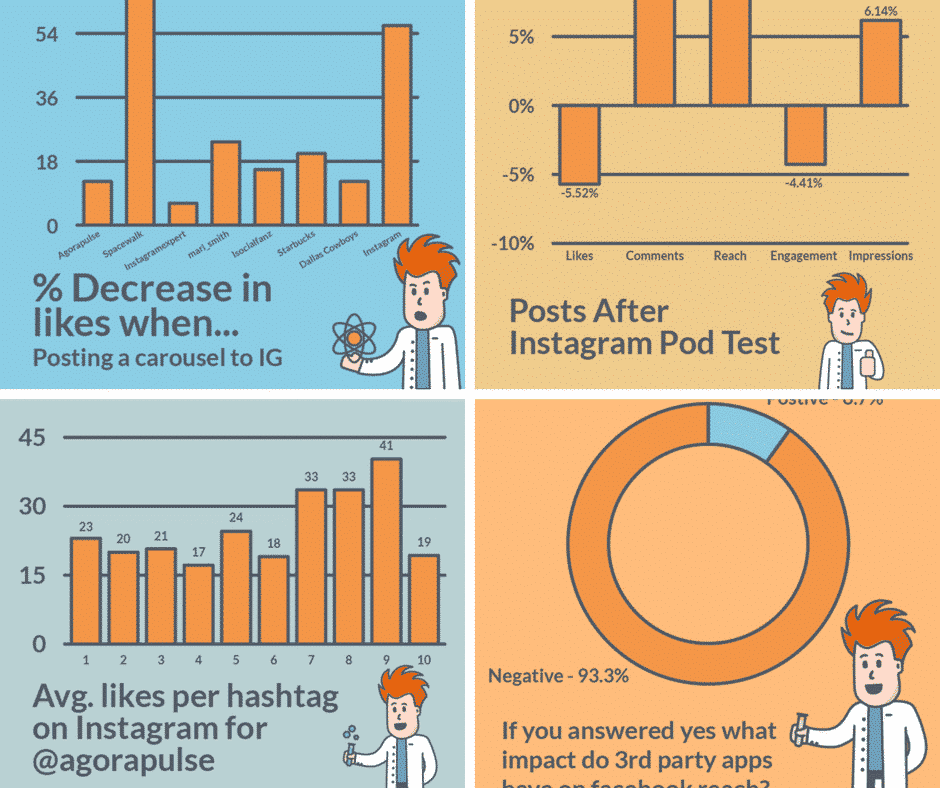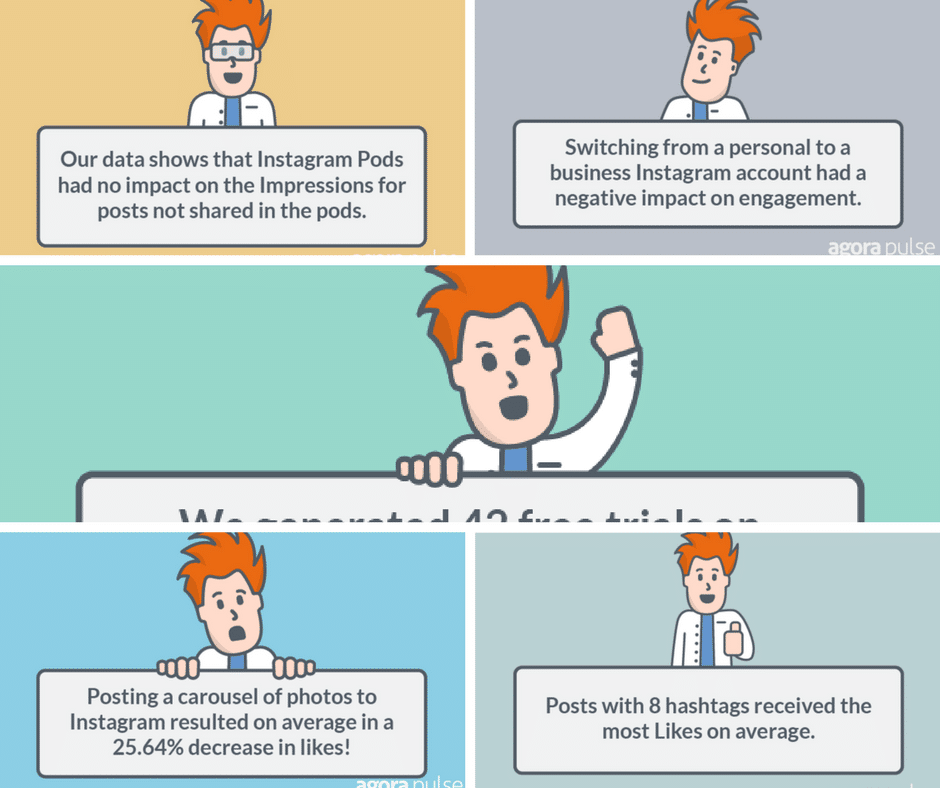 We also created an image to go along with our podcast and is incorporated in the website design.
The image is both fun and easily gives people an idea of what we are about — science and social media.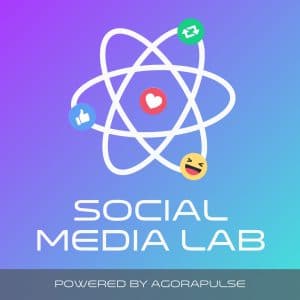 Social Media Lab Podcast

Speaking of the podcast, let's go into some details about what we decided to do with it.
For one, it was a MUST for us to have a podcast to go along with our blog posts.
We decided early on that we'd do a podcast recording for basically every blog we post. But instead of doing a podcast and making that a blog post, we have simply done our podcasts about our experiments and embedded them into the corresponding blog post.
My teammate Richard Beeson has been with the company since early 2012 and for years has wanted to do a podcast within the company. The guy's voice was made for radio!
I honestly have never met someone that has such natural voice talent without even trying.
The first thing we did to have a good podcast was buy equipment. We consulted with Cliff Ravenscraft of Podcast Answer Man to see what was best for our needs.
We purchased a Heil PR-40 mic for myself and Richard, as well as a Shure X2U XLR-to-USB Signal Adaptor — instead of buying an expensive sound board for both of us or digital recorders.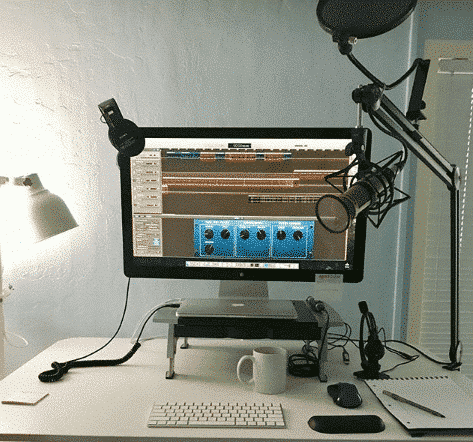 Richard records the episodes with me and him via Zencastr, and any other guest we might have, then edits them using GarageBand on his Mac.
We also make sure that anyone else on our team that contributes to the podcast has a good mic — a few we have bought mics and sent to them.
Our goal with the podcast is to give listeners an easy-to-digest audio version of the blog posts. So there is lots of whimsical science-related music and we break in quite a bit with input from other team members.
The has been super fun to produce so far and we're starting to see success with it — I'll discuss the numbers in a bit.
We host the podcast using Libsyn and syndicate to various podcast sites.
You can subscriber here: iTunes | Stitcher | Spotify | Google Play | RSS
Spotify is our most recent addition and we're excited about the opportunities that opens up.
Social Media Lab Website
Early on we batted around the idea of getting a standalone domain for the Lab. But the domain name wasn't available.
With our goal of also strengthening our brand we decided to simply have the URL be a part of agorapulse.com so you can go directly to the lab from agorapulse.com/socialmedialab or agorapulse.com/social-media-lab
This is a completely separate design and WordPress install however from our main site and main blog.
Which brought along many challenges when we attempted to set it up — thus more delays.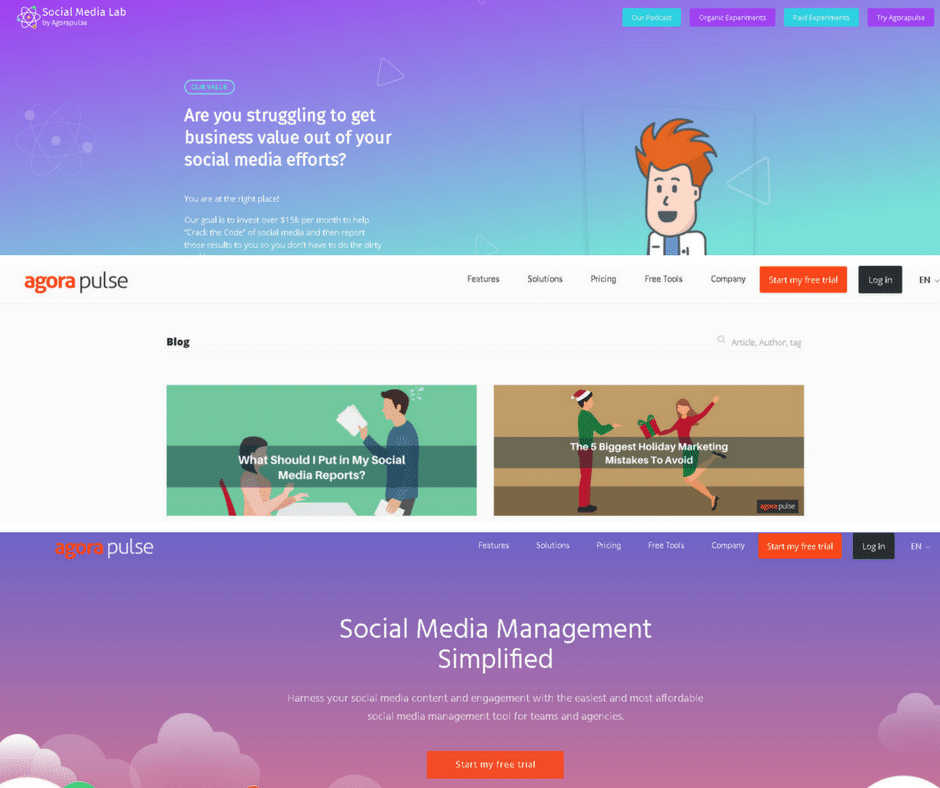 As you can see each site is quite different — do note that the main Agorapulse site will look different every time you visit depending on the time of day!
Social Media Lab on Social Media?
Just a quick mention here about our social media presence.
We discussed (sometimes argued) as a team about creating standalone social media accounts for the Lab (Facebook, Twitter, and Instagram).
Being able to have that unique voice on the platforms would be great and would allow us to maybe move faster than the overall brand page.
But, we worried about causing brand confusion. With the main goal of the lab to help further the branding and authority of Agorapulse we've decided at this point to not have separate social media accounts for the Lab.
This could change in the future, but for now we'll simply use our Agorapulse accounts to talk about the Lab experiments.
Social Media Lab Numbers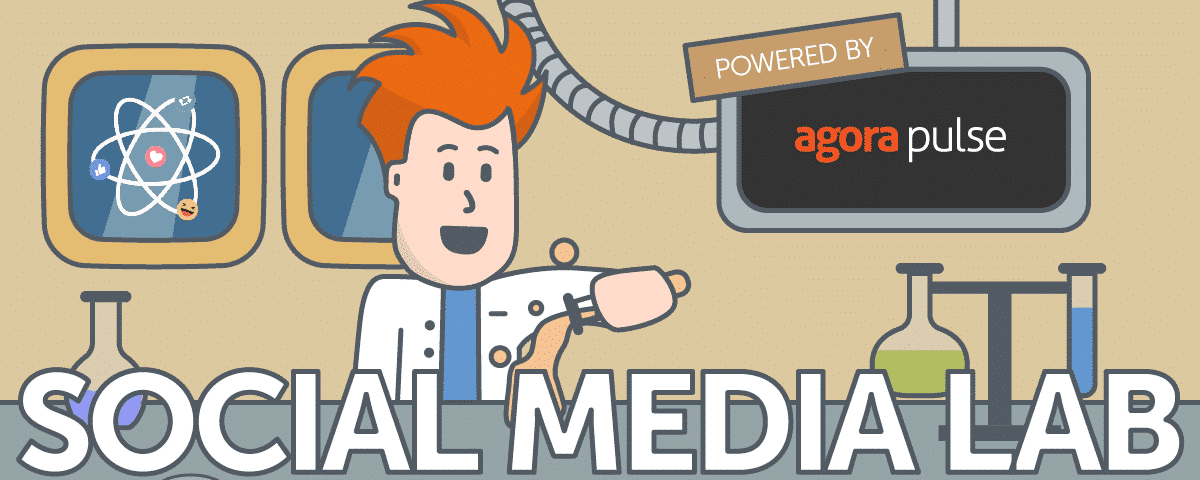 Ok — since we're about data, let's get to some numbers for the Lab.
Originally we set some very high goals for ourselves, especially on the podcast.
Based on what Noah Kagan was seeing as well as Podcast Answer Man we set a goal of 10,000 downloads per episode within a year.
We quickly learned that wasn't going to happen probably.
Libsyn made huge changes to how it was reporting downloads and most have been reporting a 25-30% decrease in downloads reported. The numbers are more accurate, but we needed to take this into consideration.
We adjusted our goal numbers based on advice from others within our niche and due to Libsyn changes to 2,000 per episode within a year.
For the blog we set a goal to have 30,000 readers within 1 year.
We broke this down by quarters to help us slowly take bites at the giant elephant!
August 1 – December 31, 2017:
Blog: 5k unique visitors/month

Podcast: 300 downloads/episode
January 1 – March 30, 2018:
Blog: 12k unique visitors/month

Podcast: 800 downloads/episode
April 1 – June 30, 2018:
Blog: 22k unique visitors/month

Podcast: 1.4k downloads/episode
July 1- September 30, 2018: (overlaps with 1 year on air)
Blog: 30k unique visitors/month
Podcast: 2k downloads/episode
So have we gotten close to these numbers?
We're on track based on our quarterly goals.
Here is where we are at currently:
5,475 unique visitors per month (originally we were tracking this with Google Analytics but have since moved to Kissmetrics)
294 average downloads per episode (this is a cumulative number from the beginning of the podcast to today)
These are the only 2 numbers we are focusing on to make our goals clear and simple to track.
So far we have 15 blog posts, primarily related to organic social media.
Due to an error in our Google Analytics I can't give you total unique pageviews from the start of the blog. And we didn't start using Kissmetrics until November.
I do know in October we had 7,776 unique pageviews according to Google Analytics. But obviously that could mean the same visitors looked at multiple pages.
That's why the Kissmetrics number of 5,475 for November is a more reliable number and the one we'll track moving forward.

We've produced 15 podcast episodes, resulting in 4,765 downloads.
Here's a look at our trend for daily downloads — the peaks are when we publish another episode: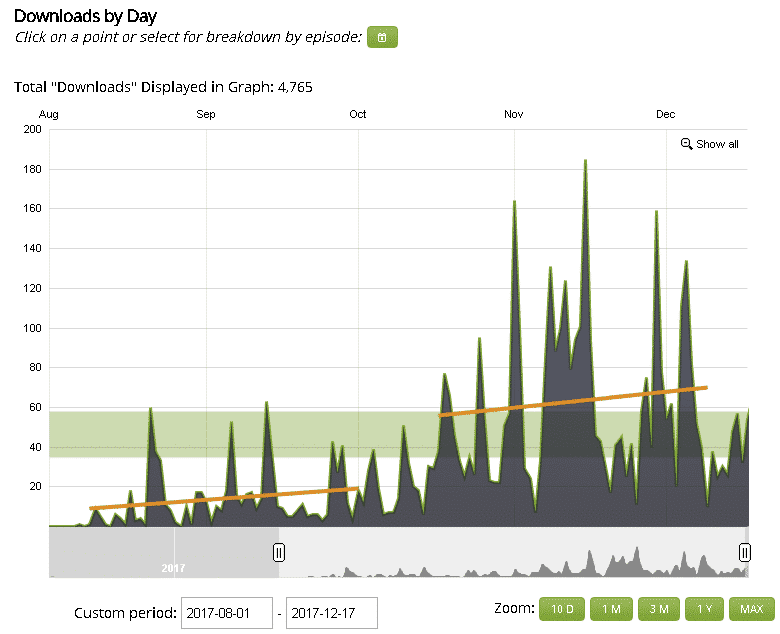 It's also interesting to see where most of our listeners are located: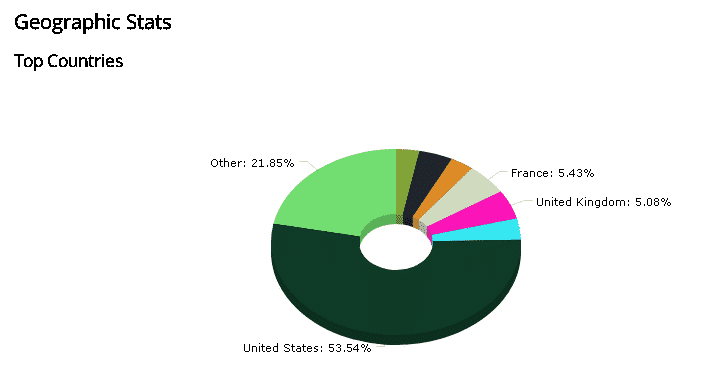 Not surprising that most come from the U.S. The 5.43% from France is likely our CEO and other team members!!
We have our podcast on iTunes, Stitcher and Google Play. But you'll notice in these stats it's mainly Apple products doing the listening: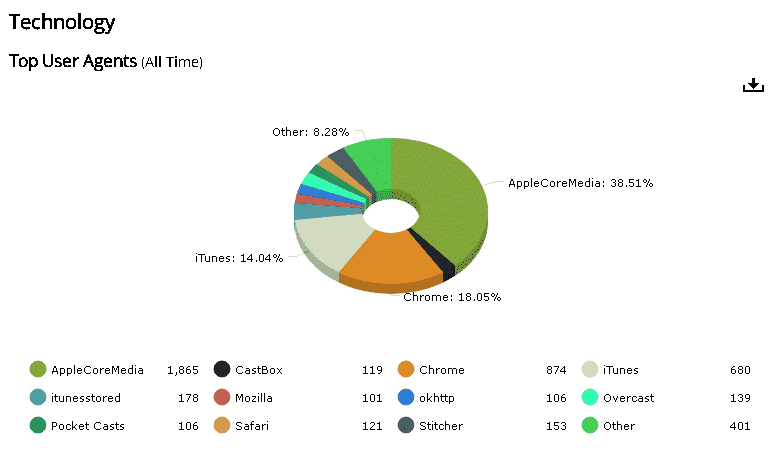 Stitcher is only 3.16% of downloads! Chrome users that likely only listen on our blog posts is 18.05%, while the rest is pretty much Apple related.
We have found that Stitcher handles downloads differently than Apple so these numbers could be off a tad, but overall Stitcher hasn't been as big as we thought they would be.
Spotify stats are only about a week old when I wrote this post but we've already seen over 100 streams!
Apple also has released new podcast stats for the first time ever! I'm not including those here as our main focus is the downloads per episode total across all devices, but it is interesting stats to look at if you have a podcast.
We have seen some success on iTunes recently — even if just temporarily.
We've been number 8 in the "Management and Marketing"sub- category!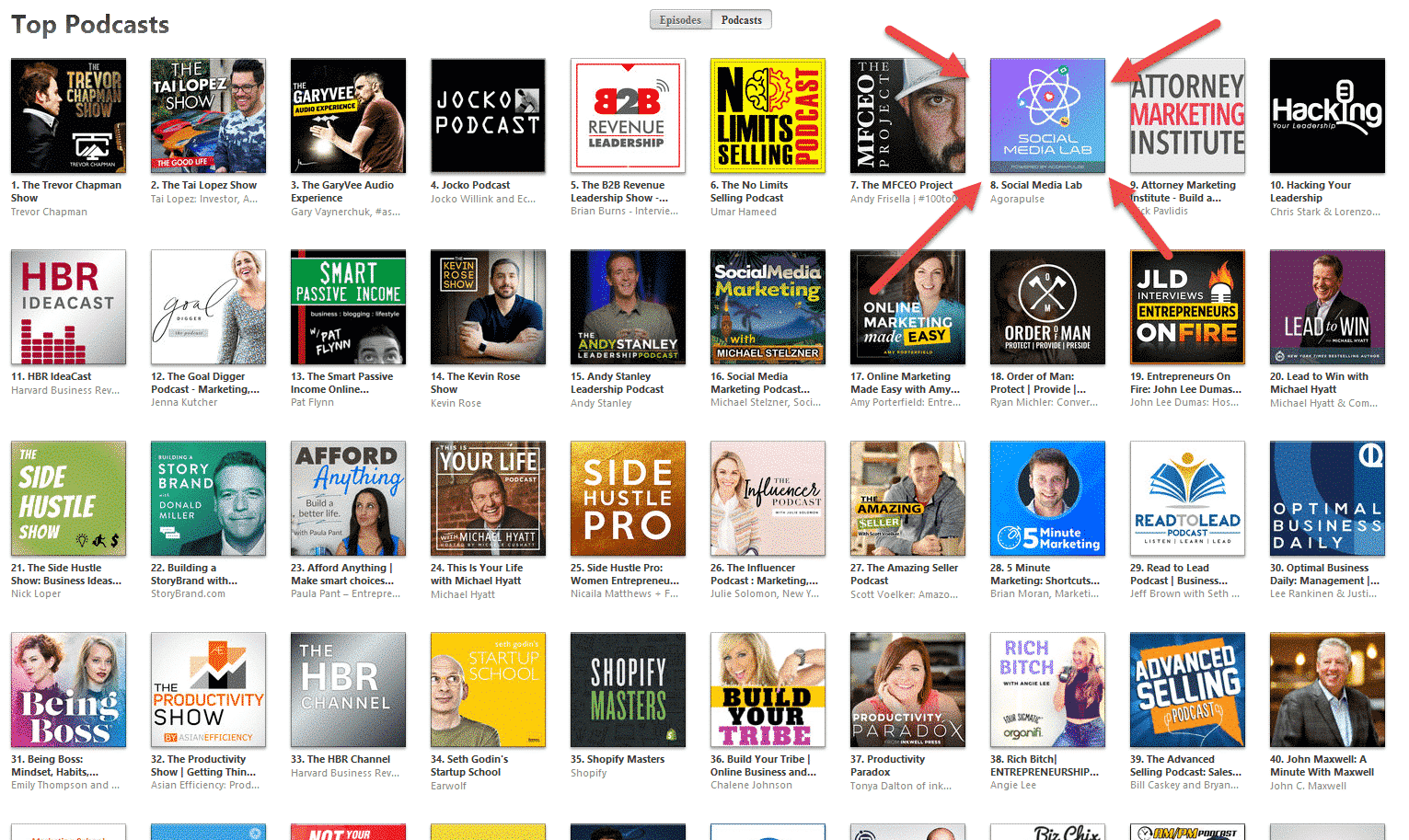 At about the same time we saw our podcast get in the Top 20 in the main Business category!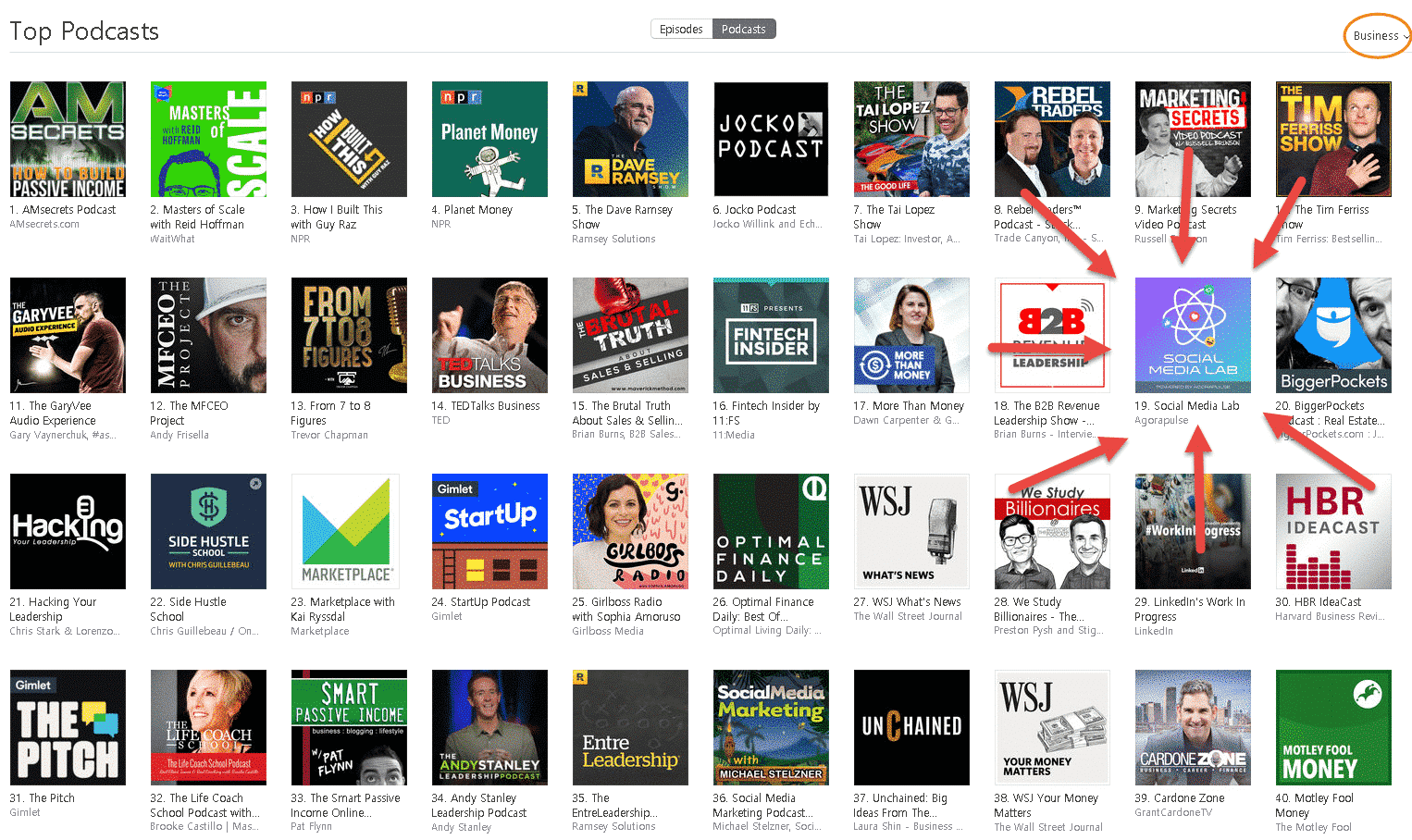 Quite the company to be in!
It didn't last long and our best guess is it was due to us nearly doubling our subscribers and publishing. And could also be due to the timing of the podcasts related to others in our sub-category.
Luckily I grabbed some screenshots!
Onward to 2018!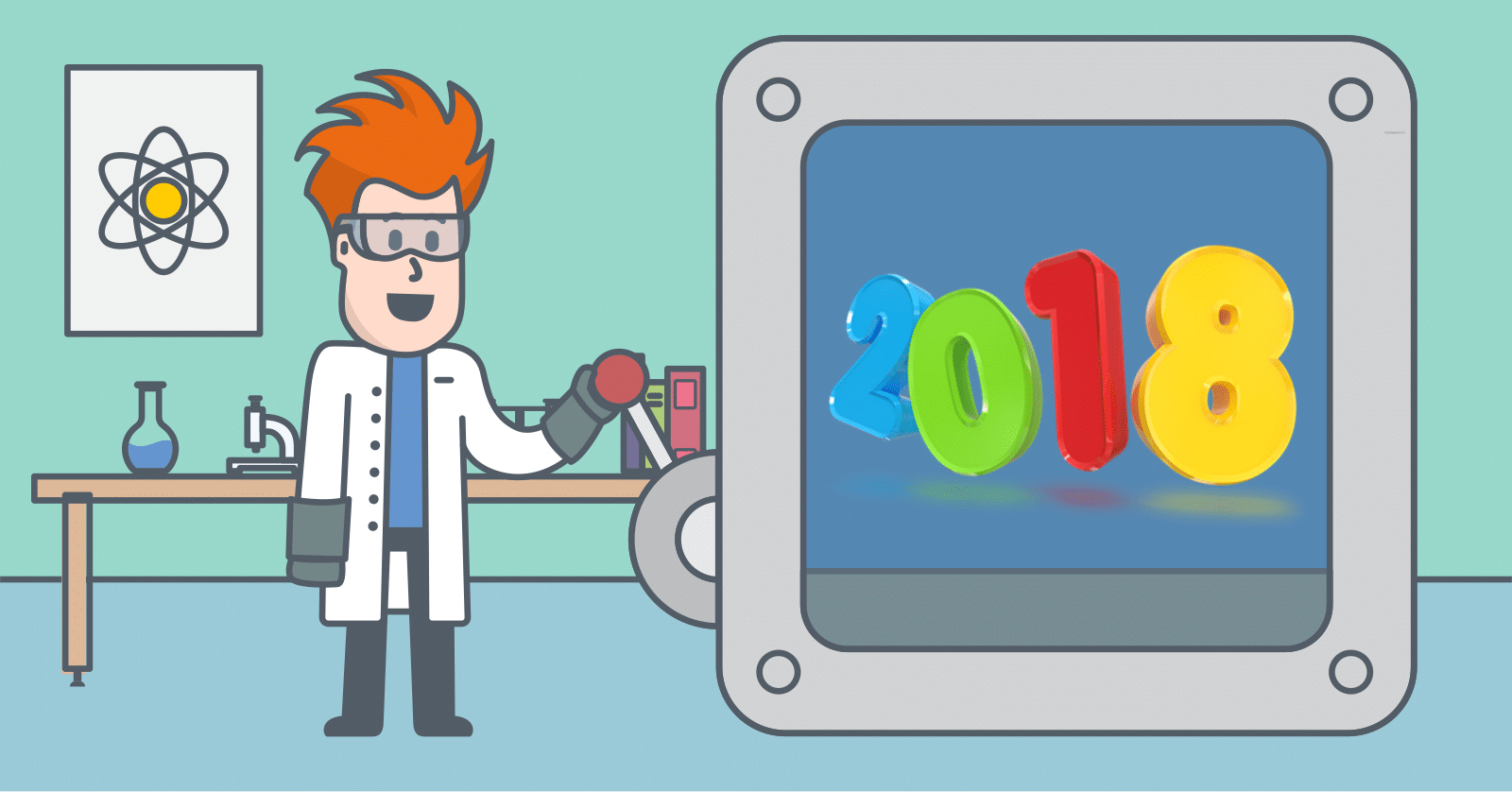 2017 is quickly coming to a close and we're looking forward to 2018.
We have decided to do a few things moving forward worth mentioning:
We will skip publishing during holiday weeks such as Thanksgiving and Christmas. As you probably know social media sees a huge drop in engagement during those times. So we want to make use of that to write more and to not miss out on our posts getting engagement.
Huge focus on Influencers and Experiment Partners. Moving forward you'll see more posts where we team up with someone to either run the experiment together, or let them run the experiment and publish on our blog. And for some influencers we will simply test a theory that they would like to see tested and write about it ourselves. (As we did with Jenn Herman for our Instagram Pods experiment) Our hope is this will bring in more traffic, but also strengthen the experiments.
Hoping to build some community within our Social Media Lab Group. We passively began the Facebook Group in November but haven't done anything with it just yet. I'd like to see it be a place we talk more about the experiments and perhaps bounce ideas off of others about future experiments.
Since we are a Lab, we'll constantly attempt to test things and if we need to change directions or the flow of our experiments we will. That's the whole point of this experiment!
Make sure you subscribe to our emails so you get notified of new experiments and go subscribe on iTunes! (or Stitcher!) (or Spotify!)
Don't miss an experiment!
New experiments and exclusive content straight to your inbox