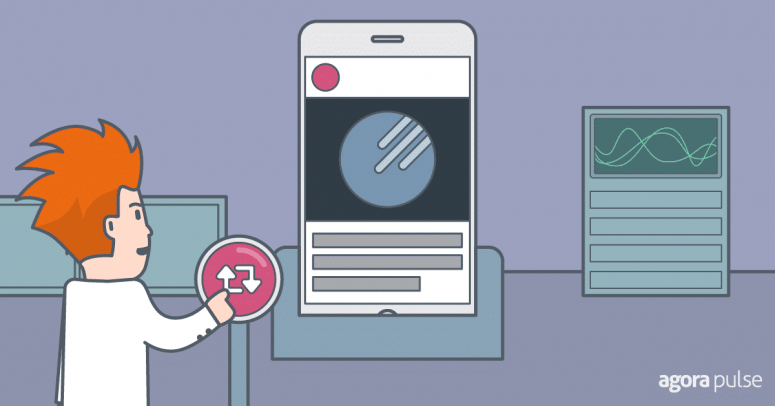 Subscribe to the Social Media Lab Podcast via iTunes | Stitcher | Spotify | Google Play | RSS
Is User Generated Content (UGC) on Instagram Worth the Effort?
If you don't know what User Generated Content (UGC ) is basically it's either asking other users if you can re-share their content or taking submissions from users and then posting that content.
Hubspot defines UGC as:
"User-generated content, or UGC, consists of any form of content that's created by users and consumers about a brand or product. UGC isn't paid for, and its authenticity makes the user the brand advertiser as well."
When tasked with creating content for various social media accounts UGC makes things easier as eventually you run out of ideas, or get bogged down.
Being able to share something created by another account allows you to have a more diverse content library, and if you tag the user there is potentially an increase in engagement that could occur.
Some Thoughts on UGC
According to a 2017 study by Internet Trends UGC has up to 6.9 times higher engagement on Instagram: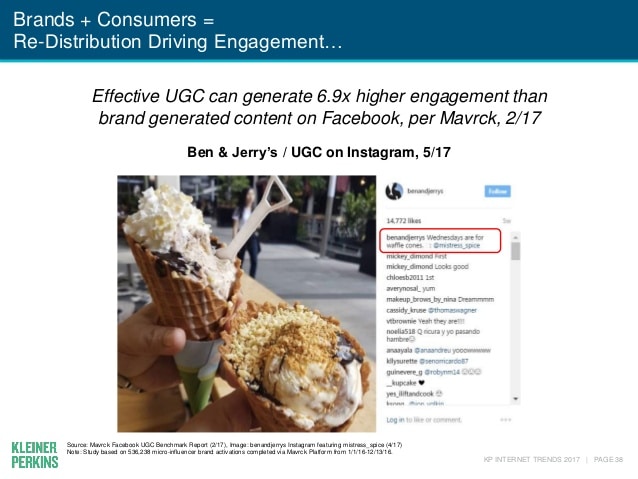 They also found that larger brands were very highly likely to reshare or regramm UGC: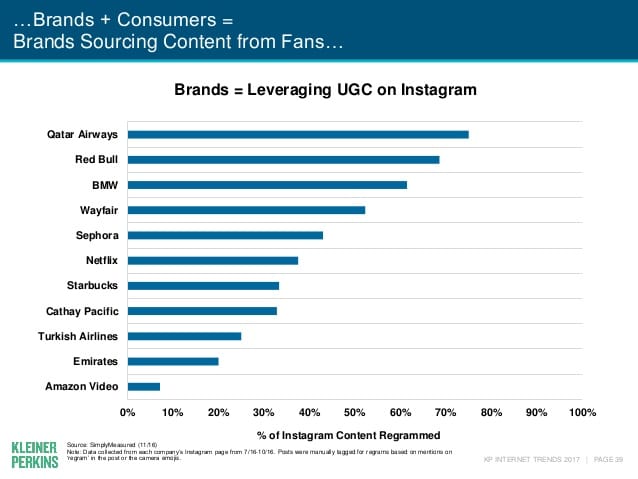 Examples of UGC
Wayfair:
The online retailer Wayfair does a great job having users mention #wayfairathome to show items they purchased through the site.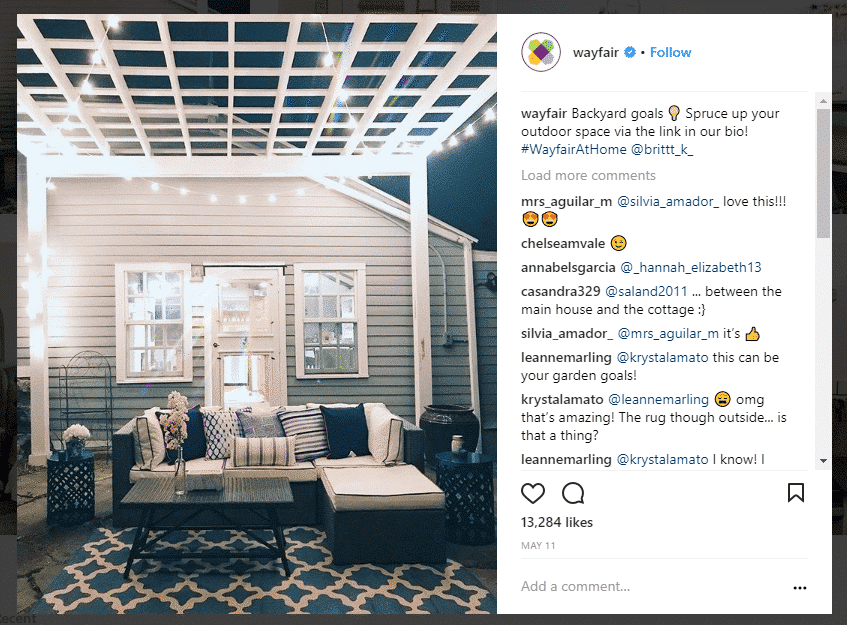 You'll notice they also tagged a user in their update to give them credit for the photo.
Adobe:
Adobe ran a really cool UGC campaign using the #AdobePerspective. Great way to show off work of artists, and give them credit for their work.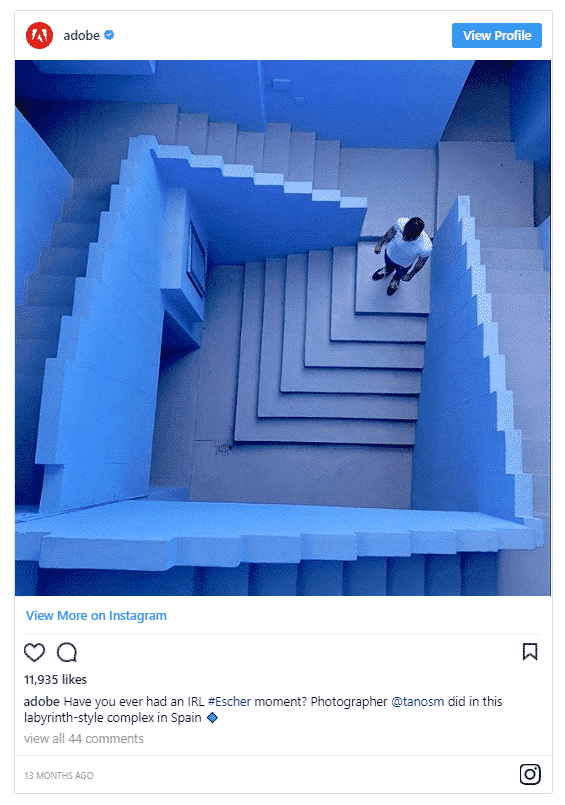 BMW:
BMW does a great job of reposting content from users that post with #BMWrepost to show off their rides.
Again notice they mention the original user in their post.
If you're a large brand like these examples it is probably much easier to get users to post using hashtags, but for smaller brands it's not as easy.
This is where an app called Tack comes into play.
It allows you to search by hashtags or locations and then comment on that content asking for permission from that user to reshare their content.
I used it for this test, here is how I searched based on locations of our employees:
Let's Test UGC on Instagram
So with this background in mind, and the use of Tack to help find content, I wanted to run a small test to see if there was value in posting UGC.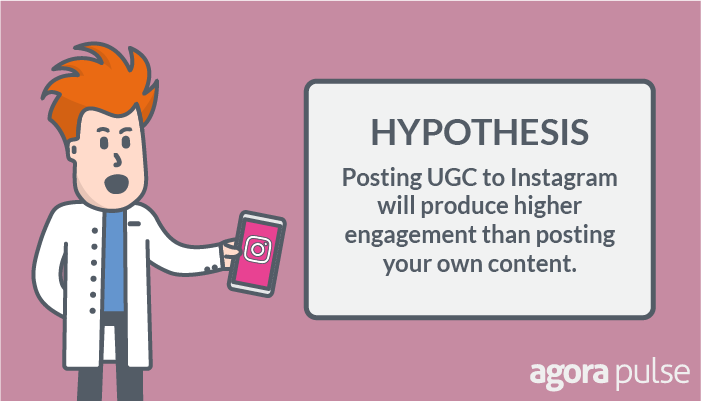 Hypothesis: Posting UGC to Instagram will produce higher engagement than posting your own content.
To test this I'll use the @Agorapulse Instagram account with currently 4756 followers.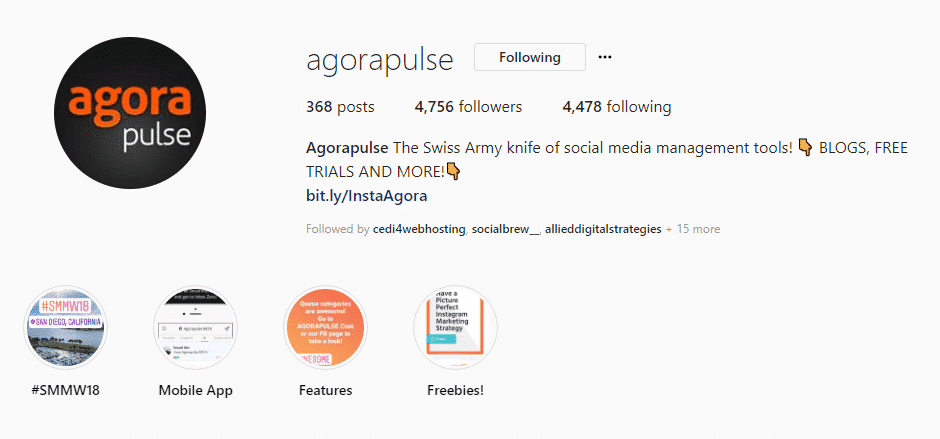 I mentioned earlier I used the Tack app to find UGC based on the location of many of our employees.
I simply entered in a location and let their app find content geotagged for that area. It was very simple to find the content.
However getting a reply from users to reshare that content was a major time suck!
Throughout a period of a 2 weeks I sent requests to about 150 pieces of content asking for permission to use it. After a long period of time of no replies I finally got a few.
Originally Tack's app would allow you to reply inside their app and ask for the permission by requesting the user reply back with a certain hashtag, I set mine to simply #yes.
But this changed in April with changes to Instagram's API, now you can still search using Tack, but can't make the 1st comment on a post inside their app (or any app for that matter). Instead you will comment on the post on Instagram and if they reply back using your @username then it will show inside Tack so you can manage your library and download the image.
After you get the replies it looks like this: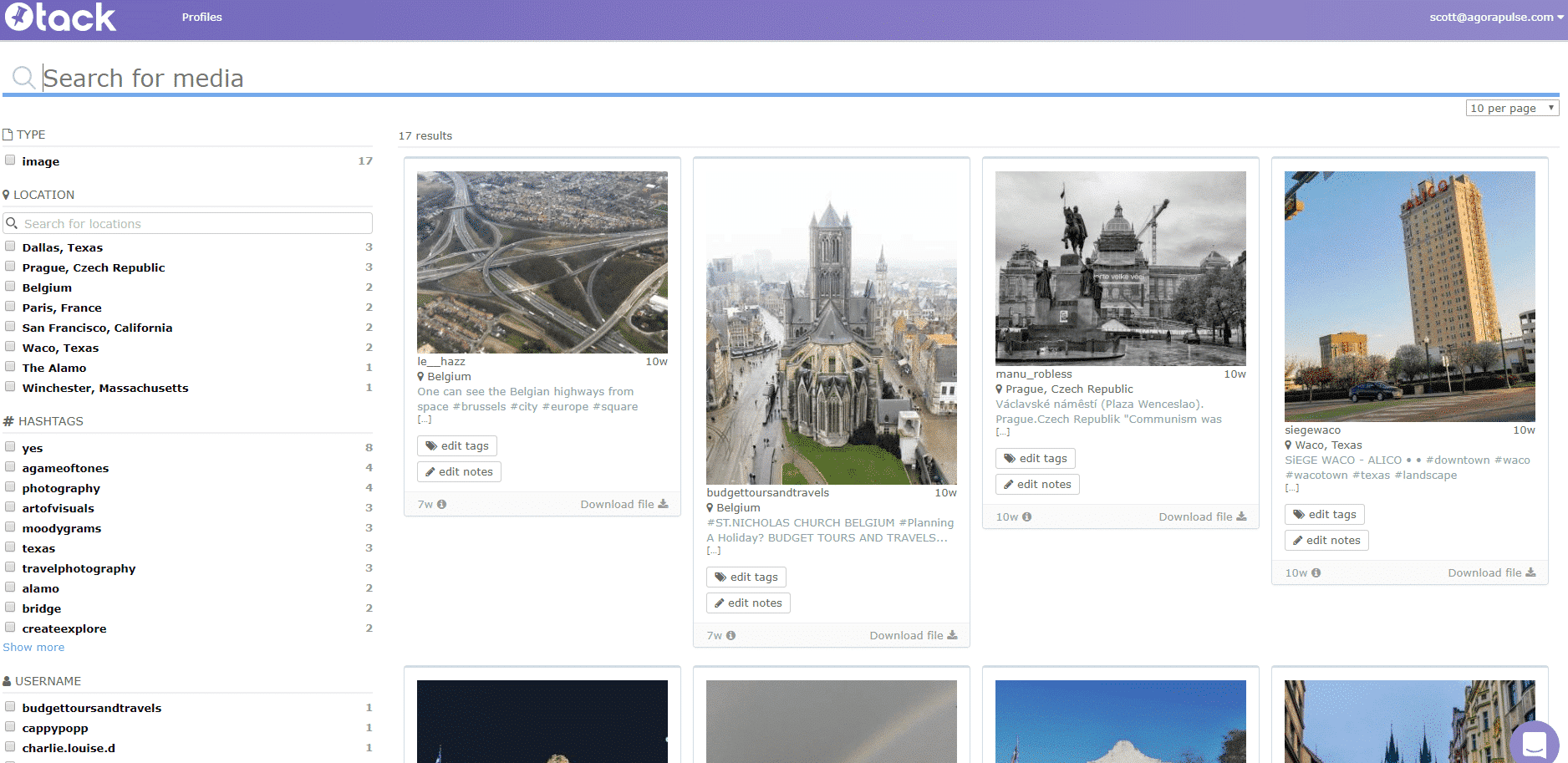 Originally I had hoped to get content from every city our team lives in, but that didn't happen.
Maybe those users didn't see my comment, or they simply didn't want me to reshare them.
In the end I chose 10 pieces of UGC to post to our Instagram account.
We'll compare the data from that content against 10 pieces of content we created ourselves.
Here's an example of a UGC post: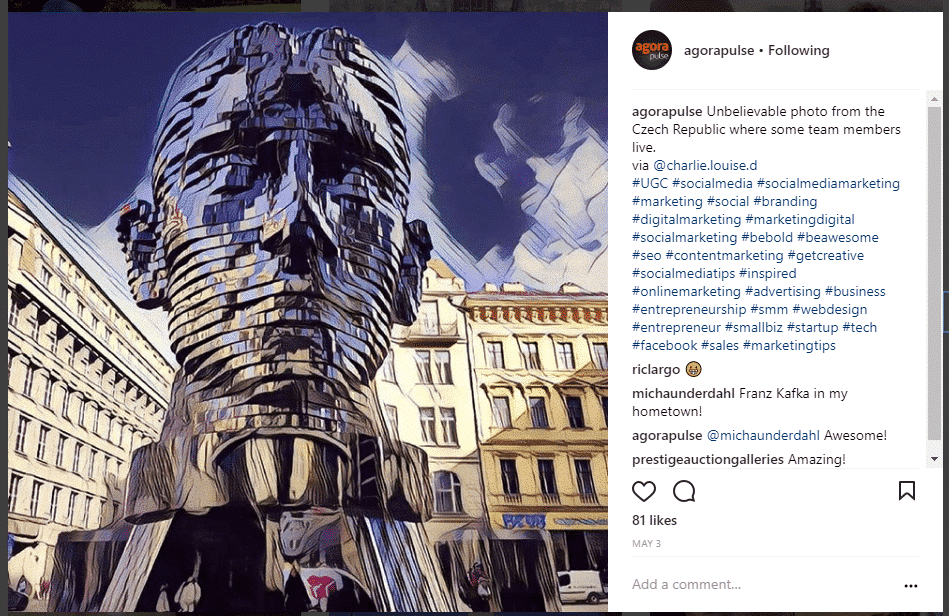 Pretty sweet photo and piece of art!!
Here's a post of our own content made during the testing period: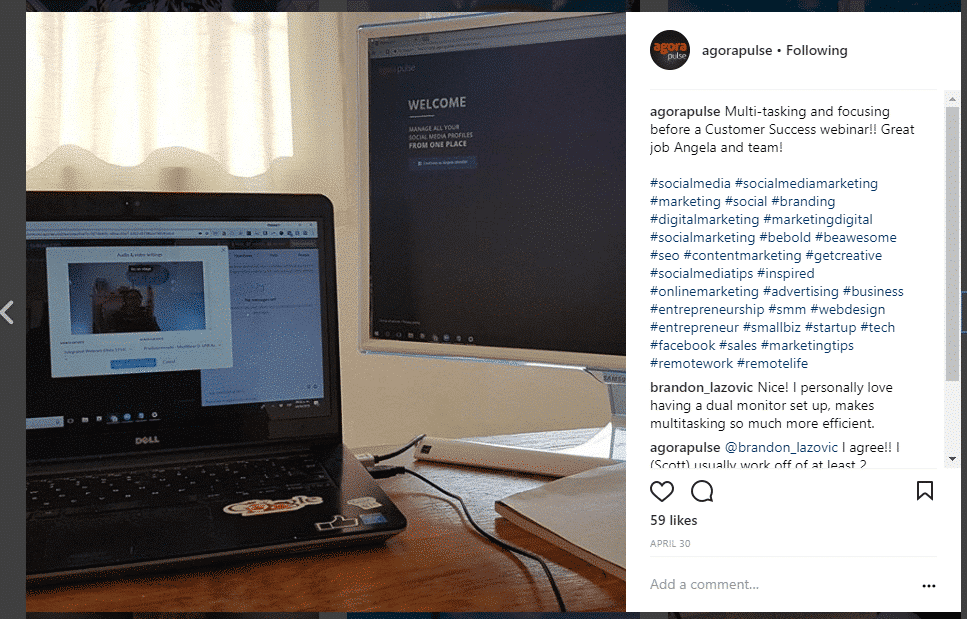 You'll notice that other than the #UGC on the 1st example I used the same exact hashtags on every post. This was to keep the results as consistent as I could.
The Results
Here's how the insights broke down for the different types of content, averaging the 10 pieces of each together:
UGC:
Likes : 82.5
Comments : 4.2
Reach : 431.9
Original Content:
Likes : 78.7
Comments : 5.9
Reach : 461.9
Who's the Winner?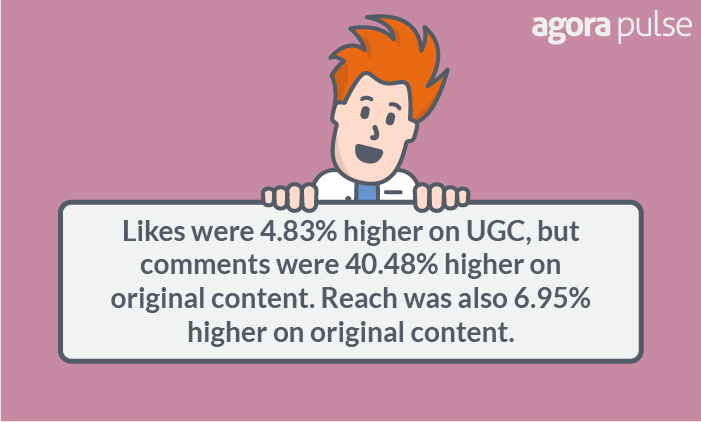 Likes were 4.83% higher on UGC, but comments were 40.48% higher on original content. Reach was also 6.95% higher on original content.
Hmmm..
I wasn't completely confident on drawing a conclusion with this data as it's a bit conflicting and might not be enough data — since it's just 1 account.
So I asked Lisa, our Product Marketing Manager, if she knew of another smaller account that does UGC. And since we call her the "Content Lady" on our team she of course had access to an account that does use UGC and was gracious enough to share that data with me.
It's an account she uses to talk about her favorite grocery store, Wegmans. With over 2500 followers and being established for years @VeganWegmans is a great account to use for testing and help verify our data.

She will typically re-share content that used the hashtags #wegmans or #veganwegmans, such as the post below: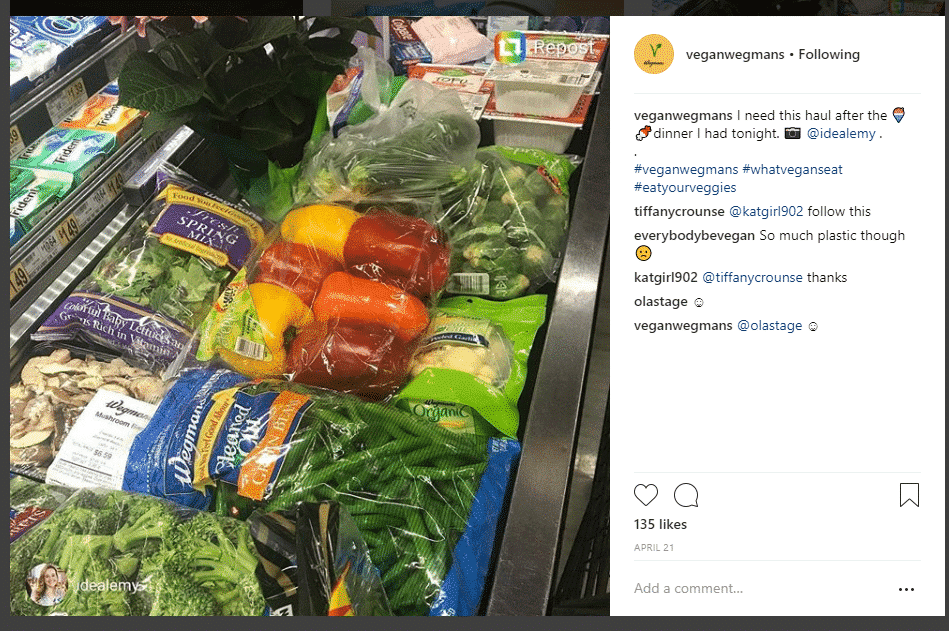 We're gonna just focus on Likes and Comments, because let's be honest that's the metric on Instagram that everyone sees and likely cares about. Reach is great to know, but you even if you had 1 million people see your content who cares if they aren't engaging!!
@VeganWegmans Data:
UGC:
Likes: 159.3
Comments: 6.9
Original Content:
Likes: 141.6
Comments: 11.3
So once again Likes were higher on UGC content, by 12.5%, but Comments were higher on Original content, by 63.77%
If we average the increase in Likes together for these 2 accounts that means Likes were higher on UGC by 8.67%.
Comments were way higher percentage wise on original content, but we're only talking about 1.7 comments per post higher on the Agorapulse account and about 5 per post on the VeganWegmans account — nothing to call CNN about!!
With this data in mind I'll say that UGC wins this battle! Kinda…
Both accounts saw an increase in Likes when using User Generated Content — Likes are like gold on Instagram!
Parting Thoughts on UGC
I put 100 times more effort into finding the UGC than I did getting images from our team to share to our Instagram account. The process was daunting and long, searching through and commenting on 100s of posts on Instagram.
So while I did get a slightly higher amount of likes on our UGC it wasn't worth the effort to me in the end.
It was a fun way to find fresh and unique content yes, but I'm not sure the ROI of my time was valid.
Now if you're a large brand that can get users to post using a specific brand specific hashtag like Wegmans, BMW or Wayfair then the vetting process is much faster and wouldn't require you to dig through 1000s of posts just to get 1 piece of content worth sharing.
You'll need to decide if UGC is a good fit for your brand or not — for me I'll likely hold off doing it for Agorapulse until we perhaps get a hashtag for people to post with and parse the content that way.
What results have you had with UGC? I'd love to hear about it in the comments.
Don't miss an experiment!
New experiments and exclusive content straight to your inbox