Are you running Instagram ad campaigns but seek better results?
Upgrade your Instagram advertising to generate more brand awareness and boost sales.
Here are six tips to create better Instagram ads for your company.
1. Target the Right Audience
Reaching the wrong consumer base isn't helpful for business. It's actually a waste of time.
So, before digging deep into your budget, figure out your target audience.
That means working with your team to create buyer personas. Learn their likes, dislikes, and purchasing habits.
"If you create an ad for a specific audience, you need to make sure that it will be seen by only that audience. For example, if you create an ad geared toward working moms, you don't want it to be shown to high school students," writes Ross Simmonds, founder of Crate.
Knowing your audience helps you bring relevant content to them.
2. Upgrade Your Visuals
Research reveals "that colored visuals increase people's willingness to read a piece of content by 80%."
Consumers desire vivid imagery in advertisements. Colorful images make it possible for your products to stand out from competitors.
Moreover, add a story to your visuals. Don't just smack your product on Instagram. It does nothing for the potential customer.
Instead, offer substance. Show customers how they can use your products in multiple environments.
Visuals matched with a background story gives the Instagram fan a deeper perception of your brand. In the example below, activewear brand Fabletics provides depth with a woman exercising on the beach.

Express your brand through vibrant images. And include an interesting setting.
3. Use Creative Hashtags
Hashtags and social media are like sprinkles and ice cream. They belong together.
Do the research to discover which hashtags matter to your audience. Then, insert those keywords into your ad.
If a major event is happening, your team may want to add those trending hashtags. It shows consumers you're relevant.
"Hashtags are very popular on Instagram. You can use both trending hashtags and branded hashtags. Trending hashtags will help people find your brand, and you can use branded hashtags to create your own community," says Vesela Georgieva, a digital marketing specialist.
Branded hashtags are part a bigger marketing campaign. What do you want to convey to your audience? How can you grab their attention?
Taco Bell executed the Wake Up, Live Mas campaign. To introduce its breakfast menu, their team used #MorningValueMenu.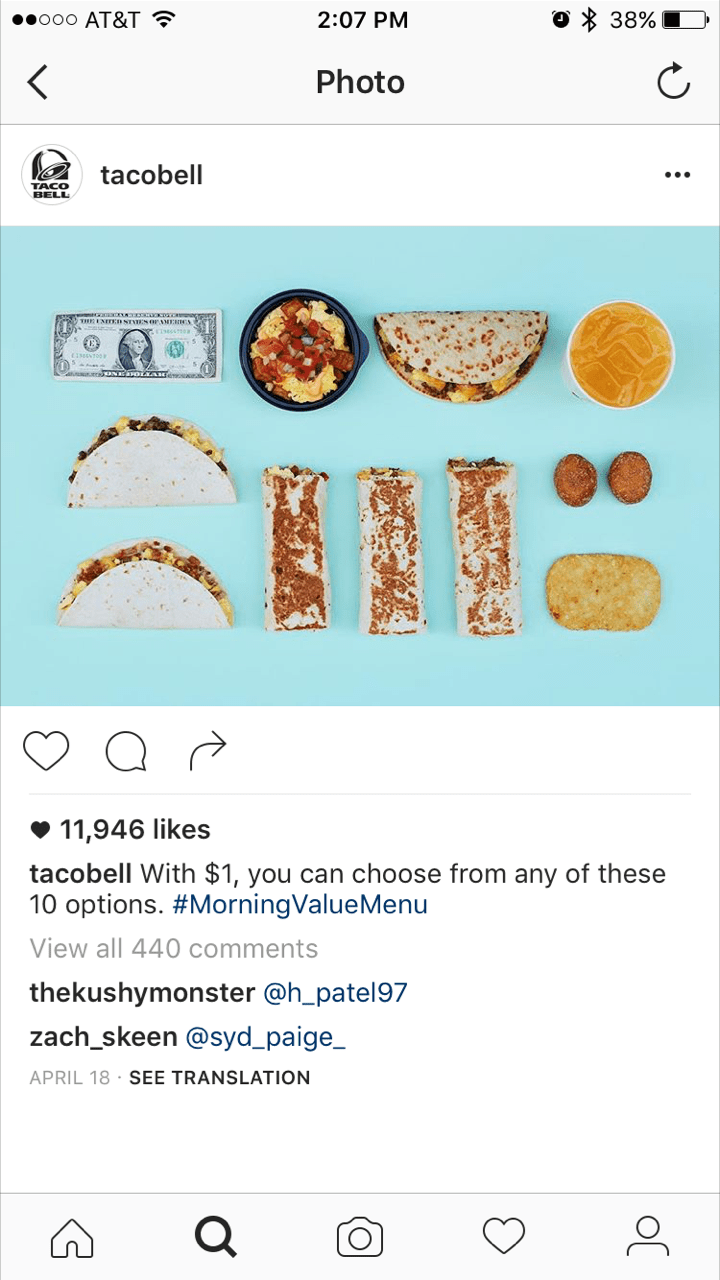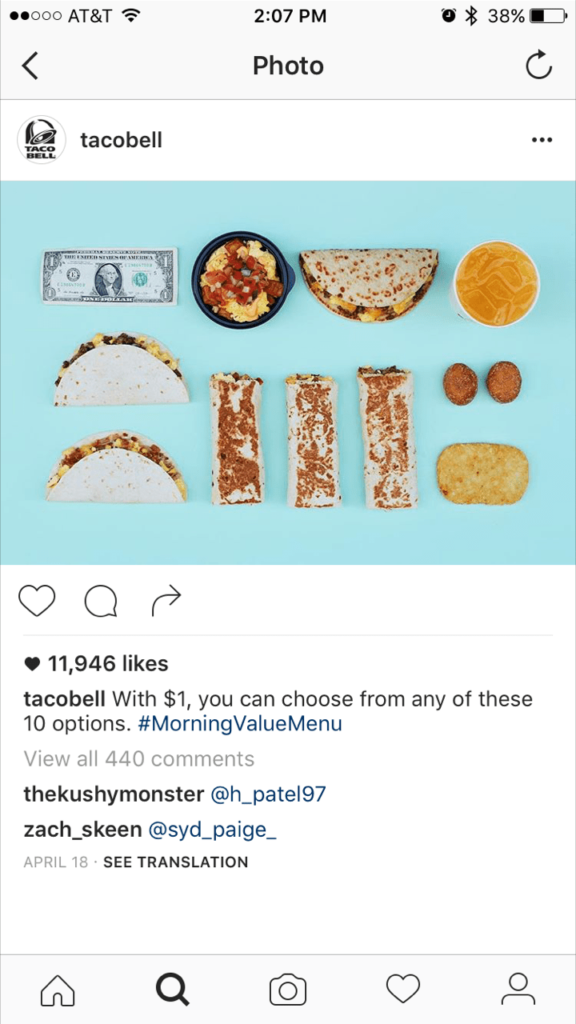 Join your customers' conversation. Connect with creative hashtags.
4. Track Customer Comments
Collecting feedback is vital when running your ad campaign. You want to know what's working and what needs improvement.
An Oracle report uncovers that "31 percent of social users interact with brands to gain direct access to customer service representatives or product experts."
When ads are posted, customers may ask questions about the products or respond with suggestions.
Monitor the comments on your Instagram ads with Agorapulse. Find out what people are saying about (or to) your brand.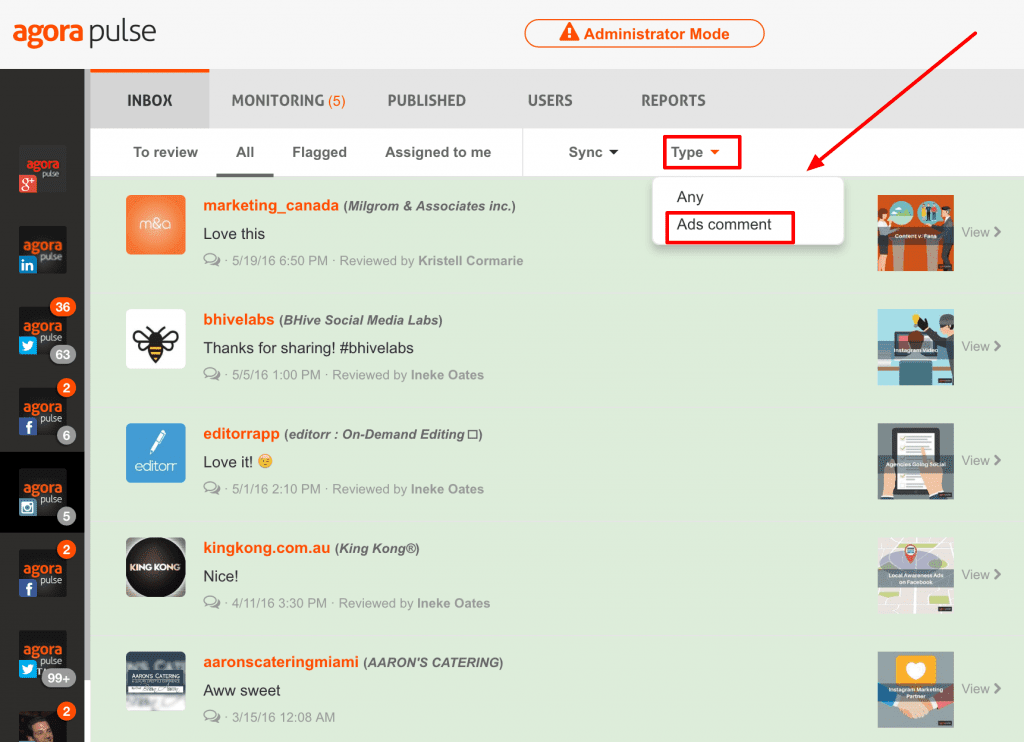 So, pay attention to the feedback. It can help with revamping your ads or even your services.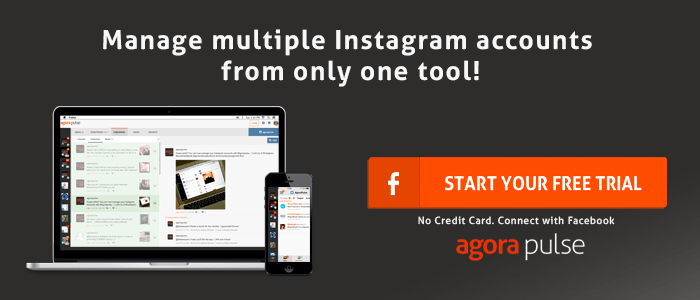 5. Schedule at Optimal Times
It cost money to implement ad campaigns. And you don't want to squander your budget.
Therefore, analyze internal data to learn when your customers hang out on Instagram.
Maybe it's Tuesdays at noon and 5pm. If so, be sure to post ads during those peak times.
Katie Carlson, contributing author at ReadyPulse, writes:
"In order to be successful on Instagram you have to participate on the platform regularly, not just when you feel like it. [S]pend time preparing meaningful ad posts and work them into your schedule to create a natural flow that aligns with your brand."
Recognize your consumers' social media habits. And use that information to boost ad engagement.
6. Create a Call-to-Action
What's the purpose of your ads? What do you want customers to do?
"Instagram ads allow you to drive traffic directly to your offers with a call-to-action button. Some brands will use Instagram simply to create awareness, but if you aren't a Coke or Pepsi, then you are most likely looking to send traffic to an offer on your website," writes Entrepreneur contributor Jonathan Long.
The platform makes creating calls-to-action easy with clickable buttons, like Shop Now, Install Now, and Learn More.
Develop a simple call-to-action. Get customers moving towards your goal.
Start Running Your Revamped Instagram Ad Campaigns
Meet customers on their playing fields. Use Instagram ads to engage people with your brand.
Target the right consumer base. Post high-quality images that will grab people's attention. And don't forget to monitor your comments.
What are your tips for running great Instagram ad campaigns? Let us know in the comments!