As a social media manager, you may know a lot about Instagram's end-user features. But have you focused on Instagram marketing? We've got tips and tricks about it to help you make the most of this platform.
With more than 25 million businesses on Instagram, competition is fierce. In this article, I'm looking at Instagram marketing essentials, my best agency hacks, and the brands that are winning.
Instagram Marketing: Why All the Fuss?
If your current marketing strategy doesn't include Instagram, you might be wondering what all the fuss is about. Let's kick off with the latest Instagram stats you need to see:
2 million advertisers use Instagram monthly.
The top 100 brands have seen engagement on Instagram grow by 53% year-on-year.
The average engagement rate on Instagram is 4.3% compared to Facebook's 0.17%.
66% of users say they use Instagram specifically to interact with brands.
There are now 500 million stories every single day. The average engagement for stories is a massive 7%!
91% of users say they use Instagram to follow at least one of their interests. The top reported interests of Instagram users are travel (45%), music (44%) and food and drink (43%)
Instagram Business Essentials to Know
Before we delve into some Instagram business essentials, you should set your social media KPIs.
Questions for clients
Ask your client:
Why are you on Instagram?
What do you want to achieve?
How will your Instagram channel be different from your Facebook channel?
Incorporate Instagram into your social media strategy with clear style guidelines before you start posting.
Tips for your Instagram marketing
Avoid this rookie mistake. Make sure you download the Instagram app, and sign up with a business email, so your Instagram profile isn't linked to your personal Facebook account. #rookiemistake
Go professional. If you already created a personal account, then you can switch to a professional one. From your settings, click Account > Switch to Professional Account to access these features.
Enter your business name, so users can see it's the profile associated with your business. Then create a username unique to your profile. (For example, I use @contentworksagency.)

Remember you can also add multiple Instagram accounts in your Agorapulse dashboard!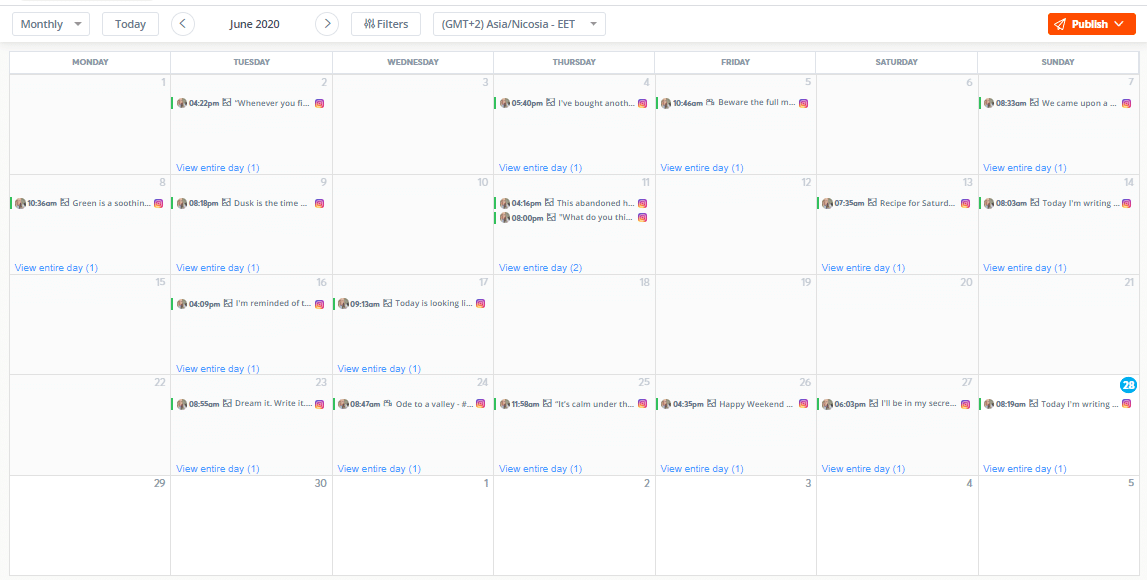 Instagram hack for social media managers
Tracked links are a good way to measure the success of your Instagram efforts. But they're really long and also give away your key objectives.
For example:
https://contentworks.agency/20-finance-influencers-to-watch-right-now/?utm_source=instagram&utm_medium=social&utm_campaign=influencers
So, I use a link shortener like Bitly to keep my posts looking sleek. The above link then becomes https://bit.ly/3icrXBV. (Much better, right?)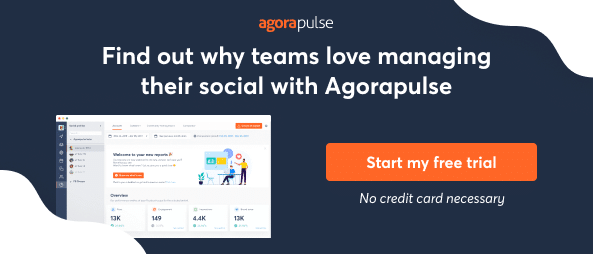 Instagram Photo & Video Hacks
Instagram marketing centers on great photos and images. The top Instagram accounts are sporting clear, beautiful imagery that's on brand and sharable. But how can you achieve that? Here are my top Instagram photo and video hacks.
Tips for your Instagram marketing
Get your sizes right. Images should be 1080px by 1080px (Square), 1080px by 1350px (Portrait) and 1080px by 608px (Landscape)feed. Remember: Instagram will resize them if you don't, which could crop out essential text or logos.
Add multiple Images. You can add multiple images to each post to tell a story. For example, the first post might be your ingredients, the second your baking activities, and the third your finished product.
Add filters. Instagram provides built-in filters that you can add to photos before you post them. That said, it's not Photoshop! Your photo needs to be of high quality with all the essential elements in it before you begin. Instagram also allows you to adjust brightness, contrast, structure, warmth, saturation, color, fade, highlights, and shadows.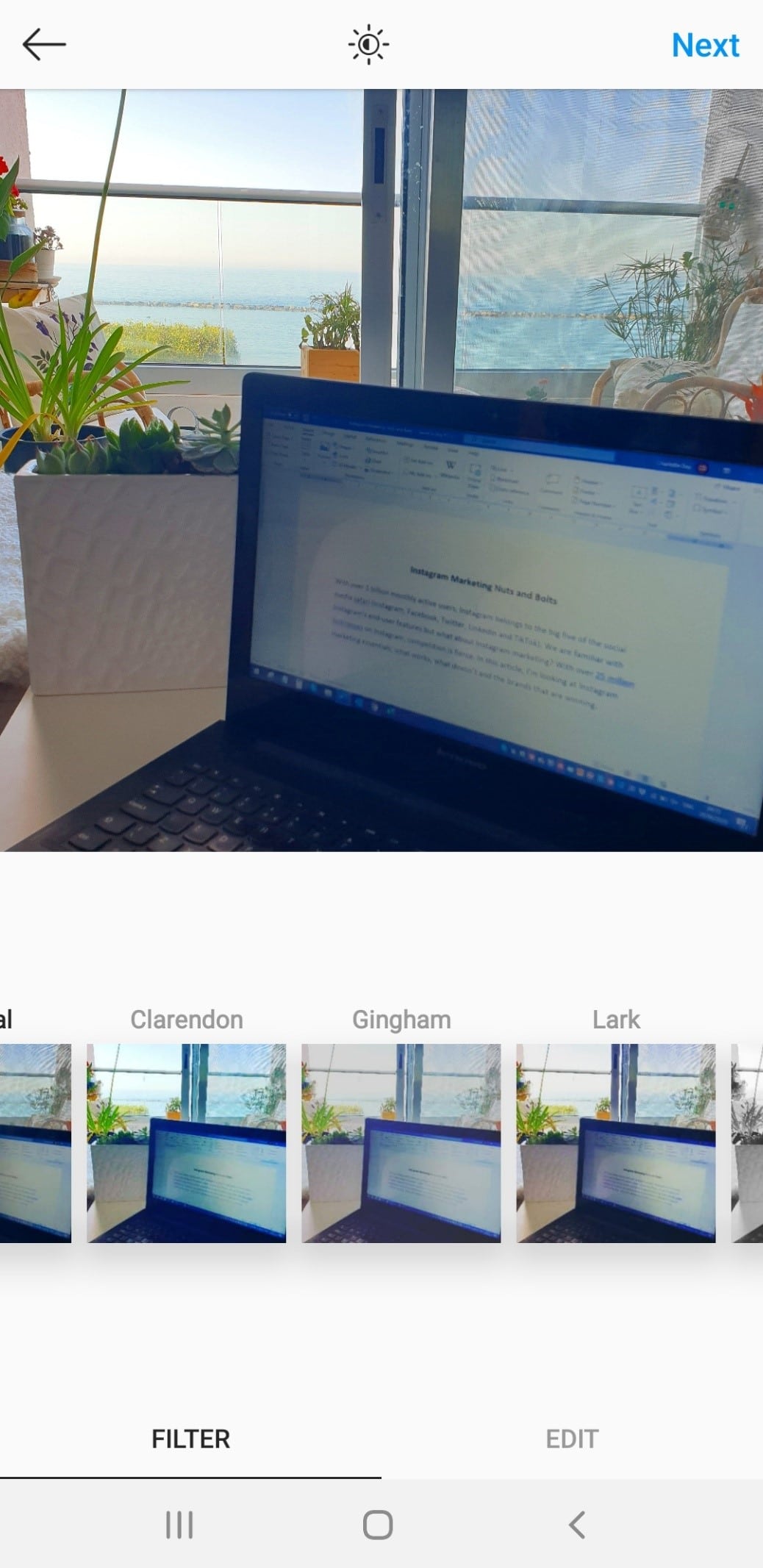 Get more filters. Thanks to its library of customizable templates, Canva is one of my favorite tools for designing Instagram posts! For editing photos and adding additional filters, you can also check out Snapseed, VSCO and A Color Story. The latter allows you to achieve a consistent look across posts. For example, if your brand color is millennial pink, you can download specific filter packs that perfectly suit that color palette.
Get on IGTV. Instagram TV, or IGTV, is Instagram's video offering. IGTV allows you to upload footage, and Instagram Live is … well … live! Users can view long-form, vertical videos like tutorials, interviews, and AMAs. To begin, download the IGTV app, create a channel, and upload a video between 15 seconds and 10 minutes in length. (Verified accounts can run videos up to an hour long.)
Time those videos. You can upload videos up to 60 seconds long; longer videos can be uploaded and trimmed to fit. Videos posted in your Instagram Stories can only be 15 seconds in length.
Learn to use Stories. Sharing posts from your feed to Instagram Stories is simple and has tons of benefits for brands. To share a Story:

Tap the paper airplane button below the image.
The "Share Direct" pop up will appear on your screen. At the very top will be the "Add post to your story" option. Tap it.
Your post will appear as a "sticker" in your Instagram Stories creation screen.
You can share any public account's Instagram feed posts to your Stories.

Check out Boomerang. You can download the Boomerang app to put a quirky spin on videos. Boomerangs stitch snapshots together to create a short loop video a bit like a GIF. Boomerangs are ideal for short actions like a high five, jumping into a pool, or pouring a drink. California Pizza Kitchen nails it with this cute Boomerang toast:
Instagram hacks for social media managers
Maintain brand consistency. Apply the same filter, brightness, and colors to your photos. This, combined with your brand colors, logo and fonts will create a cohesive look for your business account. Other elements of consistency include having your logo in the same place on each image. Make sure this is added to your company's social media guidelines for other admins to follow.
Add captions. Instagram videos (as with Facebook) automatically play without sound. Therefore, adding on-screen captions or annotations, or prompting users to turn on the sound in your caption is key.
Make a collage. Take advantage of Instagram's grid format to show off multiple photos in one (e.g., a #triplegram). To get this layout, you need to download "Layout From Instagram: Collage". Then you can select multiple photos, play with the layout, and upload them as one image. Here's one I made earlier: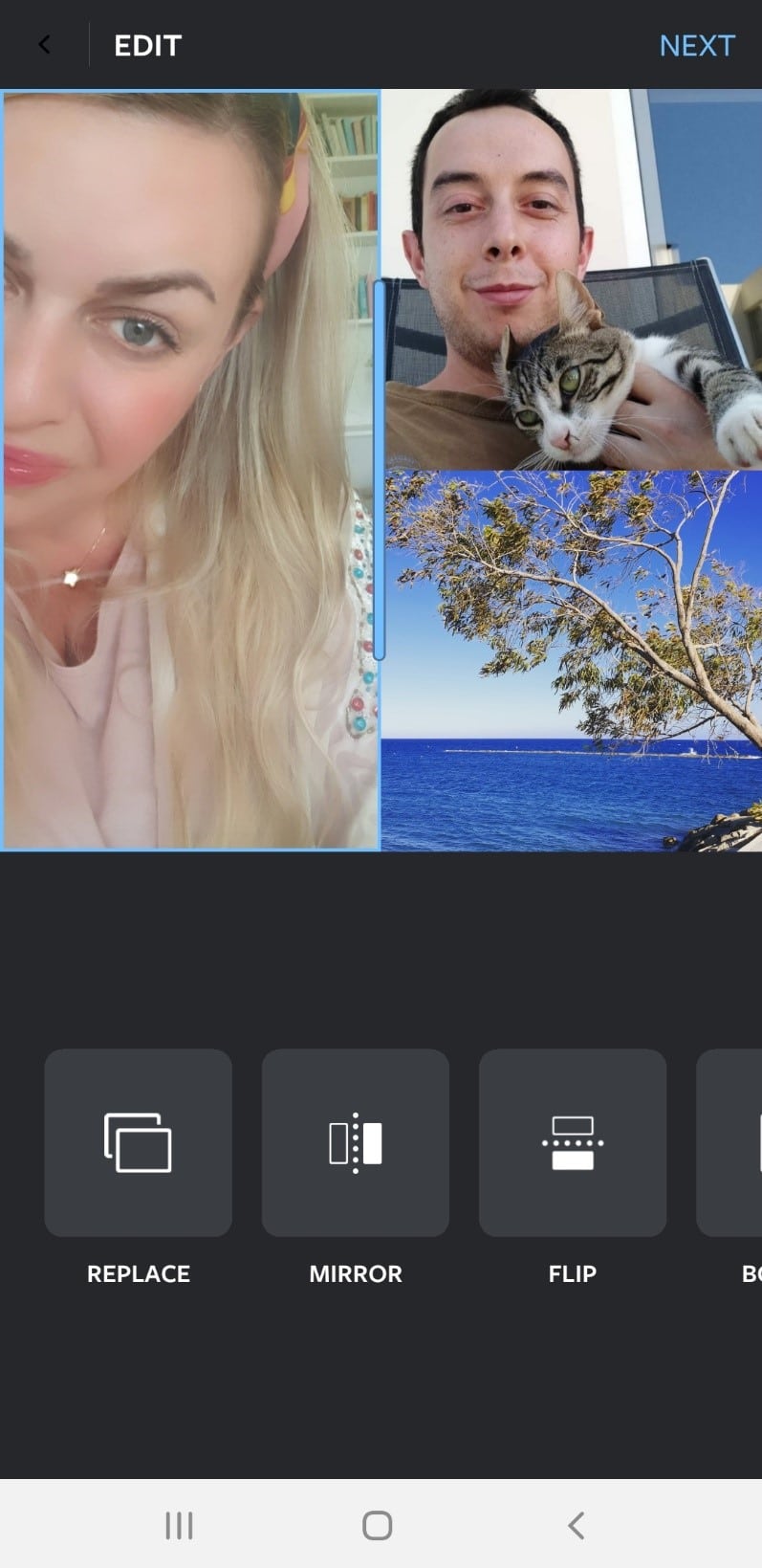 Recycle videos. While I'm a fan of keeping content unique on each channel, I'm not opposed to a bit of video recycling. Additionally, Tiktok provides some nice video editing tools that Instagram does not. Use your TikTok videos on Instagram, your Instagram Boomerangs on Twitter, and your YouTube videos shortened to GIFs for Twitter. Remember though, Instagram will resize videos and the maximum playtime is 60 seconds. Here's a TikTok video I added to Instagram on my own channel:
Instagram Captions
Despite it being a photo app, writing a killer caption is still key on Instagram.
Tips for your Instagram marketing
Here are some essentials and hacks to make sure your captions deliver:
Be mindful of your caption length. Your captions on Instagram can be up to 2,200 characters. (Twitter allows 280). But that doesn't mean you need to use them all if your content isn't meaningful. Additionally, you should put the most important points at the beginning. Check out Room to Read; it utilizes longer captions to tell stories about its charitable efforts: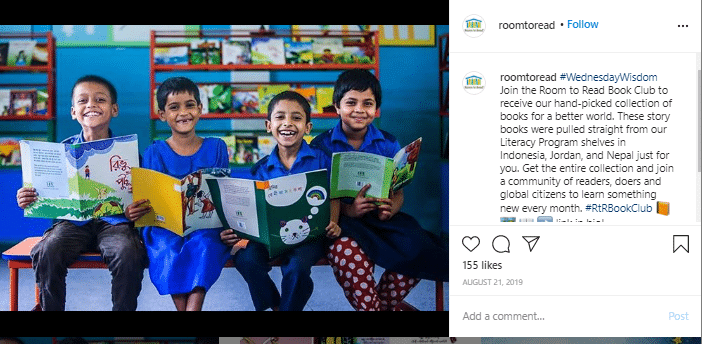 Maintain your brand voice. It's so important to stay authentic when writing captions. If you're known for your short, impactful statements like Nike, then keep your captions short and meaningful. As you can see in the example below, not everything needs to be promotional.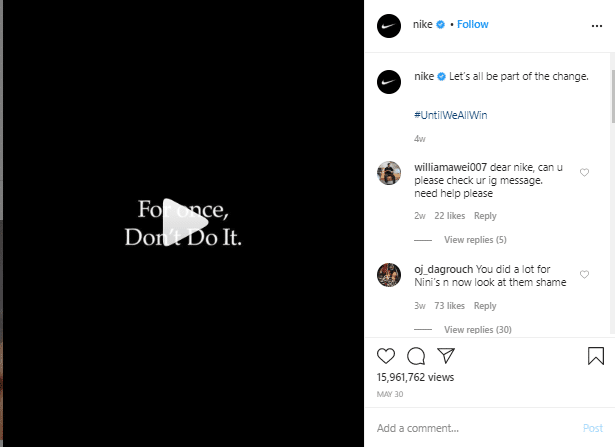 Ask a question. If you want great engagement then asking a question in your captions is a surefire way to get it. Similarly, if you're holding an event or going live, get your fans to comment if they're attending. This boosts engagement and is likely to serve as a reminder to attend. Check out Clinique below:­­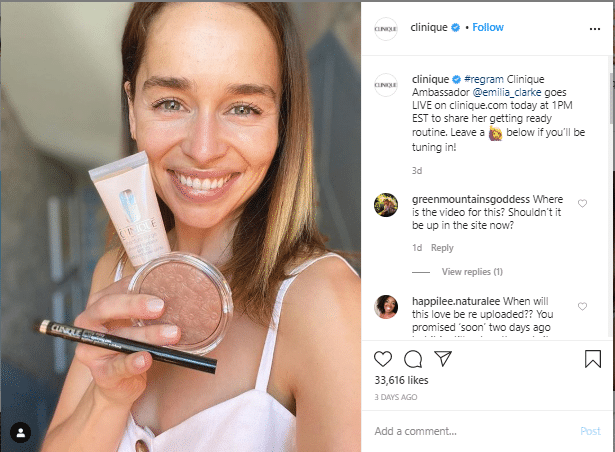 Use emojis. Using emojis in your captions adds color and interest, and grabs attention. I love this pride rainbow from Benefit Cosmetics. In fact, this post in general is entirely captivating.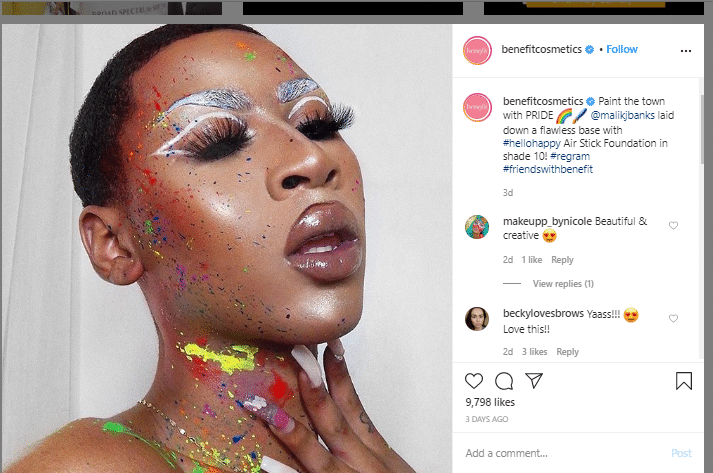 Add a strong CTA. If you want fans to shop your offer, you need to tell them how to do it. Trust me, most followers won't waste time searching for a link or discount code. Write the discount code, instructions, and link in the captions. You can also add catalog numbers making it easier for fans to shop. Check out this great post by Next: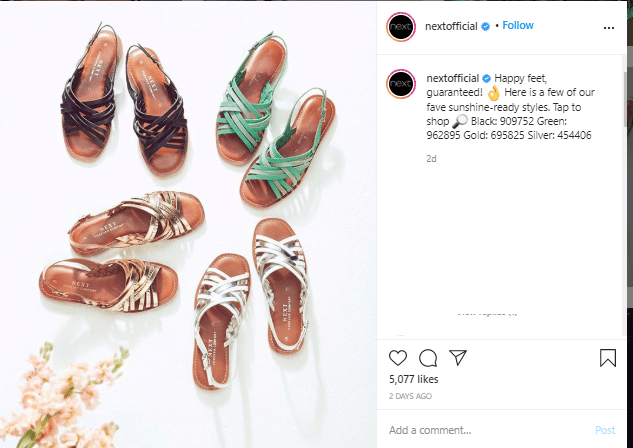 Use the right hashtags. Hashtags on Instagram help users to follow topics they care about, see what's trending, and get involved in campaigns or contests. Top brands know their keywords and hashtags and understand the power behind them. Remember that hashtag stickers (and regular hashtags) within Stories are clickable and will lead to all posts using that hashtag.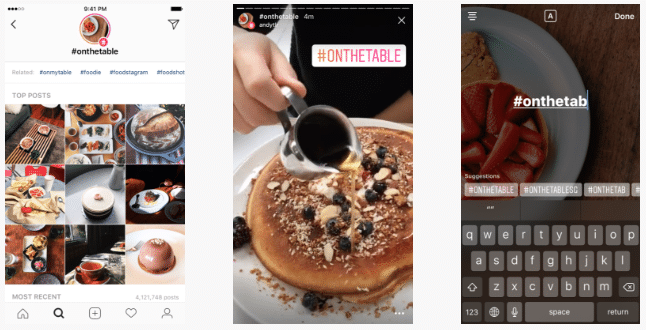 Create intrigue. Got a new product coming out? Create intrigue with a caption explaining how and when as The Scatty Cow did below: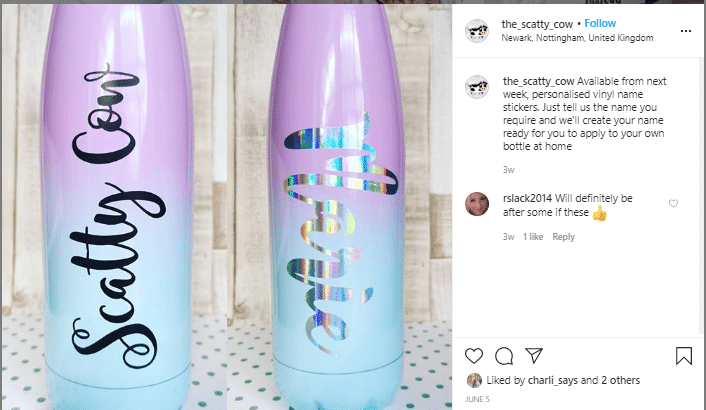 Tag other accounts. Tagging fans, influencers, and brands in your captions is a great idea for your Instagram marketing. Invite brand ambassadors to share your account, play along with a challenge, or comment with their thoughts. Fashion brand ASOS does a great job of this by tagging users wearing their clothes: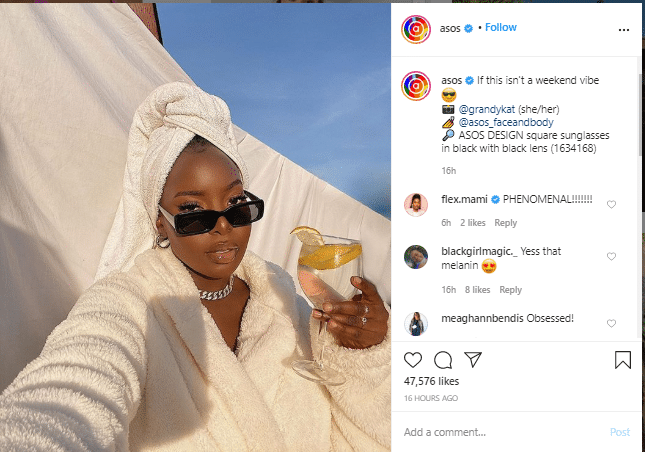 Related: Instagram 101: What Every Smart Social Media Manager Needs to Know
Instagram hacks for social media managers
Try this photo caption. If you like long-form captions like Nat Geo below, then this hack will make your posts more readable by starting a new line without creating the white space between two paragraphs.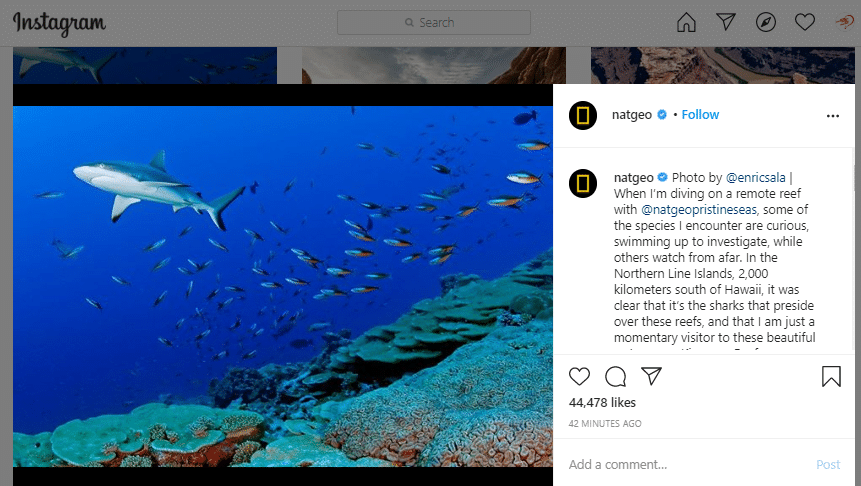 Edit your photo and proceed to the caption screen.
Write your caption.
To access the Return key, tap the 123 key on your device's keyboard.
Use Return to add breaks to your caption.
If you want a paragraph break, write out your caption in a note app and copy it to Instagram. To break up lines further, consider using bullet points, dashes, or emojis to hold the place of an empty line.
Use this letter color hack. Change the color of letters or words in your text with this fun hack that will make your photo captions pop.
Go to the Instagram Stories camera and snap an image or record a video.
Tap the screen to add text OR tap the Aa icon in the upper right-hand corner.
Write your text as usual.
Press and hold on a word or individual letter to select and highlight.
Choose your desired color and share it.
Check out this great tutorial for getting rainbow text in your story captions or tags.
Instagram Content Ideas
There are so many photo and video options available for brands on Instagram, but sometimes it's hard to think fast.
Tips for your Instagram marketing
Check out our Instagram post ideas below.
Ask a question. The best ideas are the simplest, right? Asking a question that links into your brand or products can spark much-needed engagement. Be sure to keep the image on-brand like Boots below.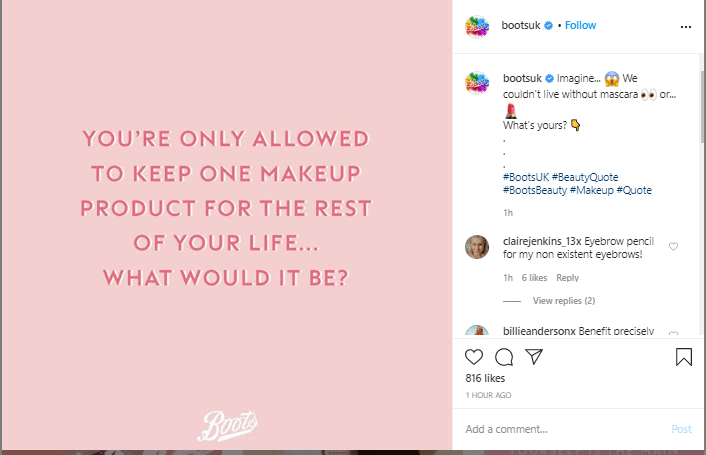 Behind-the-scenes posts. These posts offer a glimpse into your business, create authenticity, and spark brand loyalty. Don't stage them though, or your fans will see through it immediately! You can go behind the scenes at an event, at your place of work or with a client. Love, love, love this photo and post from Target based on a customer review.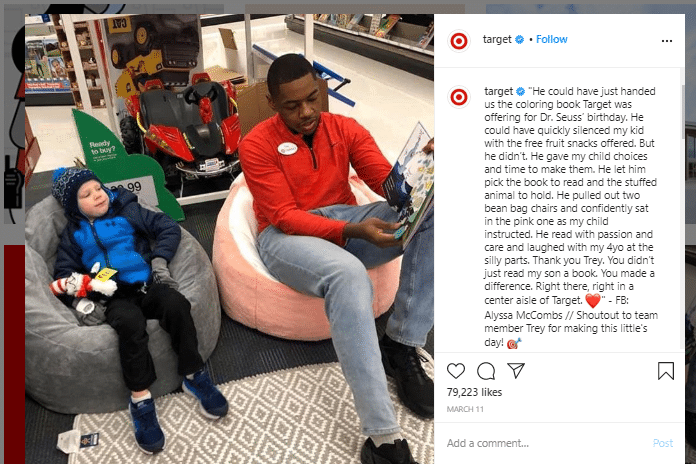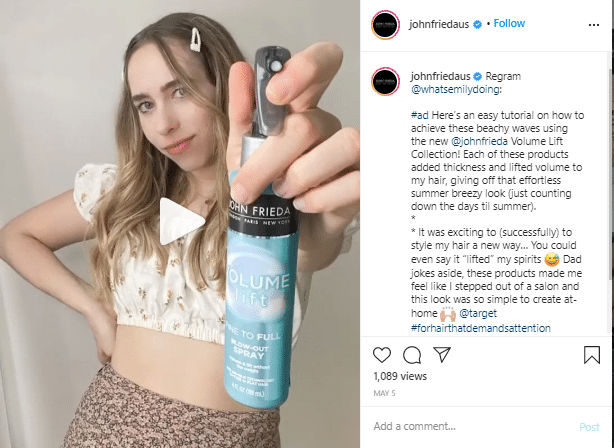 Talk about your products. Want to shout about your organic ingredients or tell fans how or where they are sourced? This makes for a great post that can be a series of photos. Check out Lush below: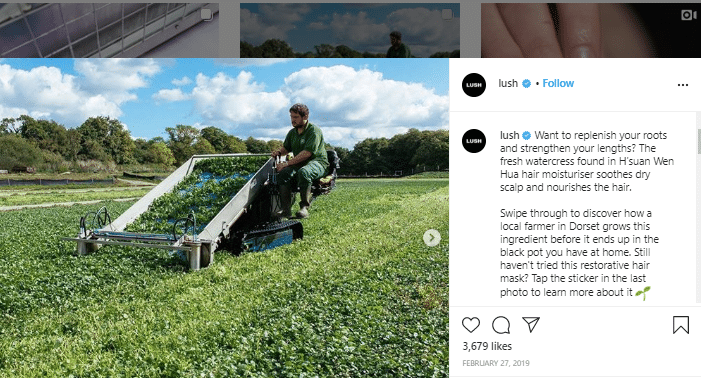 Take a stand. Taking a stand for a cause or charity makes for a great post. But a word of warning on this one. Be ready for your brand to be examined in more detail. Ben & Jerry's below are known for their activism and are very transparent about their charitable donations, environmental policies, and organic or locally sourced ingredients. If you're going to be shouting about women's rights, but your company doesn't have an equal pay policy, then it's better to say nothing in your Instagram marketing.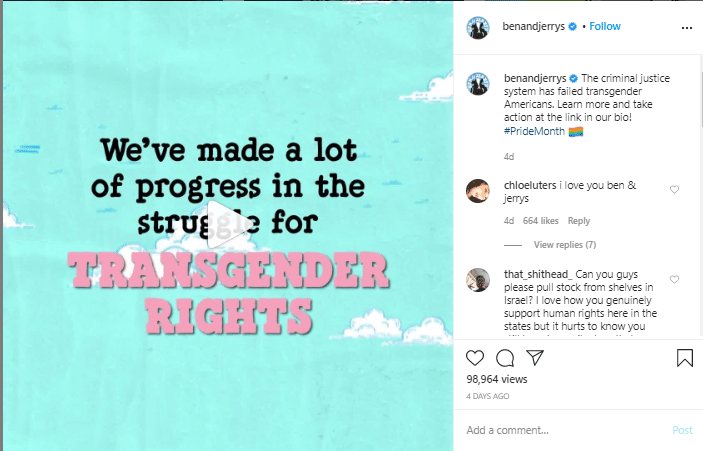 Work with a charity. 81% of millennials expect companies to make a public commitment to charity. They also favor brands that do. I'm a big fan of witty brand Innocent and their "Innocent Big Knit" campaign in aid of Age UK was perfect.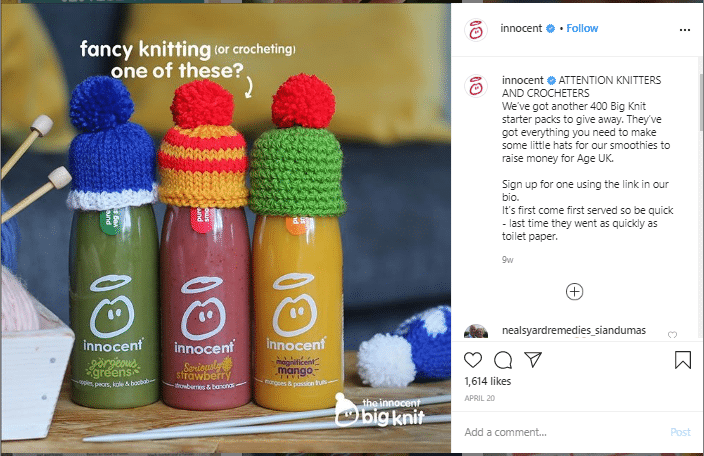 Fan content. Seen a good review, funny tweet, or great photo about your brand? Get that baby reshared on your Instagram channel like McDonald's below: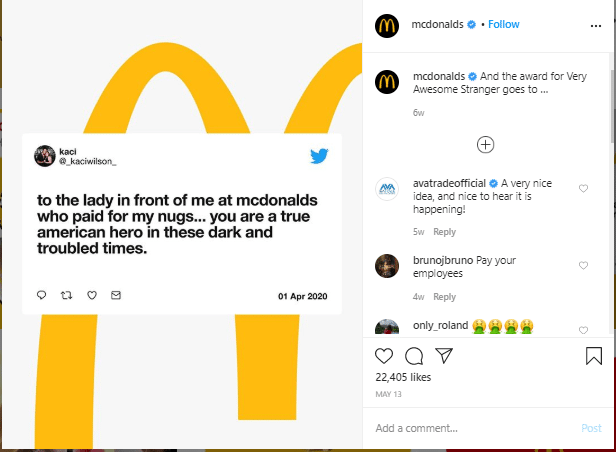 Trending holiday posts. Every day is a holiday somewhere, and these make for great Instagram marketing posts. Make sure you know the holidays that could be relevant to your brand. For example, #cookieday is a must-have if you're a bakery, restaurant, or café. It's on December 4 by the way! You can check upcoming holidays in a calendar like Days of the Year.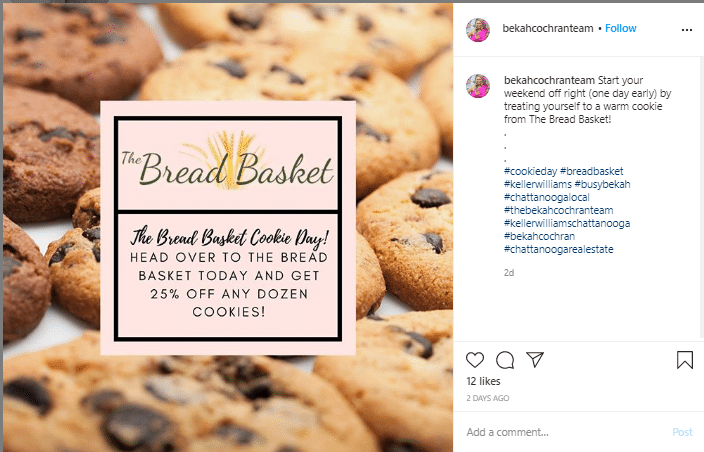 Promotions. Special offers, free shipping, fan discounts, and limited offers work well as posts. Remember to include a strong call-to-action, a link to shop, and a good dose of FOMO! If your offer is online and offline, you can also tell fans about instore points or promotions, as Debenhams did below.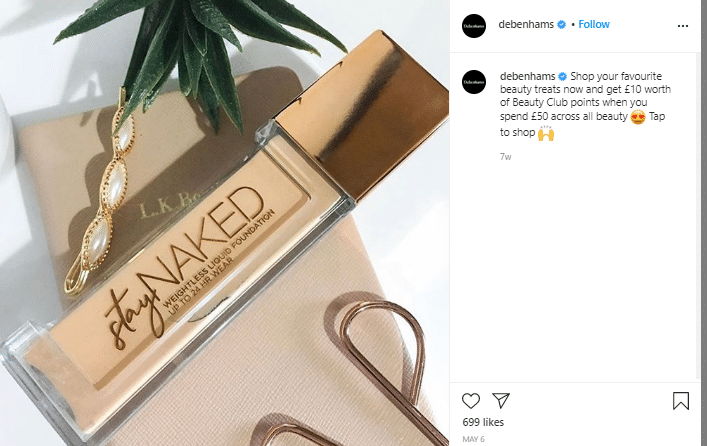 Contests. Instagram fans love contests and prizes, so be sure to include them in your Instagram strategy if you can. I love this tag a friend to win post from New Look.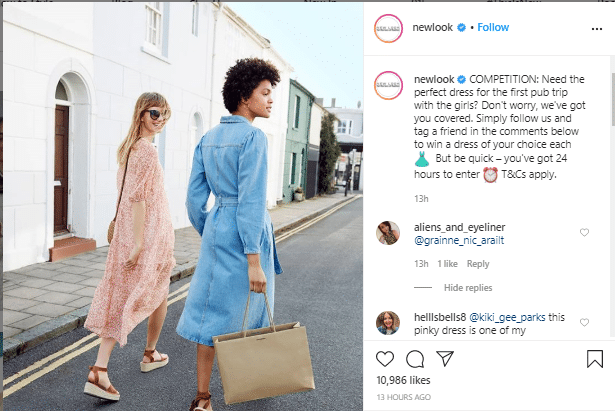 In Conclusion
As physical distancing became a reality for people around the world in 2020, businesses stepped up on Instagram. The platform was used to communicate important messages, maintain online sales, lighten the mood, and bring communities together. In fact, Instagram saw a 40% increase in usage with views for Instagram Live doubling in one week. In other words, if you haven't got into Instagram marketing yet, then now is the time to start.
Get started on saving time and energy on your own social media management! Check out our free trial of Agorapulse to help you schedule, track, and measure all your social media efforts.