In March, the whole Agorapulse team traveled to San Diego on a mission to attend the best sessions at Social Media Marketing World, compile notes of the key takeaways and share them with you. We've created 20 blog posts from those notes, here's one of them!
Session Title
:
How to become a Social Media ROI Rockstar

Speaker
:
Nichole Kelly
, CEO of
Social Media Explorer

Why you should read this session's transcript
: Being a Social Media Marketer is a really exciting job! We enjoy what we're doing and see the value of it. Sharing that value can be difficult with clients or managers outside our "inner circle" who only understand business metrics. Their judgement on our content's engagements and shares are often undermined by questions as to how much business we have generated or how much money we've saved.
Learning how to tie Social Media marketing efforts with our business' bottom line is the key to advancing our careers and getting more clients
!
Quote from the session: " Whether we like it or not, what CEOs are telling us is clear cut: they don't trust traditional marketers, they don't expect much from them. CEOs have to deliver shareholder value. Period. So they want no-nonsense marketers, they want business performance, they want results." – Jerome Fontaine, Fournaise's global CEO and chief tracker
Interesting fact: 80% of CEOs consider their social marketers NOT to be ROI driven marketers and don't think they could go into senior management as a consequence! You need to change that perception in order to advance your career.  Demonstrating your Social marketing efforts is an expertise you definitely want to build.
Why measuring the ROI of Social is the key to a successful career
Let's start with the 4 key statistics that say it all:
85% of marketers said measuring ROI is a top priority
69% of CEOs have stopped enforcing key business objectives on marketers (because they've continuously failed to deliver results)
20% of CEOs consider their marketers to be ROI driven marketers
80% of CEOs consider their marketers NOT to be ROI driven marketers (and don't think they could go onto senior management as a consequence!)
Takeaway: learning how to measure ROI will advance your career faster than any other skill that you can develop.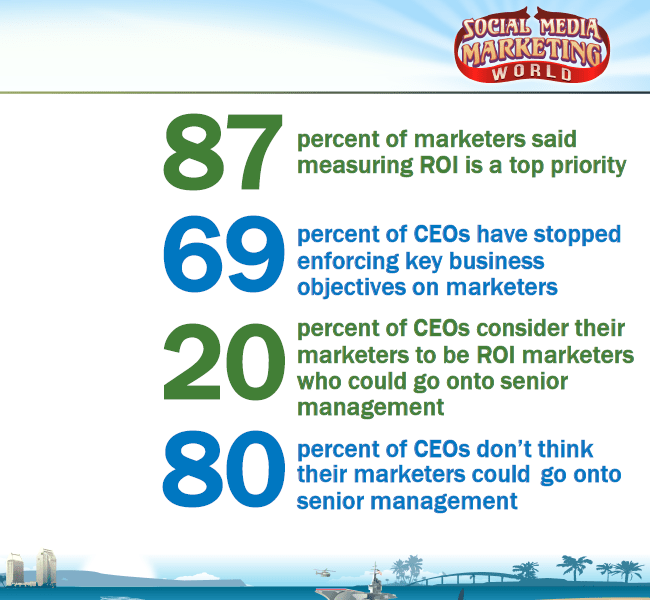 Understand what we need to measure
ROI (which stands for Return on Investment) can have 2 different forms:
The generation of new revenue
The reduction of existing costs
Measuring likes, retweets, comments, clicks or shares may be considered nice to have as a return for Social Marketing, but will not be considered as ROI.
The generation of new revenues is easy to identify: more money coming in!
The same is not true for the reduction of existing costs. For example, social media efforts may help you reduce support costs, lead acquisition costs or website traffic acquisition cost. But, these metrics are difficult to measure accurately.
First step: audit your existing data
Your "systems" are probably already filled with data: web analytics (Google analytics), user analytics (Kissmetrics or Mixpanel), Marketing automation & CRM (Marketo, Hubspot, Infusionsoft, Salesforce, etc.).
Most of the time, each of these systems are data silos that don't connect with each other.
This is the main cause of our inability to tie social media efforts (usually measured at the web analytics level) with our direct response efforts (at the marketing automation level) or sales efforts (at the CRM level).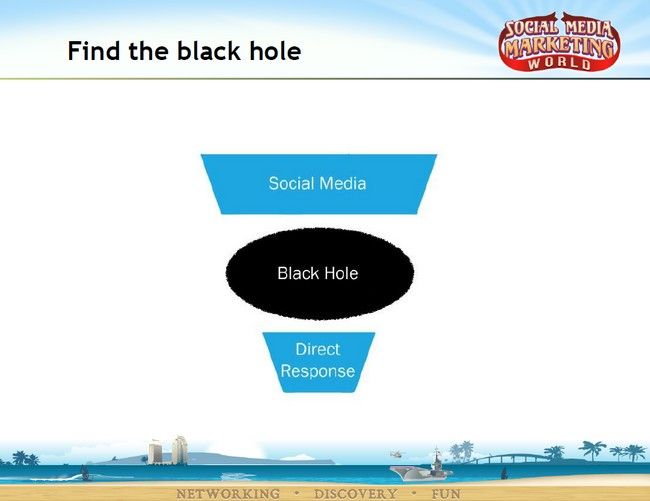 Second step: create a link between all your data silos to identify the value of users, depending of their source
Ideally, we need to isolate social media users so that we can compare them to people who've never be reached through social. And then we need to compare the two.
How does a user acquired through social (or actively engaged in social) compare to users who are not engaged with us on social? Do they buy more? More often? Churn less? Have a lower cost of support? These are the questions we need to answer!
Nichole gave us an example of a healthcare company who couldn't tie social media efforts to revenue creation or cost deflection.
Her first audit revealed that 90% of what was done in social was not tracked at all. Their first step was to put all the tracking tools in place:
Google analytics (for the web traffic)
Trks.it (a new service in Beta that tracks the results of each link shared via social media)
Marketo (for marketing automation)
After implementation, they were tracking 99% of their social media efforts.
The next step was to combine all this data.
In a matter of weeks, they went from tracking 10% of their social media efforts to tracking 99% of it.
This company had not yet processed all the data collected at the time Nichole gave this presentation,but at least they are now in position to measure and find out!
That seems complicated, how do I start?
It's actually less difficult than it appears. Just take it step by step.
What's the 1st step then?
Easy- stop sharing links in social content without tracking parameters!
This is the condition precedent to tracking the performance of our social efforts at the website level (traffic, conversions, signups, etc.).
Then, we need to leverage web analytics to control how people convert on our website based on the source of acquisition. That's already a great step forward and that's very easy to do.
The next step is taking control of how we tag and nurture users in our marketing automation system to ensure social is taken into account. This is a little trickier, but if you use a marketing automation software, it shouldn't be too difficult to discover and implement. That will help differentiate the way we nurture leads coming from social channels.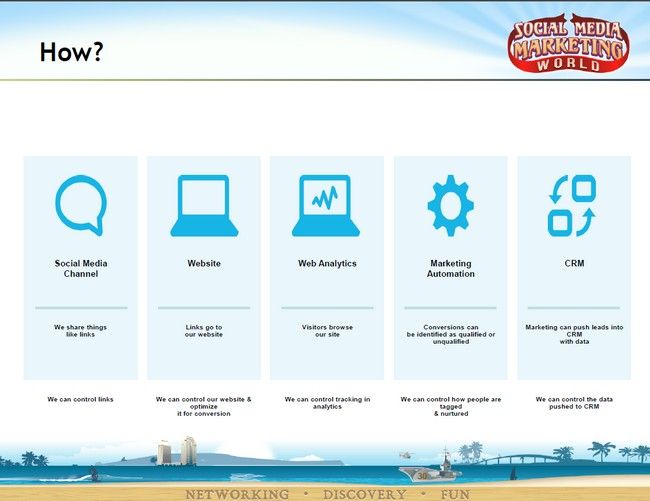 Why is this necessary? Leads coming from search or direct response channels are generally pretty close to the purchase decision, so we can market to them more aggressively.
Leads coming from social are usually further away from the moment they will be ready to purchase. The nurturing sequences must be less sales oriented and more about useful content, tools and educational materials.
Finally, we need to make sure each piece of data pushed into our CRM takes all the above into account. That way, when looking at revenue and other meaningful business metrics, we can have a clear picture of their origin.
The quick fix: start tracking the links you share on social
How does that work? Pretty easy, When you share a link on social media, you need to stop sharing a link that looks like this:
www.agorapulse.com
Share the following link instead:
www.agorapulse.com/?utm_source=facebook&utm_medium=newsletter&utm_campaign=title
To generate a trackable link like the one above, simply go to Google URL builder, enter your initial URL and fill in the parameters: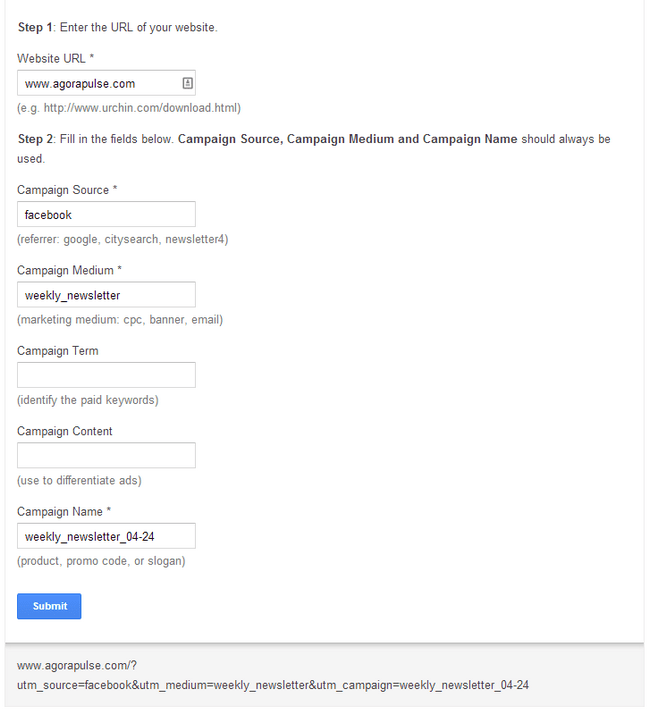 There are a total of five parameters. It's recommended to always use utm_source, utm_medium, and utm_campaign for every link you own to keep track of your referral traffic:
utm_source: Identify the social media platform that is sending traffic to your property, e.g. facebook, twitter, etc.
utm_medium: The marketing medium, e.g., content type. That could be webinar, curation, weekly newsletter, product review, etc.
utm_campaign: The individual campaign name. Nichole used that field to enter the content title. That's a smart way to follow the performance of each piece of content individually.
. utm_term and utm_content can be used for tracking additional information (but are not required nor necessary):
utm_term: Identify keywords. If you're manually tagging keywords campaigns, you should also useutm_term to specify the keyword. This is usually used in connection with paid advertising.
utm_content: Used to differentiate similar content, or links within the same campaign. For example, if you have two call-to-action links within the same tweet or Facebook post, you can use utm_content and set different values for each so you can tell which version is more effective.
Keep in mind that you shouldn't use tools to share the same content on different channels at once. This will kill your efforts to track ROI with social! Forget about Buffer, Hootsuite and all other sharing tools unless you carefully share on each platform separately. Remember that each channel should have a different trackable link.
The audience asked some relevant questions:
ROI at store level. Basically, it's now limited to coupon codes and QR codes. RFID may prove to be a better answer to that, but it's not there yet.
Large BtoB companies. We are looking at relationship management. It's more about content marketing and its nurturing effect on leads.
MLM: the brands don't sell directly, so it's extremely difficult to track ROI as the sales are made by the distributors. The first thing to do is to provide them with trackable links. To go deeper into measurement, big changes probably need to be made at the way the products are sold online and have a unified system distributors can use for their own needs but that is controlled by the brand so they can measure it.
Solopreneur: After making sure your links are all tracked, investing in a CRM is a first step. Infusionsoft, hubspot  or Salesforce may be worth checking.
That's it for Social Media ROI! Thanks Nichole for that great, inspiring content. We were thrilled to see Nichole and many other great speakers and friends at Social Media Marketing World 2014. You should definitely consider coming to the 2015 edition next year! Learn more and register here.