If you don't feel like reading this entire post, let me give you the conclusion right here:
By repeating a LinkedIn post 5 times, I was able to get 24 times more views in total than the very first post had. That first post got 109 views while the next 4 got a total of 2,547 views.
You read that correctly. By republishing my link post on LinkedIn just 4 times, I was able to go from a disappointing 109 views to an incredible 2,656 views in total.
And it took me 10 seconds to set up by using the new "repeat" publishing feature offered by Agorapulse.
Now, if you want all the stats, read on.
The story behind this impromptu LinkedIn experiment
Nine months ago, I decided to start blogging on Medium about our journey as a business and my journey as a founder.
The content I share on Medium is probably the most difficult type of content to create. The lessons I share in my articles, like How we've built a profitable business in a highly competitive environment and 9 compelling reasons not to raise VC money for your startup, have taken me anywhere between 5 to 15 years to learn.
So when I share the posts I write on Medium, I want to make sure as many people as possible get a chance to discover them because I know they will learn something valuable.
Before this experiment, I'd start spreading the word the same way as everyone else would — I'd share it on my personal profiles on Facebook, Twitter, and LinkedIn.
LinkedIn is an important one for me because it's a professional social network. These connections are also more likely to enjoy reading the content I write.
Sadly, my high school friends and family on Facebook don't get as jazzed about me talking about growing a SaaS business. Go figure.
Even though I knew the importance of LinkedIn, I'd typically announce a post just once there. The results wouldn't be great but I didn't do much about it.
This August, as Agorapulse was adding a ton of new features, I decided to test one of them on LinkedIn: the ability to repeat a piece of content automatically with one click of a button.
And with that, my test began.
Why posting to LinkedIn just once is not a good idea
Like Facebook, LinkedIn has a newsfeed feature where you can see the status updates of your professional connections. But unlike Facebook, users don't use LinkedIn daily to check their friends' latest posts.
You're in a very small minority if you check your LinkedIn feed more than your Facebook feed — unless perhaps you're a recruiter.
If you're connected with me on LinkedIn (checking in once a week) and on Facebook (checking in daily), the likelihood of my seeing your updates is 7 times lower on LinkedIn.
Prefer more authoritative data? How does this study on social media usage patterns from Pew work for you? ;P
It nonetheless goes without saying that posting your best pieces of content on LinkedIn only once will reduce your chances of getting the reach you want.
Posting more than once will increase your chances. It's as simple as that.
The downside of posting content on LinkedIn more than once
Repeating evergreen content on social media is a common practice. A lot of tools have emerged offering the Promised Land of putting your content on auto-pilot and freeing you from worrying about what you should post next on social media.
I wrote a piece about this called "Why Social Media Automation Will Eventually Kill Social Media."
In that rant/post, I warned against the danger of repeating your content without being thoughtful about it.
Too many people do this and more times than not, it looks bad.
Would my LinkedIn connections be put off by my automated post recycling? Would they be bored, or worse, annoyed by my behavior?
I wasn't sure about the outcome but I wanted to give it a try.
How I repeated my content on LinkedIn
The post I wanted to give a little boost to was this one: How we've built a profitable business in a highly competitive environment. It took me 5 years to learn but just 3 hours to write!
Using the "Repeat Content" feature on Agorapulse, I decided to schedule the first post on August 11th at 5:30PM. The post would then repeat four additional times, every 10 days.
Here's where I set up the schedule — although I'm using other dates here. Just go with it 😛
The calendar (above) shows me exactly when your post will be published.
Once I clicked the orange "schedule" button, my post was automatically scheduled for August 11, August 21, August 31, September 10, and September 20 at 5:30PM.
That was like five clicks on one screen. Pretty easy!
Then I waited for the results to roll in.
How I measured the results
This is the tricky part.
LinkedIn does not offer any analytics for personal profiles. You can only see the individual statistics of each post on the post itself.
To do that, go to your LinkedIn profile and click on "post views" on your dashboard:
Then, you'll get to your activity stream where you can see your post and the number of views, likes, comments, and shares they each got:
If you click on the number of views, you'll get a little more data like how many views came from your 1st or 2nd degree network and what kind of jobs the viewers have.
Be aware that these statistics disappear after 2 months, so if you want to capture them, do it within 30 days after the post was published.
It's a tricky act. You don't want to grab your stats too early or you'll shortchange yourself on engagement figures.
As of today (October 29), I can still see the statistics of my September 10 and 20 posts, but not the ones on my August 31 and earlier posts.
Thankfully, I took screenshots along the way for all the posts.
August 11. This one had 109 views and no engagement. Not great. Keep in mind that it's all I would have gotten had I had stuck with my previous process of posting only once to LinkedIn.

August 21: Just 10 days later, the second time out the gate, my post got 1392 views, 1 share, 3 comments, and 13 likes.
That's a LOT more than the first one. Most of the views came from 2nd degree network. It's highly probable that the engagement on this one gave it the extra boost in views.
August 31: The third time wasn't a charm, but it did fare better than the first post. It garnered 131 views, 4 likes, and 1 share.
Note that the previous post also had one share but got almost 12 times more views.
The number of shares itself is not relevant, but who shared it is probably what mattered. Unfortunately, I didn't screenshot who reshared both posts so I can't tell for sure.
Note to self: check who shared the post next time…
September 10: After getting 131 views on its third attempt, the fourth one went up to 936 views, back to the top! Pretty good engagement with 1 comment and 15 likes.
That one share is probably what gave me all these views from my 2nd degree network.
But this time, I was able to see who did the share. It was Jessica, one of our clients and a very smart social media manager from South Africa. Jessica has 1,555 followers on LinkedIn.
Yet I have 2,736 followers — so how can a share from someone with 1,555 followers give me almost 10 times the views of my own 2,736 followers?
That's a mystery to me. LinkedIn probably has its own algorithm that will give more visibility to my own audience if others engage on the post. That's the best explanation I have.
September 20: No biggie here, back to the low 100s views, almost as many as with the first post. A sign that we've reached the end of the engagement line.
Quick update: I'm writing this a year after the original experiment.
This month we released reporting for LinkedIn company pages. It's our way of making LinkedIn analytics a little easier to see and implement!
If you're sharing content to your company page, you can use Agorapulse reporting to track your impressions, follower growth, and posts. It's a big step towards making LinkedIn analytics easier to access– and your reports don't disappear after two months! ;P
What did I learn?
The most obvious thing I've learned is that I should definitely stop posting on LinkedIn only once.
By repeating my post 4 times (5 posts total), I got a total of 2,656 views.
That's 24 times more than my initial post. 24 times! Damn!
When my content is great, I HAVE to post it several times. Period.
The second thing I've learned is that whether or not your LinkedIn post is going to take off is very, very random.
My post was repeated at the very same time (5:30PM Paris time) on different days (weekdays and weekend) and it's very hard to see why one post would do 14 times more views than another.
The third thing I learned is that we should not disregard weekends when posting to LinkedIn. Here are the results I got by days of the week:
August 11 (Friday): 109 views
August 21 (Monday): 1,392 views
August 31 (Thursday): 131 views
September 10 (Sunday): 936 views
September 20 (Wednesday): 88 views
I got my second best result on a Sunday at 5:30PM Paris time!
Maybe the Sunday post was also viewed on Monday, as my best result was on a Monday. I'd be curious to know if there's a pattern with Monday as a good day on LinkedIn.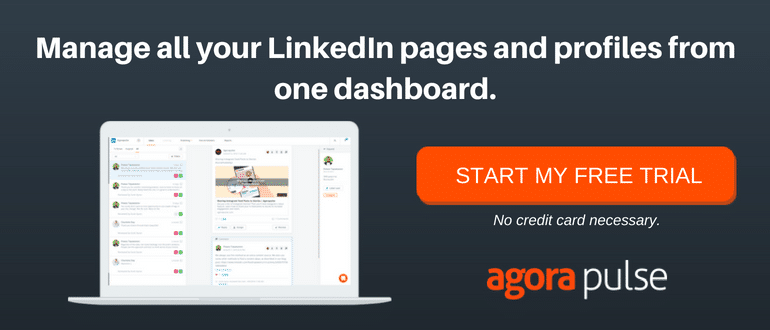 What should I do next?
First, I need to change my LinkedIn publishing process. But with this data, as great as a result it shows, my insight is too limited to make a good decision.
To this end, I have started to add content to my LinkedIn queue of content in Agorapulse and I have decided to repeat each piece 3 times. I'm kind of worried to repeat it more than that. I'd love to conduct more experiments on this.
I have also added queue slots on the weekends. I didn't have any before, assuming that weekends wouldn't be a good fit for a professional social network, but the data proved me wrong.
What I really want to do is to start a more thorough test on our Social Media Lab and get results with much more data to try to get patterns like days of the week, time of the day, optimal number of repeats, and so on.
I would also love to know how many clicks I got thanks to this increase in views. For this brief test, I didn't use bit.ly here so I don't know.
What's your take on my little experiment? I'd love to know what you think.