The current version of Agorapulse was released in November 2013.
As you can imagine with a 4-year-old SaaS product in a fast moving industry, the backend needed a revamp to help us move faster. The user interface was in need of a serious makeover.
At just four years old, our product for social media management was aging — and it was time to make big changes.
We started this process in the summer of 2016 with the backend. This part was done and released in February 2017. You didn't see any change but these changes streamlined our code so much that we now can deliver new, innovative features twice as fast as before.
Since March, we've worked our butts off to implement the new design and the new front end. Every single pixel of the app has been rethought, re-engineered, and recoded with a new framework. Needless to say, that this was a heck of a task for our tech team.
During this neverending 12-month process, we have not served you as well as we'd like in terms of stuff you can see on the front end. Because all our energy was on this new release, you didn't see much in the way of new features or improvements.
But this long development tunnel is now over and we'll be releasing the new Agorapulse at the end of this month. If you don't know, you can access the beta here: https://app.agorapulse.com
To help you better understand what to expect, I've made a list of all the major new features and improvements.
Wanna see?
1. A New Inbox
1.1 A new design and workflow
We've redesigned the inbox to make it easier to scan. Reviewed items will now disappear in real time from the "to review" filter to give you more clarity.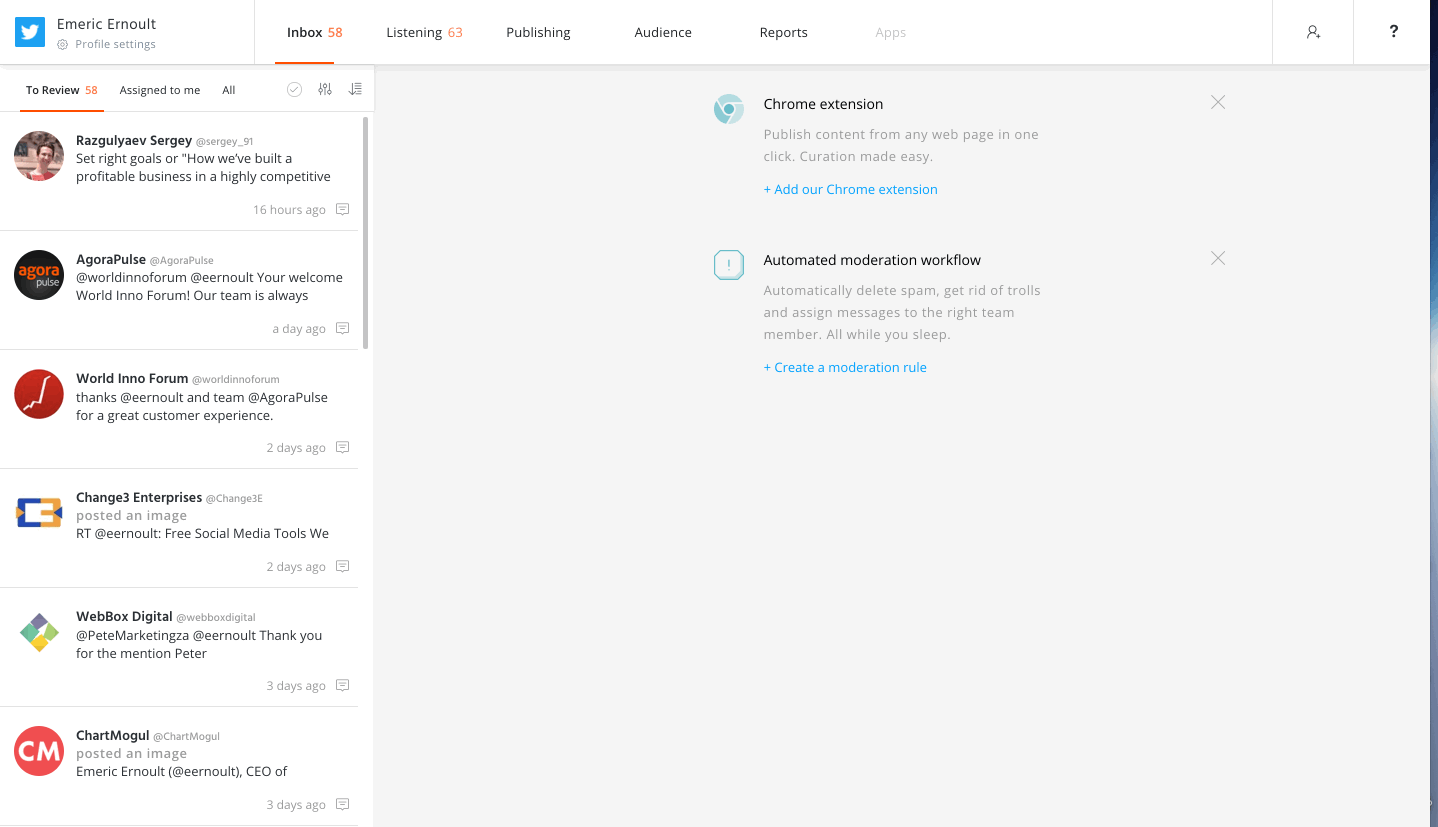 1.2 New filters for more granularity
The filters offered in our inbox now offer a lot more options: see all the messages reviewed by a specific team member or those assigned to a specific team member. It's another way to check on your team's work with ease.
1.3 Saved replies
You can now create "saved replies" or canned responses for each of your social profiles and save a TON of time when using the same responses over and over again. This a long-awaited feature that we're thrilled to finally deliver.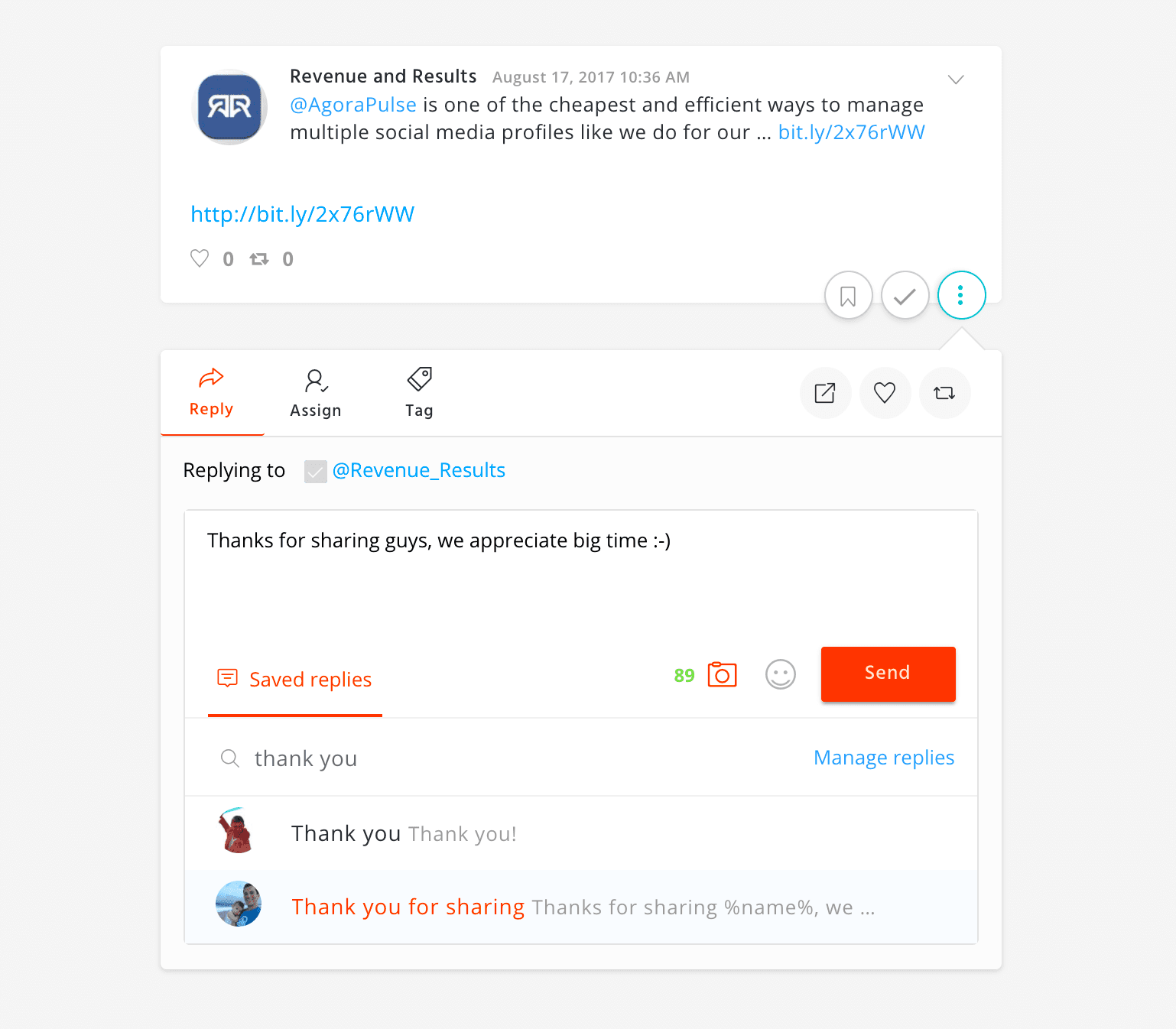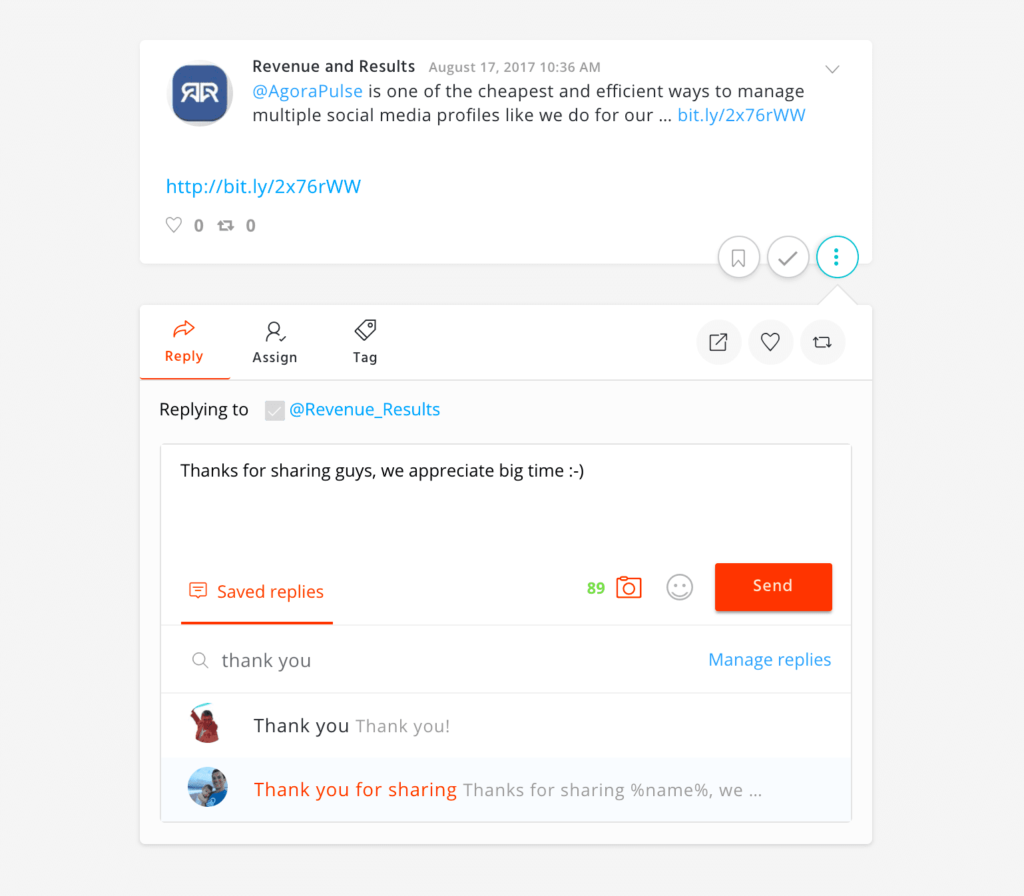 1.4 Better emoji picker
Many of you have complained about the behavior of our emoji picker. It's been improved big time. Not only the emojis are bigger now, but you can also search for the ones you need!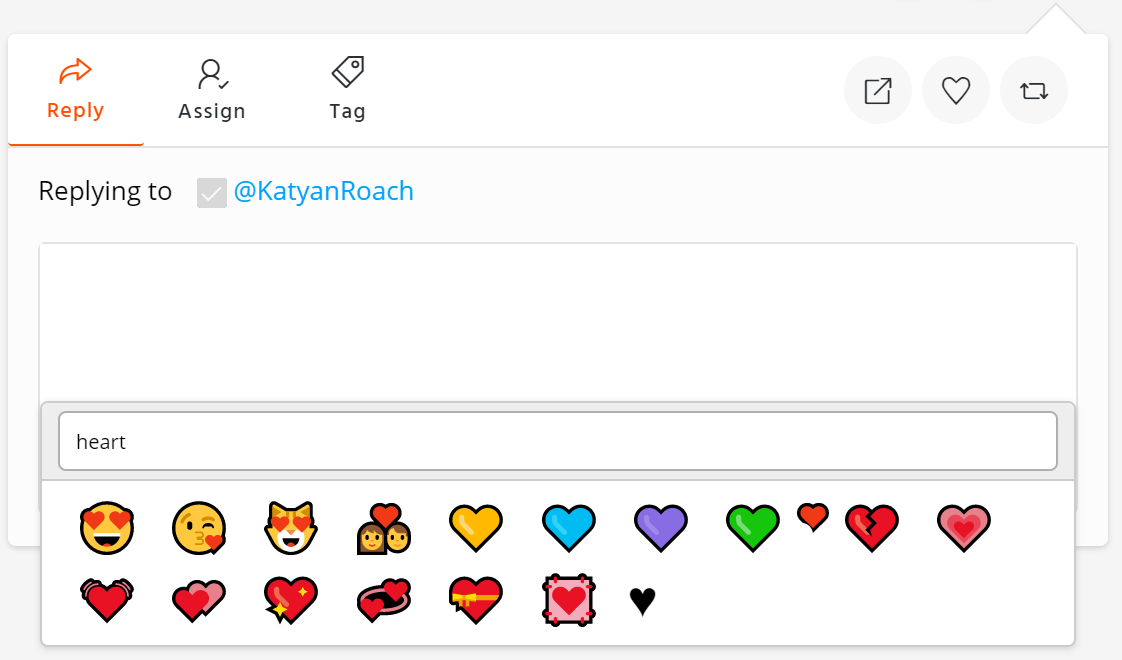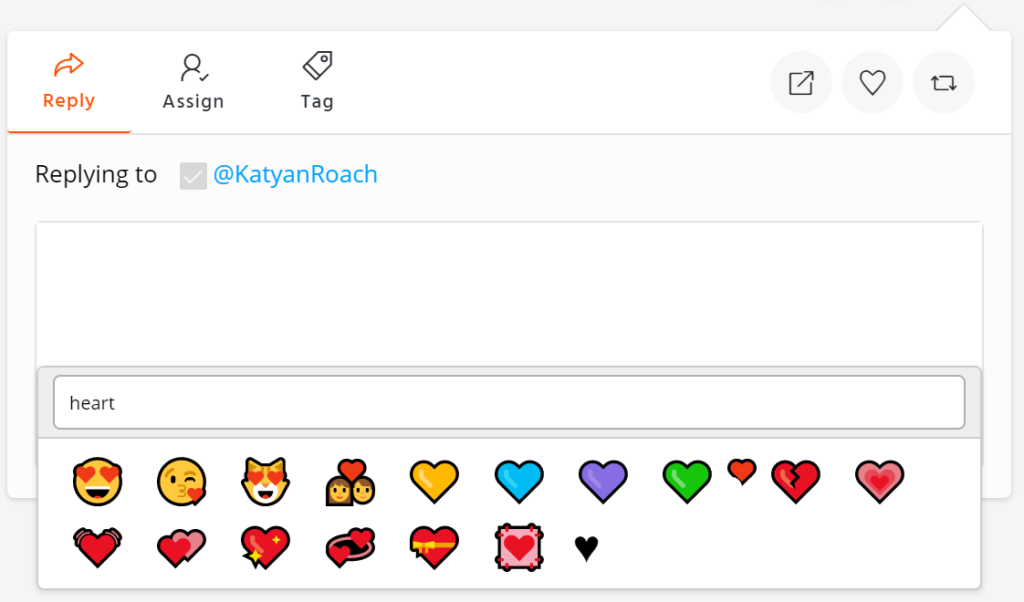 1.5 Translation feature
Don't you love when fans and followers engage with you? But when they speak a language you don't, things get a little tricky. With our new "translate" feature, you can see their message in your own language in one click. Pretty convenient!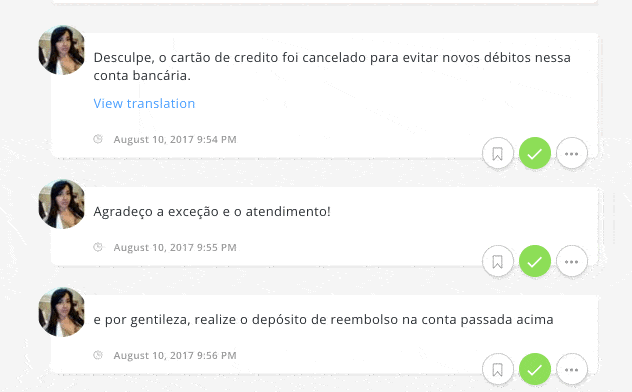 1.6 "Always On" user profile
Whenever you're looking at a tweet, a comment or a private message, you'll now see the full profile of its author on the right. Knowing who you're dealing with is a real plus. But there's more to it than just seeing their name, photo, and bio. You can also tag them and see relevant tags to quickly gauge how important they are to your business. You can also favorite them to retrieve their info in a pinch.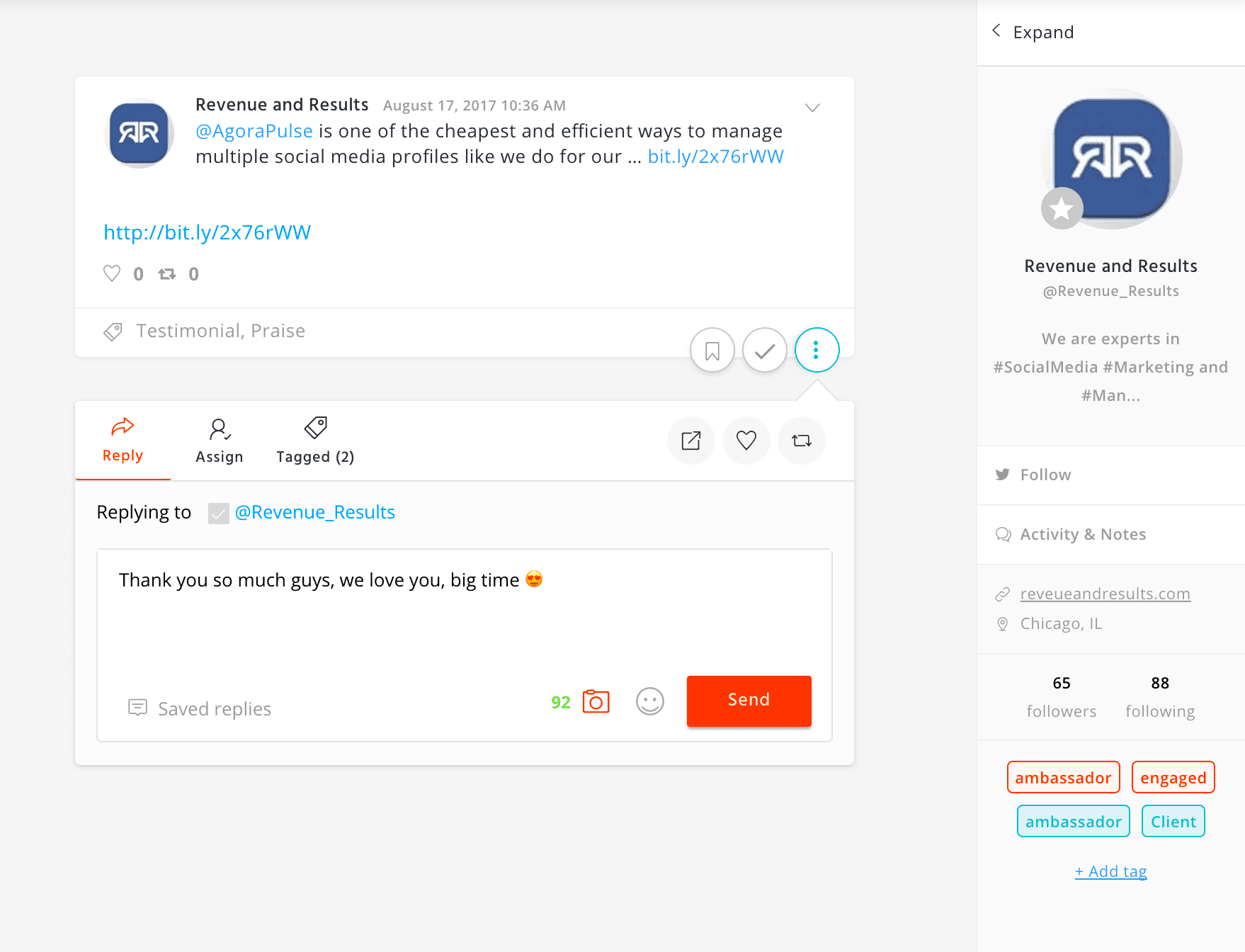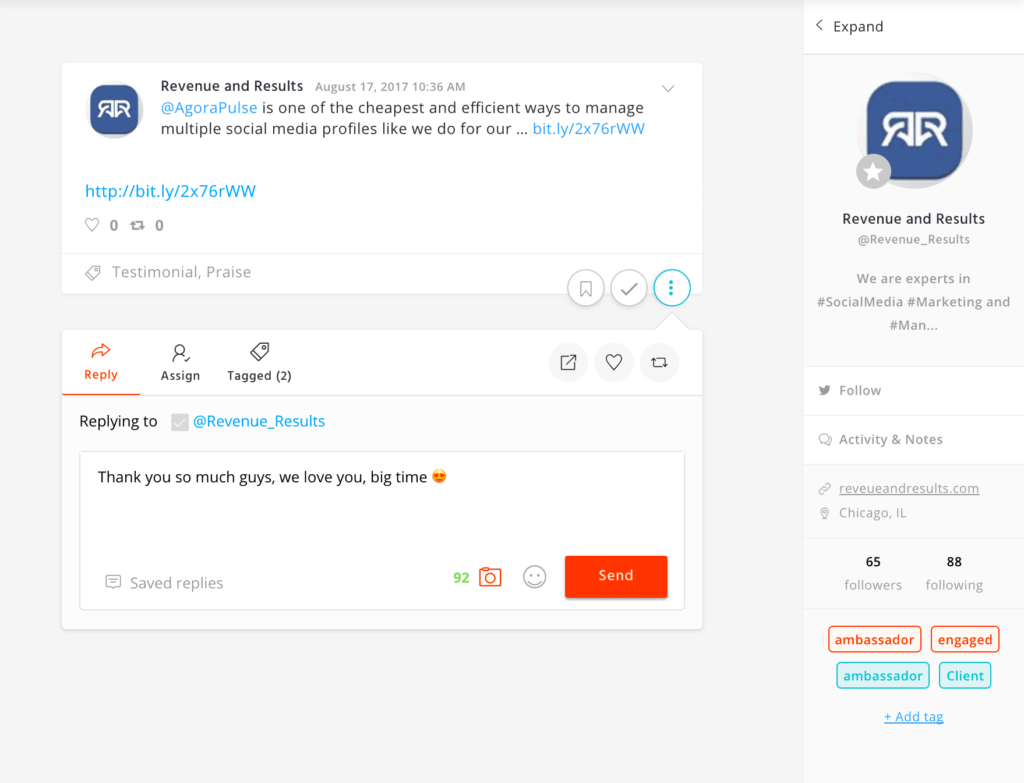 Last but certainly not least, you can expand their profile and see all their past interactions with you. This is a huge time saver for teams using the same dashboard for social media marketing or customer support.
1.7 Real time team activity visibility
It will definitely be a game changer for large teams. On each social profile, you can now see who else is currently connected at the same time as you (top right of the screen), but more importantly, you can see who is viewing what and who is currently responding to what!
No more stepping on each other's toes.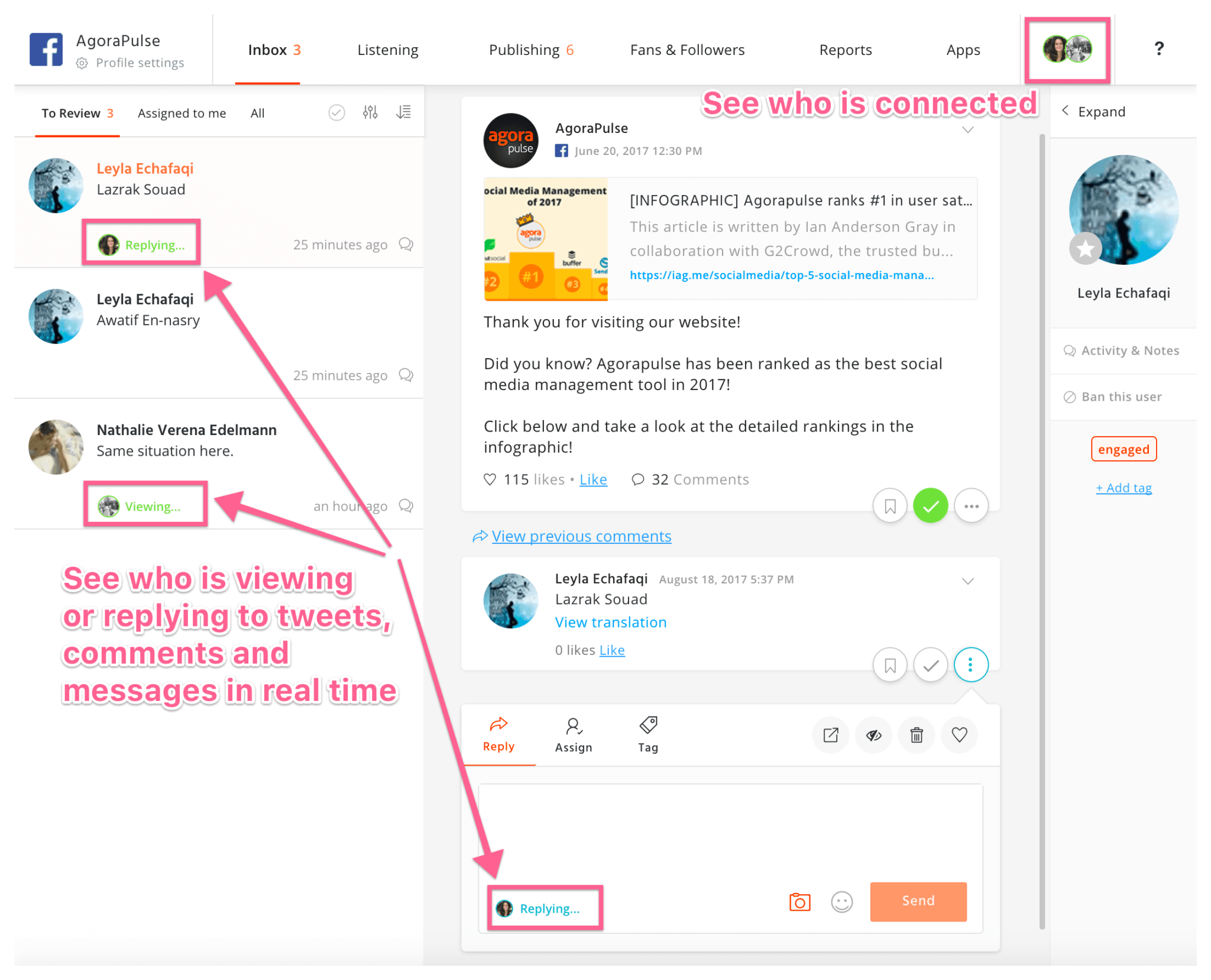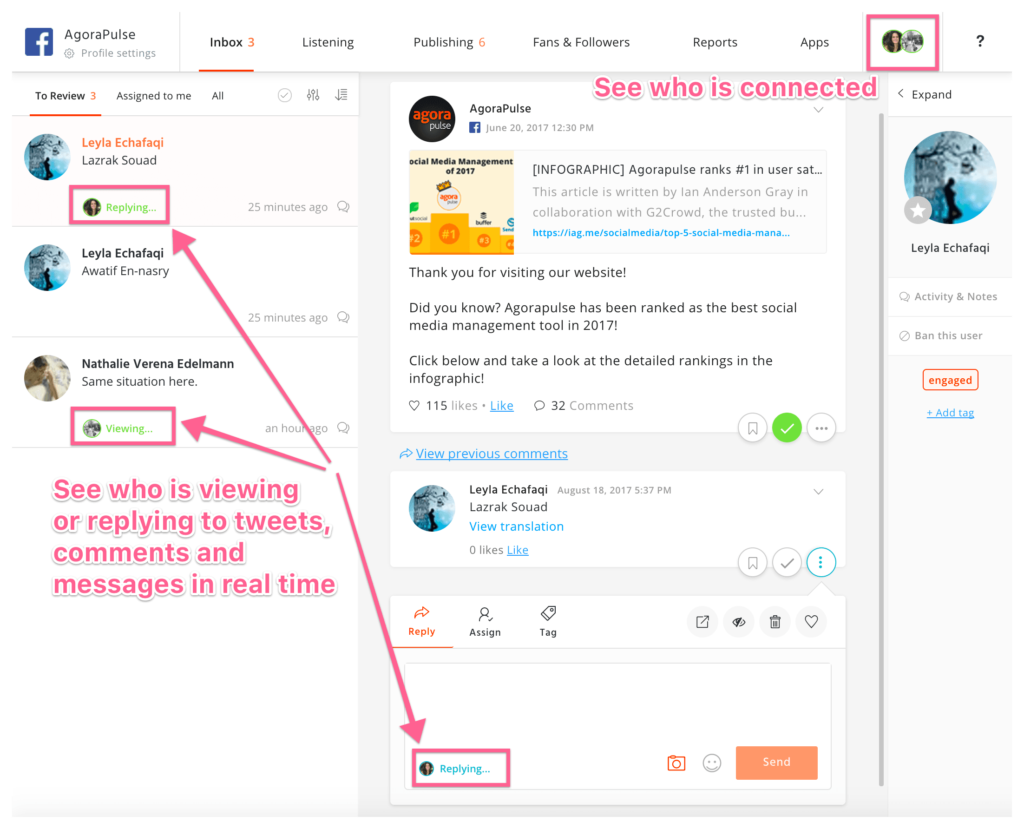 2. New Reports
2.1 New stats and design
If you liked our reports, you should love the new ones. They are offer more data, show the evolution of each metric over time and, in my opinion, look sleeker. Here's what I mean by sleek.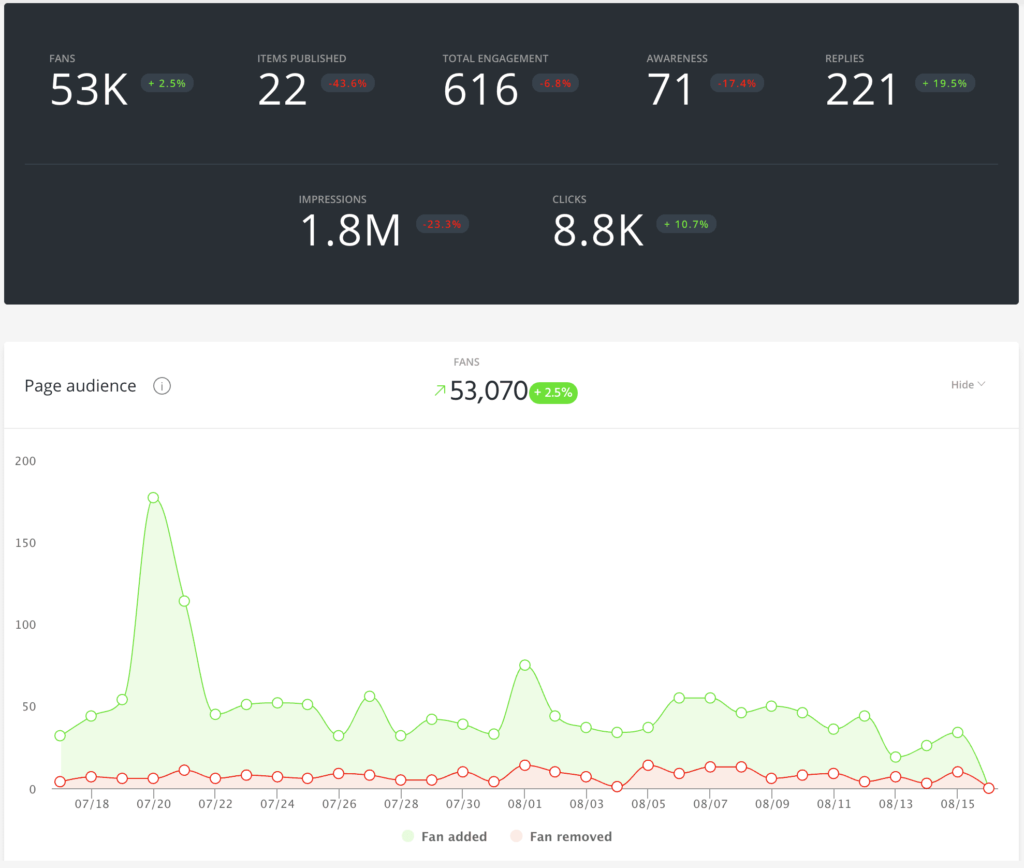 2.2 Content report
You now have access to a separate content report for Facebook, Twitter, and Instagram. See all your posts for the selected period and sort them by any metric you want. Need to see your post with the most engagement? Click on engagement and you're done. Need to present this to your boss or client? You can easily download your stats in a .csv file.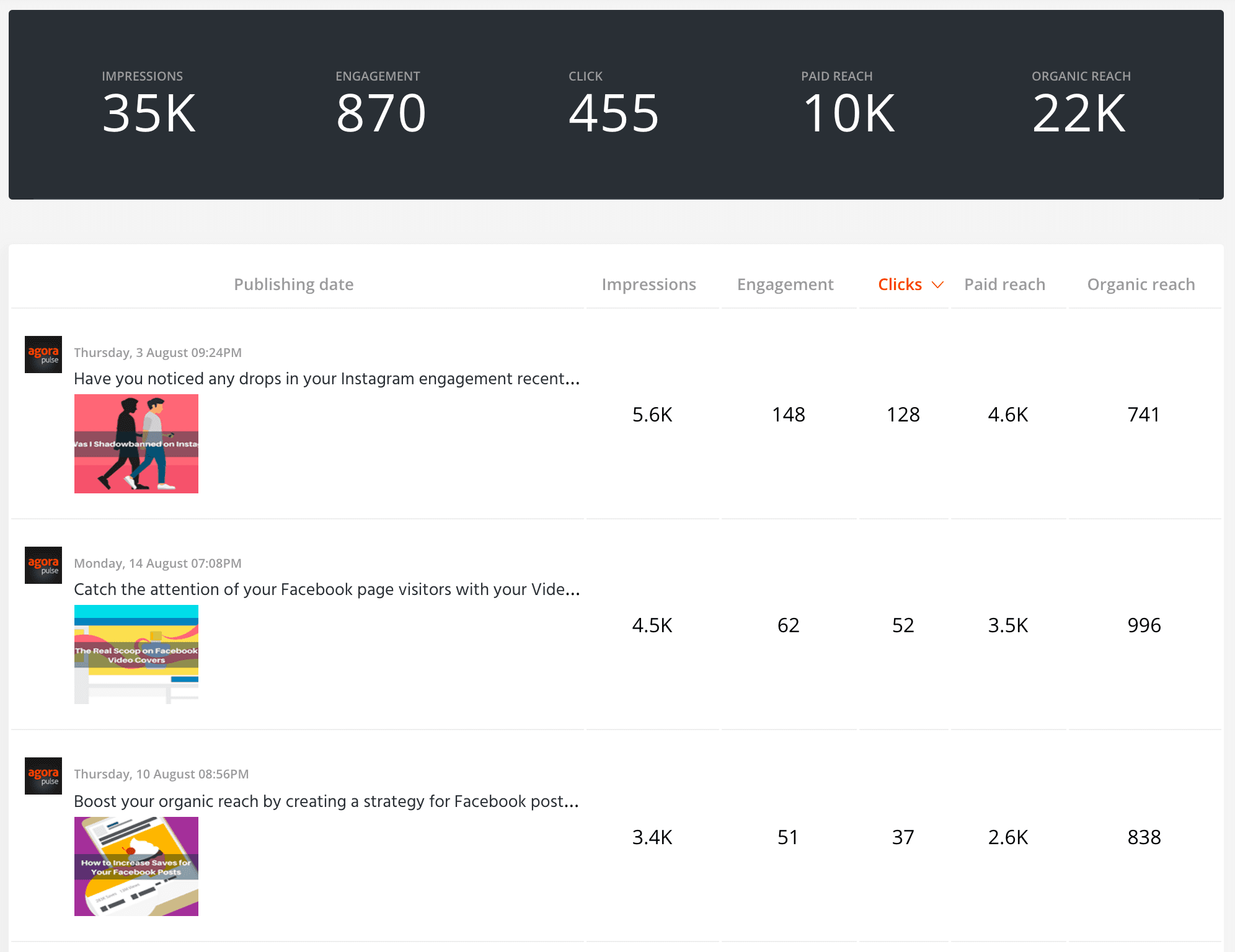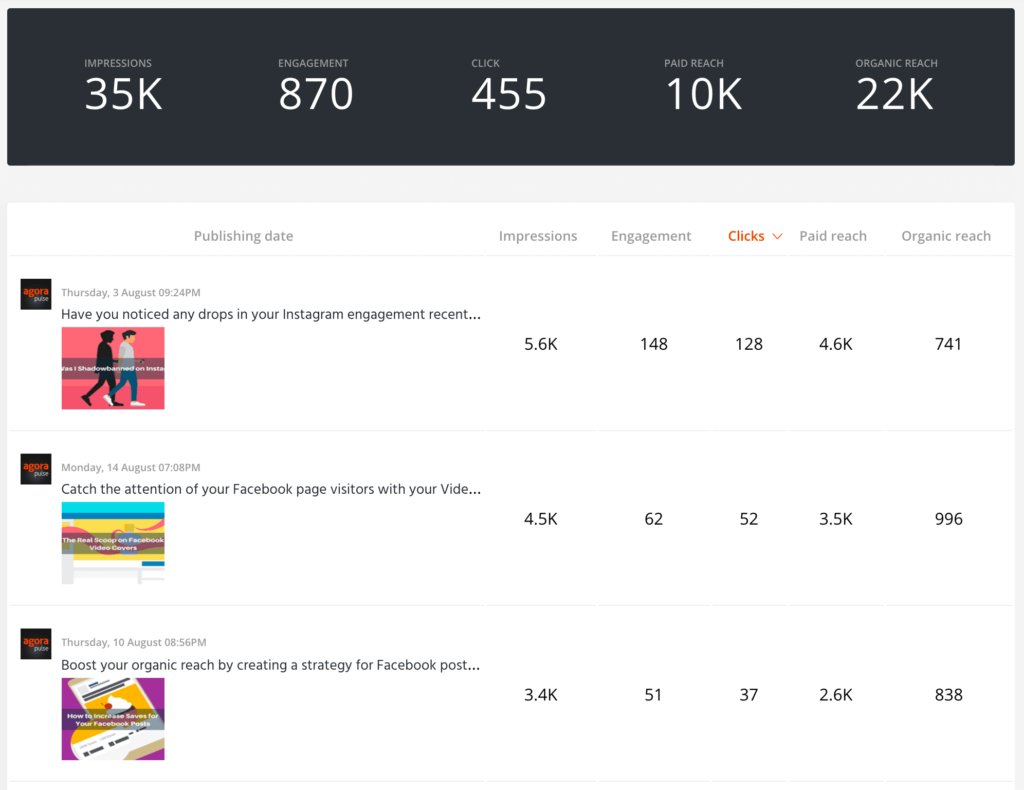 2.3 New PowerPoint design
Our PowerPoint reports have also been revamped. They now contain all the metrics and graphs you see on the web version. They also look great on Keynote (if you're a Mac addict) and Google Slides. We're planning to let you upload your own logo automatically very soon too.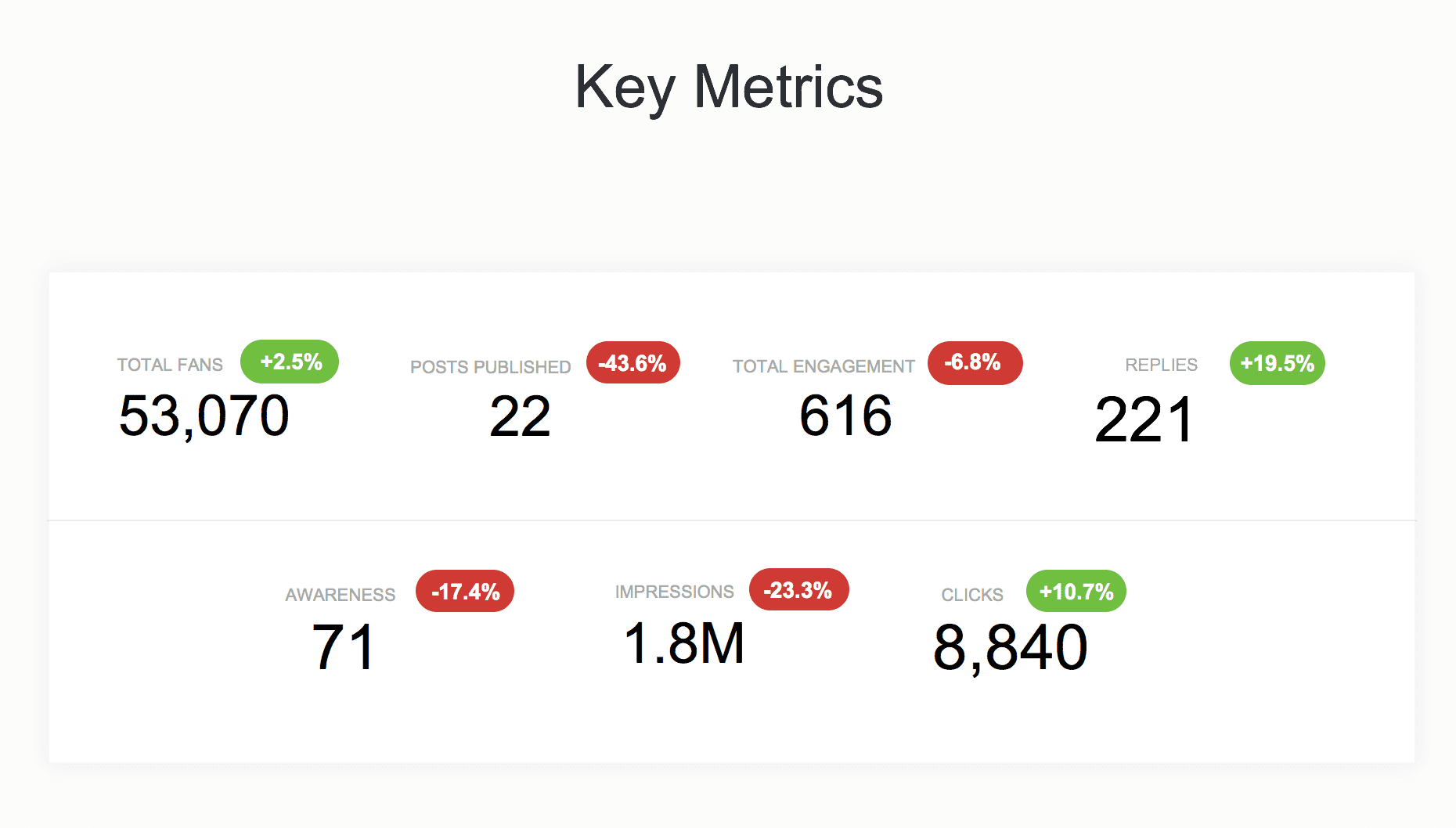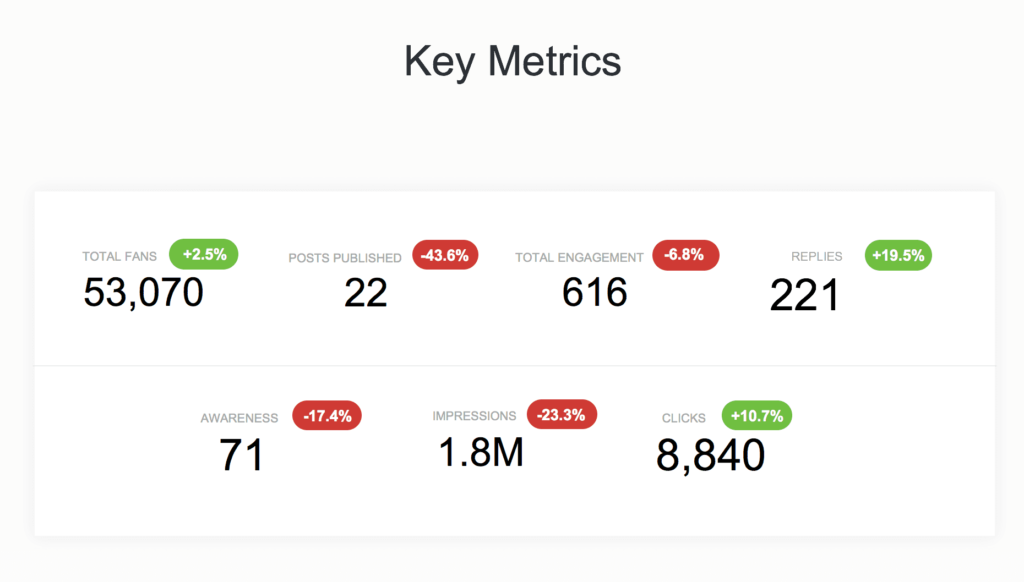 3. New Publishing Engine
3.1 "Always on" previews
Our preview feature was really cool, but it was hard to find.
They are now always visible and easily accessible. Need to know how your post will look like on each social network? You're all set!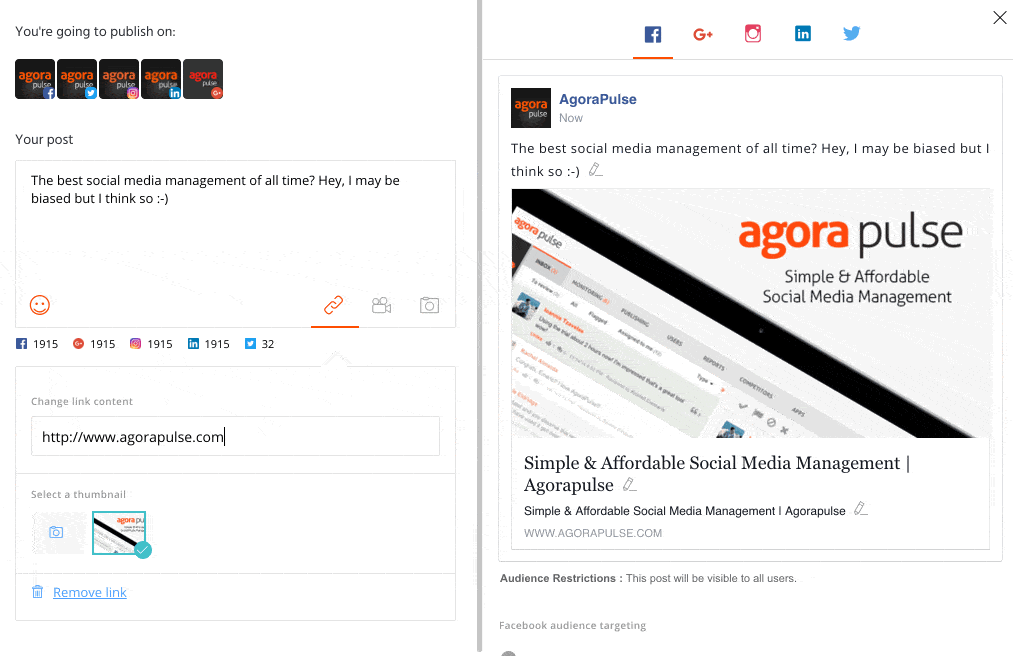 3.2 In context editing/customization
Our preview feature also offered the possibility to customize your post for each of your social networks. Another super helpful feature we released before any other vendor out there. It was great but a bit hidden.
You can now edit your preview in context, for each of your networks. Just click on the text start editing. What you'll see is what you'll get on each network. You can even add mentions on Facebook and Twitter with ease.
3.3 Check your content calendar before hitting "publish"
One of the main goals of with this new release is to give you greater control and clarity over your social media management.
We designed our dashboard to instantly show you:
what's left to review in your inbox
the exact preview of your post before posting them, and
exactly when your post will be published and how that fits with your existing content calendar!
If you repeat your content or add additional scheduled slots, you will visually see when each post will go out. You'll find it convenient to make sure you're posting each one at the best possible time.
3.4 Ability to repeat scheduled content
This option will allow you to repeat a post a certain number of times and set a specific time gap between each post. It's ideal for:
promoting an event taking place at a specific date and repeating it a set number of times
announcing a repeating event taking place on the same day and time every week or every month
wishing Happy Birthday to one of your followers by repeating it every 12 months!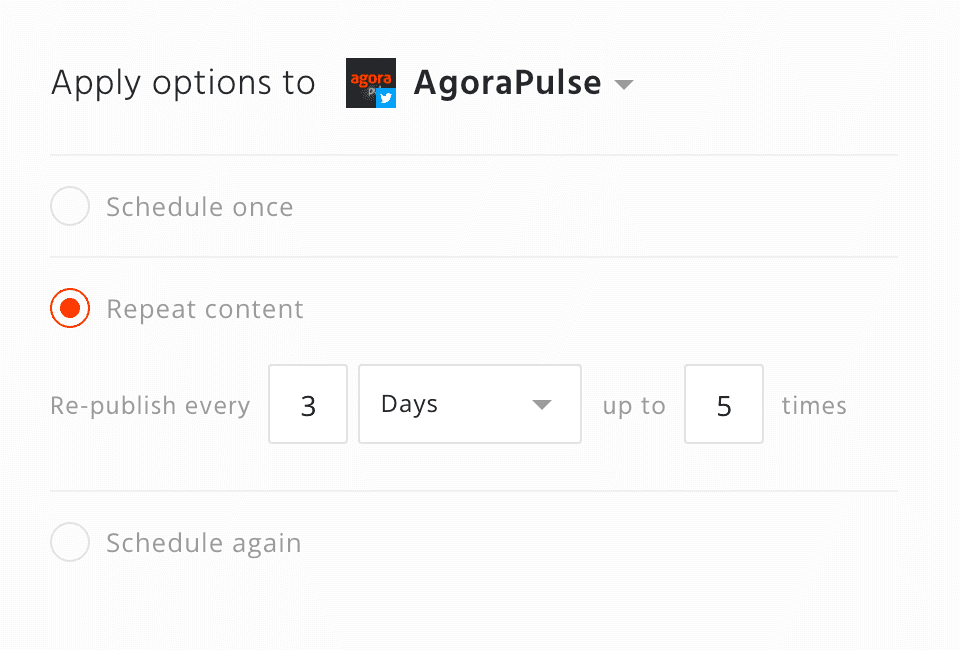 3.5 Ability to create multiple scheduled slots at once
If the repeat option doesn't give you the flexibility you need, try our option to manually add multiple scheduled slots. Add as many additional days and times to your initial scheduled slot as you'd like.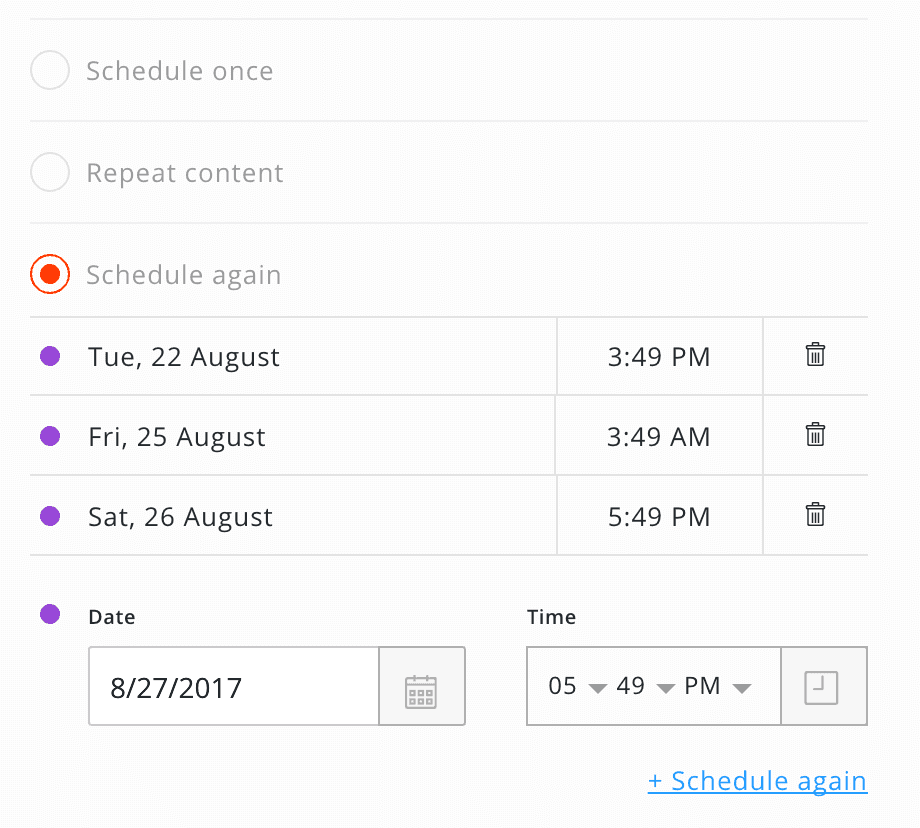 3.6 A brand new queue system (with advanced evergreen content requeuing)
If you prefer to use a content queue when posting, we've also revamped entirely this part of our publishing feature.
The first addition is the ability to add your post to the next available queue slot (if your content is time sensitive, for example). Fear not: we still offer the option of putting content at the last slot of your queue.
The knock on using a queue is that often, you don't know when queued items will publish and be seen by the masses. We too found that annoying so we did something about it.
With the schedule feature, we give you clarity by displaying your content calendar. Here you'll see exactly how your queued post will be published.
Last but not least, you can now requeue your post a specific number of times. You can also go full automation and set a piece of content to publish indefinitely. If you choose the latter, you can set an expiration date to make sure you won't be posting outdated content months from today. (A great way to avoid a social media fail.)
As with the repeat or reschedule options, you can set these requeuing options social profile by social profile. You want to queue once on your Facebook page, three times on LinkedIn, and unlimited times on Twitter? Go for it.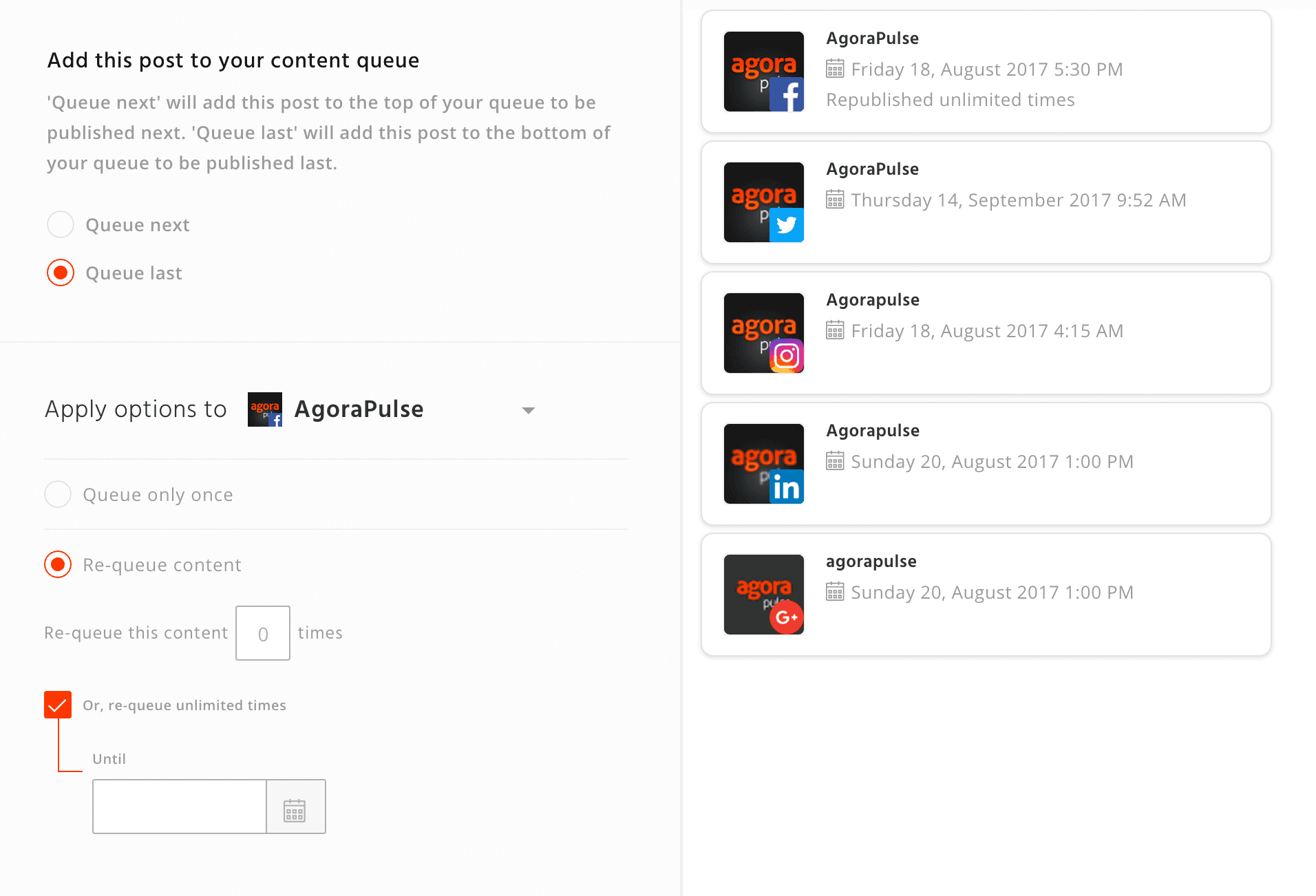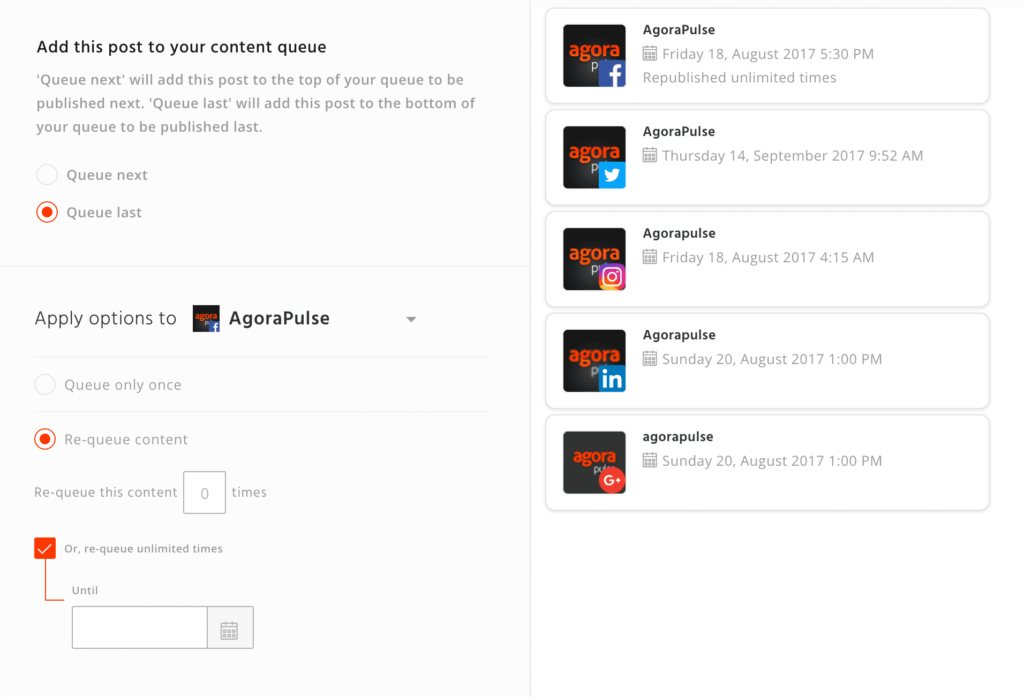 3.7 Easy content tagging and content tagging reports
You can tag your content as you publish it — a great feature to measure the performance of your content by topic or campaign.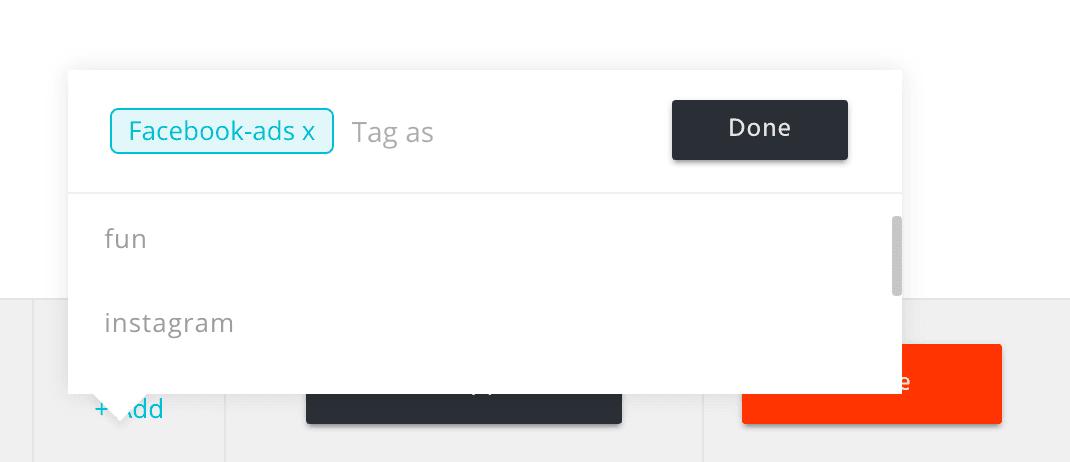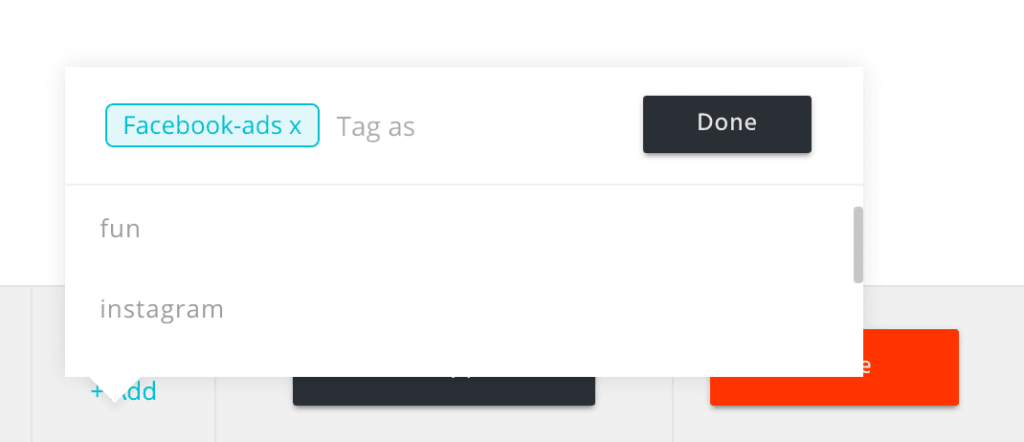 Thanks to this tagging option, we will show you a report comparing the performance in reach and engagement for each of your topics.
Great to A/B test various topics or to track the performance of campaigns you're running and report on them, don't you think?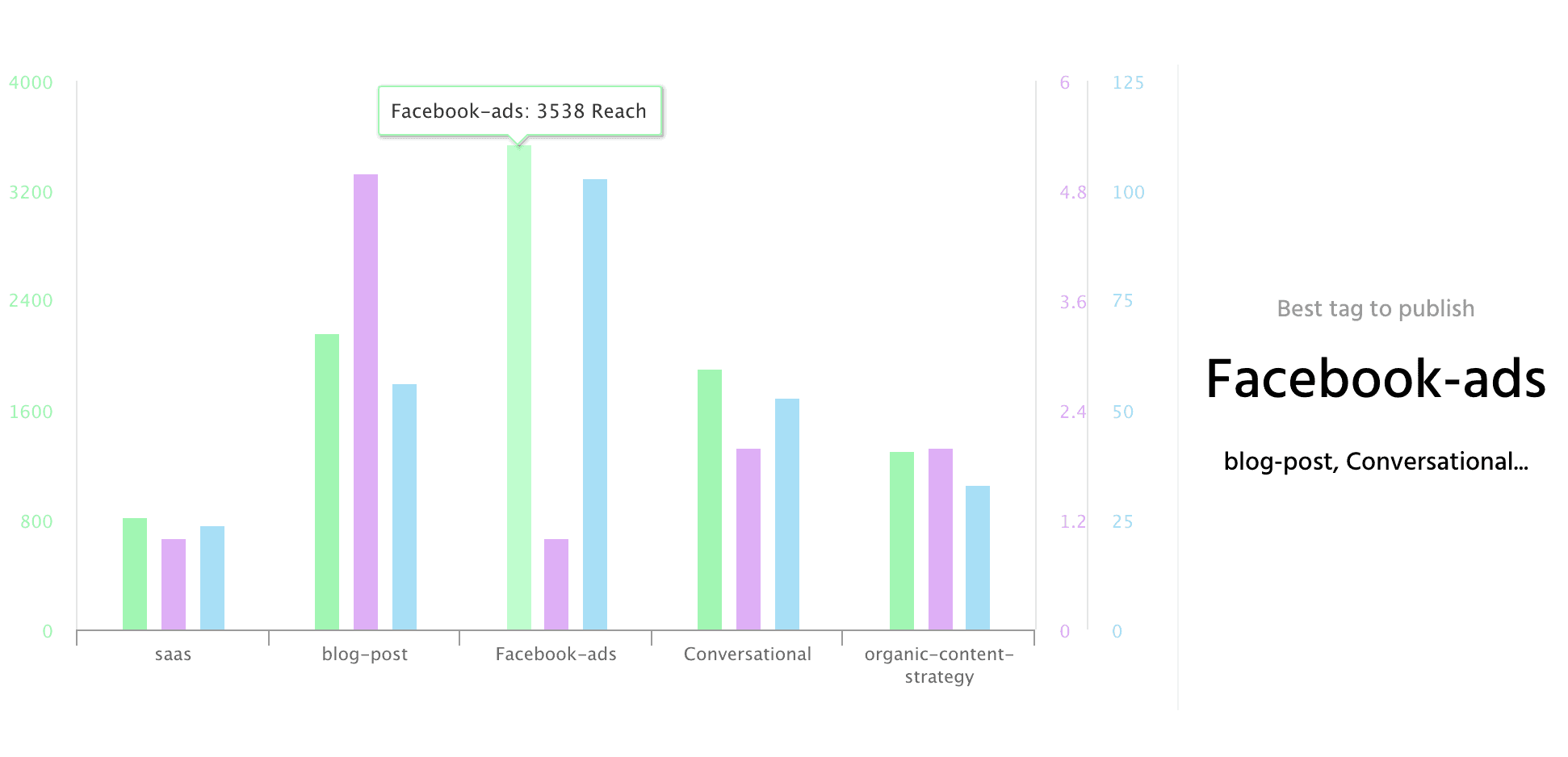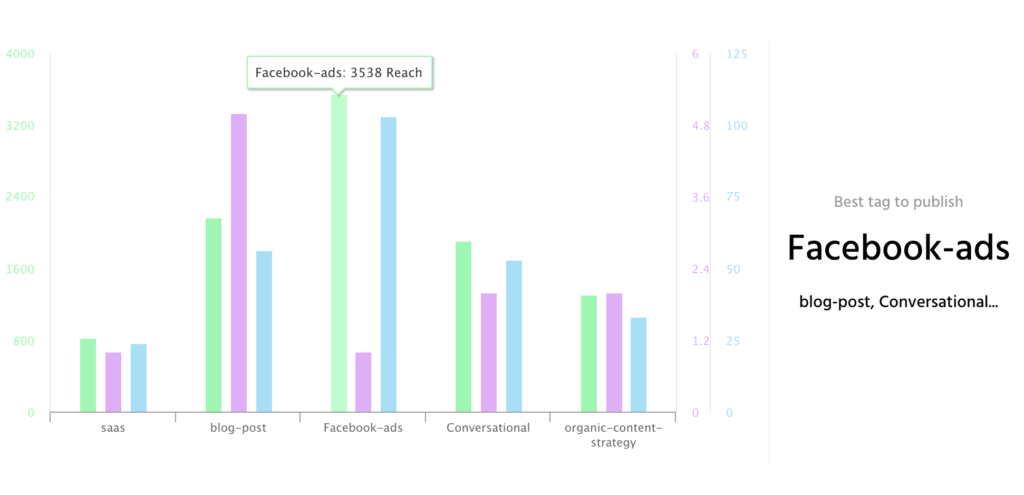 3.8 Ability to assign content for approval
If you create content as a team and have a specific workflow, you're going to love this feature. Let's say you create the first draft of the post, then need your designer to add a visual to it, then need an editor to proofread or "OK" every post.
Simply create your posts, set the day and time (or add to the queue) and then assign them to your designer. Once your designer has added the visuals (he/she will get a notification for each post assigned to him/her), he/she can then assign them to the editor who will, in turn, proofread and approve the content to be published.
Probably the simplest and most efficient way to match any content publishing workflow.
3.9 Ability to duplicate already published content (or failed or scheduled/queued)
Failed posts happen. Whether you had API issues, problems with your content (video size, image format), duplicate content by accident or just a bug on our side (rare), you had no way to get back on track and that was frustrating.
Well, you can now retrieve a failed-to-launch post in 1 click!
You can also duplicate any content in one click, queued, scheduled or already published.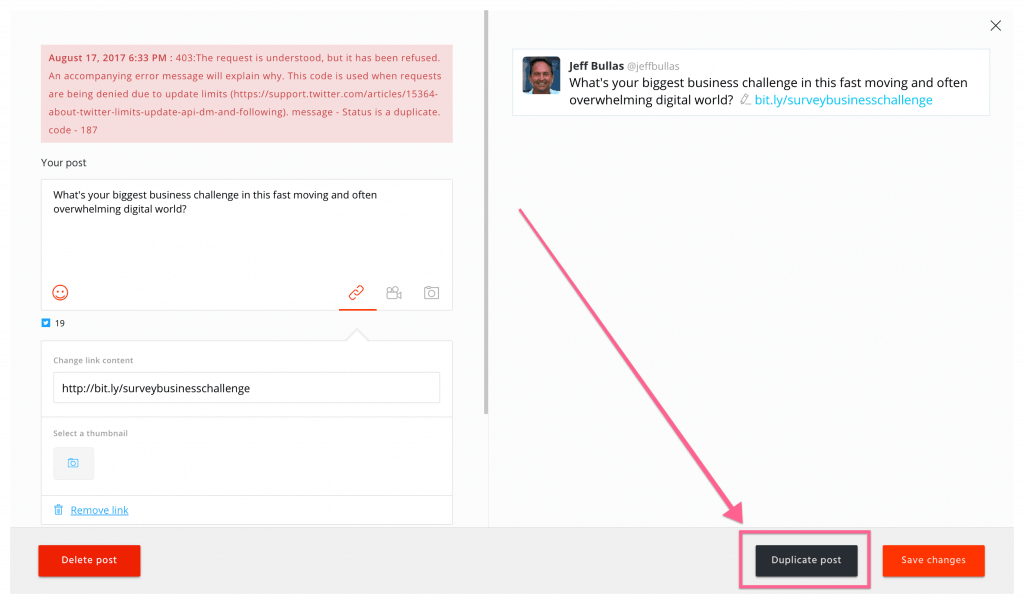 4. Redesigned Team Management
Our team management feature was good but not great. We knew it as we were using it too!
We've revamped it entirely. We made it super easy to invite new team members but also existing team members to a newly added social profile. Large teams and agencies are going to LOVE this improvement.
The way we display your team has also been improved big time. You now see it by team member (and not by social profile) which makes understanding responsibilities much easier. It's also easier to remove a team member.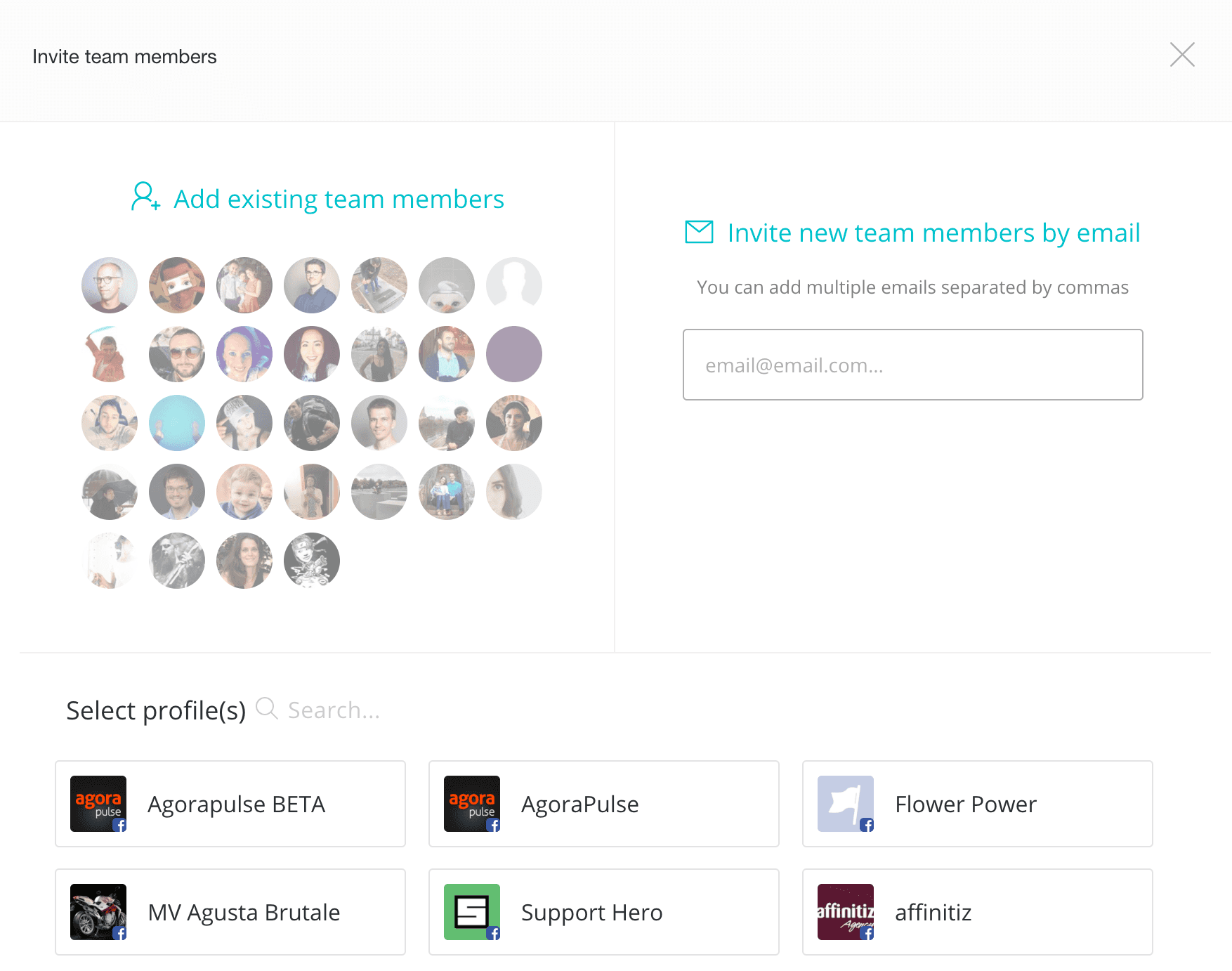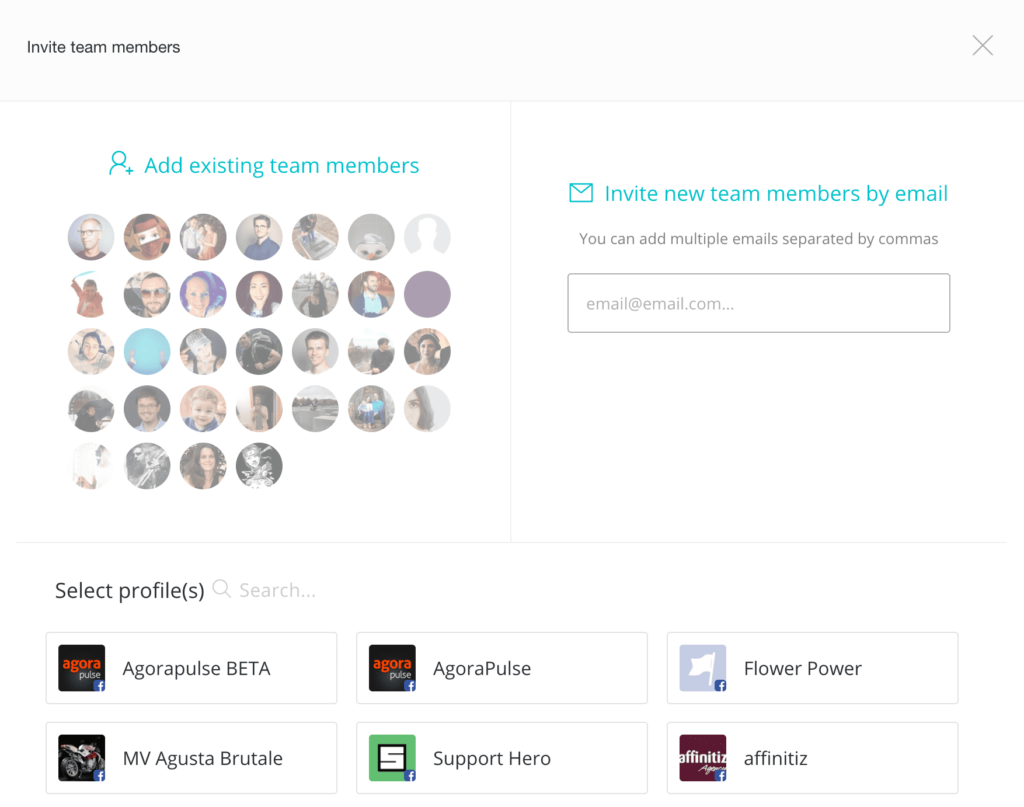 5. What's Coming Next?
As I mentioned earlier, our new technology framework will allow us to move much faster and deliver the features and improvements that you deserve. Here are the features you can expect shortly after this initial launch:
YouTube comment management (Done!)
Facebook Reviews management (Done!)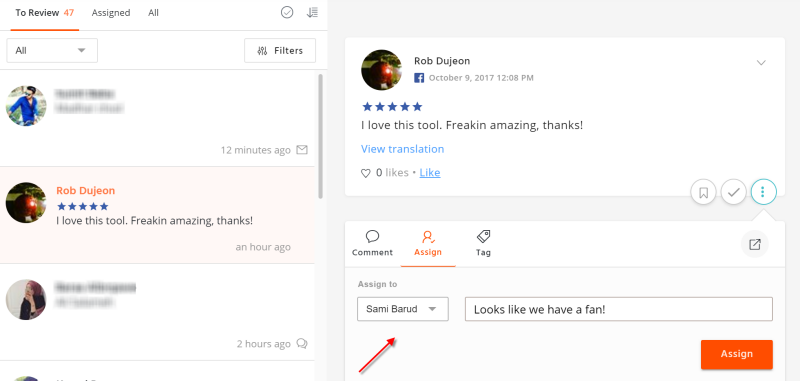 Multiple photo uploads (Done!)
New and improved mobile app
Initiate private messages from Facebook comments or tweets
.csv bulk upload for posts
Associate content categories to queue slots for more flexibility in your queueing strategy
And here are the features and improvements we are committed to release in the next 6 to 8 months:
Deeper Instagram metrics (demographics, impressions, reach)
Facebook groups management
Unified (multiple profile) reports
Unified content calendar
Unified inbox
Facebook personal profile publishing
Instagram video publishing
Thank you for your continuous support and I hope this new release and everything that will come right after will really make your job easier and more fun.
To your success!